13 Best Dog-Friendly Hikes in Los Angeles
Hiking and camping with your dog can be one of the most exciting adventures in someone's life. It not only is a great fitness boost for your health but also gets you a little closer to nature. Today more and more people are inclining towards hiking because of its rejuvenating factor and it's also budget-friendly. So, whenever you spot some time on your timetable, you go out hiking.
But dog parents often miss out on these opportunities. It's disheartening to leave behind your dogs at home while you have a gala time in the lap of nature. But, we've got your back. With our recommendations for dog-friendly hikes in Los Angeles, you don't have to stress anymore, rather you will get benefits while hiking with your dog. Now you and your pup, both can enjoy a thrilling hiking experience in California.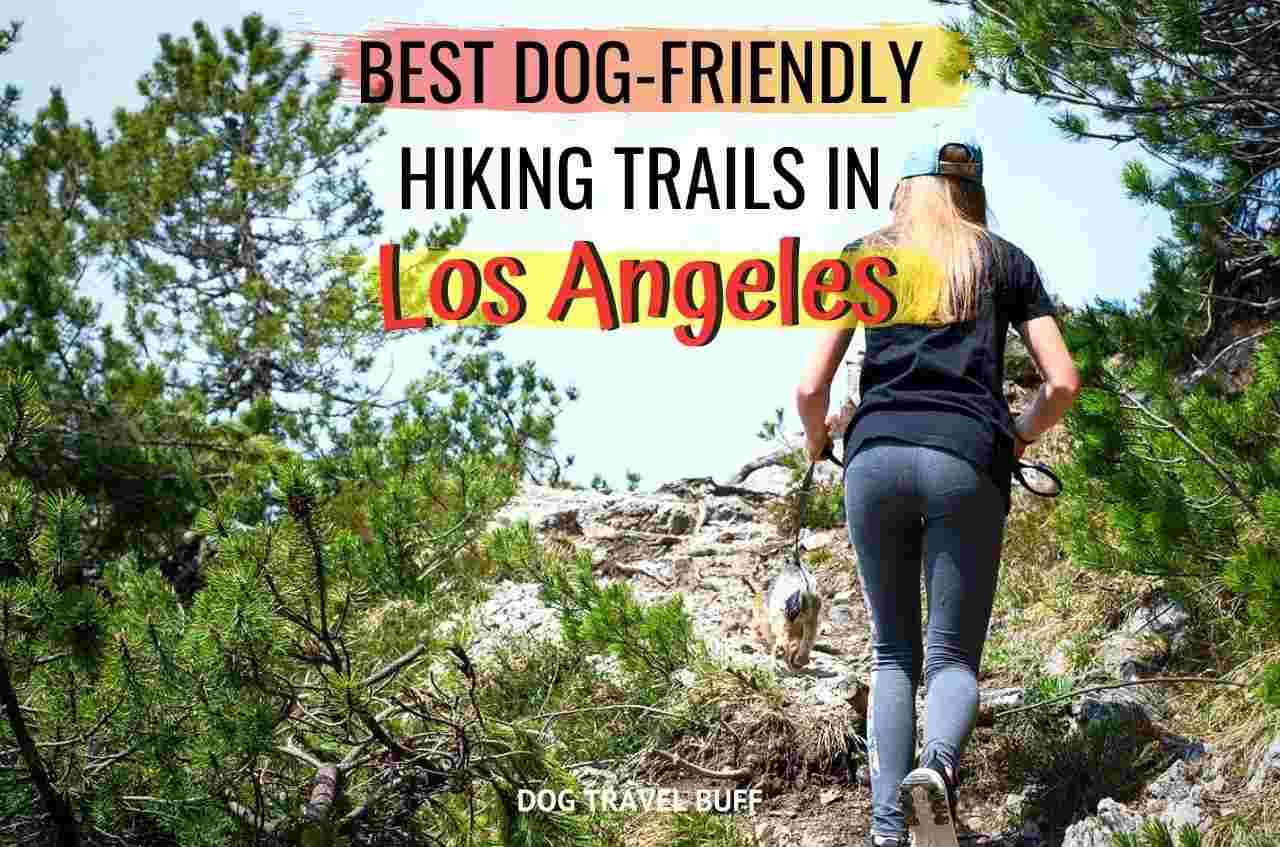 This post may contain affiliate links. If you buy something through one of those links, you won't pay any extra penny, but I'll get a small commission that encourages me to deliver more helpful content for you.
Other Helpful Resources:
Let's dive deep into the list of best dog hikes in Los Angeles.
Best Dog-Friendly Hikes in Los Angeles
Runyon Canyon
Your wish of Los Angeles hikes with dogs would be incomplete without visiting Runyon Canyon. You get to see the stunning view of the famous Hollywood sign and the L.A basin. Your dog will have an amazing time walking on the trails. Just remember to keep its leash on. However, there is a separate 90-acre park to keep your pup leash-free making Runyon Canyon one of the popular off-leash dog hikes in Los Angeles.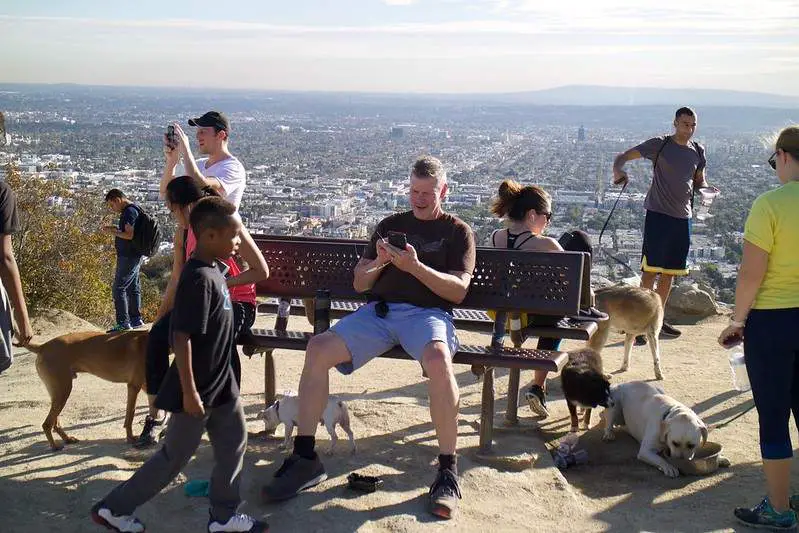 This place remains open from Monday to Sunday. The approximate hiking time is usually 1.30 hours to 2 hours.  Being one of the famous hiking places, it's quite crowded on the weekends, so plan your hike with your dog accordingly.
Distance: 0.85 to 3.3 miles
Elevation Gain: 500 to 800 feet
Difficulty: Moderate to high
Fees: Free
Griffith Park Trails  
Another popular dog-friendly hiking trail in Los Angeles is Griffith Park trails which offer amazing views of the city. The whole place is 4000 acres and offers a variety of trails for all kinds of people and their pets. You have a lot of options to choose from for yourself and your dog while hiking in this 50 miles trail.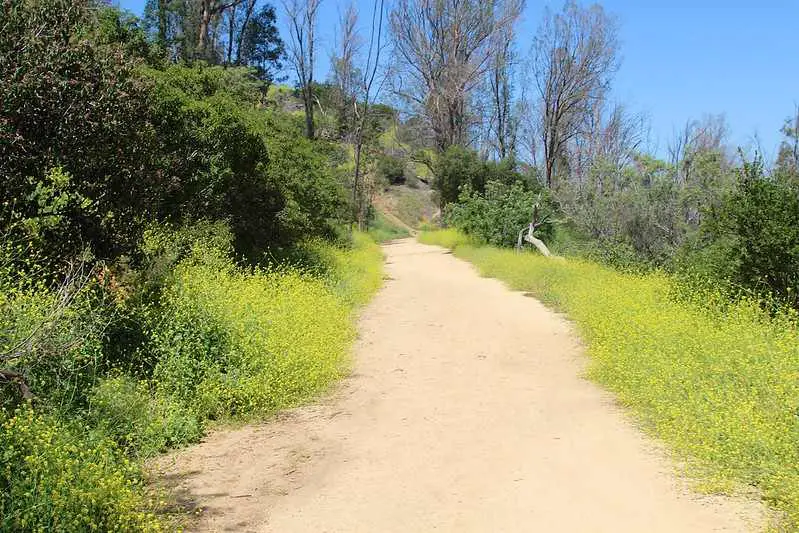 Opt for the Hollyridge Trail if you wish to witness the all-time favorite Hollywood sign. You can also reach the summit of Mount Lee following a 3.5-mile path with your pup to have an amazing hiking experience. You would need an approximate time of 2 hours to visit this dog trail in Los Angeles.
Distance: 3.5 miles (Hollyridge Trail)
Elevation Gain: 750 feet
Difficulty: High
Fees: Free
Hours: 5 a.m to 10.30 p.m
Read Also: 11 Best Small Dogs for Hiking and Camping
Bronson Canyon Trail
If you are looking for an easy dog-friendly Los Angeles hike, then consider visiting Bronson Canyon Trail at Griffith Park. You would surely love this place if you are a Batman fan because you get to visit the famous Batcave which is a 50-foot long tunnel. This tunnel actually featured in the Batman series.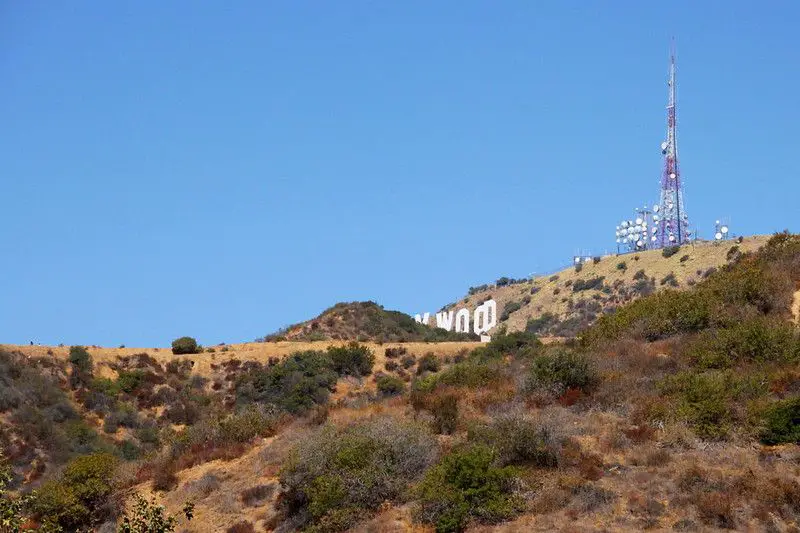 This trail is quite short in the distance making it perfect if you don't have much time or if your furry friend gets tired easily. The trail is quite wide giving enough space for your pup to move around. Bronson Canyon trail will also take you to the famous Hollywood Sign. Tourists love this trail for dog walking in Los Angeles.
Distance: 6.5 miles
Elevation Gain: 50 feet
Difficulty: Easy
Fees: Free
Eaton Canyon Trail
Are you a nature lover? Then make sure to visit Eaton Canyon Trail as it is one of the picturesque dog-friendly walks in Los Angeles. Walking on the lush green trail is extremely refreshing and you would be rewarded with the beautiful view of a 40-foot waterfall in the foothills. The waterfall also features a small pool.
From an amateur to a skilled one, anyone can hike in this beautiful trail with their dogs. Apart from the rugged area in the waterfalls, the hike is pretty smooth. Keep your dogs on leash while roaming around in these pet-friendly hikes in Los Angeles. Summers and weekends witness a heavy footfall from tourists and locals, so if your pet dog does not like to be around a lot of people, choose a weekday for your visit.
Distance: 3.5 miles (round)
Elevation Gain: 375 feet
Difficulty: Easy to Moderate
Fees: Free
Franklin Canyon Park
If you are on the lookout for a 360-degree view of Los Angeles on your hike, then put a check on Franklin Canyon Park. The land has a vast area of 650 acres and has hiking trails of over 5 miles. You can have a calm and relaxing visit to this park as it is one of the best hikes with dogs in Los Angeles.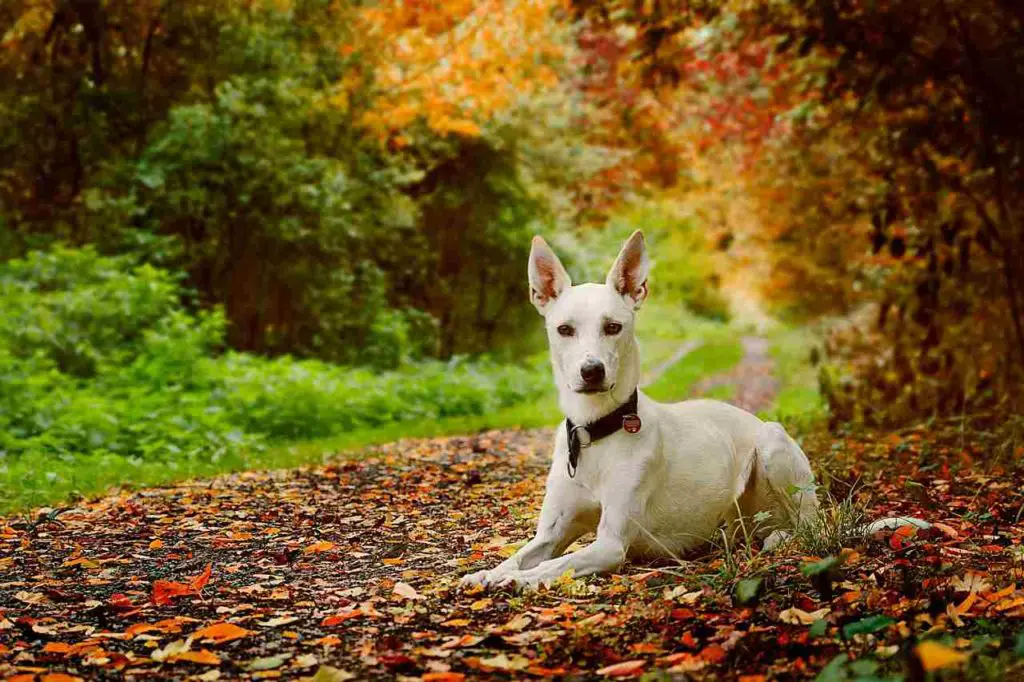 You can visit the famous Franklin lake which was featured in the Andy Griffith Show. Hastain Trail is popular among hikers in this park. This place offers extensive picnic grounds so bring along your family and friends and spend an awesome day here. This trail is quite famous for bird-watching as well.
Distance: 2.3 miles ( Hastain Trail)
Elevation Gain: 630 feet
Difficulty: Easy to moderate
Fees: Free
Read Next: 9 Best Dog-Friendly Parks in Las Vegas
Cahuenga Peak Trail
Hiking enthusiasts get ready to experience an exciting hike with your dog as Cahuenga Peak is one of the highest points of Griffith Park. But this trail is certainly not for beginners. The terrain is quite rugged and has narrow paths so be extra cautious with your pet dog.
Due to its difficulty level, it's not busy like the other Los Angeles hikes with dogs. But all your hard work will be paid off by the magnificent view of the Wisdom Tree. This tree holds a special place being the lone survivor of the Hollywood Hills Fire of 2007. Tourists and locals often leave a note on the box beside the tree for wish fulfillment. So, dog walkers in Los Angeles don't forget to bring your puppy for an adventurous trip at Cahuenga Peak.
Distance: 3.7 miles (round)
Elevation Gain: 1300 feet
Difficulty: High
Fees: Free
Sullivan Canyon Trail
Your dog must be tired of being on a leash everywhere you take it. But not anymore. Sullivan Canyon is the best off-leash dog hike in Los Angeles situated near the Santa Monica Mountains. This place sits quietly in the lap of nature and your dog can run as much as its heart desires.
Read Also: 7 Tips for Hiking Off-Leash with Your Dog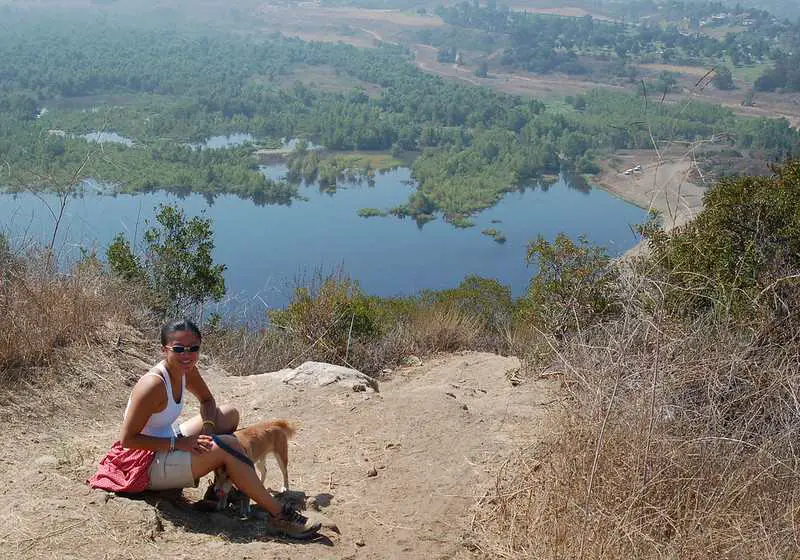 You can explore more of Sullivan Ridge which is the single-track trail. Mountain bikers are often spotted at this place because of its gorgeous views. Don't forget to capture the pictures of the beautiful wildflowers that this trail has in store for you. For an easy dog-friendly hike around Los Angeles, Sullivan Canyon must be on your first stop. However, the trail is pretty long so it can take almost 6 hours to finish off the entire place.
Distance: 8.5 miles ( round)
Elevation Gain: 1410 feet
Difficulty: Easy
Fees: Free
Read Next:
Kenneth Hahn Park
Kenneth Hahn Park is a super beginner-friendly dog trail in Los Angeles. This place is perfect to enjoy a superb view of downtown L.A. You also get to see the outstanding background which is the San Gabriel Mountains.
The park also has a range of trails like the Waterfall trail, Ridge trail, Burke Roche trail, etc. This is a great place for a family together as this place has picnic grounds, a fishing lake, and a lotus pond. Your kids and your dog will have an amazing time playing in the playgrounds. Also, the availability of 6 restrooms makes it convenient for all visitors. The place remains open daily from 6 a.m till sunset.
Distance: 5 miles ( round)
Elevation gain: 500 feet
Difficulty: Easy
Parking Fees: $7 per day on Weekends and Holidays
Trebek Open Space
Trebek Open Space is another awesome off-leash dog hike in Los Angeles. You will find this place just beside the popular hiking spot Runyon Canyon park. An interesting fact about this park is it was donated by Jeopardy host Alex Trebek to the Santa Monica Mountains Conservancy.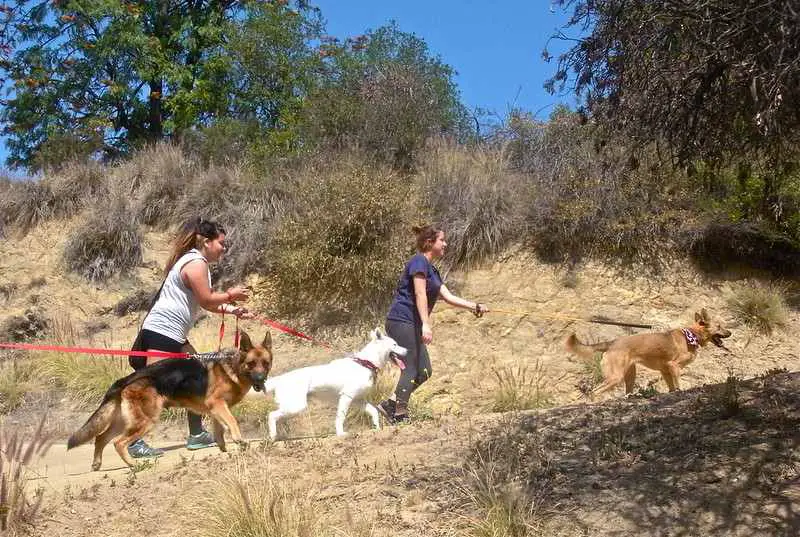 With 62 acres of land, this is quite spacious giving ample space for your pet dog to run and you also get to enjoy the fabulous views of the city. Hikers can come here for short hikes. If you come for hiking on a sunny day, you can get lucky and see Santa Monica Bay. You don't require a permit to visit this place and since it has relatively less crowd, it is one of the dog-friendly places in Los Angeles that you must visit. You need 1.5 hours to complete your hike. 
Distance: 2.5 miles (round)
Elevation Gain: 375 feet
Difficulty: Easy
Fees: Free
Seascape Trails
An easy yet beautiful dog-friendly Los Angeles hike is Seascape trails. This place is located in the Palos Verdes Peninsula. After a smooth, hassle-free hike you and your dog will get to view the scenic Pacific Ocean and the Palos Verdes coastline which is definitely eye-catching. 
Seascape trails' popularity lies in the incredible ocean waves view that you can witness at the North end of the trail. There is also a picnic area so don't forget to pack some snacks and beverages while you set your feet here. Anyone can hike at Seascape trails because of the trail's easiness and can be covered within 45 minutes. Make sure to keep your dogs on leash while hiking.
Distance: 1.5 miles ( round)
Elevation Gain: 40 feet
Difficulty: Very easy
Fees: Free
Read Also: 9 Best Dog-Friendly Hikes in Orange County
Zuma Canyon Trail
If you wish to explore the charming scenarios of Zuma Canyon with your dog, then go to the Zuma Canyon Trail. This is a great dog trail in Los Angeles that provides a lush canopy of greenery during your hike.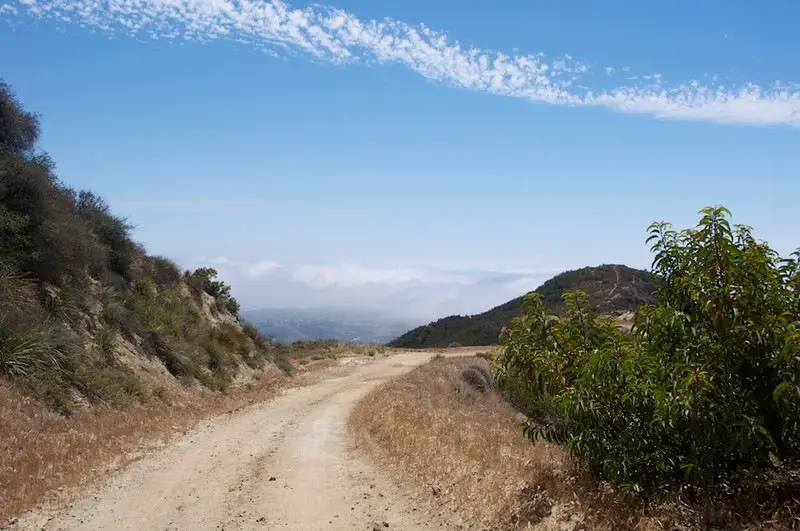 You will spot a few oaks and sycamores on your hike which certainly soothe your eyes. The trail has no steep sections, no difficult parts which are great not only for you but for your little pet as well. So if you're a parent of a puppy, you can hike here without any worry. Just make sure to keep the leash on your dog. This is a place loved by dog walkers, runners, and horse riders. Also, your dog might get a companion making his hiking trip extra fun.
Distance: 2.8 miles
Elevation Gain: 115 feet
Difficulty: Easy
Fees: Free
Fryman Canyon Loop
There is no dearth of dog-friendly hiking trails in Los Angeles. If you have less time in hand, then you must make a stop at Fryman Canyon Loop with your pet dog for a quick hiking experience. With less elevation gain and a short distance, it can be a great getaway to breathe some fresh air.
This trail is quite popular among urban couples as it offers residential streets and dirt roads making it a super easy hike for everyone. Hikers love to visit Fryman Canyon Loop with their dogs with their leash on especially during weekends. You will require an estimated time of 1.3 hours to roam the entire area.
Distance: 3 miles ( round)
Elevation Gain: 450 feet
Difficulty: Easy
Parking: $3
Elysian Park
Spread across 570 acres of land, Elysian Park is the second-largest city park and provides one of the best dog hikes in Los Angeles. Bring your dog for an on-leash hike in this nature surrounded, delightful place. This is also a short distance hike, so even busy people can take some time for hiking here.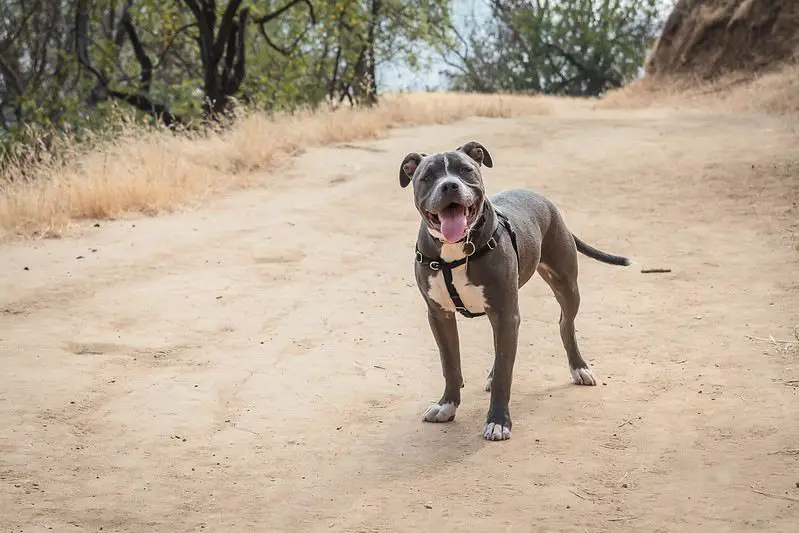 The easy hiking trails have made it popular among beginner hikers and they love to come here for a quick hike with their pet dogs. The Elysian park offers not only hiking trails but also jogging paths, horseshoe pits, and restrooms for visitors. This place remains from Saturday to Sunday.
If you are looking for some dog-friendly day trip ideas from LA, check out this article.
Distance: 2.4 miles
Elevation Gain: 194 feet
Difficulty: Easy
Fees: Free
Dog-Friendly Hotels in Los Angeles
Hollywood Hotel has a Mediterranean style and vintage decor. This dog-friendly hotel in Los Angeles is located across the street from a subway. The hotel has all the modern facilities like soundproof rooms with a great view, a walk-in shower, a bar, a pool, and many more. Enjoy a few days with your dog in this gorgeous hotel.
>>Book Your Stay<<
Luxe Sunset Boulevard Hotel is another dog-friendly hotel that offers a comfortable and stylish stay. The hotel is just a few minutes away from UCLA which is a super accessible location. Make sure to spend some days with your pup in this stunning hotel that has a pool, workout room, bar, etc.
Dog-Friendly Restaurants in Los Angeles
The Waffle is a popular dog-friendly restaurant in Los Angeles equipped with an amazing outdoor sitting area for you and your dog. You not only get various types of waffles but also some classic favorites like scrabble eggs, hash browns, burgers, and sandwiches.
The Morrison has a menu both for you and your dogs. You can enjoy your food sitting at the dog-friendly front patio area and have their classic Ramen burger, fish and chips, etc.
Takeaways
No more need to look for dog-friendly hiking in Los Angeles. Here you have the list of best dog-friendly hikes near Los Angeles.
So what are you waiting for? Take your dog, put on those hiking shoes and get going as a fun-filled day awaits you.
Read Next: