7 Best Remote Control Cars for Dogs: From Chasing to Racing
Does your dog go absolutely bonkers with excitement every time they spot you playing around with your RC car, as my dog does? Now, you can get your canine companion their very own remote-controlled cars to play with. RC cars for dogs are sleek-looking cars with great features that will keep your beloved pet happy and satisfied for a long time.
One of the main reasons why you should invest in a good remote control car for your dogs is because it can also help your pet to exercise! If you do not have the time to take your dog out for daily walks, the constant running or chasing behind the RC car will keep them fit and healthy.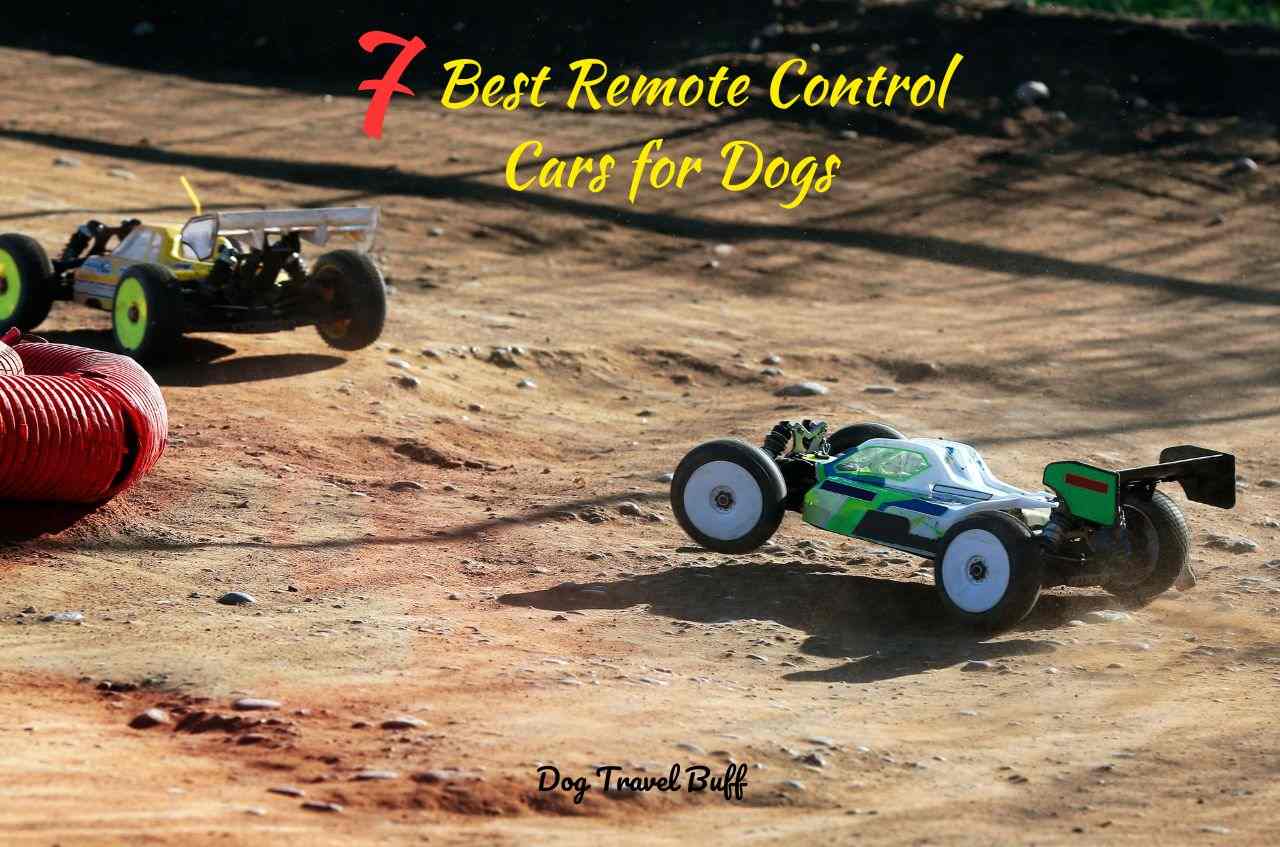 This post may contain affiliate links. If you buy something through one of those links, you won't pay any extra penny, but I'll get a small commission that encourages me to deliver more helpful content for you.   
While buying an RC car, you must make sure that it is made out of top-quality materials and is long-lasting. In this article, I will be diving into the best remote control car for dogs to chase so that your pet can stay entertained and healthy!
Table of Contents
Is It Good to Let Dogs Chase RC Cars?
Letting your dog chase after a remote-controlled car is a great way to help them get some much-needed exercise. Also, they love the chase! If you search online, you will find tons of wholesome videos that have excited pets chasing after dog-proof remote control cars.
However, it would be in the best interests of your pet to check the area for injurious materials before letting your dog run free.
Try and find a spot that isn't filled with an unnecessary amount of rocks. A green area filled with soft grass will make sure that your dog remains unscathed during the chase. I highly advise that you keep a cautious eye out as dogs may end up running into large objects like trees or parked vehicles and hurt themselves.
Finally, it is recommended that you look for a different form of exercise if you are afraid that your dog may bite the RC car and damage it or hurt their teeth!
Most dogs are extremely curious and interested in RC cars and greatly enjoy chasing after them. Meanwhile, some dogs may not be interested or apprehensive in the beginning. They may even be frightened or agitated by them.
It is also important to keep an eye out while your dog is playing with the RC car. Some dogs may try to chew the car or swallow small parts, which can become a choking hazard. Therefore, it's important to keep an eye on your dog and intervene if necessary.
What to Look for While Purchasing a Good RC Car for Dogs?
RC cars are great for both dogs and dog parents alike and can ensure hours of uninterrupted fun. Currently, the market is brimming with a wide variety of RC cars for dogs. However, not all of them are manufactured to last. If you are on the lookout for a good remote control car, here are some features to check for while making the purchase:
1. Durability
First and foremost, the quality of materials and durability are the two things you should look out for while purchasing an RC car for your pet. The car must be able to withstand obstacles like bumps and crashes without showing any obvious signs of wear or tear. After all, these cars can be a hefty investment, and you want them to last your pet a long time.
2. Adjustable Speed
One of the main reasons pet owners buy RC cars for their dogs is because the latter love to chase after the toys. However, they might hurt themselves if they end up running too fast. As a result, you should look for a car that allows you to adjust the speed between too fast and too slow, ensuring a joyous experience for your pet.
3. Interactive and Fun Controls
Nowadays, a lot of cars come with interactive features that can make the experience extremely enjoyable for your pet. For instance, these features may include controls that light up or make sounds when the car moves. These interactive features in a quality remote control car for dogs will make sure that they stay engaged with the toy for an extended period.
If you are in a hurry and do not have the time to examine the features of various cars, here is the RC car that both my dog and I love. It is the LAEGENDARY Fast RC Car, which is loved by the majority of RC car aficionados. It is known for its quality design, waterproof quality, and amazing speed. This sleek-looking car with top-notch features is the best toy you can get for your pet!
The wheels of this special car have been designed to run effortlessly in tall grasses without coming to an abrupt halt. Moreover, the car has been devised in such a manner that it will last a long time, no matter the number of obstacles it faces or the weather conditions you drive it under.
It can be a tad bit expensive compared to other RC cars in the market, but its premium-quality materials, classic design, and long-lasting nature are truly worth the investment.
Best Remote Control Car for Dogs
1. The AMORIL 1:14 Fast RC Car
The AMORIL 1:14 Fast RC Car is greatly desired by many for its sleek appearance. Other great features include speed, waterproof nature, and durability. No matter the type of terrain, this car can run up to 70 KM/H, making it an exceptionally sought-after toy for your pet dog.
I was taken aback by the variety of cool features this car has. The oil-filled shocks, a strong aluminum alloy chassis, and a high-downforce nylon car make this car a joy to drive around.
My dog and I had a great time checking out the upper limits of its speed range, as the car's nylon wing keeps it effectively planted on the ground. The car's front and rear bumpers also safeguard it against crashes and heavy hits.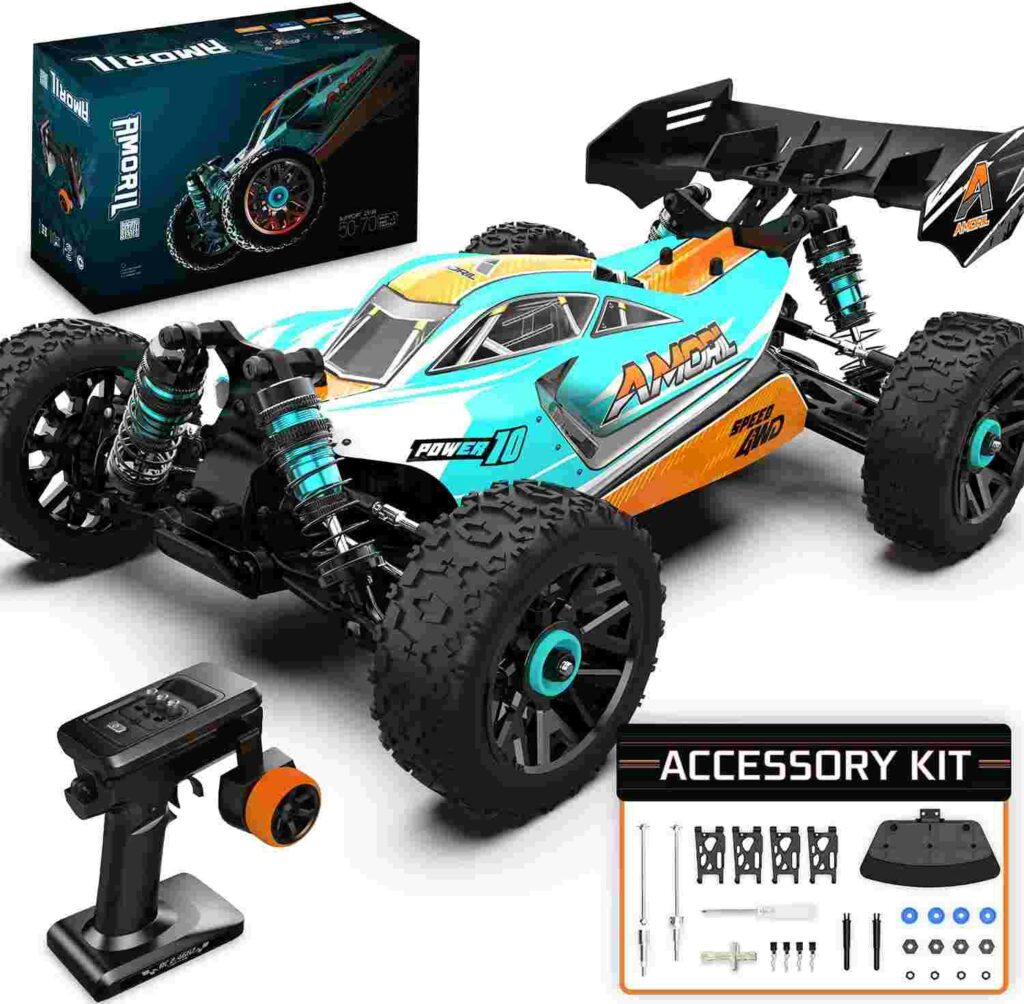 Pros:
Can reach great speed
Can withstand rocky terrains 
Durable and long-lasting
Cons: Not easy to maneuver amidst tall grass
2. HAIBOXING 1:18 Scale All Terrain RC Car
A waterproof remote-controlled toy car, this car ensures resistance to obstacles and strengthened traction. From shallow waters to muddy puddles, the HAIBOXING 1:18 Scale All Terrain can effectively traverse any terrain. From grasslands to bumpy grounds, the car can withstand many obstacles.
The HAIBOXING RC car also comes with quality batteries, making it long-lasting. The car's electronic components are waterproof, which means that the car does not incur little to no damage due to water splashes or puddles.
Another impressive car feature is its 2.4GHz full-function proportional Radio Control system with a stable control range within 280 feet. While it may not be the fastest car on the market, my dog still had a great time chasing after it!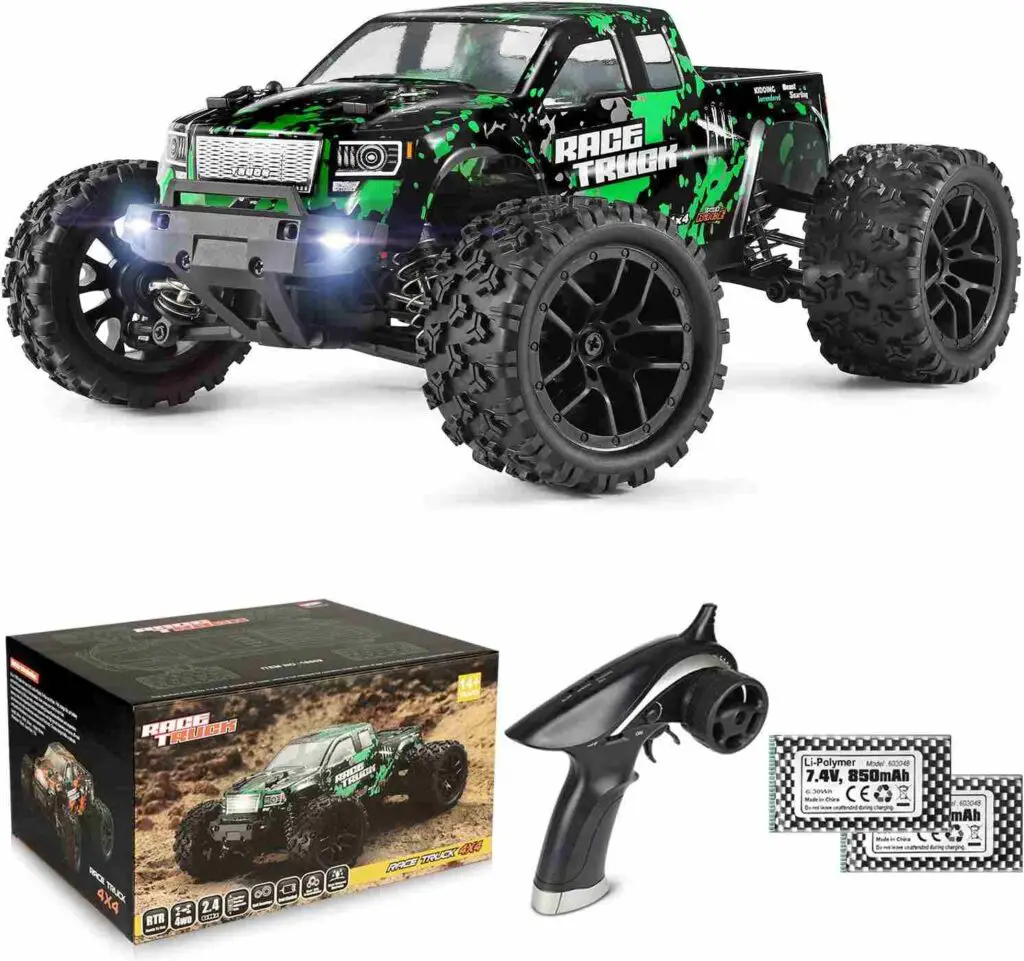 Pros:
It comes with rechargeable batteries 
Good range of control
Waterproof and can travel through any terrain 
Cons: Not the fastest car in the market
3. The ORRENTE Rotating RC Car 
While it may not be as fast as some of its contemporaries, the ORRENTE rotating RC car is a remote-controlled car that can rotate 360 degrees while driving. It has a durable design with shock-absorbing tires that can withstand various terrains, such as dirt, sand, and concrete. The car also has LED lights, making it visible even in low-light conditions. My dog was obsessed with the sleek design of this car!
Another factor that makes this car a great remote control car for dogs is the presence of dual motors. This double-motored car can still run at a reasonable speed of 6 to 7 mph, making it a steal at its attractive price point.
The ORRENTE rotating RC car can provide hours of entertainment for dogs, children, and adults. Its unique design allows for different driving maneuvers and stunts, offering endless opportunities for fun and creativity.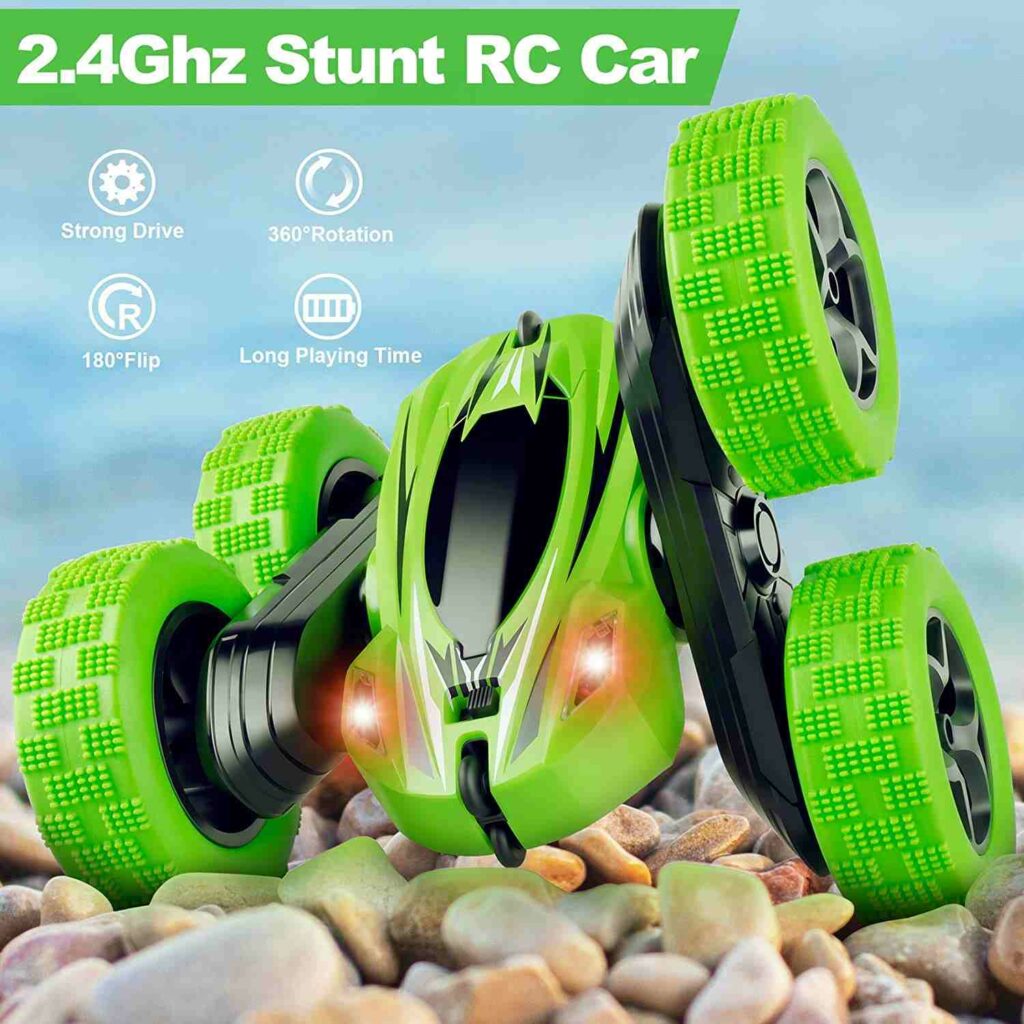 Pros:
Good battery life
Affordable and budget-friendly
It can be used for racing 
Cons:
Not as fast as other RC cars 
Quality may come across as cheap
4. Traxxas 36054-1 Stampede: Monster Truck
This monster truck is well-known for its cool design and sleek features. Factors like long battery life, waterproof design, quality radio system, and more make it a highly sought-after option for dogs and RC Car enthusiasts.
While out with my dog to test the car, I was pleasantly surprised by the water-resistant nature of the truck. The waterproof parts and durable design make the car usable across all types of weather. The Traxxas stampede is a pleasure to chase after, whether water, mud, or snow.
The car also boasts a strong battery life, thanks to its 7-cell NiMH 3000mAh Traxxas iD battery. If you are an RC car beginner looking for the perfect remote control truck for you and your dog, this Traxxas truck is perfect!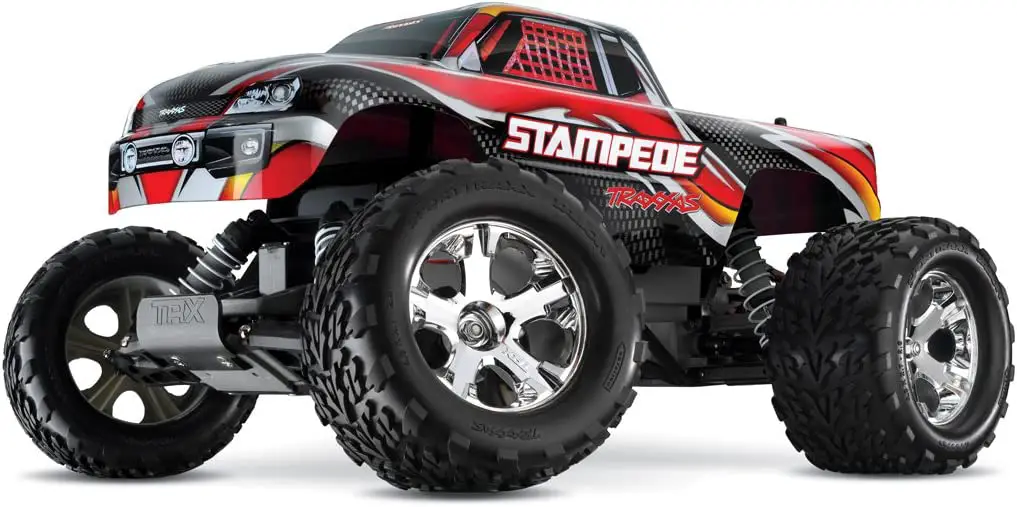 Pros:
Waterproof design 
Strong battery life 
Can handle bumpy terrains
Cons: Not as fast as other RC cars
5. The LAEGENDARY Fast RC Car
The LAEGENDARY Fast RC Car is a tremendous dog-proof remote control car for new drivers or RC car enthusiasts, in my opinion. The car comes in various cool colors and ensures entertainment for children and adults.
It may not be the fastest car in the block, but it still packs a punch, and my dog enjoyed running after it. If you are an RC beginner, this car is perfect for you and your beloved pooch! It's smaller 1/16 model can accommodate any tiny-sized dog, making it the best remote control car for small dogs.
The LAEGENDARY is a 4X4 RC truck, which implies that the motor powers the front and back wheels. This car is easy to use and maneuver on almost all terrains. In addition to the remote control ensuring a comfortable grip, this RC car also offers long-range handling of up to 250ft. The wounded wire coils inside the car's engine can ensure speed up to 25 MPH!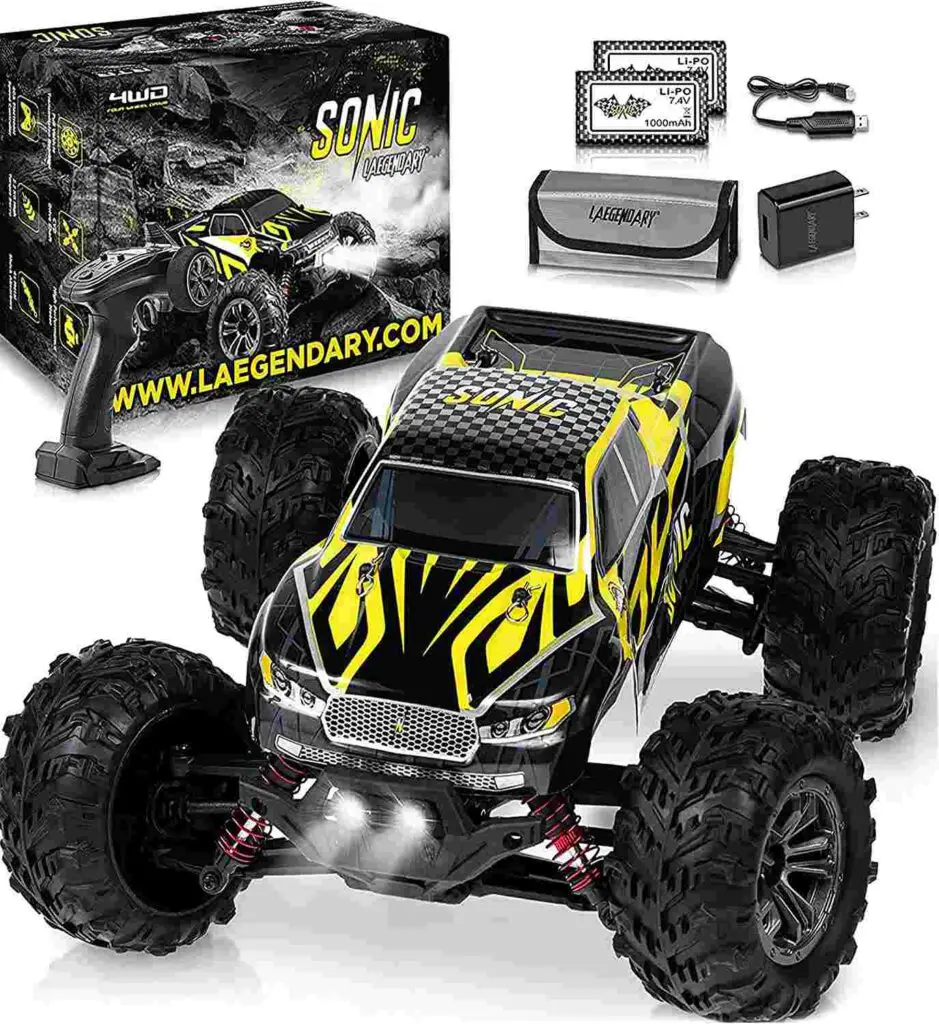 Pros:
Beginners-friendly 
Durable and long-lasting 
Affordable price
Cons: Short battery life
6. The Redcat Racing Everest-10 Electric Rock
This car from Redcat is a remote-controlled car that is extremely strong and durable. It comes equipped with a four-wheel-drive system that provides excellent traction and control. My dog loves to happily chase after this remote control car as it can reach pretty high speeds.
The car is durable and long-lasting, making it easy to maneuver in harmful conditions. It also has a long-range remote control and a 2.4 GHz 3-channel radio system.
From what I have seen, the design of this car is truly exceptional. It is powered by a strong battery that lasts a long time. Other cool features of this sleek car include adjustable height, turnable shocks and suspension, an easily adjustable wheelbase, and more.
This high-quality RC car can easily absorb shocks and bumps, and its robust frame can easily withstand collisions and crashes. Moreover, the car is easy to operate, making it suitable for dogs and humans.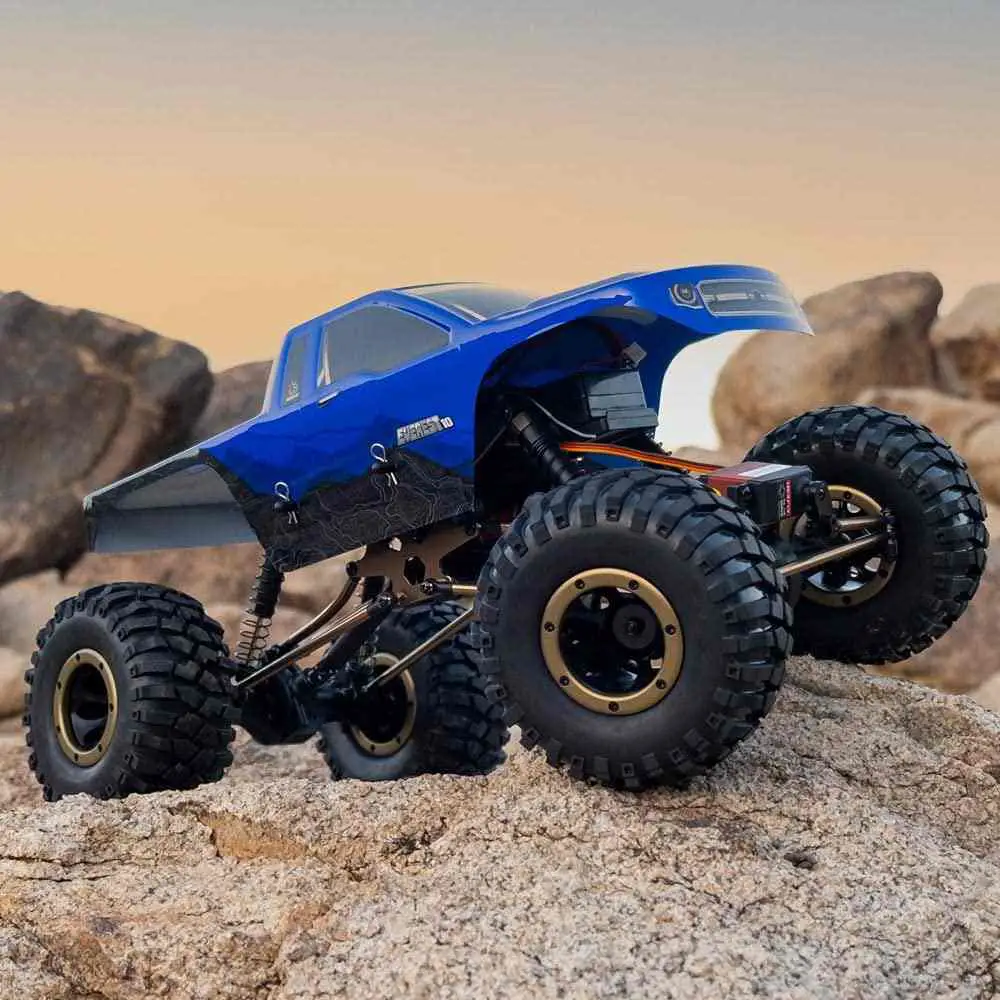 Pros:
Long-lasting battery life 
Good-quality tires to prevent wear and tear 
Waterproof design
Cons: Some may find the steering to be a bit inaccurate
7. The Hosim 2845 Brushless RC Car
A popular remote-controlled car for dogs, the Hosim 2845 Brushless RC car features a high-performance brushless motor, rechargeable batteries, and independent suspension, allowing the car to reach 60+ KMH in speed easily. The car has been intricately designed to withstand rough use and is made with high-quality materials that can handle a lot of wear and tear.
According to the manufacturer, the car is made out of non-toxic material, making it safe for dogs and little children. It can offer hours of entertainment and enjoyment, as my dog thoroughly loved it when I took this RC car out for a test run. The car's anti-collision and anti-impact build means it will last you and your dog a long time.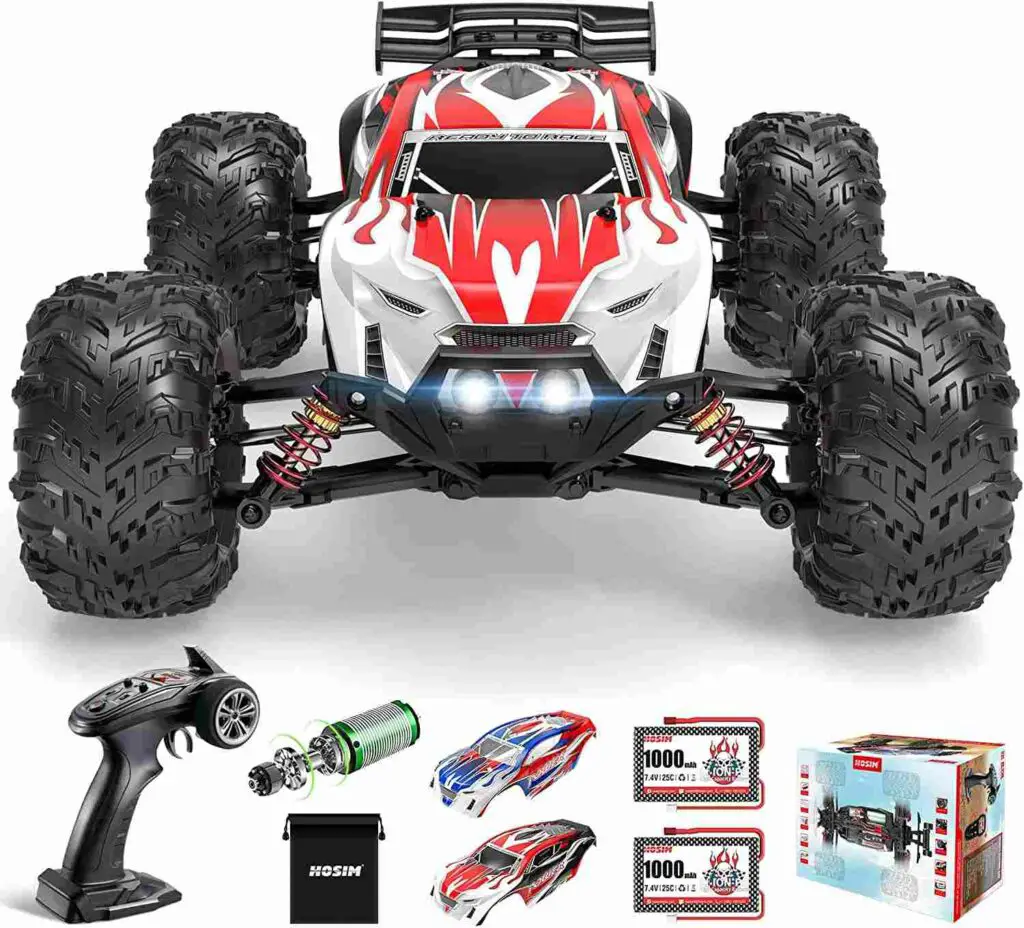 Pros:
Speed is perfect for RC car pros
Durable and long-lasting
High-performing motor 
Cons: It may not perform well on rocky terrains
Conclusion
The reason behind these RC cars' massive popularity is that they provide a great deal of fun and entertainment. They can be enjoyed by people of all ages and can be driven around inside and outside the house. In addition to children and adults, dogs can also have a great time with RC cars.
These toys can encourage your pets to run and stay fit as a result. You can also customize these cars with various parts and accessories, ensuring a unique and personalized experience for your pets! An RC car is enjoyable for dogs as long as it has been chosen with great care and introduced with care for your dog's temperament.
Read Next:
FAQs: Best Remote Control Cars for Dogs
1. Do Dogs Like RC Cars?
A: Most dogs enjoy RC cars a lot, and it is important to start slowly and let them get used to it. You can start by letting them sniff and investigate the car when it is stationary and gradually introduce movement. It is important to always supervise your dog when they are playing with an RC car to ensure their safety, and never let them chew on or ingest any parts of the car.
2. Are RC cars safe for dogs?
A: Remote-controlled (RC) cars are mostly safe for dogs to play with, but it depends on certain key factors. It is important to choose an RC car that is apt for your dog's size and activity level. For instance, if you have a small dog, you should opt for an RC car that is lightweight and easy to handle. If you have a larger dog, you may need a more durable and robust RC car that can withstand rough play.