13 Essential Dog Camping Gear: A Buyer's Guide
It always takes a little more planning and preparation to go dog camping with pets. You'll also need specialized dog camping gear to bring your fur babies. So, if this is your first time, you require appropriate vacation planning guidance.
It's always fun to live off the land, take in the landscape, and try new activities with your dog. You're in the right place if you're seeking a dependable source of information that can help you become familiar with the many sorts of equipment you'll require.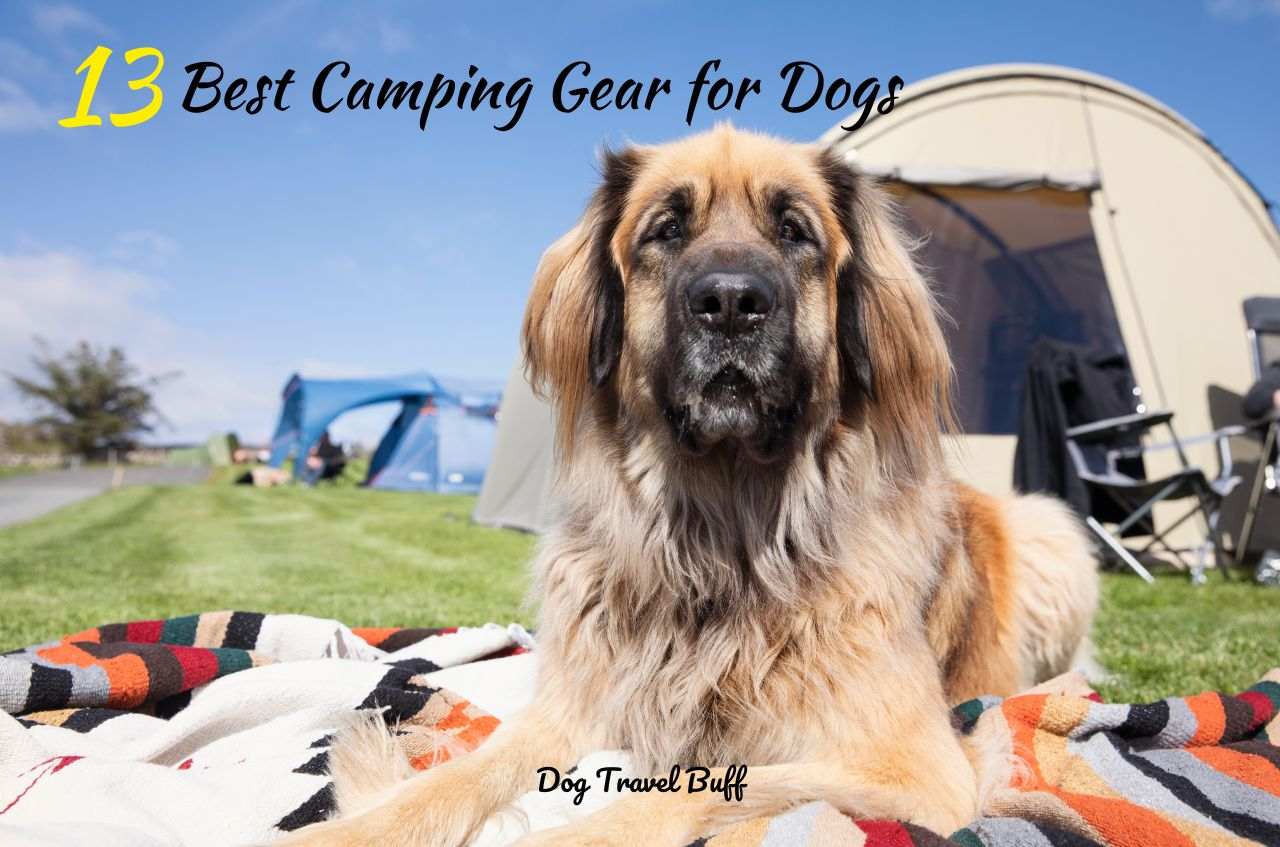 This post may contain affiliate links. If you buy something through one of those links, you won't pay any extra penny, but I'll get a small commission that encourages me to deliver more helpful content for you.   
Top 13 Dog Camping Gears for Your Next Camping Trip
The products you will need in your dog camping checklist are listed below with thorough descriptions and appropriate reviews.
1. Outdoor Dog Bed
All pet owners prioritize keeping their pets cool and comfortable, and outdoor dog beds might be handy while camping. Dogs need a place to relax outside, thanks to outdoor pet beds.
It offers your dog an environment that is not only cozy but also reassuring and plush. When looking for a dog bed for your furry buddy, several aspects are essential to take into account.
With the help of this item, your dog can unwind and take a nap full of sweet dreams. This portable outdoor dog bed is an excellent choice for dog camping and comes with a carry bag.
I've personally used this item when I went for hammock camping with my dog in California. My doggo doesn't prefer to snuggle on the hammock. Hence, I got this outdoor bed so that he could sleep comfortably. It folds quite quickly and is too simple to transport. Also, it is very user-friendly and comfy for a dog.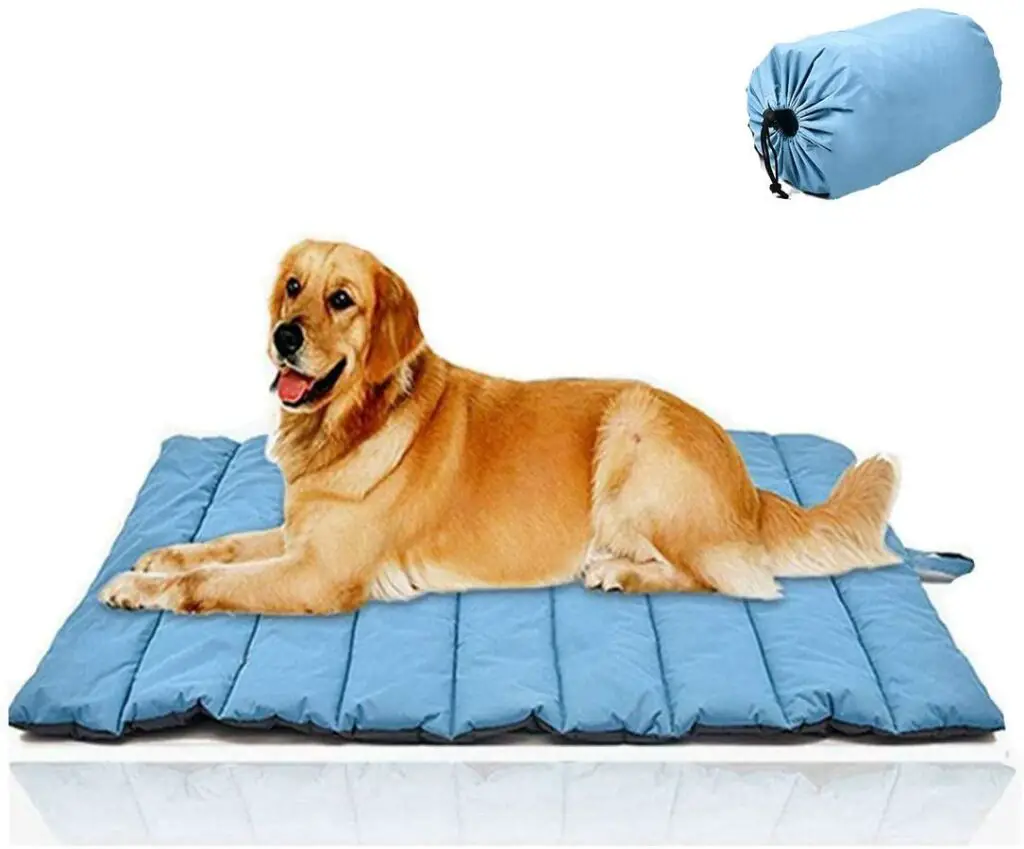 Pros:
This dog mat is made of Oxford cloth, which is water-resistant in practically all conditions.
This mat can be hand-washed or gently circular-washed in a washing machine.
The front side is made of easy-to-clean Oxford cotton, making it simple to remove stains with a moist towel.
Cons:
This mat is not recommended for aggressive chewers since they could tear it up.
It has a short cooling period and won't stay cool for long.
2. Dog Travel Bag Organizer
When traveling, dogs require almost as much stuff as infants do. However, by keeping a bag loaded with all the doggy necessities, you can make the process much simpler. It's the ideal spot to store all the items your dogs require when they're out and about, thanks to all its zippers and compartments.
With the assistance of this fantastic dog travel bag organizer, you can travel with your pet in complete comfort and style. You can efficiently gather all the necessities for your dog in this all-in-one carry bag. Your packing will be quicker and easier as a result.
You can choose it based on the color it arrives in. This travel pack comes with a dog tote bag and two foldable, easy-to-clean silicone pet bowls. The large front pocket includes two dog food bags, a pouch for a first aid kit, blanket straps, and other pockets with retractable dividers.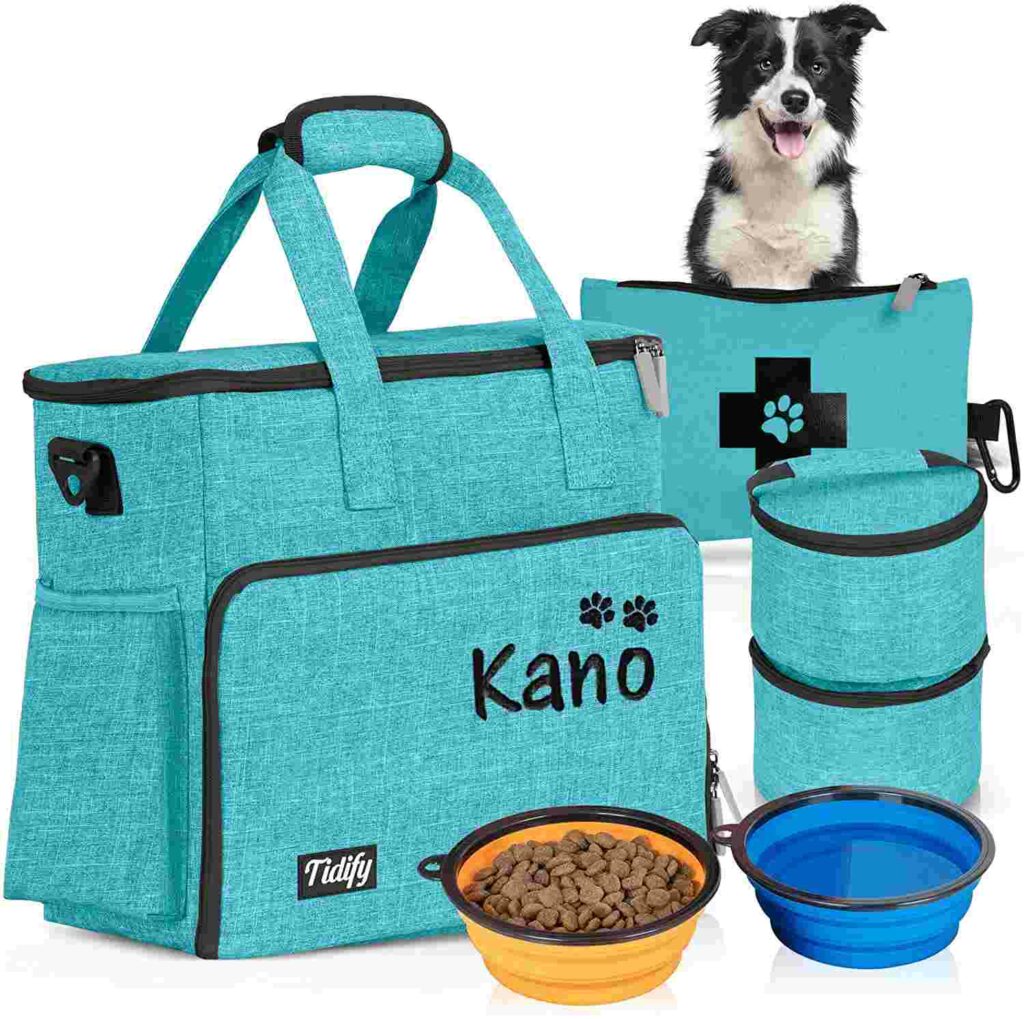 Pros:
Features a built-in adjustable flap and numerous useful pockets for versatility and organization.
First aid bag with carabiner and checklist ensures safety
Integrated adjustable flap for flexibility and organization.
Cons: Only appropriate if you go with a small dog for camping with minimal needs.
3. LED Dog Collar Lights
Light-up dog collars make it possible for owners, dog walkers, and cars to see dogs at night, which helps to avoid accidents or the dog getting lost. These collars are functional and waterproof and can be used as the dog's actual collar or as a cover for the existing one.
Dog camping with LED dog collar lights has been a fun and rewarding experience. I recently took my two pups to a dog-friendly campsite in California and let them explore the area wearing rainproof LED collars.
They were mesmerized by the vibrant colors of the collar lights, and they were so safe at night since I could easily spot them while running around the campground.
I loved letting them off their leash and not worrying about them running into the darkness. It was also great to find them easily since their collar lights reliably lit our way back to the tent at night.
When purchasing one, it is crucial to ensure it is sturdy and well-built; light-up collars produced cheaply may not last as long and may not be as bright as you need them to be. It effectively protects your dog from unanticipated danger while out for a night walk.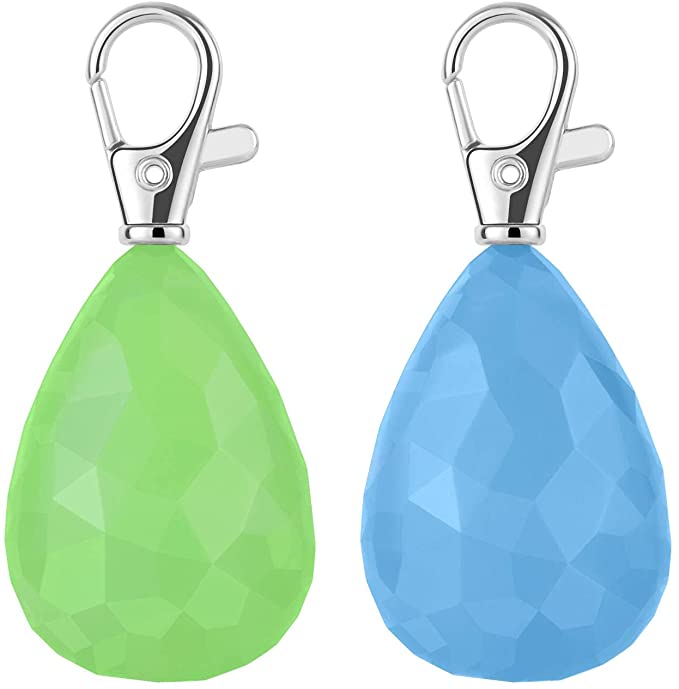 Pros:
Waterproof and dust-resistant, they work well in all types of adverse weather.
Lifelong customer service and a worry-free 12-month warranty.
Visible till 500 meters in total darkness and simple to attach to a dog leash, collar, backpack, etc.
Cons: Frequent hue changes in light can strain the eyes.
4. Dog Bandana Collar
Using these dog bandanas is the greatest approach to keeping little pups or dogs warm and cozy during the winter. It also functions admirably as a collar that your dog can flaunt. Dog bandanas can also serve as a warning sign for people, alerting them to behavioral or medical issues.
When my pup wore this dog bandana collar, it made him look dapper and cute! We were able to find the campsites and explore the outdoors together.
It is essential to look for the appropriate size and color for your dog. Measure your dog's head using a measuring tape to determine the proper bandana size, then add two inches to that measurement.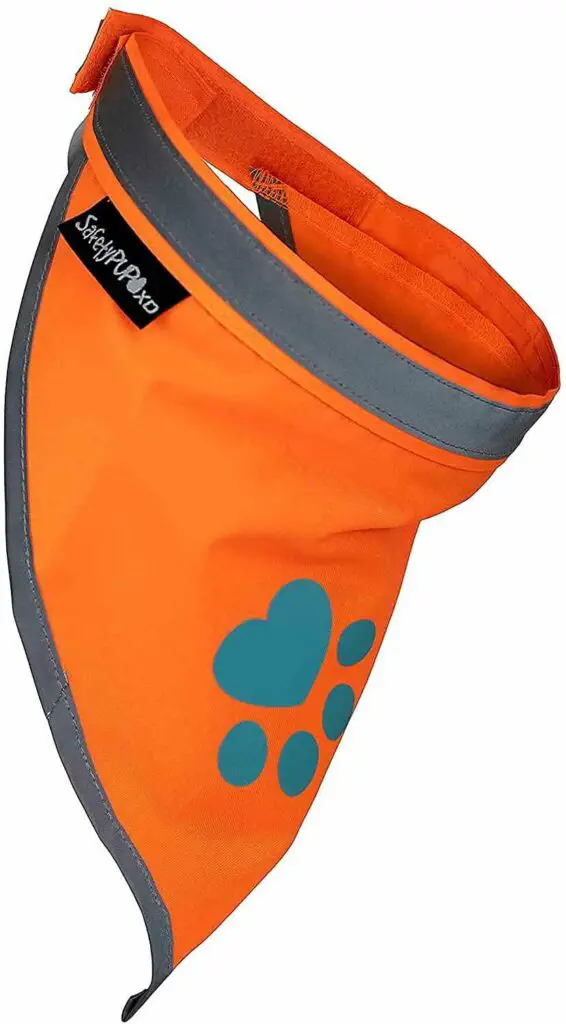 Pros:
Long enough hook and loop fasteners enable the ideal, personalized fit for your pet.
Visibility is improved in low light conditions by the reflective heart paw.
You can return the item easily and receive a full refund.
Cons: Only suitable for medium-sized dogs.
5. Foldable Water Bottle For Pet
Planning to go on a trip with your four-legged friend? Water is a vital part of the camping trip, right? Here, I have hand-picked the best handy water bottle for your dear mate. A must-have dog camping gear, this water bottle folds itself to make a bit more space when in need. Just unfold the bottle and find a feeding cup for your dog's comfort.
I have been personally using this bottle for over a year now. It is the perfect gear to carry along while you are on a walk, specifically during camping; it solves the major water problem for my dear mate.
Made of food-safe plastic, this water bottle is a bit big enough to fit your bag's side pocket but handy enough to solve your dog's thirst for a long time.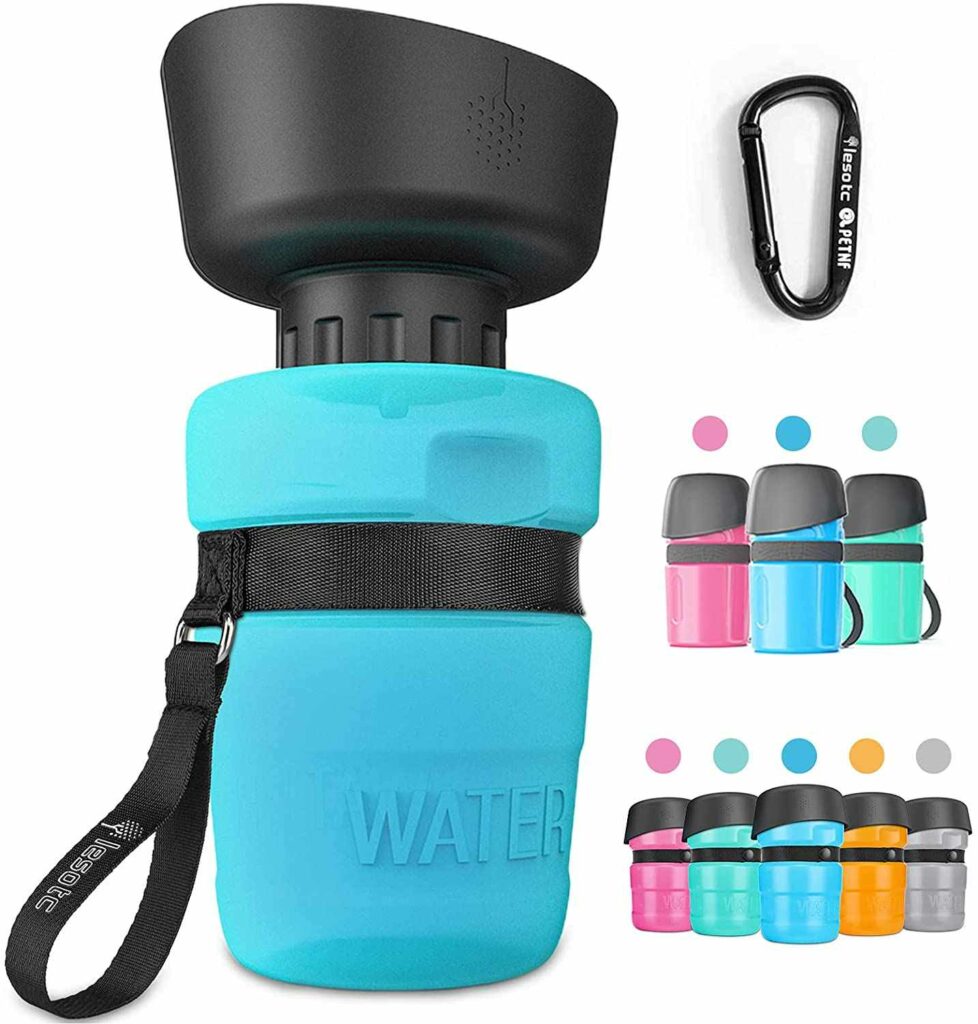 Pros:
Available in 6-8 different colors, as what your pet likes.
The cap is made of silicone and is easy to wash and maintain.
The bottle comes with a hook to attach it to any bag. And a carry cover too.
The bottle has a safety lock which allows the user to block the spilling water. With no extra cap, the silicone cup acts as the lid.
Cons:
The bottle material is plastic (not the best for storing bottles)
Different bottle generations have different lock mechanisms.
The size might be a bit big to fit every bag pocket.
6. LED Light Dog Leash
Worried about losing your pet in the dark or having issues finding what way your pet is trying to move or look? I have an incredible product to add to your list of camping gear for dogs – an LED LIGHT DOG LEASH.
Available in 6 bright colors and 2 holding sizes of 6 feet and 4 feet, this device is visible from 350 yards in any foggy, hazy, sunny weather, irrespective of time. The product also has 3 settings: a full glowing belt, an indicating on-off belt, or a flickering light belt.
Pros:
A bright light that is visible from a far distance.
Easy to fold material.
Soft material designed for the comfort of your dog.
6 different colors to suit your loved pet.
Cons:
The problem is for owners with migraines. The bright light in the dark may trigger your migraine and make you uncomfortable.
The belt is normal and does not have any automatic pull-back function.
It needs to be charged frequently.
7. GPS Pet Tracker
Camping with your pet can be the true sign of showing love to them. But losing them in the woods is the worst thing to imagine, right?
I've got you covered for this too. Introducing a very convenient GPS tracker for pets, an amazing outdoor gear for dogs. Simply attach it to the dog's collar, and you are set to never miss on your four-legged partner in crime again.
There are many benefits, but there are also some disadvantages to consider while having this product. While it might seem like an ordinary GPS tracker, the product is filled with many features, making it worth spending.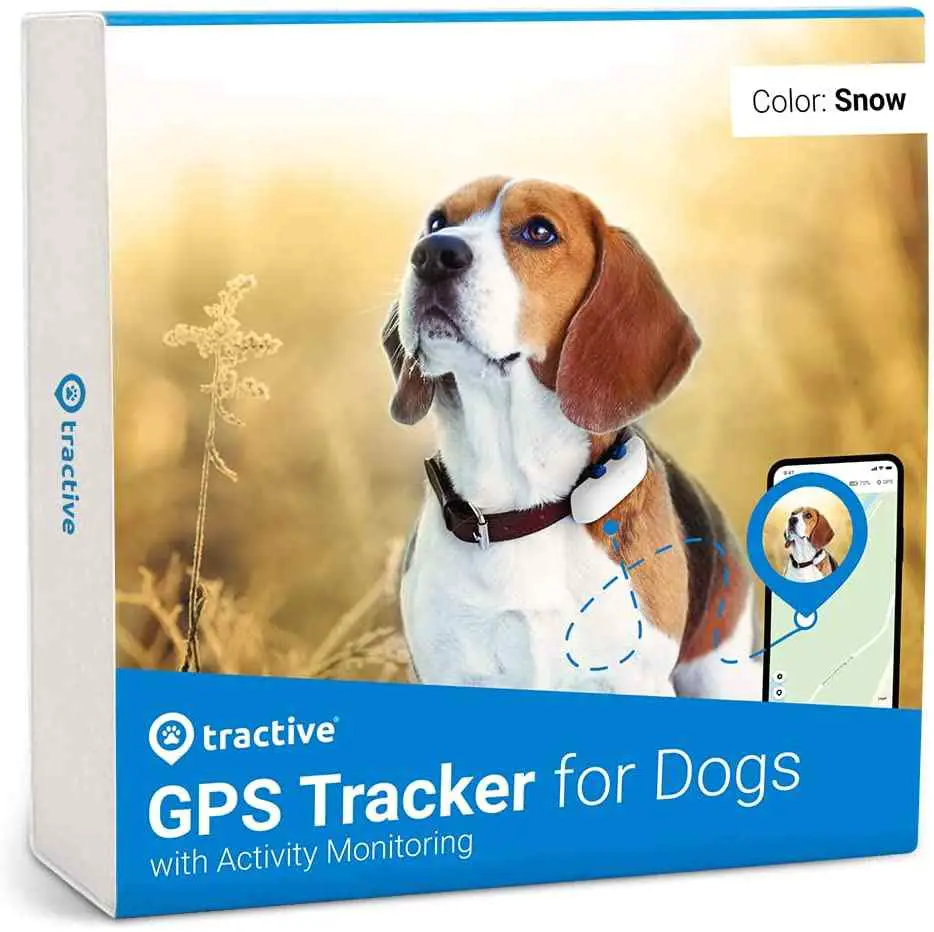 Pros:
Unlimited GPS range coverage, track your dog from any part of the world; the product gives worldwide GPS coverage.
You can set a virtual fence. So, as your set moves out of it, you get an alarm notification.
Set fitness goals and count calories burnt and other fitness activities.
Dustproof, waterproof, and no sticky surface to ensure your pet's safety to the top.
Live location updates and tracking every 3 seconds.
Cons:
Need to buy subscriptions on a monthly, half-yearly, or annual basis.
The price may seem high, but a furry friend's safety is more important than a few bucks.
The only color option available is white.
8. Foldable Pet Feeding Bowls
Isn't it the best feeling to see your pet eat to its heart's content? Well, how do you feed it amidst the woods? This one looks the most important among the other dog camping accessories.
A simple collapsible bowl that can provide food and water to your pet comes in 2 sizes- small and medium. It can hold 21 ounces of water and about 2.5 cups of food.
This product is in demand for its durability and effectiveness. It folds into a plate with a lead that is easy to store in the bag. Customers who have used it have appreciated the simple yet highly efficient mechanism of the product that comes with a user manual.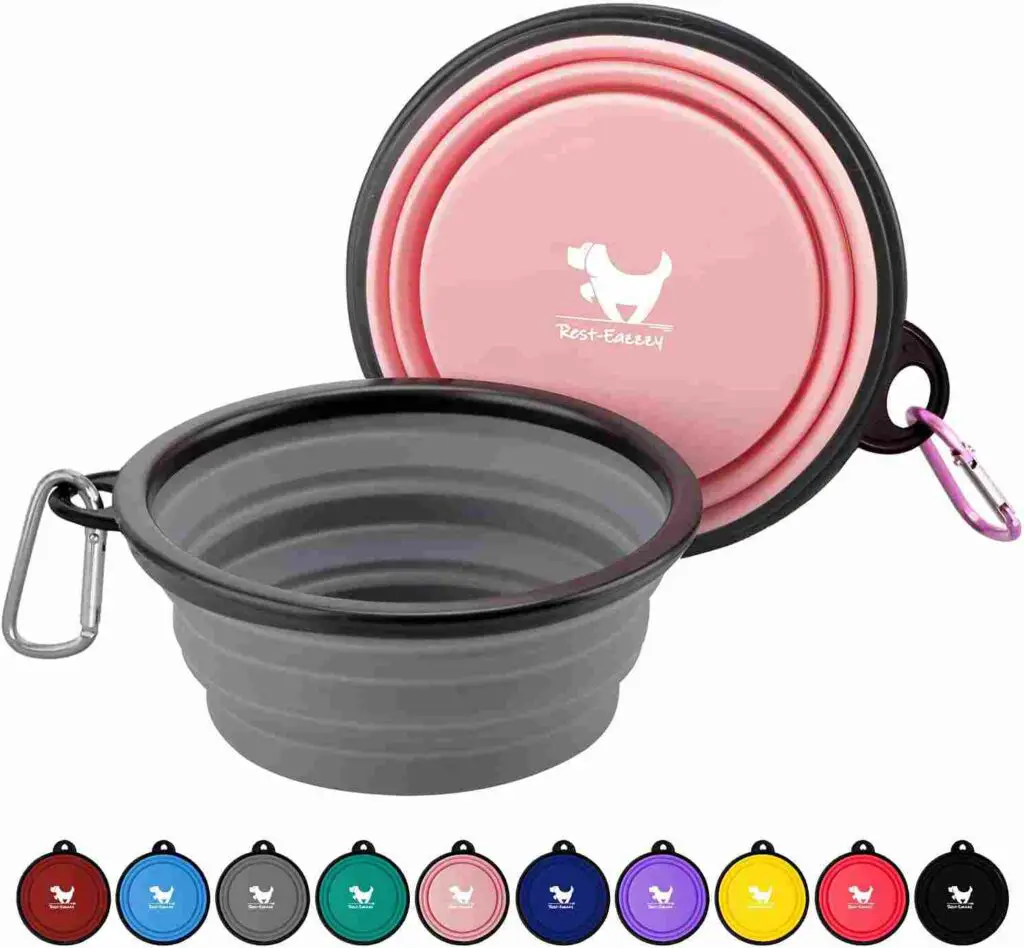 Pros:
Fits into any bag easily.
Easily washable and hygienic
Made of silicon which is a better material than plastic
The anti-slip design makes it sturdy while the pet is eating
Cons: A little expensive for its quality
9. Pet Carrier Backpack
Your pet might be small or too tired to walk during the hike. I have faced this situation so often that I needed to find a solution. The solution came in the form of this backpack. The easiest way to carry your pet comfortably all around the trip, this pet carrier bag is a favorite product for many.
Carry it on your back and enjoy the trip without worrying about your pet's where beings. It has a safety belt to hold the pup in place. Apart from the pet, it has other pockets that can store other necessities. A must-have dog hiking gear, it makes your journey more hassle-free for you and your pet.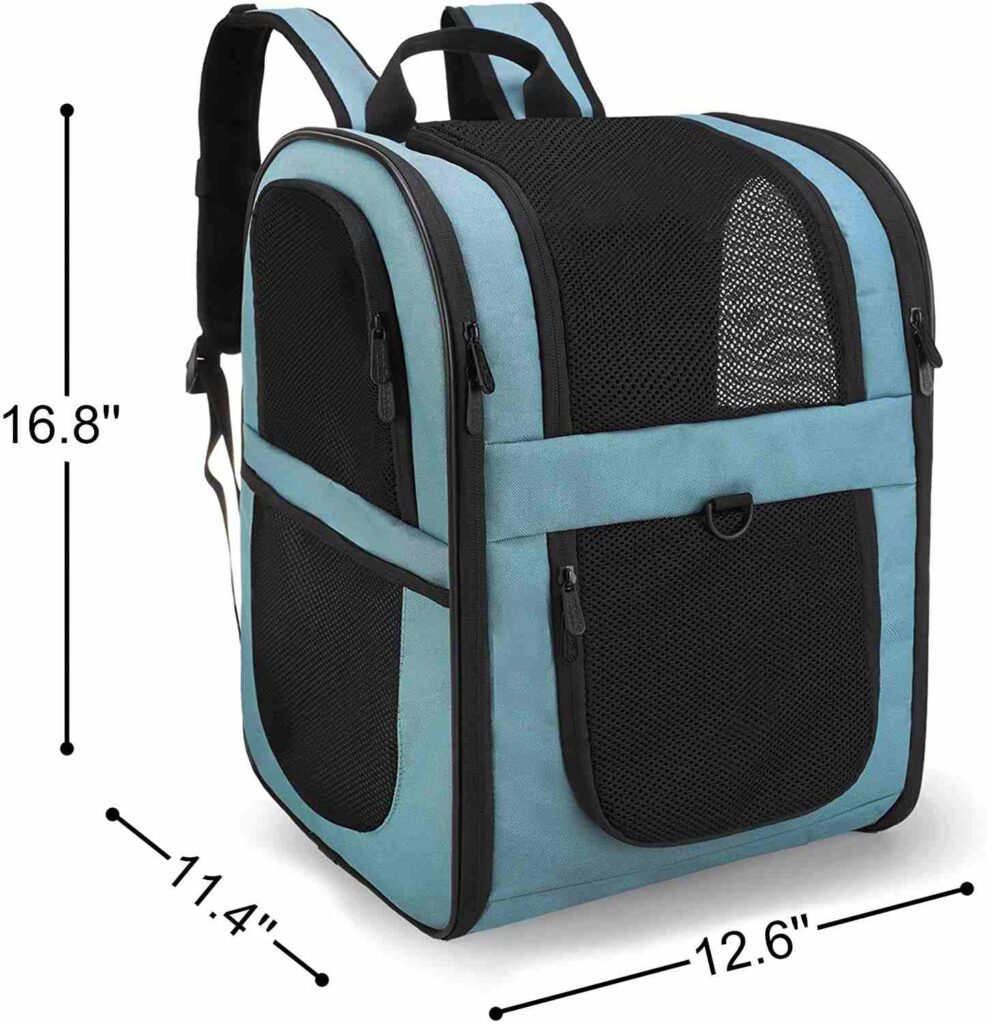 Pros:
The product is available in 4 sizes- small, medium, large, and extra-large. It helps you choose the right one for your dog.
It distributes the weight perfectly across the shoulders, making it easy for the owner to carry it for longer durations.
Soft material that keeps the pet comfortable.
Cons: Best only for small-sized dogs and puppies.
Recommended Post: 10 Best Dog Carrier Backpacks for Pet Owners
10. Folding Soft Dog Crate
The nights are the most difficult part of camping for your dog. Cold weather, insects, bugs, allergies, and other wild animals, can all affect the well-being of your beloved pet. To prevent that, I'd recommend getting a foldable kennel that helps your pet sleep soundly. This AmazonBasics product is easy to use, clean, and unfold.
It can easily be set beside or inside your tents while camping, providing a comfortable place for your dogs. It saves them from insects and wild animals too. Your pet will not feel suffocated or trapped in it. Instead, it would have a warm cozy feeling, protecting it from the wild and cold. The last time I went camping with my dog, I bought this crate. She used it for 3 nights without any discomfort.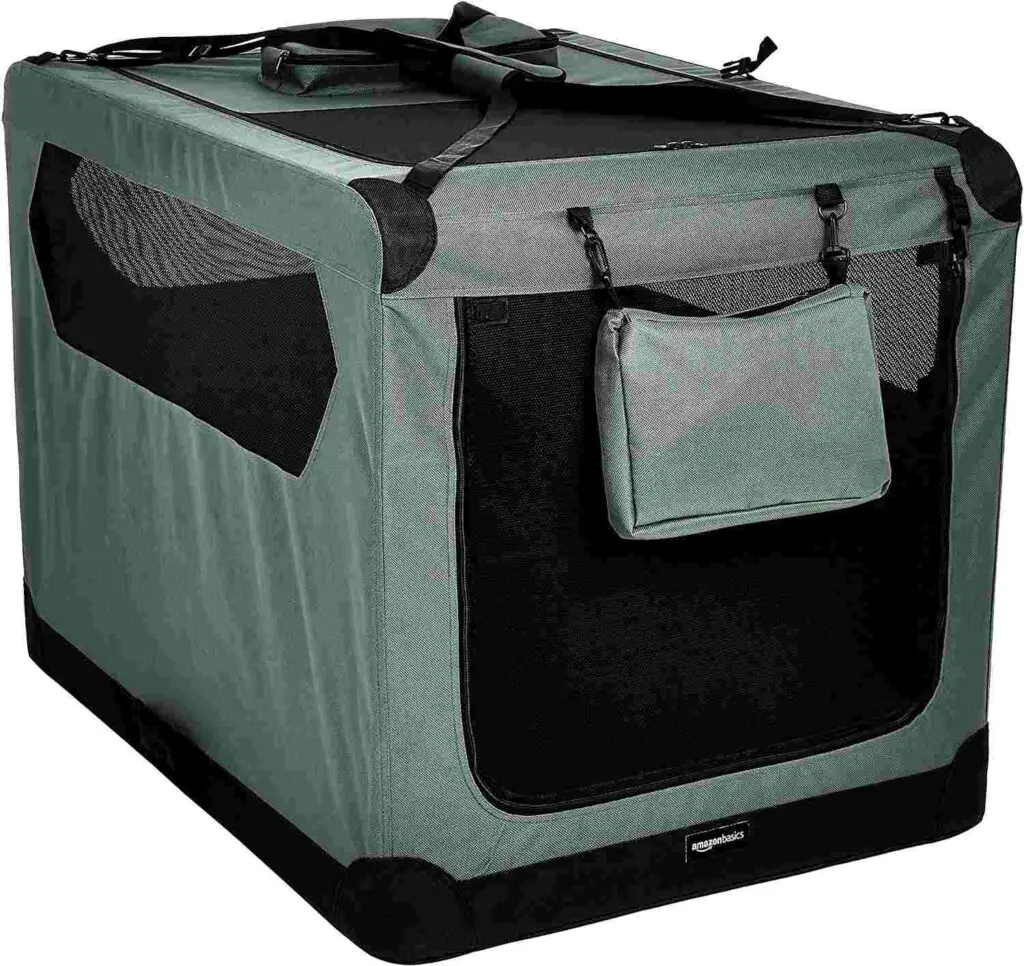 Pros:
It is very lightweight and easy to carry along on hikes. Weighing about 3 kg won't add too much to the camping luggage.
It is specially made as dogs hiking gear, keeping their needs in mind. It has a window for the dog to pop its head out. The ventilation is also designed well with 3 mesh windows.
It is durable and can last for years with the minimum maintenance needed.
Simple hand-washing is enough to clean it.
Highly affordable
Cons:
Dogs need to be trained to sleep in crates to use this product.
It might be uncomfortable during summer times.
11. Non Slip Washable Puppy Pads
I recently purchased a set of the Peepeego Non-Slip Dog Pads to use for my 3-year-old Labrador retriever, and I can't say enough good things about them.
You can freely enjoy some time with your pet while camping without worrying about the urine getting through to the puppy pads, as the second layer uses the best waterproof PU.
The pup can be left alone after potty training using pet pee pads. Even after 24 hours, the floor will still be clean. They only offer whelping pads without a cage.
Pros:
The whelping mat is robust enough to withstand the puppies' chewing.
The rubber dot used in the fourth layer ensures that the pee pad is precise and remains in place.
These pee pads are washable and can be used more than 300 times.
Cons: You must dry it several times to ensure it is completely dry because it must hang dry or be dried on a low setting.
12. Pet Cot Canopy
Your pet is kept elevated and more comfortable indoors and outdoors by a K&H Pet Cot. With the addition of the Pet Cot Canopy, K&H has now improved its wide-ranging and distinctive pet cot line.
Your pet will benefit from the shade and protection provided by the K&H Pet Cot Canopy from the stifling summer sun. It has been made to fit any K&H pet cot (sold separately).
The design is straightforward; all that is required is for the pet cot canopy to be plugged into the corners of any K&H pet cot and then secured with bungee cords at each corner.
These canopies are convenient for travel, camping, picnicking, and other outdoor and indoor activities.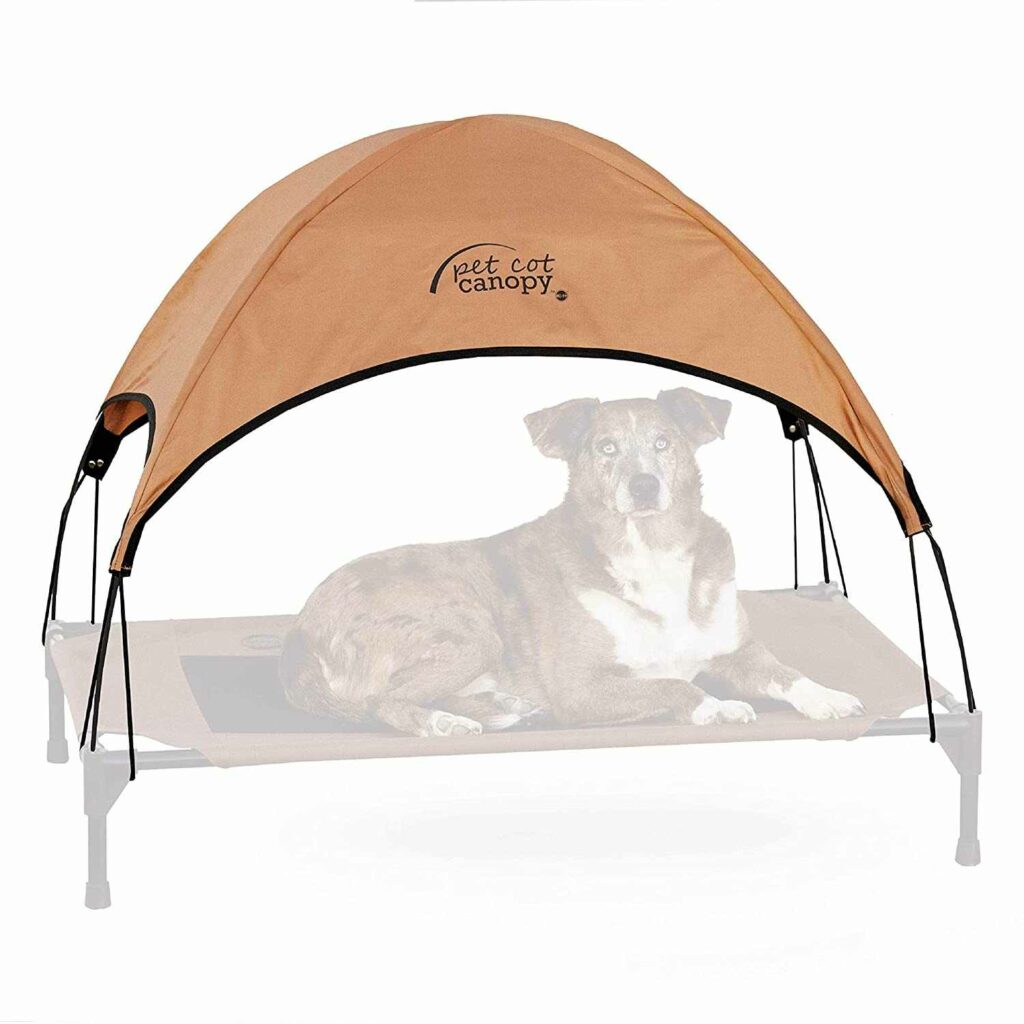 Pros:
They can be put together and taken apart quickly without using tools.
They are portable and light.
They do not gather debris or water.
The Pet Cot Canopy elevated dog bed cover is machine washable for simple maintenance.
Cons:
They are unsuitable for desert sun and high temperatures
They are Inadequately robust
13. Dog Stake Tie Out Cable
While your dog may play and explore, you must keep them secure and out of harm's way. But how can you accomplish that if your yard is unfenced or if you're camping?
This dog stake will keep your furry companion safe in the yard, at a park, or while camping. It provides enough space for your dog to roam around safely. With these sturdy, dependable dog tie-out stakes, you can keep your dog secure on a long cable or line. You can simply attach the collar to the chain and screw it into the ground.
It can be challenging to choose a stake that is both reliable and appropriate for your tie-out. To assist you in selecting the best tie-out stake for you and your dog, I've picked this Darkyazi Dog Tie Out Cable and Reflective Stake. You'll soon be unwinding as your dog plays nearby in safety and happiness.
Pros:
Ideal for small to medium-sized dogs, with premium cable and stake
Easy to use
It comes with a spiral tie out stake and a cable
Rust-resistant and crack resistant
Cons: Not suggested for large dogs.
Conclusion
We all love our pooches a lot. Our concern for them drives us to buy products like these. It is their comfort that gives us happiness. Each of these products is meant to cater to your pet's comfort and well-being, making you and your pup's camping experience comfortable and hassle-free.
Read Next:
FAQs: Dog Camping Gears
1. How do I manage my dog when camping?
A: Make sure you have all the essential dog gear for camping. Keep an ID and a printed photo of your dog with you, along with their distinguishing marks for identification. Carry allergy prevention and cure supplements for the dog. Refer to your pet's vet for all its medical requirements and tests. Keep the dog leashed for safety. Beware of wild animals, insects, or any other threats. Understand your pet's hunger, thirst, or rest needs and manage accordingly.
2. How do campers keep dogs warm at night?
3. Is it safe to camp with a dog?
A: Make sure that the place you are camping on allows pets. Bring the necessary items like the dog id, medical supplies, food and water, emergency needs, blankets, etc. Keep a check on wildlife, insects, and other possible harmful elements.
4. Do dogs sleep in a tent when camping?
A: Yes, dogs can sleep in tents if they are big enough. It also depends on the size and needs of your dog. A sleeping bag or a foldable kennel might be a better option for their comfort.