5 Best Dog-Friendly Beaches In Miami with Parks and Hotels
"A dog is the only thing on Earth that loves you more than you love yourself, true companion and loyal friend". Can you deny that? 
But why are you so gloomy? Does your busy schedule affect you to spend quality time with your dog? Are you a beachgoer? Then you must plan a trip to alluring beaches in Miami. You should not be worried because here I present to you the best dog-friendly beaches in Miami.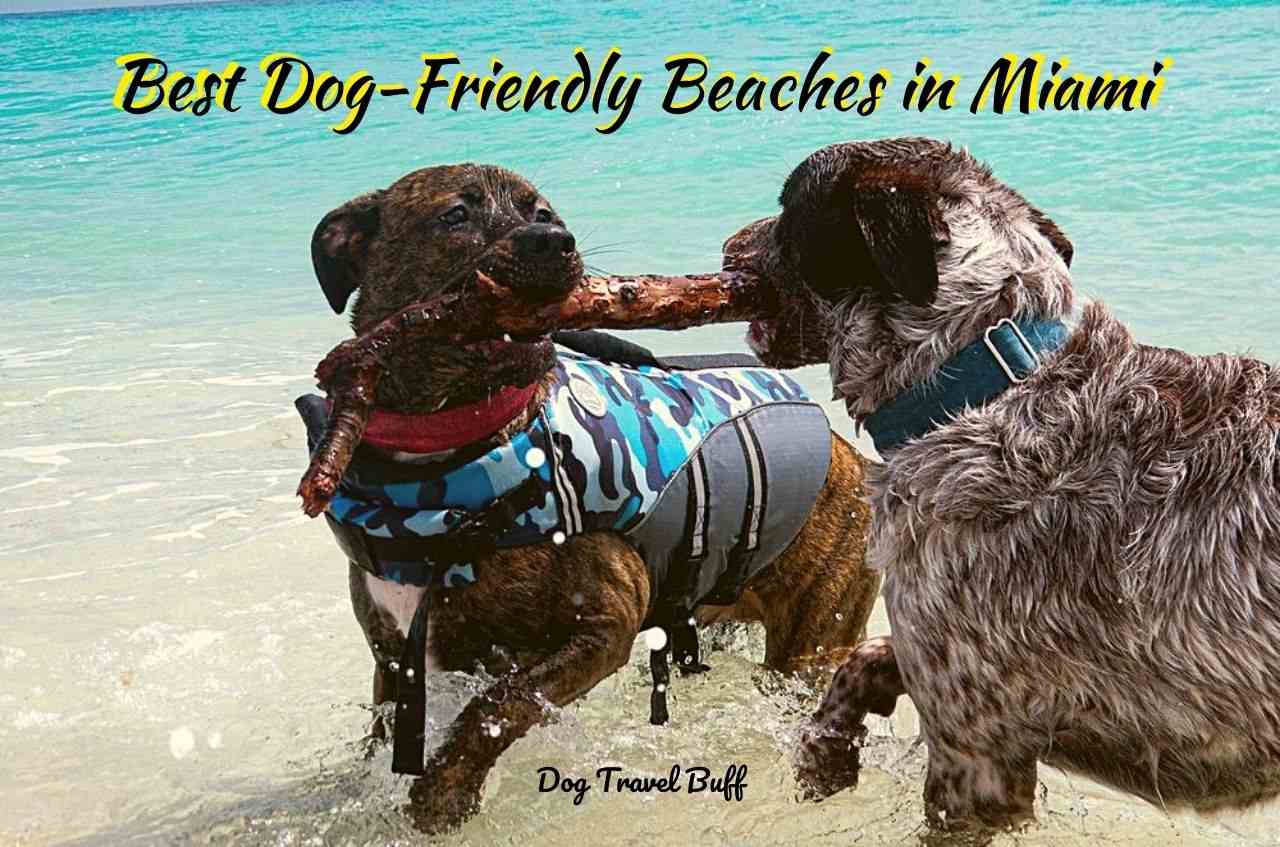 This post may contain affiliate links. If you buy something through one of those links, you won't pay any extra penny, but I'll get a small commission that encourages me to deliver more helpful content for you.
Someone truly said, are you having a lovely, most elegant pet dog in your family? What a fortunate and mirthful person you are then! Dogs do speak but only if you know how to listen. 
If you're from Florida then I must say that you're already in a beach paradise and to bond up with your dog you should visit the dog beaches in Miami. The beaches, swimming pools, parks, and weather will offer you the most surreal experience with your four-legged best friend. 
Here is the guide to dog-friendly Miami for an awesome beach day experience. 
Best Dog-Friendly Beaches in Miami
Have you made up your mind to spend the coming vacation with your dog? Book your hotel or resort in Miami as you can take your dog with you for the most relaxing vacation in Florida. There are many dog-friendly beaches in Miami, but before visiting the places directly I would suggest you either dial or check their website first. 
Let's run around the white pristine beaches of Miami. 
1. Haulover Beach
Address: 10800 Collins Avenue in Miami Beach  
Timing: 8 a.m. to 3 p.m, off-leash dogs are allowed near lifeguard towers 2 and 3
Fee: $2 per vehicle till the afternoon 
Haulover Beach sits north of Miami Beach between the Atlantic Ocean and Intracoastal Waterway. This beach is the most gorgeous, spacious, and well-known beach in the world for two reasons, one of the best nudist beaches in Florida and a popular dog-friendly beach in Miami. With the blue water, soft sand, and beautiful fountains, this place is perfect to get some suntan with your dog.
Haulover Beach features a bark park that is enclosed for small dogs (less than 35Ibs.) and large dogs (more than 35Ibs.). You can enjoy your lunch with your pet under the shaded trees and drink water from the fountain. You won't have to find out the hidden places for doggie waste as the doggie waste bag dispensers and waste containers are there. 
Tips:
Two dogs are allowed per person.
Puppies under 6 months old are not permitted.
Monitor your dog at all times. Scoop their poop. Fill the holes dug by them. Prevent them from aggressive behavior.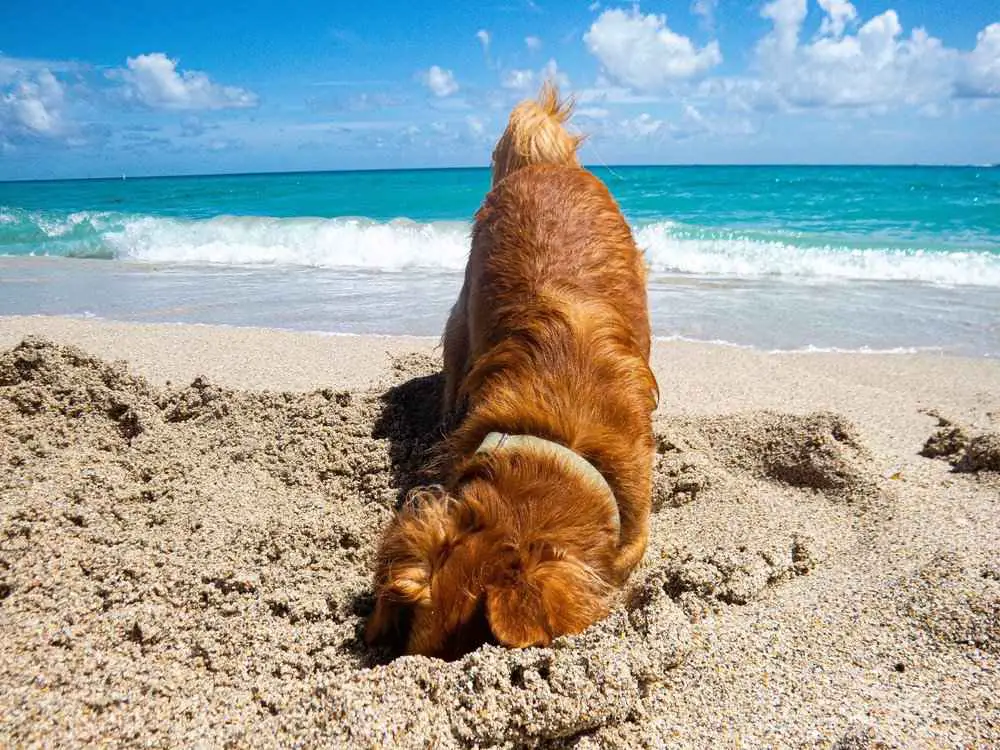 2. Bark Beach
Address: 8232 Collins Avenue in North Miami Beach
Timing: Open on Fridays, Saturdays, and Sundays between 1:30 and 5:30 P.M 
Fee: Residents $5/day, non-residents $29/day
Lucky pups are those who can come to Bark beach which is located in North Beach Oceanside Park. It is one of the best dog-friendly beaches in Florida. I can bet this puptastic spot is something your dog was craving for a long time; the shady palms and pristine water with a quiet environment are just the perfect escape place from the hustle-bustle of city life.
If you are searching for the off-leash dog beach in Miami then come to the section between 80th and 81st street, dogs can run in the sun and splash in the water, and enjoy their best time. 
Bark beach is the most relaxed and pretty chill beach to turn your dog's sad eyes into happy eyes. This gorgeous beach also features two separate parks for small dogs and large dogs. You will find waste stations, water fountains, trash cans, benches, restrooms, and other amenities for smooth and better memories
Tips:
Off-leash dogs are allowed only on the designated beach area
Dispose of dog's fecal matter once you leave the place, keep it clean
Dogs are not allowed to dig the sand
Per person, two dogs are allowed
Dogs should have a collar and tag on all the time.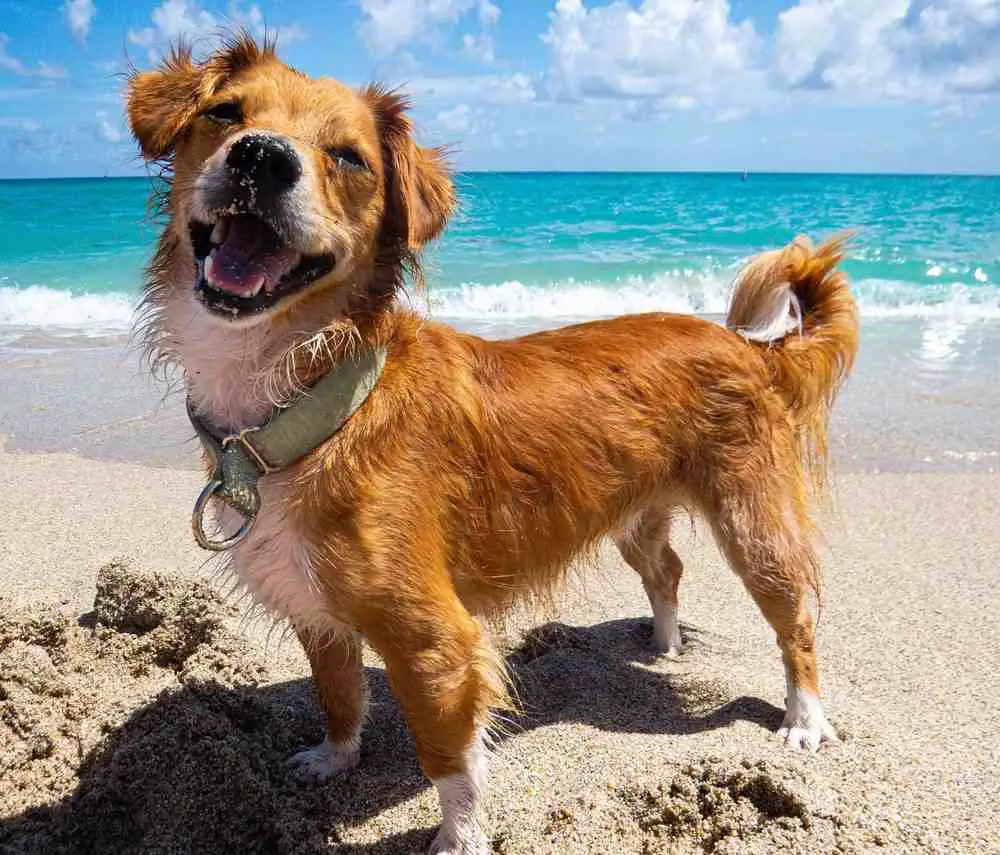 3. Hobie Beach
Address: 3501 Rickenbacker Causeway, Miami, FL 33149
Timing: 6.30 am -8 pm 
Fee: If you're coming from Miami, pay a toll of $1.50 to cross the causeway 
Is anyone interested in windsurfing? Luckily, Hobie Beach on the north side of the Rickenbacker Causeway is famous among locals for windsurfing. Hobie Beach is also known as "Windsurfer Beach". This Miami Beach that allows dogs is also known as Rickenbacker Causeway Beach as it connects the Virginia Key barrier island to Miami. This man-made beach has everything to bring back your thrilling moments. 
Dogs can run and roam either on-leash or off-leash or take a leap into the water as Hobie Beach is a bay beach. With the powdery sandy clean water and crystal clear skyline, Hobie beach is one of my favorite dog-friendly beaches in Miami. I would recommend you to come later on the day to catch the sunset and play games with your pooch by the beach and socialize with other pet owners. 
Tip: On weekends, arrive early to book your spot in the parking lot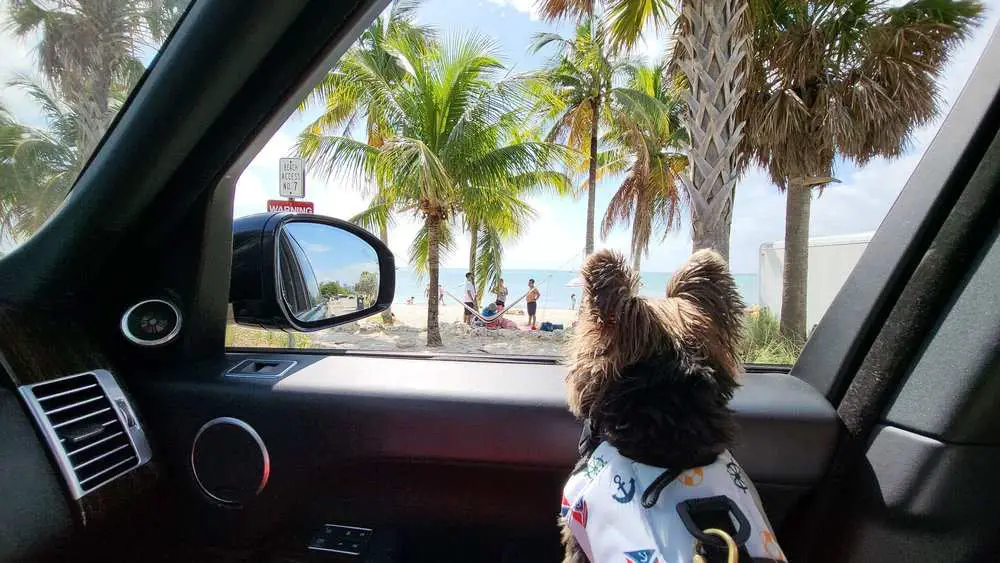 4. Hollywood Dog Beach
Address: 4999 N Surf Rd Hollywood Miami-33019
Timing: Monday-Thursday, 9 am to 5 pm and Friday-Sunday 9 am to 3 pm
Fee: Residents $5/ day, non-residents $10/ day
Small, medium, large, and all kinds of breed dogs are welcomed with open paws on Hollywood dog beach! You will be happy to visit this place and see other dogs running up and down, playing, socializing, or swimming. Hollywood Beach sits between Sheridan Street and Dania Beach Blvd, but the best way to drive is to follow the Custer Streets. 
Hollywood Dog Beach is a Miami dog beach that offers a subdued crowd and a change of scenery with a cool environment. I would recommend you to come here and spend some quality time with yourself and with your dog in the palm of nature and enjoy the sea breeze. 
Tips:
Aggressive dogs are not tolerated.
On-leash dogs are allowed
Dogs are only allowed between Pershing and Custer streets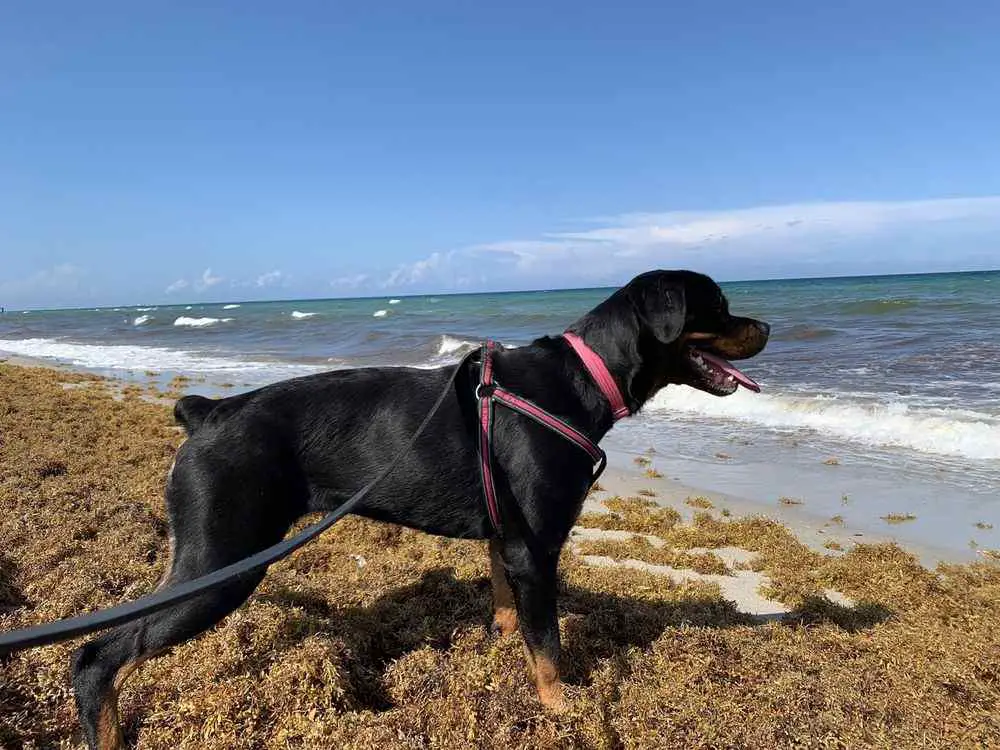 5. Miami Beach Boardwalk 
Address: Miami Beach, FL 33140, USA
Timing: 7 a.m. to 10 p.m
Fee: Free
If you want to enjoy Ocean Drive and beautiful Art Deco buildings, come to the Miami Beach Boardwalk. The quintessential style of architecture around the place with the magical stunning waves of Miami Beach is worth visiting this place. This beach is not completely dog friendly, but you can bring your dog and walk along the path and enjoy the view. 
Evening walk along the beach cruising down the waves, this place is perfect to get some fresh air, exercise, and sunshine. Along the beach between 5th & 46th in South Beach, dogs are welcomed. You can also witness the famous 36 colorful tower that sits at South Point Park to 86th Street. 
Is Miami a Dog-Friendly Place?
Yes, you'll be glad to know that Miami welcomes dogs and other pets with wide arms and love. Miami has plenty of options where you can take your dog to hiking trails, restaurants, parks, beaches, hotels, stores, and other places too. Beyond that, there are a lot of places where you can train your dog to walk on a leash. Miami is the most dog-friendly place in Florida and believes me you will never feel aligned if you bring your pooch here. 
Dog-Friendly Parks in Miami
Lummus Park 
The most energetic place surrounded by green trees is ideal for sunbathing, and visitors with boardwalks or enjoying the evening sun. This well-organized park is an enclosed area for dogs where you can take them and let them play as much as he wants. Lummus Park sits across the streets from the Betsy between the Atlantic Ocean and the famous Ocean Drive.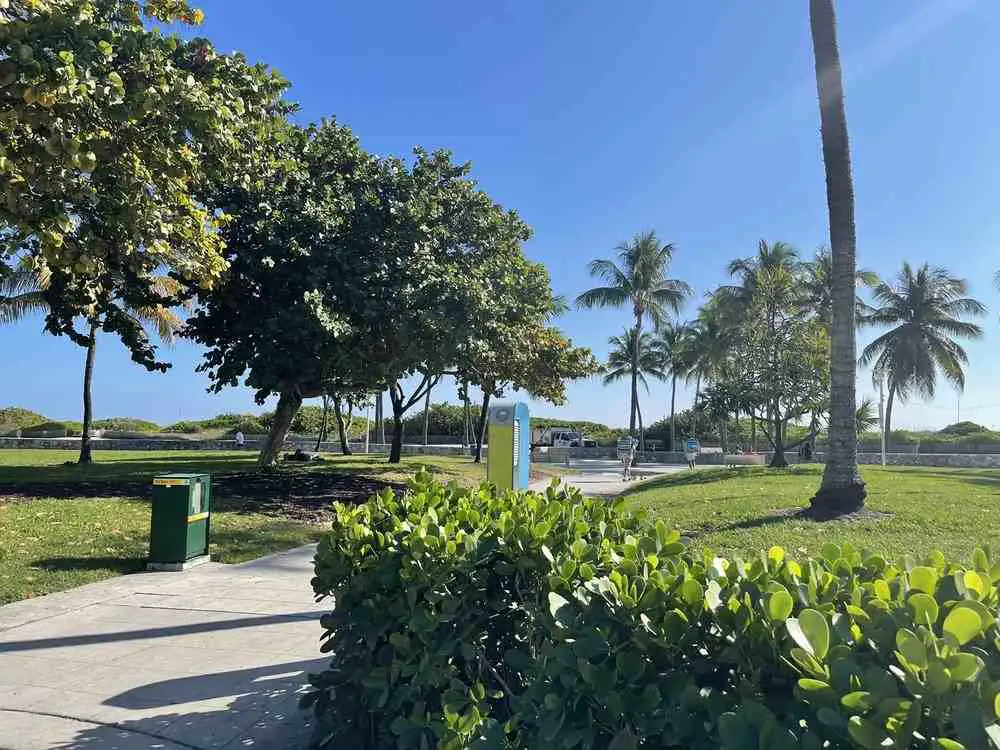 South Pointe Park 
Enjoy the views of the gorgeous South Beach shoreline and Port's Miami cruise ships with your four-legged best friend from South Pointe Park. On-leash dogs are welcome and off-leashed dogs are welcomed only from 10 a.m. and 4:30 p.m. to 8 p.m. There is a barbeque and picnic area where you can celebrate with your whole family. South Pointe Park is a family and dog-friendly place with a lot of exciting activities to perform. 
Dog-Friendly Hotels in Miami
You won't have to be bored on upcoming vacations to be parted away from your pet; you won't have to be worried to bring your pet to Miami as Miami hotels welcome you and your pet with prime luxuries and personalized treatment. Here are the two best dog-friendly hotels in Miami. 
The Betsy Hotel, South Beach
The five stars Betsy Hotel offers gorgeous views from the room that is a 2-minute walk from the beach. You can witness 360-degree views of South Beach from the rooftop of the hotel. The pet fee per dog is $150 per day; the owner of the hotel is very good at heart so he gives half of the money to a dog shelter in Zimbabwe and South Beach. 
The Standard Miami
The four stars owned Standard Miami which is a 12-minute walk from Lincoln Road Mall that offers beautiful views of the Intracoastal Waterway and garden. This hotel features a standard spa room with guest rooms and a waterfall hot hub. Pets and dogs are welcomed free of charge. 
Dog-Friendly Restaurants in Miami
When you're out with your friend to eat in Miami, I would recommend you to come to either to Ms. Cheezeious or to Michel's Genuine Food & Drink. 
Ms. Cheezeious
If you're in Miami then I would highly recommend you to visit Ms. Cheezeius on the Upper Eastside and taste their delicious grilled sandwiches, Croqueta monsieur with swiss chess, bechamel, and tavern ham. You would be amazed to taste their milkshake that has the perfect share of Oreos and creamy milk. Ms. Cheezeius is a dog-friendly restaurant in Miami. 
Michel's Genuine Food & Drink
For a fancy décor with modern furniture with an indoor and outdoor dining room, Michel's Genuine Food & Drink welcomes dogs and pets to enjoy food with others. Once you come in they offer fresh-baked dog biscuits which your dog will love. I would recommend you to taste their wood oven-baked red snapper or MGFD burger which you will surely love. 
Dog-Friendly Activities in Miami
Enjoyglitters with trendy nightlife in South Beach
Visit the world's famous outdoor museum at The Wynwood Walls
Explore Miami's hidden gem, Coconut Grove, don't forget to taste the frozen lemonade from Kennedy Park 
Get tan on the dog-friendly beaches near Miami
Spend a day at the cleanest freshwater lake in Broward County
For sweet memories come to Fairchild garden 
Conclusion
I hope I can deliver tail-wagging fun to your pup and they offer the best dog-friendly beaches in Miami that offer sugar-white sands with beautiful scenery. I would recommend you to visit any of these paradises on a sunny, breezy afternoon and enjoy the relaxing views. 
Read Next:
FAQs – Dog-Friendly Beaches in Miami 
1. What beaches are dog friendly in Miami?
A: Haulover beach, Bark beach, and Hobie beach are the most dog-friendly beaches in Miami. 
2. Are dogs allowed in South Beach Miami?
A: No, your dogs are not allowed in South Beach Miami but you can surely take your dog for a walk on the paved walk that runs parallel to the ocean. 
3. Is Haulover Beach Dog Friendly? 
A: Yes, Haulover Beach is dog friendly and it is open from 8 a.m. to 3 p.m, off-leash dogs are allowed near lifeguard towers 2 and 3.
4. Can I bring my dog to Bark Beach?
A: Yes, you can enjoy the delightful company of your dog in Bark Beach.