17 Dog-Friendly Places in Austin: Things To Do
In the streets of Austin, you will find so many dogs walking around. Just know that Austin, the Bat City, is also a Fur City. 
Realtor.com ranked Austin as sixth among the Top 10 American Cities for Dogs. Also, there are more or less 264 dog-friendly restaurants in Austin.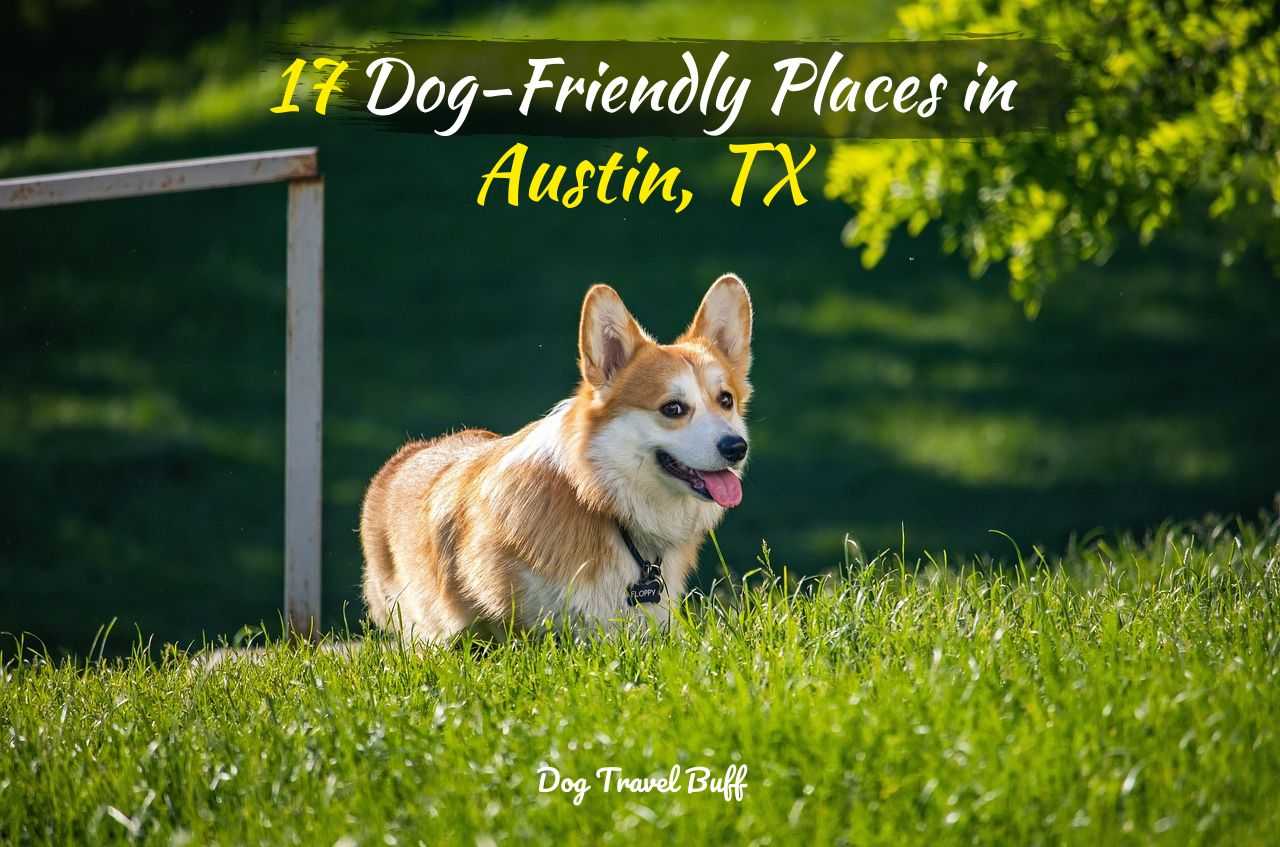 This post may contain affiliate links. If you buy something through one of those links, you won't pay any extra penny, but I'll get a small commission that encourages me to deliver more helpful content for you.   
So, if you ask me, "is Austin dog friendly" then you know it very well. Austin is full of dog lovers, dog hotels, dog vacation spots, dog parks, and so more. 
This blog is a guide to dog-friendly places in Austin that keeps your pet cool and happy!
17 Dog-Friendly Places in Austin 
Here, I am listing some dog-friendly things to do in Austin so that your canine friend enjoys it to the fullest without any restrictions. 
1. Let's get to the most offbeat leash-free dog park – Red Bud Isle
Address: 3401 Red Bud Trail
Fee: Free
Time: 7 am – 10 am
On Town Lake just south of Tom Miller Dam in the middle of Lady Bird Lake sits Red Bud Isle, a unique park for dogs in Austin. 
Red Bud Isle is a 13-acre island that allows dogs to run as much as they want, play in the sand, swim in the water, and hike the trails. You can take him kayaking too!
The best part about Red Bud is you can keep your pup leash-free. So, he gets the full freedom to socialize with other dogs and play absolutely as he wants.
I would recommend you follow the easy 0.8 km Red Bud Isle trail to experience complete solitude and peace with your dog. The area has a lot of trees to relax in.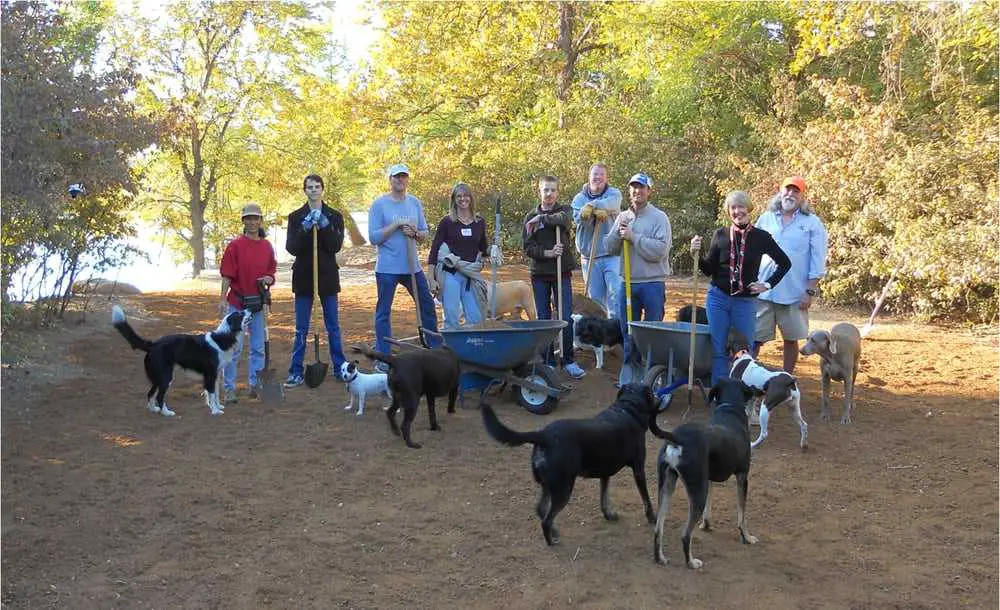 2. A haven and off-leash zone for dogs – Norwood Estates Dog Park
Address: 1009 Edgecliff Terrace, Austin, TX 78704
Fee: Free
Time: 5 am – 10 pm 
Norwood Estates Dog Park is a part of Town Lake Trail with green lush surroundings and benches for you to sit, relax, and inhale fresh oxygen. 
Just off the Ann and Roy Butler Hike and Bike trail sits this double-gated off-leash Dog Park which welcomes dogs of every size with a separate designated area. 
Norwood Estates Dog Park is a five-acre property. It is a truly natural and cultural gem for Austin. Recently, the park has been restored and is best for walking.  
Tip: In the center of the park, you can find the presence of a shrub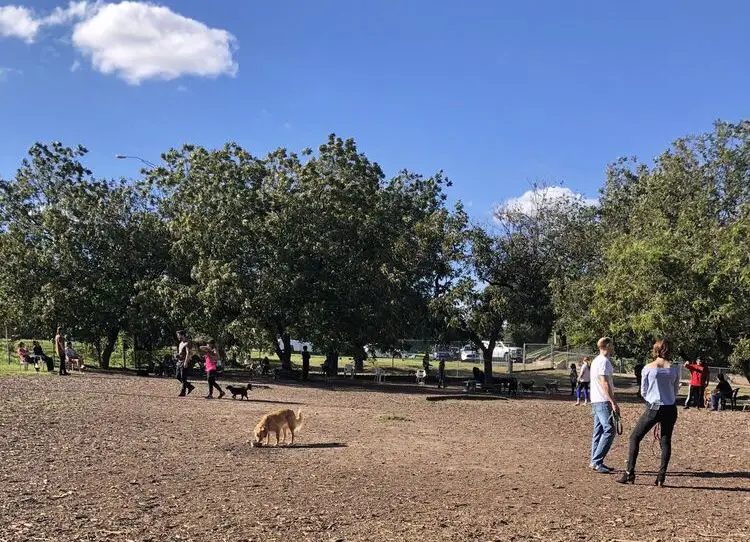 3. Test your dog's endurance and teach him to hike – Barton Creek Greenbelt
Address: 3755 S Capital of Texas HWY B, TX 78794
Fees: Frees
Time: 5 am – 10 pm
Barton Creek is certainly called a "Greenbelt" that begins from Zilker Park and stretches to West Lake offering stunning views to dogs and their parents. 
Barton Creek is a 7.8 miles long trail that travels through south Austin and is also known as the 7th best hiking trail in Texas. It is also a lovable spot for physical enthusiasm.
This popular trail will take you through the canyon, limestone bed, small waterfalls, cascades, rocks, boulders, and spring making it one of the best hiking spots in Austin. 
I would recommend you take the Twin Falls and Sculpture Falls to explore the variation of terrain, and witness seasonal waterfalls, and narrow rocky edges. Barton Creek Greenbelt is one of the best places to travel with your dog in Austin for weekends. Burn calories and treat your eyes!
Tips:
Dogs must be on-a-leash at Barton Creek Greenbelt
No glass container, alcohol, smoking, or overnight camping is allowed
Parking at Zilker and Loop 360 or spots with parking signs.
The Greenbelt is part of the Balcones Canyonlands Preserve (BCP) to protect endangered species. 
The Barton Creek Greenbelt starts from Barton Spring Pool, then passes through Campbell's hole, Gus Fruh, Main Access Point, Twin Falls, Hill of Life & Trail's End, and finally at Violet Crown trail.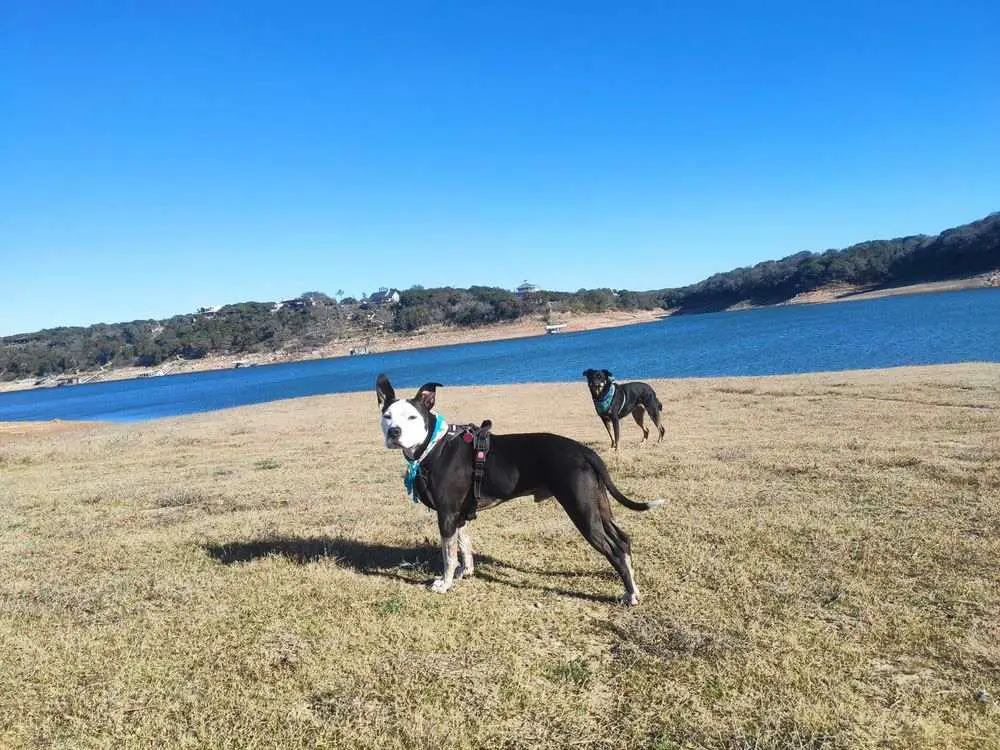 4. Take a dip in the water and play with your dog – Barking Springs
Address: 2400 Caldwell Ln, Del Valle, TX 78617
Fees: Free
Time: 5 am – 8 am
Just east of Zilker Park playground adjacent to William Barton Drive and east of Barton Spring sits the most famous Barton Spring, a swimming hole.
As the name suggests, Barking Spring is a paradise to dip into the cold refreshing water. You will find dogs chasing each other in the water, children sliding down the spillway, and everyone enjoying themselves. 
This natural spring is fed by the gurgling water of Barton Spring making it one of the ideal spots for cute furry friends to play. 
Tips:
With no dog policies.
There are rocks and a small waterfall 
Fishing is permitted. You can get snacks from Snack Shack and get to the pigeons
As per recent news, dog toxic algae were found in Barking Spring killing the dog. So, be careful and check the internet before visiting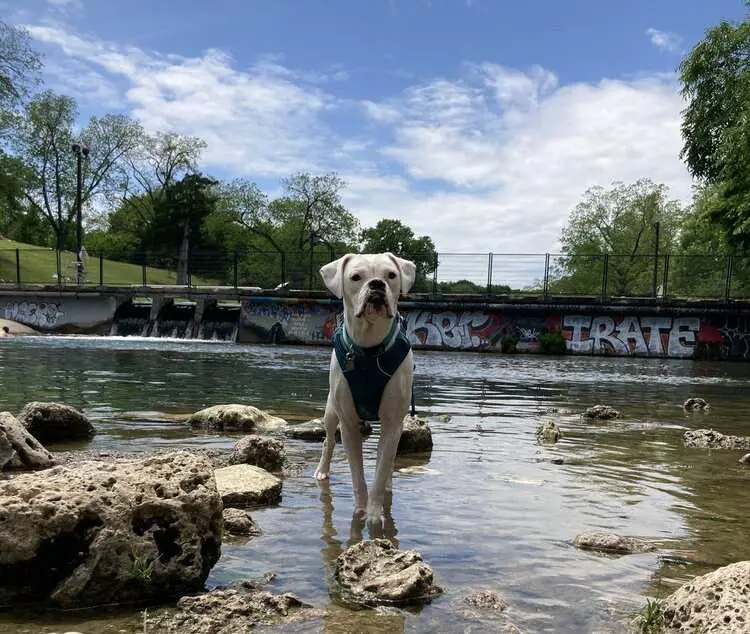 5. "You Work, They Play" – Work and Woof
Address: 4930 South Congress Avenue, Austin, United States
Fees: $400/ month 
Work and Woof is a beautiful concept of an indoor/outdoor dog park and co-working space for dogs' parents. Also, if it rains, you know where to come with your dog.
They have 2 private offices, and 2 shared office open seating areas offering free tea, coffee, and water. Work and Woof dog park is BYOB 
It is a 15,000 sq ft area that believes dogs should be cage-free. If you are a member then you can enjoy free day-care service for your dog. 
Work and Woof is a beautiful fun destination in Austin to travel with a dog throughout the week. 
Tips:
Work and Woof are open on Monday to Friday from 7 am – 7 pm, and on Saturday, and Sunday from 10 am – 7 pm. The dog park opens only on Saturday and Sunday.
No glass container is allowed inside the dog park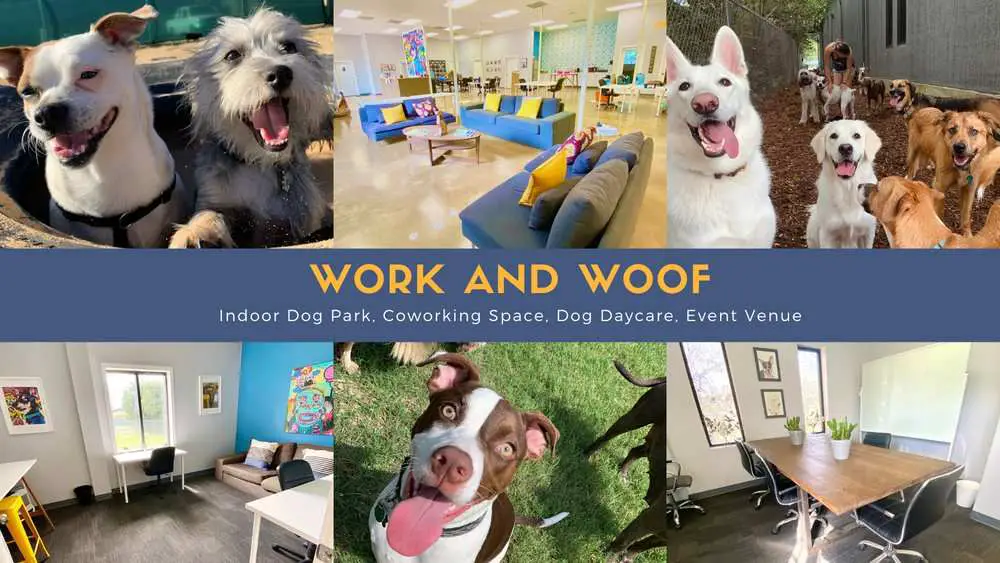 6. Hike to the highest point in Austin to enjoy the sunset – Mount Bonnell 
Address: 3800 Mount Bonnell Rd. Austin, Texas 78731
Fees: Free
Time: 5 am -10 pm
If you are a resident of the urban areas of Austin then you have no idea that Mount Bonnel is a perfect outdoor adventure spot that offers incredible views of the city.
It stands at 775ft above the city on the eastern bank of the Colorado River attracting hikers, bird lovers, and family members. 
Covert Park at Mount Bonnell is the most pet-friendly vacation spot in Austin with a hard trail of limestone staircase and awe-inspiring views.
I would recommend you reach the top to witness the panoramic view of the city, the never-ending skyline, and the most amazing blood-pumping trails. Dogs must be on-a-leash!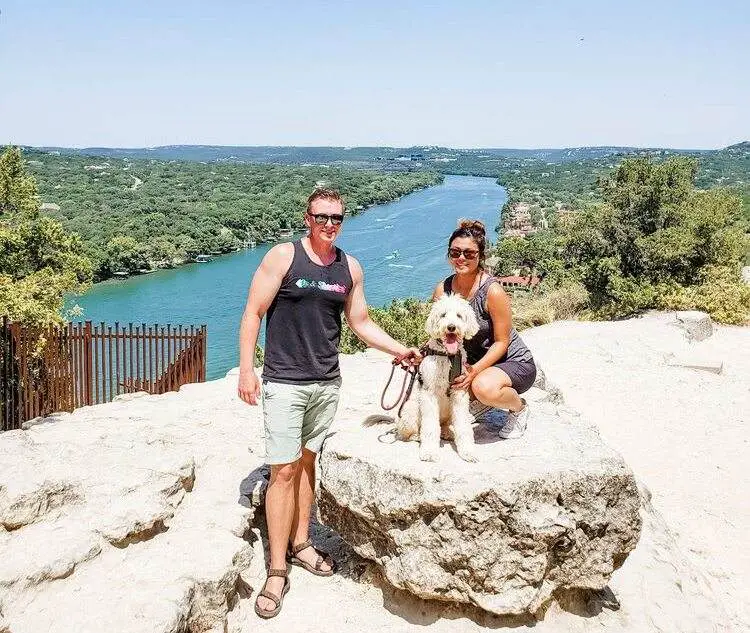 7. Enjoy the wilderness at McKinney Falls State Park
Address: 5808 McKinney Falls Parkway, Austin, TX 78744
Fees: Adults have to pay $6 and free for children below 12
Time: 8 am – 10 pm 
Is there anything better than seeing your dog playing, and running with all glory? McKinney Falls State Park permits dogs in the water. 
From here you get the best view of Onion Creek flowing. If you are searching for the best dog-friendly activities in Austin, come to McKinney Falls State Park.
You can hike, swim, bike, relax, and watch fish at McKinney Falls. I love William Creek Overlook Trail, Lower Falls and Homestead loop trail, and Rock Shelter trail.
Also, McKinney Falls State Park is the nearest dog-friendly weekend getaway in Austinoffering a life of the wilderness. Spending time in the meadow is so memorable.
Tips:
There are 81 campsites all equipped with necessities but remember to book in advance. 
If you are planning to hike, come prepared and check the internet before arriving. Due to recent flooding, the trails might be closed.
Be aware of wildflowers and nasty cactus
Dogs must be on-a-leash not longer than six feet. 
8. Relax at the beautiful vineyard of Texas Hill Country – Spicewood Vineyards
Address: 1419 Co Rd 409, Spicewood, TX 78669
Have you ever wondered how to soak yourself in the lap of nature? Spicewood Vineyards is not only an award-winning famous vineyard but also one of the best dog-friendly vacation spot in Texas.
Here you taste timeless appeal and unique flavors with a gorgeous view of the Texas Hill Country. Your pup must be on-a-leash.
Spicewood Vineyards features a large indoor tasting room outdoor pavilion and a dramatic backdrop with sweeping views of lush vineyards. 
The ambiance here is so gorgeous, let's drink in those panoramic vistas. 
Tip: Spicewood Vineyard is open for tasting from Wednesday to Saturday – 10 am to 6 pm, and Sunday 12 – 5 pm.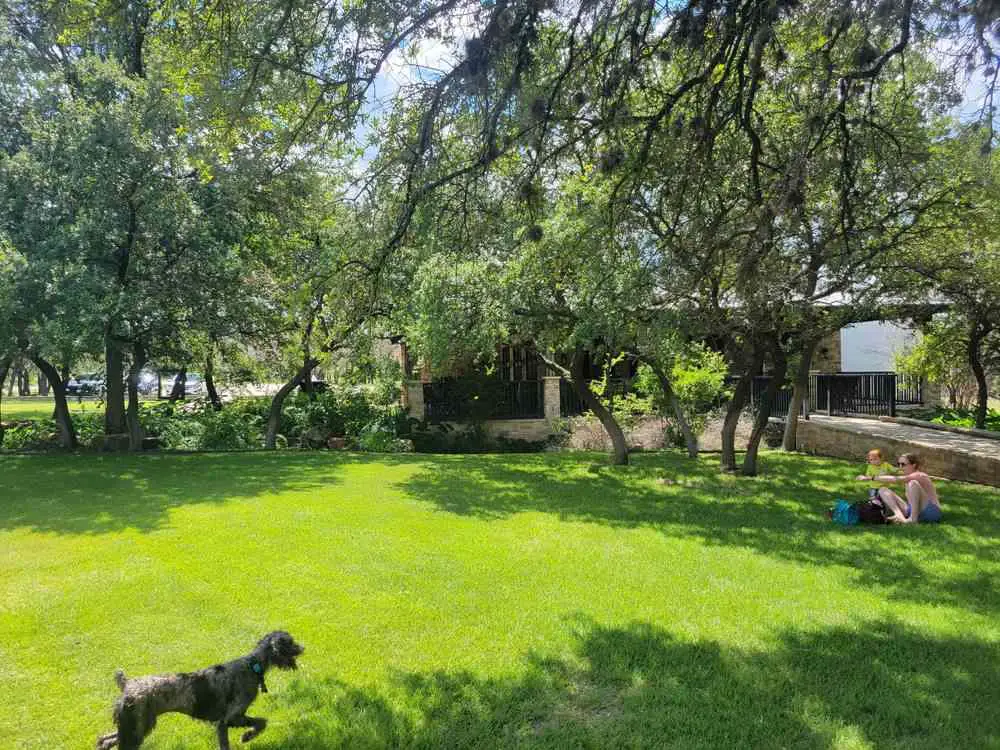 9.  Make your home at Austin's dog-friendly neighborhood – Allandale
Address: Northwest of Brentwood
Just a few miles northwest of the UT campus sits Allandale, one of the best dog-friendly places to live in Austin.
Allandale is known for quirky local shops winding along Shoal Creek, and mid-century ranch-style houses. You will find a lot of reasonable price homes.
The best part of living at Allandale is enjoying the charm of the bygone era at an affordable price. Its proximity to downtown Austin makes it the best neighborhood. 
Dog-Friendly Stores in Austin
10. The Domain
Address: 11410 Century Oaks Terrace, Austin, TX 
The Domain is the premier destination for Texians who prefer luxury, fashionable, fine dining experiences, and fun activities with families. 
It features 132 mainstream retail stores, and hotels with exclusive offers and discounts. You will see the workers loving and kissing your dog!
Most stores in The Domain are dog-friendly and have gorgeous outdoor settings offering all the amenities your dog needs.
I would recommend you grab a cup of coffee and sit at any of the outdoor restaurant patios and soak up the atmosphere.
Tip: Keep your dog on a leash
11. Half-Priced Books
Address: 2929 S Lamar Blvd 
Walk along the chain of used bookstores hunting for the best bookstore for you where you dream to explore stories of fairy tales. 
There are tons of books that you will find here at half-price. You can also sell yours! In 2021, the chain brought over 2 million books. Just imagine!
The best part is that Half-priced books recycle and preserve books, DVDs, and CDs. You get everything you want. So, shop with your love and what you love!
Tips:
Dogs must be on a leash with no longer than 6 feet
Keep back the retractable leash at home
Bring the poop bag, hand sanitizer, and water.
The stores are open from 10 am to 8 pm
There are over 120 Half price books location across Austin
12. Hope Farmers Market
Address: 412 Cornal Street, Austin -553-1832 
At Hope Farmers Market you get organic food, handmade crafted materials, crafts, and some live music with your furry friend. 
You will also see a lot of locals coming here to purchase their daily food. At Hope Farmers Market you get everything fresh and green!
Tips:
Leashed dog welcomed
Come to Healthy Hound, or Greyhound Rescue Austin to participate in a doggie art workshop with crafts.
Buy handmade doggie water bowls from Aquasana. 
Dog-Friendly Restaurants in Austin
13. Oakmont Food Company Review
Address: 1106 W 38th St, Austin, TX 78705
A trendy vibe with instagramable wallpapers, a modern bar, an airy space, and kind-hearted staff makes Oakmont Food Company Review the best in Austin. 
The adorable fairy lights hanging from the ceiling and views from the windows during the sunset with your best four-legged animal are so mesmerizing. 
Here you can enjoy the true flavors of Texas, the Oakmont burger, the pancakes, and the varied flavors of drinks. 
Tip: Dogs are allowed in the outdoor dining area of the restaurant.
14. Sawyer & Co
Address: 4827 E Cesar Chavez St. Austin, TX 78702
Sawyer & Co is my favorite dog-friendly restaurant in Austin that serves Cajun and Creole cuisines. Their cute retro turquoise chairs are so unique. 
Sawyer & Co's fried prawns, grillades, crawfish etouffee, Creole shrimp, French toasts, biscuits, and buttermilk pancakes are the best in Austin.
The prices are so affordable that you won't mind coming daily. Moreover, the staff are so dog-friendly that he gets all the care and attention too. 
Tip: Happy hours start from 3.30 pm – 6.30 pm
15. Nomadic Beerworks 
Address: 3804Woodbury Dr Suite A, Austin, TX 78704
Nomadic Beerworks wide-open taproom serves the best American-style beers, Little City coffee, and central Texan spirits and liquors. 
The people at Nomadic Beerworks understand the restless thirst you have for beers, they serve exactly what you want. 
Every material is biodegradable and recycled here at Nomadic Beerworks. 
Dog-Friendly Hotels in Austin
Address: 301 West 17th Street Austin, TX 78701
Just a few blocks from the University of Texas sits the 4-star Hilton Garden Inn that offers a rooftop, a bar, a shared lounge, a restaurant, and a fitness center. 
The rooms are spacious and dog-friendly. They also serve classic and modern cocktails and buffet American breakfast.
Address: 1900 Rio Grande Street, Austin, TX 78705
Just a 5 minute walk from the University of Texas at Austin, Hotel Ella is the most pet-friendly accommodation. The rooms are very artistic and stylish. 
Pets of all sizes are allowed without extra fees. They also offer treats to you and your dog as you check-in. However, pets are not allowed in pools and restaurants. 
Packing Guide: Dog-Friendly Places in Austin
The dog-friendly places in Austin blog will be incomplete if I do not tell you what to pack for your dog. Remember, the temperature in Austin can be high for your dog.
So, come prepared. 
Conclusion
I hope this blog gives you the information and some good ideas for the best dog-friendly places in Austin. 
Apart from these above things, there are plenty of other dog-friendly things to do in Austin that can be covered up only if you have extended stays here.
This is an incredible city and you can discover a lot of your own. Do not forget to share with me a few of your dog-friendly things to do in Austin.
FAQ: Dog-Friendly Austin
1. Is Austin too hot for dogs?
A: Yes, Austin's temperature is a concern for the dog parents as the temperature sometimes gets over 98 degrees Fahrenheit. High temperatures can cause dehydration, anxiety, and discomfort that can ultimately lead to heat stroke. 
2. What stores allow dogs in Austin?
A: Paws on Chicon is a local store in Austin where you get everything for the dogs at an affordable price. Yeti in Congress Ave loves canine customers, so grab your pet and come here. Also, Whole Earth Provision Co at Westgate and Downtown allows dogs from where you can buy materials for outdoorsy people.