9 Best Dog-Friendly Beaches in Michigan
Lake Michigan dog beaches are full of natural beauty where your dog can swim, play, run, and soak in the sun. The atmosphere is so attractive!
You love holidays, I love holidays, luckily, Michigan has a unique history and beaches which are worth visiting to witness gorgeous sunrises and sunsets.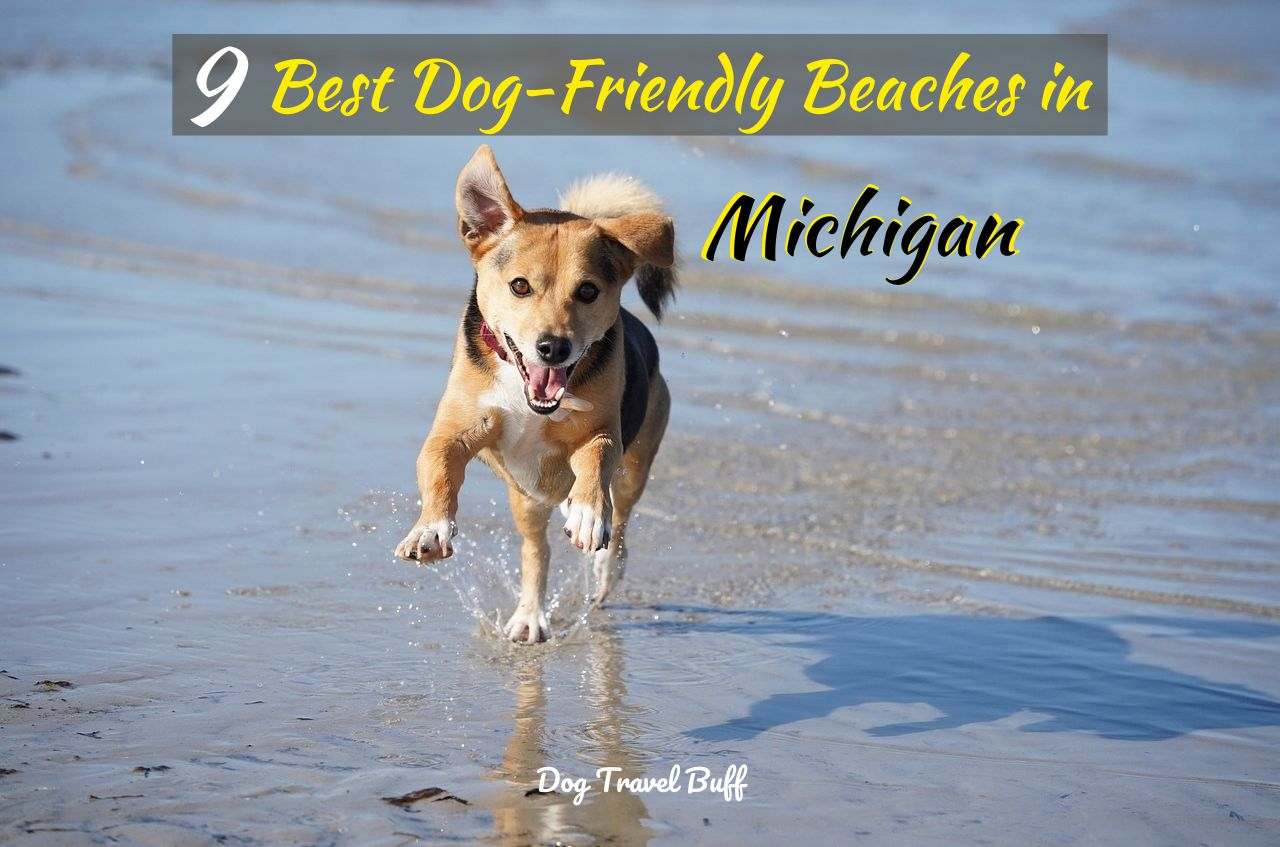 This post may contain affiliate links. If you buy something through one of those links, you won't pay any extra penny, but I'll get a small commission that encourages me to deliver more helpful content for you.   
I thought this time why your dog should stay back at home? I want you to bring him and have a blast. 
So, this blog is a complete guide to dog-friendly beaches in Michigan. 
Dog-Friendly Beaches in Michigan
If you're asking, "is Michigan dog friendly", then you're at the right place. Yes, Michigan is dog friendly. 
Here are my nine favorites which you have to visit once in your life. The list follows: 
1. Tawas Point State Park
Location: 686 Tawas Beach Road, East Tawas, MI 48730
Fee: For non-residents, per vehicle is $10, and for Michigan residents, per vehicle is $11
Dog rules: 
Keep your dog only in the pet-designated area. Make sure he does not run onto any other beach or Sandy Hook Trail
Dogs must be leashed not more than 6 feet in length while entering and exiting the park
Tawas Point State Park also called "Cape Cod of the Midwest", as it sits along Lake Huron in Northern Michigan and the southwest tip of the peninsula.
Tawas Point Park is one of the best offbeat dog-friendly beaches in Michigan offering the best puptastic experience that you always dreamt for your pup! 
This 183-acre park is enclosed by a fence between the lighthouse and campground offering a warm, shallow stretch of beach with a smiling sun above the head.
Also, walk to explore the old yet firm Victorian-style lighthouse and classic paintings on the walls and feel the Oceanside air in your heart. 
Tips:
Carry water and snacks for both of you
Keep the area clean, or else be ready to pay a fine!
You can bring your dog to the campground. You can stay overnight, go fishing, or boat mooring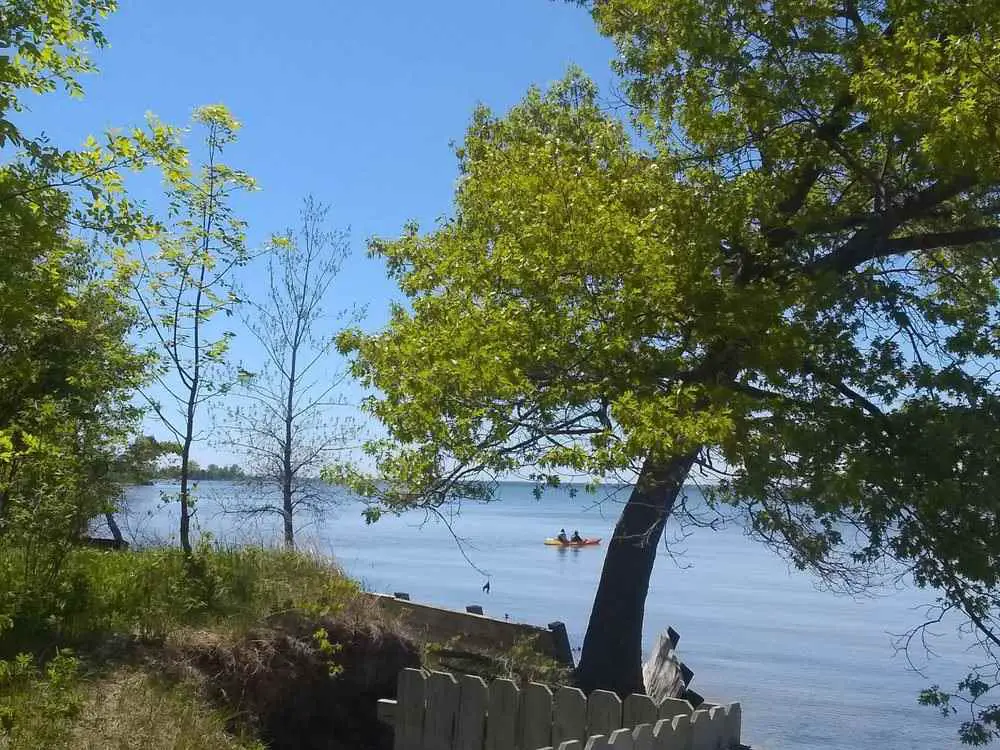 2. Pictured Rocks National Lakeshore, Munising
Location: N8391 Sand Point Rd, Munising, MI 49862, USA
Fees: Vehicle pass
Dog rule: Dogs must be on-a-leash not more than six feet in length. 
Welcome to Pictured Rocks National Lakeshore, one of the best partially dog-friendly beaches in Michigan. 
Here you can enjoy the picturesque surroundings, and multi-colored sandstone, soak yourself in the forest vibe, get wet in the waterfall, and dip in Lake Superior. 
Pictured Rocks National Lakeshore that allows dogs are listed below –
The 50-foot Munising Fall
1.2 miles walk through the forest over sandstone
Walk from Paved Trail to Overlooks at Miners Castle
3 miles round trip to Au Sable Access Road to witness the isolated lighthouse
0.5 miles round trip to Sable Falls Trail
Hike 2 miles of White Birch Trail to learn more about history
Walk through the forest and edge of old farmland through Grand Sable Forest Trail
Beaches in front of the campground
Lake Superior Overlook and Beach
Pictured Rocks National Lakeshore does not allow the dogs listed below –
All North Country Scenic Trail – Lakeshore Trail
Sand Point Marsh trail
Mosquito Trails and beach
Chapel trails and beach
Log Slide and other dunes
Grand Sable Dunes
From east of Miners Beach to Twelvemile Beach campground
Backcountry campgrounds
Tip: Dogs are allowed in Hurricane River Campground, Little Beaver Campground, and Twelve mile Beach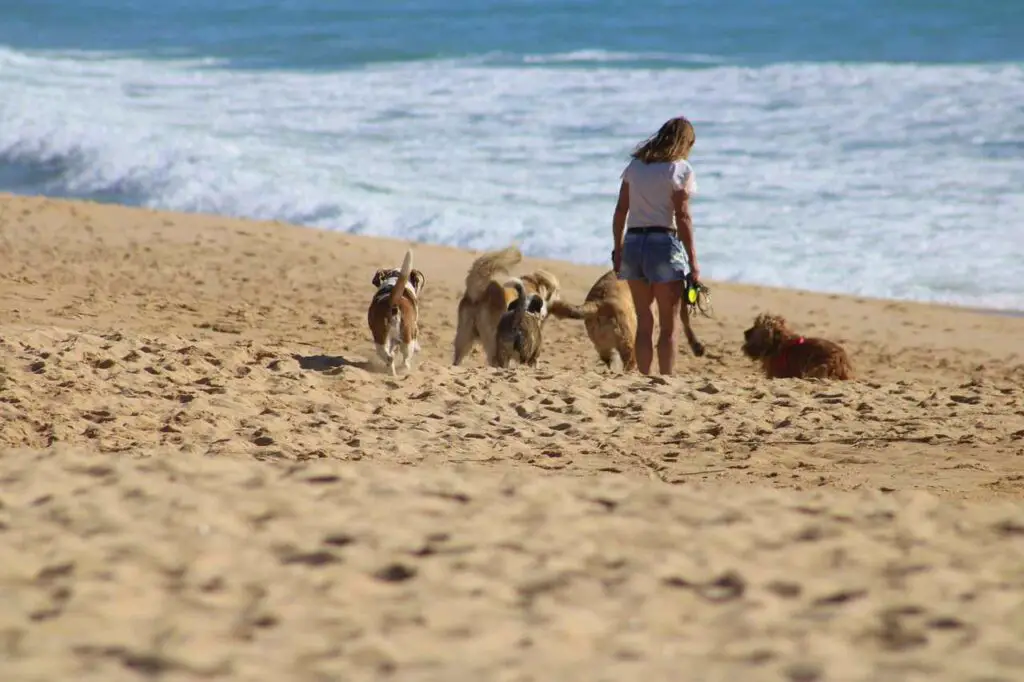 3. Sleeping Bear Dunes National Lakeshore Empire, Glen Arbor
Location: Empire, MI 49630, United States
Fees: $ 15 per person, for private car owners $25, and $20 for a motorbikes
Dog rules:
Leashed not more than 6 feet at all times. Never keep your pet unattended
Wear orange color in the beach during hunting season 
In the northern part of Michigan near the Cannery Boathouse Museum sits Sleeping Bear Dunes National Lakeshore Empire which is home to large dunes, and forests.
Also, ABC's Good Morning America show listed this 64 mile beach of Sleeping Bear Dunes National Lakeshore Empire as the Most Beautiful Place in America. 
The lists of pet guidelines are laid down to protect park wildlife and endangered piping plovers. So, keep him leashed and in the designated area.
This fur-amazing beach features tranquil shining water, inviting white sandy beaches, dunes, and awe-inspiring views to make your weekend trip most memorable.
TheseMichigan beaches that allow dogs are listed below – 
Glen Lake Picnic Area
Lakeshore boundary north of Glen Arbor around Pyramid Point to CR 69
CR 651 north to the Lakeshore northern boundary
Maritime Museum east (not the Maritime Museum grounds) to the Lakeshore boundary (west of Glen Arbor)
Peterson Road south to Old Railroad Grade Trail/ Platte Campground Trail
Platte River Campground/ Railroad Grade trail north to Peterson Road
Esch Road north to the Lakeshore boundary (south Empire)
These Michigan beaches that do not allow dogs are listed below – 
The Dune Climb
North Bar Lake
Maritime Museum grounds
All ground campsite
Platte Point Beach
White Pine and Valley View backcountry campsite
Tips:
If you see the "NO PETS" signboard, please do not try to visit the place
North and South Manitou Island welcomes pets, trained aid dogs, and hunting dogs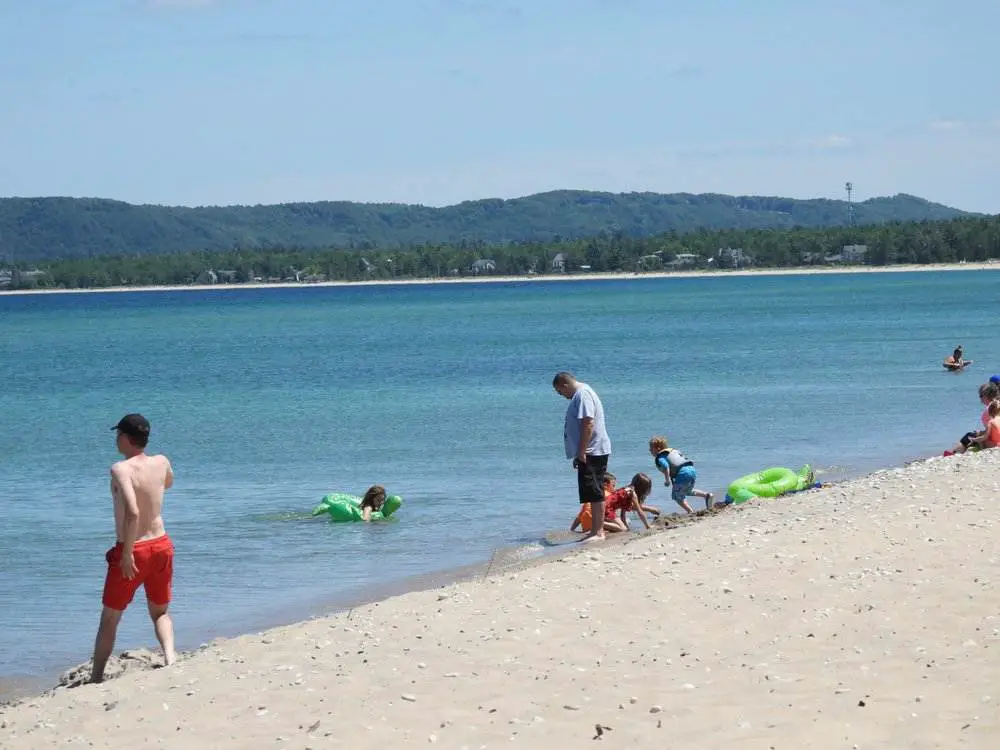 Read Also: 9 Best Pet-Friendly Beaches In New Jersey
4. Mackinac Island
Location: Mackinac County, Michigan, USA
Fees: $13.50 for adults and $8 for children
Dog rule: Always keep your dog on a leash. You can also crate him. 
For centuries, Mackinac Island has been an ideal vacation spot for pet lovers to swim, shop, dine, take a carriage tour, or lodge with their best barking buddy.
Mackinac Island is a pet-friendly beach in Michigan that can be reached through a 20 minute ship transport. The peace and quietness are so attractive!
Here you have the golden opportunity to witness an unforgettable sunset and enjoy the soothing clip-clop sound of horse hooves, and cannon fire at Fort Mackinac. 
Take your dog to see the Historic fort, the cottage on the East, and West Bluffs, and Arch Rock. Also, later in the afternoon, treat him to Ryba's dip – peanut butter fudge 
Tips:
No car, only horse carriage and bicycle
You can rent bikes; pet trailers are there to help you out
Do not forget to collect the complimentary doggie waste bag from Mackinac Island Tourism Booth
Bring your dog where you can see a poster of " Dogs are Welcome"
The beach is open from 9.30 am -7 pm
5. Kirk Park Dog Beach, West Olive
Location: Peterson Rd, Honor, MI 49640, USA
Fees: $5 parking fee for Ottawa residents, $7 for non-residents
Dog rule:
Dogs are permitted between 7- 10 am and 7 – 10 pm daily
Off-leash on the beach
If you're planning for a dog-friendly vacation in Michigan look no further than Kirk Park Dog Beach, a picturesque place with woods and a clean sandy shoreline.
The best thing about Kirk Park is that your pooch can run free and off-leash through the hiking trails, and beach. The environment here is enough to make you smile wide!
You should come here in winter to witness the gorgeous cross-country skiing. There are many dog-friendly activities in Michigan, so spend a day on the beach as well as in the park. It's very dog friendly!
Tips:
Dogs are not allowed in the picnic shelter and playground areas. Dogs are allowed only in designated areas. Other than that keep his leash not more than 10 feet long
No lifeguards
A lot of sun to tan but less shade to cool off!
Watch the high waters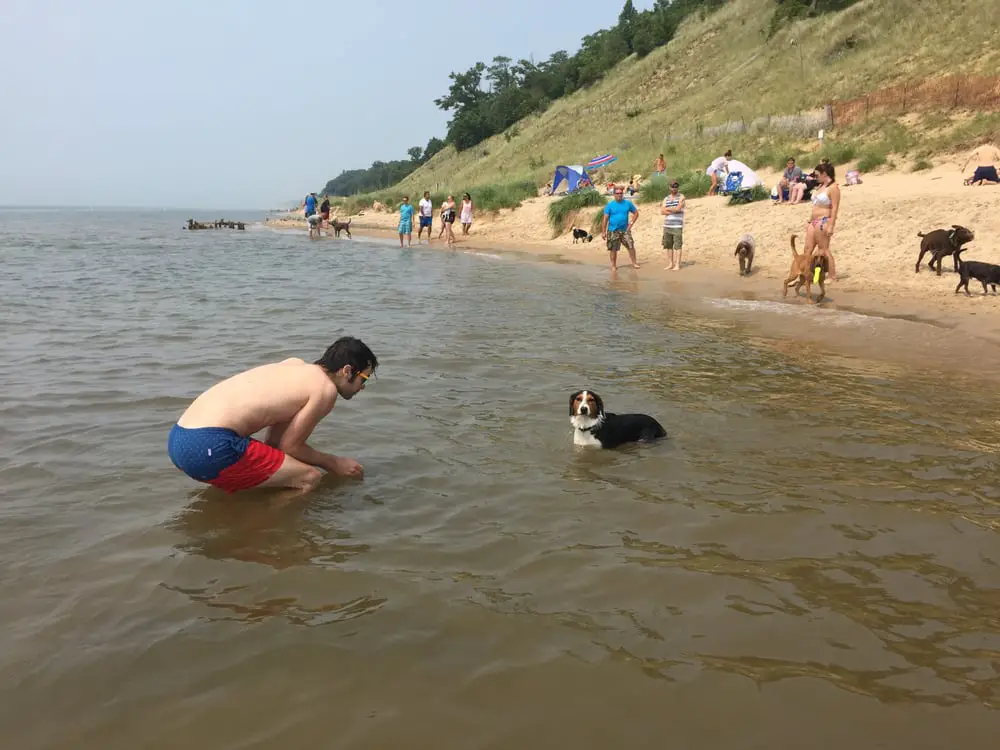 6. Belle Isle Beach
Location: 7845 Riverbank Dr Detroit, MI 48207
Fees: $10 per vehicle
Dog rule: Your dog must be on-a-leash and well-trained. Keep your dog on a leash even in the river
Just along the Detroit River between Ontario and Michigan sits Belle Isle Beach, a 982 acre spot where you can have waterside fun, hike, and enjoy all with your dog. 
Originally, in the 1700s, it was called "Hog Island" as French settlers used it for livestock. Now, a part is offered for your four-legged friend to roam freely!
Also, watching your pup wetting their paws or running along the James River is such fun! You can have fun at Flynn Pavilion, hike 6 mile Belle Island Bicycle Trail, or hike through wooded areas. 
I would recommend enjoying the last bit of daylight with your pup inhaling some immortal sights and fresh air. 
Tip: Bring water and clean-up bags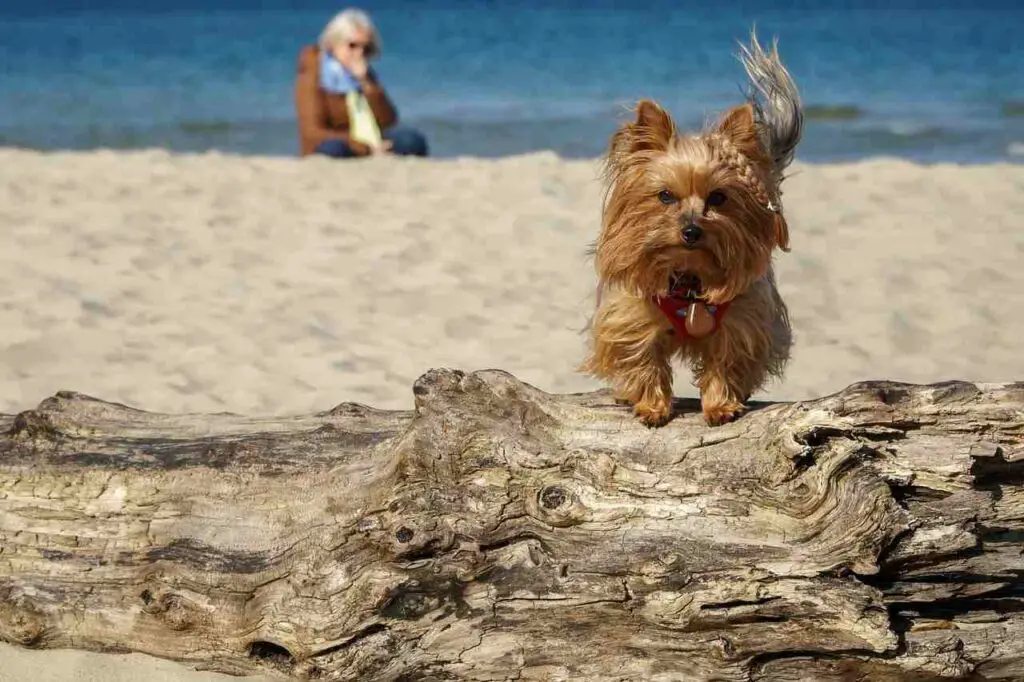 7. Sleeping Bear Dunes, Good Harbor Bay 
Location: 8010 W Harbor Hwy Glen Arbor, MI 49636
Dog rule: With the owner's control keep your dog on-a-leash
Your canine friend is more than welcome at Good Harbor Bay Beach! The beach sits just along the Sleeping Bear Dunes National Park Shoreline offering a gorgeous view!
The best part about Good Harbor Bay Beach is its proximity to Lake Michigan. This is an additional treasure for dog parents to visit this place. You can also spot an eagle!
The peace, freedom to roam, view of blue water, sky, flora, dunes, wetlands, and breeze from the lake is so soothing that not only you but also dogs love it.
Moreover, if you're visiting the park, remember to keep your dog on a leash. Also, Good Harbor Bay trail is mostly wooded with low dunes, bridges, wetlands, and boardwalks to enjoy. 
8. Grand Haven City Dog Beach, Grand Haven
Location: South Harbor Drive Grand Haven, MI 49417, USA
Fees: – Free parking is, first come first serve
Dog rule:
Dogs must be on-a-leash
Beach does not allow dogs between Memorial Day to Labor Day
Grand Haven City Dog Beach is the summertime favorite beach near The Bil-Mar-and Grand Haven State Park beach. 
You'll find so many wagging tails having fun! Apart from that at the backdrop you'll find Grand Haven lighthouse, see soft sand beaches, and meandering Grand River.
I would recommend walking downtown and clicking photos at Spring Lake. Also, enjoy the Grand Haven Musical Fountain that lights up the night sky. 
Tip: Bring your umbrella as well as a dog umbrella because there is a very less shaded area. 
9. Peterson beach
Location: Peterson Rd, Honor, MI 49640, USA
Fees: Free parking, first come first serve
Dog rule: Dogs are allowed only on the south end of the beach, and not on the north end of the beach. 
Just imagine you're watching a brilliant sun sinking into the beach with your dog by the natural beauty. It is truly memory-making, so enjoy the day!
Just end of the southern part of the Sleeping Bear Dune National Lakeshore sits this secluded Lake offering wide vistas of Empire Buff and Platte River Point.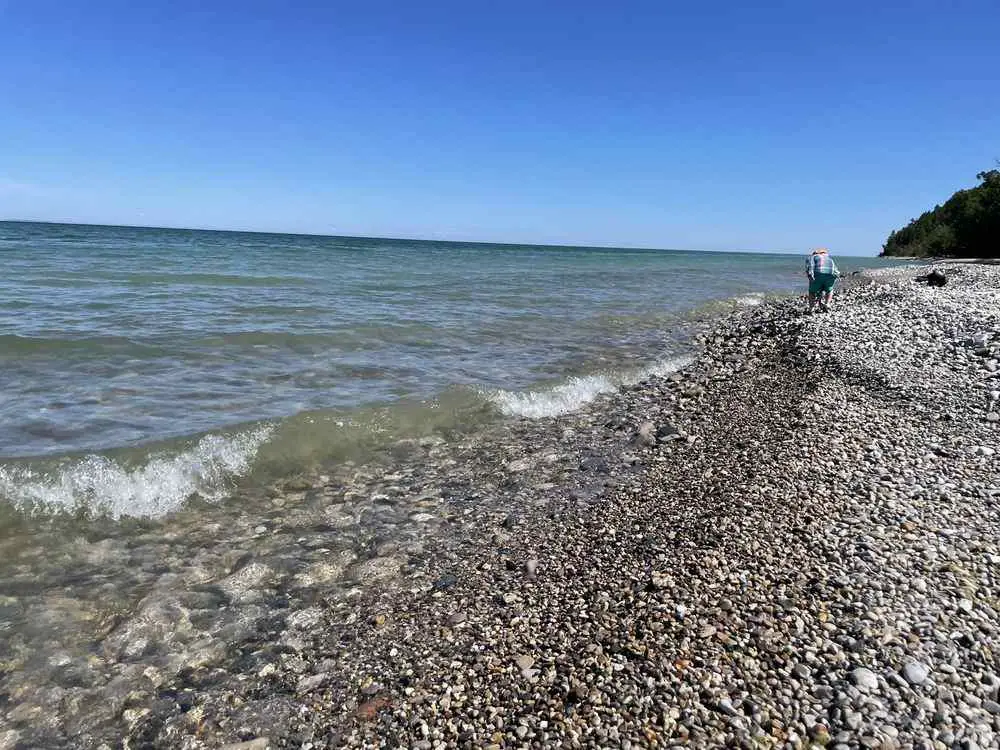 Conclusion
These above 9 dog-friendly beaches in Michigan are the perfect place to end your week with your dog by your side. 
Such lovely weekend trips will make him happy. Also, a friendly reminder, make sure you respect nature and keep the place, parks, and beaches clean. 
Read Other Dog Beaches:
FAQ – Dog-Friendly Beaches in Michigan
1. Can you take dogs to Silver beach Michigan? 
A: Yes, dogs are allowed on Silver Lake Sand Dunes but remember to keep your dog on a leash. Dogs can walk along the Lake Michigan shoreline and the park's inland lake.
2. Are dogs allowed on South beach in Michigan? 
A: Dogs are allowed only at the southern end of South beach in Michigan. The beach sits south of downtown Marquette.