12 Best Dog-Friendly Beaches in San Francisco For A Swim Or Walk
Beaches are really loved both by people and dogs. But not all beaches allow pooches to have a fun time. Several dogs friendly beaches are being developed to give real playtime to your four-legged friends. San Francisco is a place where dogs are warmly welcome on many of their beaches. Therefore, you will find here some of the best dog-friendly beaches in San Francisco.
This County has countless beaches and some of them are dog-friendly where you can have a holiday or evening walk with your pups. But before stepping paws on beaches, you should keep in mind that you have to keep the environment healthier keeping these San Francisco dog beaches clean and environment-friendly for this world and your doggies.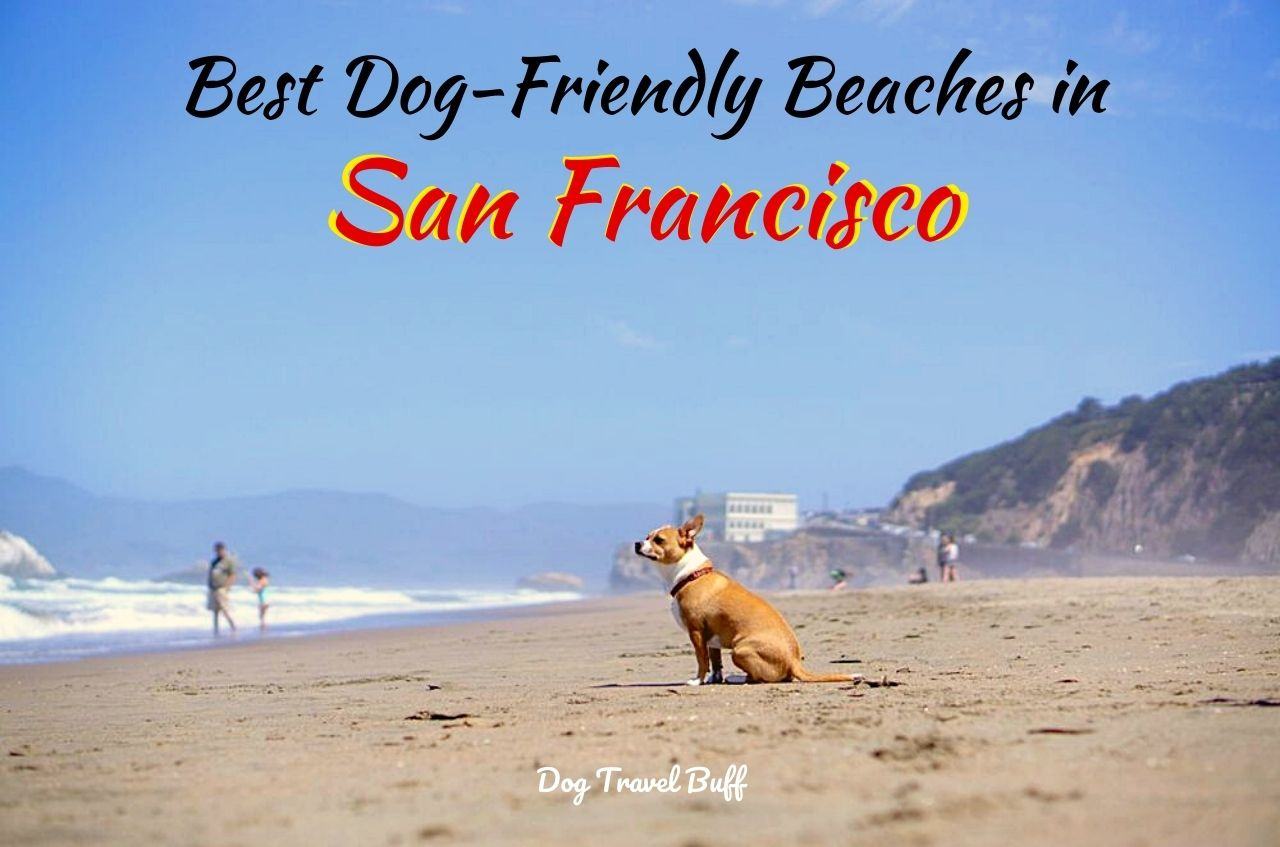 So in this article, we are going to share some popular beaches that are mostly known as dog-friendly in San Francisco.
Many travel lover people have to resist themselves from traveling because of their extreme care of pets. However, San Francisco never makes you upset as it is loaded with a bunch of beaches that are ready to hail your dogs. Do you want to know what beaches are dog-friendly in San Francisco? So let's share with you the names of that beaches.
1. Baker Beach
A popular beach situated at the foot of a rugged serpentine cliff west of Golden Gate, one of the preferable destinations for doggies to sunbathe and play. The distance of the beach from Golden Gate is about 1.5 to 2 miles. The pleasant scenic beauty of large waves can be a real fun time for your furry friends. But dogs should be on a leash at these places. And their movements should be controlled as the large waves are dangerous for swimming.
In a word, you can say it's one of the most popular dog-friendly beaches in San Francisco. If you want to go to the beach by car, then it's also possible. There is a parking spot near the beach.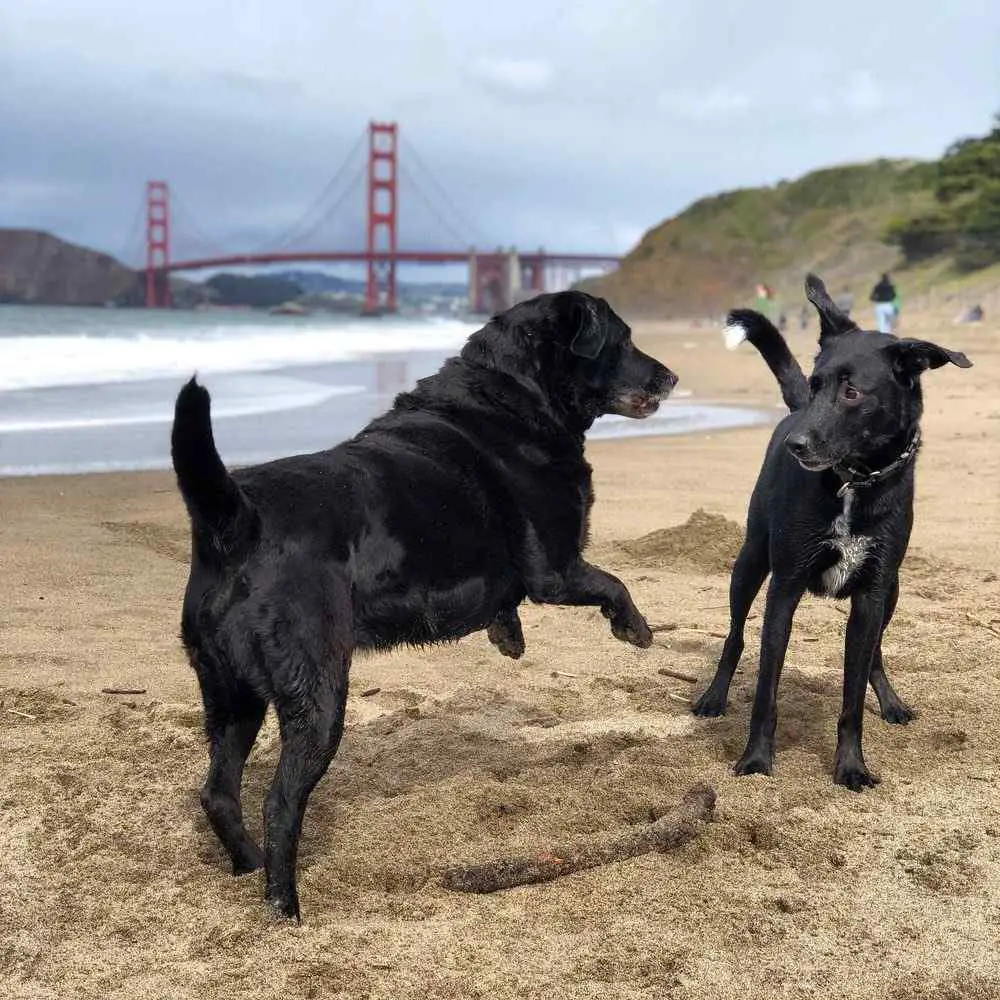 2. Fort Funston
A well-known pet-friendly beach in California, allows dogs to roam on a leash. It is one of the windy beaches and swimming is prohibited. The beach is one of the prettiest beaches in San Francisco. The beautiful windy weather is enjoyable both for men and puppies. A hang glider has been launched for visitors to enjoy the scenic beauty from a 200 ft. high cliff. The beach is also famous for nurturing wildlife and the vast greenery around it.
However, dogs are not granted for attending the Chapel Steps Trail. Except it, you can conduct a race on the beach with your dogs. An accommodation system is also available near this beach.
3. Lands End Beach
This sandy beach in California is less crowded, loved by dogs and people. Dogs are allowed on leash. You can have a grand picnic in one corner of the beach. At every turn of the beach, there is a wildly scenic beauty. A cozy walk into the beautiful sparkling pebbles, wildflowers, and crabs may become the best time pass for your pets and family. It's just the perfect dog-friendly beach in San Francisco for your precious pet.
The beach becomes the provider of more fun within a single package. As it possesses many amusement parks. And there is a parking space too. Happiness with your favorite dog can never be terminated here.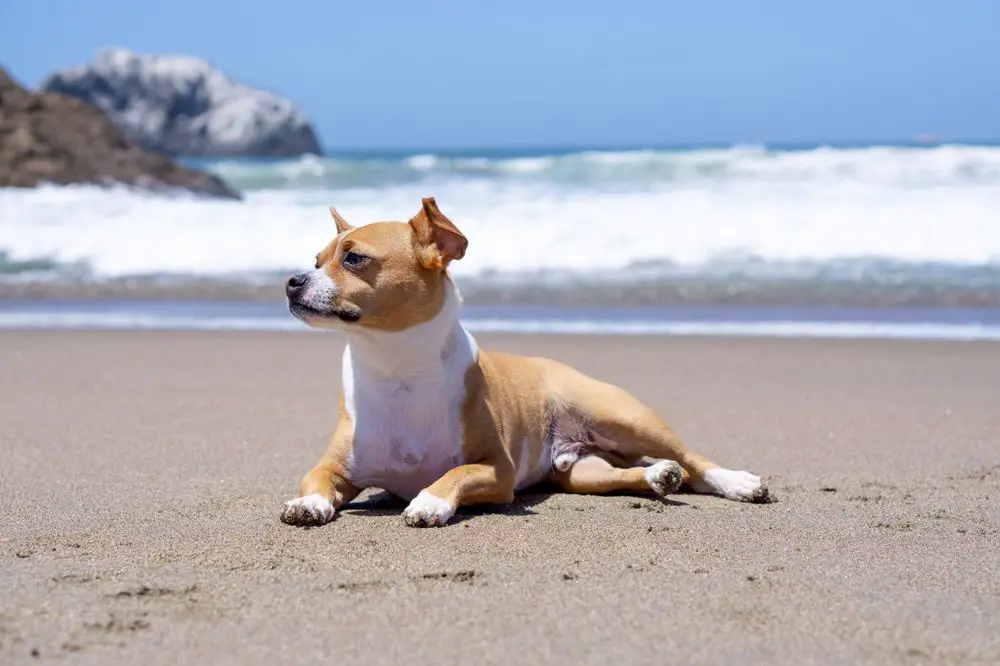 4. Montara State Beach
Montara State Beach in California partly permits dogs on leash. It allows them to stroll, hike, playing no more than six feet from the leader. The waves are shallow. Montara Mountain is a popular place to visit from this beach. This beach is open every day till sunset. On the seashore little restroom facilities are available. You can find restaurants within a few distances.
Do you want to stay overnight beside this elegant dog-friendly beach? Then don't worry, there are more than 170 hotels enclosed on this beach. Just pick out the dog-friendly hotels from there and spend an exciting night with your pet.
5. Esplanade Beach
Dogs are faithful to human beings. They love to follow their masters. Likewise, they love to spend and play with their masters at the wide beach. This beach is the only officially leash-free beach in Pacifica and one of the favorite destinations for dogs. You can spend time walking, fishing, surfing. This beach has a very narrow sand shoreline, so the tide level should be checked before jumping into the beach. It is situated below Esplanade Avenue in Pacifica.
Sunset amplifies an eye-soothing effect on this beach. At that moment, the surrounding of the beach becomes numb and peaceful. For charming couples, it's the most romantic place after sunset to be devoured.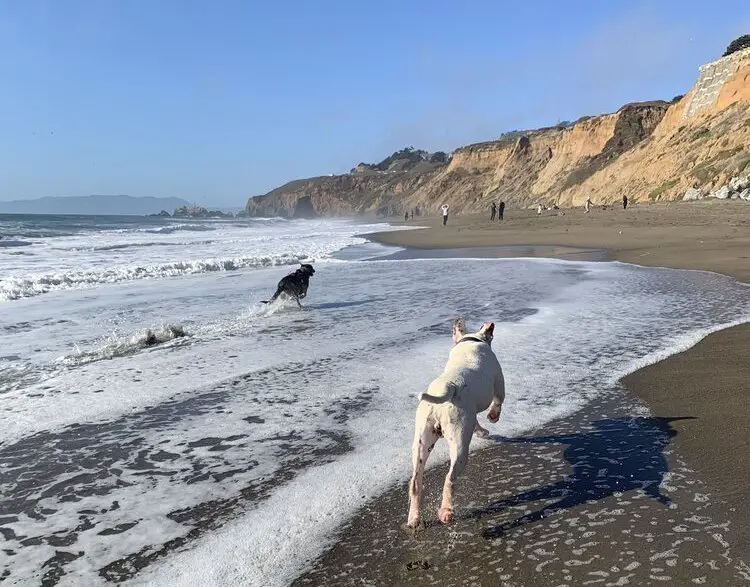 6. Pacifica State Beach
Pacifica State Beach is located in the southern part of Pacifica, California. You can bring your doggies on your leash. Beautiful views, enjoyable sun make your day. You can spend time surfing, swimming, playing with your dogs. It is a popular spot for surfers, kids, and dogs. People who're looking for dog-friendly hiking trails near the Bay Area can visit this place.
It is a legally leash-free beach. You can spend a day lying on mats, watching surfers, playing with your dogs. You have to bring your food and necessary things and don't forget to clean all the mess before leaving to keep this beach clean for you and your dogs. There are 4 ways to reach that beach – Line 110 Bus, Line 112 Bus, Drive, Town Car, and Drive. Choose any of these and fly to the dreamy beach.
7. Albany Bulb
The Albany Bulb sits between the Eastshore State Park and the East San Francisco bay. Albany beach is a developed area. It is a common destination for East Bay dog owners, but dogs must be kept on leash. It has some amazing views of the world. People halt there for an exercise or run.
It is one of the sandy beaches in California. Exercise with your dog is the most attractive activity in your daily recreations. If you can train your dogs, the dogs can do yoga and exercise beautifully with you. Practicing yoga on a calm and cool beach is the best thing for relaxation.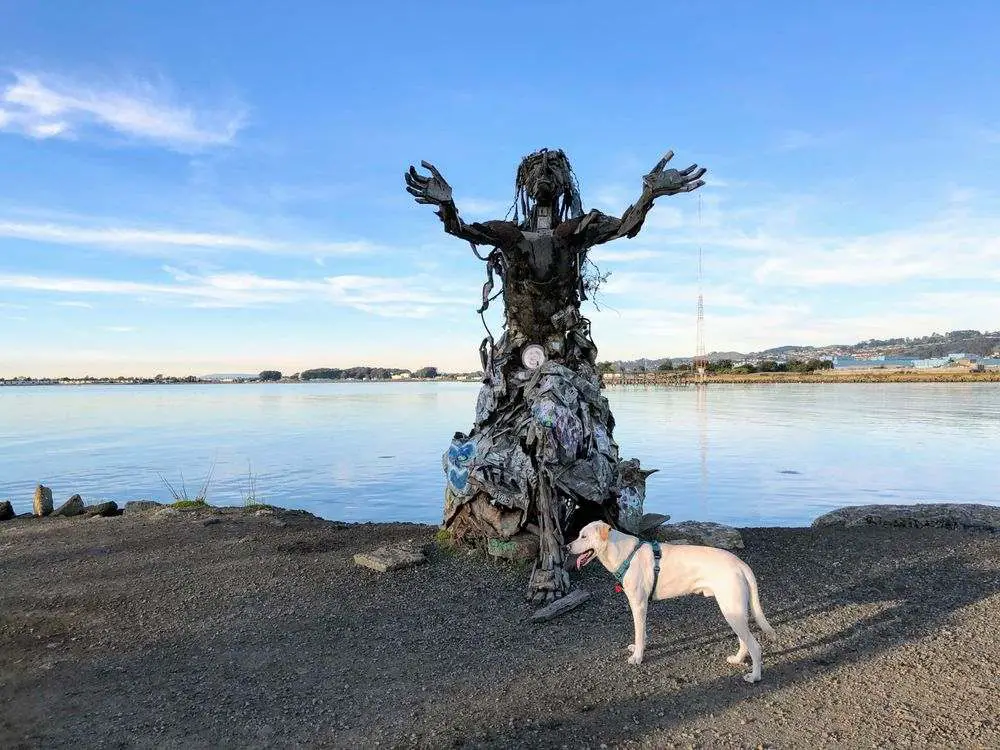 8. Rodeo Beach
This beach is three miles away from the northwest of the Golden Gate Bridge. This beach permits dogs off-leash, but they should be kept under leads of voice control. The seashore is covered with red and green pebbles.
Swimming is not allowed here as the frequency of high waves and strong currents appear seemingly. You can spend some hours walking, photographing, and watching birds. It is a dog-friendly beach, but dogs are only allowed in picnic spots and parking areas, not in the water. This beach is known for its white sand and shallow waves. You can take a long walk with your canine companion.
It's a big place to run around water with your dogs, play a fetch game, or stroll around freely. You will find lots of companions for your pups to have a blast of enjoyment. But as it is a small beach keep this beach clean to have an eco-friendly environment for your pets.
9. Phillip Burton Beach
This beach situated between Fort Funston Beach and Thornton State Beach is a lovable place for people and puppies. You can play in the water with your pups. There is a cave nearby and you can go out for an adventure into the cave with your furry friend. It is long aligned beach that gives the best fun time for both parents and dogs.
You can spend some time for fishing, hiking, and your pup can indulge in beachcombing games. It is really a beautiful beach with amazing scenic beauty, windy hills, and cozy bushes. It is a dog-friendly beach that allows your doggie to stay off-leash. Swimming on this beach is prohibited. You can also enjoy photography. Very less beach-friendly amenities are available in this zone.
10. Ocean Beach
It is an original dog beach in San Diego that is open for twenty-four hours for dogs to roam. It is a popular beach for local dog owners and visitors. Dogs enjoy their playtime with total bliss being off-leashed. This beach is open for walking, fishing, swimming, and sunbathing. It offers incredible views and the beach itself is very beautiful.
People find it a convenient place to visit with their puppies when staying in San Francisco. It is a great place for a picnic and a popular dog-friendly vacation spot in California. Swimming is allowed till sunset. You can have a picnic at the narrow shoreline. It is the best place to visit on a sunny day and a popular walking spot for local dog owners.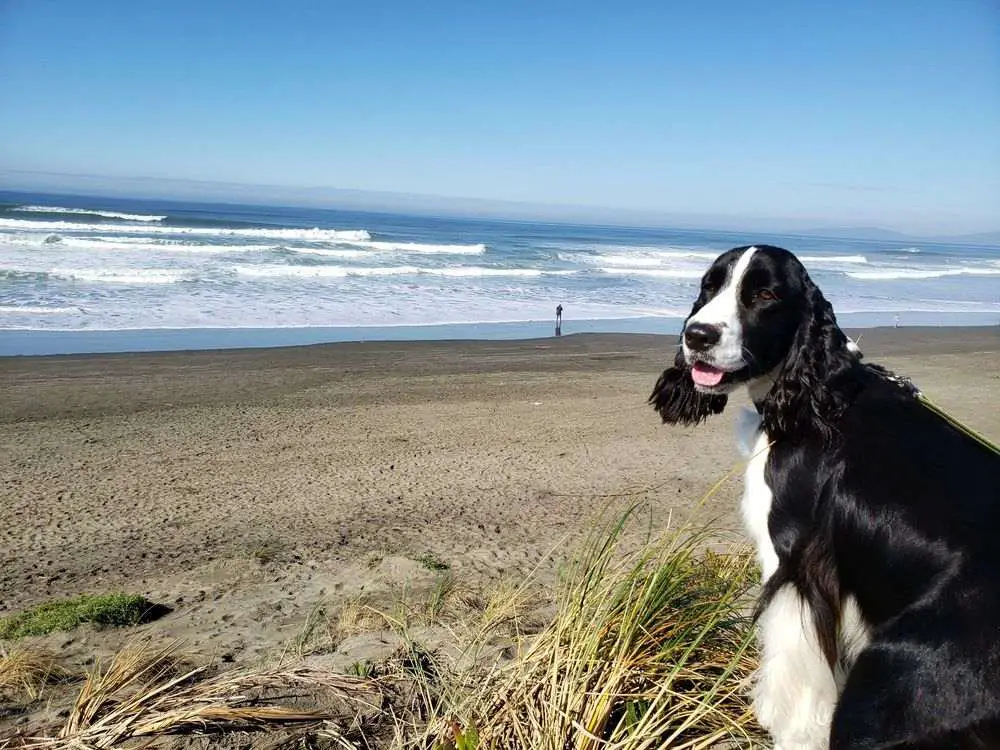 11. Sharp Park Beach
It is a well-loved beach among the puppies of Pacifica, fifteen minutes from downtown San Francisco. It is one among few black sand beaches in California The beach includes picnic areas, long benches, fishing piers. It is popular among local people pet owners.
Swimming in water is strictly prohibited as it is known for hairy riptides. In summer you can find pelicans here and there in search of food. This beach is getting popular for its beauty and playfulness, scattered canine friends indulge in pawful activities.
12. South Rodeo Beach
South Rodeo Beach is established in the Marin Headlands. Your dog is welcome to this clean and tidy beach but must be on leash. It is a clean and tidy beach. This beach is a fabulous destination for local dog lovers to have a walk into the sand. There are no specific lifeguards on this beach. You can plan a weekend full of sunbathing, and spend it watching waves.
You can explore numerous sea creatures including starfish, sea urchins, crabs, hermits etc. The beach is also popular for bird watching. Here you can get an eye-soothing view of various birds. Keep in mind to collect all those used things before leaving.
What can I do with my dog in San Francisco?
There are lots of things to do with your dog in San Francisco. First of all, you can explore the dog-friendly beaches in San Francisco Bay area. Walk with your dog off-leash and take selfies as more you want. In San Francisco, you can also get to know about some dog-friendly parks where you can definitely take off. To stay healthy and to keep healthy you can go for Yoga with your sweet little pup at the vast calm beach in the early morning. Apart from all these, you can ride in cable cars and your dogs will enjoy the fresh air in the city. Apart from all these, you can rejoice attending dog-friendly beach camping in San Francisco.
Dog-Friendly Hotels in San Francisco:
San Francisco Marriott Marquis Union Square: One of the best-reviewed hotels in San Francisco is Marriot Marquis Union Square. The hotels are enough hygienic for spending with your lovely dogs. The rooms are well decorated. You can avail all the privileges here.
The Cartwright Hotel, Union Square BW Premier Collection: 3 minutes walking distance from the heart of San Francisco, Union Square the Cartwright Hotel is founded to enjoy with your pet dog. Every room is unique and designed to stay comfortable with your dogs. There is no issue with feeding your dog too.
Read Next:
FAQs: Pet-Friendly Beaches in San Francisco
1. Are dogs allowed at China Beach San Francisco?
Ans. No, dogs are not allowed at China Beach in San Francisco. It's not among the dog beaches in San Francisco.
2. Is Golden Beach Dog Friendly?
Ans. Yes, Golden Beach is a pet-friendly beach in San Francisco.
3. Is San Francisco a pet-friendly city?
Ans. Certainly, San Francisco is a pet-friendly city. As per the survey, it's called that San Francisco becomes number 1 which is loaded with dog-friendly beaches. Crissy Field East Beach, Baker Beach are the best dog beaches in San Francisco.
4. Is Ocean Beach in San Francisco dog friendly?
Ans. Ocean Beach in San Francisco is one of the most delightful areas where one can stroll and spend a longer period of time. However, they are a little strict. They allow dogs on condition of being off-leash or voice-over control system. You can consider this beach as off-leash dog beach in San Francisco. There are many dog-friendly places in San Francisco where you can rejoice with your dog such as – Haight-Ashbury, Alamo Square Park etc.