9 Best Dog-Friendly Beaches in Connecticut
Ready, for your next adventure on the best dog-friendly beaches in Connecticut? 
Along the Long Island Sound, the Connecticut coast is filled with beaches and happy vibes. The laid-back shores of the beach destinations are perfect for you and your pup to enjoy the big waves and other attractions.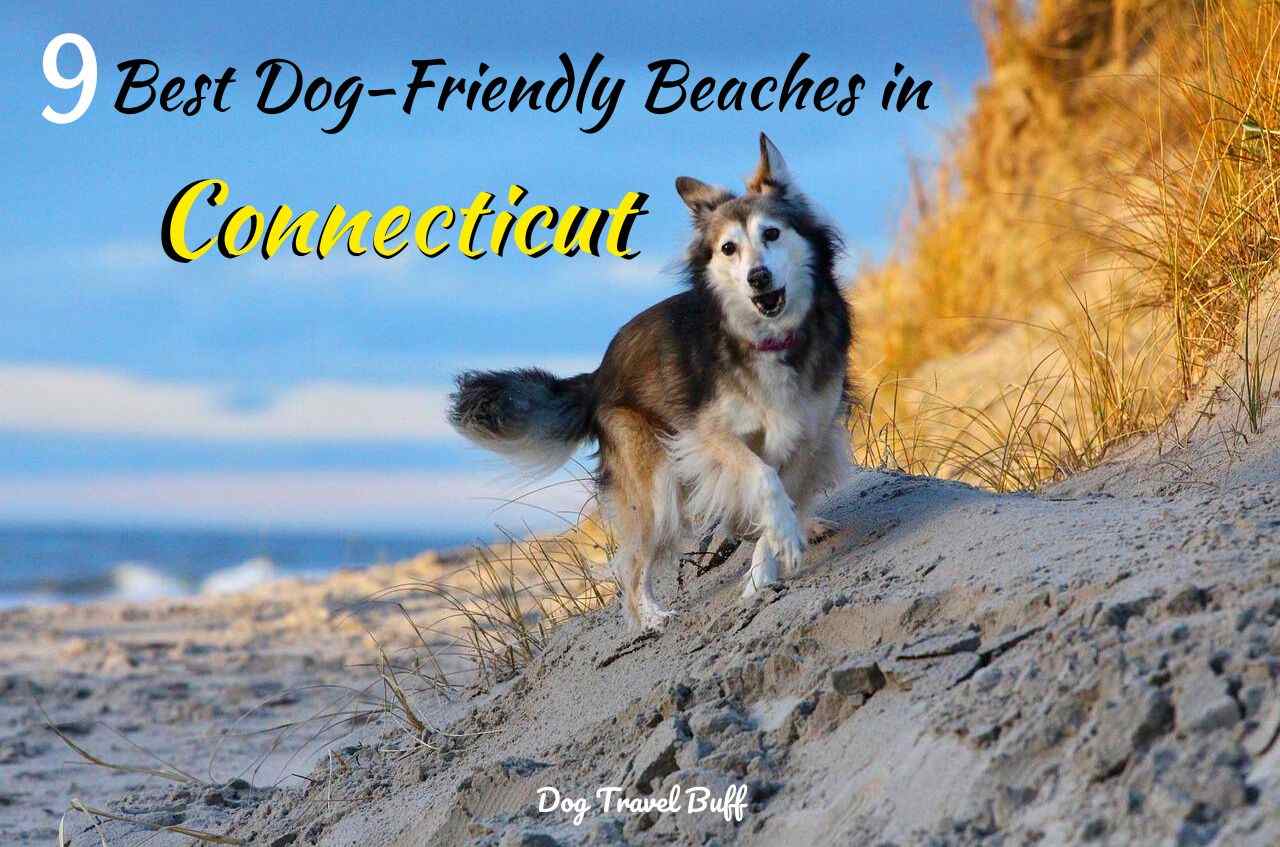 Therefore, if you are looking for a dog beach in Connecticut then these small beaches will steal a piece of your heart. So, let's explore the serene beauty of these beaches.
This post may contain affiliate links. If you buy something through one of those links, you won't pay any extra penny, but I'll get a small commission that encourages me to deliver more helpful content for you.
What Beach are Dog Friendly in Connecticut?
1. Compo Beach 
Location: Westport, Connecticut. Bordering the Saugatuck River along the Long Island Sound
Rule: Dogs are welcomed from October to March, designated on a leash and off-leash spot on the beach.
A 29-acre park, Compo Beach is one of the famous vacation spots in Connecticut for beachgoers between April to September. After that, this aesthetic landscape is considered a haven, owned by dog owners. You can get your snacks and enjoy beach volleyball games or sit down pleasantly with your dog watching the beauty. 
Enjoy the sandy shore dog-friendly beaches in Connecticut! 
Tips:
No fence, therefore, be careful while your dog is off a leash.
Always check the signboard to confirm the exact dog beach location.
Leashed dogs are the norm, try to follow them widely.
Limited to 100 visitors per day.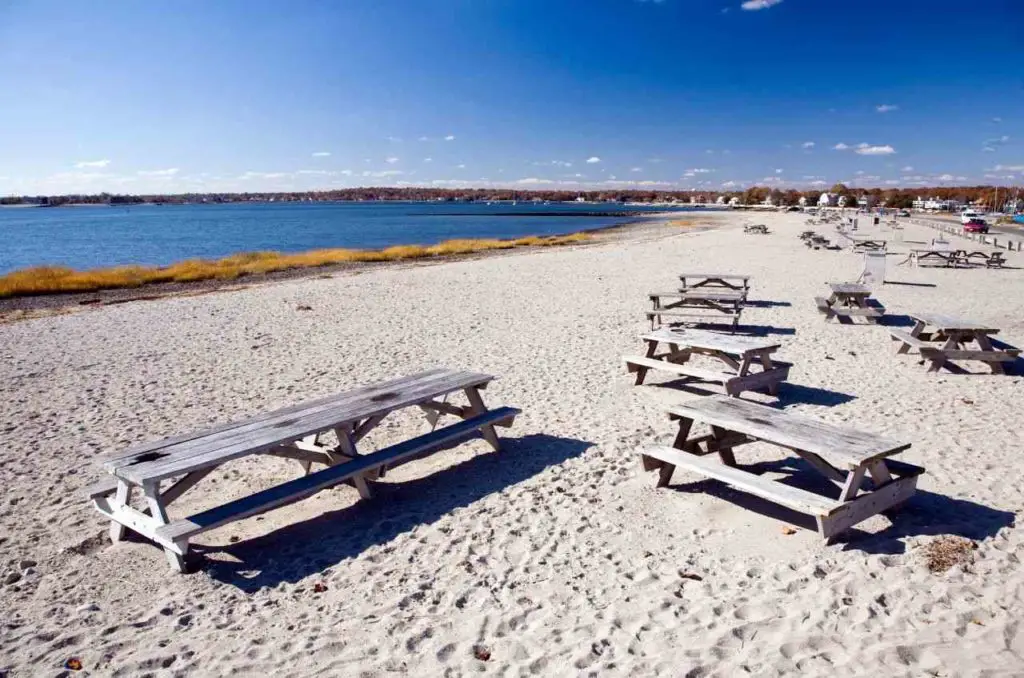 2. Hammonasset Beach State Park
Location: In Madison, Connecticut. On Long Island Sound
Rule: Leashed dogs are welcomed from October to March on the beach whereas the park allows leashed dogs all year round.
Hammonasset Beach State Park offers 2 miles of beach with gentle waves and an ideal dog beach in Connecticut for relaxing and surfing. The beach has 500 campsites, so if you want to be near nature, plan camping and witness the best sunrise at Long Island Sound. 
The beach is known for its smooth boulders and high-piled rocks that cast its shades beautifully during sunset. You can swim, walk, and sit enjoying the park's unique coastal landscape. 
Tips:
Leashed dogs should be no longer than 7 feet
Do not miss out on visiting Meigs Point Nature Center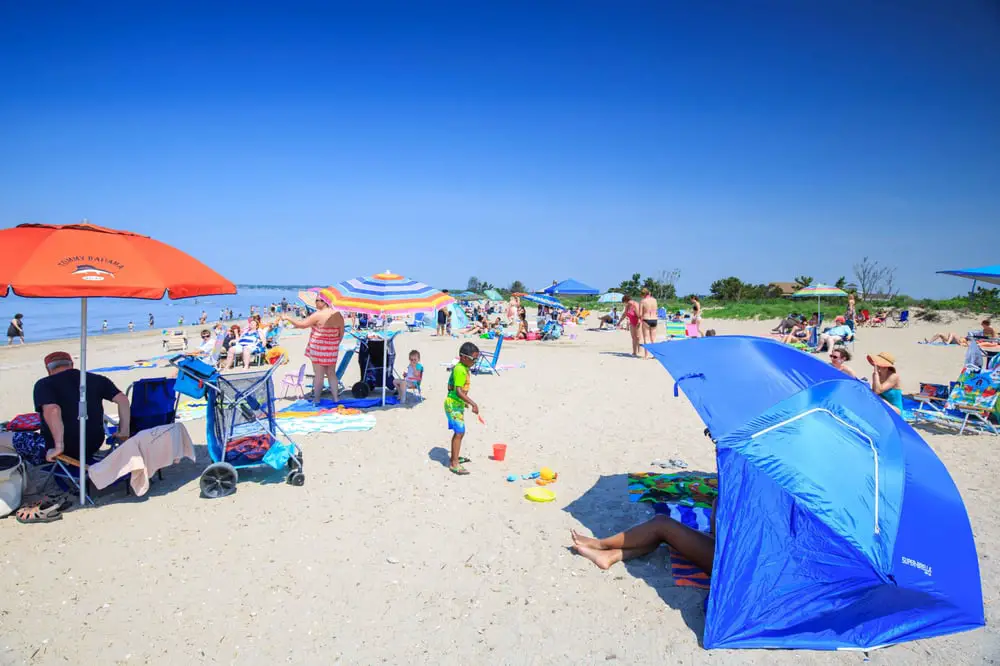 3. Jennings Dog Beach
Location: Fairfield, Connecticut. 
Rule: Dogs are welcomed from October to March. Off-leash dogs need to follow rules. 
Jennings Dog Beach offers over 27 acres of beach and is one of the free pet-friendly beaches in Connecticut. This is the biggest beach in Fairfield that offers the best dog-friendly environment to witness the gorgeous views of Long Island Sound. You can take your dog to the Jennings Dog Park, Town Marina and Ash Creek Open Space to enjoy the peaceful environment with your dog. 
The beach features a lot of umbrella sitting areas where you sit and enjoy the day passing. 
Tips:
Feel free to come to Jennings Dog Beach in the summer season to attend " Bonfire on the Beach" or "4th July Fireworks"
Leashed dogs should be no longer than 7 feet
Make sure you fill the sand holes your pup might make. Keep your dog limited to sand and not allow them to wander at "Sand Castle"
Carry plenty of drinking water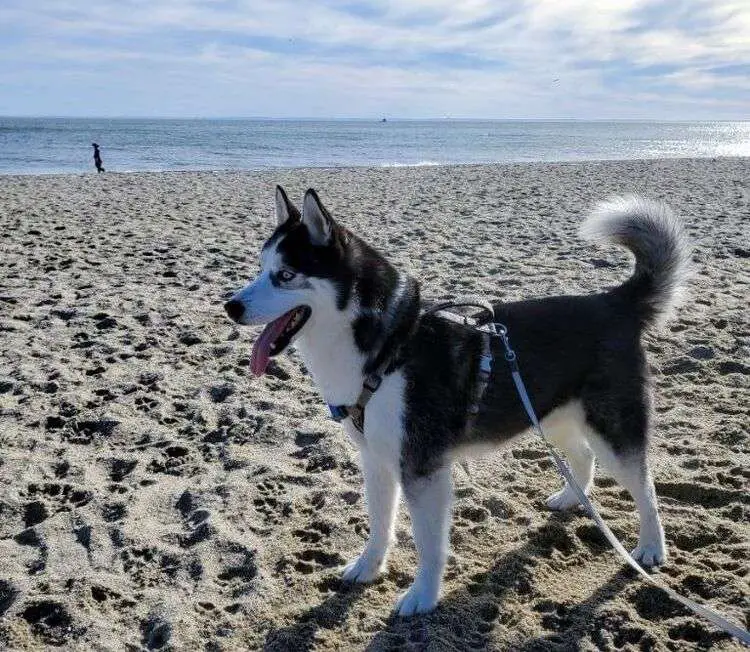 4. Esker Point Beach 
Location: Groton Long Point, Connecticut
Rules: Dogs on leash are allowed, however, pets are not allowed on the beach during the summer concert series. 
A 60 ft. long Esker Point Beach is one of the well-known dog-friendly beaches in Connecticut that offer access to the rugged shoreline of the crescent coast. You can splash in the cool water and enjoy swimming while keeping the hot sun at bay. You can also venture to nearby Groton Long Point and enjoy the spectacular view of the coastline, and the gorgeous sunset. 
Esker Point Beach is a perfect getaway waiting for your furry friend. 
Tips:
Man-made beach and best for children
Huge rocks at the shore and no beach umbrella to protect yourself from the sun
You can bring a dig umbrella to protect your dog from the scorching heat. Here is our ultimate list of the best dog umbrella for your pup.
5. Southport Beach
Address: Sasco Point, Southport
Rules: From October to March, on Penfield South Pine Creek and Sasco Beach leashed dogs are allowed.
For many uphills, downhill, and challenging activities, come to dog-friendly Southport Beach. From here you should visit the Devil's Den Preserve and witness the unique aquatic species swimming in the Saugatuck River. Your canine friend can run on the beach and you can enjoy lunch at the Pier Pavilion. The scenic road along the beach is apt to walk your pup. 
Tips:
Get dog toys for your pup, this place has a lot of free space. 
There are an endless array of outdoor recreation activities, historical attraction spots, and antique stores to enjoy the natural beauty.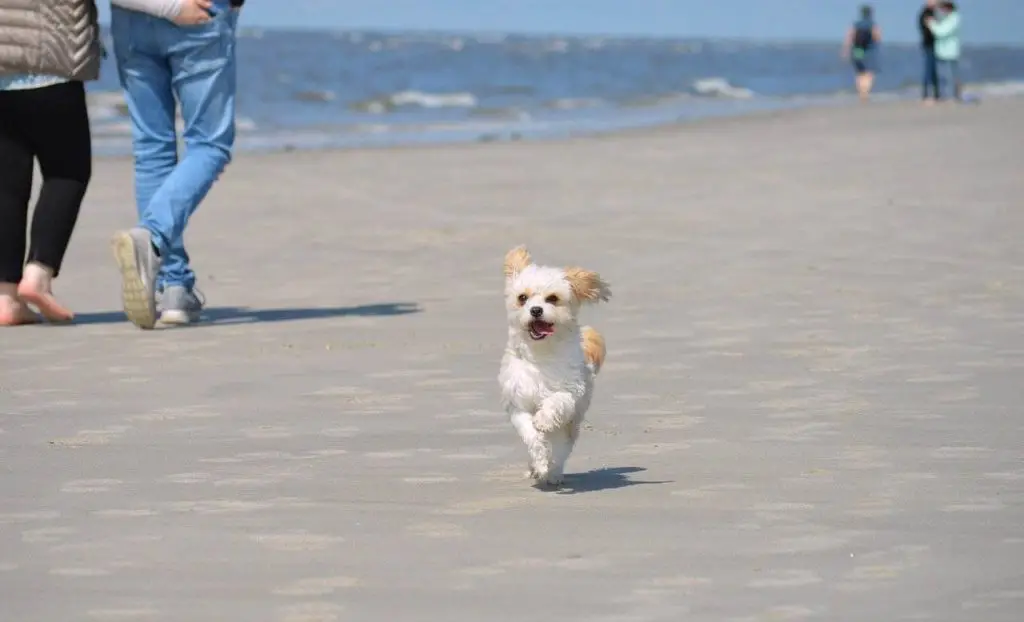 6. Mixville Recreation Area
Location: Near Cherish town line on Notch Road
Rule: Your dog must be on a leash
Mixville Recreation Area is the most wonderful place in Connecticut for all ages and pets. This place offers a plethora of picnic areas and hiking trails, and parks. Jungle gym is a beautiful wooden recreation area that matches your adventure's appetite. Go kayaking with your dog for adventurous fun or visit the Watch Factory to taste delicious food. 
Tips:
The dog-friendly swimming area is on another side
Fishing is permitted away from the sandy beach area in the upper pond 
The parking charge applies only during the summer season
No lifeguard on duty so swim at your responsibility 
You can take part in the most wonderful outdoor activity in spring, Mixville Muck Run. Also Mixville Adventure Camp in the summer season on weekdays
7. Bluff Point State Park
Location: Groton, near Depot Road, Connecticut
Dog rules: Dogs must be on a leash
With 800 acres of dog beaches in Connecticut, Bluff Point State Park is a significant piece that emerges from lush woodlands. The place thrives on exploring the Long Island Sound hiking trails, unexplored natural coastline and distant seabird calls. The park offers tons of recreational activities to indulge in. There are a lot of shady spots that welcome dogs with love and fair treatment.
Tips:
No motorbike allowed, Bluff point state park is accessible only by foot
No dog is allowed on the beach from April 1st to September 1st. Leashed dogs can be brought from October until March
Parking is free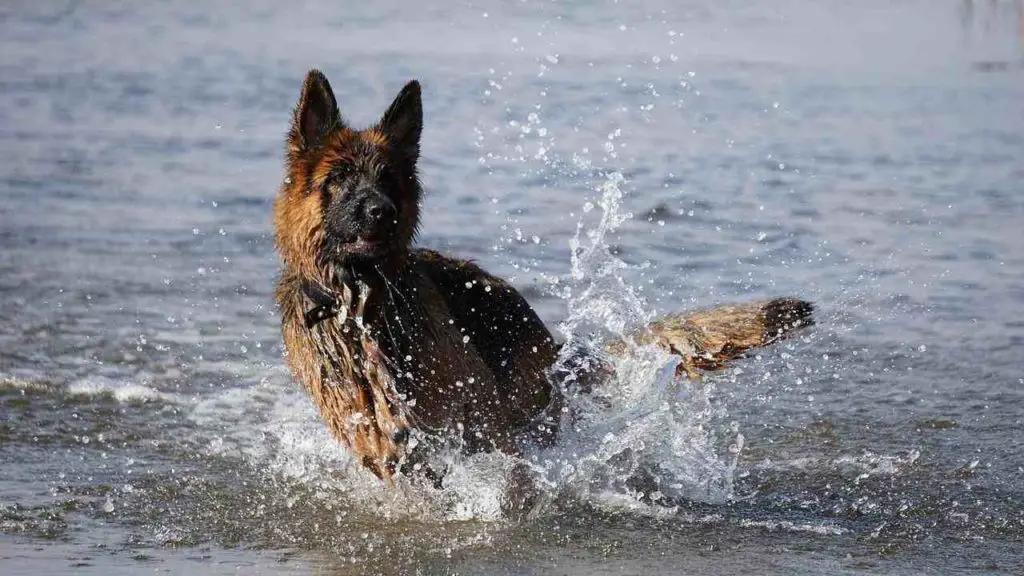 Read Also: Top 9 Dog-Friendly Beaches in Michigan
8. Cove Island
Location: Stamford, Cove Road, Connecticut
Dog rules: Dogs must be on a leash
Cove Island in Connecticut allows dogs, so you can enjoy the gorgeous views of Long Island Sound. Cove Island Park is also home to more than 309 species of birds and varied wildlife. The atmosphere is peaceful and there is a separate picnic place where you can grill, cook and relax. Salt marshes are common along the coast and you can explore the preserved landscape with your furry friend. 
Tips:
$25 parking from 1st May – 30 September
No lifeguards.
A lot of rocks, no longer waves and many snack bars
Bring bug spray if you are planning to stay after sunset
9. Railroad Beach
Location: Amtrak Beach, Niantic, Connecticut
Rule: Dogs must be on a leash
Adjacent to the Amtrak train tracks lay a real slice of paradise Railroad Beach, which offers a mesmerizing exotic coastal view of Niantic Bay. Dog-friendly Connecticut is a dream for all dog lovers; it is usually quiet and looks like the home of many private beaches. You can relax with your pet and enjoy the summer at the sandy beach getting sun-soaked and smell the scented sea air. 
Railroad Beach is a coal swamp that is never crowded. 
Dog-friendly Beach Town in Connecticut 
These dog-friendly beaches in Connecticut have soft sand and are some amazing places for you and your pup to have a fun day. You will need to keep your dog on a leash and keep in mind, to take care of your dog. Be sure to say hello to other pup's friends for more playful fun. You can consider playing and soaking in the sun in Ned Dimes Marina, Westport and Fairfield town Marina, Fairfield. These two dog-friendly beaches are good choices. 
Dog-Friendly Hotels in Connecticut
Connecticut is home to affordable and luxurious hotels, so lodging is never a problem. Connecticut hotels are warm and welcoming, therefore, keep your stress at bay and enjoy the homely environment with your dog. Here are the best dog-friendly hotels in Connecticut you can choose – 
Wyndham Bethel/Danbury Microtel Inn & Suites is rated 8.8 for its prime location and promising services. The property is an 11-minute drive from Danbury Fair Mall and 5 km from Brookfield Golf Course. The rooms are big and you will get a complimentary continental breakfast on time. However, the hotel is slightly pricy. 
Comfort Inn & Suites
Comfort Inn & Suites is rated 8.7 by booking.com. The accommodations are fully equipped with hair dryers, free coffee machines, cable television, irons, sofa sleepers and more.  The customer service is on time and its location makes it perfect for enjoying a calm homely environment with your dog. 
Dog-Friendly Restaurants in Connecticut
A mystic setting with good food on the table is always a dream. However, Connecticut has some of the best dog-friendly restaurants that allow your dog to wag their tail and enjoy their meal. Here are the dog-friendly restaurants in Connecticut that provide a table of food for people as well as a bowl of water for your four-legged friend. 
Capriccio Café – Stamford
Capriccio Café is the most appropriate dog-friendly place where you can taste the best Italian dishes. Starting from French toast, pasta, and paninis to bruschetta pizza you get everything. This outdoor setting café remains open from Sunday to Wednesday from 11 am to 9 pm and on Thursday to Saturday, it remains open from 11 am to 10 pm. 
Dog Watch – Stonington 
Pets are welcomed at the Dog Watch outdoor patio all year round. At Dog Watch, you can taste authentic traditional American food starting from calamari, and tuna tartare to beau's baby big macs. The café stays open all year round from 11.40 am to 9 pm. 
Final Words
Once the sun is out, the dog-friendly beaches in Connecticut look picturesque and perfect for relaxing and cooling down. The Connecticut coastline, the atmosphere, side paths, the restaurants, overall the city is pet friendly. I hope I guided you well in exploring the preserved landscape and beaches in Connecticut.
Read Next:
FAQ: Dog-friendly Beaches in Connecticut
1. Can I bring my dog to Hammonasset?
A: Yes, on a leash dogs can be brought to Hammonasset Beach State Park. However, pets are not allowed in the campground. However, read the sign boards before coming to Hammonasset Beach State Park with your dog. 
2. Where can I swim with my dog in Connecticut?
A: Bring your dog to Sleeping Giant State Park and Brooksvale Recreation Park in Connecticut to swim and run around. Try to be respectful and try to keep the environment clean.