Guide to 8 Dog-Friendly Camping in Florida: Try These Campgrounds
Camping is undoubtedly one of the most fun and cost-efficient ways to enjoy nature and let go of stress. What can add more happiness to camping than having your furry four-legged friend by your side?
Imagine sitting under the star-spangled sky with your dog and eating fluffy marshmallows or chasing them around the camper. Florida has a lot of pet-friendly campgrounds where you can enjoy camping with your dog.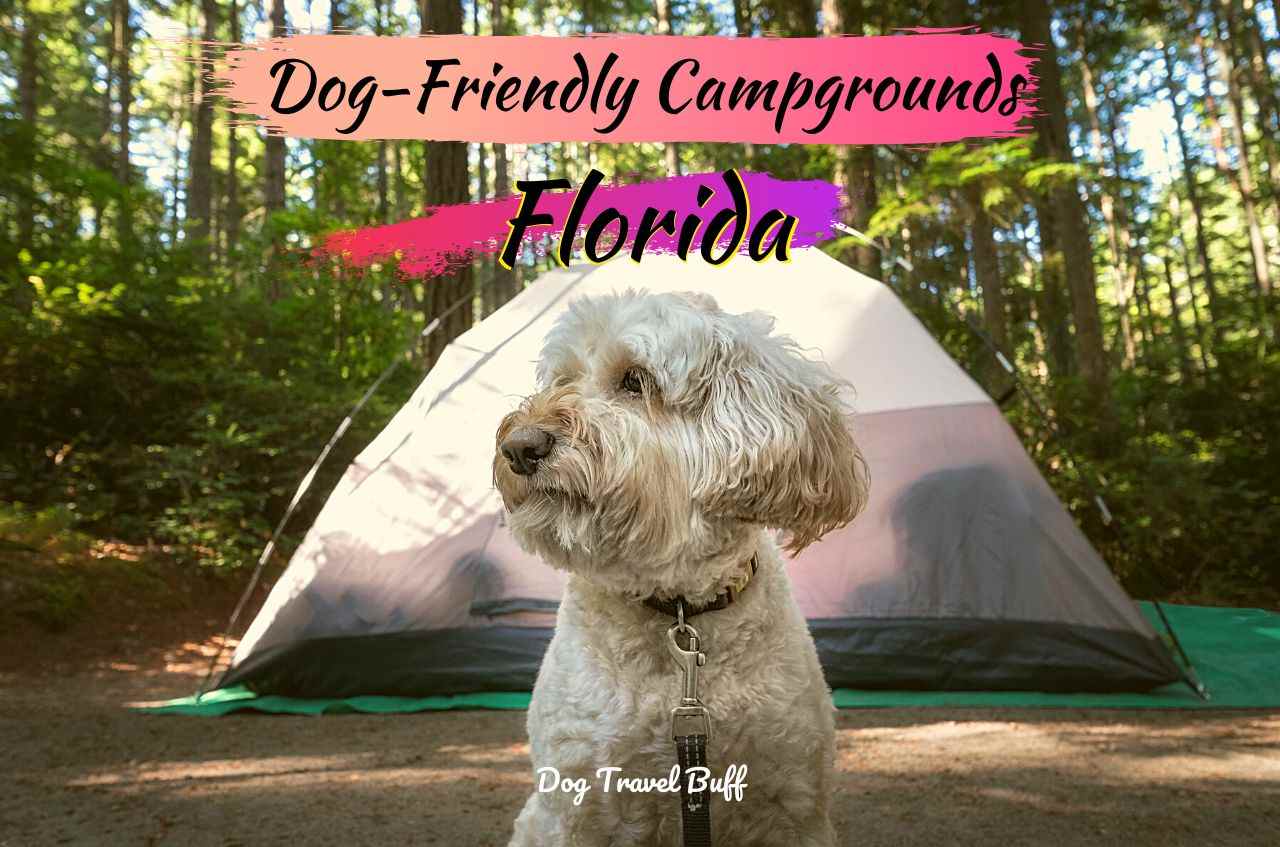 This post may contain affiliate links. If you buy something through one of those links, you won't pay any extra penny, but I'll get a small commission that encourages me to deliver more helpful content for you.
So, let's see some spots for dog-friendly camping in Florida.
1. Myakka River State Park
It is one of the best camping grounds in Florida, filled with oak and palm trees. As far as you can see, there are streams, hammocks, and wetlands. There are three campgrounds: Big Flats, Old Prairie, and Palmetto Ridge Campground.
You have many adventurous activities, like hiking, cycling, fishing, and kayaking. You can even stumble upon some alligators and birds lazing in the water when you go boating.
Pets should be on a leash and allowed in trails and camping areas except for cabins and walkways. They are not permitted in just a few places, such as restrooms and recreational areas. Do not leave your furry companion unattended anywhere. If you want to enjoy hammock camping with your dog, try it out here!
Amenities: Fire ring, hammock camps, electric points, cabins for rent, and picnic tables. Reserve early to get good spots in the campgrounds.
Address: 13208, State Road 72, Sarasota, Florida 34242.
Fee: The camping fee is $26, along with an extra $7 for utility for RVs. Camping in tents does not have to pay the utility fee but only $6.70 for a reservation.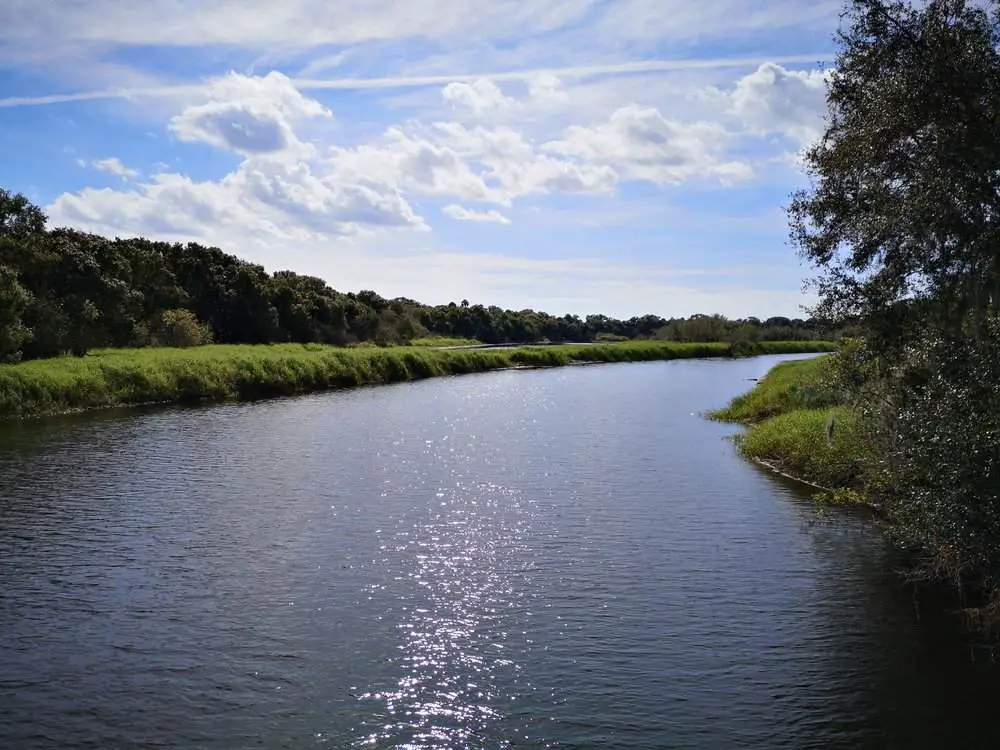 2. Everglades National Park
Everglades National Park will be one of the best spots if you're looking for dog-friendly camping in Florida. Filled with swamps, mangroves, wildlife, and five different habitats, the Everglades is a wetland and a World Heritage Site filled with camping spots and many fun activities.
Here dogs are allowed on campgrounds and picnic spots. However, they must always be on a leash and are permitted on hiking trails. Ensure they're not alone or near any water areas for their safety.
Amenities: The Everglades has Long Pine Key Campground and Flamingo Campground for campers whose canine buddies can accompany them. Both these sites have abundant space for tents and RVs. They also provide basic facilities like showers, power supplies for charging, restrooms, and water refills. 
Address: Homestead, State Road 9336, Florida.
Fees: There are separate fees for camping in an RV and a tent. For RVs, the cost for one night is $28, and for tents, it's $24. Everglades is one of the best dog-friendly campgrounds in Florida; moreover, it's free for your pets to enjoy camping.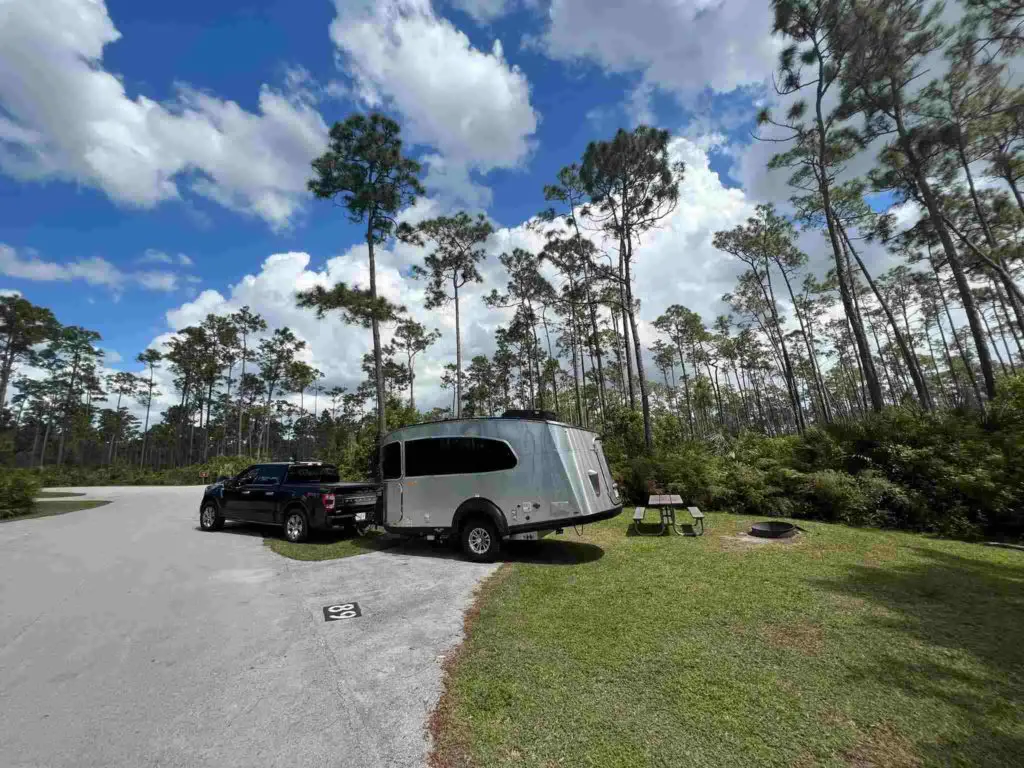 3. Anastasia State Park
With beaches filled with white sands and dolphins swimming happily around you when you canoe, Anastasia State Park has about 139 camp spots near the beautiful, dreamy sandy beaches. You can go kayaking, cycling, fishing, geo-seeking, and enjoy boat rides as you glance at some fascinating birds flying above you.
Anastasia State Park is one of the well-known campgrounds in Florida that allow dogs in playgrounds, cabins, and many such places except beaches and restaurants. They can also enjoy a long walk on the hiking trails.
Amenities: Electric hookups, a fire ring, an in-ground grill, a picnic table, and bathhouses fully equipped with washers, dryers, showers, and hot water. You can camp in tents or RVs. There are cabins available for rent too.
Address:  300 Anastasia Park Road, St. Augustine, Florida 32080.
Fee: You must pay a fee of $28 a night and an additional $7 as a utility if you're camping in an RV, boat, private yacht, or cabin. If you're camping in a tent, you only need to pay $6.70 for the reservation. You can bring your pet here free of charge.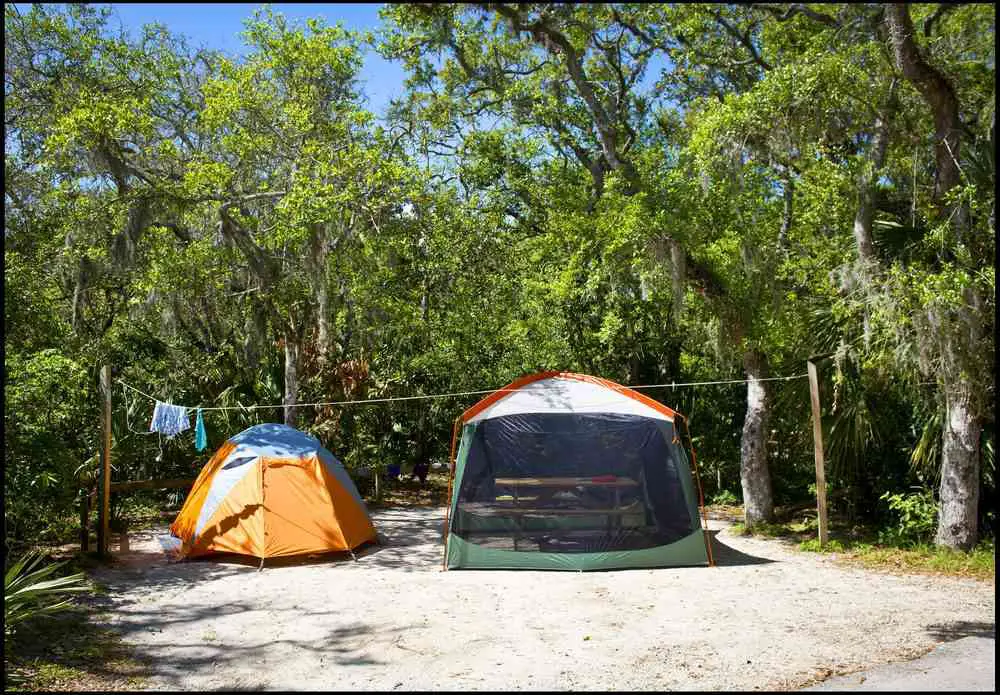 4. Highlands Hammock State Park
Sprawling over 9000 acres, this park is filled with rich history and a swoon-worthy ecosystem. This place is a sanctuary for many rare plants and wildlife, like gopher tortoises. You can camp here in your RV or pitch a tent.
Dogs are allowed on campgrounds and trails. However, they should always be on a leash. As one of the best dog-friendly RV parks in Florida, dogs are allowed in the playground at certain times. However, keep an eye on them as there might be alligators, deer, and other animals roaming around. If you are a first-timer, check out these dog camping gear.
Amenities: Picnic tables, a fire ring, electrical and water hookups, an RV dump station, a restroom with showers and laundry facility, and market and firewood on demand.
Address: 5931 Hammock Road, Sebring, Florida 33872.
Fee: For a tent spot, the price for one night is $18. If you want a camp spot in a primitive campground, you must pay $18 with no water or electricity. A family campground costs around $22 a night and $7 for RVs, boats, private yachts, and cabins as a utility fee.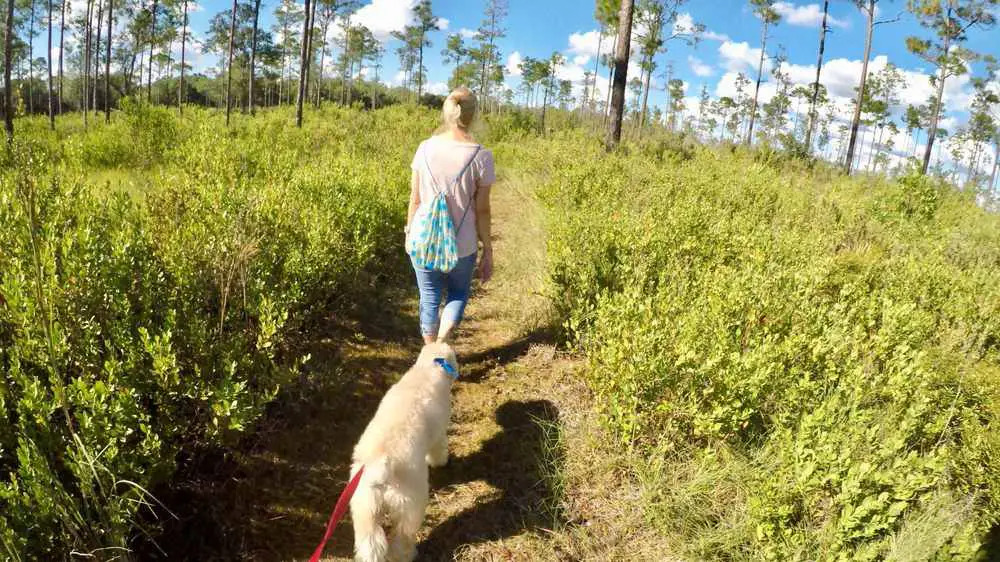 5. The Gulf Islands National Seashore
The Fort Pickens Campground has 200 campsites just near the sparkling beach in Santa Rosa. You'll get a chance to see dolphins and ospreys as you take a walk along the coast. There are hiking and biking trails. You can also have campfires at specific times. Camping in Florida with dogs can be a fun experience if you choose this campsite.
Your pets must always be on a leash except in tents and RVs. They are allowed on hiking trails and campgrounds, though not on beaches. Do not forget to clean up after them when you leave a particular place after walking with your canine companion.
Amenities: Fire ring, portable grill, water and electric hookup, restroom with shower and hot water, and laundry. There is also an amphitheater for recreational purposes.
Address: 1463 Fort Pickens Road, Pensacola Beach, Florida 32561.
Fee: You have to pay an amount of $28 if you're camping in a tent. But if you're camping in your RV, you must pay $40 a night. Your furry companion can enjoy a free stay at this place so that you can experience dog-friendly beach camping in Florida.
6. Grayton Beach State Park
The Grayton Beach State Park campground has nearly 60 camping sites along Grayton Beach. If you're a beach lover who also wants to go camping with dogs in Florida, then you're heading to the right place. Live Oak Landing and Santa Rosa RV Resort are two places for RV campers. In addition, you can enjoy fishing, cycling, hiking, paddling, and bird watching.
Dogs are allowed on many of the trails, playgrounds, and some designated areas of their own. However, your pet must always be on a leash outside the tent or RV. Also, they should be well behaved when they are camping.
Amenities: Electrical, sewer, and water hookups for RVs and restrooms are fully equipped with showers, hot water, laundry, and a dryer. There is also an amphitheater for recreational purposes, cabins, and ramps for water sports.
Address: 357 Main Park Road, Santa Rosa Beach, Florida 32459.
Fee: The fee for one night is $30, along with a reservation fee of $6.70. If you are camping in an RV, it'll cost you $7 more for utilities. There are also many options for renting cabins. Reserve your spot here.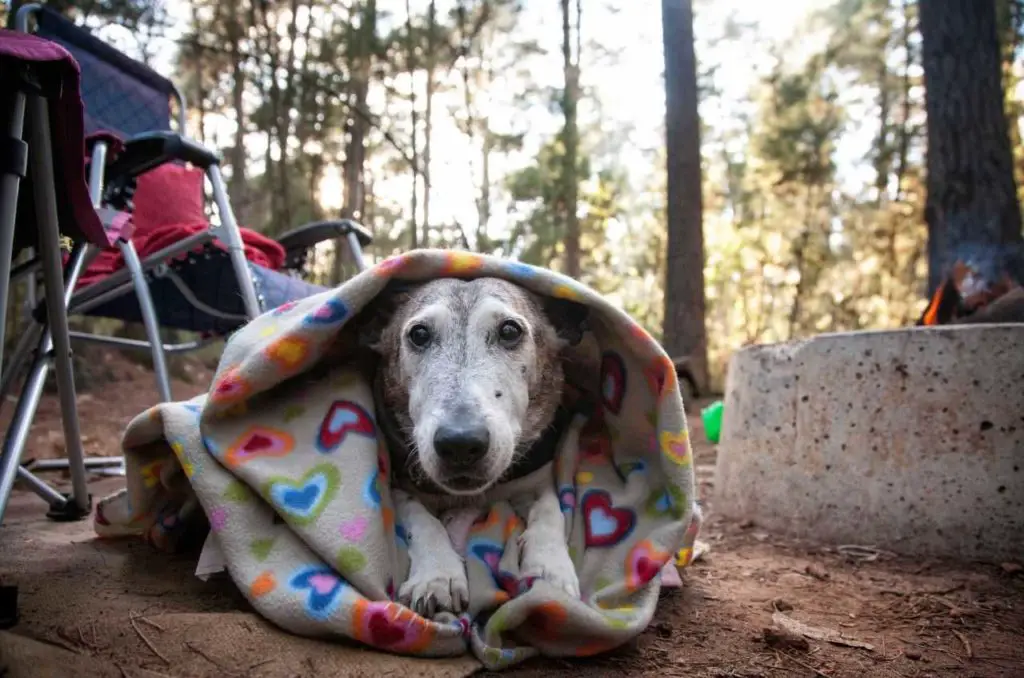 7. Silver River State Park
If you want to enjoy dog-friendly camping in Florida Springs, head straight to Silver Springs State Park. This park houses one of America's biggest springs. There are two campgrounds and 59 camping sites. Filled with beautiful lush gardens and ancient architecture, camping here will give you an unforgettable and wonderful experience.
You can go cycling, hiking, kayaking, paddling, and boating in glass-bottomed boats. Your pet will be allowed in campgrounds, trails, and picnic spots. Always keep them on a leash. You can take them with you on hiking trails or to playgrounds.
Amenities: Cabins for rent, laundry and dryer, RV electric and water hookups, and showers. You'll also find a picnic table, a BBQ grill, and fire rings. There is also a market and a restaurant near the campgrounds for a comfortable stay.
Address: 5656 East Silver Springs Boulevard, Silver Springs, Florida 34488.
Fee: The fee is $24 for a night, with an extra $6.70 for a reservation. If you rent a cabin or go camping in an RV or boat, you need to pay $7 for utility purposes. There is no fee for pets who camp in the Silver Springs campground.
8. Fort De Soto Park
Staying in a tent for camping with dogs and finding a suitable campsite can enhance the whole camping experience. Fort De Soto Park offers one such experience. This campground in Tierra Verde has 236 camping sites and a lot of activities for you to enjoy.
There are different cycling and hiking trails. You can take a relaxing walk on the crystal white beaches, go kayaking, canoeing, fishing, or paddling.
They offer separate campsites for camping with dogs from 86 to 164. Your four-legged friend will undoubtedly enjoy this camping site because you can take them to the beaches! Yes, Fort De Soto allows dogs to play in the water. But they should always be cared for and monitored while enjoying their happy run.
Amenities: Power and water hookups for RVs, grills, picnic tables, showers with hot water, laundry and dryer, fire ring, and picnic tables. You can also have a campfire, but with the utmost precaution.
Address: Fort De Soto Park 2528, 3500 Pinellas Bayway South, Tierra Verde, Florida 33715.
Fee: The fee for a campsite range from $38 to $43.50 if it's a non-waterfront spot and $42.39 to $48.03 if it's a waterfront spot.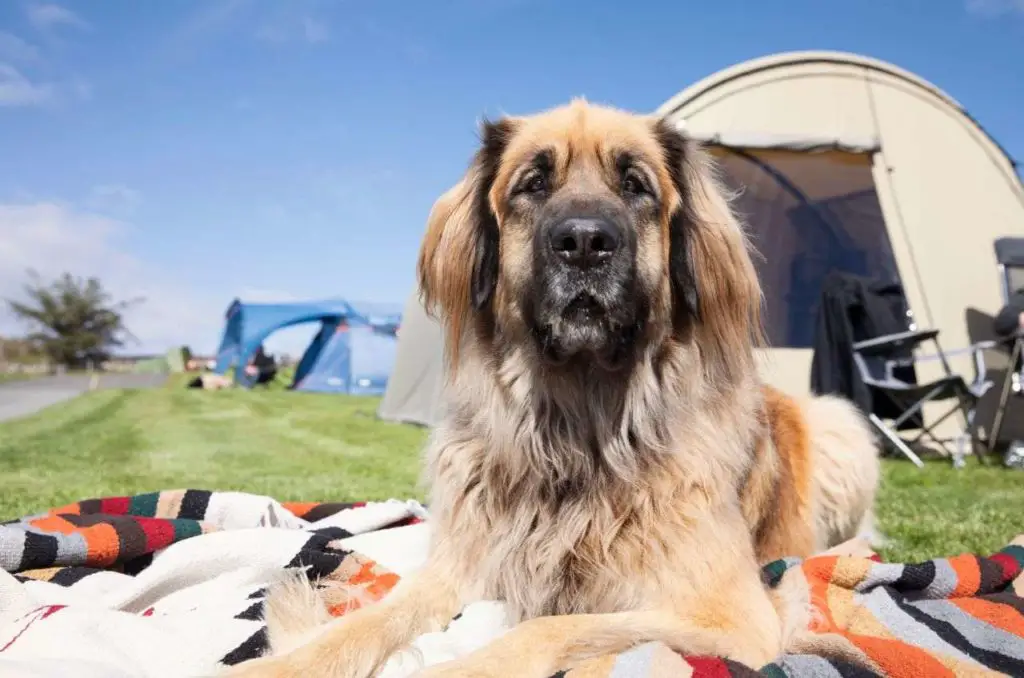 Final Words
Now that you have seen some pet-friendly Florida campgrounds, you can start planning your next Florida vacation with your pet. These are some famous places campers go with their canine friends, so they get filled up quickly.
So, it is a good idea to book the slots in advance. Always check the relevant forums for updates regarding prices, regulations, and new campsites. Different campsites have slightly different pet policies and rules. Take care of your pet and have a spectacular experience of dog-friendly camping in Florida.
Read Next: