Dog-Friendly Stinson Beach Guide & Things to do with Your Pet
Are you and your pup in the mood of running on the beach? Are you tired of the frantic pace of your life? Then let me introduce you all to one of the quaint charming secluded beaches within Golden Gate National Recreation Area, the Stinson Beach. It's a dream destination in California among dog lovers and nature lovers. 
I have lived in Sacramento most of my life and this place was my weekend getaway with Linda. Dog-friendly Stinson Beach is a huge white sand beach with gorgeous scenery, and perfect water temperature. Unlike the other famous pet friendly beaches in California, Stinson Beach has a unique coastal vibe, adventurous hiking trails that welcome dogs and pets with open arms.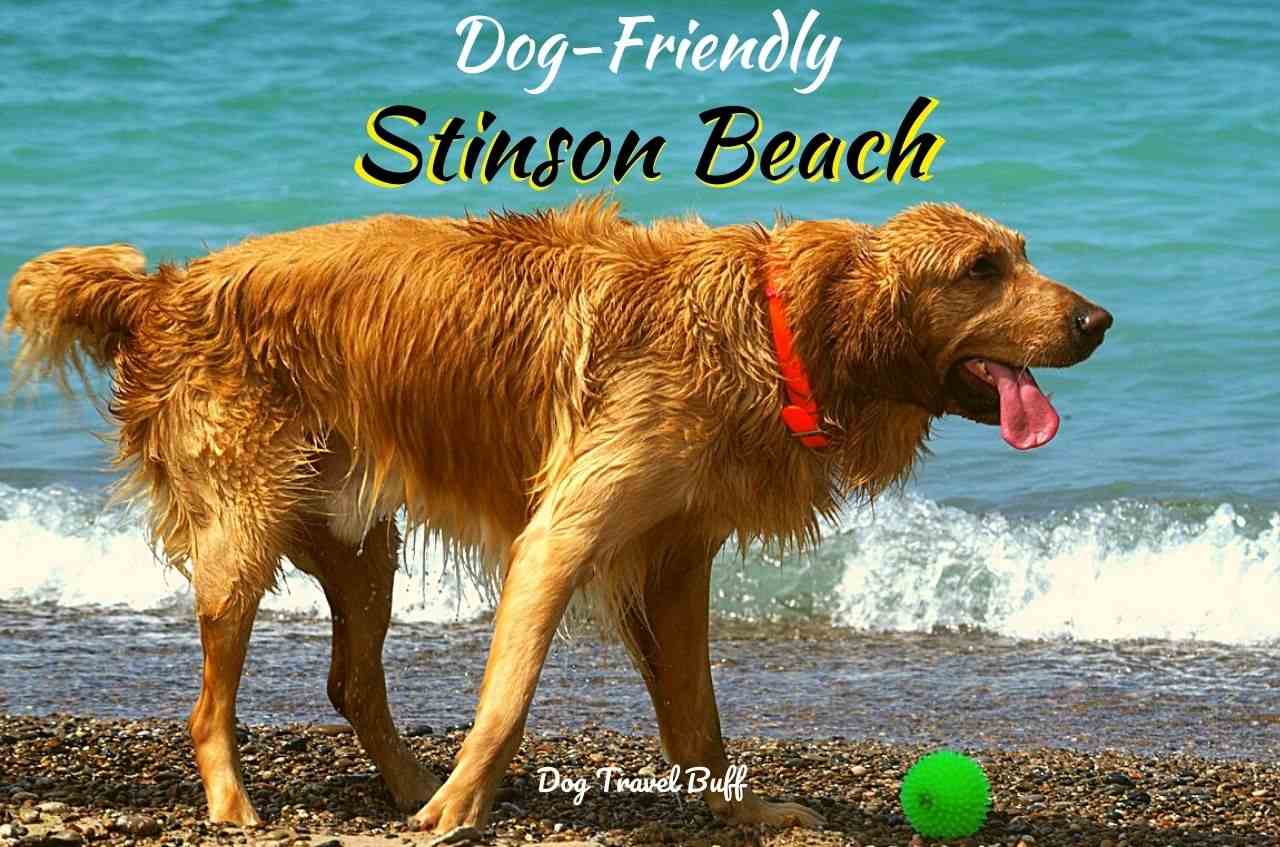 This post may contain affiliate links. If you buy something through one of those links, you won't pay any extra penny, but I'll get a small commission that encourages me to deliver more helpful content for you.
In this dog-friendly Stinson Beach guide, I will take you around the places to visit and fun things to plan to enjoy the most of your time with your pup. 
How to Get to Stinson Beach? 
To get to Stinson Beach from San Francisco, start by driving north on US Highway 101 over the Golden Gate Bridge. From there you can either take CA Highway 1 all the way entering US 101, just a few miles north of the bridge, or take the same exit but turning right from CA Highway 1 onto an inland route "Panoramic Highway". The former route is a scenic drive but is full of sharp curves and drop-offs with heavy traffic while the latter bypasses those sections of Highway 1. 
Stinson Beach is 20 miles North of San Francisco and 2.5 South East of Bolinas at an elevation of 26 feet. The beach is also linked to Marin City by a daily bus service run by Marin Transit. I would recommend you to arrive early if you are driving in your car because the parking lot quickly gets filled up by noon. 
Guide to Visit Dog-Friendly Stinson Beach
Stinson Beach is home to soft and clean sand and I am excited to tell you that it is one of the most dog-friendly beaches in California. You would be mesmerized to see other dogs of many breeds and colors running around playing with dog-friendly toys and enjoying their time. I know you will love it. 
The beach has a large parking lot with a well-maintained park and a lot of fun activities to perform like kayaking, surfing, picnicking, volleyball, swimming, hiking fishing, and many more. Park your car near the condo i.e. right side of the beach because this side is a pet-friendly area and on the other side dogs are not allowed.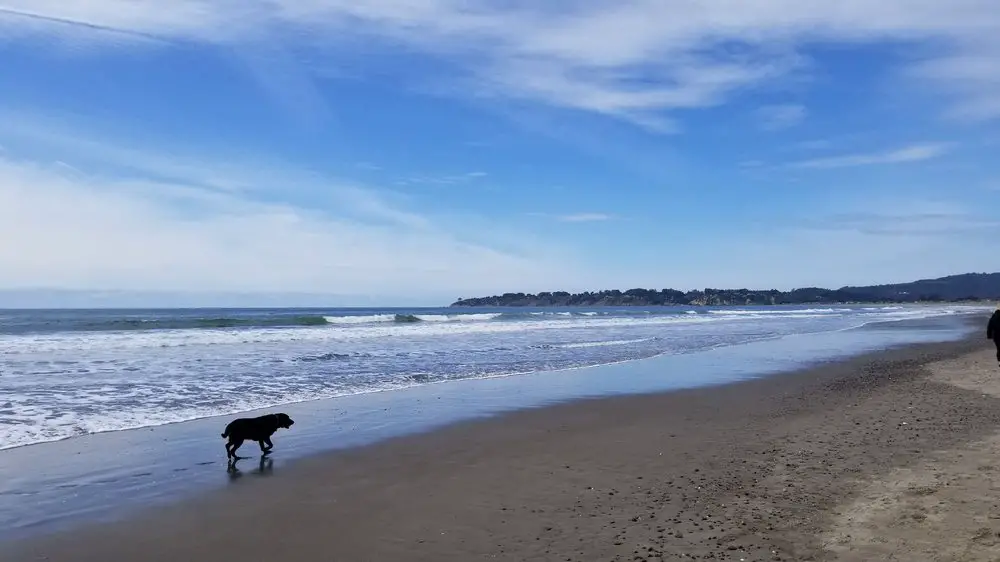 Dog-Friendly Things to do in Stinson Beach
Stinson Beach is Linda's favorite place and she becomes super excited and playful when she visits here. The beach offers peach to all dog lovers and super casual and a great place to relax with your dog and enjoy the fresh air. I would recommend you pack your lunch, bring a beach cooler filled with drinks, a beach blanket and some dog toys, and have fun on the beach. 
Dogs are permitted on the North End of Stinson Beach to run freely and enjoy the beach vibe. Dogs are not allowed on the National Park Service section of the beach. Remember, to keep your dog's on-leash in the parking lot, picnic areas, and on the adjoining beaches. 
A restroom and a shower are also available at the entrance of the North End. There are also two cool dog-friendly cafes in Stinson Beach, Breaker's Cafe and Coast Café. 
Is Stinson Beach Dog Friendly?
Yes, Stinson Beach is a pet-friendly and dog-friendly beach. However, before visiting Stinson Beach remember to keep your dogs on leash and always keep the area clean and never mess or leave dog pieces of stuff here and there. If you are visiting in the rainy season then get a dog umbrella with you to protect your pup from harsh raindrops. 
Stinson Beach has a sandy bottom and shallow depth, therefore, making it one of the best spots for dipping into the water and enjoying the water. The NPS.GOV website has published that Stinson beach is called as one the "best swimming beaches in GGNRA and Northern California". For beach enthusiasts and dog lovers, Stinson beach is pure bliss.
Are Dogs Allowed at Stinson Beach? 
Yes, on-leash dogs are allowed at the north end of Stinson Beach. Dogs love Stinson Beach; the long white sand, splashing cool ocean water and the weather are just perfect for dogs and dogs' lovers. If you are wondering if Stinson Beach is worth visiting then the answer is yes, this is a popular getaway for beachcombing. 
Visiting Stinson Beach is a must. Dog-friendly Stinson Beach is under the Golden Gate National Recreation Area therefore, parking and beach are free for all. Crowds are lower in the winter and I would recommend you to spend the weekends in Stinson beach with your dogs.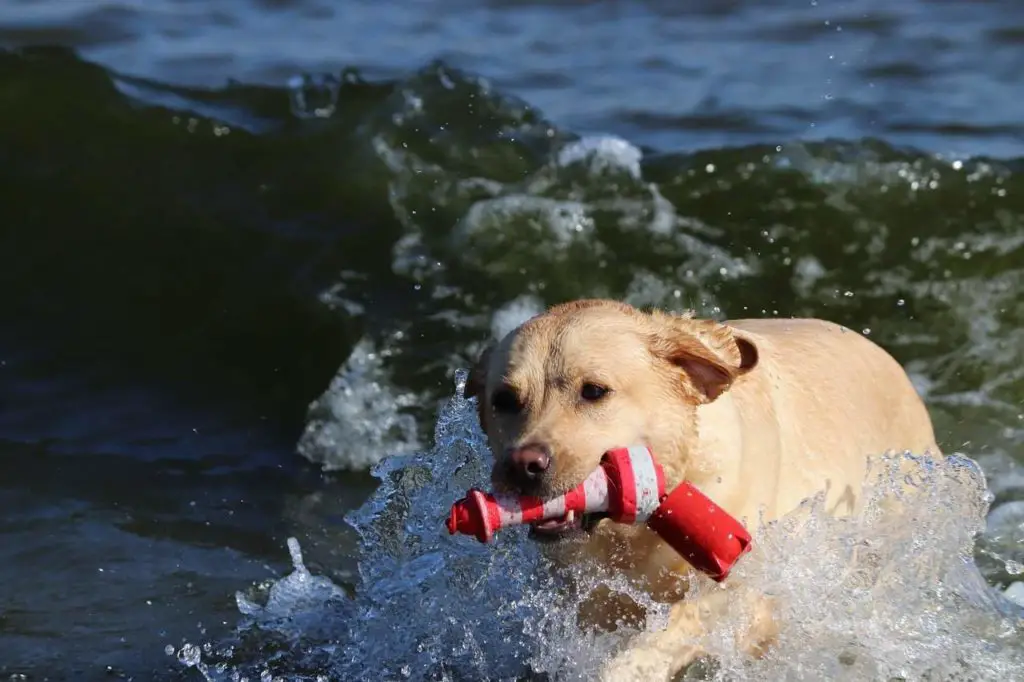 What are the dog-friendly hikes at Stinson Beach?
Cataract Falls, Muir Beach, Mount Tamalpais State Park are some of the most beautiful dog-friendly hikes near Stinson Beach. 
What is around Stinson Beach?
Muir Beach – Muir Beach is located at a distance of fifteen minutes from Stinson Beach. It is a beautiful beach tucked away in a hidden cave with a picturesque landscape. Dogs can be off-leash on this beach too. The only drawback in Muir Beach is that the parking lot gets filled up pretty fast.
Bolinas Beach – Bolinas Beach is a quiet and hidden beach, only a fifteen-minute drive from Stinson Beach. Walk with your dog off-leash and relax with your dog or play freely on the sandy beach. This beach is super-duper beautiful! 
Mount Tamalpais State Park (Verna Dunshee Trail, Plank Walk Trail) – Mount Tamalpais State Park presents great views of the Marin County hills, San Francisco Bay, and the City. Unfortunately, dogs are not allowed on most of the trails. 
Dogs are only permitted on paved roads, including Verna Dunshee Trail and Old Stage Fire Road. The Verna Dunshee Trail is an easy dog-friendly hike along a paved trail. The hike features gorgeous panoramic views of the Bay Area. 
Alongside Verna Dunshee Trail, Scenic Overlook, and Plank Walk Trail to the Gardner Fire Lookout are also dog-friendly but the dogs should be on a leash.
Read Also: Best Dog-friendly Hikes in the Bay Area
Stinson Beach Market
Stinson Beach Market is the best go-to grocery store but remember that dogs are not allowed inside the market. This market has everything from wine, chocolate chip, cookies, coffee, a deli, meat to basic groceries. 
Mount Tamalpais State Park
"Mount Tam" is 2,571 feet from sea level from where you can witness the Sierra Nevada, and Farallon Islands, deep canyons, open meadows, chaparral, oak woodlands, and beautiful gorgeous redwood forests. But sorry to say that, dogs are not allowed in this area and they are only welcomed on the Old Stage Fire Road. 
Cataract Fall Trail
In the Smoky Mountains sits a Cataract fall trail with dense vegetation, and the gorgeous canopy of trees overhead giving you a forest adventurous feeling. Cataract Falls is a short but steep dog-friendly trail 2.8 miles out near Stinson Beach.
This trail features a beautiful cascading waterfall. It is one of the most scenic dog-friendly trails in Marin County. I would recommend you to visit Cataract Falls after the rainy season then you can witness the liveliness of this beautiful waterfall. Remember to keep your dog on a leash.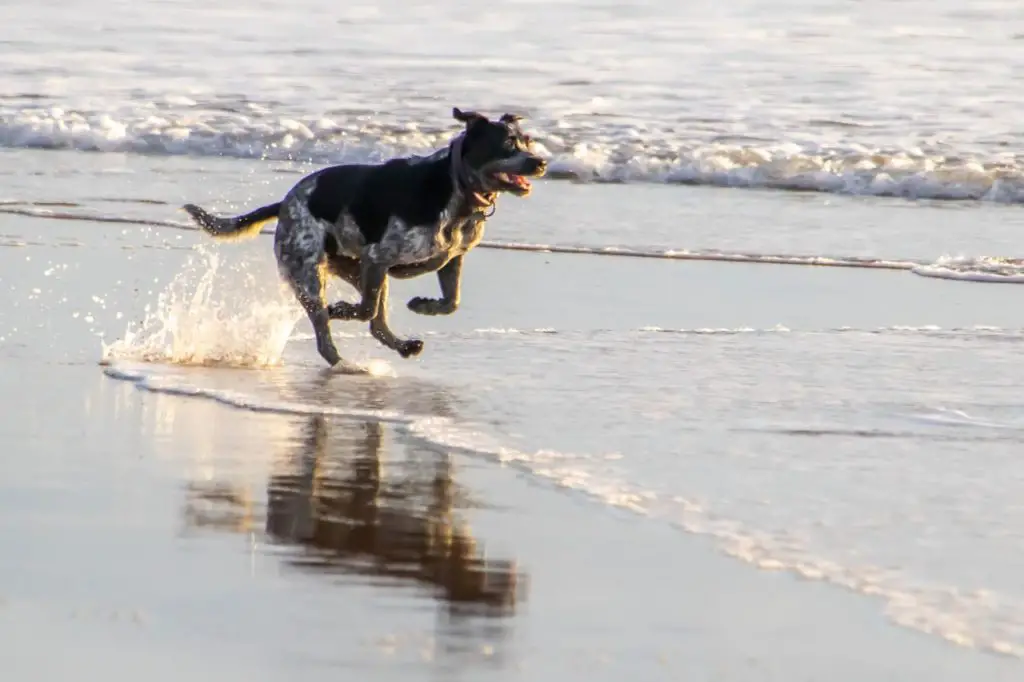 Tips: Stinson Beach Dog Rules
Stinson Beach is open all year round and every day it opens at 9.00 am.
For surfing, winters and springs are the best seasons. For rafters and bodyboarders, summer surf is the best.
Dogs should be on leash in the parking lot and the picnic area. Pets are not welcomed on the National Park Service section of the beach. 
Camping with dogs is not permitted. 
In the summer come early or else you will miss the place to park your car. 
Stinson Beach does not have a lot of dog-friendly hotels therefore, book your stays beforehand. 
Dog-Friendly Hotels in Stinson Beach
Smiley's Saloon & Hotel: Smiley's Saloon & Hotel is a dog-friendly hotel in Stinson Beach that is located 27.4 km from San Francisco and 38.6 km from Oakland. The hotel is featured with a restaurant on the property, free WiFi, and a beautiful big terrace. Dogs are allowed but they charge $20.00 per pet per night and allow a pet maximum per room. 
Dog-Friendly Restaurants in Stinson Beach
Breaker's Café: A beautiful classics American with Latin flavors Breaker's Café serves the best huevos, chicken club grilled garlic oyster, rancheros, tacos, omelets, and many more at very affordable prices. They have an outdoor patio with a very nice and dog-friendly environment. 
Coast Café: An informal, casual dining serving outrageously delicious food with a warm patio and amazing music in the background, Coast Café is everyone's favorite. Their special recipe for salmon fish & chips, halibut fish, Bill Niman meats, delicious beef, and pork had great quality organic ingredients recipes. The talented staff and friendly atmosphere with "local charm" Coast Café is must visit. 
Final Words
I hope I could take you with me and give you a detailed guide about visiting dog-friendly Stinson Beach and enjoying the weekend with your pup. I would always suggest you visit this place if you are in California. 
Read Other Dog-Friendly Beach Guide: