7 Best Dog-Friendly Beaches in Lake Tahoe, Enjoy to The Fullest!
Do you think you are the only one who loves Lake Tahoe? Your dog loves it too. Lake Tahoe is one of the best dog-friendly destinations in northern California. From incredible clean beaches to breathtaking views from mountain tops, gorgeous surroundings, off-leash hiking with dogs, and dog friendly beaches in Lake Tahoe – this place is the best for making memorable memories with your pup. 
Lake Tahoe is crystal-clear still water of alpine lakes, sits at 6,224 feet above sea level, situated in the Sierra Nevada Mountains of the United States of America. Dog beaches in Lake Tahoe provide you the liberty to enjoy, explore, hike, have lunch at pet-friendly restaurants, and spend nights at dog-friendly cottages, and hotels. Let your dog have all the fun!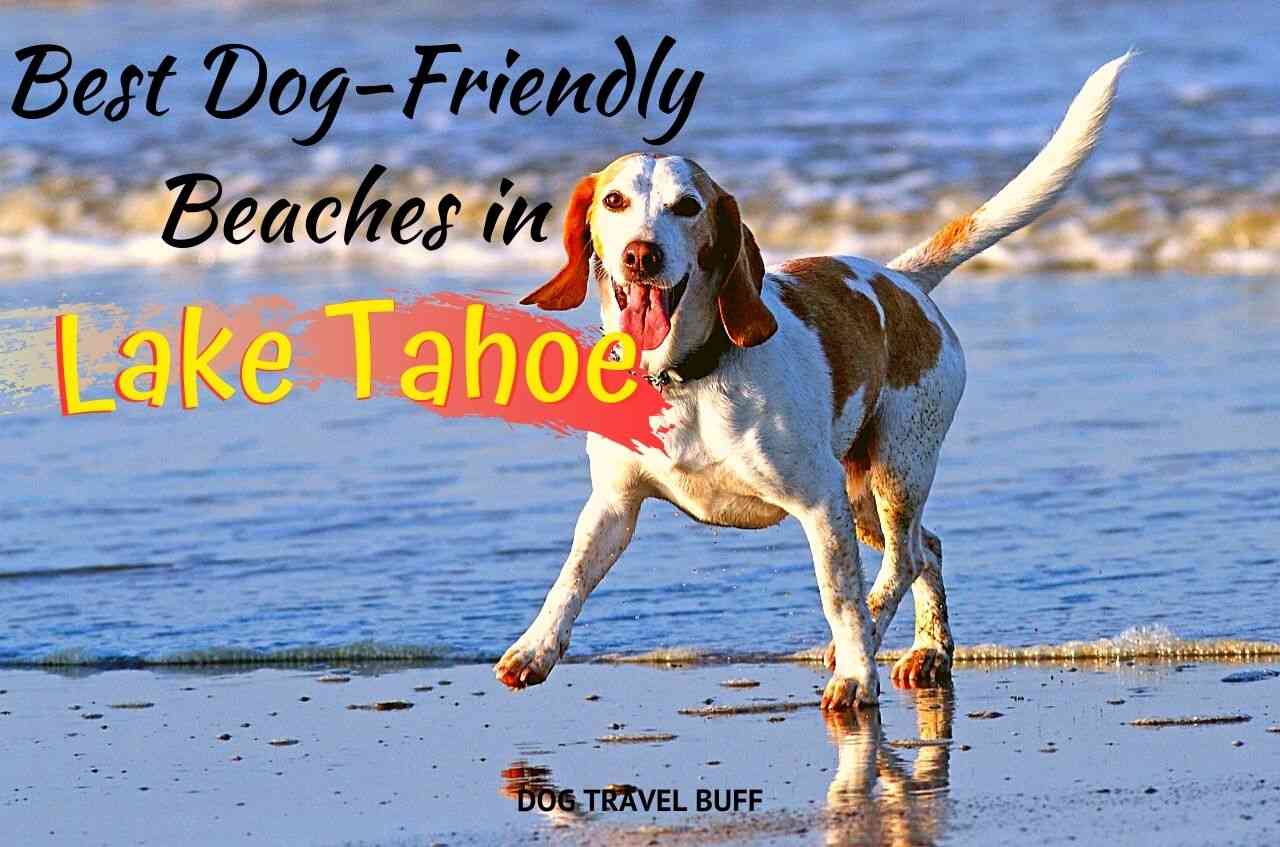 This post may contain affiliate links. If you buy something through one of those links, you won't pay any extra penny, but I'll get a small commission that encourages me to deliver more helpful content for you.
If you are wondering where to lodge, play games, or munch with your pup at Lake Tahoe, you've come to the right place. 
Bring your dog to dog-friendly beaches in Lake Tahoe and have a blast! 
Grab your sunglasses and a dog bath towel!
List of The Best Dog-Friendly Beaches in Lake Tahoe
It's hot and you have a day off, where to go with your furry companion? Come to dog-friendly beaches in South Lake Tahoe! Exploring the beaches is one of the best dog-friendly things to do in Lake Tahoe. You will find the best, quiet, and some pooch-friendly beaches here with swaying palm trees and unending outdoor hustle to perform. 
Have you ever wondered what beaches in Lake Tahoe are the best for dogs? Here's the list of some of the most famous spots in South Lake Tahoe with your pooch!
Kiva Beach: Best Dog Friendly Beaches in Lake Tahoe
Kiva Beach is one of the famous and finest dog beaches in Lake Tahoe between Tallac Archeological Sites and Taylor Creek on Highway 89. With a stretch of 200 yards of stunning shoreline and an endless list of a blissful beach settings, not surprising why so many people visit here with their furry friends. This place offers sweet and gilded sand to take a sunbath, and relax.
If you are looking for dog beaches in Northern California, this dog-friendly beach in Lake Tahoe offers your pup to float off-leash. Your pup will love to be a mermaid and enjoy it to the fullest.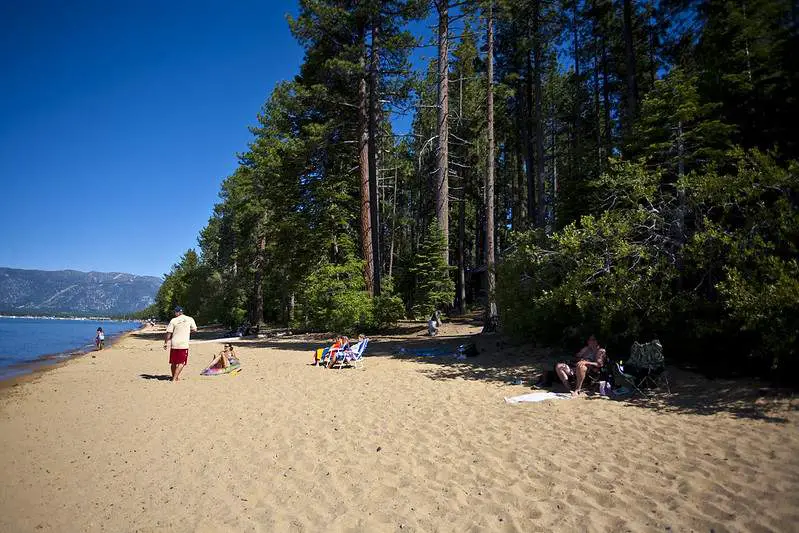 Zephyr Cove Beach
The north side of the Zephyr Cove Beach is a dog-friendly beach in Lake Tahoe. This area entirely provides a different beachy vibe with large classic big boulders and rock hopping to jump off rocks into the calm crystal clear water. Don't forget to bring a doggy bag and dog boots with you. Play volleyball with your dog, and engage in another recreation pastime.
Dog beaches in Lake Tahoe like Zephyr Cove Beach have a welcoming dog-friendly beach bar, stores, and restaurants to have lunch. 
Read Next:
Nevada Beach
A little further southwest of Kahle Drive sits Nevada Beach, another popular dog beach in Lake Tahoe. It exhibits a friendly atmosphere incredible natural beauty, beautiful terrain to play with your pup, and is the perfect picture square area to enjoy bathing in dazzling blue water.
Regan Beach
With pine trees in the surrounding, clean water, and rocky terrain is the perfect place to enjoy with your canine best friend. After spending a memorable time on the dog-friendly beach in Tahoe with your four-legged companion; hug her a little tighter and be a part of her world. 
If you are near North Tahoe then visit some dog-friendly beaches in North Lake Tahoe. Your pet will love it! If you are still wondering what beaches are dog friendly in Lake Tahoe – then they are as follow: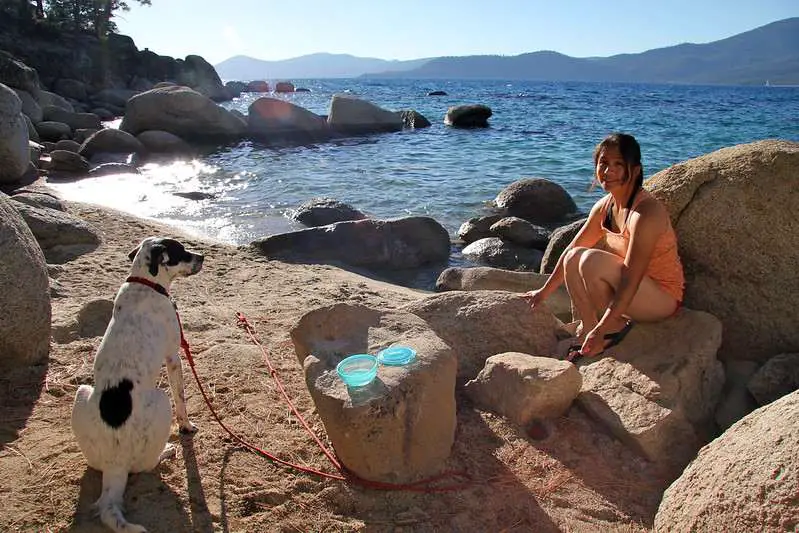 Patton Beach
Towards the Carnelian Bay, this free off-leash dog beach in Lake Tahoe is stony rugged which offers owners and pets to splash water in the lake and enjoy their time. 
Read Also: Advantages and Disadvantages of Traveling with a Dog
Carnelian West beach
Another pet-friendly beach in Lake Tahoe is Carnelian West Beach. It is flat long stretches of fine-grained sand and clean blue water which accept leashed dogs to swim and float for hours. 
Coon Street Dog Beach
The Coon Street Dog Beach is the best dog beach in Lake Tahoe; it is located towards the east of King Beach. Off-leash dogs are welcomed but please carry a bag to dispose of pet waste. 
Some other famous dog beaches in Tahoe are Skylandia State Park & Beach, Echo Lakes, Zephyr Cove, and Carnelian West Beach.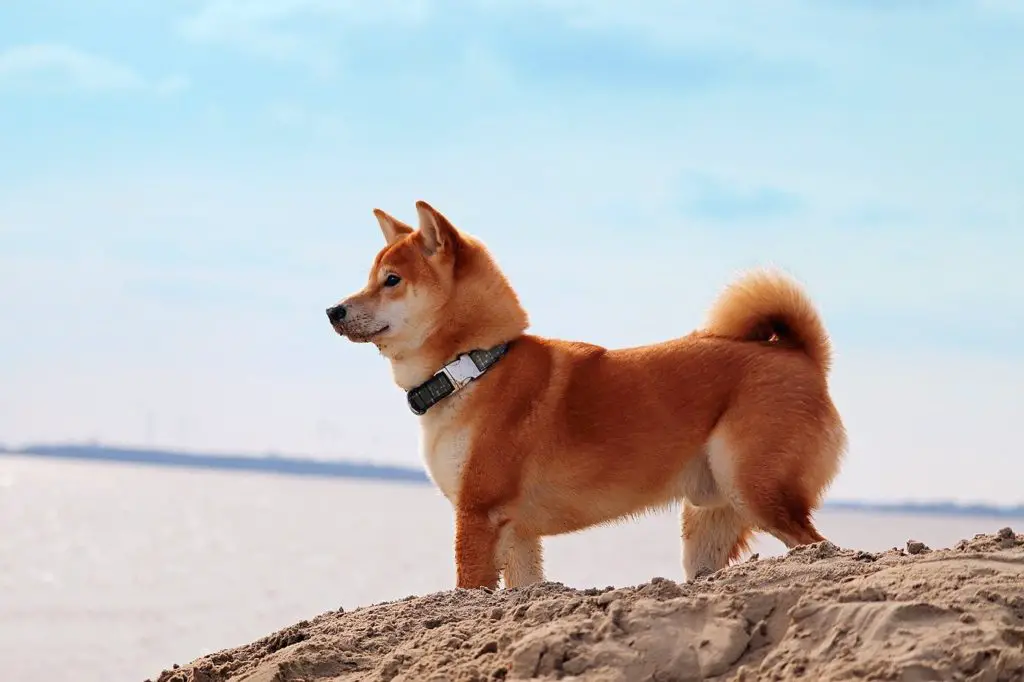 Make Some New Friends in Dog Parks in Lake Tahoe:
Your pooch might be speculating where to go next after enjoying stunning beaches in Lake Tahoe. There are multiple splendid dog-friendly places in Lake Tahoe to visit and for having fun. So don't delay, grab your seat belts and find a suitable time, and day to enjoy with your little dog. Come to these parks below and let her run wild!
Do you love to go camping with your dog? Here is our other popular posts on Camping with Dog:
Tahoe City Dog Park
Tahoe City Park was open in 2011 and since then it became a favorite place for dog lovers. It is situated behind Rosies Café, where off-leash dogs are welcomed. This fenced park is open from morning to dusk and remains close during the winter season. Your dog is your best friend and 15 minutes walk is necessary for its good health. Come here, and see your dog enjoy!
Bijou Community Park
Bijou Community Park is specially featured for small and large dogs to run and walk around almost over 38,000 square feet area. Mostly this place is occupied by visitors; hence a great place for you and your dog to socialized and play around. These parks also offer professionals to train the dog and enjoy it to the fullest. Sit on one of the benches and see your pet running!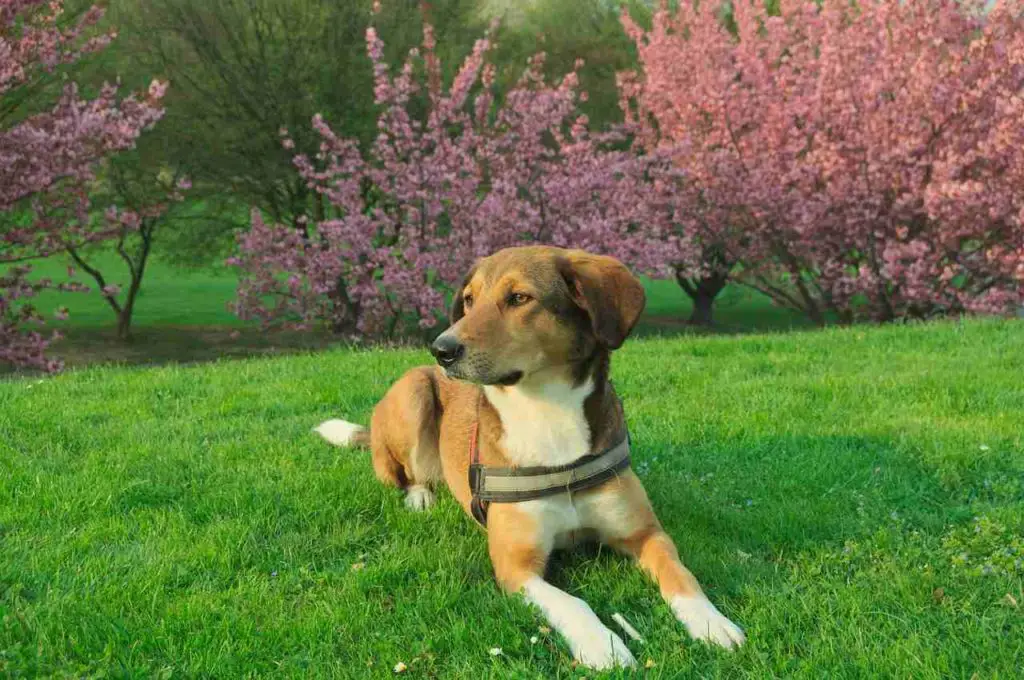 Fuji Dog Park
Fuji Dog Park is a covered dog park situated at Carson City for all leashed and off-leased dogs. It is surrounded by grass, trees, benches, water, and a lot of natural beauty to freshen your mind and spend me-time with your best friend. 
What's Next:
Dog-Friendly Restaurants in Lake Tahoe – Food for Two
Are you both hungry after spending such a spectacular day on dog-friendly beaches in Lake Tahoe and the park? Worry not; you can enjoy great and delicious food along the streets of Lake Tahoe. You will find several great restaurants welcoming you and your pup to enjoy food. They are as follow:
Sprouts Café
De-stress yourself – enjoy the restaurant's vibe, outdoor seating, and amazing music at Sprouts café. This restaurant offers affordable soups, salad, tuna, hummus melts, and baked tofu, and many more. 
Moe's Original Barbeque
Enjoy an incredible view of dog beaches in Lake Tahoe and flavorful divine food on the table with your pet at Moe's Original Barbecue. This spacious place, with a breathtaking view and combination of chicken, pasta, and wine is beyond imagination! 
Bonus tip: Carry your pup's bowl and cool freshwater.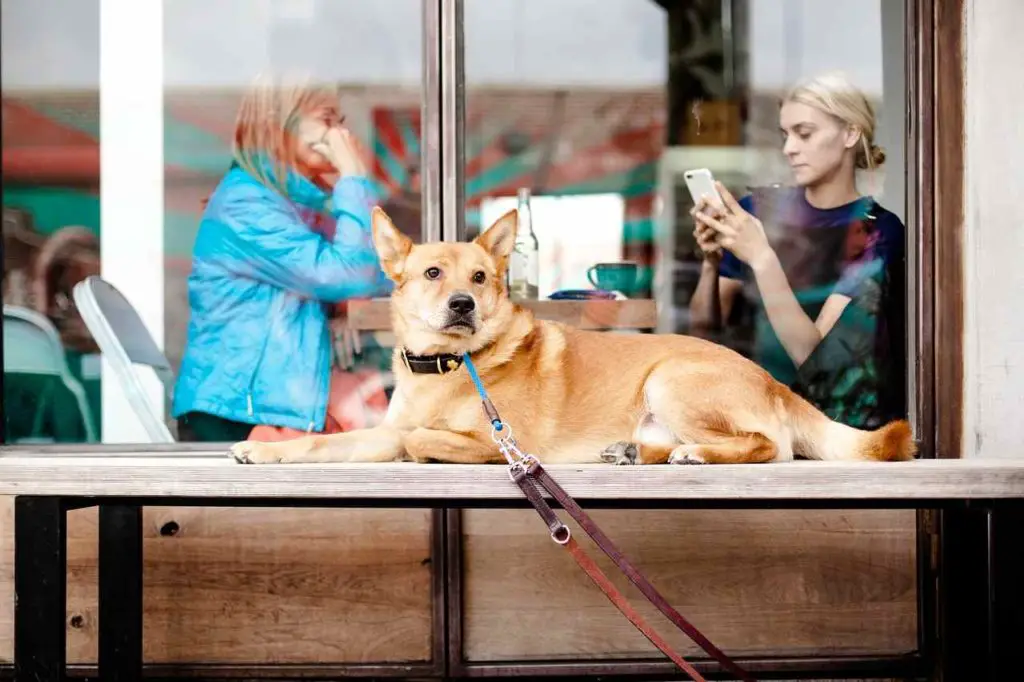 Dog-Friendly Hotels in Lake Tahoe
After a great dinner, take your day off by booking in many budget-friendly and dog-friendly hotels in Lake Tahoe and cuddle in a cozy bed with your dog. Explore the town during the day, and check in any of the hotels with great locations, and spots. At Lake Tahoe, we welcome your pup! Some beautiful hotels near the beach are as follow:
Hotel Azure
It is beautifully situated in the heart of Lake Tahoe and a one-minute walk from the lake. It is also near Thomas Regan Park, which is another dog-friendly park in Lake Tahoe. Book a room of any size at the budget-friendly rate of $ 25 / night and spend a cozy night with your dog. >>Book Your Room Now<<
Fireside Lodge
If you are searching for a home-away-home, then come to Fireside Lodge. It is away from the beach and closes to the town. You will love its antique ambiance and warm complimentary breakfast. The owner is very friendly and a dog lover too. >>Book Your Room<<
Americana Village
Are you accompanying two pets? Then come to Americana Village Suits – get a private pool, wooded apartment house with green fields, plants, and colorful flowers around you. The room is equipped with televisions and a kitchen. >>Book Your Stay Now<<
Bonus Tips:
If you are traveling to Lake Tahoe remember the following points: 
Keep the area clean carry a dog poop bag.
Respect other visitor's privacy.
Always check Lake Tahoe's water level.
Have you planned your vacation to Lake Tahoe? If you and your dog love beach and mountains, look no further, come to Lake Tahoe. It is the best place to spend your time with your pal. At the beaches, people, restaurants, and hotels everyone welcomes dogs and other pets. You will be pleased to visit here. Lake Tahoe is dog-friendly! 
Read Next: