9 Best Dog-Friendly Hikes in Marin County, California
Hiking is the new favorite activity among adventurers and when you have your pet dog with you as your companion, the fun just doubles up. San Francisco is a beautiful place and it has tons of dog-friendly places to explore with. However, dog-friendly hikes in Marin are especially popular among hikers and pet parents.
If you are in the mood for exploring the scenic Marin County and don't know what are the dog-friendly hikes in Marin, then you and your dog are awaiting a treat. There are plenty of options for dog-friendly hiking in Marin County. Let's explore the best pet-friendly hikes in Marin.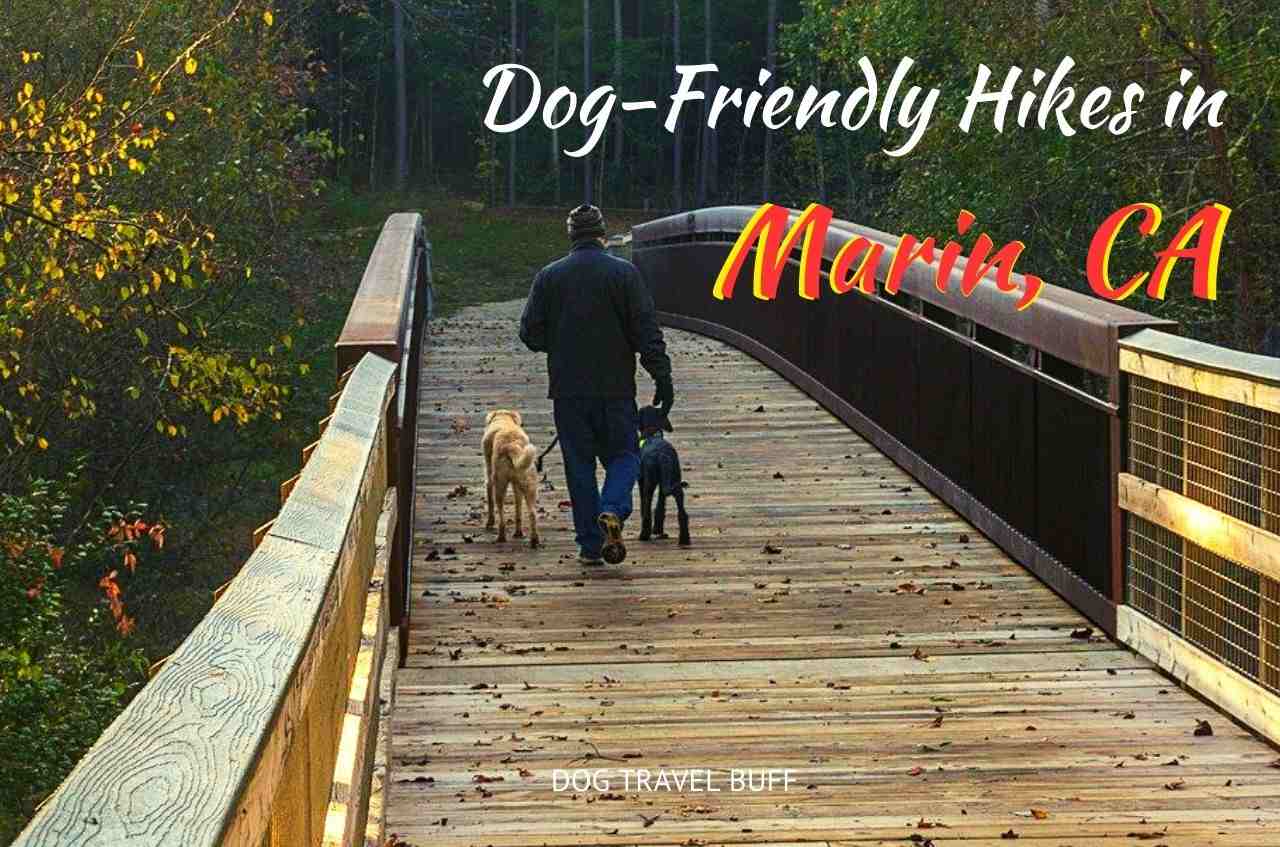 This post may contain affiliate links. If you buy something through one of those links, you won't pay any extra penny, but I'll get a small commission that encourages me to deliver more helpful content for you.
List of The Best Dog-Friendly Hikes in Marin County
1. Fairway Falls Trail
Looking for easy dog-friendly hikes around Marin especially in Winter? Check out Fairway Falls Trail. The length of the trail is quite short around 1.3 km making it perfect for you and your doggo to have a small hike on a sweet winter morning. Also, this trail is suitable for hiking with small dogs.
The trail ends at the beautiful Fairway Waterfall. After the short hike, the sight of the waterfall will surely soothe your eyes. You will find this at Ignacio Valley Preserve. Keep your dog on leash while you hike this trail. Anyone from a beginner to a skilled hiker would enjoy this dog-friendly hike in Marin. As this is a short trail, you can cover it up within 40 minutes.
Distance: 1.3 miles (out and back)
Elevation Gain: 155 Feet
Difficulty: Easy
Fees: Free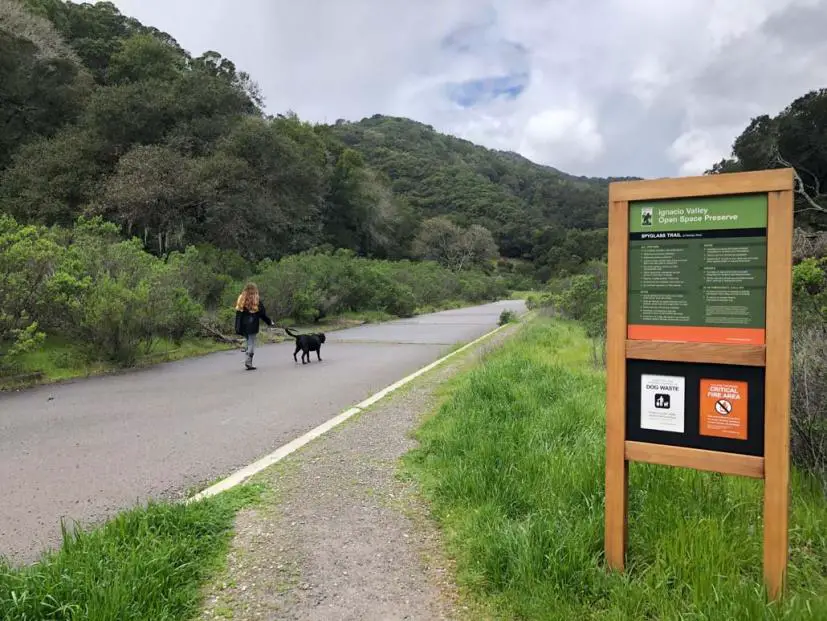 2. Bolinas Ridge Trail
Your experience of dog walking in Marin would be even more enjoyable when you visit Bolinas Ridge Trail. This is one of the longer Marin County dog-friendly hikes that also has some stunning views of the ocean and the mountain.
This pet-friendly hike is great for experienced hikers as the elevation gain of this trail is a little bit high. Bikers also love to explore this dog-friendly trail in Marin. Keep an eye on your dog to keep it safe from the bikers. If you want to go for a longer route in dog-friendly hikes in the Bay area, then Bolinas Ridge Trail should be on your list.  Make sure to keep some dog treats in your dog-carrying backpacks. You are expected to need almost 5 hours for a one-way hike.
A dog carrier backpack is a great option if your pup gets tired during the hike, you can carry him in your backpack. Click here to know the benefits of such a backpack and the list of top 10 backpacks.
Distance: 11 miles
Elevation Gain: 1824 feet
Difficulty: Moderate
Fee: Free
3. Dawn Falls Trail
Dawn Falls Trail is another dog-friendly trail near Marin where you must take your four-legged friend for a fun day. Located near Larkspur, this is a great trail to explore with your dog as it offers quite a huge open space.
The entire trail is filled with beautiful greenery of ferns, moss, redwoods making it an amazing dog-friendly walk in Marin. There is also a pretty waterfall at the end of this dog-friendly hiking trail in Marin. Since the trail length is not so long, even your new pup can enjoy this trail.
If you wish to go for a longer hike on the same trail, then avail the Barbara Springs Trail loop. Your dogs need to be kept on leash. You and your dog can easily finish this loop in under 90 minutes.
Distance: 2.7 miles (round)
Elevation Gain: 370 Feet
Difficulty: Moderate
Fee: Free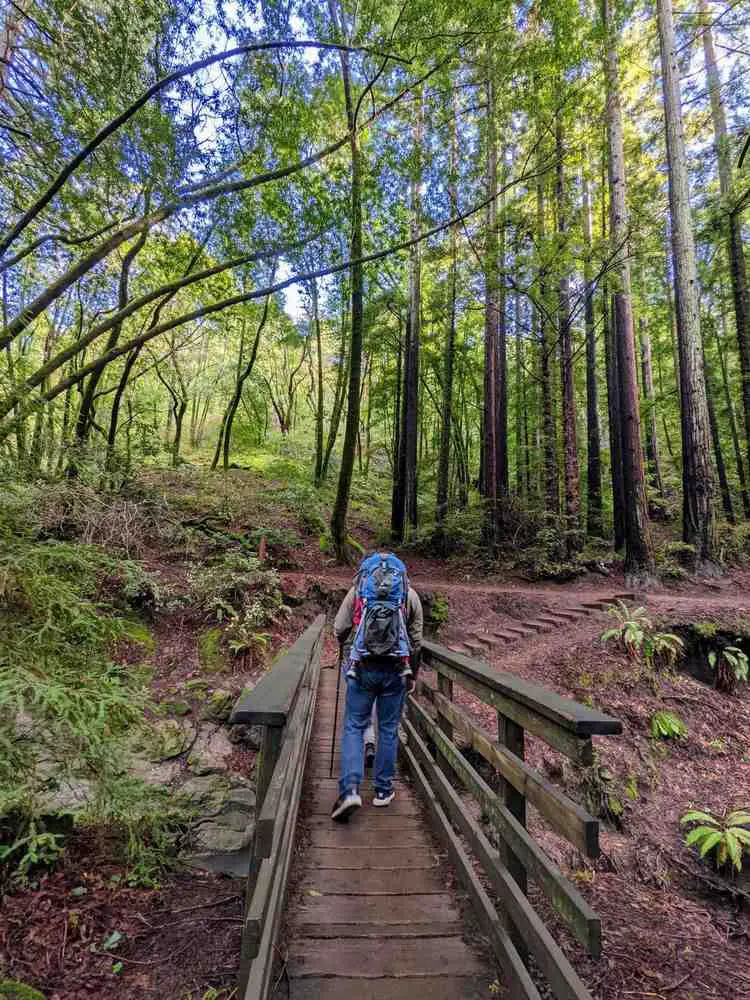 4. Tiburon Ridge Trail
Favorite among hikers for dog-friendly Marin hikes, Tiburon Ridge Trail is famous for its super length. The trail is quite diverse as you will come across steep roads, neighborhoods, and grassy hills. This dog-friendly Marin hike can be a bit difficult, but the view at the end of the trail is definitely worth visiting.
As this is a part of a natural preserve, there is plenty of greenery and your dog will love the hike. Don't forget to keep it on a leash. Your hike not only gives you a picturesque view of the North Bay but you will also be able to spot the magnificent Golden Gate. To create some memorable moments with your dog, make sure to visit this dog-friendly hike in Marin. A total of 3 hours is expected to cover the entire trail.
Distance: 7.4 miles (round)
Elevation Gain: 1300 Feet
Difficulty: Moderate
Fee: Free
Read Also: Best Dog-Friendly Hikes in Big Sur, California
5. Waterfall Trail at Indian Valley
You will find a lot of dog-friendly places in Marin and Waterfall Trail at Indian Valley is not only a great option for your dog but also for your kids. This trail is a superb option to explore with your family members as the hike is very easy and even great for beginners.
The entire loop is covered with Oak forest. At the eastern section, you will also find a picnic spot with your family to hang out. Your hike will be accompanied by frogs, salamanders as these creatures usually come out after heavy rain. Keep your dog on a leash and you are going to have a hike with your dog in Marin.
You need a day permit to visit this trail which you can get during the entry. Keep your rain boots handy if you plan to visit after rainfall and an umbrella for dogs as well.
Distance: 3.2 miles (round)
Elevation Gain: 200 Feet
Difficulty: Moderate
Fee: $4 parking fee except on Sundays and Holidays
Related Post:
6. Carson Falls Trail
Carson Falls Trail is one of the best dog-friendly hikes in Marin County. It has a beautiful waterfall too. Since the difficulty level is moderate on this trail, anyone can enjoy their hike without worry.
Your trip will begin at the Pine Mountain Fire Road. After taking the left to Oat Hill Fire road and hiking for a little bit more you will be able to see the charming waterfall. This trail is kid-friendly too. However, when you bring your dog on this trail, keep them on a leash.
For a round trip on this hiking trail, you will need approximately 3 hours. Wear comfortable footwear for yourself and carry enough waste bags for your dog as this place has no restroom.
Distance: 3.8 miles ( round)
Elevation Gain: 1000 Feet
Difficulty: Moderate
Fee: Free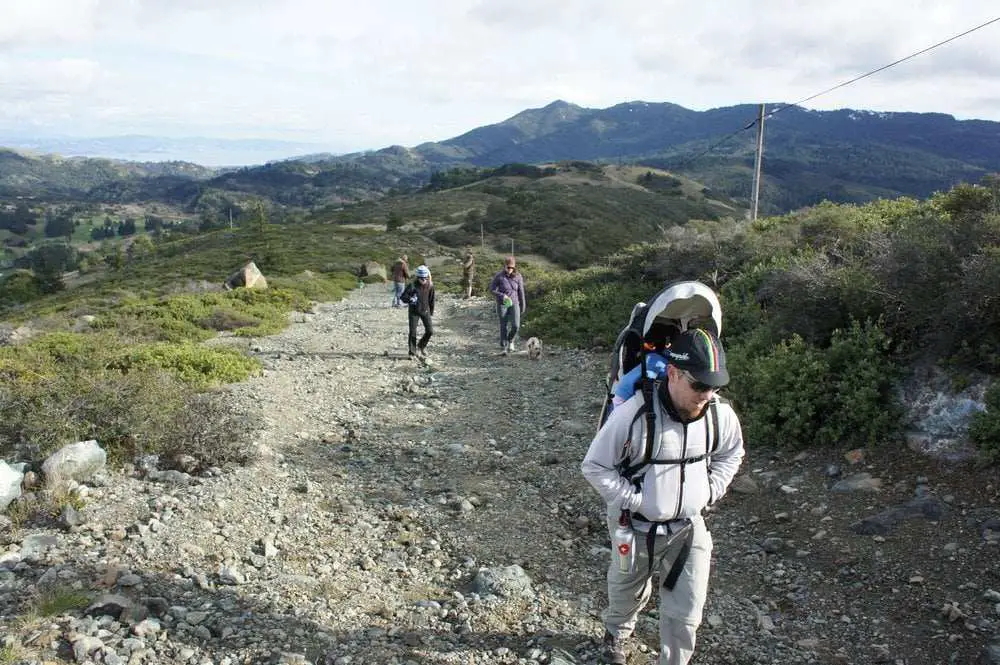 7. Phoenix Lake Trail
Another option for best hikes with dogs in Marin is Phoenix Lake Trail. This trail is good for all kinds of hikers be it a newbie or an experienced one. Apart from hiking, you can also indulge in walking and running on this trail because of its low elevation gain.
If you are using a dog stroller for hiking, then keep in mind that the first of the trail is quote easy hike. However, after the first mile, the trail becomes rugged and rough. Also, after rain, the trail usually gets quite muddy, so carry dog hiking boots along with you for a smoother ride. You can also check the list of our ultimate hiking gears for dogs.
While you visit this dog-friendly hike in Marin, keep your dog on a leash.  You can easily have a round trip around this trail in under 2 hours.
Distance: 5.25 miles (round)
Elevation Gain: 750 Feet
Difficulty: Moderate
Fee: Free
Read Also: 11 Most Beautiful Dog-Friendly Trails in Tucson
8. Miwok and Coastal Trail
A great accessible dog-friendly hike in the Bay area is Miwok and Coastal Trail loop. Hiking with your dog in Marin headlands would be incomplete if you miss out on Miwok and Coastal Trail loop. Start with the easy Coastal trail loop and after a few difficult steps, you will reach the Miwok Trail to soak in the beauty of the evergreen Golden Gate bridge.
The Miwok trail is quite steep, so watch out for your steps. Also, you will be able to spot plenty of wildlife creatures. So, keep your camera handy to capture some great wildlife moments. Apart from the incredible views of the Golden Gate Bridge, you will also be rewarded with the stunning beauty of Rodeo Beach and the Pacific ocean.
As the trail is moderately long, you will need water for you and your dog as this place has little shade for you to take some rest.
Distance: 5.6 miles (round)
Elevation Gain: 348 Feet
Difficulty: Moderate
Fee: Free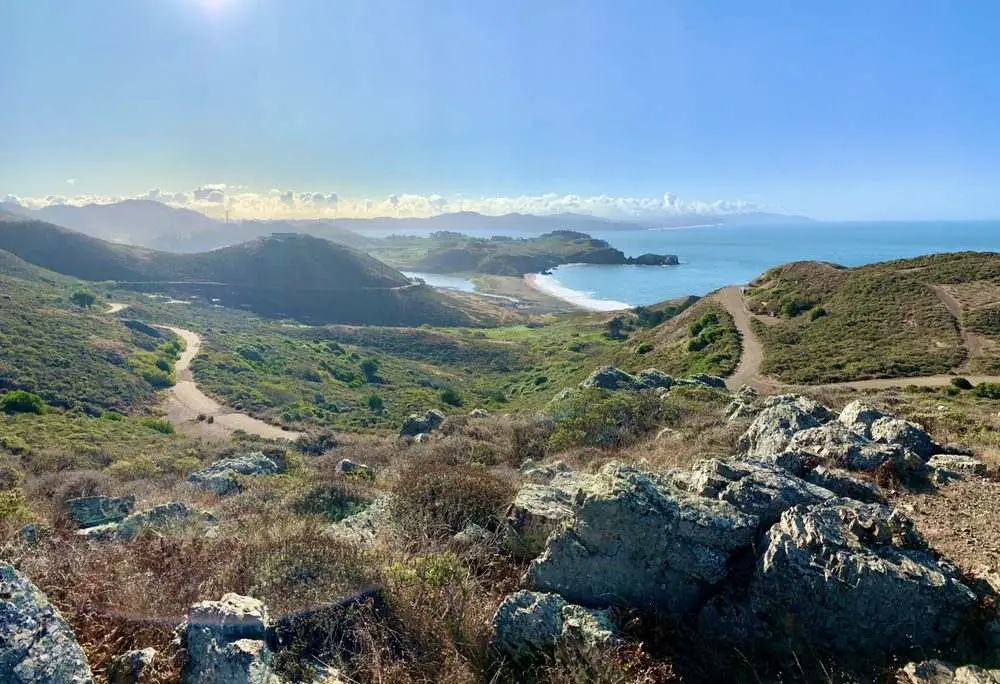 9. Baltimore Canyon Open Space
If you want a scenic dog hike in Marin, then Baltimore Canyon Open Space is your best bet. Let your dog breathe freely on this beautiful trail which is a perfect winter getaway hiking trail with your dog in Marin County.
The trail is full of trees like Douglas firs, madrones, and other redwoods that provide very good shade during summers as well. You can also locate some salamanders in the wet parts of the trail. Overall, the hike is easy, however, some parts can be a bit steep. But everyone can access this trail with their furry friend.
As long as your dog is not making unnecessary noise, they can roam freely off-leash. To cover the entire trail, you will require a maximum of 1 hour.
Distance: 2.2 miles (round)
Elevation Gain: 300 Feet
Difficulty: Easy
Fee: Free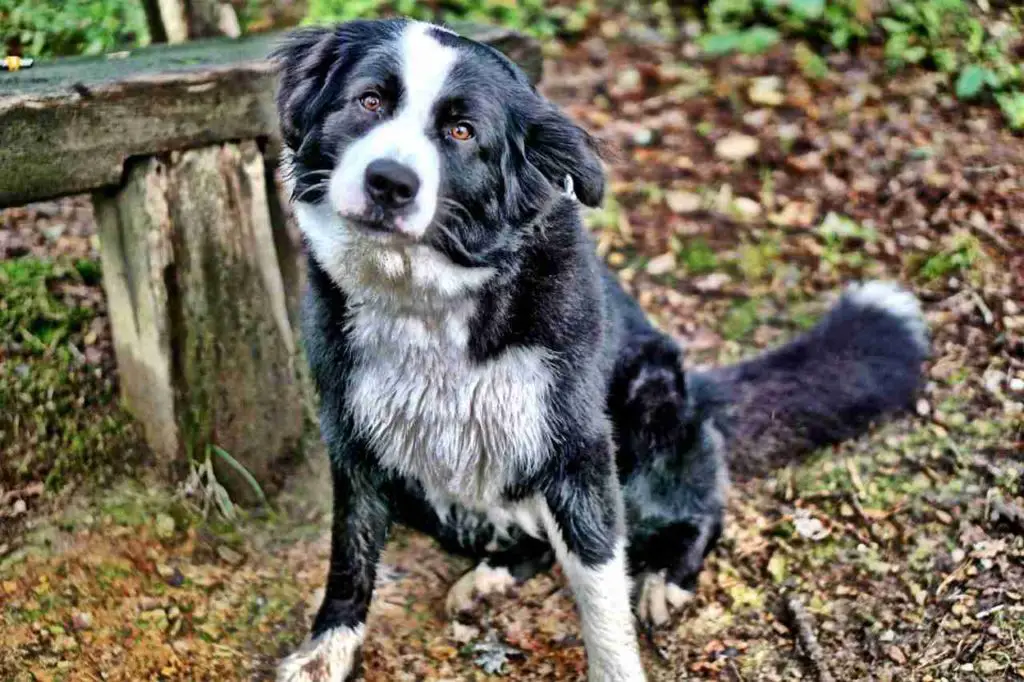 Dog-Friendly Hotels in Marin
Cavallo Point is a unique blend of history and contemporary and makes for a perfect stay with your dog. The hotel is located just below the Golden Gate and has a ton of fun activities for you and your family to indulge in.
The Lodge at Tiburon offers a quiet stay away from the hustle-bustle of the city. This dog-friendly hotel in Marin allows having some gorgeous views of San Francisco Bay where you can spend some relaxing time with your pet dog.
Dog-Friendly Restaurant in Marin
State Room is a dog-friendly restaurant in Marin that has an outdoor seating facility. The restaurant also has a patio for dogs where your dog can enjoy unlimited treats and water bowls.
So, what are you waiting for? Get ready for some adventures with your dog in these beautiful dog-friendly hikes in Marin.
If you are searching for dog-friendly day trips in northern California, check out this article.
Read Other Dog-Friendly Spots in California:
FAQ – Dog-Friendly Hiking Trails in Marin County
1. Is there any off-leash dog hike in Marin?
A: Hamilton Bay Trail is an easy flat hike where your dog can roam under voice control. It is a great place for training since there's a fence on either side.
2. Are dogs allowed on Coastal Trail Marin?
Ans– Dogs are allowed on Coastal Trail in Marin county only when they are kept on leash. Dogs can avail the trails from Rodeo Beach to Muir Beach and to Wolf Ridge Trail.
3. Can dogs hike Mt. Tam?
Ans– Yes, dogs can hike on Mt. Tam only on certain areas like the Verna Dunshee Trail, Old Stage Fire road, picnic areas, and campgrounds. Keep your dogs on leash while hiking on Mt. Tam.