6 Best Dog-Friendly Hikes in Big Sur, California
Our El Dorado State has the best god-gifted coastline. 
Big Sur, a small village, which is 150 miles south of San Francisco and 300 miles north of Los Angeles, and near Big Sur, California.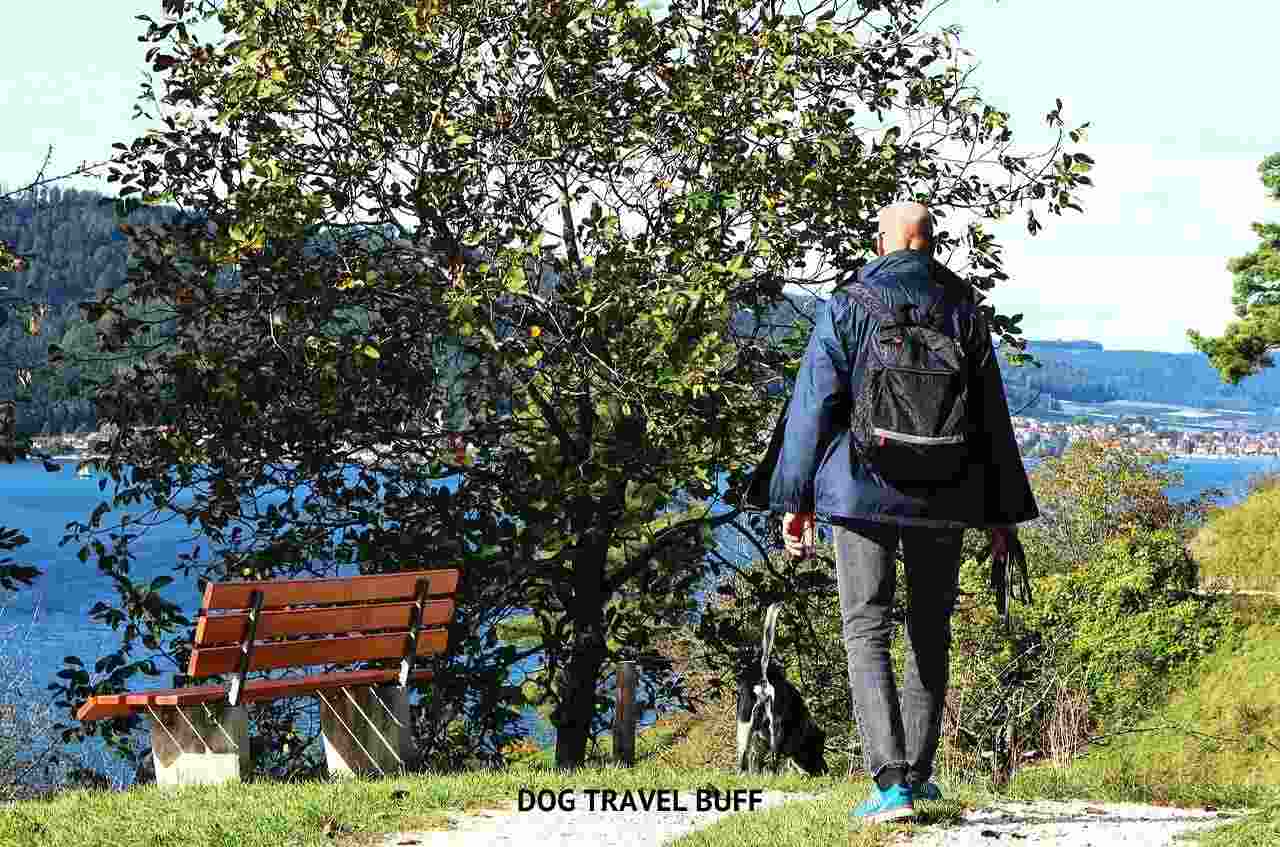 Because of its pristine scenery, it is considered the "longest and most scenic stretch of undeveloped coastline in the United States."
Dog-friendly hikes in Big Sur make it one of the most desirable spots for hiking with small dogs or big dogs among dog lovers. 
This post may contain affiliate links. If you buy something through one of those links, you won't pay any extra penny, but I'll get a small commission that encourages me to deliver more helpful content for you.
So, what are you still waiting for? Put up your best budget hiking shoes and other hiking gear and let's go to the best dog-friendly trails near Big Sur. 
The jagged rock cliffs, the breaking waves of the Pacific, and relaxing views of Mother Nature are something you crave for a long time.
The Big Sur dog-friendly hikes will offer you far more than you seek.  
Let's drive into the unmapped unexplored area of South California, Big Sur.
Dog-Friendly Hikes in Big Sur – Engraved Memory:  
"Why not explore the dog-friendly hiking trails in Big Sur?"
Big Sur is not only for romantic couples, friends but also a place for pets and their lovers. These hiking trails range from short, easy to steep, long, and treacherous. It's up to you which trail you want to explore.
Here are the best dog-friendly hikes in Big Sur that will make your entire friend dream to join you. 
Let's go for Big Sur hikes with dogs.
1. Sykes Hot Springs via Pine Ridge Trail
Distance: 18.9miles
Location: Pfeiffer Big Sur State Park, Big Sur
Elevation Gain: 5000 feet 
Difficulty: Hard
Time: 10-12 Hours
Fee: $5
One of the famous trails and the best dog-friendly hikes in Big Suris Sykes Hot Springs via Pine Ridge. This dog-friendly Big Sur hike is famous among backpackers and daily walkers.
It is surrounded by striking oak redwood groves that climb high up through many streams and camping areas. The landscape is rocky and steep so be careful while hiking with your dog. 
On the left side of the river, you can find a beautiful hot spring which is about 100 yards downriver. If you want then you might soak yourself in the river and enjoy the natural bathing. There are two warm pools large enough for 5 people to swim and enjoy. 
Tip: You have to park your car for $ 5 per day and I'm sorry to inform you that during the summer months you won't be allowed to organize campfires. To avoid traffic come on weekdays to escape the crowds.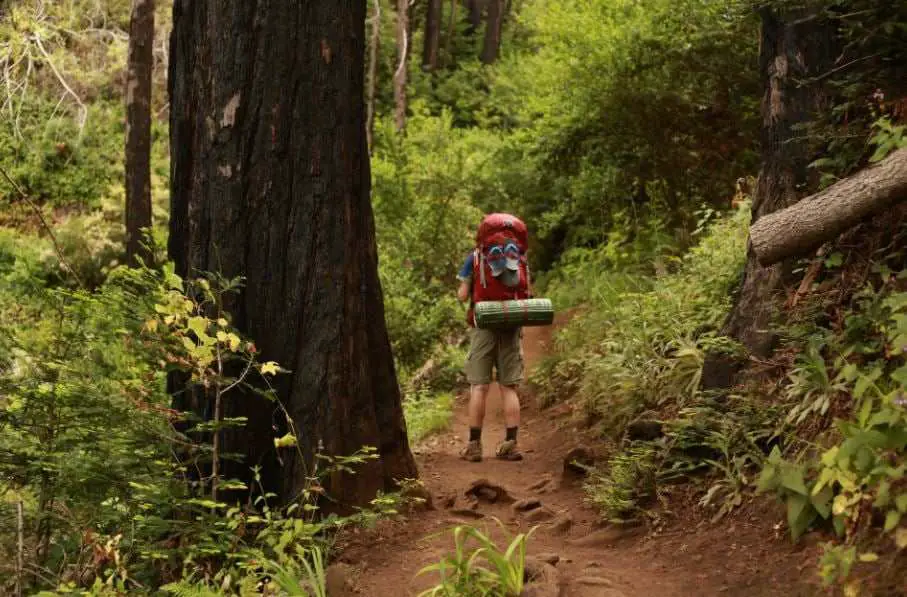 2. Cruickshank Trail
Distance: 4.78 miles 
Location: Silver Peak Wilderness, San Simeon 
Elevation Gain: 1150 feet 
Difficulty: Moderate
Time: 2 Hours 45 Minutes 
Cruickshank Trail is the best hike with dogs in Big Sur which is lightly trafficked and located near Merritt Island. This trail is best for beginners and is famous among backpackers. 
Your four-legged friend will love the wild air, natural flowery smell, chirping birds, and a glimpse of the beautiful canyon wall. Along the wall run the tall oaks and redwood trees which look perfect when sun rays fall on them.
These Big Sur Hikes with dogs are so refreshing and fresh that you won't mind spending the whole day with your pup and forget the rest of the world. On the way, you will find a ton of dead horseshoe crabs that no one has seen. It is recommended to bring hiking boots for your dog to protect your pup's paw.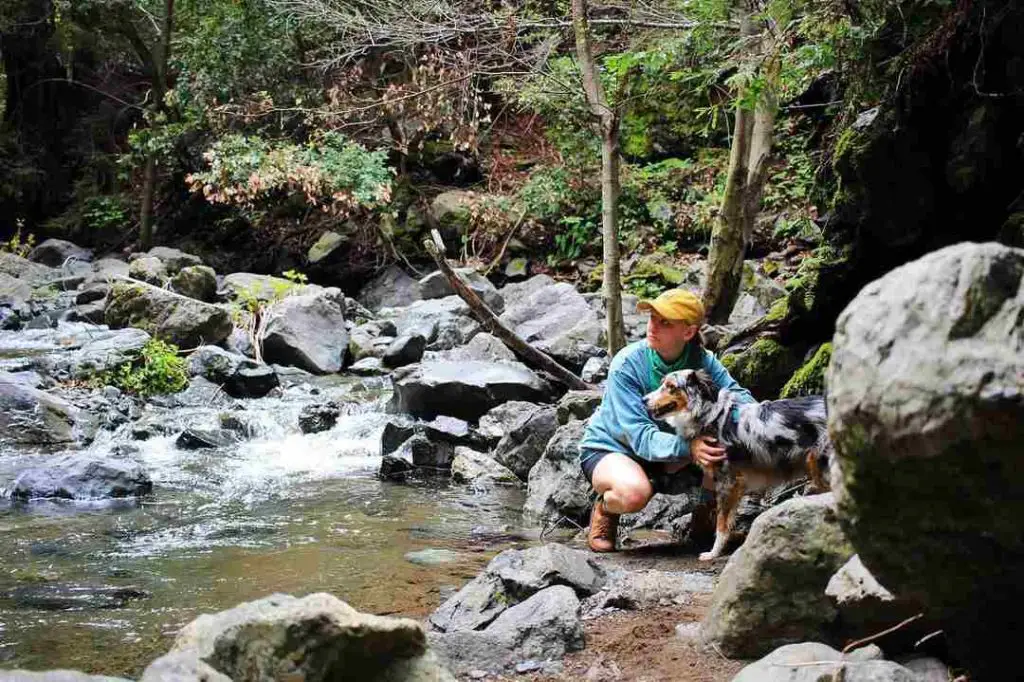 Read Next: Dog-Friendly Santa Barbara: A Guide to Enjoy Santa Barbara with Your Dog
3. Pfeiffer Big Sur State Park
Distance: 1.3 miles 
Elevation Gain: 750 feet 
Difficulty: Moderate
Fee: $10 per day 
Did you ever see purple sand in any of the dog-friendly hikes in Big Sur? Welcome to Pfeiffer Big Sur State Park where you can explore paved roads and a calm environment. 
In the midst of stunning surroundings with your dog beside you is some memory that gets engraved in your heart forever. These are the benefits of traveling with a dog: you can enjoy the calmness without talking much.
This place is a great spot to click pictures with your pup- it's an Instagram-friendly spot. The rock formations, the waves crashing onto the shore, pretty much the overall landscape is so gorgeous and pretty. 
Tip: The roads are not maintained and are super narrow, therefore, drive safely and slowly. This place is a bit windy and cold in the morning so do remember to get the jacket for yourself and your dog. This trail is also known as off-leash dog hikes in Big Sur.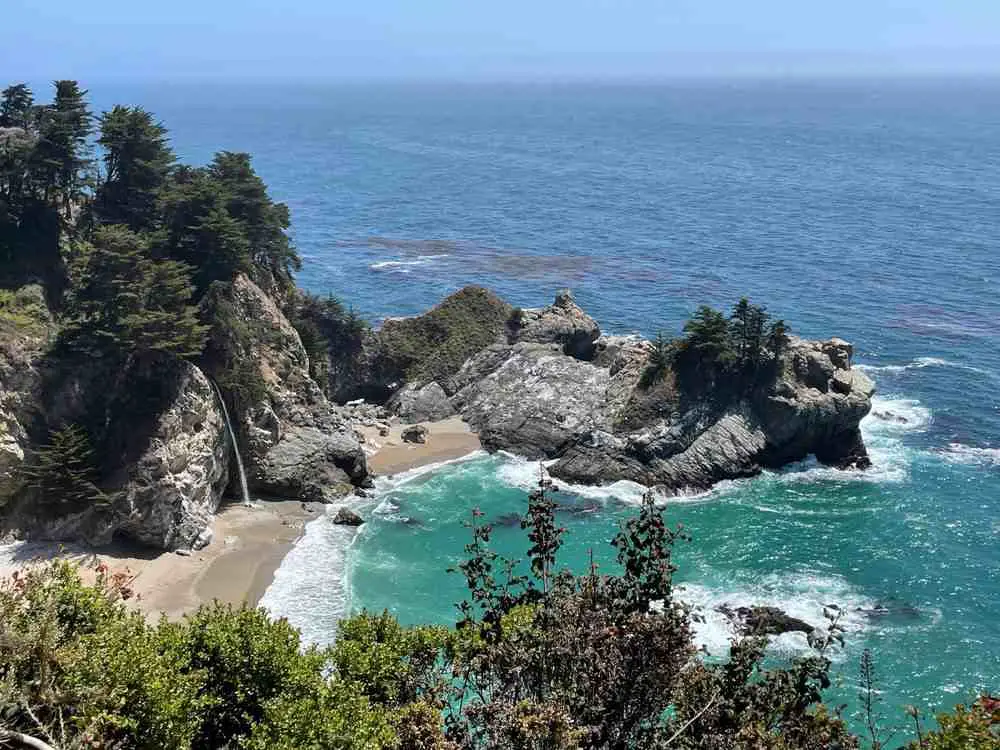 Recommended Read:
4. Buckeye Trail
Distance: 12.6 miles 
Location: Silver Peak Wilderness, San Simeon 
Elevation Gain: 112052 feet
Difficulty: Hard 
Time: 5-7 hours 
Fee: Free 
Buckeye Trail is the most dog-friendly trail in Big Sur which will give you the most mesmerizing Pacific Ocean views that you've only seen in movies and YouTube videos. 
This dog-friendly hike in Big Sur has the most scenic beauty with coastal canyons, falls, streams, and ridges, and a rustic oasis. You can bring a dog stroller if you find the trail difficult for your dog.
Along the hike, you may come across Hocking hills, Cuyahoga Valley National Park, and small towns. Take a glimpse of wildflowers, and unknown flora which bloom so beautifully. This trail is accessible year-round and famous among hikers and backpackers. 
Tip: There is a lot of poison oak all around so be careful with your dog. The hike from The Lion Den was sun-exposed so carry sunscreen. You can also camp with dogs in a hammock, get your kinds of stuff and spend a memorable night here.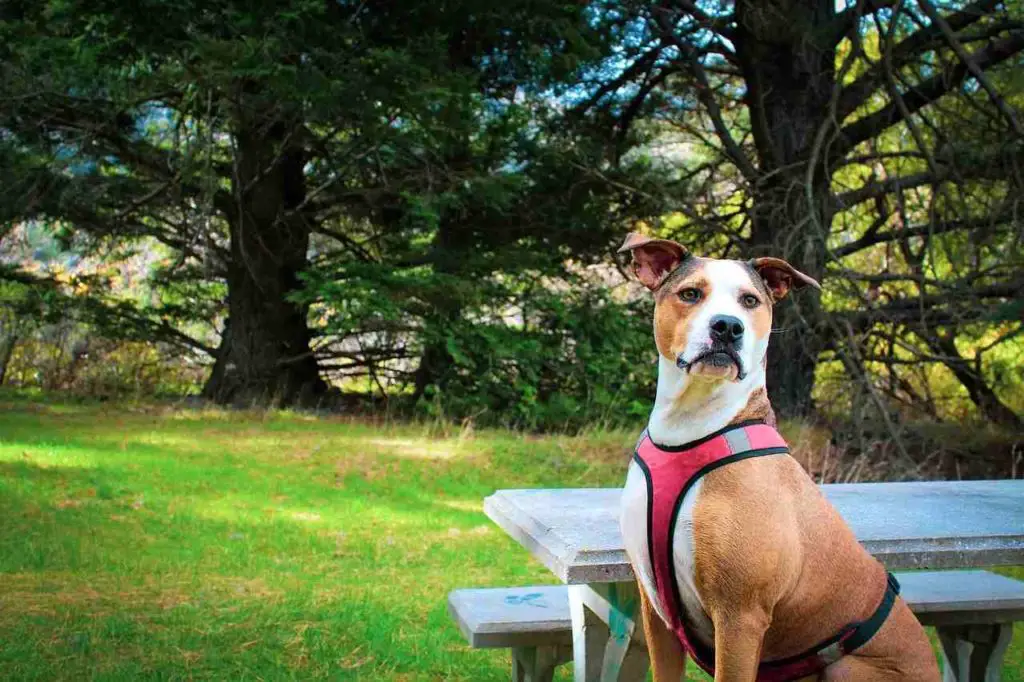 5. Ragged Point Cliffside Trail
Distance: 0.8 miles
Location: San Simeon 
Elevation Gain: 1700 feet
Difficulty: Moderate
Time: 1 hour  
Fee: Free 
No long drive with a dog is complete withoutvisitingRagged Point Cliffside Trail. This is one of the dog-friendly hikes in Big Sur with the view of the elevated Santa Lucia Mountains which meet the roaring ocean and astonishing views. 
You can find a 300 foot Black Swift Falls which is worth your sight and the most beautiful waterfall ever. You may carry a dog carrying backpacks which will help give a great experience to your dog. 
Tip: Walking up the trail might be challenging but if you can go through it then you will find the paranoia of the coastal view.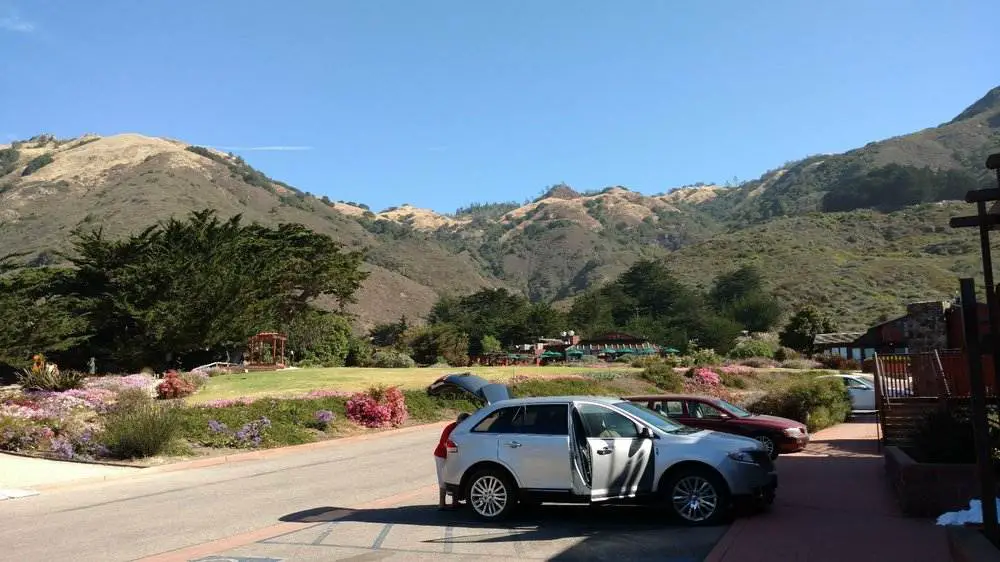 See Also: 8 Epic Dog-friendly Hikes Near Denver
6. Central Coast Ridge OHV Road
Distance: 13.1 miles 
Elevation Gain:  1696feet
Difficulty: Moderate
Dog-friendly walks in Big Suraren't that hard if it is surrounded by gorgeous scenarios and calmness. This trail is one of the best places to click photos with wildflowers and colorful birds.
It feels like you've come to Disney land and are surrounded by beautiful birds. You can enjoy the beautiful views of Central Coast Ridge and spend your day here.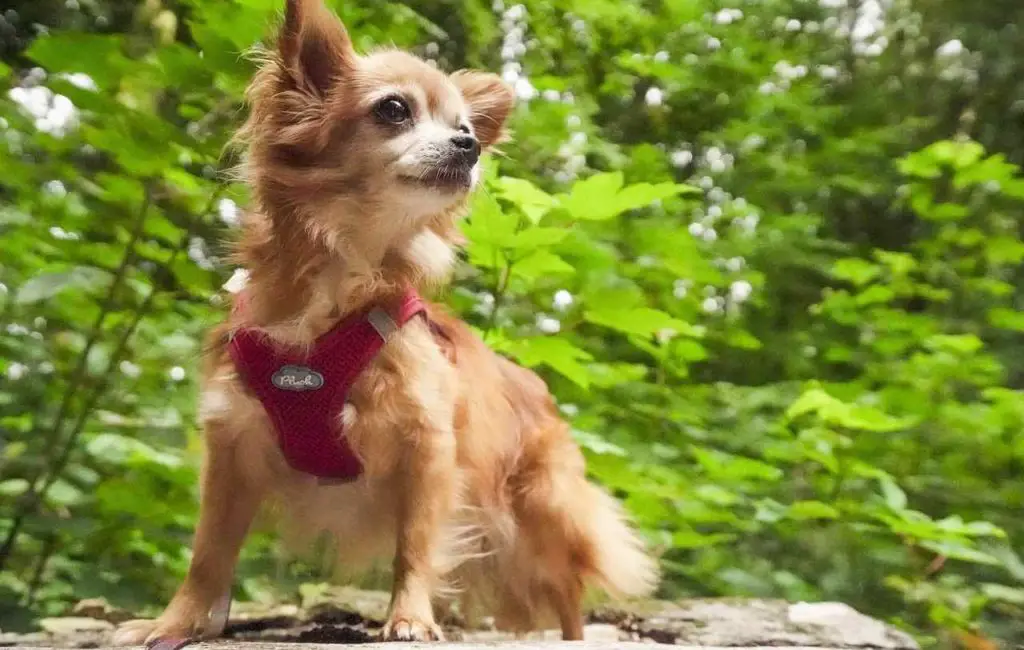 Dog-friendly hotels in Big Sur
Who doesn't want to rest painful legs after such pet-friendly hikes in the Big Sur? Only a good night's sleep and a great dinner can make you healthy again. Therefore, here is my suggestion for some great hotels which welcome your pup too. 
One of the most pet-friendly hotels in Carmel-by-the-Sea is Svensgaard's Inn which also has dog beds, water bowls, and dog food. You can also take your dog for a walk in Forest Hill Park or the dog-friendly Carmel Beach. They also offer many discounts from time to time. >>Book Your Stay<<
Come to this simple lodge to relax your body and have an organic bath. It is a 10 minutes walk to reach Carmel Beach, where your dogs can run off-leash. Near the lodge, there is a Mexican restaurant called Culura Comida Y Bebida where you should try cultural mole. >>Book Now<<
So, when are you coming to Big Sur hikes with dogs? If you want to experience everything with your own eyes then pack your bags and bring your pooch here. Big Sur has so many things to offer. 
The above 6 dog-friendly hikes in Big Sur are your unique guide to enjoy hiking with your dog and cherish every moment you spend. Dog walking in Big Sur is very common, you won't feel like aliens; people are very loving and they welcome dogs of every breed and size. Before coming to this place bring plenty of things like water, dry fruits, first aid equipment, and camping gear.
Now you are ready to hike with your dog! 
Read Next:
FAQ on The Best Dog-friendly hikes in Big Sur
1. Can dogs hike in Big Sur?
A: There are many hiking trails in Big Sur which don't welcome dogs. Some dog-friendly places in Big Sur are as follows – LimekiIn State Park, Garland Ranch Regional Park, and Monterey Bay Coastal Trail.
2. Is Point Lobos dog friendly?
A: Sorry, but dogs are not allowed inside Point Lobos. Only service dogs are allowed that also with prior permission. 
3. Are dogs allowed in Toro County Park?
A: Toro County Park allows only leashed dogs and packs of animals. Dogs should be always on a leash and should pay fees before entering.