20 Ultimate Hiking Gear For Dogs
Dogs are our best friends! We all love to take this furry pal with us on a journey. If you are an avid traveler you don't wanna leave your dog at home while you're on a trip. Right? So when you take your dog with you on any trip you might have felt that like you, your dog needs some extra care and travel gear as well. That's why we've sorted the most essential hiking gear for your dog.
You may take some basic things like poop bags, dog foods, and other things! But wait! Have you ever thought if this basic thing is sufficient enough for your dog during hiking or traveling? Let us tell you that those basic things are not sufficient enough to make your dog's journey convenient and comfortable.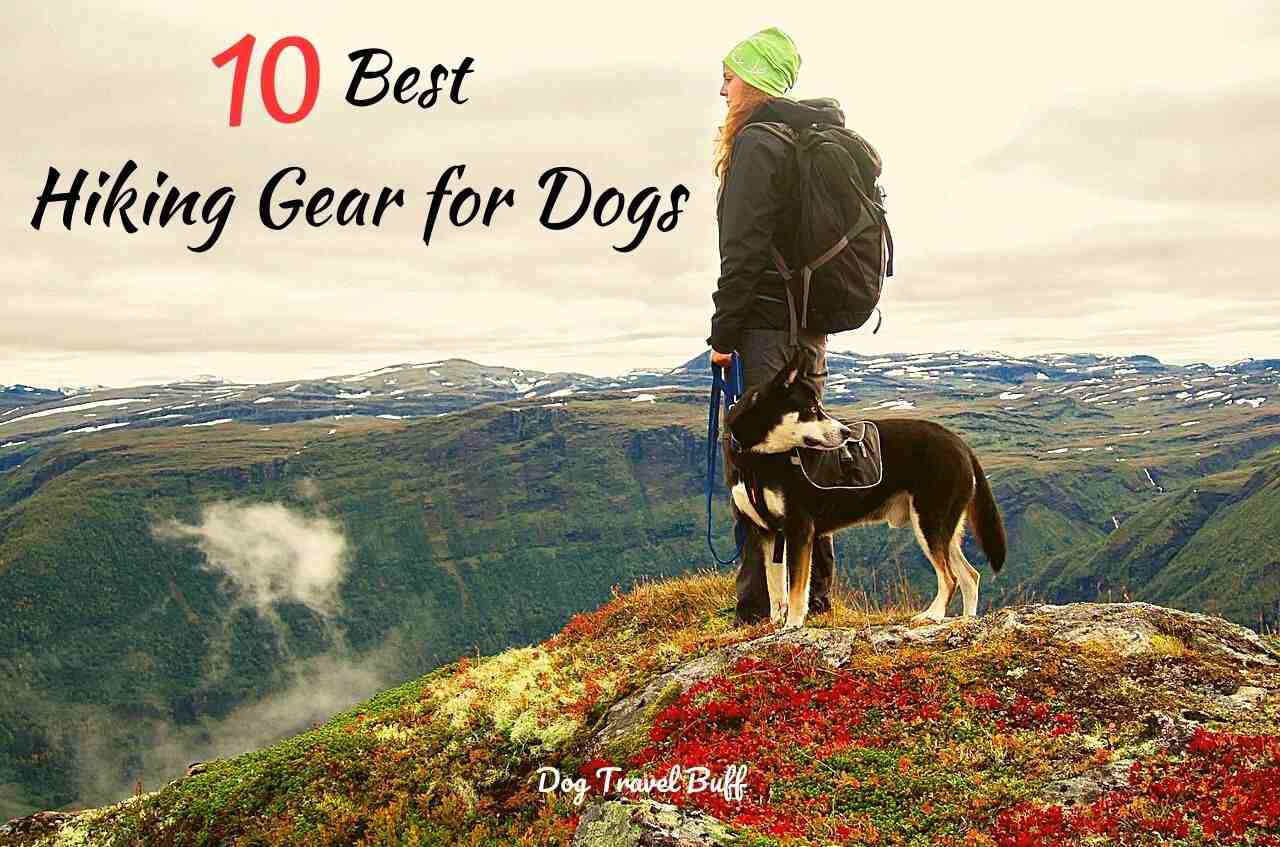 This post may contain affiliate links. If you buy something through one of those links, you won't pay any extra penny, but I'll get a small commission that encourages me to deliver more helpful content for you.
Your dog needs some of the best hiking gear like yours. Hiking gears like shoes, food bags, collapsible bags, leashes, lighting neck belts, and many others.
Check the below-mentioned best dog hiking gear list for your furry pal.
Dog Backpack
The must-have hiking gear for a dog is a backpack. To carry all the important dog supplies you must take a dog backpack with you. There are many dog backpacks available in the market. So don't get confused. The OneTigris Dog Backpack is a great hiking backpack that features a lot of space to carry plenty of small things with you. It comes with features like reflective strips and good-quality zippers.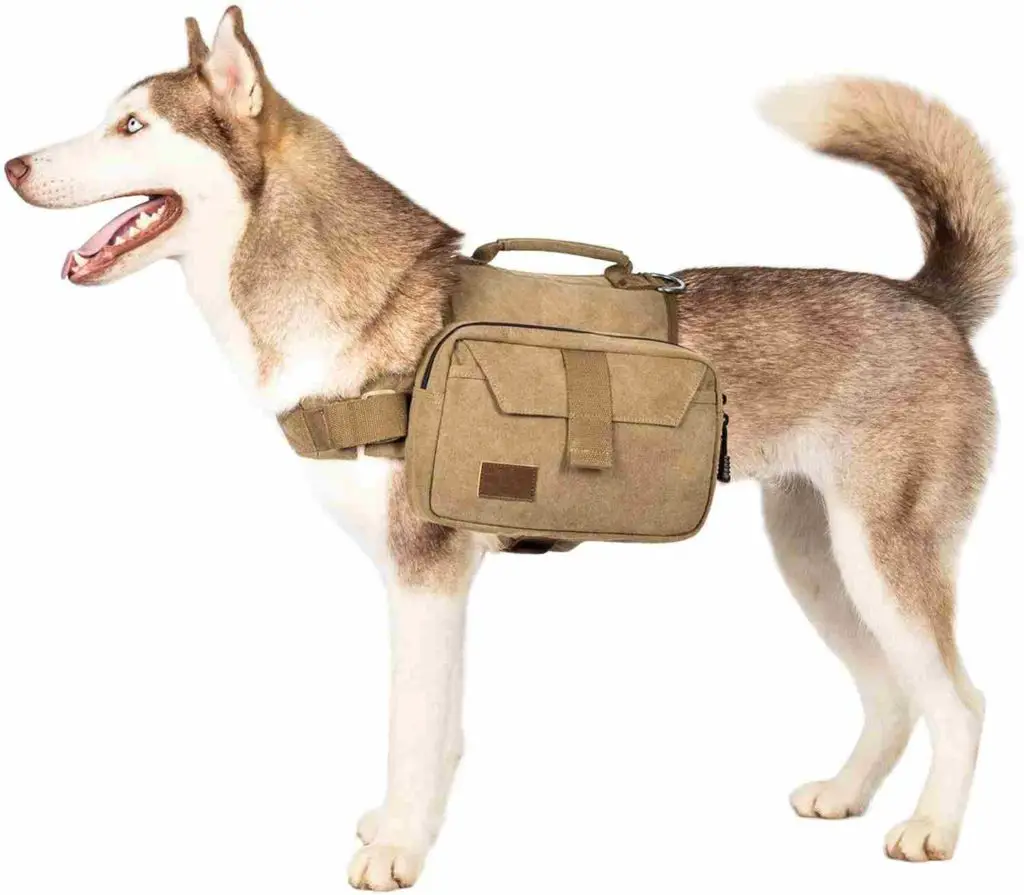 Pros/Features:
The OneTigris Dog Backpack is easy to remove from a harness
This is a waterproof bag.
The zipper and upper material are long-lasting.
It is surrounded by a 3m reflector that increases the visibility in the dark.
This bag will cost you below 150$
Related Post: 10 Best Dog Carrier Backpacks for Hands-Free Style
Dog Stroller
A dog stroller is an essential thing for you if you frequently travel with your dog. You can take a crate or a stroller to carry your furry pal with you. This makes it easier to travel with dogs. Although we always prefer a crate but when we hike on a plane surface, a stroller has its benefits. We've found the best dog stroller for you. HPZ Pet Rover Premium is one of the best and most durable dog strollers that you can purchase for your dog.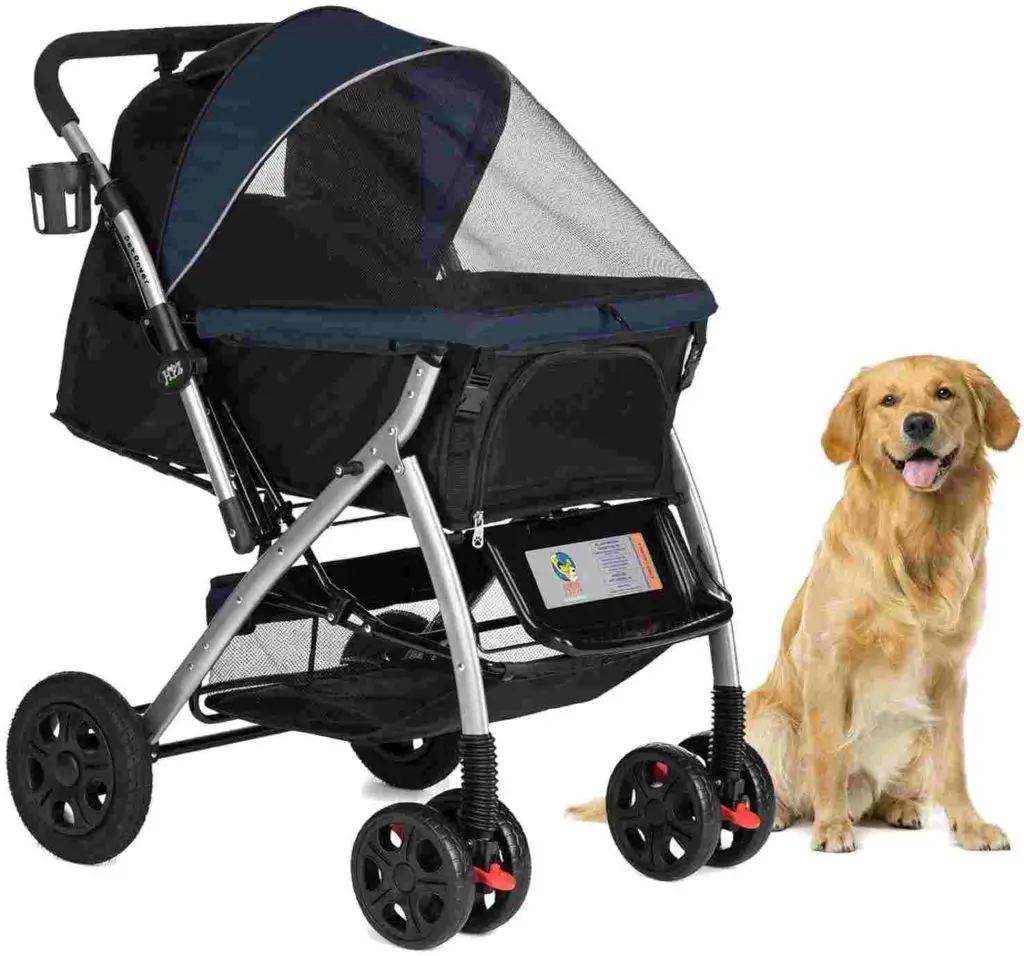 Pros/Features:
The best thing about Gen7 Regal Plus is its foldable option. You can fold the entire stroller easily.
This can carry up to 25 pounds. So easily you can take your pal with you inside this stroller.
The canopy hood is foldable and stylish.
This is very lightweight and collapsible.
HPZ Pet Rover Premium features a long hood so you do not need to carry an extra umbrella for your dog.
If you are unsure about which dog stroller to buy, check out our ultimate list of the best dog strollers for small and large dogs with buying guide.
Dog Treat Pouch
Paw Lifestyles Multi-functional dog treat pouch is made for various purposes. You can carry several things like dog toys, additional bags, a water cup, and many others. This water resistance treat pouch can be used to carry dog foods also. You must include this item on your backpacking gears for dogs checklist.
Pros/Features:
This dog treat pouch is made of nylon material thus keeping things dry inside the pouch by not allowing water inside it.
You will get a water bottle holder on the top of the pouch.
Inside this pouch, you also get a collapsable water bowl.
The best part about this pouch is, that you can carry headphones in this pouch as there is dedicated space for your headphones in this bag.
Dog Harness
Are you looking for the best dog hiking harness on the market? Then we would suggest you buy the Auroth Tactical Dog Harness. This harness features side buckles and an adjustable chest strap for a better fit.
The Hurta Active Dog Harness comes in different sizes, from 16 to 47 inches so you can get the right one according to your pet's size.
The exterior is made of 3M reflectors so when you put on this your dog will be visible easily at the night.
Chest straps are adjustable so you can adjust them easily.
The material that has been used to manufacture this harness is quite durable.
Rope Leash
Usually, we didn't keep our dog on a leash but when we visited Death Valley with our dog, we had to buy one rope leash. A rope leash is important to keep your dog in manners. Even it is always safer to travel or hiking with a dog on a leash. There is N number of rope leashes available but the Lynxking Check Cord Dog Leash is long-lasting as it is made of high-quality fabric. You can use this rope leash when you take your dog to a leased area.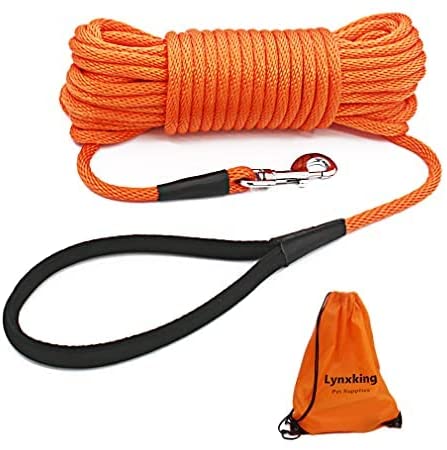 Pros/Features:
Made of nylon and aluminum, this dog leash is a long-lasting product.
This is lightweight rope leash only weighs 267 Grams
It is a machine-washable rope leash.
This affordable rope leash comes under 50 dollars.
You will get a lot of color variants of this product.
It features 3M reflective material for high visibility at night.
Collapsible Dog Bowl
Whenever we travel with our furry pal I feel like we need to carry a dog bowl but it takes a lot of space in my backpack. But thankfully there are many collapsible bowls available in the market that you can carry easily with you. A collapsible dog bowl has become our favorite thing to carry for our dog.
This collapsible bowl does not consume a lot of space so we can easily carry this bowl with us. Whenever we go on a hiking trip we always carry a collapsible bowl with us for our dog.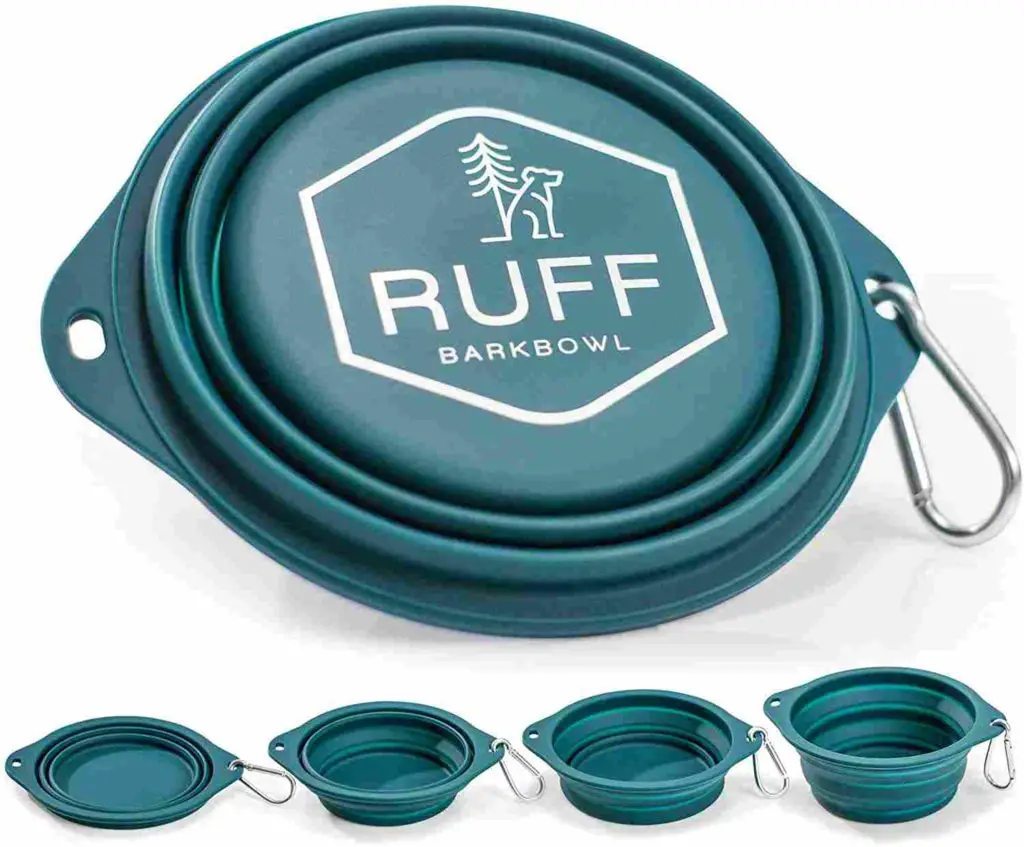 Pros/Features:
The best thing about this bowl is, that it is collapsible so you can easily carry it with you.
These collapsible dog bowls are made of lightweight material
It is leakproof so you can feed your dog liquid foods with it.
First Aid Kit
It is very essential to carry a first aid kit for your dog when you travel with your furry pal. Hiking and traveling may not go smoothly. Your dog might face some injuries as well. So you should have prepared to tackle all these issues. Carrying the first aid kit helps you to prevent some fatal injuries too. Although this animal first aid kit is not available in the market in a large number, we've found a great first aid kit for dogs namely ARCA Pet Kit.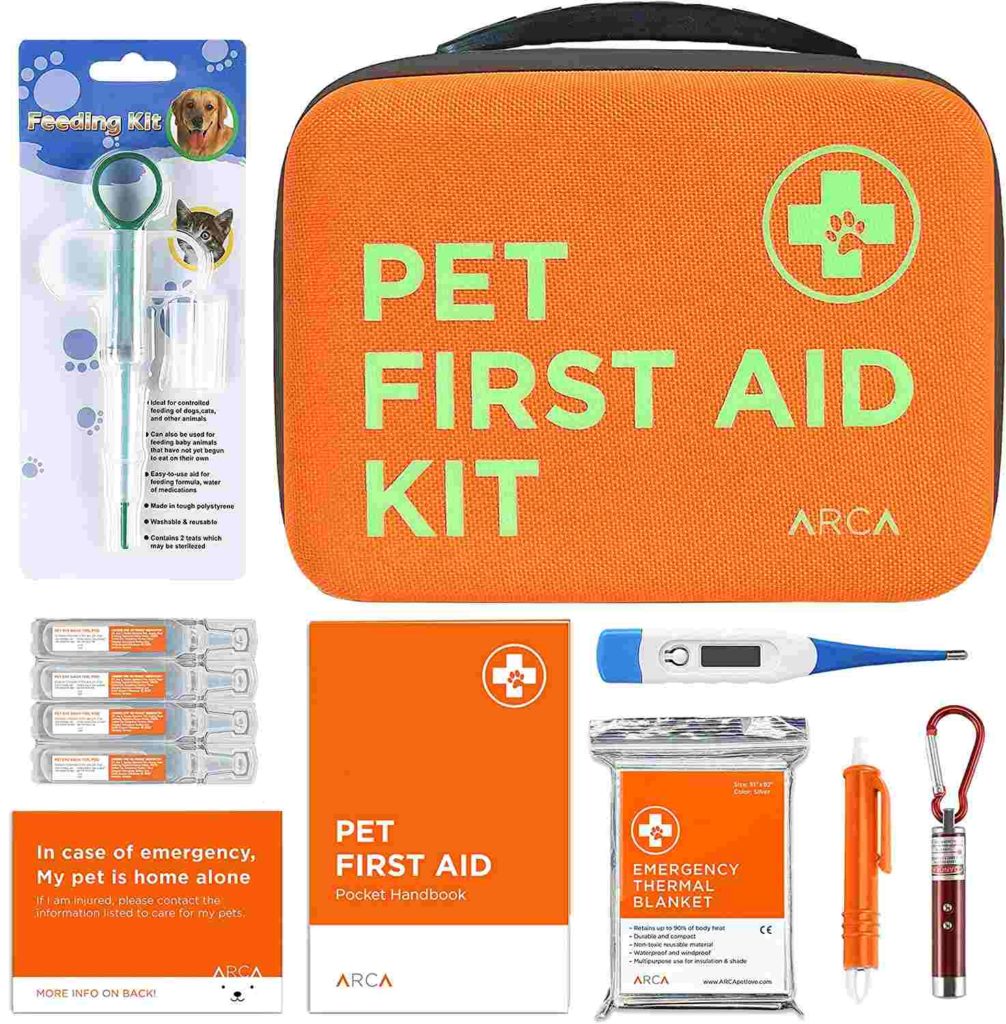 Pros/Features:
This first aid kit is prepared to combat both small and big injuries.
This is one of the best comprehensive first aid kits on the market.
The zipper is made of reflective material thus making it visible at night.
It is a lightweight first aid kit that you can carry anywhere.
Hands-Free Waist Leash
We often get tired during our hikes. At that time it was difficult to hold the leash all the time. To give your hands some spare time you must get a hands-free waist least. The Paw Lifestyle Retractable Waist Leash is a great brand of hands-free waist leash.
If you do not have any pockets to carry your phone with you during hiking then you can keep your cellphone in this leash's pocket.
Pros/Features:
This waistband has 48 inches long pocket so you can keep your phone and other small devices in it.
A dedicated handle is there in this leash that offers better control of your canine.
You will get a long-lasting D ring in this leash to carry extra pouches with you.
This waist leash has shock-absorbing bungee woven that withstands any circumstances.
Cooling Vest
A cooling hiking vest is another must-have thing for your dog when you take your canine with you. It protects your dog's chest from thorns rocks and many other things. These cooling vests are made of air mesh technology so your dog will feel cool in heavy heat.
If you have a small dog then the chances are there that your puppy may fall sick due to excessive heat. So to protect your dog from excessive heat, a cooling vest is an essential hiking gear for your puppy. One of the best cooling vest manufacturing companies is Hurta. This is durable yet cheap.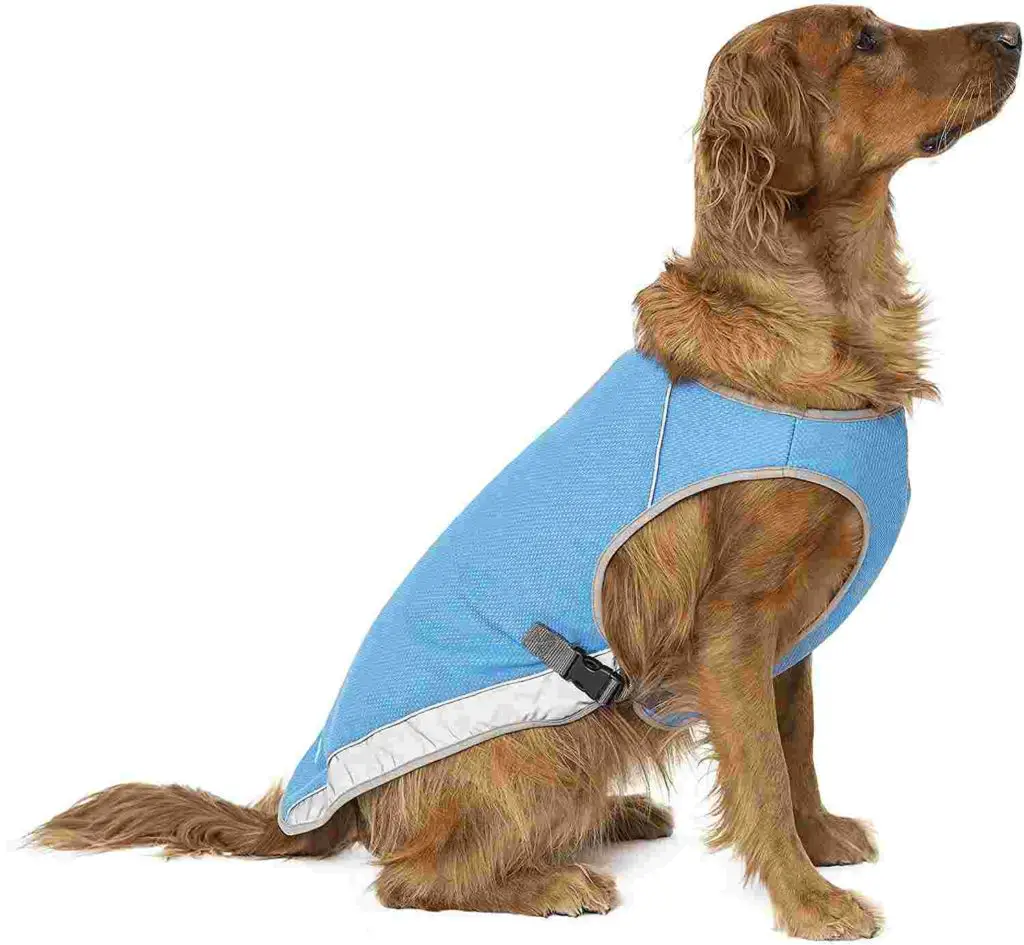 Pros/Features:
These vests are a great product that protects and gives extra support to your dog from the front side.
Air ventilation technology keeps your dog calm.
It comes in variable sizes so you can get the right one for you easily.
The price is cheap but the product is durable.
Weatherproof Dog Jacket
If you're traveling to a mountain or hilly region you might go through a snowstorm or some other natural abrupt climate. So in that cases, your dog needs a weatherproof jacket, an essential winter hiking gear for dogs.
It is a misconception that only short-haired dogs need jackets in winter. Regardless of the breed, your dog needs a weather coat. We've got a Gobby padded vest. This jacket has great reviews on amazon.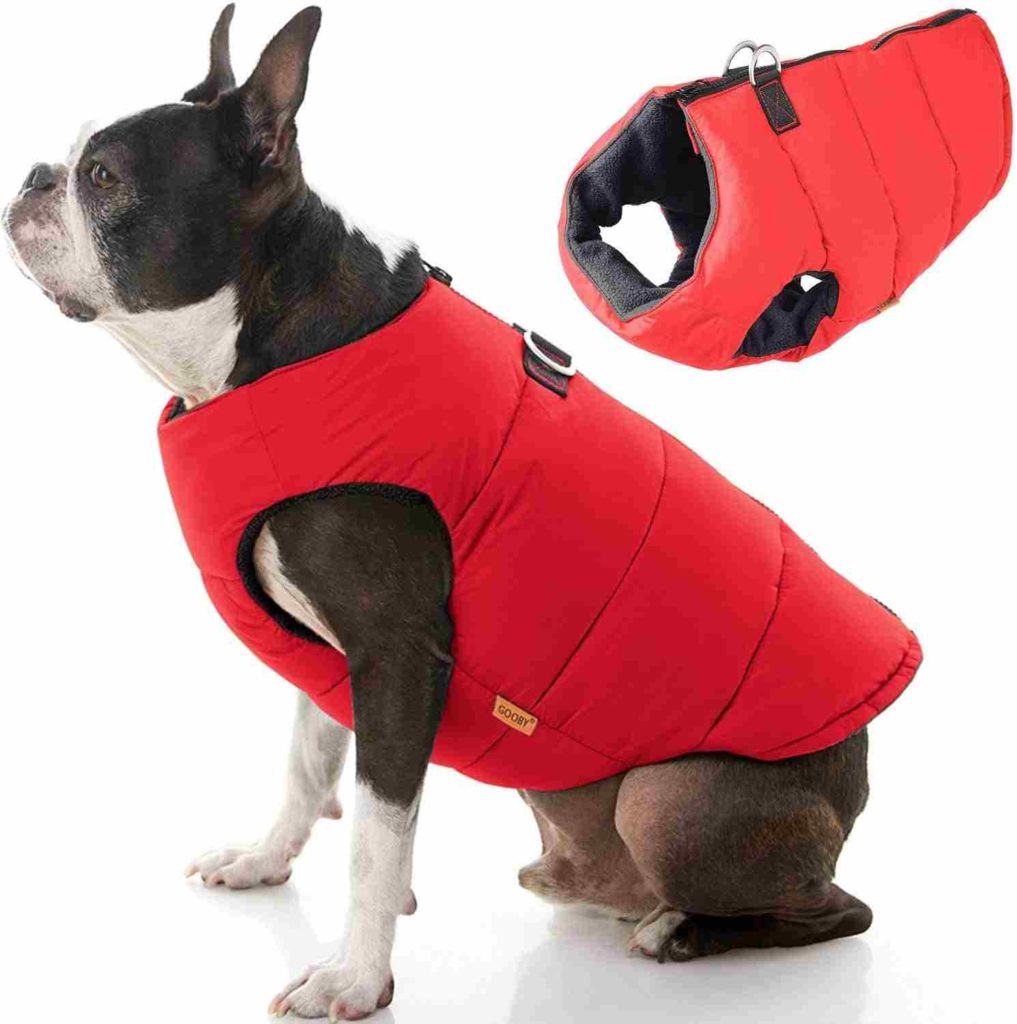 Pros/Features:
Water-resistant and lightweight.
It comes with a protective zipper guard.
This jacket features a dual D leash ring.
Dog Hiking Boots
We always care about our own feet but what about our dogs? Don't they need hiking boots? Yes, they definitely need hiking boots too, to get a tight grip on slippery areas. There are many dog hiking boots available in the market to get the best one for your dog. We have made a list of dog hiking boots that you can check.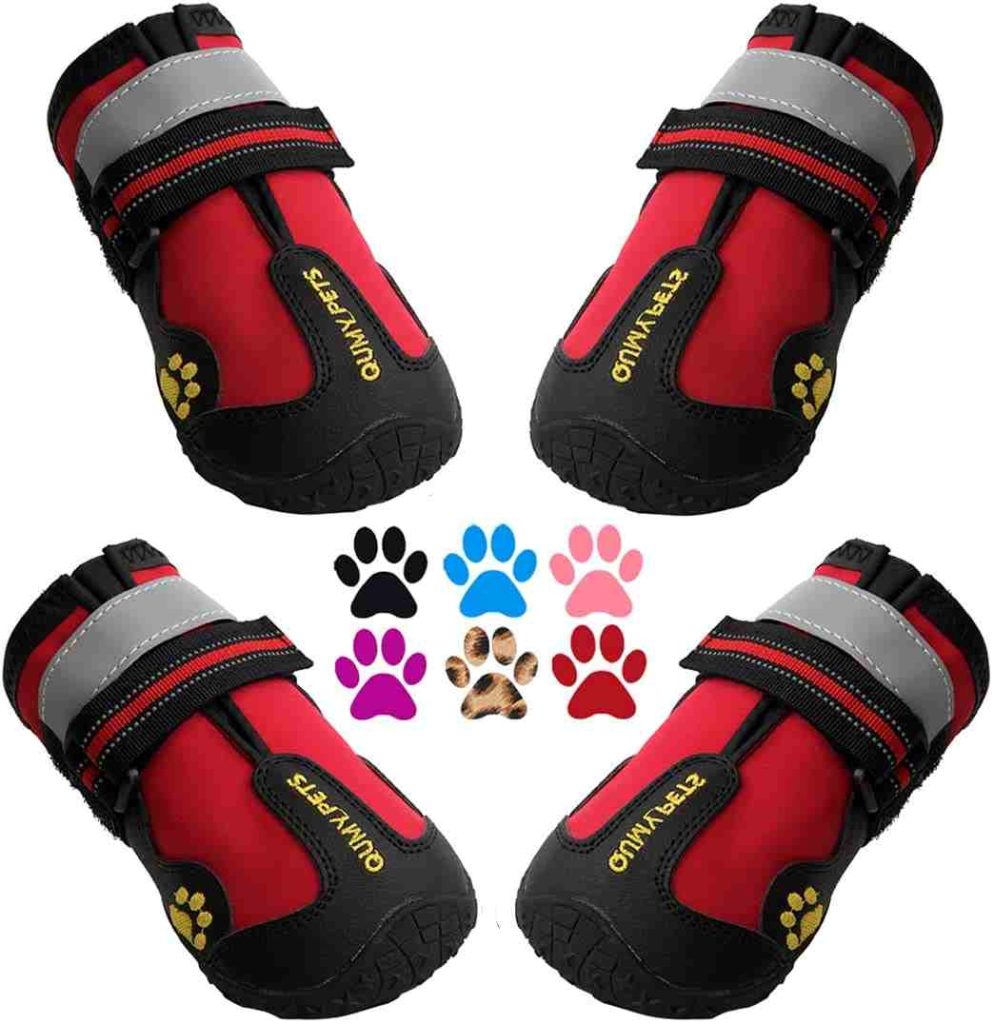 Pros/Features:
This pet walking gear protects your dog's paw from thorns, stones, and hard obstacles.
These boots are mostly waterproof so your furry pally will feel comfortable in wet areas.
Dog hiking boots feature reflective straps that increase the visibility of your you in the night.
Most dog hiking boots come with a velcro strap which gives your dog a good grip.
Dog Water Bottle
These are not the regular water bottles that you use in daily life. This water bottle features attached cups on top. With just one squeeze water comes out and fills the top cup but when you release the pressure the excess water automatically trickles back into the water bottle.
Our personal favorite is the PupFlask Dog Water Bottle. This one is cheap yet very good quality.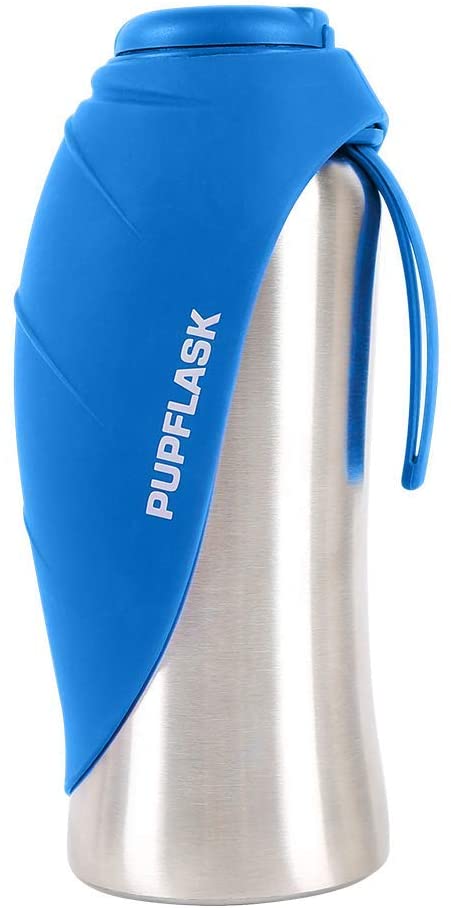 Pros/Features:
These bottles come with tight caps that save even a single drop of water.
These bottles are BPA free which ensures the health priority of your dog.
It comes in 6 different colors so you get the option to choose the best one for you.
This essential travel gear comes under 50 dollars which are wallet-friendly.
Cooling Water Bowl
Your pal may feel thirsty during a long hike. Cool water not only calms down your dog's behavior but also avoid some incident that happens due to overheating in the body. A cooling water bowl usually keeps the regular water at a cooler temperature.
Your dog can easily carry this bowl on the collar or if your dog is small then you can fit this on your dog's waist. One of the best cooling water bowls on the market is K&H cooling water bowl.
Pros/Features:
Takes no space as you can fold them for your convenience.
The Freezone cooling water bowl features reflective straps on it so your dog will be more visible at the night.
Anti-toxic and eco-friendly.
This is a long-lasting product that many amazon customers have ensured.
Flea and Tick Spray
One of the main reasons that your dog falls sick during hiking is being bitten by fleas and other pests. Always try to carry a flea and tick spray to protect your pal from these dangerous pests. One of the best Flea sprays is Vet's Best Flea and Tick Spray. This not only fights flea and pests but also keeps mosquitoes far away.
Pros/Features:
Pura Natural Flea spray is an eco-friendly product.
Made with peppermint oil, cider oil, and other natural oils, Pura spray is not harmful to your dog.
All the oils condition your dog's hair and it looks more smooth.
This spray does not make your dog's skin irritated.
Paw Balm for Pets
During our hikes on the dog-friendly trails in Orange County, we saw that our dog's paw became swelled. Luckily, we had a paw balm for our dog. It helps him a lot during that journey.
We can take care of our feet but furry pals cannot do anything about their paws. In treacherous hiking, due to high heat, rough surfaces, and too cold your dog might feel a heavy pain in its paw. Try to use organic paw balm to heal the pain in your dog's paw.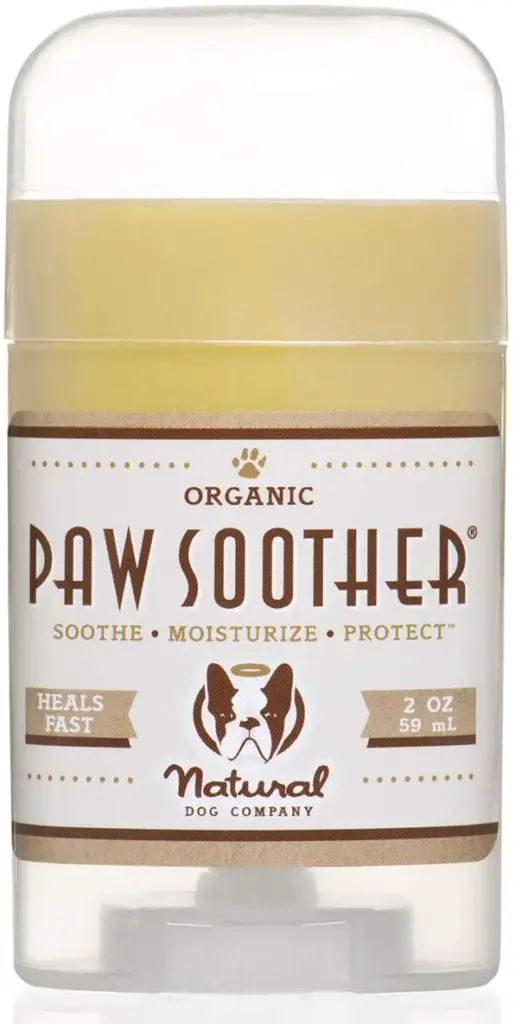 Pros/Features:
This balm makes your dog's paw soft and smooth.
This moisturizer balm is made with natural properties that can heal cracks and scratches.
Dog Sunscreen
When we were traveling to dog-friendly Bay Areas in California with my dog we take sunscreen for our pooch. We've realized that the way sunscreen protects us in the same way it protects our furry pal as well. Although the brand is different. We purchased Epic Pet K9 dog sunscreen for our furry pal. This sunscreen is not only good but also gives shinier looks to our dogs.

Pros/Features:
This sunscreen is made of natural properties like aloe vera which protects our dogs from the scorching heat.
This is a nontoxic sunscreen so if your dog has licked it you don't have to worry.
This sunscreen not only protects your pall but also moisturizes your dog's skin.
Final Words
We often ignore the need for hiking gear for our dogs. But these gears are really important if you love to travel with your dogs. We frequently travel with our dogs and have gone through some difficulties when we don't have these gear with us for our dogs. We have shared all the information based on our personal experiences. Please go through this article for detailed information about the best hiking gear for dogs.
Read Next: 8 Easy to Use Knee Braces For Your Dogs
FAQs: Hiking Gear for Dogs
1. Do dogs need hiking gear?
A: Yes. your dog needs hiking gear for better mobility during hiking trips.
2. What do dogs need for hiking?
A: Your dog may need plenty of dog food, water, dog toys, and bowls.
3. Where does your dog sleep when backpacking?
A: A dog needs a sleeping pad for better sleep in a tent.
4. Do dogs need sleeping bags for backpacking?
A: Yes, your dog must have a sleeping bag when you're outside for hiking or camping.
5. Can dogs sleep in hammocks?
A: Dogs can easily sleep in hammocks. Hammock camping with your dog is a great idea. You must try this if you are looking for adventure with your pup.