9 Dog-friendly Hikes in the Bay Area for You to Explore
I know how important it is for your dog to spend quality time with you, for I have also been at that place earlier. 
And nothing is better than going out for a walk with your four-legged buddy, taking time to explore, and finding new things.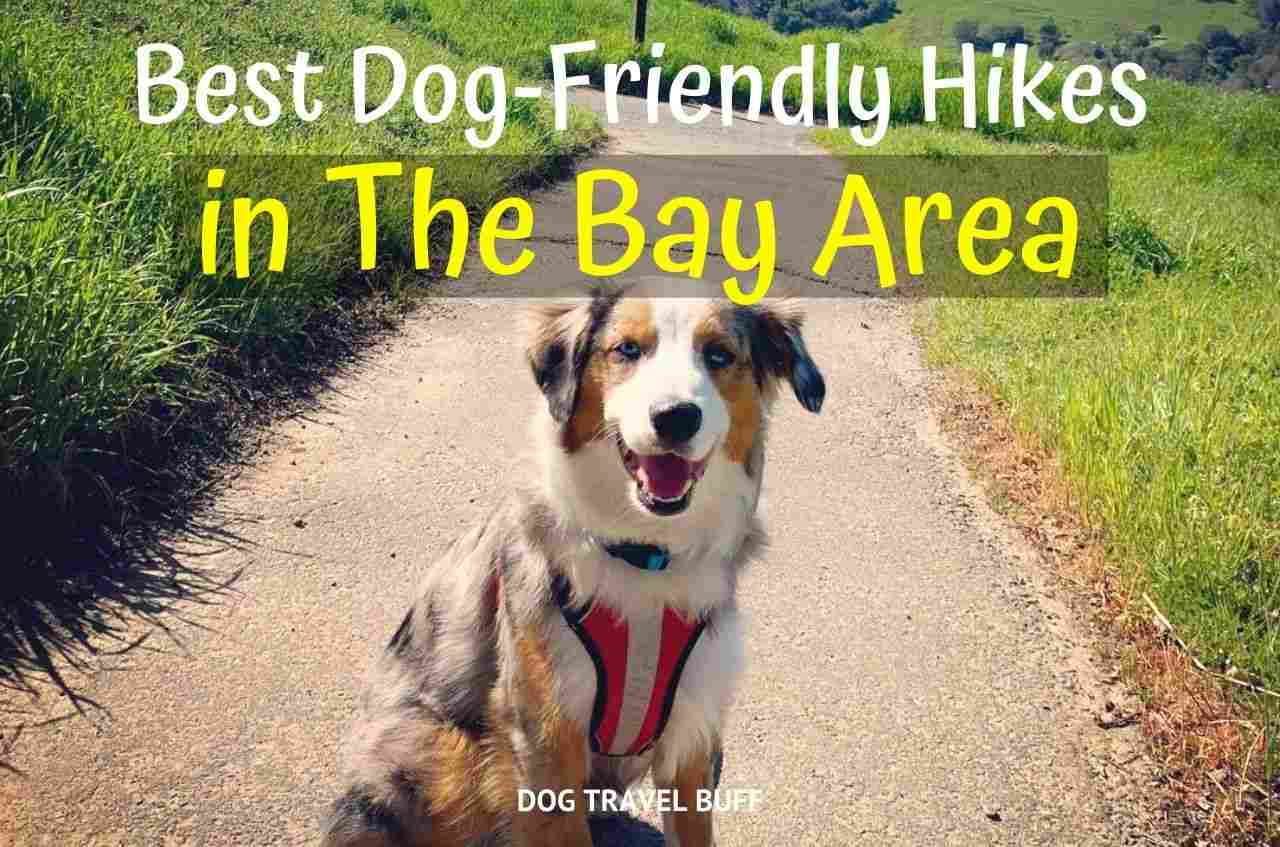 But, hang on! Do you want to go for a dinner or lunch date? Or, do you want to go on a long drive with your dog? Don't you think the time is too short?
I think it's better to plan a whole day out? Dog-friendly hikes in the Bay Area are perfectly marvelous with eye-pleasing views and sceneries with thrilling adventures. 
Yes, Dog-friendly trails in the Bay Area are a great way to explore local areas, enjoy the beautiful panoramas, with the fresh air of Redwood forests, and other numerous exciting dog-friendly activities which you can freely enjoy with your Fido. 
So, what are you waiting for, dress up your dog with proper hiking gear and let's explore the dog-friendly hiking trails in the Bay Area!
This post may contain affiliate links. If you buy something through one of those links, you won't pay any extra penny, but I'll get a small commission that encourages me to deliver more helpful content for you.
Dog-Friendly Hiking in The Bay Area – From Where to Start?
In Northern California, the San Francisco Bay Area is called the Bay Area. It is a popular dog-friendly vacation spot in northern California. The bay area consists of Alameda, Contra Costa, Marin, Napa, San Francisco, San Mateo, Santa Clara, Solano, and Sonoma) and 101 municipalities. 
The Bay Area hikes with dogs are an amazing adventure and lifetime experience. 
Having spent years in San Francisco's Bay area, I've hiked in Marin County, Oakland, and Berkeley and also on the Peninsula coast.  
You'll be shocked when you get to know that there are so many dog-friendly hikes in the Bay Area that you will not be forced to go to the same restaurant twice.
The options are diverse!
In this article, I'll let you know the 9 most popular pet-friendly hikes in the Bay Area which will ease your search and help you to explore free without getting hyped or overwhelmed. 
Let's explore the beautiful dog-friendly hikes in the Bay Area! 
Things to Know Before Going for Dog-Friendly Hikes in San Francisco
I agree with you that unplanned things are the best; it activates your adrenaline gland and allow you to experience the height of excitement. But when it comes to hiking with your pup, it's better to plan out or you are later going to find yourself in a great mess. 
Hence, let's know all the important things that will hit dog trails in the Bay Area. 
Leash your pet or dog:
Most of the dog-friendly hiking trails in the Bay Area ask to keep dogs on a leash because these trails are also trafficked by common people who are not pet lovers and bicyclists. Therefore, to respect everyone's privacy you have to keep your dog on a leash. 
Always follow and obey the signboard. If it allows off-leash dogs, then you are fine to go, but if it doesn't, it's better to carry a dog belt.
Dress up properly:
The San Francisco Bay Area has a mixed type of climate. In Marin County, the weather is neither too warm nor too cold. But, in the east and the south bay, the weather is too hot. But the weather gradually becomes cool and foggy on the coastal trails. 
Therefore, it is very important to dress properly, carry dog boots, and other stuff and other necessary things according to the weather conditions. 
Keep the environment clean: 
Bay Area Hikes with dogs are so much fun but not at the cost of a poor dirty environment. Always remember throwing all your shitty packets and cola bottles on the dustbin. Keep the ecosystem clean. 
Remember to throw your dog's poop bags in the trash bag and keep the dog-friendly hikes in the Bay Area clean.
Choose a perfect time:
If you want to witness the green hiking trails which are generally surrounded by wildflowers and beautiful small butterflies, then the spring season starting from the beginning of March to May is the perfect time to hit dog-friendly places in the Bay Area.
If you are going hiking in the rainy season then buy beautiful umbrellas for your dogs too.
9 Best Dog-Friendly Hikes in Bay Areas
French, Bridle and Stream Trail Loop
Distance: 7.9 Miles
Difficulty: Moderate 
Location: Oakland
Fee: Car parking at Skyline Boulevard and Pine Hills Drive 
The best dog-friendly hike in the Bay Area has to be French, Bridle, Stream Trail Loop, and a hidden gem called Joaquin Miller Park and Reinhart Regional Redwood Park in Oakland. 
This hiking is best after the summer season and is year-round access to all hikers. The view from Skyline Drive is marvelous and you can get a perfect shot of the East Bay hills on your camera. 
This is one of the unique dog-friendly redwood hikes in the bay area from which you will get a view of greenery and unwind all your stress with the beauty of nature. The pepperwood scent in the air is calming and the best natural therapy for your mind. 
To reach French, Bridle, Stream Trail Loop you've to take the Bridle Trail from Redwood Creek and walk straight. If you want to visit the hidden gems then walk along the Camp Trail starting from Redwood Creek Trailhead.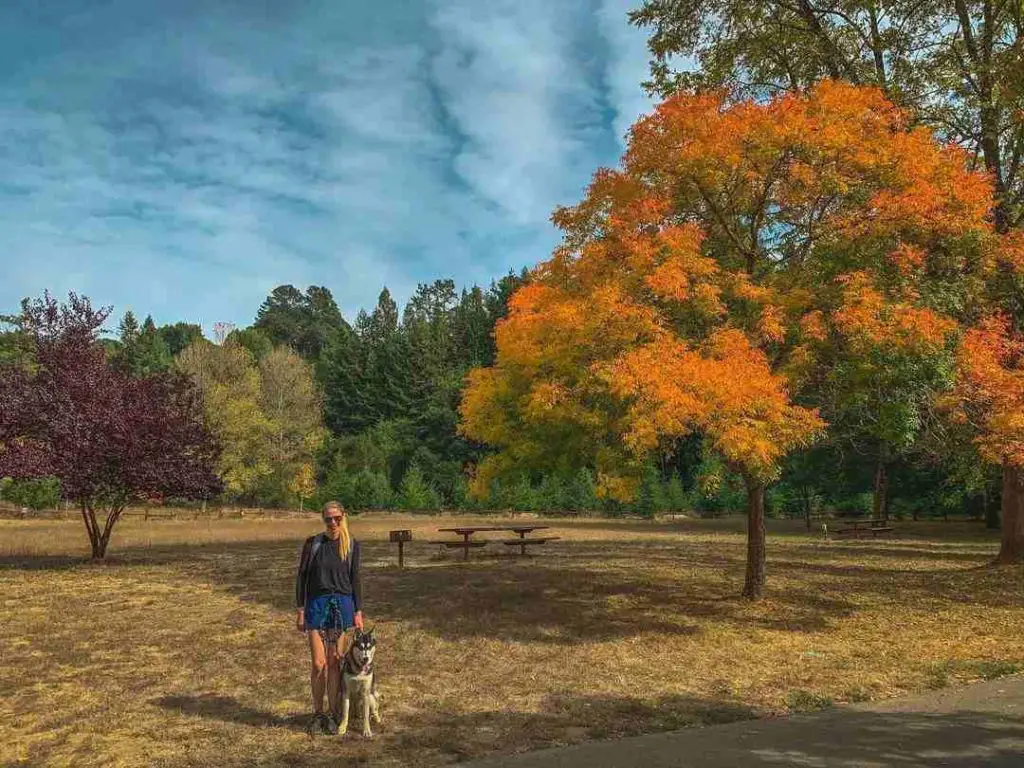 Golden Gate Promenade Trail: Dog-Friendly Hikes in the Bay Areas
Distance: 4.3 Miles
Elevation Gain: 190 feet
Difficulty: Easy
Location: San Francisco
Golden gate Promenade trail is a stunning dog-friendly hike in San Francisco. You can witness the best gorgeous natural view of the Golden Gate Bridge, Crissy Field, and the City skyline.
The wide and smooth hiking trail is accessible all year round and gives you views of beaches; fresh air and sunshine spots to witness the best sunset and cherish your memories. 
Your dog has to be on a leash and you can walk him along the semi-paved path just between Marina Green and Forth Point. You can climb down to Fort Point to witness the beauty and actionable motions of surfers. 
Relax and spend some time at the West Bluff picnic area and have delicious food. To reach this place you have to walk straight from Crissy Field. Visit Crissy Field Dog beach and let your Fido run! It's an easy hike and the best place to relax and forget the world time. 
Mori Point Loop Trail
Distance: 2.5 Miles
Elevation Gain: 121 m
Difficulty: Moderate
Location: Pacifica
Fee: Park your car at Old Mori Road or Bradford Way Entrance
You can carry your dog in a backpack to this beautiful dog-friendly hike in the Bay area. Along the way, you will find daily walkers, runners, and cyclists, therefore, always keep your dog on a leash.
Mori Point Loop is near Pacifica and you can witness green scenery, wildflowers, mountain tops, and dramatic coastal beauty. Enjoy the sunset and sounds of natural waves.
The sandy beach and waves are something your Fido will love and experience the best time of his life. Walk along the Ridgeline trail and capture the Golden Gate Bridge under the sun and cherish the memory. 
The coastal beauty and varied flora and fauna present in this trail feel like nature is so vast but we are so small in front of it. Enjoy the coastal air and click pictures while keeping the Golden Gate Bridge in the background.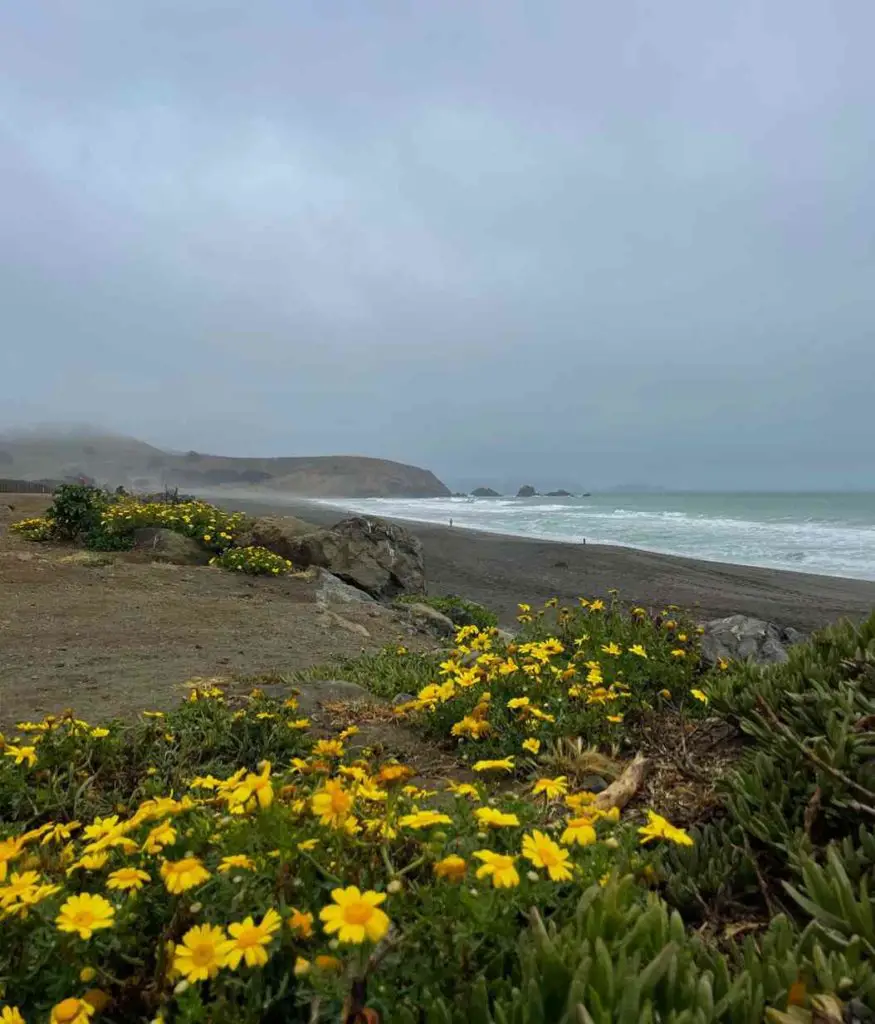 Read Next:
Rocky Ridge View & Elderberry Loop Trail
Distance: 4.7 Miles
Elevation Gain: 1280 feet
Difficulty: Moderate
Location: Contra Costa County
Fee: Free 
Rocky Ridge view and elderberry loop trail are some of the best Bay Area hikes with dogs. 
This trail has offered different beauty at different times of the season. During spring you can witness Las Trampas Regional Wilderness. During autumn you can see eagle-eyed hikers and in winter you will spot birds and turkey vultures and also the golden eagle. 
Stunning views and exceptional scenery are perfect to make your hike memorable. Click photos with the vibrant and blooming flowers and tall trees along with the green shades and flatter your Instagram with colorful pictures. 
Bring your lunch and dog food and spend the afternoon clicking pictures and at the lap of nature. At the beginning of the hike, you may feel it's very steep but worry not it's flattened at the top. 
Lover's Lane
Distance: 0.6 Miles
Elevation Gain: 90 m
Difficulty: Moderate
Location: San Francisco 
Fee: Park your car at Old Mori Road or Bradford Way Entrance
I always prefer small dogs for hiking, hence I always take my dachshund with me. It is the easy and best place for nature lovers. 
Presidio Lovers Lane is the oldest trail for history lovers and connects Presidio Gate at Lyon Street to the Main Post. This enchanting trail reminds the history of when Spanish soldiers and missionaries used it in the 18th century. 
You can witness colorful birds, butterflies, and a peaceful environment to soothe your mind. Start your journey from the south by watching "Wood Line", an art installation by Andy Goldsworthy. This perfect sculpture is drawn by felled tree trunks which reflect the artwork! 
Tip: It's a challenge for most pet owners to drive with their excited pet. You can read our comprehensive article on How to Calm an Over Excited Dog in the Car.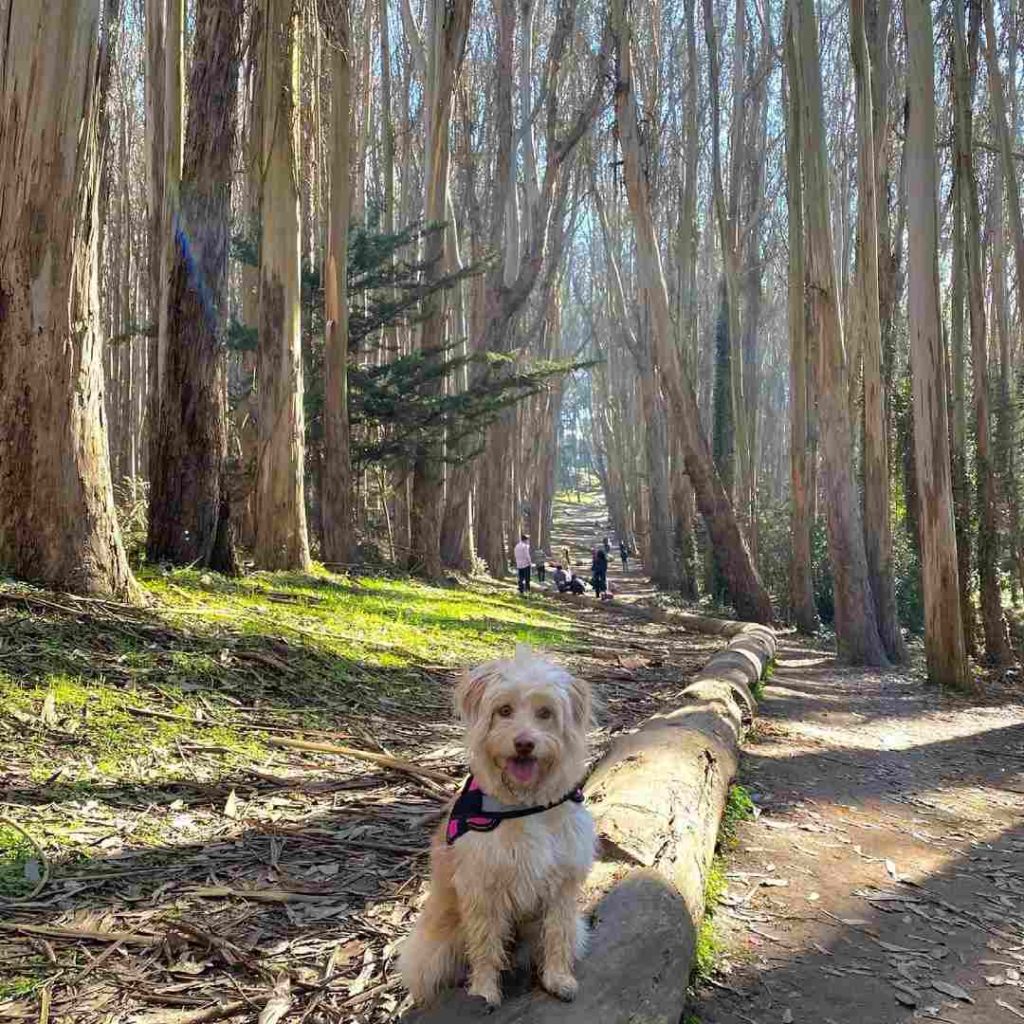 Read Next: 8 Best Dog-Friendly Hikes in Santa Cruz
Mount Tamalpais Via Cataract Falls Trails
Distance: 3.2 Miles
Difficulty: Hard
Location: Stinson Beach 
Fee: If you have a parking permit or license then you are good to go. It's always better to get there early in the morning. 
This is the best hike with dogs in the Bay Area and one of my favorite. It sits just next to Alpine Lake and on the Bolinas Fairfax Road. The trail is a little hard. So you can bring a dog stroller that can help your dog to relax and enjoy the view.
You can witness Mount Tamalpais, clean lake waterfalls, oak forest, redwood, and stunning views of open grasslands. This place will make you fall in love with its gorgeous smell in the air. 
Come in the morning and walk along the Cataract Creek forest and take time to breathe and appreciate nature's art. You can relax at Laurel Dell, a picnic spot with your Fido, and spend hours having food. 
Walk at the Helen Market if you want to treat yourself to some mouth-watering dishes. This magical place is a perfect dog-friendly walk in the Bay Area.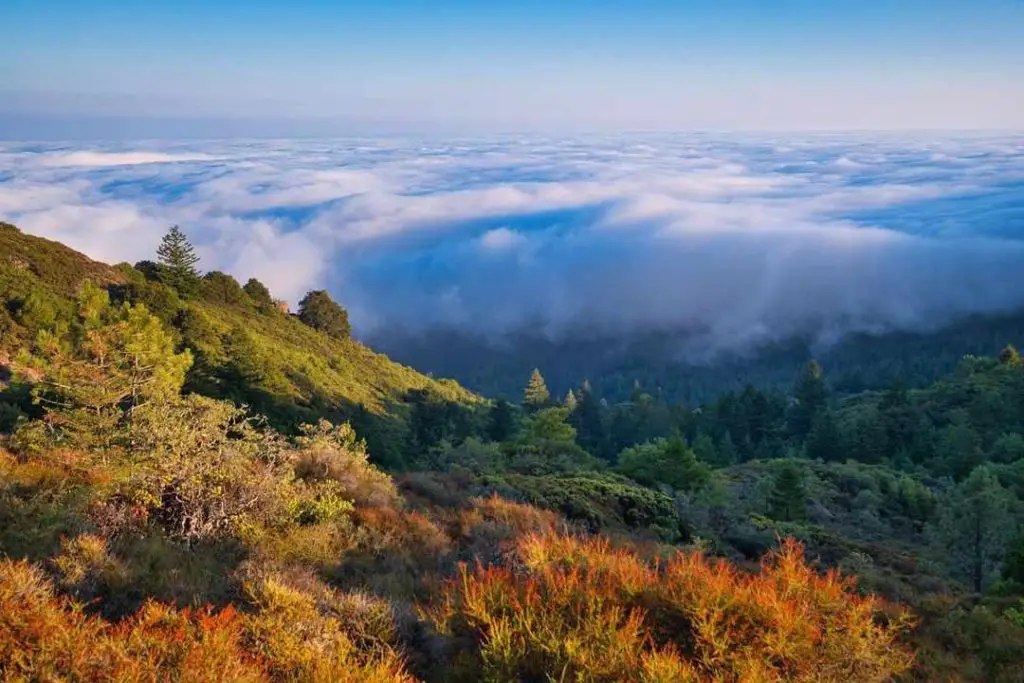 Read Next: Things to do in Santa Barbara with Your Dogs
Ed R. Levin County Park
Distance: 19 Miles(Monument Peak)
Elevation Gain: 0 feet
Difficulty: Difficult
Location: Calaveras Road
Fee: $6 vehicle entry fee
Ed Levin County Park is the best dog-friendly hike in the south Bay Area. From here you can get a spectacular view of the valley floor and San Francisco Bay.
These hiking trails are a little tedious but all worth it. You can hike to the Monument Peak and Bay Area Ridge Trail. Keep your dog on a leash because this trail is crowded and shared by other people. 
Bring your sunscreen and hat because the sun rays are very harsh here. You can also click pictures with oak trees and rolling grasslands. 
The biggest pros of traveling with a dog are I never feel alone while traveling; I never feel stuck or bored.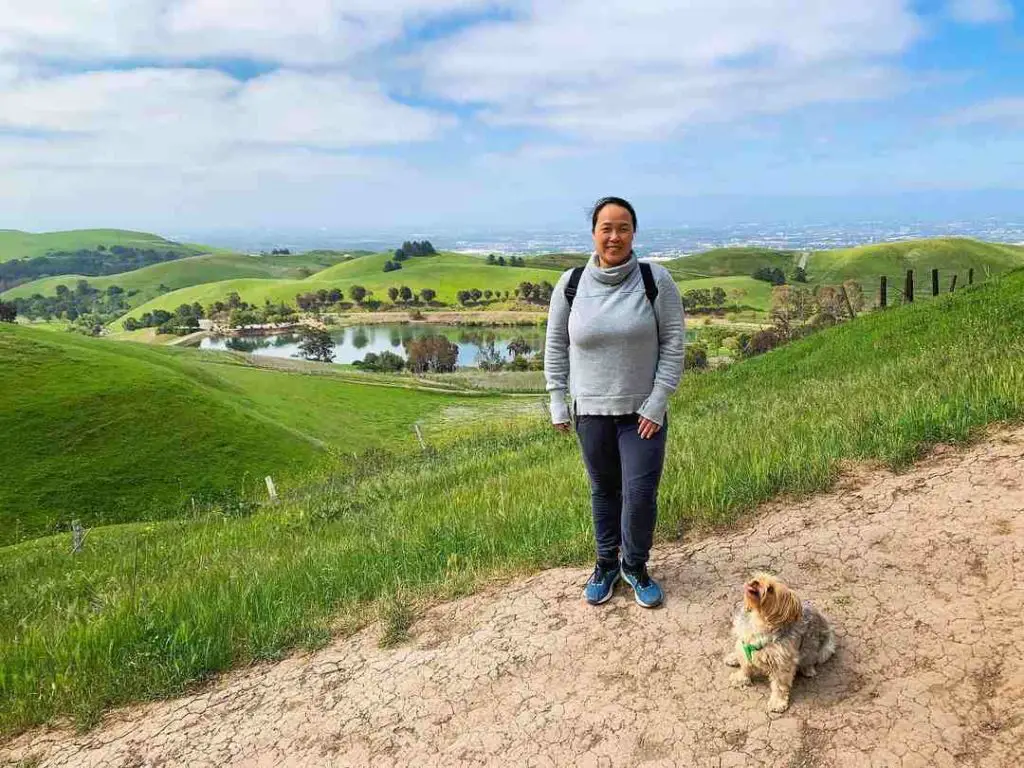 Read Next: 9 Best Dog Beaches in Malibu, CA
Acalanes Ridge
Distance: 2.6 Miles
Elevation Gain: 183 m
Difficulty: Moderate 
Location: Lafayette
Acalanes Ridge is the best off-leash dog hike in the Bay Area and from here you can see the City of Lafayette and the scenic Walnut Creek and Highway 24 corridor. If you are not confident to hike with your dog off-leash, check out this article.
Dogs are only allowed on paved surfaces within the park. Do not bring your dog to Mt. Diablo expecting beautiful hikes. You may bring them to the summit, picnic areas, and walk along the roadway. You can witness a 360-degree view of Livermore foothills, Oakland Hills, Carquinez Strait, and Las Trampas Regional Park. 
Alert! These Bay Area hikes with dogs must be very dangerous because with dogs you will also find other four-legged animals like deer, fox, raptors, and reptiles. Therefore, be very cautious and travel with all the safety measures.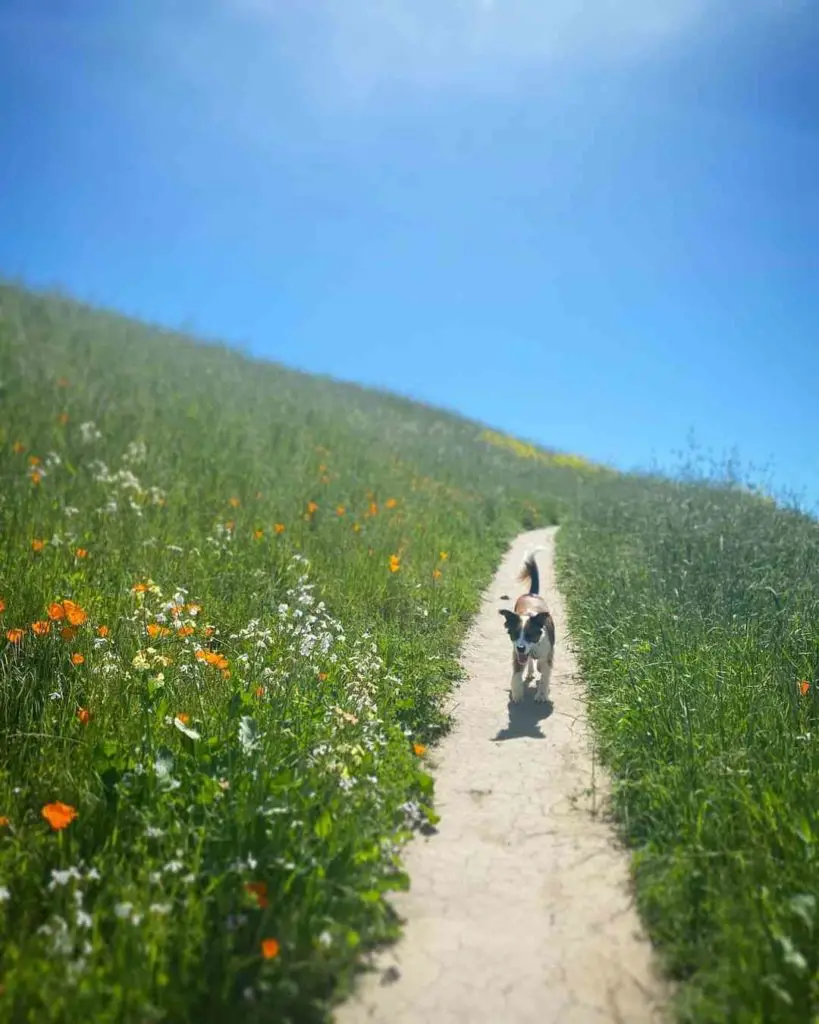 Steelhead Beach
Distance: 1.5 Miles
Elevation Gain: 5 m
Difficulty: Moderate 
Location: Lafayette
Fee: $ 6 outside the beach
Steelhead Beach, a dog-friendly hike in the North Bay Area is the perfect trail to watch the Russian River flowing and click photos with Redwoods. You can even swim with your dog in this river.
This hiking is a little tedious and can be muddy. You can hit this trail in the summer season and spend lovable time on the beach. Remember to keep your dog on a leash because you can find rangers and I don't think you should pay a fine. 
These dog-friendly Bay Area hikes are the best and I suggest you visit these places if you're planning a day hike. Apart from the above dog walking spots in the Bay Area, there are a lot more.
San Francisco's beauty is beyond our imagination!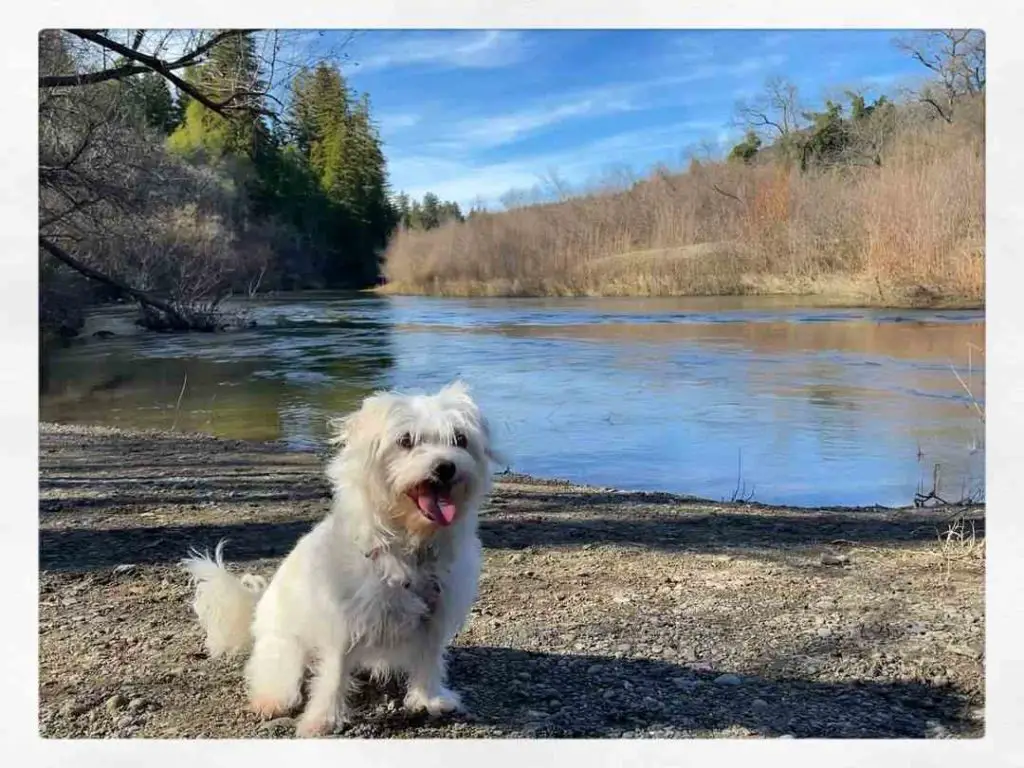 Dog-Friendly Hotels in Bay Area
After a lot of tedious walks and outdoor activities, you can rest your body and feet at the following dog-friendly hotels or choose tents for camping with dogs. I'm listing down 2 hotels where you can spend your night.
Dog-friendly Restaurants in Bay Area:
Easy dog-friendly hikes around the Bay Area also have great restaurants to satisfy your hunger. You can visit any of these two restaurants and dine on delicious foods. They are:
Read Next:
FAQ – The Best Dog-Friendly Trails in The Bay Area
1. Are dogs allowed at Steep Ravine Cabins?
A: No, sorry to inform you that Steep Ravine Cabins does not welcome dogs. You can hike along with your friends but not with your pet.
2. Can dog go on long hikes?
A: If you have an athletic dog, then you can take him on long hikes. But before planning any outdoor activities, please visit a vet and talk to him.