Buy These 6 Best Dog Umbrellas to Protect Your Furry Friend
It's raining for hours and you want to go out with your furry friend and enjoy the rain, but how? Isn't the cold rain will make you and your furry friend sick? Or, being too exposed to cold wet weather will harm your dog's ears? Or, wet muddy paws will mess your house? There are thousands of "if's" and "how" in your mind. How do you go for a walk in the monsoon season or on a rainy day?
And here is the answer, a dog umbrella hat or some best dog umbrellas can save your day. Your best friend, canine Benji, loves daily walks and importantly, even it is a necessary and healthy option too.  According to veterinarians, you have to take your dog out at least 3 to 4 times a day to soothe and comfort them. Therefore, to protect yourself and your canine Benji from rain, buy a dog umbrella hat or a dog raincoat with umbrellas.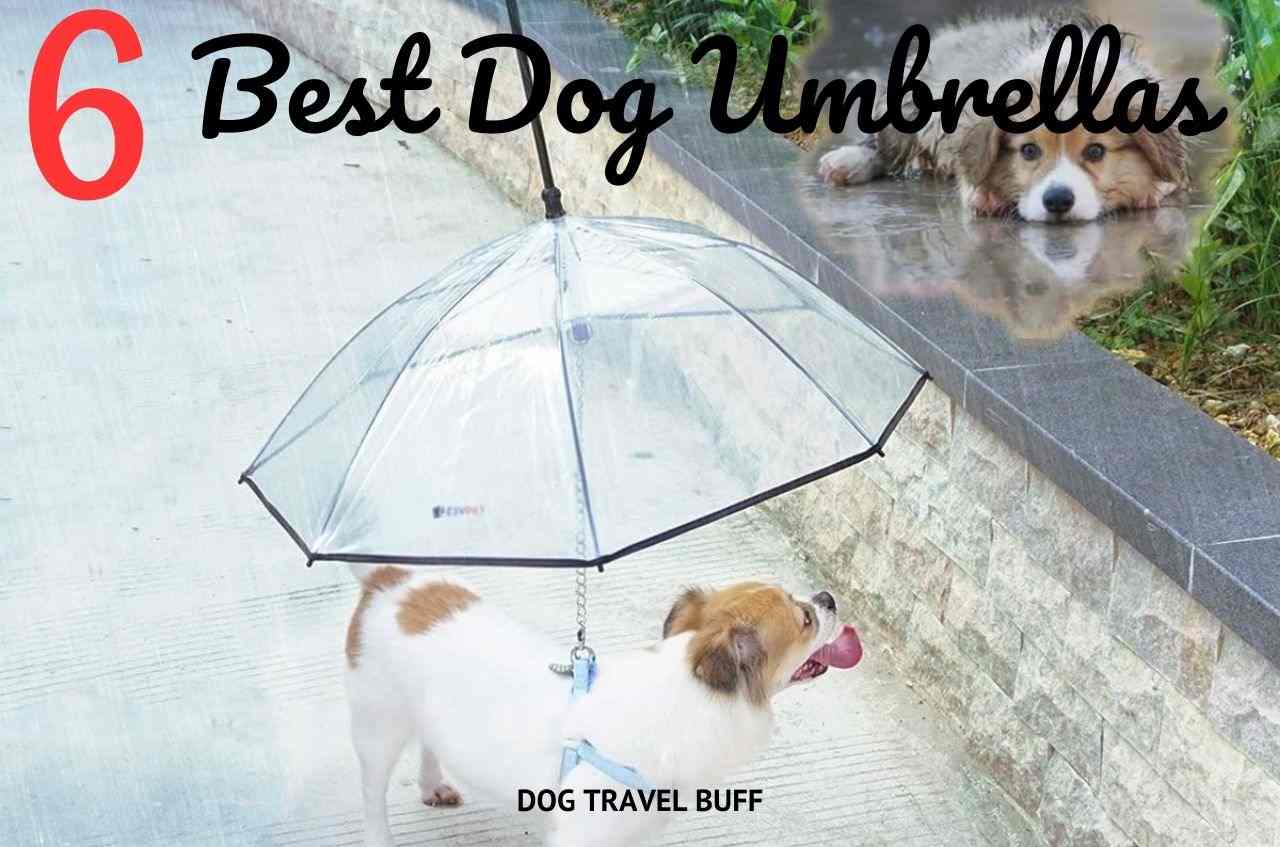 This post may contain affiliate links. If you buy something through one of those links, you won't pay any extra penny, but I'll get a small commission that encourages me to deliver more helpful content for you.
No need to freak out! You can easily buy the best dog umbrellas and protect them from rain showers. To help you pick the best dog umbrella as per your requirements, I did my research and reviewed six dog umbrella options for you that will keep your dog sheltered from the cold drizzle.
How are the Dog Umbrellas Helpful to Dogs?
Why do we use an umbrella? We use it to protect ourselves, our heads, and our bodies from a harsh rain shower. Similarly, dog umbrellas or dog umbrella hats are designed to shield dogs or pets from harsh wet cold rainy weather. 
You can find various options while purchasing pet umbrellas with a leash, dog umbrella harness, or umbrellas to protect the dog's head, or an expandable umbrella pole to hold from the top. It looks like an inside-out umbrella from your side. Though it looks funny it is the most important essential for your dog as it protects him from the rainy season. 
What Happens if You don't Buy the Best Dog Umbrella for Your Dog?
Imagine, you're exploring the dog beaches in Tampa, Florida, but your loving pup cannot bear excessive heat. A dog umbrella could be a great help for your pooch. If you have a pet dog you might know by now that excess moist rainy and cold wet weather heightened the risk of your dog catching hyperthermia or pneumonia. It is very dangerous for young dogs. Still, now wondering why a dog does need an umbrella. 
Even wet mud increases the chance of parasites and bacteria, which are serious health risks for your dog. Therefore, if you are deciding to go out in the rainy season with your dog then you must take extra precautions. Buy a dog umbrella with the leash and enjoy your day. 
Benefits of Using Dog Umbrella
When I was enjoying a weekend evening on a dog beach in Santa Cruz with my best friend, suddenly it started raining cats and dogs. Luckily, I was carrying a dog umbrella. The best dog umbrellas will protect and shelter your furry friend from harsh cold rain droplets and allow him to freshen without fear of catching a cold. Here are the lists of benefits of using dog umbrellas. They are as follows:
Dry from rain: After spending hours in the rain your dog will be dry if you buy the best dog umbrella for him. A dog umbrella will keep your dog dry and prevent it from catching a cold.
Protect from harsh sun rays: Most dog umbrellas for the sun are designed with solid color canopies that protect your pet from harsh sun rays. Therefore, use it in the monsoon and also in the summer season. 
No, stinky dog smell: Rain can raise that stinky unpleasant odor from the dog. If you don't want to experience it then buy the best dog umbrella to protect him.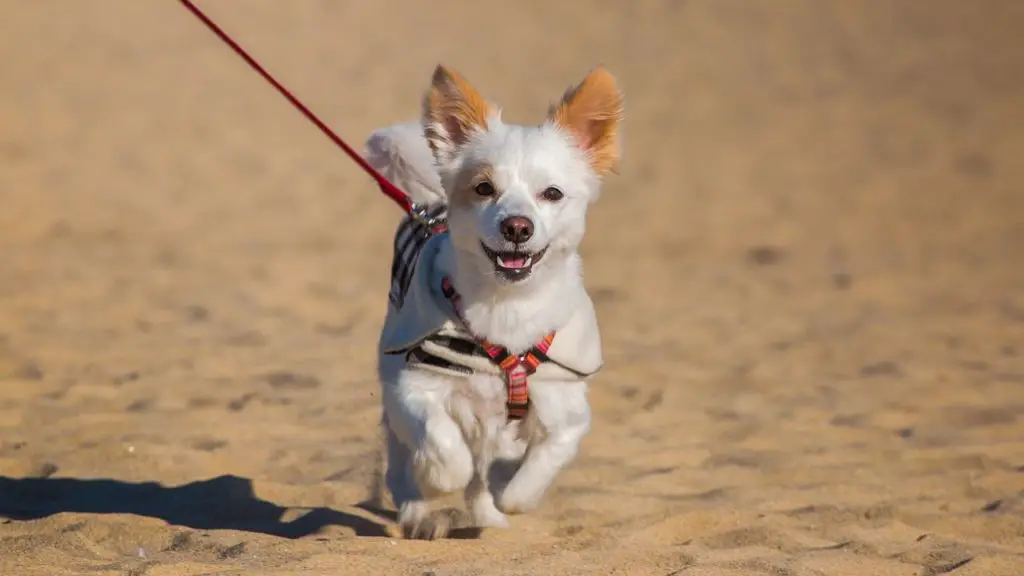 What to Look For to Purchase an Umbrella for Dog?
When you are shopping online for a dog umbrella or dog hat, you want to purchase the best umbrellas which withstand any weather conditions. You look for an umbrella that is water-proof, weather-proof, and also protects your dog from harsh sun rays.
It is better if you go for polyester material and have a stable stainless steel frame. A secure dog umbrella harness will protect your dog's collar as well as keep him dry in rain. Here are the following points you should remember before buying the best dog umbrellas with leash.  
Comfort: You need to protect your dog from rain and also take care of his comfort. Buy dog umbrellas that are adjustable in length or angles. Even you should be comfortable holding it. Buy C-shaped handles which you can customize as per your needs. 
Material: If you want to protect your dog from rain waters then buy umbrellas made from polyester, nylon, or plastic. These are durable, transparent, and made up of weather-proof material. And, now if you want to protect your pup from the sun then buy colorful fabrics and UV protection umbrellas. 
Safety: It is advisable to buy a transparent umbrella because you can see your dog and also see everything around him. 
Umbrella Size: The size of the umbrella should be larger than your dog's size. Every dog umbrella varies in diameter, so before buying know its weight and length.  
Read Also: How to Fly with Your Dog Globally?
List of 6 Best Umbrellas for Dogs
Here are the 6 lists of the best dog umbrellas which I have reviewed in detail. So, that you can study and wisely buy them as per your need. I have also included the pros and cons lists and guide for your help before purchasing. 
Grab it for a happy, plenty walk in the rain! 
K&L Pet Dog Umbrella: Pet Umbrella with Leash
Diameter: 28.3 inches 
Chain length: 12.2 inches 
Handle & Shaft length: 20.8 inches or 23.6 inches
Material: Metal sticks, PE material
Weight: 0.25kg
K&L Pet Dog Umbrella is one of the best dog leash umbrellas with a C- shaped handle that is unique from the regular ones. You can slip it inside your wrist and it's protected so you won't harm yourself and enjoy a hand-free walk with your dog. The umbrella's shaft is versatile, movable, and angled to help you to spot the umbrella directly over your dog's head. This is the best beach umbrella for dogs too.
Pros:
The adjustable shaft and C-shaped handle.
You can see your pooch via transparent plastic.
Cons:
Suitable only for a small dog.
The handle breaks during frequent use.
The collar chain is very small, and the canopy touches the pet's head.
Perfect Life Ideas Umbrellas for Leash Dogs
Diameter: 26 inch
Chain length: 8 inch
Handle & Shaft length: 29 inch
Material: Plastic
Perfect Life Ideas Umbrellas is the best dog walking umbrella which has clear transparent fabrics made up of plastic. Therefore, you can watch your dog and around the place where they are going and standing. The handle of the umbrella is comfortable for you to hold, hence, you can go walk without any pain. This umbrella is suitable for rainy and windy days too. 
Pros: Perfect for dogs with 20 inches or less back size.
Cons: Connecting chain with a dog is 8 inches long. 
Pour Protection Umbrella
Diameter: 29 Inc
Chain length: 9 inch
Material: Plastic
Pour Protection Umbrella is stylish, fashionable, and adds colors on a dull rainy day. You can choose any of three bright colors and walk dry in a fashionable way. The material is plastic, therefore; reflective trim across the side of the border gives visibility and a stylish pattern. It has a harness connecting to the chain, so you don't have to worry about where your dog is going. 
Pros: Walk-in style with a pink, blue, and black color umbrella
Cons:
Connecting chain with a dog only 9 inches long.
Opaque solid color, therefore, not transparent 
Enjoying Pet Umbrella
Diameter: 33 inch 
Chain length: 12.5 inches
Handle & Shaft length: 22 inch
Material: PE material
Weight: 12.8 inches
An Enjoyable Pet Umbrella is the best dog umbrella for a nighttime walk. It has a LED handle that needs AAA batteries to function. At night you can take out your dog and light up the LED setting and flashlight option and walk easily and freely. If the electricity is gone, you don't have to worry because you can see all around. Walk freely without the tension of carrying a light. 
Pros: LED light on the handle of the dog umbrella handle.
Cons: The presence of a metal leash, therefore, may hurt your dog's neck.
Morjava W555 Pet Dog Umbrella
Diameter: 28.3 inches (72 cm)
Leash length: 12.25 inches (31cm)
Total length: 38.25 inches (97cm)
Material: Metal sticks, PE material.
Weight: 0.28kg
Morjava W555 Pet Dog Umbrella is a transparent wearable dog umbrella that allows you to keep an eye on your canine best friend. You can even see what your dog is doing and where he is heading. You simply attach the chain leash to the dog collar, and you are ready to go for a walk. You can also remove the handle and only fix the canopy to the dog's head.
Pros:
Best Dog umbrella for keeping the dog dry
Transparent umbrella hat for dogs
Cons: 
Fixed handled length
Bad quality handle
Paialu Pet Dog Transparent Umbrella
Searching for an umbrella for large dogs? Paialu Pet Dog Transparent Umbrella is one of the best dog umbrellas you can buy today for your dog. It is adjustable for umbrellas for perfect outdoor activities.
It is a waterproof transparent plastic material that provides clear visibility to your dog as well as to you. The shaft of the umbrella is retractable and its chain leash Length is 33cm. This chain leash can be directed to the dog collar and the umbrella will be in the perfect place. 
Pros: Great option for medium to large dogs. 
There are wide-ranging the best dog umbrellas and great dog umbrellas with leashes available in the market. But I have simplified your search and have listed these best umbrellas for dog walking. Buy any one of these and walk with your furry best friend strut in style. 
Read Next: