11 Best Dog Vest for Hiking: Dog Harness Reviews & Buying Guide
In case you are planning to take your pet friend with you to your next hiking or backpacking destination, then a dog hiking harness is what you need. These harnesses are specially designed for strenuous activities. While collars can put too much strain on your pet's neck, a harness if well-fitted will provide both comfort and control.
Amongst the various other dog hiking accessories, a dog harness or dog vest for hiking is of utmost importance if you are planning a hike with your dog. Just like proper gear can make you go extra miles, a dog harness can keep your hiking partner going for miles and miles.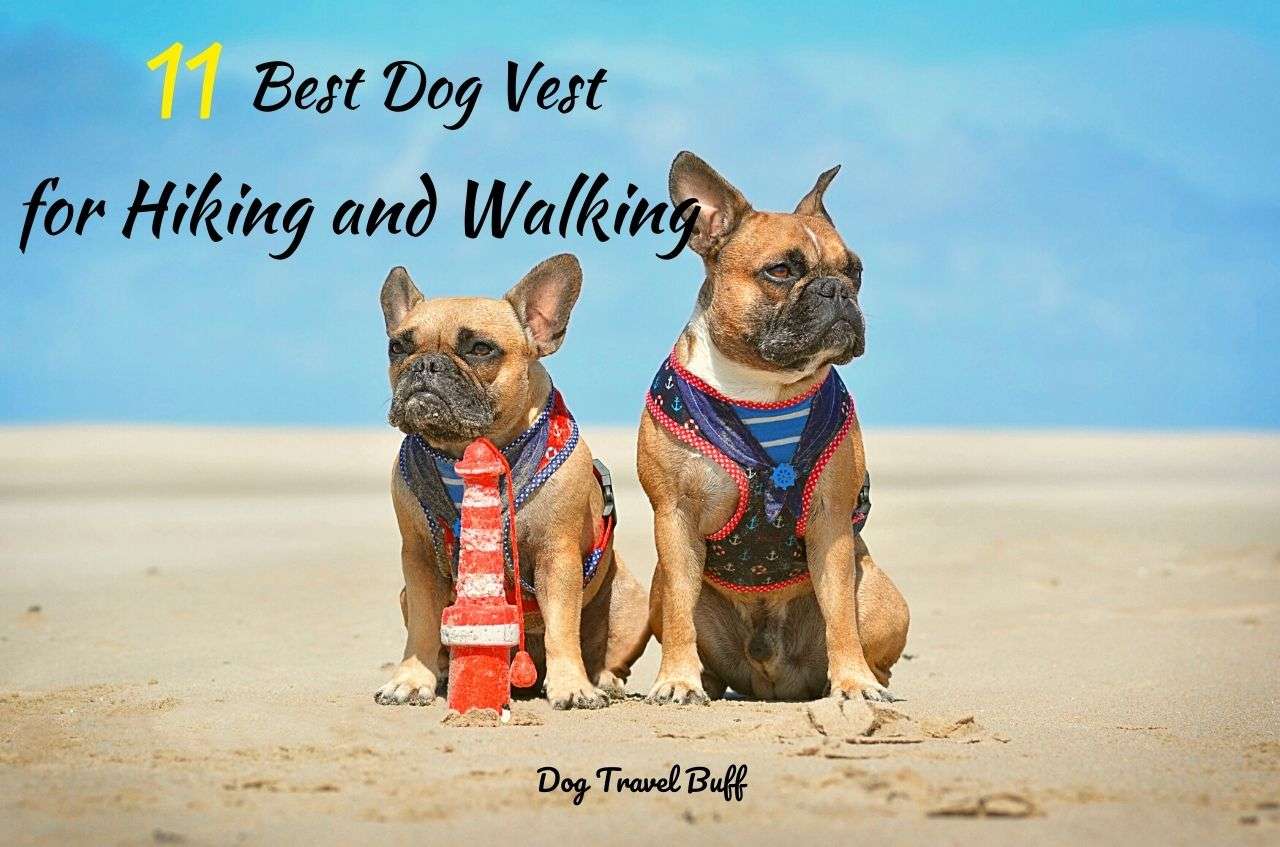 This post may contain affiliate links. If you buy something through one of those links, you won't pay any extra penny, but I'll get a small commission that encourages me to deliver more helpful content for you.
Although, with the great range of varieties available in the market, it is quite difficult to find a perfectly suited dog hiking vest for your dog. This is why we are here to provide you with some of the best suggestions for hiking vests for dogs that you can get for taking your dog on your next hiking trip.
The article will also guide you along with detailed and helpful reviews. You can even spot the pros and cons to judge which purchase would be wise. This buyer's guide will also help you understand what you need to look for when it comes to purchasing a dog vest or harness for hiking and walking.
In case you are in a real hurry, don't you worry because we even have something figured out for that too. Here is our top suggestion for a hiking vest for your dog: Rabbitgoo escape-proof dog harness.
This heavy-duty extra large dog harness will allow your furry friend to enjoy walks and hikes. It features an extra-large top handle which allows added support for your dog when it occasionally needs some quick help. The heavy-duty design also provides reliable strength and makes sure of safe use while training and daily activities. This model is ideally suited for extra-large breed dogs.
What To Look for to Purchase a Good Dog Hiking Vest (Buyer's Guide)
This brief buyer's guide will summarize the key points that you need to consider for buying a well-performing dog harness built for an open trail. You should check both the quality and the added features before considering the purchase.
Key performance features:
Hiking implies that your dog will be very active and generate enough body heat. Therefore, while selecting a harness, ensure that the material has enough ventilation that will prevent your dog from overheating.
If it has got an extra padding and comfortable fit, it would have added benefits as it will prevent rubbing and chafing along the edges of the harness.
Backpacking along with your dog:
Several harnesses come with storage options. You should keep in mind the strength of your dog before you add the weight of supplies. It might be convenient to have your dog carry your essentials, but make sure to start with a light load.
Usually, you wouldn't require a load-bearing dog harness if it is for a short hike. However, in case you plan on backpacking, then you might go for a load-bearing one.
Rough terrain:
If you are already aware that your hiking trail will have rough terrain, then you must ensure that our harness has a sturdy top handle. This feature will assist your pet in difficult areas.
Also, remember that the sheer drop is not a place to check if the buckles and leash attachments are durable and strong. Make sure to pick a harness that comes with a solid contraction.
What are the disadvantages of a dog harness?
Even though a dog vest for hunting or hiking basically got a lot of benefits, there can be some disadvantages too. Some of the disadvantages of dog harnesses are listed as follows:
These can sometimes be hard to put on and off.
If the harness is too big, your dog has a fair chance of wiggling out and thereby escaping.
Harnesses that hook on the back can allow your dog to pull you which is the exact opposite of what you would want.
They are usually a little less comfortable in hot weather.
Some dog harnesses can be too tight which is painful for your pets.
It might need more physical strength than walking your dog on a traditional dog collar depending on the size of your dog.
List of The Best Dog Vests and Harness for Hiking
1. OneTigris Dog Backpack
In case you are looking for a backpack harness for dogs, it has to be your ideal pick. This nylon backpack for dogs is the ideal tactical pet backpack that you need for hiking, walking, training, or running with your furry friend.
It has jumbo-sized side compartments for holding adventure gear for your pet to help you with the load. That literally makes it one of the best hiking vests with pockets suited for your pup.
The top grab handle and UTX-Duraflex buckles on the back also allow you to control your dog if necessary and attach your own leash with the attachment point. There are loop panels on each side pouch provided for attaching patches.
Features/Pros:
1000D Nylon with mesh lining for breathability, which, in turn, maximizes function and comfort on lengthier outings.
Storage room with 1.1L pouch and loop panels on either side for carrying water, dog food, treats, toys, etc. Each side pouch also comes with an exterior horizontal umbrella pocket with cross bungee cords for strapping extra gear.
The hidden zipper design prevents the dog's hair from getting stuck in the zipper.
The Hook-and-loop belly strap with buckles ensures that the pack stays in place and wraps the dog's neck and belly around well.
The reinforced grab handle with UTX-Duraflex clip for leashes and 2 adjustable straps fits a multitude of dog breeds and sizes.
Cons:
The top handle is not designed for lifting or carrying your dog. It is only suited for temporary mobility assistance and control.
The side pockets are not detachable.
The backpack is not waterproof.
2. PET ARTIST Tactical Dog Harness
If you need a dog vest for hiking that is suited for medium to large dogs, this should be among your top choices. This well-constructed dog harness allows easy on and off and the soft mesh material on the inside reduces abrasion for your dog's comfort.
The hook and loop system is ideal for carrying accessories and the buckles are fit to attach the dog. The top three handles also ensure more convenient control.
The high-quality admin pouches with bigger space and more functions allow comfortable wearing and walking. This is ideal for someone looking for a lightweight way to organize their stuff, tools, travel essentials, and more.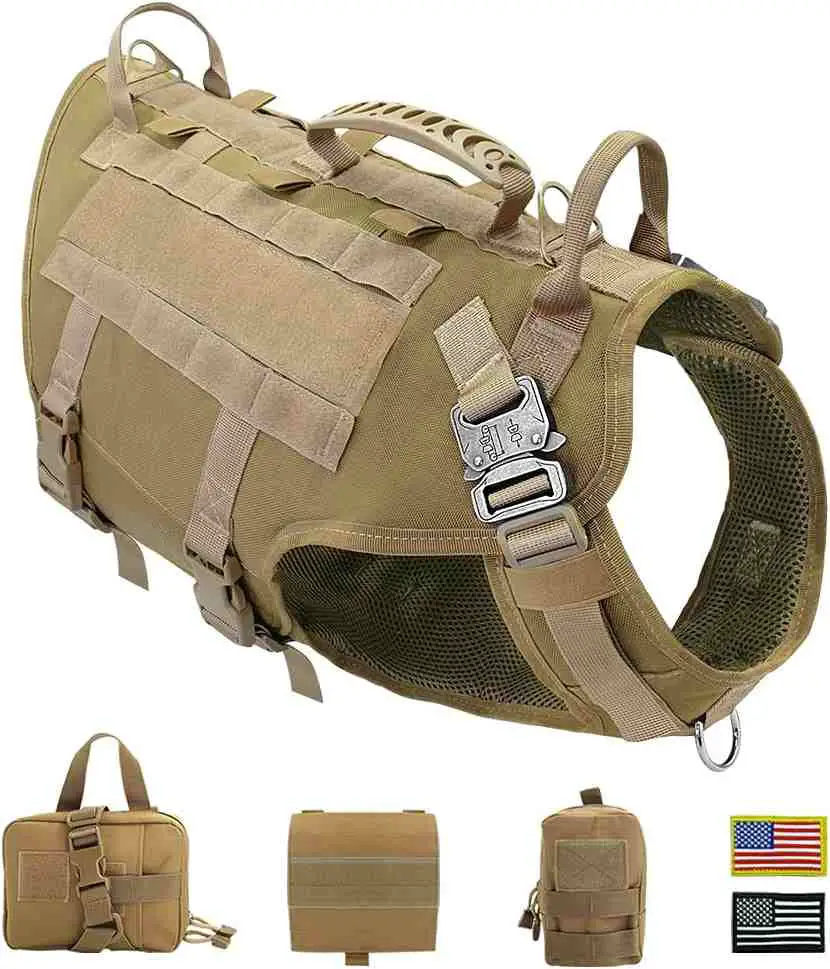 Pros/Features:
Well constructed with two metal heavy-duty buckles.
The hook and loop pad beneath the belly double assure the load-bearing. All stitched parts are reinforced durably.
This harness is no pull, escape-proof, and easy to control. It is sturdy and effective and allows you to pull your dog using very less effort.
Comfortable and fits easily and it has a total of four adjustment positions. It also has a soft sponge breathable mesh pad.
The molle system provides each side with 2 straps and panels. There are 3 nylon loops for attaching pouches or more.
The adjustable size is ideal for medium and large dogs.
Cons: Not suited for small dogs.
3. Annchwool Tactical Dog Harness
If you are planning on taking your small dog for hiking, this tactical dog harness is the ideal choice for you. It has got a sturdy and durable soft handle which allows close control without hurting the hand.
The durable D-ring is for staying better connected with the dog leash and it can be used to carry an ID tag, poop bag, key, etc. It is made of a breathable material that is dog-friendly and allows them a comfortable walk. The quick-release buckle is also easy to open or get off.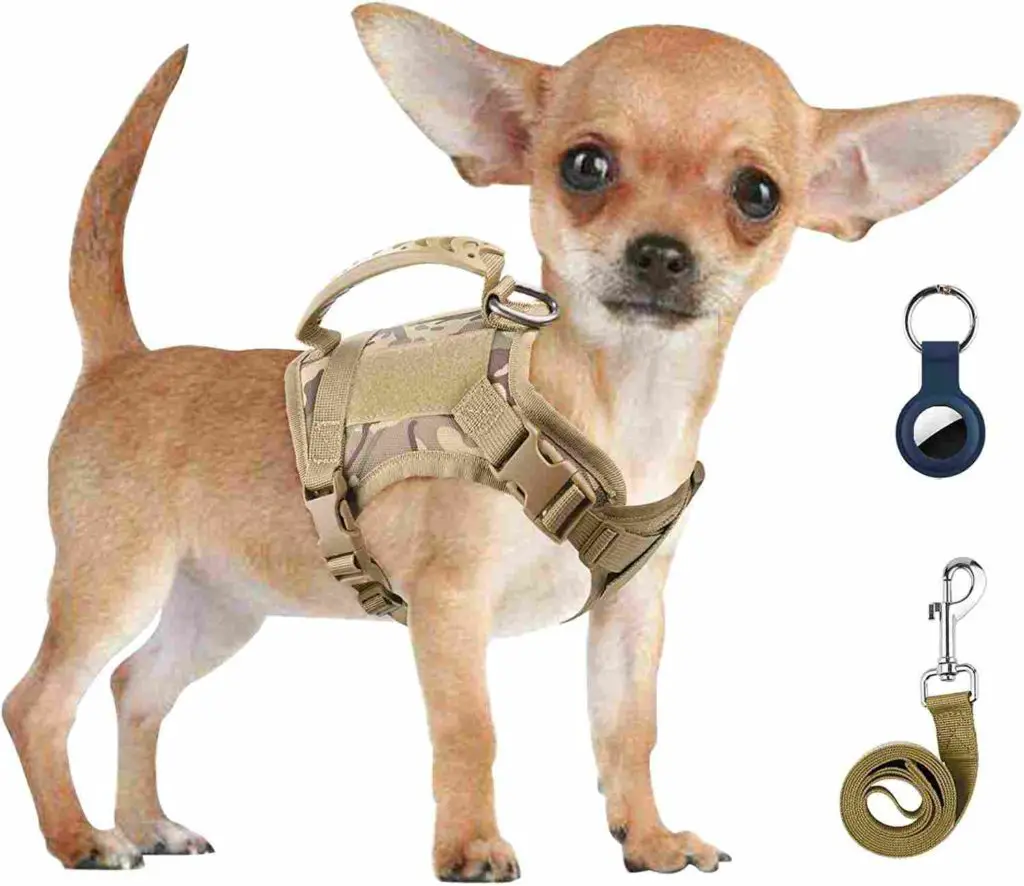 Pros/Features:
Has an adjustable neck girth.
3-in-1 small dog harness set with 1 tactical harness, a dog leash, and an airtag protective case.
It is made up of a very comfortable and durable material.
Quick-release buckles that are very easy to wear.
Comes with patch panels.
4. OneTigris Tactical full-body harness
This full-body harness is the ideal dog jacket for winter hiking. Its solid UTX buckles allow solid control. It is made from durable 1000D nylon with mesh padding that allows a comfortable fit. The hook and loop panels allow larger space to attach patches and ID badges.
The carry gear and pouches are ideal for training and hiking. The NO-PULL front clip is meant to train your dog to stop pulling. The back clip is suitable for daily dog walking and any outdoor activities.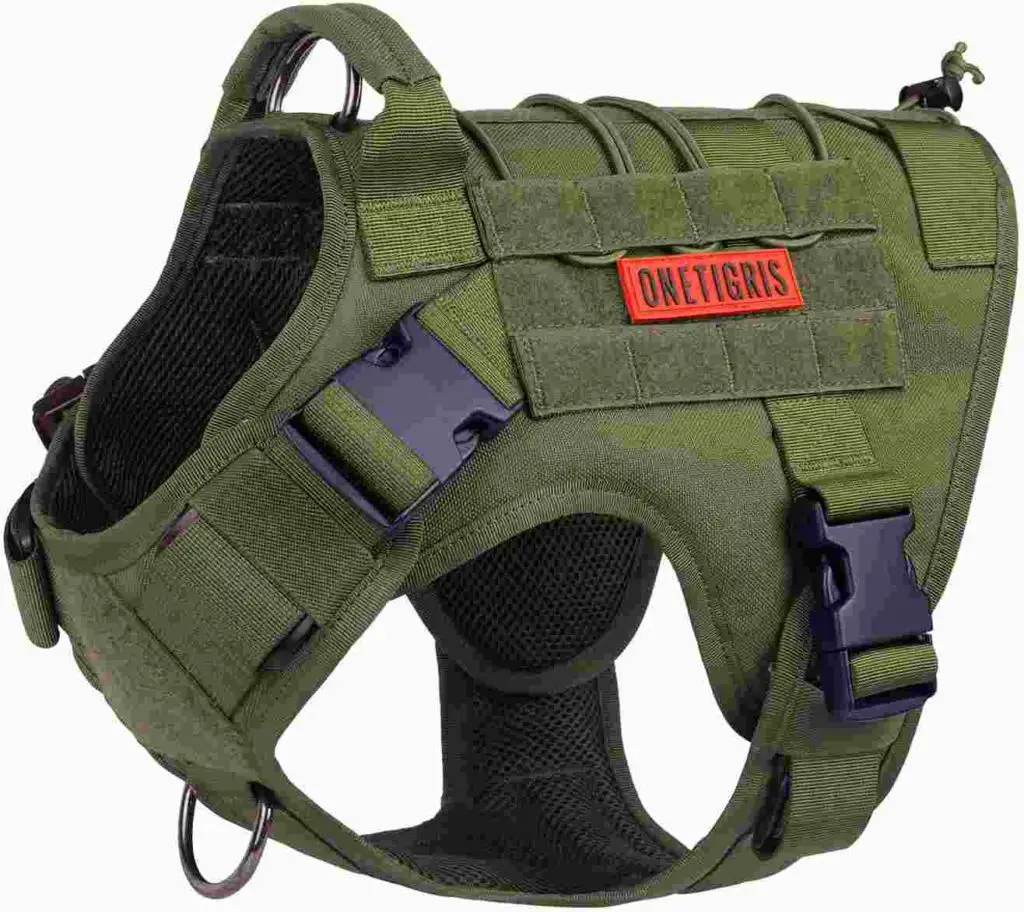 Pros/Features:
Adjustable dog harness with a top handle for traffic control.
4 quick-release buckles for easy on and off, that even allows extra security.
One leash attachment point in the front.
Made from 1000D nylon with padding for a comfortable fit.
Military-style, each side featuring two straps and a hook and loop strip panel to easily attach pouches or ID patches.
Comes with a quality after-sale guarantee.
5. BARKBAY No pull pet harness
This has to be one of the most ideal dog vests for hiking because it is strong, durable, and soft. It will assist your canine best friend to follow you on all of your adventures. This broad padded dog vest harness with a round neck construction is designed for extra protection and comfort.
It eliminates pressure from your dog's neck and prevents possible neck, spine, and windpipe injuries. The around-neck construction helps reduce strain on the neck and allows shoulder freedom movement and the padding makes it comfortable for hours of activewear.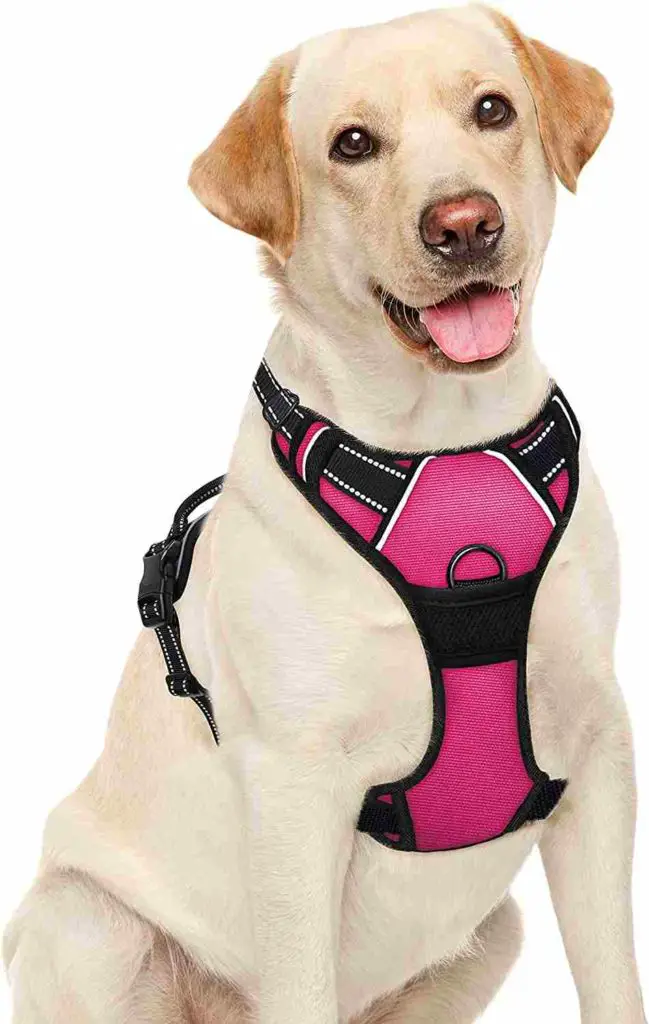 Pros/Features:
The sturdy top handle allows extra safety and control.
The amazing reflective feature makes sure that your pup is safe and visible at the night.
The strong buckles allow easy, secure, and durable loading of up to 450 lbs.
The padded air mesh has a breathable and lightweight lining.
The metal clip and other accessories resist rust and scratching.
The no-rip nylon, durable, and weatherproof resistant material is suited for all-season use.
This is ideal for great pullers.
It can be easily put on and taken off.
Cons: The material on the underside of the harness can attract the dog's hair like a magnet.
6. Thinkpet Dog Vest Halter Harness
If you have already gotten your hiking shoes for your dog, a dog harness is the next thing that should be on your list for your furry friend. This Thinkpet dog vest for hiking is the ideal choice be it for small, medium, or large-sized dogs.
Its ergonomic design is simplified and suitable for a completely free range of motion. The materials used are lightweight, soft, and breathable, which ensures comfort and prevents heat exhaustion and rashes. The widened padding in friction areas protects the skin and distributes the pressure. The adjusters on the neck and chest allow a custom fit. Its quick on and off the design is easy to use and even allows better control. The design is secure and reliable.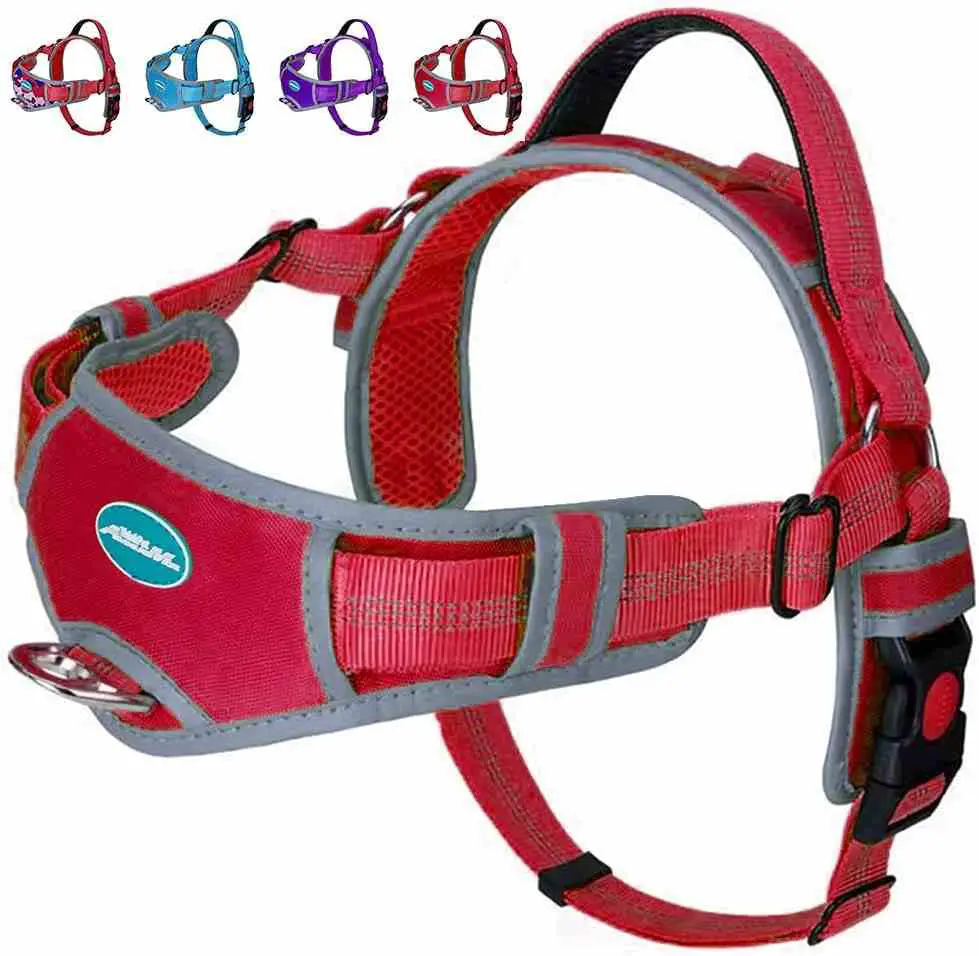 Pros/Features:
Large sport dog harness that is also suitable for extra large dogs.
A no-pull choke-free harness, designed with two heavy-duty metal clips for safer dog walks.
Very easy to use hassle-free overhead harness has a fast release lockable safe nylon buckle.
A padded breathable nylon harness is optimized for skin ventilation and pet comfort.
The super-reflective straps provide great visibility both day and night.
7. OneTigris Dog Pack Hound Travel Camping Hiking Backpack Saddle bag rucksack
This dog hiking vest is ideal for medium and large-sized dogs. This model has function, style, and comfort to offer. You can easily load all the essentials and the cotton canvas with extra soft mesh lining is suited for breathability. Its modified structure prevents slippage and has stronger front and rear stainless leash rings.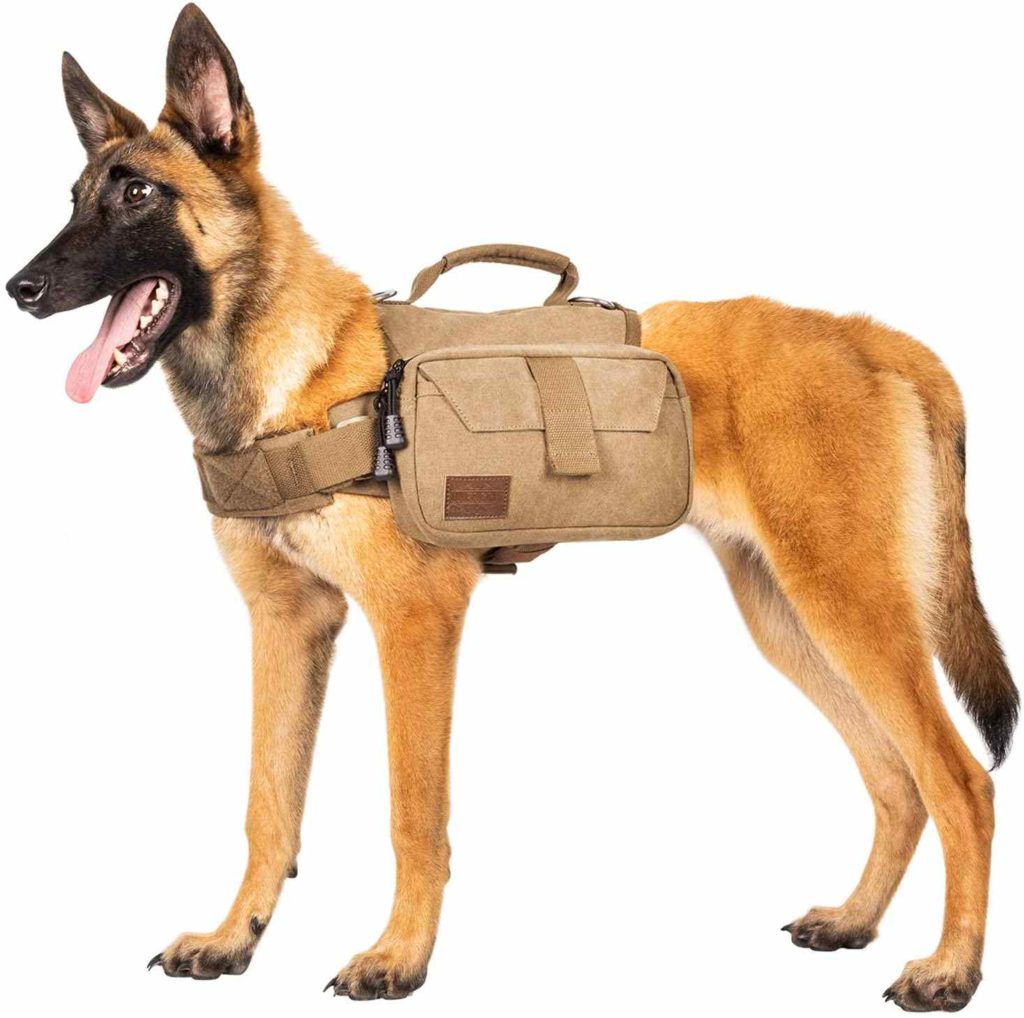 Pros/Features:
Comes in a very chic design with a fashionable appearance.
It is ideal for multiple purposes and is suited for a wide range of dog sizes and breeds.
The material is considerate and comes with an upgraded design.
Best-suited for carrying food, water, or some small EDC items.
Cons:
The handle cannot be used for lifting or carrying your dog.
The D-ring is not designed for leash attachment, it is only for small add-ons.
8. Kurgo Dog Saddlebag Backpack
This lightweight, tough, custom-fit is ideal for everyday use or backpacking adventures. Its strong build quality can withstand rugged outdoor conditions and it comes with 8 different adjustment points to get the proper fit for any dog.
It includes a rear-mounted leash hook that works like a harness for pups who need to be on their lead. The ergonomic padded spine support contours to the dog's back for a cozy fit. It also offers storage space for you to store all of the travel essentials.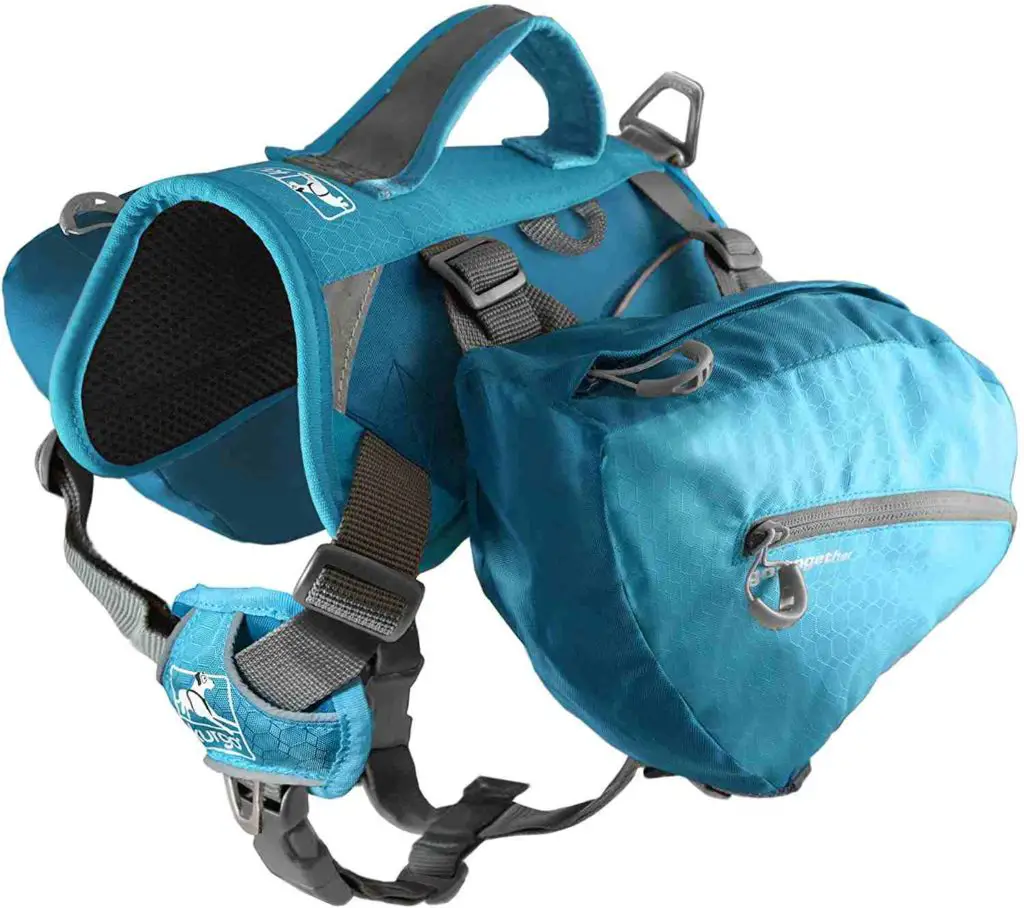 Pros/Features:
This hiking backpack is lightweight and comfortable.
The model comes with a dog harness and backpack in one.
It has reflective straps and includes a padded handle.
The size is fit for dogs of various breeds and can be used for all life stages.
9. Outward Hound DayPak Blue Dog Saddleback Backpack
This saddlebag-style dog backpack allows your pup to comfortably carry extra gear and essentials. This light-capacity backpack is constructed with breathable mesh and adjustable straps that will keep your dog comfortable and cool on the trail.
The bright colors and reflective piping makes it easy to spot your pup even at night or if they roam too far. This is also available in multiple sizes.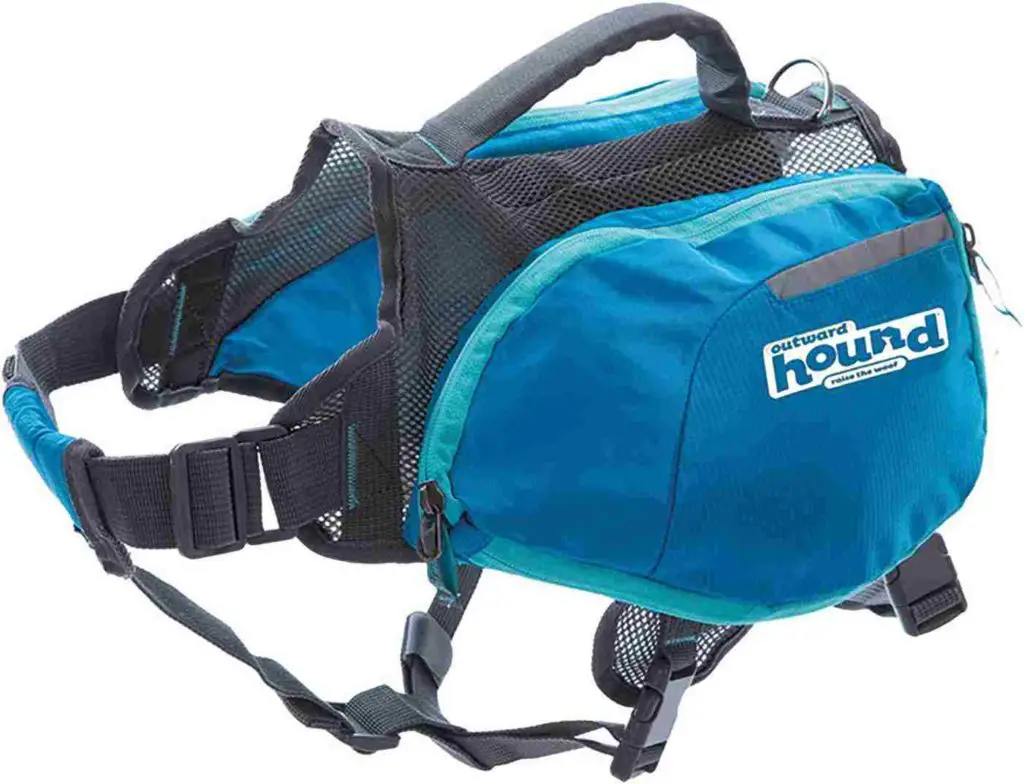 Pros/Features:
High-quality hiking gear that is lightweight, convenient, and fits extra essentials.
Has four expandable storage compartments that allow even weight distribution and plenty of room for carryable stuff.
The breathable mesh and adjustable straps keep your pet comfortable.
The sizing is based on girth and is available in medium and large sizes.
Cons:
It is not intended to restrain dogs that pull heavily.
The handle cannot be used to lift a dog.
10. PoyPet No Pull Dog Harness
This no-pull, no-choke front lead, reflective hiking dog vest has an adjustable soft padded pad vest and an easy control handle. It is ideally suited for small, medium, and even large dogs. The reflective material makes sure that your dog can be seen easily.
The double leash attachment hooks allow easy lead on your pup. The soft training handle is well-made and is helpful in controlling dogs and is also convenient to assist dogs into the car. The mini mesh pocket is good for putting things like name cards, contact information, etc.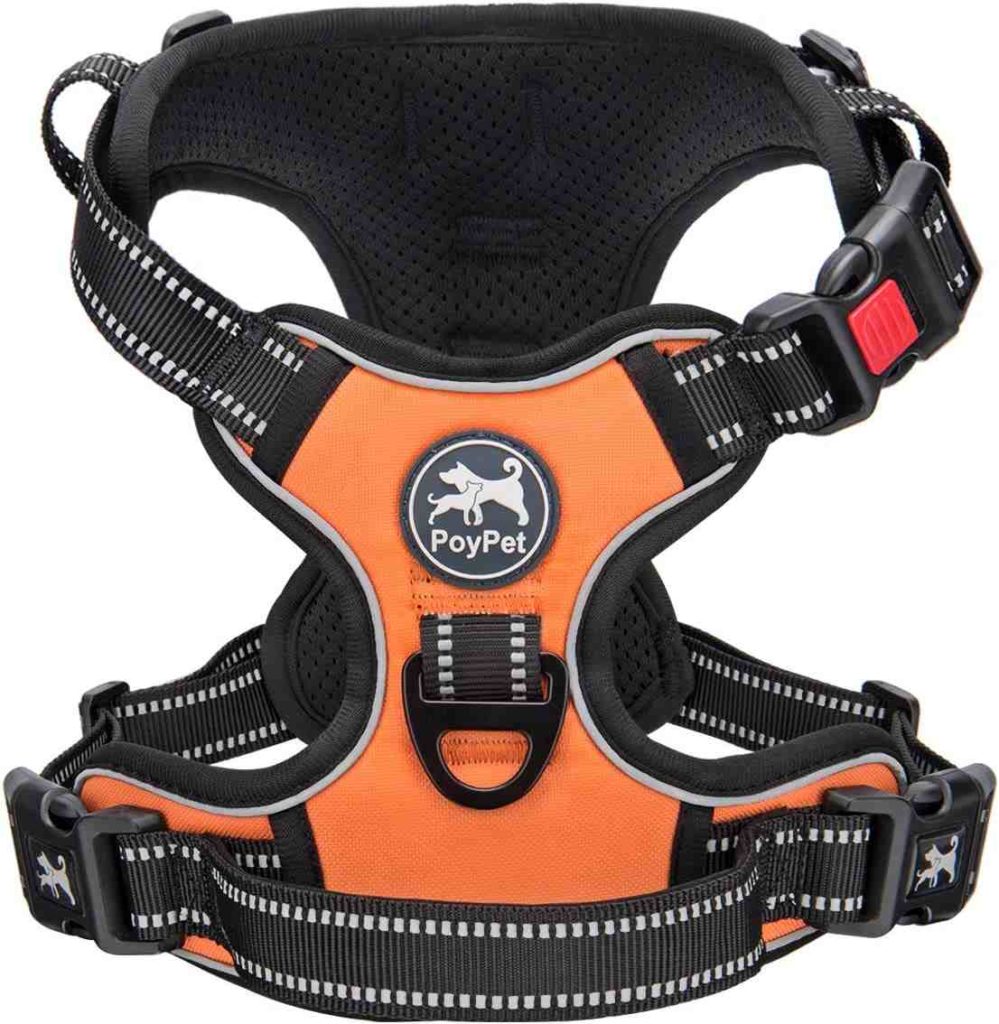 Pros/Features:
Has 2 easy buckles on belly straps and 1 more lockable quick snap buckle.
It has two sturdy metal leash attachments with reinforced webbing.
Allows your dog to enjoy a cozy fit with its elastic construction on belly straps.
It is designed for maximum comfort, safety, and adjustability.
Comes with a 100% satisfaction guarantee.
11. Excellent Elite Spanker Dog Pack
With this spanker dog hiking backpack, your pup can easily accompany you on hiking, camping, long trail walks, backpacking trips, exploring, traveling, and even everyday use.
This saddlebag has two main zipper side compartments for carrying essentials. It is suitable for all kinds of medium and large breeds. The fashion design is unique and its 1000D nylon material will also aid in making your dog feel comfortable.
The dual adjustment and fixation provide a more sense of security and a better experience of playing fun. The symmetric design is yet another reason to be in awe of this purchase.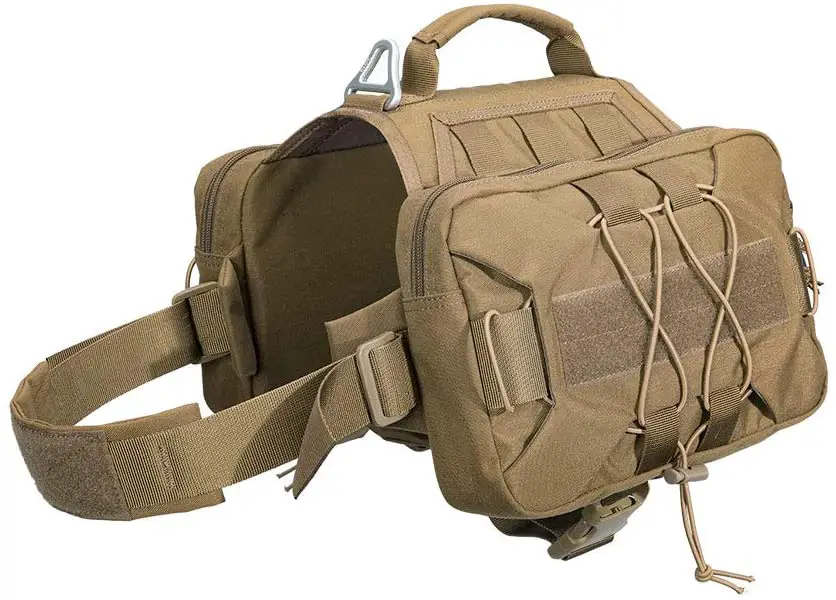 Pros/Features:
Made of high-quality 1000D nylon and zipper material with soft padded lining.
The front straps are adjustable and the belly straps have UTX-Duraflex quick-release buckles.
This camping backpack also has capacious side pockets.
The top handle helps to redirect the dog in forwarding motion and allows control with less effort.
It also comes with a 100% quality warranty.
Cons: Not much suitable for small-sized dogs.
Wrapping Up
Harnesses are ideal because they take the pressure off your dog's neck. The other features such as leash clips and backpack harnesses are literally the best when it comes to getting a good dog vest for hiking. This article has successfully listed some of the best suggestions to assist you in choosing. Thus, if you have planned your next hike and you are ready with your dog hiking strollers, all you need to do is to go through the list and get the best dog harness suited for you according to your preferences.
Read Next:
FAQs – Best Dog Vest for Hiking
1. Should a dog wear a harness when hiking?
A: It hardly matters if your dog is a seasoned trekker or he is pretty much new to hiking, a dog hiking harness that has the right fit is quite important. It takes the pressure off its neck that can be the result of pulling it at the leash.
2. Is it uncomfortable for dogs to wear harnesses all the time?
A: Technically, yes, your dog can wear harnesses all the time. But you should keep in mind that the harness is comfortable and loose enough. Otherwise, it might irritate or scratch its skin. Thus, even though a dog can wear harnesses all the time, it is not that much advisable.
3. When should you give your dog water during hiking?
A: The weather conditions can change which is why scheduling water breaks for your dog is very necessary. If you time the water breaks every 15 to 30 minutes, it will ensure the fact that your dog stays hydrated during the hike.
4. Should I walk my dog on a leash or harness?
A: Harnesses are usually considered to be the better option than leash when it comes to walking dogs. A walking vest for dogs is the safest for dogs who pull; they allow you more control over your dog.