9 Best Dog-Friendly Beaches in Delaware
Splish-splash! Welcome to dog-friendly beaches in Delaware, filled with adventures fun and a lot more. Ensure you and your pup are well hydrated and healthy and follow all the beach rules before heading out. 
This blog is a guide to choose the best dog beach in Delaware that will fill your pup with all good memories. No matter where you choose, these pet-friendly beaches in Delaware are a perfect getaway waiting for you. Let your canine friend run on the sandy beaches!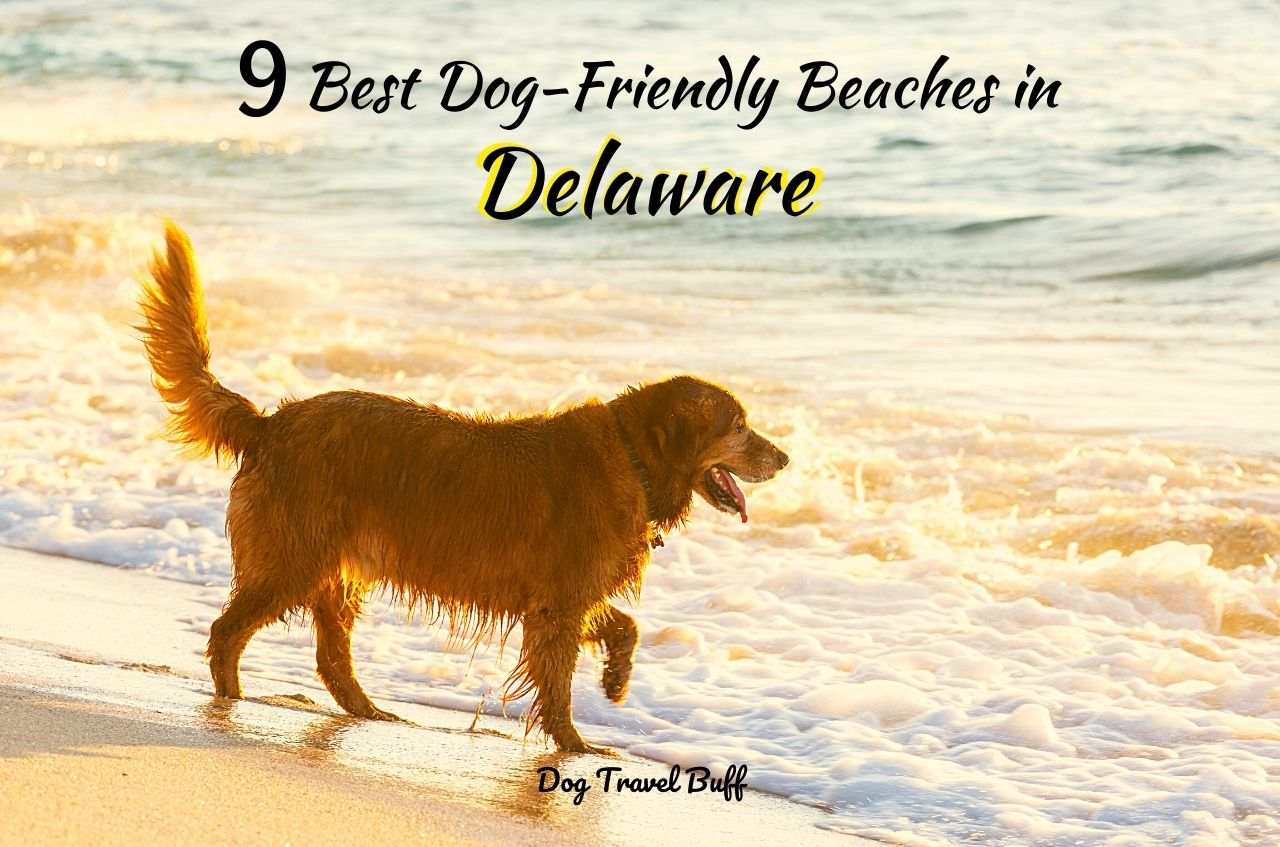 This post may contain affiliate links. If you buy something through one of those links, you won't pay any extra penny, but I'll get a small commission that encourages me to deliver more helpful content for you.  
1. Broadkill Beach
Location: In Sussex County, Delaware on the Delaware Bay
Broadkill Beach is one of the dog-friendly beaches in Delaware with a wider area and is home to impressive dunes. The region is 45.5 km away from the city of Dover and 8 minutes from Mansion Farm Inn. The golden sand and clean water is welcoming to dogs of all breeds. Broadkill beach became the first horseshoe Crab Sanctuary and is unique for swimming, surfing, and soaking in the sun. 
Explore the Beach Plum Island Nature Preserve, south of Broadkill beach for fishing and Prime Hook National Wildlife Refuge for spending time with wildlife and nature.
Dog policies: On a leash unless dogs are trained to voice command
Tips:
Susceptible to floods and storms
No beach tags and no lifeguards
No natural shades
Clean and dispose of dogs poop properly
Current is strong, small to medium waves
No parking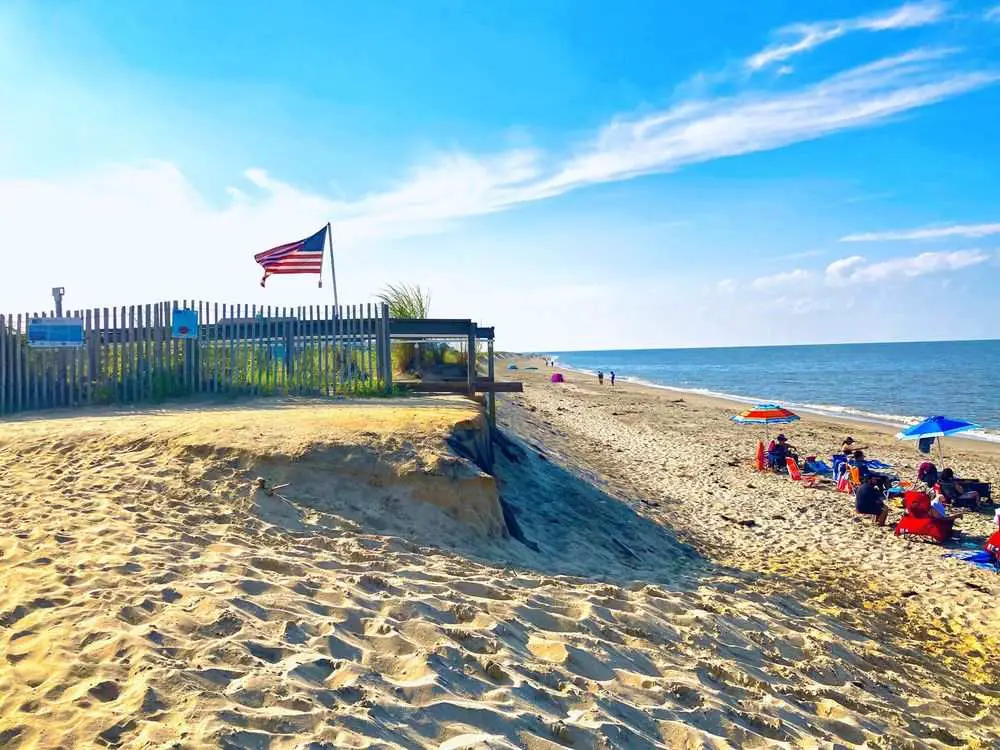 2. Beach Plum Island Nature Preserve
Location: Lewes, DE 19958, United States
Beach Plum Island Nature Preserve is a popular dog beach in Delaware that draws dog lovers to enjoy walking along the sandy bayside. The region sits north of Roosevelt Inlet in Lewes and attracts crowds in the summer season to enjoy the oasis. 
You can hike around the place to witness different species of wildlife and enjoy the quietness around the beach. You should come to this incredibly beautiful beach with your dog during sunset. 
Dog policies: Off-leash after October 15th till May 15th
Tips:
Bring insect repellent
Presence of shipwreck, do not disturb historic remnants
Offers drive on the beach, accessible from Delaware Bay
Aware of inclement weather, heavy tides and storms
Paid parking
Explore: Great Marsh Preserve, Stango Park, and Lewes Lighthouse
3. Prime Hook Beach 
Location: East of the Prime Hook National Wildlife Refuge, located along the Delaware Bay
Prime Hook Beach is a pet-friendly beach in Delaware that is famous as a national wildlife refuge and home for migratory birds. The spectacular beach sits on the bay side of the Refuge with crystal clear water and pristine clean sands. 
Moreover, Prime Hook Beach is a secret beach in Delaware where traffic is non-existence and you can let go of your towel and enjoy Vitamin D. Bring your pooch to enjoy the quiet pace of life on this beach. 
Explore: Atlantic Ocean beaches and Rehoboth beach
Dog policies: On a leash with no longer than 10 ft. 
Tips:
Fox is visible on the roads
Beach was damaged during hurricanes, therefore respect the fences
Do not disturb local wildlife, witness red knots, ospreys, and herons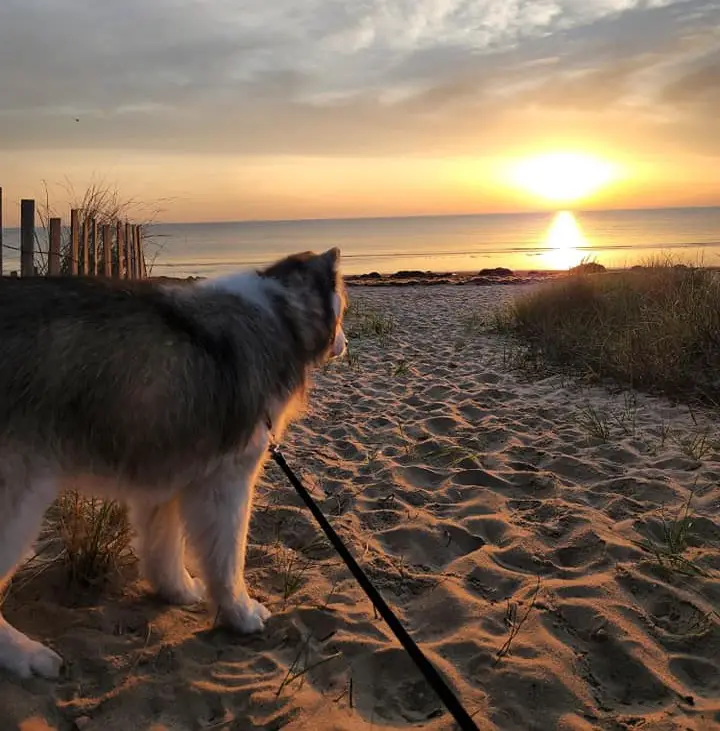 4. Rehoboth Beach
Location: In Sussex County, Delaware, the United States, located along the Delaware Bay
From a fun-filled boardwalk to spectacular views of the stunning crashing waves, Rehoboth beach is dog-friendly. This beach has gorgeous water and an array of water sports activities like jet skis, kayaking and more for a jam-packed weekend trip. 
A beach walk at Rehoboth beach can help you to experience not only the water but enjoy the view of the lighting town.
Explore: Dewey Beach, Delaware Seashore State Park, and Deauville Beach.
Dog policies: Permitted on the beach from October 1st to April 30th
Tips:
Dogs allowed only with a special license
Crowded during the summer season
The parking meter rate during summer is $2-$3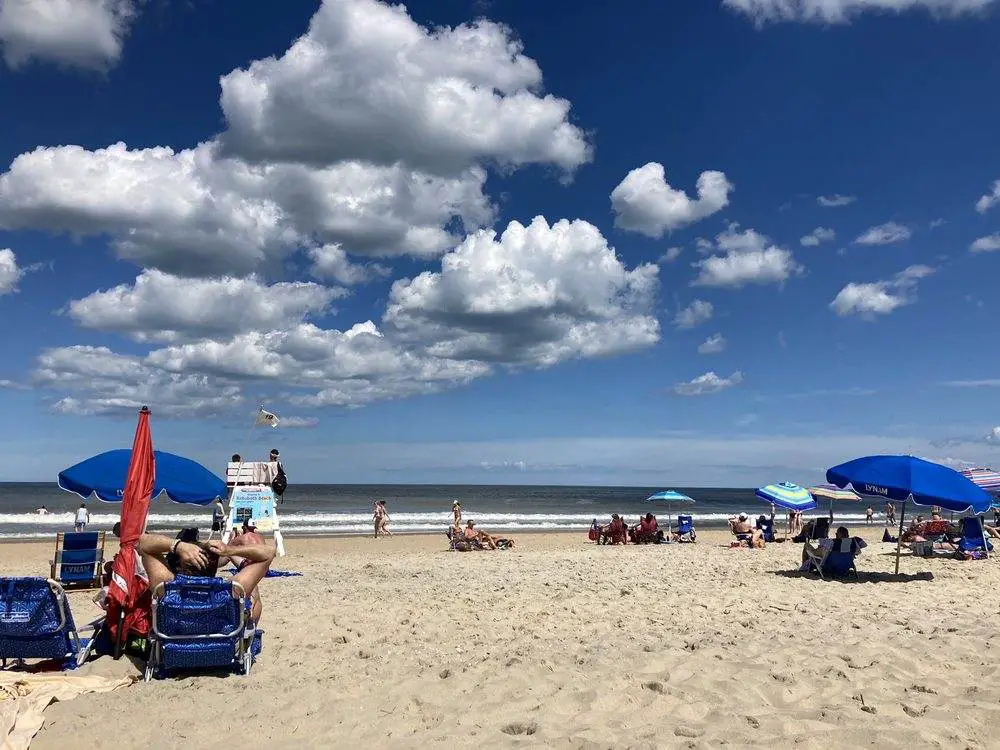 5. Bethany Beach
Location: In Sussex County, Delaware, United States
Bethany beach dog rules:
No tents umbrellas and baby tents allowed
No fires
No littering
Beach is closed to the public from 1 am 5 am daily
No alcoholic beverage
No kites
No tossing objects
Bethany Beach boardwalk and stores welcome pets with open arms. Bethany Beach is set against the backdrop of unexpected floral canopied pathways and relaxing vibes. The beach is calm, quaint, and quite serene to enjoy truly with your dog.
Moreover, there are restaurants, and mini-golf centers called Captain Jack's Pirate Golf that make the place perfect for little four legs. 
Explore: Dolphin watching, Coastal Kayak, visit inland bays at Bethany Beach NatureCenter, and South Coastal Library. Come here in the winter season to be part of dog fairs.
Dog policies: Permitted on boardwalk and beach from October 1st to May 14th. On a leash inside the town
Tips:
Bikes run between 6 am to 9 am 
Parking at Town Hall on Evergreen Road. From May 15 to Sep 15, time: 10 am – 5 pm and 12 am to 6 am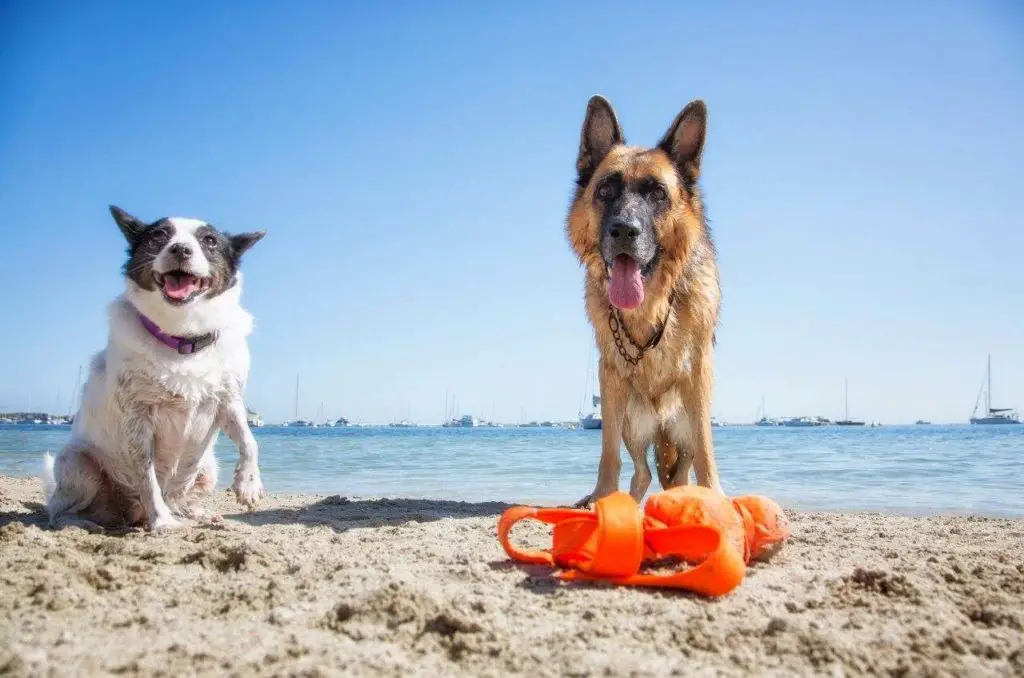 6. Fenwick Island State Park Beach
Location: In Sussex County, Delaware, Delaware's South-East beach
Fenwick is one of the cool Delaware beaches that offers3 miles stretches of the best walking or long exercise trek experience. Dogs can roam on the beach with their owners as long as they want to enjoy the relaxing and calm scenery of the sun setting. 
Fenwick Beach has plenty of restaurants at a cheap price to enjoy seafood. I would suggest you visit Warren's Station Restaurants and Ropeway. 
Explore: Local Shipwreck Museum
Dog policies: Additionally, the dog must be licensed and vaccinated. Dogs are permitted from May 1st to September 30th.  
Tips:
Stay away from the dunes, protect the natural atmosphere
Dogs can roam mostly at the fishing area
There are a lot of ghost crabs along the water
Entrance to the park is a $10 fee per car
7. Dewey Beach
Location: In east Sussex County, Delaware
Deweys Beach nests between the open water of the Atlantic Ocean and Rehoboth Bay, a prime spot for a weekend trip. The scenic clean village with white sand beaches many quiet walking trails, and diverse nature reserves, Dewey Beach resembles peace.
Moreover, Dewey beach is famous for its lively nightlife, brewpubs, and restaurants. If you want to take part in windsurfing then Dewey Beach should be on your bucket list. 
Explore: Take part in "Greyhounds Reach the Beach", a dog event. 
Dewey beach dog rules: Permitted between 9.30 am and after 5.30 pm during May 15 –September 15 only in the summer season
Tips:
Dogs will be allowed only if they have a Dewey Beach dog license
On Monday, Tuesday and Wednesday parking is free from 5 pm to 11 pm
During the off-season dogs can be off-leash but under your voice control
A license for a lifetime for your dog is $35 or $5 for a weekend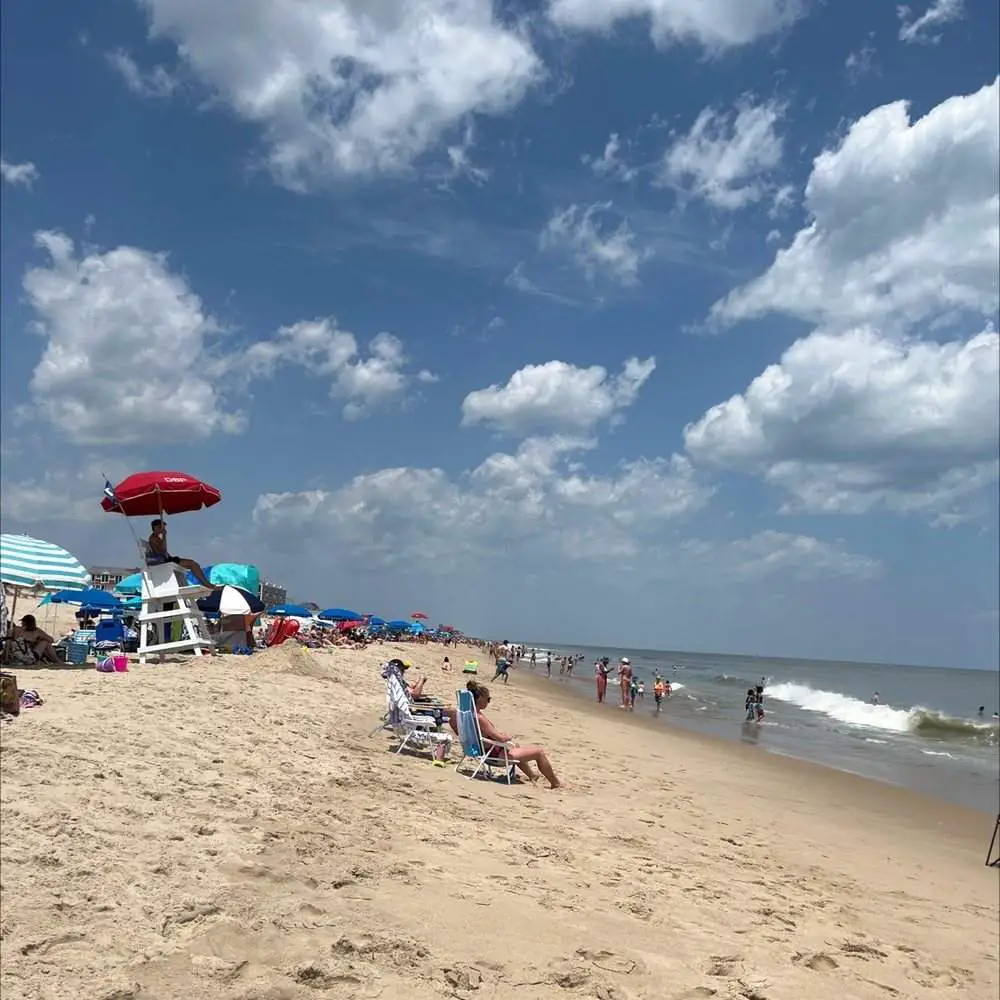 8. Cape Henlopen State Park Beach
Location: In Sussex County, Delaware
Cape Henlopen State Park Beach nests along the tranquil bays, and dunes and is home to a few shorebirds that sing mid-flight. The breezy paradise in this dog-friendly Delawareis soaked in pristine sands perfect for beach bums that are seeking quiet beauty and solitude for relaxing summers. 
You can camp with your dog, walk on the boardwalk, run, and soak in the sun with no time limit. 
Explore: Fort Miles Museum, Plum Island Nature Preserve, and Historical Area
Dog policies: Permitted only on the pet-friendly portion of the beach. From May 1 – September 30 dogs are welcomed on swimming beach areas, and boardwalks. Your dog must be on a leash.
Tips:
The entry fee is $10
Carry bags to carry back all your trashes
Bit long beach – 6 miles of shoreline
9. Lewes Beach
Location: Between the town of Lewes and Delaware Bay
Dog policies: Dogs are permitted on the beach before 8 am and after 6.30 pm between May 1st and September 30th. Dogs must be on a leash
Tips:
Lewes Beach is the off-leash dog beach in Delaware – you can keep your dog leash free only on designated zone
Lewes is known for its dog-loving nature and pleasant communities
Lewes is the most dog-friendly beach town in Delaware that offers a multitude of opportunities for your dog to enjoy. The natural path along the Atlantic is ideal for early morning or a late-night walk with your dog. 
The waves are calmer and the sea breeze is pleasant which accelerates your ability to balance and absorb oxygen. This small quaint coastal town, Lewes is a perfect gateway to hide from the bustling city life.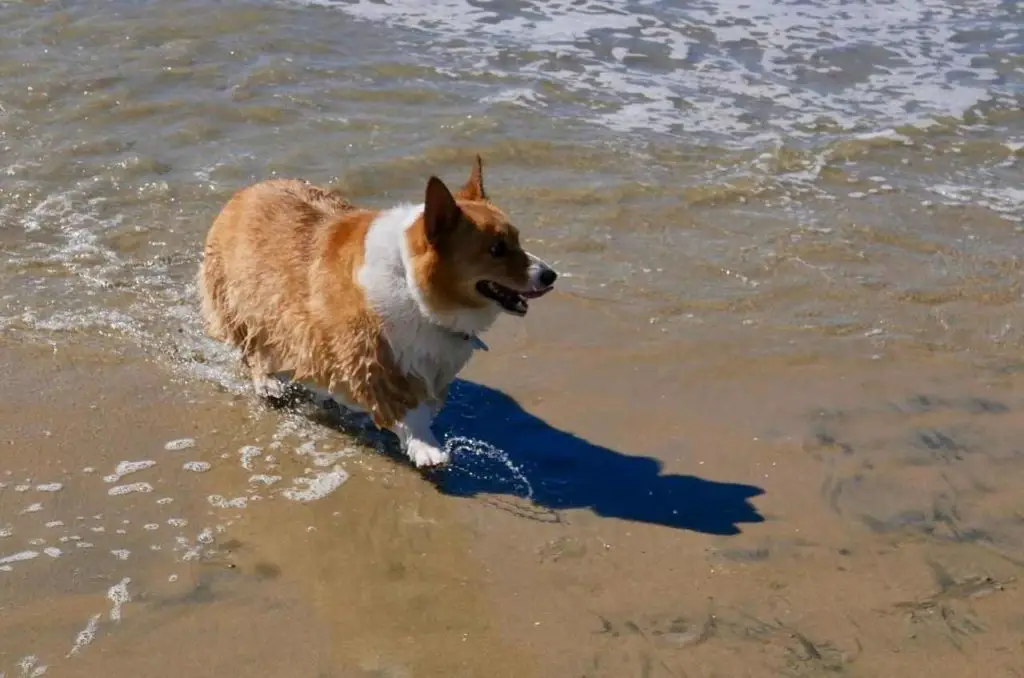 Dog-Friendly Hotels in Delaware
Delaware coastline is welcoming to dogs of every breed and offers the best long walks to witness sunrise and sunset. However, beautiful beaches in Delaware filled with adventure activities can tire you and your dog. Hence a good place to cuddle and enjoy a comfortable sleep is a must. Therefore, here are my two recommendations for dog-friendly hotels in Delaware.
Quality Inn & Skyways in Wilmington adjacent to New Castle County Airport is easily accessible for explorers. The rooms are equipped with coffee makers, irons, hair dryers, refrigerators, microwaves, high-speed internet, wake-up service, and a comfortable big bed. 
However, extra charges are applied for allowing pets. Best of all, the convenient location at an affordable price guarantees a memorable stay in Delaware. 
Home2 Suites by Hilton Lewes in Rehoboth Beach is 6 Km from Cape Henlopen State Park that welcomes dogs of a kind. There are suite and studio types of rooms available, equipped with microwave, coffee machine, hairdryer, wardrobe, flat-screen TV and indoor swimming pool. Moreover, Home2 Suits offers absolute privacy to guests and allows dogs to live and explore freely. 
Dog-Friendly Restaurants in Delaware
Enjoying the warm weather near the beach can be completed only after having a delicious meal. Of course, what's a trip without good food? Hence, here are the best dog-friendly restaurants in Delaware that just not only offer good food but a lively ambiance. 
Here are the new eateries in Delaware welcome human's four-legged best friend! 
Banks Seafood Kitchen and Raw Bar
Banks Seafood Kitchen and Raw Bar is a casual eatery and hotspot for seafood that sits adjacent to the Riverfront Wilmington. The restaurant offers outdoor sittings allowing you to enjoy food and a relaxing atmosphere. You should taste their award-winning crab cakes, lobsters, and other seafood varieties. 
Crabby Dick's 
Crabby Dick's is a beautiful affordable restaurant in Delaware that welcomes dogs to enjoy good food. The place is ideal for enjoying mouth-watering seafood, crab balls, and steam pots and enjoying the view of the sunset. You should order a crab pretzel appetizer, Irish stew and cold beer. 
Wrapping Up
All the dog-friendly beaches in Delaware are the perfect place to experience weekend retreats or vacations and enjoy peace of mind. Some beaches have restrictions that the blog has covered so that you do not face any problems while exploring with your furry friend. Moreover, the beaches in Delaware offer boardwalks that are ideal for swimming, sunbathing, and water sports activities. Just pack your bags and take your dog along for fun. 
Read Next:
FAQ: Dog-Friendly Beaches in Delaware
1. Are dogs allowed at Fenwick beach?
A: Yes, dogs are allowed at Fenwick beach from May 1st to September 30th, but they should be on a leash. 
2. Is Delaware State Park dog-friendly?
A: Yes, Delaware State Park is dog friendly but be careful with local habitats.
3. What beaches are dog friendly in Delaware?
A: Visit LewesBeach, James Farm Ecological Preserve, Broadkill Beach, Bower's Beach and Rehoboth Beach.