7 Dog-Friendly Morro Bay Activities: Hotels & Restaurants
The joy of traveling with a dog and pet friend brings you more happiness and safety to travel. 
A charming, cute, quaint fishing village on California's Central Coast, Morro Bay is the perfect destination for a seaside escape with your dog.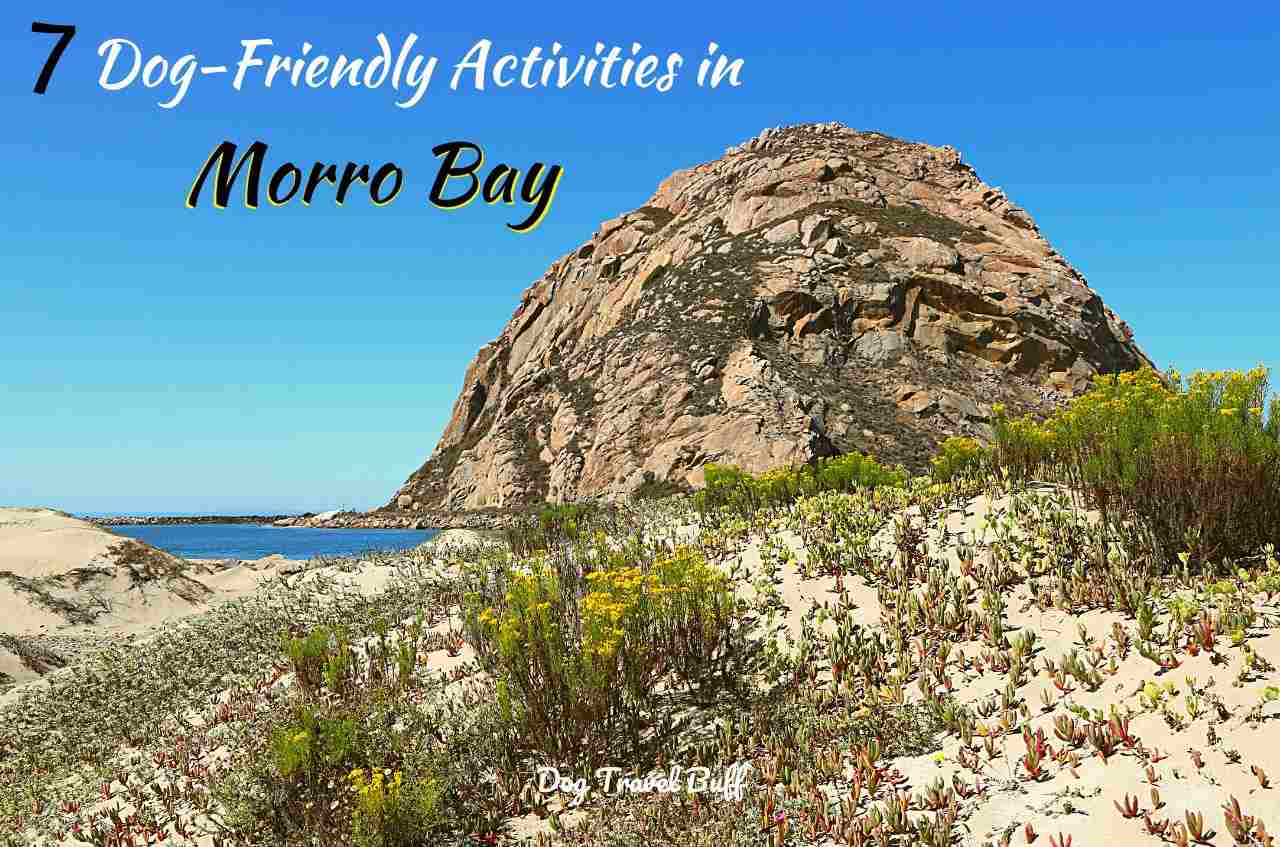 This post may contain affiliate links. If you buy something through one of those links, you won't pay any extra penny, but I'll get a small commission that encourages me to deliver more helpful content for you.  
If you are considering a dog-friendly Morro Bay trip then read on to scoop the Morro Bay dog rules, restrictions, and places to explore. This blog also suggests dog-friendly places to eat and stay. Here are more options for you to explore. 
Dog-Friendly Things to Do in Morro Bay
1. Spend "green" time at Jody Giannini Family Dog Park
Jody Giannini family dog park is a 1- acre enclosed green grassy park that sits within the residential area near basketball courts inside Del Mar Park. The playground is grassy with a lot of trees to offer shade and the view of the ocean from here is so peaceful. 
The Jody Giannini family dog park, dog-friendly Morro Bay, has designated two fenced playgrounds for big and small dogs. Moreover, inside the park, your furry friend can ditch the leash and wag, run and explore the place with other dogs. 
Tips:
Free parking at the Ironwood Avenue entrance
Parking at Panorama Drive will charge $2 per day 
Off-leash dogs are welcome
Completed all current vaccines
The license tag on the dog collar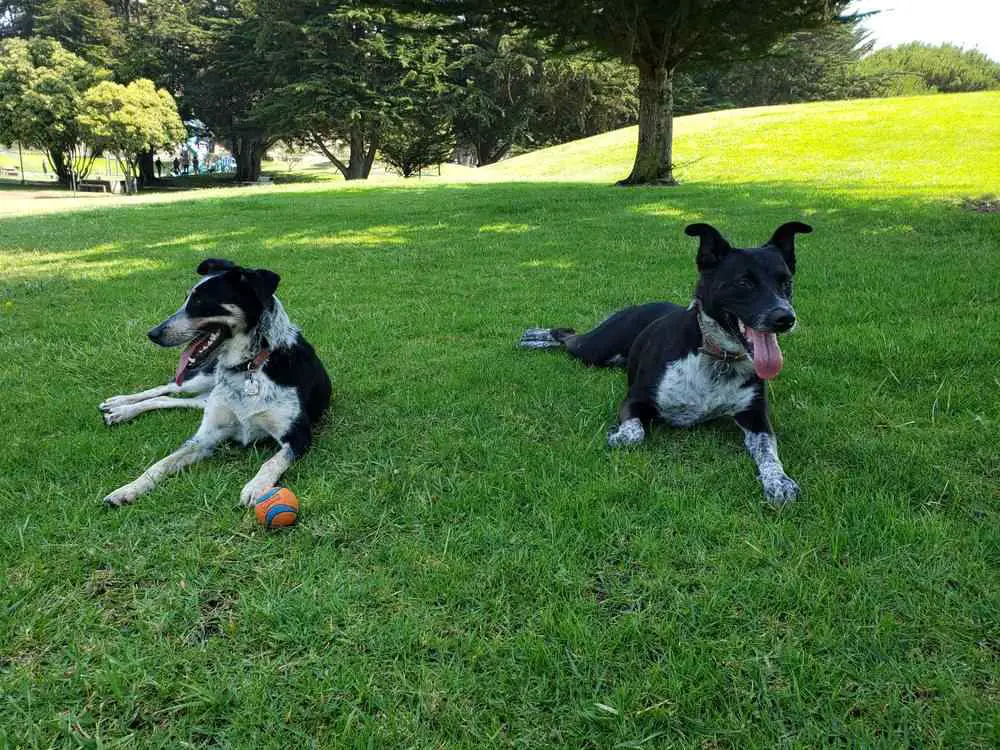 2. Continue your fun at Del Mar Park
Del Mar Park is a nine-acre park with all the amenities you can think of. Just outside the Jody Giannini Family Dog Park, sits Del Mar Park where pups are welcome. The park is magical – stuffed with a lot of game adventures to unfold. 
The park features a basketball court, roller hockey rink, soft tennis court, volleyball and frisbee game area, and picnic and barbeque area. The best thing about Del Mar Park is it has a meadow and shaded walking trails. So, for long walks or fun, Del Mar Park is perfect.
Tips:
Walk with your dog on a leash
Completed all current vaccines
The license tag on the dog collar
Bathrooms are there for humans
3. Breath fresh air at Morro Bay State Park
Morro Bay State Park is nestled in San Luis Obispo, dog-friendly Morro Bay, popular for ancient volcanic Morro Rock and ecology. The park sits within the Morro Bay lagoon and the Morro Bay beach is also part of the park. 
Morro Bay State Park offers recreational activities to indulge in – sailing, swimming, fishing, and hiking to the Black Hill trail or Museum of Natural History. Bring your pooch during your visit, the pristine saltwater marsh with constant sweet chirping sound makes the place evergreen! 
Tips:
Dogs must be on a leash
Do not take your dog to Sandspit because that is the nesting area of Snowy Plover
Morro Bay State Park is 5 minutes walk from downtown Morro Bay
Explore the Black Hill trail, the surrounding beauty is gorgeous. Do not miss it.
Morro Bay State Park offers a campground – stay there at night to enjoy nature
Be safe from sea otters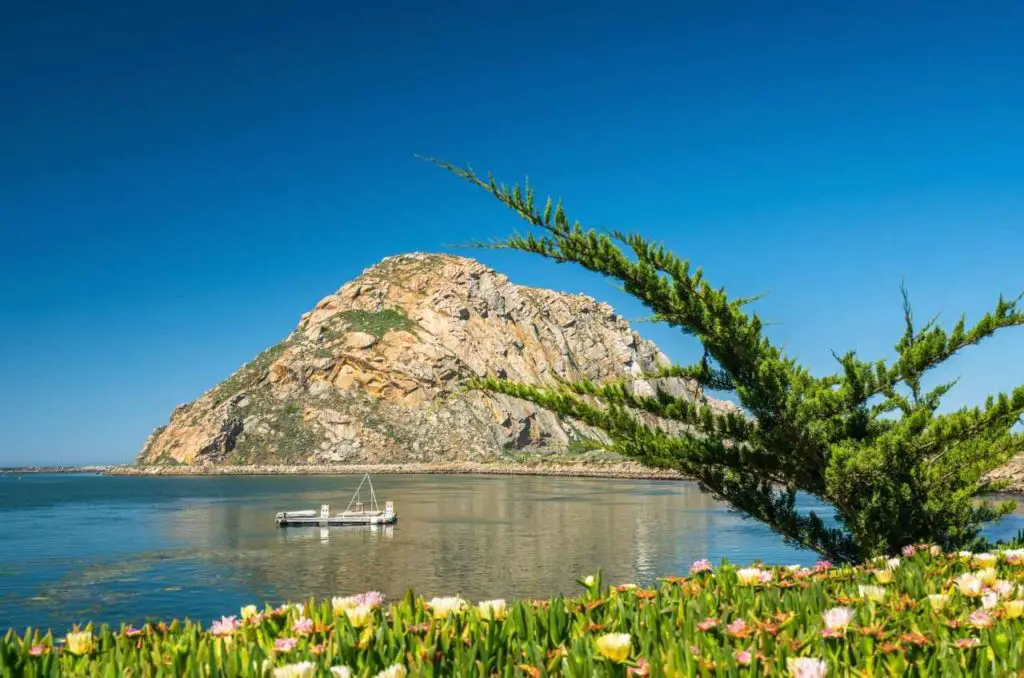 4. Adventurous tour with Lost Isle Adventures
Experience adventure and take a tour of Morro Bay Harbor with the Lost Isle Tiki cruise, the best dog-friendly activities in Morro Bay. The tour starts on an electric boat and you can witness California Sea Otters, Sea Lions, local wildlife, the sunset and beautiful Back Bay. 
Lost Isle has many options of boat tours for you and your dog, however, private tours are a bit expensive. The tour can be the highlighted part of your trip to Morro Bay, take a beer and relax enjoying the views of birds, nature, and the bay. 
Tips:
Private Tiki Boat tours cost $500 for a day trip
45 minutes Tiki cruise tour costs $20
Sunset Cruise costs $30 per person
Dogs must be on a leash, and remember to flip at the sight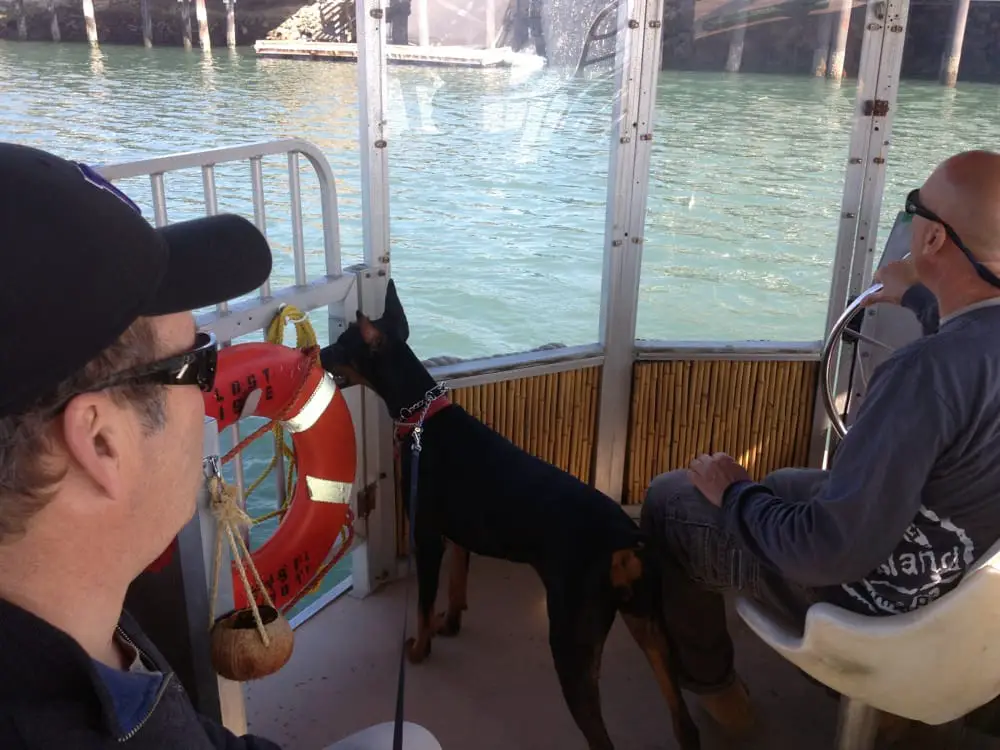 5. Get tan at Cayucos State Beach 
Cayucos State Beach sits in the famous waterfront town of Cayucos, California which is famous for Cayucos Pier and "Cass Wharf". Cayucos State Beach is the true highlight of the beautiful coastline, sandy beaches, laid-back vibe, and best scenery. For memorable splashing memories, Cayucos State Beach is a spectacular dog-friendly beach in Morro Bay.
The beach is truly breathtaking and an ideal place to sit with your pup and watch the sun setting saying "au revoir" to you. You can walk to Cayucos Creek and enjoy excellent views of the beach, town, and rolling hills. You can also walk to Cayucos town and visit some shops to buy antique materials. 
Tips:
On-leash dogs are welcomed. The area starts from the south end of Studio Drive in Cayucos to Cayucos Pier
Follow the posted rules and respect natural habits and marine life
Be very careful about ocean currents and tides
For a nice run-in-jog, you can head to North Point Beach
Read Also: 14 Best Pet-Friendly Beaches in Northern California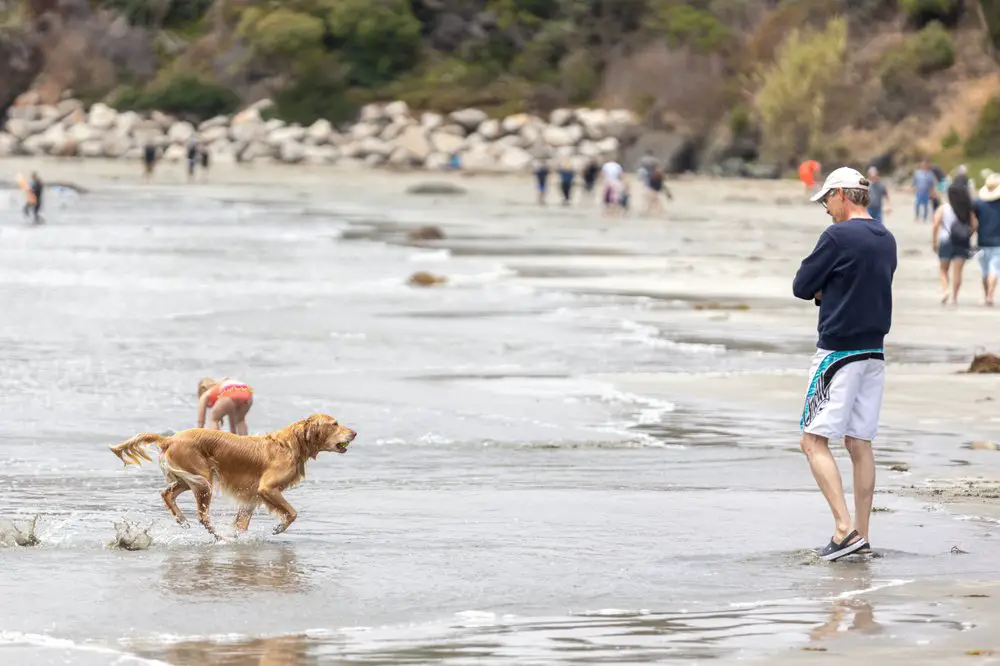 6. Rewarding hike to San Simeon Point Trail
Want to know some huffing and puffing dedicated things to do in Morro Bay with dogs? Then hiking to the San Simeon Point trail is an amazing try! The hike starts from the San Simeon Cove beach through hidden walkways covered with trees and the beautiful sight of the Pacific Ocean and ends at an extended tip of a crescent. 
You will be amazed to find Lacy moss dangling from the eucalyptus, and a lot of cedars, cypress, and pines making the place green and so environmentally friendly. San Simeon Point Trail is full of the sparkling cove, rock formations, an 850-foot-long pier, enchanting tree tunnels, and a home of incredible nature. 
Tips:
Dogs must be on a leash
Park your car at William Randolph Hearst Memorial Beach
A view of Hearst Castle on the hills is worth huffing and puffing
San Simeon Point Trail is part of Hearst Ranch
Stay alarmed from elephant seals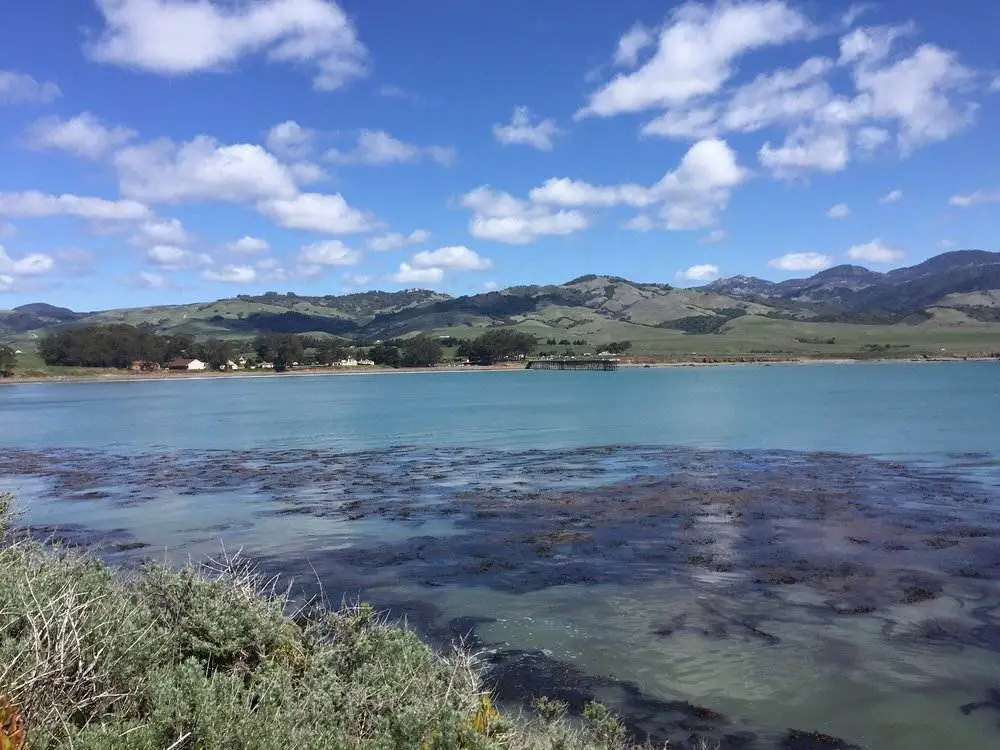 7. Enjoy the tranquillity of nature at Monarch Butterfly Grove
Have you ever seen red, black, or orange Monarchs and butterflies fluttering all over the place? Monarch Butterfly Grove is home to jewel-toned beauties that sit along the Highway 1 Discovery Route. 
The best time to see the butterflies and enjoy the weather is between October and February. You can walk with your dog on a leash at Monarch Butterflies Grove. So, on your next visit to Pismo Beach, do not forget to explore the roads at the Grove. 
Tips:
Free parking – Grove is open until 4 pm
Do not touch the butterflies
Bring your camera
Read Next: 11 Dog-Friendly Weekend Getaways in Northern California
Dog-Friendly Restaurants in Morro Bay
Bayside Café
The Bayside Café is famous in the Marina, California State Park for serving hot crispy fish, fresh seafood items, chips, soups, salads and the best nachos. Dawn Borst designed the café to serve people his recipes that quickly stole locals' and visitors' hearts. 
The casual atmosphere with a view of the Black Bay and estuary from the outside patio is breathtaking. You should also try their Tres Leches cake. On-a-leash dogs are welcomed and the staffs are dog friendly.
Frankie and Lola's
Traditional food with a modern twist, Frankie and Lola's is the best restaurant in Morro Bay to have breakfast and lunch. This pet-friendly restaurant is along the bay and offers you the best fresh-cut fries, chevre and baguette, Frankie burgers, and parfait cheese. Along with the food, enjoy views of crashing Bay waves, Morro Rock and fishing boats.
The staffs are consistently very helpful and ensure that you have the best time of your life. Mostly, Frankie and Lola's have excelled in offering their in-house flavor through the food, making them a highly recommended place. Do not forget to taste their Pineapple Apricot and Turkey sausage. 
Dog-Friendly Hotels in Morro Bay
456 Embarcadero Inn & Suites feature serenity, pleasure and three dozen boutique guestrooms, on Embarcadero in Morro Bay, California. The hotel is an 8-minute walk from Oceanside restaurant, Cal Poly, San Luis Obispo, and De Oro State Park. 
The rooms are smoke-free, and spacious, with standard amenities from microwaves, refrigerators, and coffee makers to flat panel TV. From the rooms, you can get vistas of Morro Rock, Bay Estuary, Pacific Oceans, and Sandspit. However, remember not to sneak other customers' privacy and keep your dog with you.
In the newly renovated seaside village of Morro Bay sits the pleasant classic-owned coastal cottage called Pleasant Inn. Drive for 15 minutes from San Luis Obispo and Cal Poly to reach Pleasant Inn. The beach is 100 meters away from Morro Bay State Park Beach. 
The hotel features free WIFI, flat screen TV, microwave, seating area and refrigerator. You can enjoy the time at Morro Rock Beach, all in one place. However, remember that you need to pay a $25 pet fee, on a nightly basis. 
Conclusion
Time is needed to explore pet-friendly Morro Bay. Moreover, Morro Bay is so much quieter that you won't want to miss Laguna Lake Park, Nipomo Dog Park, Dinosaur Caves Park, and Elm Street Dog Park. The scenic drive along the way of seaside towns and happy places for dogs is well worth the visit. So, do try to explore dog-friendly Morro Bay. 
Read Next:
FAQs – Dog-Friendly Morro Bay
1. Is Avila Beach Dog-Friendly?
A: On-leashed dogs are allowed in downtown Avila Beach before 10 am and after 5 pm. In the meantime between 10 am – 5 pm dogs are not allowed. 
2. Are dogs allowed at Morro Rock?
A: Yes, dogs are allowed at Morro Rock but be careful as Morro State Beach is sensitive to Snowy Plovers.