9 Best Dog-Friendly Vacations in Texas With Pet Travel Tips
Sometimes all you need is a vacation to refresh and reenergize yourself. And who can be a better companion than your furry friend?
Spending some quality time with your dogs can be a great way to bond with each other. Vacations are the perfect way to have a great time with your friend because exploring new places together can be super fun.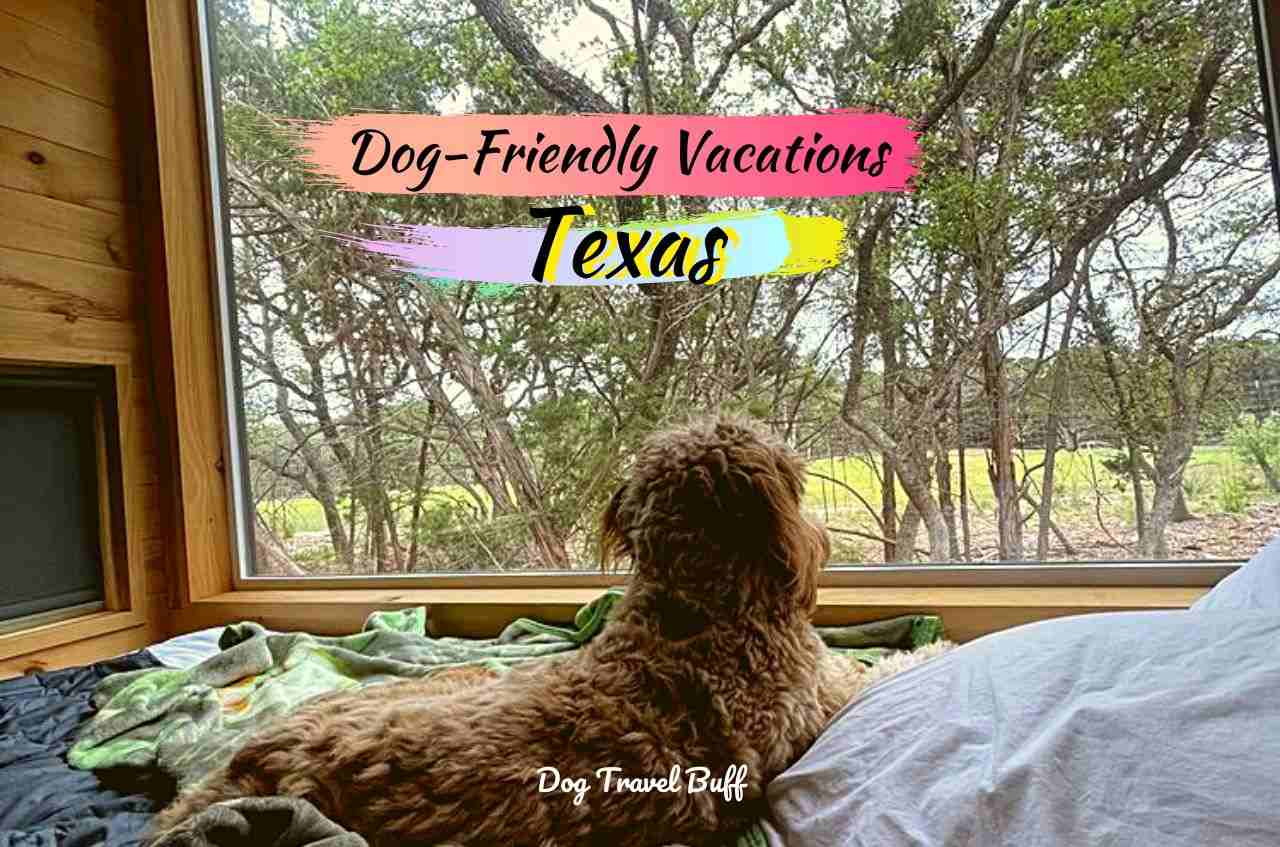 This post may contain affiliate links. If you buy something through one of those links, you won't pay any extra penny, but I'll get a small commission that encourages me to deliver more helpful content for you.   
So, if you wish to take your dog on an amazing vacation, Texas can be the right place. With plenty of dog-friendly vacations in Texas, you are surely going to have a gala time with your doggo.
Let's hop on and find out the best dog-friendly vacations in Texas
Top 9 Dog-friendly vacations in Texas
1. Galveston
Thinking of a quick dog-friendly weekend getaway in Texas? Then, look no further and head over to the beautiful Galveston and enjoy a superb time with your dog. The long stretches of beaches, with the blue waters soothing your eyes are just perfect to let your doggo have fun.
East Beach and Stewart Beach Park Lindale Dog Park are some of the most popular and pet-friendly vacation spots in Texas.
Apart from giving you the perfect beach vibes to spend your vacations, you can indulge in a ton of activities with your dog to make this vacation an adventurous one. Take your dog to Baywatch Dolphin Tours which offers free rides for your dog.
Galveston Island State Park is another great option to explore with your dog. The ample space to run will surely boost your dog's energy. Galveston also has tons of dog-friendly accommodations and restaurants, so you can enjoy your vacation stress-free.
Dog-friendly things to do in Galveston
Take your dog to one of the famous parks of Galveston such as Kempner Park, Lindale Park, and Menard Park, and plan a picnic with your family.
Go shopping with your doggo in places such as Kites Unlimited, Surf Styles Surf Shop, and many more, and pick up some great stuff.
East Beach is always hosting concerts or festivals, so make sure to keep an eye out.  Being one of the most dog-friendly beaches of Galveston, you should not miss a chance to visit East Beach.
Have a delicious meal in one of the favorite dog-friendly restaurants of Galveston like Mosquito Cafe, Yaga's Cafe, etc.
Tip: Keep your dogs on a leash while visiting the beaches of Galveston.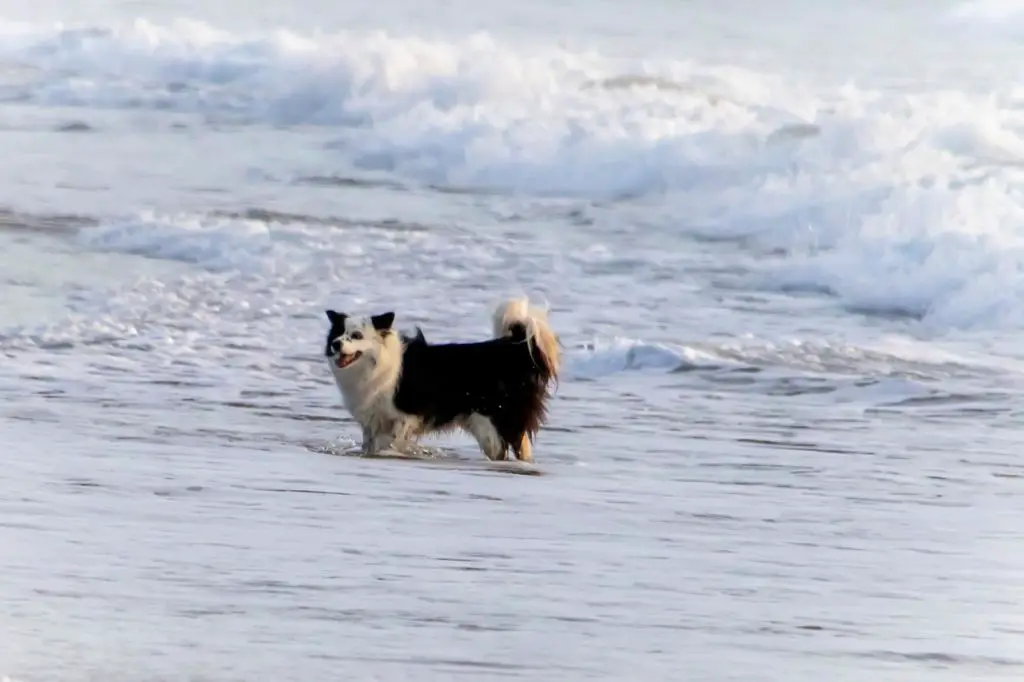 2. Austin
Austin has to make it to your top dog-friendly places in Texas. Zilker park is a famous spot for your dog. Many people flock around this beautiful park with their pet dogs. People indulge in playing soccer or just picnicking with friends and family. There is also a creek where your dog can have a little fun with the water.
Ann and Roy Butler Hike and Bike Trail is another great spot to hang out with your dog. This is a traffic-free place so you know your furry friend is totally safe. In addition to the beautiful trail, you get to experience the beautiful Austin in all its charm and glory.
Cedar Bark Park is one of the most dog-friendly places in Austin. It is a great option if you want to take your dog to a park and let it have all the fun. This playground has all the amenities for your dog from swimming pools to fountains, your dog is going to have an activity-filled at the park.
Dog-friendly things to do in Austin
Rainy street is famous for its food, music, and fantastic environment. And you can enjoy all this fun with your dog as well. Roam around the street with your pet and soak in the true Austin vibe.
Visit Texas State Capitol if you want to spend some quiet time with your pet. Grab some food and have a calm and peaceful lunch while taking in the beauty of this historic place.
Auditorium Shores is perfect if your dog loves to play in the water. The off-leash area allows your dog to roam freely and splash some water.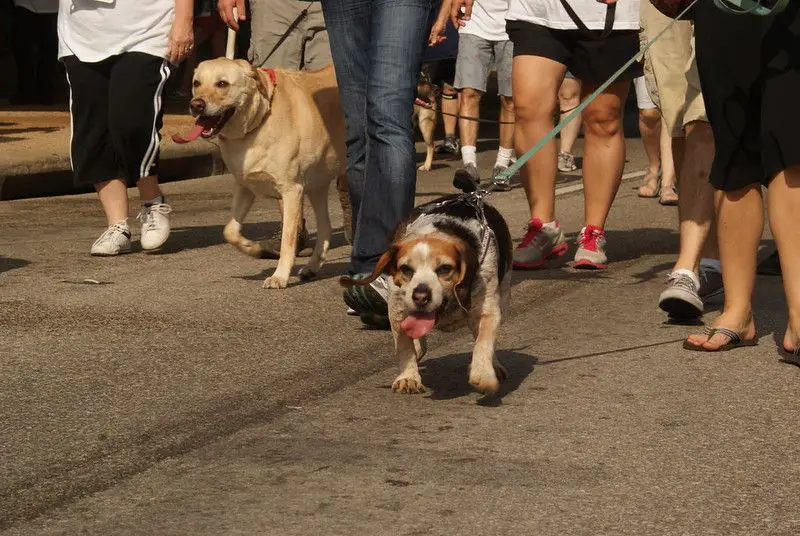 3. Glen Rose
You will never run out of options for vacations with dogs in Texas. Just an hour's drive away from Dallas, Glen Rose has got tons of dog-friendly spots. Dinosaur Valley State Park is a popular hang-out spot for pet owners.
Along with finding some real footprints of dinosaurs, you can take a swim in the river or go for a hike with your dog. A lot of people love to spend a day at the park either camping or picnicking.
Take your dog to Cleburne State Park, a favorite place for bike riders. However, the trails always welcome dogs. Moreover, this trail is quieter than the other ones hence it can be perfect if you have a small puppy.
Visiting Glen Rose for a day trip with your dog in Texas can be very exciting and worth spending your time with. Comfort Suites and Liberty Hotel are some of the well-known pet-friendly stays of Glen Rose.
Dog-friendly activities to do in Glen Rose
Take your dog for a visit to the giant dinosaur models at Dinosaur World. Make sure to keep your dogs on a leash, and enjoy this outdoor museum.
Sip on wine while gazing at the beautiful vineyards of Bluff Dale. A very warm and welcoming place for dogs, you can relish a great time with your fido.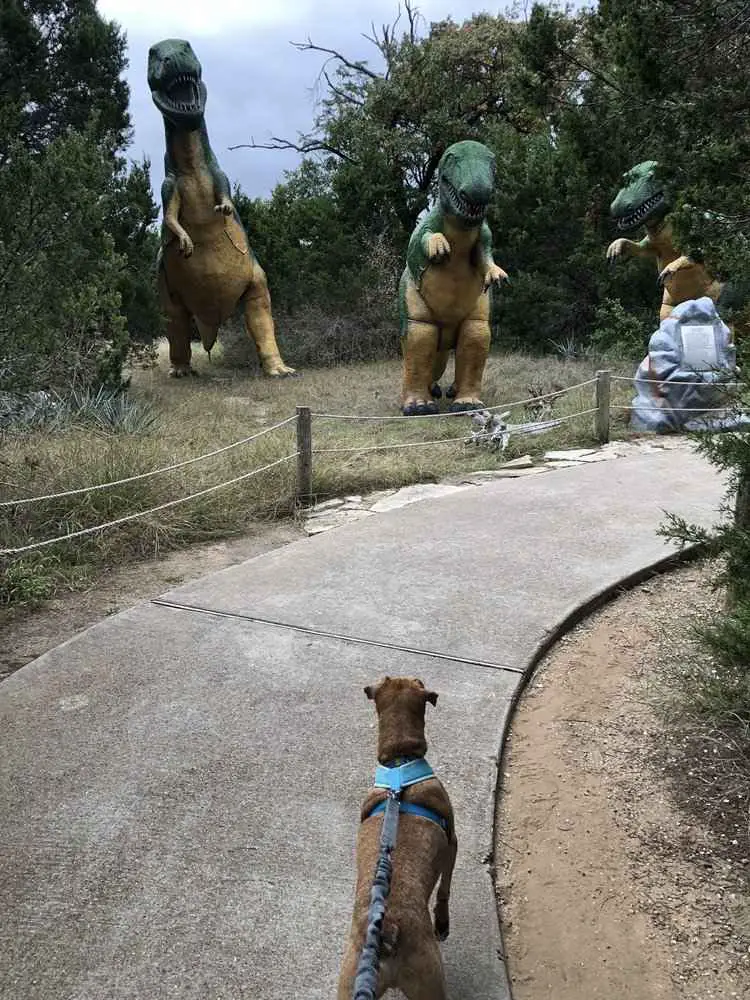 4. San Antonio
San Antonio is a beautiful place to explore with your dog. Apart from being a beautiful city itself, the famous River Walk is a popular dog-friendly attraction. The entire River Walk welcomes dogs and it is just great to roam around the place and have a nice day with your pet.
Move to Downtown Loop, one of the busiest places on River Walk. Bustling with people and sound, it can be exciting for your dogs if they love people. However, if you have a small puppy, try visiting the place early.
Soak in the beauty of River Walk as it is beautifully decked up. You can take occasional breaks and sit down on the benches while sipping coffee. The River Walk is flooded with many restaurants that welcome dogs. So, make sure to grab a delicious meal with your doggo.
Dog-friendly things to do in San Antonio
Go for a quick visit to King William Historic District Walking Tour. Just a few minutes away from downtown this peaceful neighborhood is full of great architecture and your dog will love to walk on the lovely path.
Visit the little village La Villita. The place is full of restaurants, and shops and all of them are dog-friendly. If you are in the mood for a lazy afternoon, a  small La Villita tour would be ideal.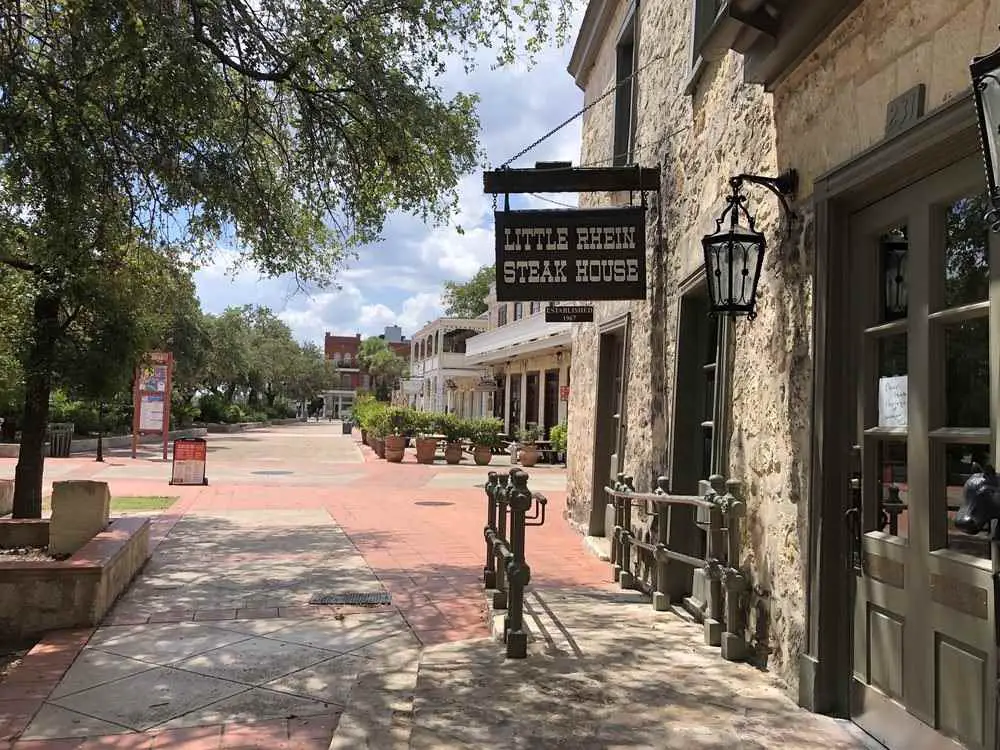 5. Getaway House in Houston
Wish to have unique vacations with dogs in Texas? Then pack your bags and go to Houston. Situated on the outskirts of Houston, Getaway House is the new favorite among travelers.
You will land in the tiny cabin resorts surrounded by greenery and nature. With no internet connection in these cabins, this is a perfect time to unwind yourself. Bring along your dog to have some time free from the hustle-bustle of the city.
Although the cabin space is small, it gives you a cozy and comfortable feeling. Amenities are available for you and your dogs. Getaway House is quite affordable as you only require to pay $40 extra for cleaning charges for your pet.
Getaway House is located in other places like San Antonio and Dallas.
Dog-friendly things to do at Getaway House, Houston
Go for quiet morning walks with your pet and explore nature.
Make a delectable meal and enjoy family time picnicking with your loved one and of course your pet.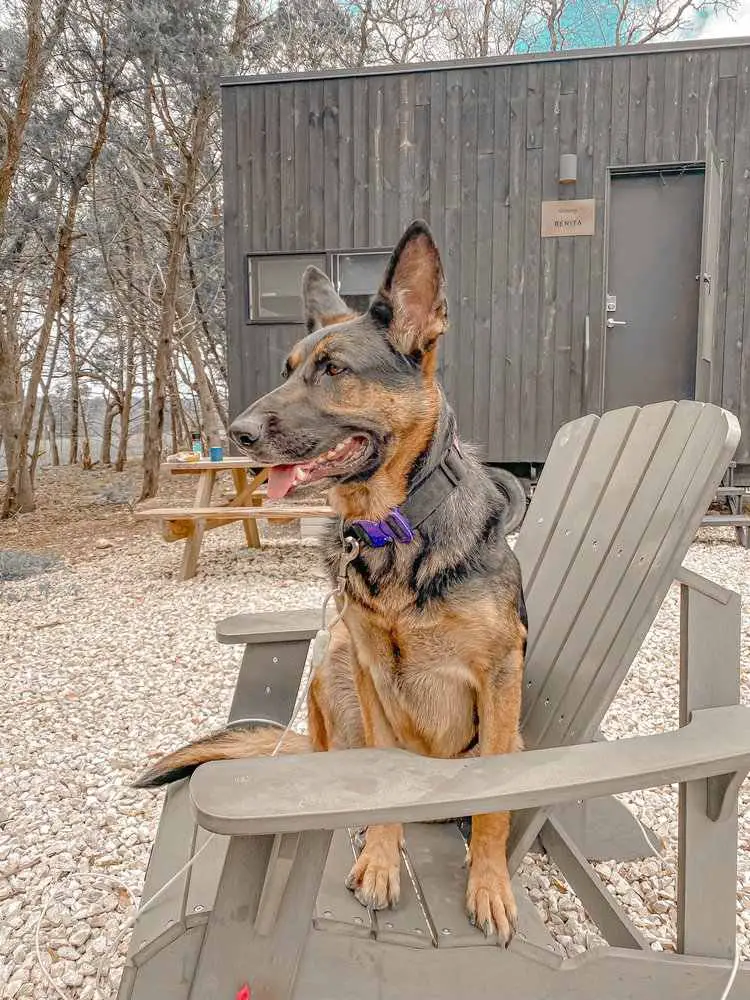 6. Colorado Bend State Park
Only a few hours of drive from Dallas, Colorado Bend State Park is certainly one of the best places to travel with your dog in Texas. The vast scenic beauty coupled with diverse nature makes it a perfect place to explore with your dog.
Also, if you plan to set up camp with your friends and family, Colorado Bend State Park is your ideal option. The park has a river flowing inside it making it all the more fun and exciting for you and your pup. Take a dive in the cool waters of the river with your dog.
Moreover, you can indulge in other outdoor activities like paddling in the river or fishing. The park has quite a few dog-friendly trails, so you are set to have a good time with your pet dog.
Dog-friendly things to do at Colorado Bend State Park
Go hiking on the trails like Windmill Trail, Spring Trail, and River Trail which have easy trails with moderate elevations.
Visit Gorman Falls which is a 70-foot tall waterfall. The hike to this waterfall is for 3 miles but it's worth visiting.
7. Lost Maples State Natural Area Campground
Lost Maples State Natural Area Campground can be the perfect weekend getaway with your dog. Just a two hours drive from San Antonio, Lost Maples is a treat to your eyes, especially during the Fall. The colorful foliage of the fall is picturesque and the natural beauty is breathtaking.
People love to camp in this beautiful spot along with their dogs. The nature surrounding the background is like a much-needed break from the daily, monotonous routines.
Plenty of trails are accessible from the campground, so carry your hiking shoes and other dog hiking gear to not to miss out on the fun. Also, Lost Maples makes for a great day trip as well. Just a little early, spend a whole day hiking at the gorgeous trails of the campground and come back in the evening.
Read Also:
Dog-friendly things to do at Lost Maples
Hiking on one of the trails is definitely a must-do thing if you are at Lost Maples. You will find dogs of all sizes accompanying their masters along these hiking trails.
Sabinal River offers fishing without a license. So, take your kids and your dog along with you and experience fishing.
Tips:
Do not keep your dogs unattended.
Carry the rabies vaccine certificate with you.
Keep your dogs leashed with a 6-foot leash.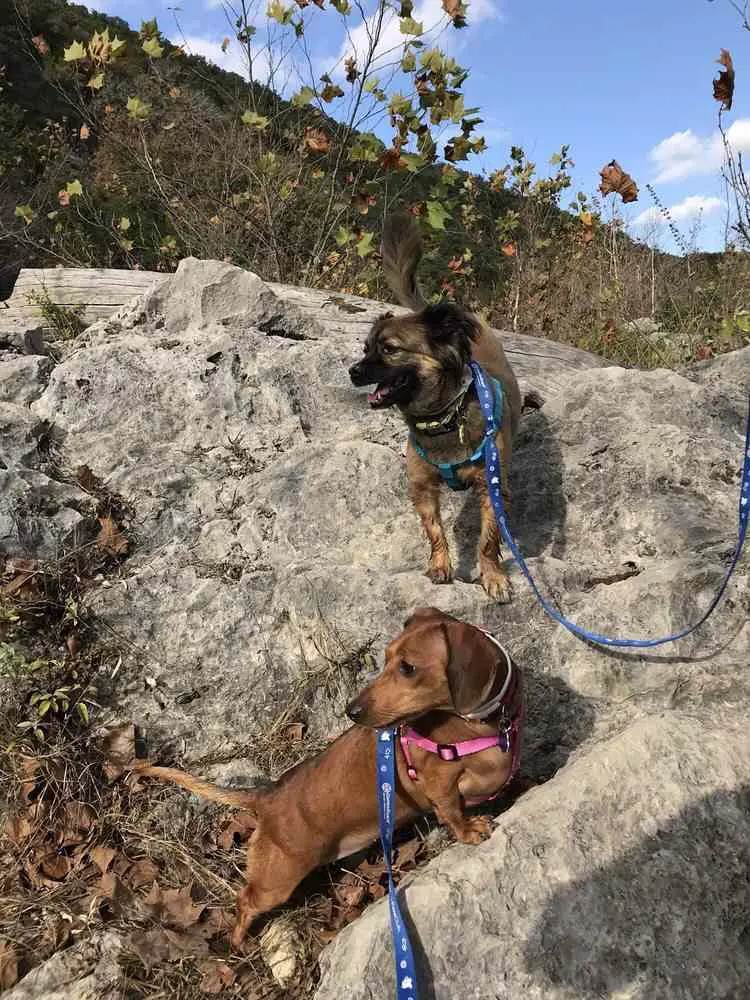 8. McKinney Falls State Park
Another popular dog-friendly weekend getaway in Texas has to be McKinney Falls, State Park in Austin. Only 13 miles drive from Austin and you are going to land up in this charming park.
A place of natural beauty and wild forest, McKinney Falls State Park makes for a superb location to explore with your four-legged friend. The hiking trails found in the park are favorites among visitors who go on hiking with their dogs.
Onion Creek Hike and Bike Trail are the most popular ones and are also perfect for both beginners and experienced hikers. Your dog will love roaming around the beautiful park full of gorgeous flowers. You will find a tempting swimming hole where you can take a fresh dive. However, keep in mind that dogs are not allowed in the water.
Dog-friendly things to do at McKinney Falls State Park
When you are done with your hike, grab a spot at the top and have a picnic with your furry friend. Carry some food both for you and your dog. You will find a lot of families enjoying quiet meals at the picnicking spots.
Fishing is another outdoor activity in this park that you can totally indulge in.
Tips:
Make sure to keep enough water and food for your dog if you plan to go on a hike.
Keep an eye out for your dog as they should not be disturbing the wildlife present in the park.
Your dogs must be kept on leash.
9. 13 Acres Retreat
Sitting with your dog and cherishing the beauty of Texas Hill Country is the best combination. Make 13 Acres Retreat your next dog-friendly vacation in Texas and you are bound to have a special time.
Hop on your car and go for an hour's drive from San Antonio to 13 Acres Retreat. Each cabin at this retreat comes with all modern amenities from a heater to comfortable beds. This can be the perfect little getaway to get close to nature and refresh yourself amidst the green, scenic beauty.
Final Words
There are ample destinations in Texas to travel with dogs. But our top list of pet-friendly vacations in Texas will make your job easier. So, mark the calendar, pack all dog gear, and plan a sweet, little tour with your dog in one of these dog-friendly vacation spots in Texas.
Read Next:
FAQs – Dog-Friendly Destinations in Texas
1. What stores allow dogs in Texas?
Ans– There are quite a few stores in Texas that allow dogs such as Wildseed Farms, Cabela's, Bass Pro Shops, The Shops at La Cantera, etc.
2. What Texas beaches allow dogs?
Ans– Surfside Beach, Stewart Beach, East Beach, Port Aransas Beach, and Padre Island National Seashore are some of the popular beaches in Texas which allow dogs.
3. Is Galveston Pleasure Pier dog friendly?
Ans– Only service animals are welcome at Galveston Pleasure Pier.
4. Are pets allowed in Texas State Parks?
Ans– Yes, Texas State Parks are completely dog-friendly. Keep your dog on leash and you are good to go. However, the state park buildings do not allow dogs.