6 Things To Know Flying With A Large Dog In Cabin: Airlines That Allow Large Dogs
It is always easy to carry a small dog with you while you are traveling by flight. But flying with a large dog in a cabin is a pretty hectic and challenging thing to do. We dog lovers do not want to leave our furry pal behind.
For the first time, when we took our dog with us on a flight, it was quite a challenging task for us. We didn't know that bringing a big dog on a plane was prohibited. We had to get special permission to get a place for our dog in the cabin.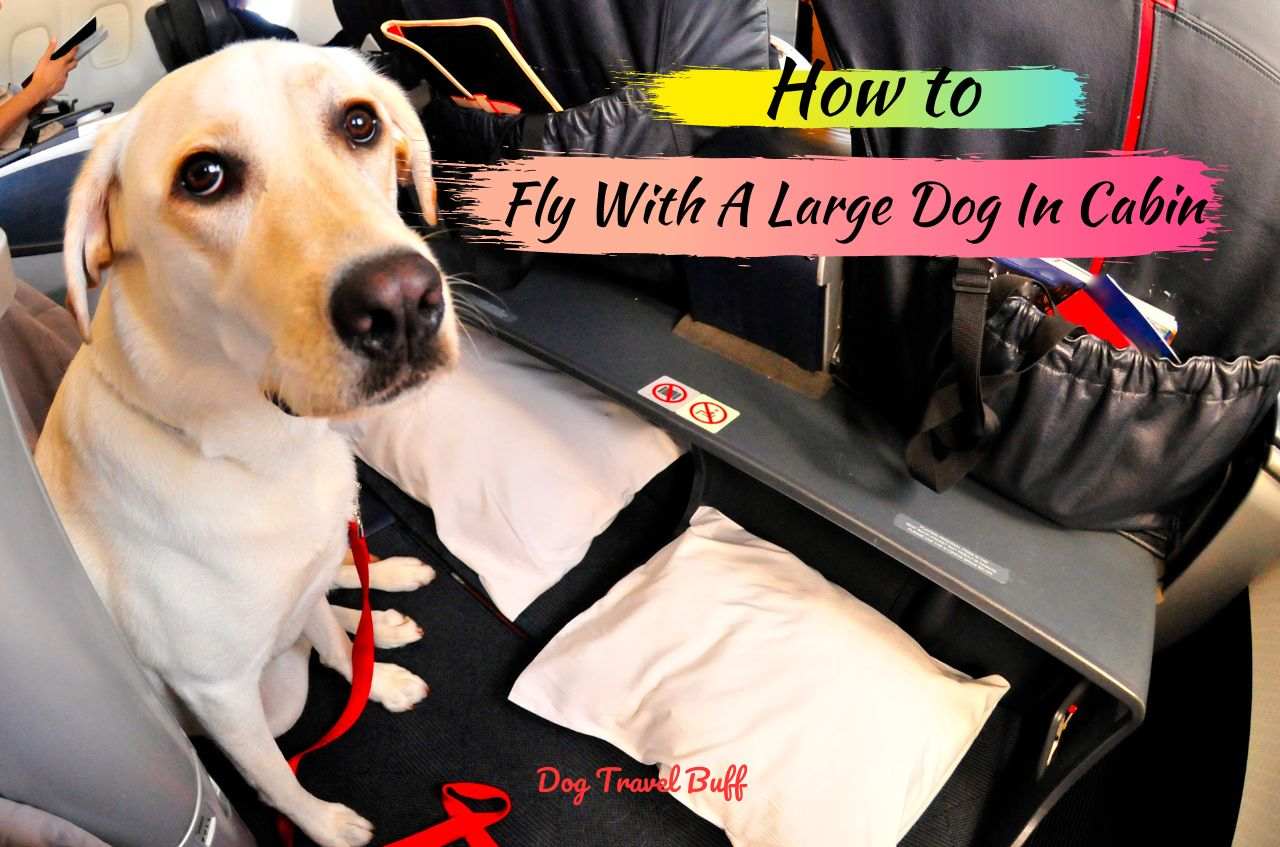 This post may contain affiliate links. If you buy something through one of those links, you won't pay any extra penny, but I'll get a small commission that encourages me to deliver more helpful content for you.   
On some flights, there are some specific areas where you can keep your dogs. So, from our experience, we share some essential insights you must follow if you want to fly with your large dog.
The Most Important Steps to Take If You Want to Fly With a Large Dog in the Cabin:
You may think that you can handle the entire process of transporting your pet on board a plane, but there are some fundamental rules you must follow.
It's not like you will do it all at once on the departure day. No! You will not get it done in a day or on the departure day. You have to check whether the flight company allows dogs on the plane or not. It would be best if you went through the flight's policies about keeping dogs inside the plane. There are some guidelines and essential things that you should read before flying with your dog.
One of the first things you must not forget while traveling with your large dog by plane is the crate. It is always suggested to carry your dog's crate with you. Some airline companies give you crates, whereas some don't. So it is always better to bring your dog's crate.
Sometimes people take their pets in crates without prior training. When the departure day comes, they put their dog inside the crate and try to travel with it. But, the thing is, in these cases, most dogs get grumpy, growl and bark all of a sudden inside the cabin. We guess this is something you do not want to experience.
To avoid this annoying or embarrassing behavior from your dog, you have to make him prepare in advance. Give him a few training days if you're planning to keep your dog in a crate. So it will remain calm while traveling in a compartment.
Cabin vs. Cargo: Flying with a Large Dog in Cabin
No company will allow you to carry your dog inside the cabin these days. If you're thinking of how to fly a large dog in a cabin, then there is good news for you. There are unique spaces inside the cabin where you can keep your dog. Some flight companies will allow your dog as a carry-on luggage item.
Here, the condition is that your dog is supposed to be under 20 lbs.
So, if your dog is under 20 lbs., then only you can take your little pup with you, but what about the giant breeds? Breeds like Bernese Mountain, Golden Retriever, Labrador, and Great Dane are massive in size. No companies allow you to step onto a plane with these giant dogs!
Here is a solution: Your dog can fly on a cargo plane. Your dog can easily travel by cargo plane with other stuff. Make sure you check the criteria your dog should meet to travel on cargo.
Expense:
If you wish to fly with a big dog in the cabin, you should be aware of the cost of travel. It is not cheap at all. Depending upon the companies, the price varies. However, you should expect to spend between $95 and $125 on average. It can change from time to time. This is the expense of a one-way trip. In this case, the only thing that might bother you is that you can't pay the price online.
You have to pay the amount on the spot to take your pal with you. This is not the only expense you have to bear, but there are some other expenses that you must also keep in mind.
If you do not have any veterinary certificate for your dog, you might have to pay extra charges.
Sometimes the weight of your dog can also make you pay extra. Depending on the size and weight, you might need to spend some extra dollars.
Whenever you make a plan, make sure you take a crate with you. In most cases, it was seen that people don't carry any crates and, because of that, they have to buy containers from airlines, which are way higher than the regular ones that you usually buy from the market.
Apart from these costs, there are some other charges you have to pay. The expense may vary depending upon the destination. Traveling inside the nation means you have to pay less than on international trips.
The Health Condition of Your Dog:
When planning a long trip with your furry pal, it's essential to be aware of your dog's health. It has become mandatory to visit a veterinarian to check up on your dog well. Some flights take a long time to reach the destination. As your dog is not habituated to this kind of situation, it might fall sick.
The traveling might be stressful for your furry pal as it did not experience this much of a long flight before. As it cannot speak so it won't be able to express how stressful the flight is for him, it's your responsibility to notice your dog's behavioral changes to diagnose its uncomfortableness.
Usually, when you fly with a large dog in the cabin, they are kept in a crate under the seat, and if your dog is not used to these situations, they feel sick. So what are the precautions and measurements you need to take that must be consulted with your veterinarian?
If your dog has heart or respiratory issues, it becomes hectic to travel with them. At a high altitude, your dog may also experience some respiratory problems. To avoid these things, you must consult with your veterinarian.
Some flight companies may ask for a health certificate for your dog. Make sure you get a health certificate ten days prior. Most airline companies don't accept the certificate that is issued on the departure day. At the very least, try to get your dog's health certificate at least a week ago.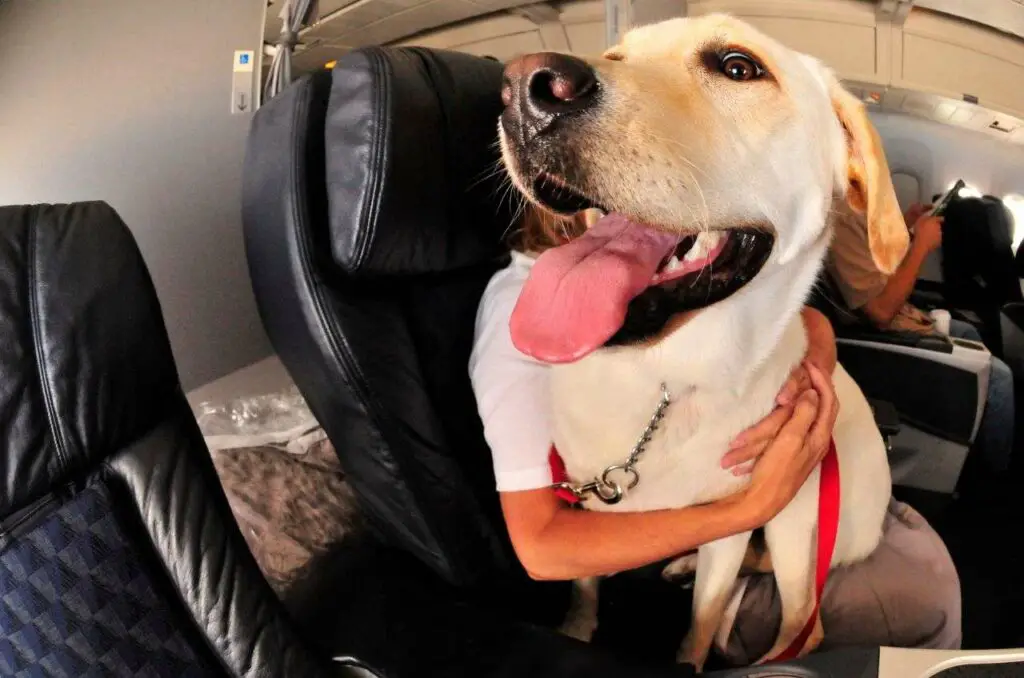 Things you should keep in mind before the journey:
If you plan to travel with your dog by air, then there are some mandatory things you should do. We have prepared some critical points for you to have a hassle-free journey with your dog.
Departure Day Preparation:
Before you start the journey, you must take your dog for a 20-minute walk, or you can play with them for at least 30 minutes. This is highly important to make your anxious dog calm. When your dog has already spent most of its energy, it will remain calm during the journey.
In most cases, dogs have been observed to fall asleep while traveling by air if they play or exercise for at least 20 minutes before departure.
When you travel with a large dog, you are always concerned about how your dog behaves inside the cabin, but if your dog remains asleep during the journey, you can remain tension-free.
Feed your dog as follows:
Try to feed your dog before the journey starts. Yes, while traveling, if your dog gets hungry, it may growl or start barking at nothing. So make sure to try to feed your dog before the flight departs. Another important thing is that you must keep some food inside the crate. You don't know when your dog starts feeling hungry.
Get the right crate for your dog:
In some cargo flights, companies have made specific rules you must follow. The material, size, and dimensions of the crate you will use for your dog must comply with their guidelines. So, before the journey day, you must go through the procedures from the website of the airline company.
It would be wiser to train your dog to be in a crate for a long time. Once your dog gets a few days of crate training, it will remain calm inside the crate.
P.S: Do you know when to move puppy crate out of bedroom?
Because your furry friend will be traveling on a cargo flight, write "LIVE ANIMAL" on the top of the crate. There will be goods next to your dog's crate on cargo flights. So, writing a note is very important.
Things you should keep in mind while purchasing a crate for your furry pal:
Size:
When purchasing a crate for your dog, you must check the space inside the crate. It is okay if your dog can turn from one side to another. If your dog has any problems while turning around inside the crate, the crate is too small compared to your dog's size.
Door:
When you let your dog fly all alone with other goods and pets in a cargo hold, there is a chance that your expensive pet may get stolen. So when purchasing a crate, check the lock system on the door. These days, you will find crates that come with security locks. You can buy these crates for safety purposes.
Attach a microchip to your dog:
Yes, you read it right. If your dog is flying in a cargo plane, it may be lost at a new destination, or something could happen like this. If you attach a microchip to your dog, it becomes easier to track your dog. Some renowned microchip companies are available in the market from where you can get your dog microchipped. It is not a painful method. So you can do with to keep your dog safe in a new destination.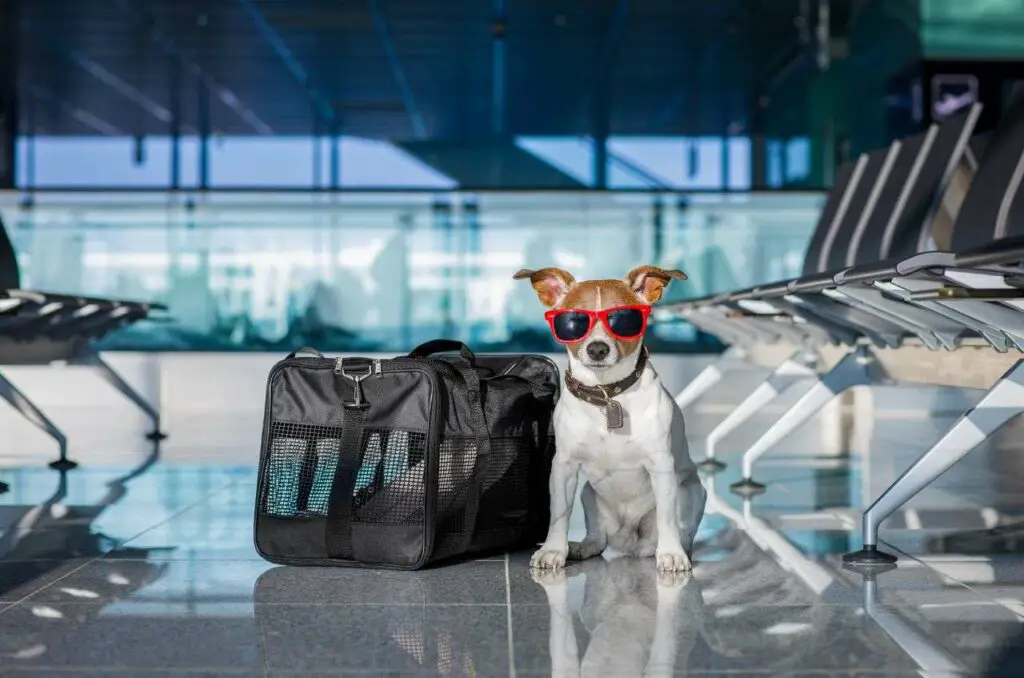 What airlines allow large dogs in the cabin?
You may have questions about how to fly with dogs in the cabin or which airlines let large dogs in. To answer your query, we have searched and gathered some satisfactory answers that can make you calm.
There are a handful of airlines that allow dogs inside the cabin. We have sorted the lists of the airlines for you:
Air France
American Airlines
French Bee
Lufthansa
Portugal's TAP Airlines
JetBlue
Vueling
Southwest
United Airlines
Turkish Airlines
Alaska Air
Aegean Airlines
Air Canada
Air Europa
Delta
These airline companies mentioned above will allow your dog in the cabin. An important note is that the price may vary depending upon the companies and the time you choose.
Now we have shared some popular airline companies that will allow your dog to come with you in the cabin. To clarify your donut, we've gathered some necessary data to help you clear all your doubts about these pet-friendly airline companies.
Air France:
Air France is one of those airlines that allows large dogs in the cabin. Air France's K9 travel regulations are pretty strict. Only dogs with snub noses weighing less than 30 pounds can travel in the hold.
The cost may go over $300 for this trip. This is expensive compared to other airline charges, but Air France gives the best service in this regard. So, if you want to travel without any hindrance with your furry pal, we recommend you choose Air France without any thought.
Air Canada:
Air Canada is among those airlines that welcome passengers traveling with big dogs. You can check your dog's luggage as long as it weighs no more than 100 pounds. If the weight is more than this, they must be included in the cargo. For domestic flights, the cost is under $130, while for international trips, it will cost you around $320.
Here is a little note if you are going to book Air Canada for your next trip with your dog. Air Canada has some dog rules; you must get approval from the pet carrier.
American Airlines:
When it comes to flying with large dogs, American Airlines has some restrictions you must adhere to. In some locations, animals weighing 100 pounds or less (including the crate's weight) might cost $200. If you're planning to keep your dog in a comfortable place, you must come early to book a space in the cabin.
Important note: You cannot sedate your dog while traveling by air. According to the American Veterinary Medical Association, sedating pets may increase the risk of heart disease. It may also increase respiratory issues at high altitudes. Except for some emergency veterinarians, you should not sedate your pet. This is against the law, and it can get you in trouble.
Emirates:
Emirates airline is one of the best airlines that allows a large dog with you in the cabin, but it costs way more than other airlines. This may cost you between $500 and $800 per kennel. Emirates also allows large dogs as checked baggage, which is only applicable for those flights that take less than 17 hours.
Emirates is one of the most renowned airline companies that allow you to travel internationally with a large dog. But to book a space for your pup in the cabin, you must talk with the airline before departure. Another important thing you must remember is that your dog must be older than four months, or else Emirates Airlines won't allow it inside the cabin.
Delta Airlines:
If traveling to a destination that may take less than 12 hours, we recommend choosing Delta Airlines to fly with your large dog. On this flight, you have to pay around 150-200 dollars to carry your canine companion. Some conditions may be applicable if your dog is way heavier than usual. In that case, you need to talk to the airline before your flight leaves.
Hawaiian Airlines:
Hawaiian Airlines permits dogs weighing up to 70 pounds (including the weight of the kennel) to be checked in with other luggage. Anything heavier must be carried as cargo. The cost of air travel with a large dog on Hawaiian Airlines may differ, but it usually is $450 or less.
Sun Country Airlines:
If you don't want to get bothered by all the complex rules while flying with pets in the cabin, then we recommend Sun Country Airlines. This company doesn't have a lot of things to follow. Their guidelines are pretty simple. All you just need is to pay an extra 200$ for your dog and you are ready to fly with Sun Country Airlines.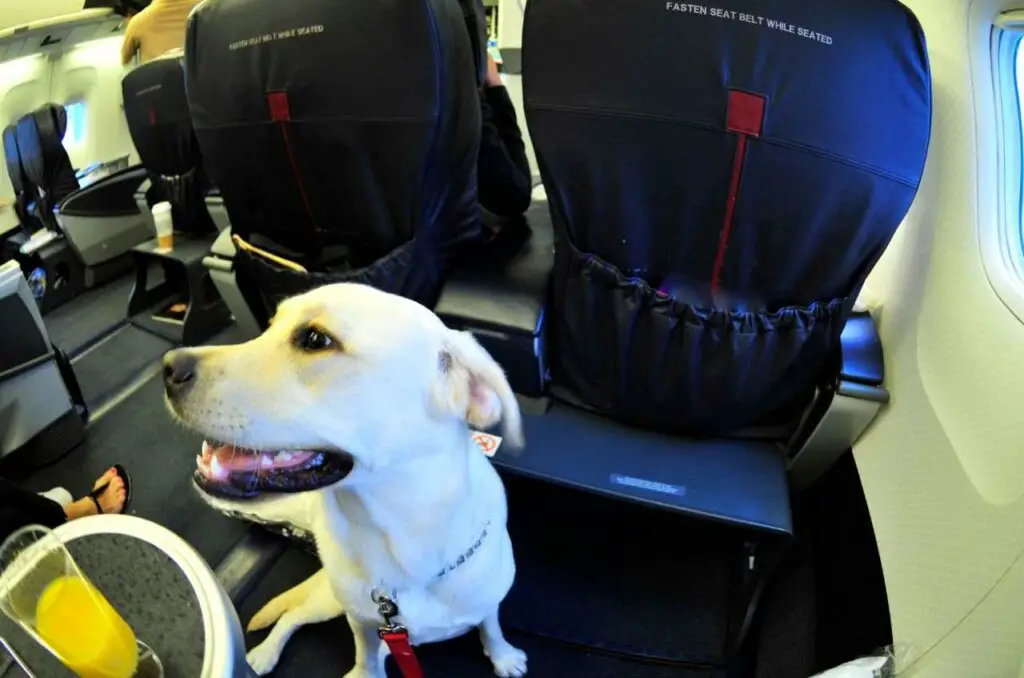 Tips to calm your anxious dog while traveling:
Feed your dogs before you depart. It will keep their tummy full, so they will not start barking due to hunger.
As we discussed earlier, exercise can calm your dog down, so make your dog exercise before the flight departs.
Take your dog to the bathroom before the flight. It helps your dog remain calm.
It is always good to keep some toys inside the crate. Their favorite toys will keep them busy during the trip.
A dog on a 10-hour long flight may get anxious due to loneliness, so try to keep its favorite toy inside the crate.
If possible, take your dog to an airport area. As your dog is not used to the noise and crowd of the airport, it may suddenly get scared on the departure day. Making it comfortable with the circumstances is an important thing.
Wrapping Up:
We have covered you with almost everything you need to know if you plan to travel with your furry pal. It is always suggested to follow some prior guidelines. Planning is essential. So plan carefully and follow all the procedures to fly safely with your canine companion. If you find difficulties understanding anything related to any airline's policies, directly reach them on their website. You will get a clear idea of how things are to be done.
FAQs – Fly With A Large Dog In The Cabin
1. How big can a dog be to fly in a cabin?
A: If your dog weighs under 20 pounds, it can be allowed in the cabin with you. This can be varied depending on the airline companies.
2. Can I buy a seat for my large dog on an airplane?
A: No, there is no way to buy a seat for your dog. No airline has this facility. But you can buy a place on a cargo plane for your large dog.
3. Can I take a 25-pound dog on a plane?
A: You should book a space inside the cargo if your dog weighs more than 20 pounds. But if you want to take a 25-pound dog on a plane, you need to check the airline companies' guidelines.
4. What is the biggest size dog you can bring on a plane?
A: The maximum weight of your dog must be less than 20 lbs. If you want to bring your dog inside the cabin, please do so.