How to Travel with Dog Internationally?
"There is no other way, we have to take an international flight and take Charlie, our dog with us," said Ronit, the dog lover of his family. 
Travel with a dog internationally can be super hectic, difficult, and stressful if you don't plan skillfully and efficiently. Before flying, research thoroughly and then travels with your furry companion anywhere in the world. Make your pup's air travel experience smooth and notable.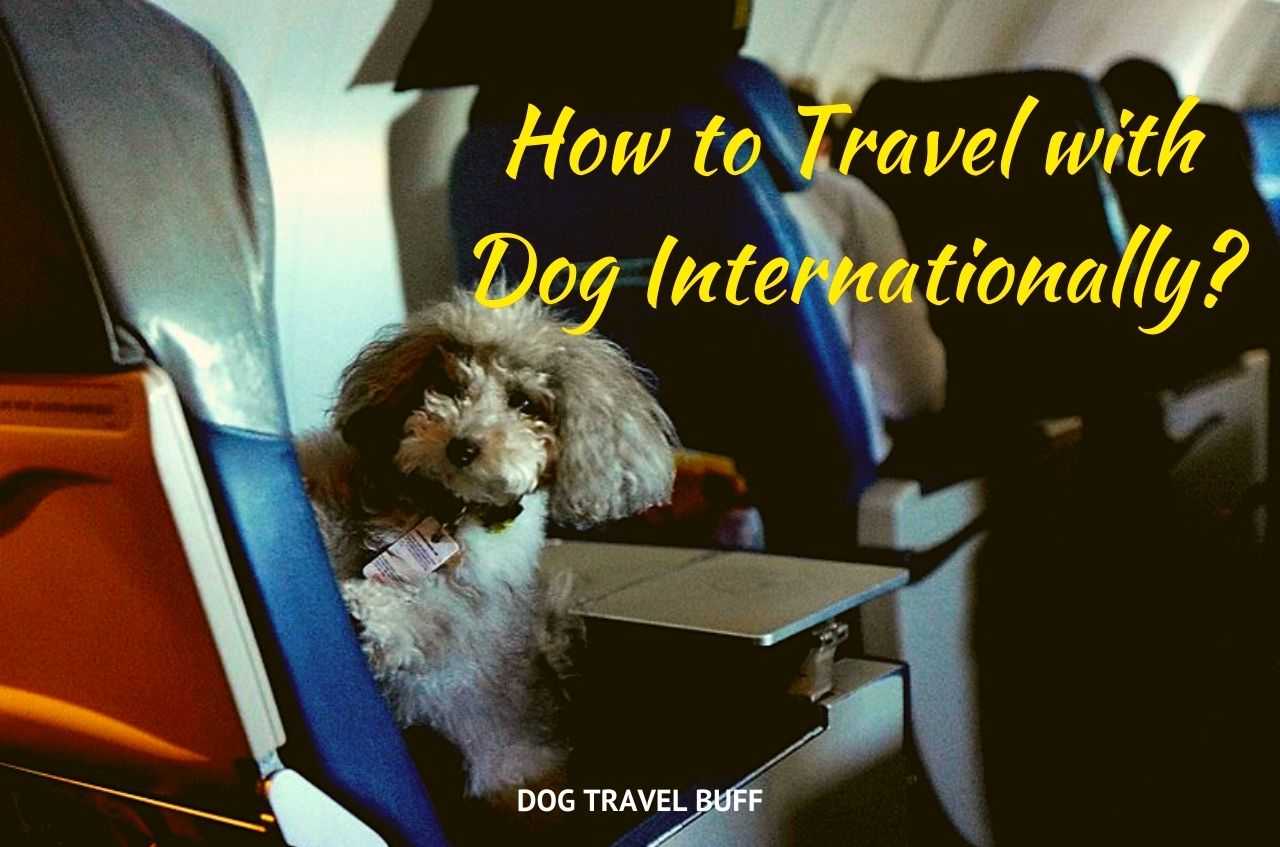 This post may contain affiliate links. If you buy something through one of those links, you won't pay any extra penny, but I'll get a small commission that encourages me to deliver more helpful content for you.
If you are traveling internationally with a dog then I'm sure you have thousands of questions in your mind. How to travel internationally with a dog, which airlines allow dogs in cargo, and a lot more, right? An airline is not only carrying people globally but also carries their dogs. 
I did all the research work and will provide you with all the required information on how to travel with a dog internationally in this blog. I will make things easier by providing helpful tips to travel internationally with your dogs, kitten, or other pet.
Fly high with your dog! 
Table of Contents
International Dog Travel Requirements 
Your dog is your best friend and you share every emotion and other thing with him. You work hard to give him the best food, the best comfortable bed, and all your love. But when it comes to flying, nothing is in your hand, especially if you travel with your dog on a 10 or more hour flight. You have to follow rules and regulations laid down by airlines to carry him with you. These rules are very important to protect your dog and other pets. 
Follow these steps before flying internationally:
Appointment with a Veterinarian:
To safeguard international travel with dogs visit the nearest vet and book an appointment with a veterinarian. Flying can be very stressful for your dog. No matter wherever you are flying you have to show a veterinary health certificate before boarding the flight. If you are flying from the USA, or Canada, then the certificate should be attested by USDA or CFIA veterinarian. Safe travel! 
Vaccinated and Microchipped: 
Vaccination is so important to protect your dogs from parainfluenza, bordetella, canine influenza, brucellosis, Ehrlichia Canis, leishmaniasis, leptospirosis, and importantly from rabies. I am sure you don't want your furry friend to get infected with any of these above diseases. So, be smart, and before traveling with dogs, vaccine him. 
As a pet owner, you should also protect your dog from heartworm disease. It is not a southern disease anymore, heartworm disease in dogs in the US is quite common nowadays.
How to travel with a dog on a plane? What happens if you can't find your dog in such a crowd? The simple answer is to microchip your pet. If ever you lost him, then someone else will scan him and the 15 digits non-encrypted microchip will help you to find him easily. Keep him healthy and safe!
How can you travel with a dog internationally? Once you have a veterinary health certificate, vaccination, and microchip fixed, you are ready to fly. There are three ways you can travel with a dog abroad being stress-free. Know your options before booking airline tickets for you and your four-legged companion. 
Different Modes of Travel with Dogs Internationally:
The Cabin:
Yes, you can travel with a dog in the cabin just sitting beside you. Some airlines allow dogs in the cabin with their owner if the flying journey is small and the size of the dog is smaller. If you have a small dog breed then you are lucky to carry him with you. A dog carrying backpack is an essential thing for every dog parent. Happy journey!
If you are wondering how to fly with a dog in a cabin, then you will be surprised to know that 12 airlines allow your dog to fly with you. They are as follows: American Airlines, Vueling, United Airlines, Southwest, Delta, Aegean Airlines, Air France, Air Canada, Alaska Air, Air Europe,  JetBlue, and Lufthansa.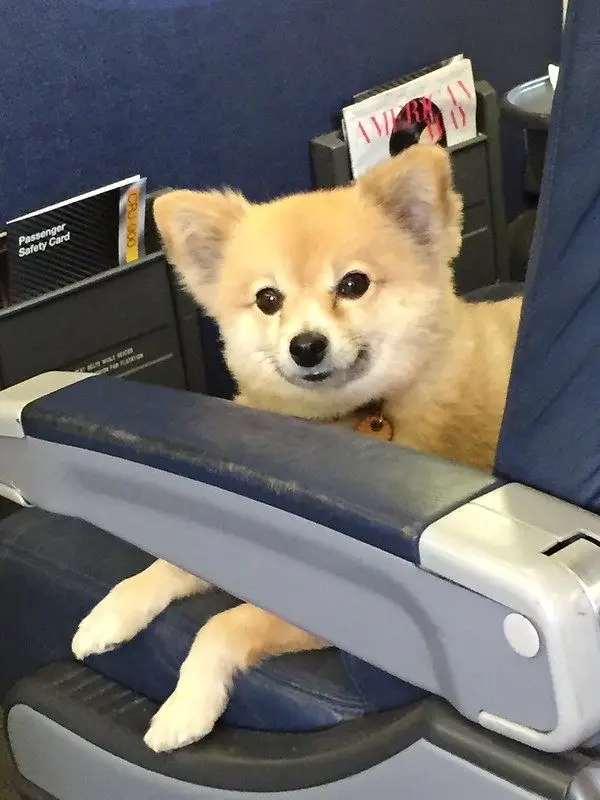 In a Cargo:
Flying in cargo is a little expensive option, but you can't help it, right? Different flights charge differently. Sometimes you can book your four-legged companion in the same cargo on the same airline or different airline. You can travel with a dog internationally wherever you want. 
Flying as cargo can be a little stressful, loud, surprising, and scary for your dog. But international travel with dog services is very friendly and well behaved. They provide water from time to time to your dog so that they are never thirsty. American Airlines follows a strike rule to give food to dogs. 
Commercial Shipper:
If you want to give some luxury then recruit a licensed commercial shipper who will safely bring your dog to you. If you desire international travel with the dog then the best option is to choose commercial shippers. Pay a little more, fly safe! 
Airlines That Allow Dogs
Can I travel internationally with my dog? Yes, you can. Now you know your options and can book your tickets and can travel with your dog internationally. Different airlines laid down different rules from time to time, so it is always advisable to verify before booking your tickets. 
Also depending on the airline, you have to book a cargo or commercial shipper for your pet.
Tip: Try to avoid international travel with dogs in May, June, July, August, and September to Northern Hemisphere. During this time the temperate is too high there. 
Here are the following international pet travel airlines which allow travel with pets internationally. They are as follows:
Southwest Airlines:
Travel with a dog on Southwest airlines and enjoy the memorable ride. It offers incredible services and is one of the best pet-friendly airlines in the US. National flights allow smaller breed dogs to travel in the cabin with their owner. International flights don't allow dogs in the cabin. If you are boarding this flight remembers to come as soon as possible to avail the "first come first serve offer". 
Price: $ 95 and up
Pet friendly: Yes, very much. A dog can travel in a cabin and cargo. 
Dog restricting: Dogs barking and whining too much.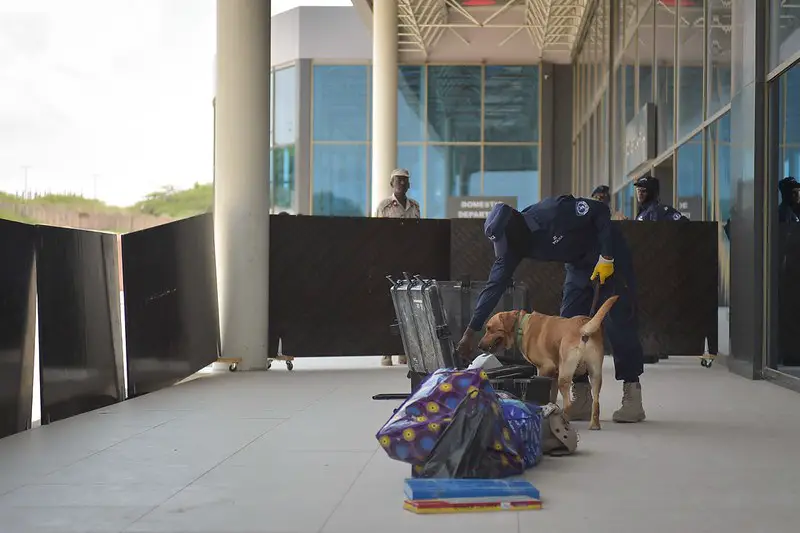 American Airlines: 
Wondering which airlines allow pets in the cabin? American Airlines welcomes small breed vaccinated dogs in the cabin. If you have proper documents and are flying a short distance then your dog can fly with you. Put your dog inside the carrier and place him under the seat and you are ready to go. But if you are traveling far and opted for cargo shipping then worry not, it has good reviews and will provide water and food to your dog and will take care of it.  
Price: $ 120 – $ 200
Pet friendly: Yes, very much. The dog can travel in a cabin and cargo. 
Dog restrictions: Chow Chow, Japanese Chin, English toy spaniel, Boxer, Pit Bull, Presa Canario, and a lot more are not allowed. Go to their website and check it. 
Air Canada:
Tensed how to travel internationally with a dog? Choosing Air Canada is the best option, it travels everywhere in the world. You name it, we fly it! Traveling with a dog internationally is so affordable for all dogs and dogs' lovers. Small dogs are allowed in the cabin and larger breeds are traveled via cargo. It has good reviews and will take proper care of your dogs. This is the most comfortable flight to travel with a dog internationally.
Price: $ 50 and up
Pet friendly: Yes, very much. A dog can travel in a cabin and cargo. 
Dog restricting: Not more than one pet, and must be a 12-week old dog.
Delta:
Delta airlines fly in more than 50 countries globally and they welcome dogs and other pets to travel with their owners. Interestingly, you can carry two pets in first class and business class, and four in the main cabin. Small dogs and pets are allowed to fly with their owner in the cabin. Large dog breeds have to be put in the cargo and Delta airport personnel will take care of your dog. 
Price: $75-$200
Pet friendly: Yes, very much. The dog can travel in a cabin and cargo. 
Dog restricting: Nil. Check their official site for recent updates. 
SAS:
Scandinavian Airlines is the best pet-friendly airline to travel with a dog internationally. If you book your pet tickets before a day then they will accommodate you and your pet in the cabin. Cats and dogs have ushered in the cabin and if your pet is ill-behaved and doesn't fit in the carrier then flight personnel can cancel cabin travel of your pet.  
Price: $ 65 and up
Pet friendly: Yes, very much. A dog can travel in a cabin and cargo. 
Dog restricting: Check with the airline authority.
There are the following airlines in India like Air India, Jet Airways, Spicejet, Vistara, and that allows pets and dogs on board.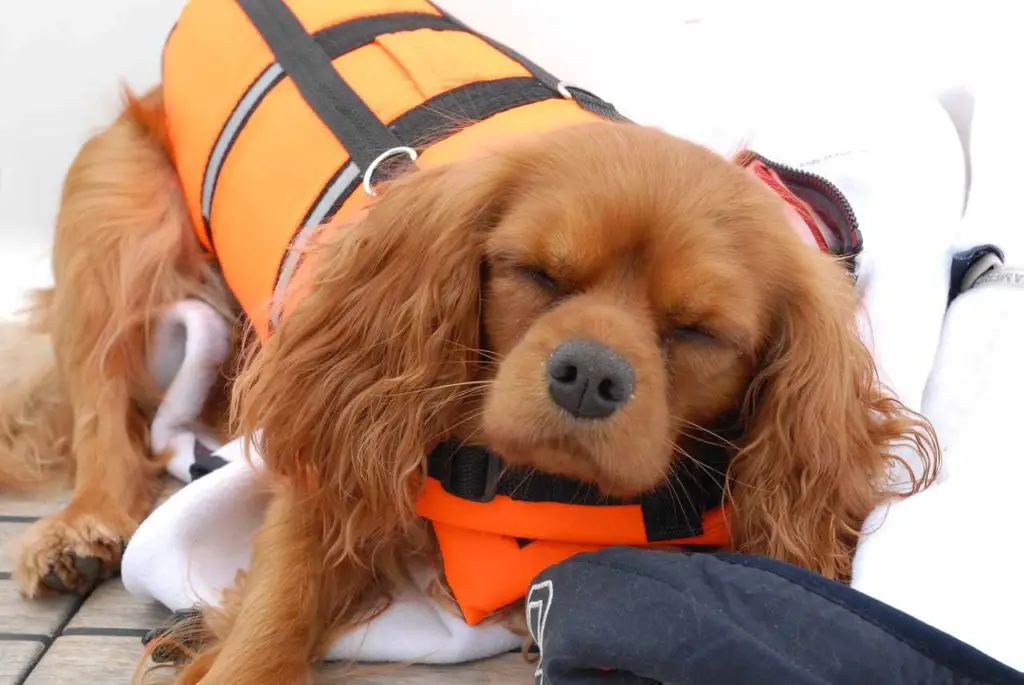 In which international flight dogs are welcomed?
The most pet-friendly airlines:
American Airlines
Delta
Southwest Airlines
Did you ever wonder how much it cost to fly a dog internationally? It cost around $ 50 -$ 200. It depends on which flight you are booking, your dog, the location, and the period you are booking it.  
Best Dog Kennels to Fly with a Dog Internationally
If your dog is a larger breed and you opted for cargo shipping then you need good kennels to ensure your dog's security. It's very desirable if you buy one of these products from Amazon.com at a very affordable price. Buy kennels that are comfortable for your pet.
Petmate Two Door Top Load 24-Inch Pet Kennel, Pearl Ash Blue/Coffee Ground (21231)
Ratings: 4.8 stars
Item: L*B*H: 24.05 x 16.76 x 14.5 inches
If you desire a long car ride with dogs then also you can choose it. This kennel is suitable for a small dog of 10-20 lbs. This air travel kennel for pets has ever-lasting, strong, user-friendly, comfortable & ventilated sides for a comfortable journey of your dog. It also has steel doors that facilitate the security and safety of your dog. Buy trendy and two-door kennels now! 
Confote 37" Heavy Duty Stainless Steel Dog Cage Kennel 
Ratings: 4.4 stars
Item L*B*H: 37.01 x 25.2 x 27.17 inches
Shipping dogs internationally are now very easy through the Confote 37 "stainless kennel. This kennel is suitable for medium and large dogs that are aggressive to travel internationally. It has two doors, enough places, and 360 degrees rotated locking casters. This is the most comfortable, solid steel-framed, non-toxic and perfect for dogs. Buy it for your pal's safety.
Zampa Portable Foldable Pet playpen Exercise Pen Kennel
Ratings: 4.5 stars
Item L*B*H: 45*45*54
This is one of the beautifully designed kennels available on Amazon.com. It has a mesh top with four metal spikes for the safety and security of your pup. The most remarkable feature of this kennel is it has a water holder which is reachable from outside. These water-resistant and long-lasting kennels are highly recommended for your dog.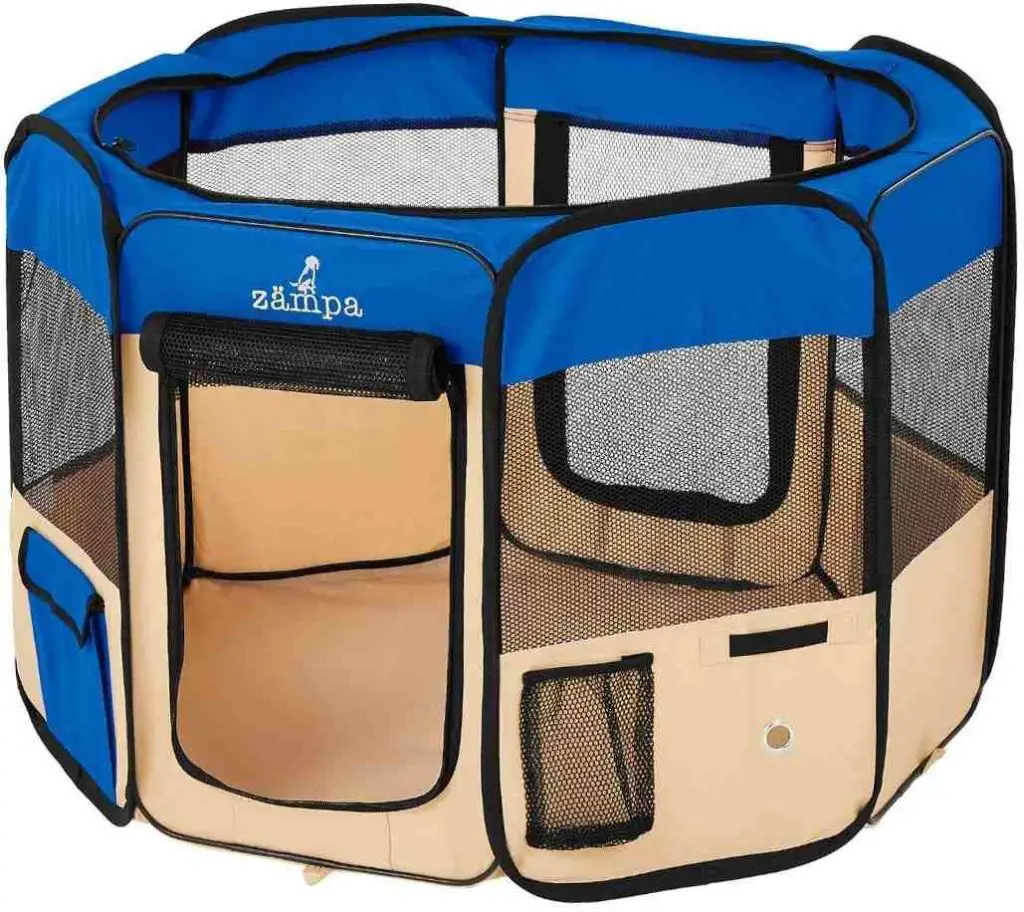 MidWest Homes for Pets Dog Crate
Ratings: 4.8 stars
Item L*B*H: 36 x 23 x 25 inches
Who doesn't want a free divider panel, durable dog tray, carrying handle, and 4 'roller' feet protecting the floor kennel all in one for their dogs while traveling? 40 to 70 pounds dogs can comfortably travel in this kennel. It is a very safe, enduring, and portable kennel to travel online. 
Suncast Deluxe Portable Pet Carrier with Handle
Ratings: 3.9 stars
Price: $ 69
Item L*B*H: 24″ x 17.5″ x 18.5″ 
This item is perfect for carrying small and medium-size dogs while traveling internationally. You can even travel with a dog in a car by putting him inside it. This pet carrier is the most comfortable and has a separate place to keep a bowl for food and water. It is well designed and has a properly ventilated side which ensures your dog's safety. 
Recommended Read: 10 Tips To Make Your Dog Comfortable With Pet Carrier
Guide to Travel with Dogs Internationally
It is very natural for dogs to get thirsty and hungry while traveling internationally. So, what do you need to travel with a dog internationally? Always buy a kennel where you can attach dishes and water bottles for your dogs. Make sure you keep enough food for your dog. Flight personnel will take care of it and feed him from time to time.  
Dogs while air traveling cannot come out from the kennel therefore buy a kennel that has an absorbent mat and doesn't mess the place.
Before booking a ticket for your pet make sure he/she is healthy and ready to travel by air. Once you reach your destination don't delay and pick him up immediately. I am sure he is waiting for you. So, next time don't say 'I want to travel, but I have a dog'.
Read Next: