7 Incredible Dog Friendly Beaches in Santa Cruz
Santa Cruz is a beautiful city with clean beaches, moderate climate, and it offers some of the best places to spend weekends. Santa Cruz is a perfect place for surfers, sea lovers, and sun-seekers. There are several dog-friendly beaches in Santa Cruz that welcome dogs. You are lucky to appreciate nature and boardwalk along the beach with your dog and four-legged best friend.
Santa Cruz is on the northern edge of Monterey Bay and 51 km south of San Jose and 120 km south of San Francisco. The breathtaking dramatic views of the blue sea with gentle waves, the Pacific Ocean, sea breeze, and charming beaches – are mesmerizing and enthralling. These dog beaches in Santa Cruz help you to clear out your clouded mind and allows you to enjoy a soothing time on such a beautiful California coastline with your furry friends.  Spend quality and quantity time with your pet!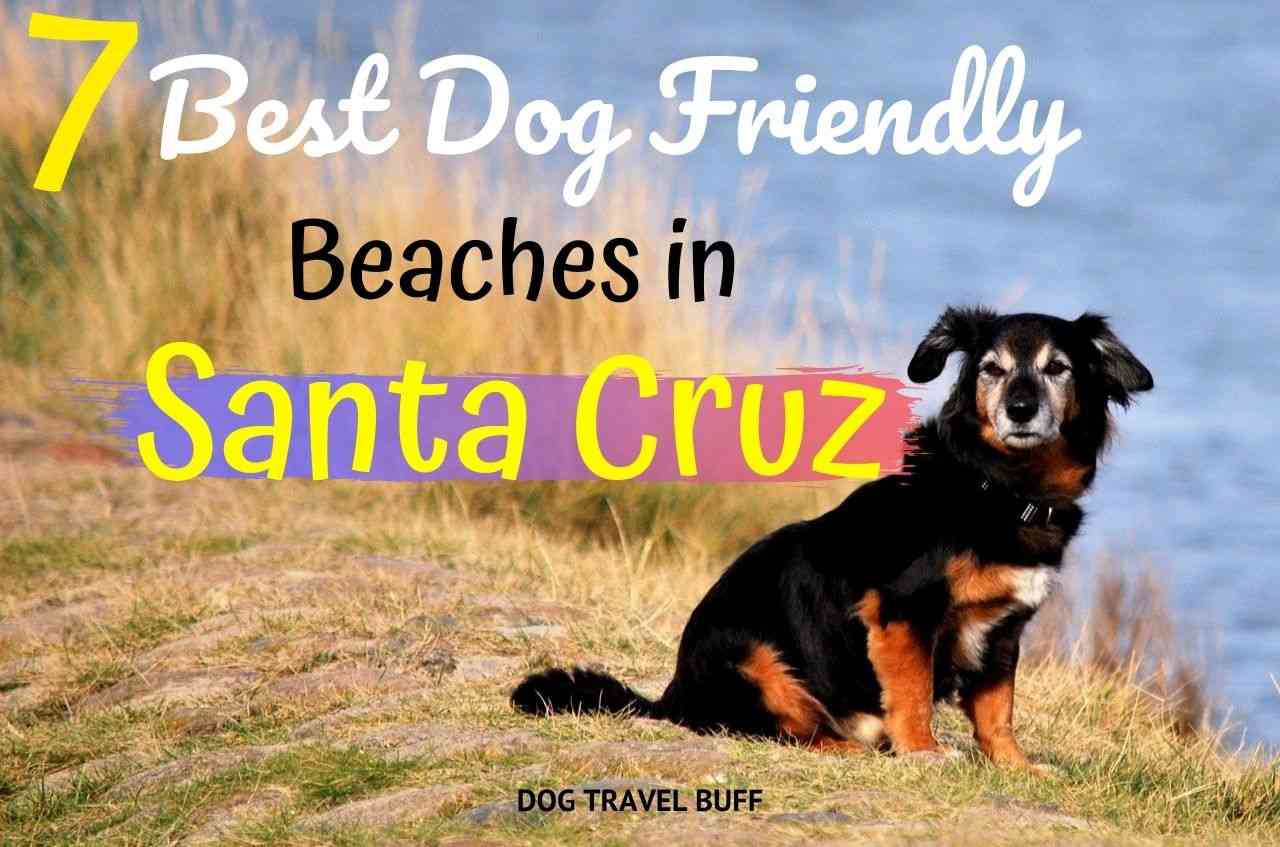 This post may contain affiliate links. If you buy something through one of those links, you won't pay any extra penny, but I'll get a small commission that encourages me to deliver more helpful content for you.
A dog-friendly beach in Santa Cruz is an ideal spot for your pup and you to spend the day by the seaside and playing in the sand. 
In this blog, I will explain everything about the dog-friendly beaches in Santa Cruz, California. You can take out your friend – enjoy, eat and stay happily.  
Let's enjoy summer, with great tan lines and a furry wet nose by your side! 
Day Out at the Best Dog Beaches in Santa Cruz
Have you ever thought of clicking pictures of your dog paw prints in the sands? No? Then, next time, when you are visiting Santa Cruz, don't forget to click it because it looks so adorable. A dog-friendly beach in Santa Cruz provides you the liberty to enjoy the beach to the fullest. 
The golden sand, the Pacific Ocean, lunch at dog-friendly restaurants, and nights at dog-friendly hotels in Santa Cruz are amazing. Santa Cruz beaches that allow dogs are so refreshing for dogs and dog lovers. If you are looking for a northern California day trip with your dog, visit these pet-friendly beaches in San Cruz with your furry friend. 
Have you ever wondered are dogs allowed on the Santa Cruz beach boardwalk? Here's the list of some of the best dog beaches in Santa Cruz which welcome your pooch!
Let the fun begin on the pet-friendly beaches in Santa Cruz! 
TWIN LAKES STATE BEACH
Twin Lakes State Beach is the best-loved dog beach in Santa Cruz destination for pet lovers. It's the warmest beach and a great place for dogs that are on-leashed. It is at the south of Santa Cruz Harbor and very safe for dogs. The beach offers consistent gentle waves and a wide sandy shoreline.
In addition to outdoorsy recreation, the beach is significantly appreciable for sunbathing, mood lighting, and quality time, bird watching, and picnicking with the pooch. You can also treat yourself with good food and enjoy watching your dog running, dipping into waves, and reconnecting with you.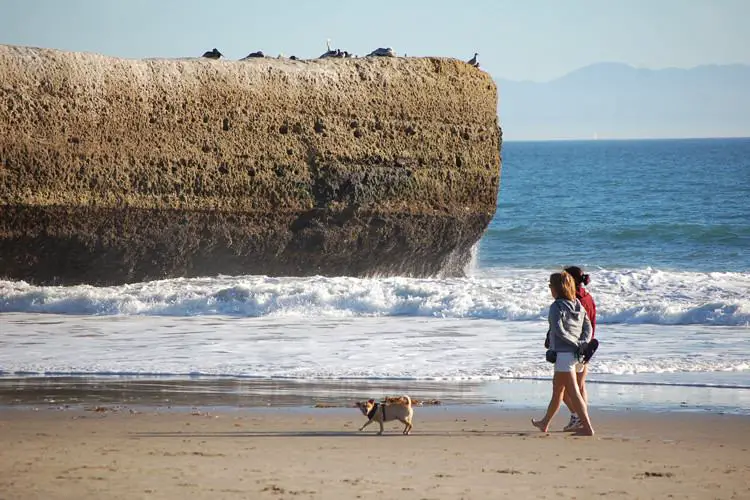 MITCHELL'S COVE BEACH: Dog Friendly Beach in Santa Cruz
Between Almar and Woodrow, on West Cliff Drive lies Mitchell's Cove Beach, one of the best dog-friendly beaches in Northern California. On-leash dogs are allowed from 10.00 AM to 4.00 PM and the off-leash dogs are allowed during the other half. Use the staircase to reach the perfect idyllic beach waiting down for you and your friend. 
Mitchell's Cove Beach is well-known for the ideal and perfect beauty of its natural environments and crystal clear blue water. The gentle waves and the slight cheerful breeze is the perfect place for you and your dog. This lovely beach has many cliffs and rocks and is not fenced. 
Read Also: 7 Surprising Benefits of Traveling with Your Dog
SEABRIGHT STATE BEACH
Another iconic stretch of sandy dog-friendly beach near Santa Cruz is called Seabright state beach. This beach has a narrow entrance behind the natural rock from Santa Cruz Yacht Harbor and ends at the mouth of the San Lorenzo River. On-leash dogs are welcomed here.
Your canine friend can run and play with you all around the beach and make some new friends. This place offers picture-square views of coastlines and offers amazing scenic beauty with spectacular sunset views. There are plenty of washrooms which you can access after playing.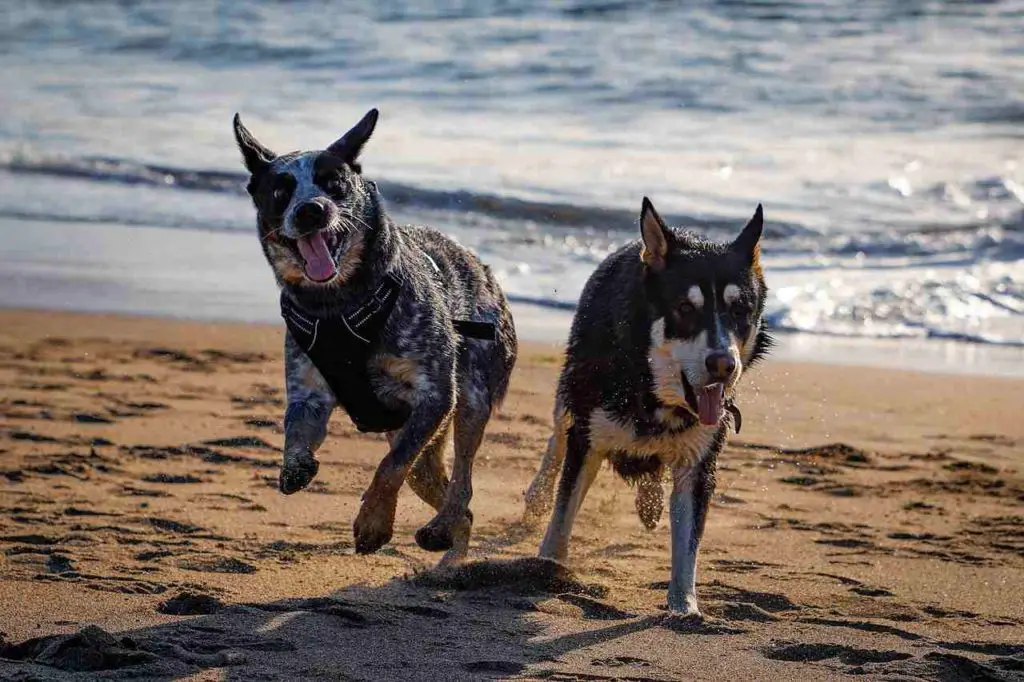 Read Next: Guide to Travel Internationally with Your Dog
ITS BEACH
North of the Lighthouse and West side of Point Santa Cruz in Santa Cruz, California and lies Its beach. Transparent and pristine, the water of the beach welcomes you and your dog at the old shoe sea stack. The natural bridge, natural arch, and classic seaside small amusement park here are open for dogs of every breed. It has many parking areas and is free to all. It is a great place!
PLEASURE POINT BEACH: Pet Friendly Beach in Santa Cruz
On the northern Monterey Bay in Santa Cruz Country lies Pleasure Point Beach. It is one of the well-known dog beaches in Santa Cruz that welcomes four-legged pets. This beach offers picturesque views of the ocean and your pup will enjoy frolicking in the gentle waves. This is a great place to surf, and spend a day with your loved ones. Stay alert during high tides.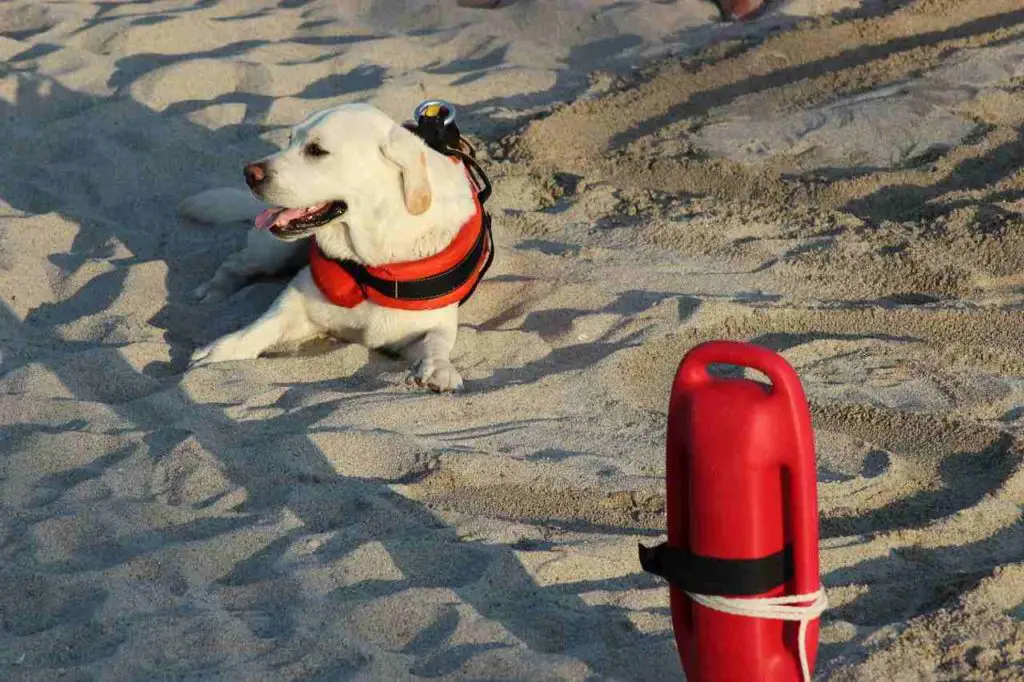 MORAN LAKE & BEACH
The most beautiful dog-friendly beach in Santa Cruz is Moran Lake & beach which has both a park and a beach. On-leash dogs are welcome and allowed to run and enjoy on a 9.2-acre lot. This beach is also connected with Live Oak Beaches; therefore, a good memorable walk with your four-legged friend is a must. This area is surrounded by eucalyptus trees giving a peaceful vibe. 
Read Next: 10 Tips for Hammock Camping with Your Dogs
HOOPER BEACH
West of the fishing pier in Capitola, California lays Hooper Beach. It is one of the most famous off-leash dog beaches in Santa Cruz, Aptos, and Capitola. This beach is very popular among pet owners since off-leash dogs are welcome and you can swim, play, fetch and do anything. 
Still, wondering what beaches are dog-friendly in Santa Cruz? You can visit one of these above beaches in Santa Cruz for a memorable weekend. These are the best and stunning off-leash dog beaches in Santa Cruz. Still, if you want more options then I can suggest a few more places where you can visit. They are Live Oak Beach, Rio Del Mar State Beach, SeaBright State Beach, Greyhound beach, and Sunny Cove Beach.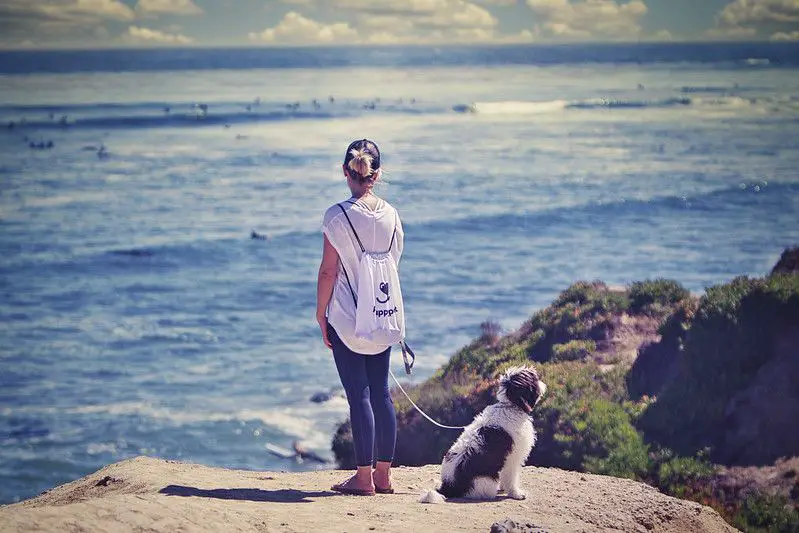 If your pooch gets tired after playing on the beach, keep him/her in your backpack and keep exploring the beaches and nearby dog parks. Here is our byuer's guide to purchase the best dog carrier backpacks.
List of the Best Dog Parks in Santa Cruz
Dog parks in Santa Cruz welcome the increasing number of pet parents who bring along their four-legged furry friends in parks after spending gala time on beaches. Parks are very important for recreation and it gives plenty of areas for your dog to run and enjoy their time. 
Here are the few parks in Santa Cruz where you can visit with your dogs. 
FREDERICK STREET PARK
Near Seabright Beach, there is a green park named Frederick Street Park which welcomes on-leash dogs to play, run, and enjoy with other dogs too. You can visit this park, spend some time and head down toward Arana Gulch trails or other beaches. 
Some dog-friendly beaches in Santa Cruz are easily accessible from this park. 
GRANT STREET PARK
If you want to enjoy greenery as well as little hills then come to Grant Street Park. This park welcomes off-leash dogs and you can spend a few hours talking to other pet lovers and making new friends. 
Related Post: 8 Best Dog-Friendly Hiking Trails in Santa Cruz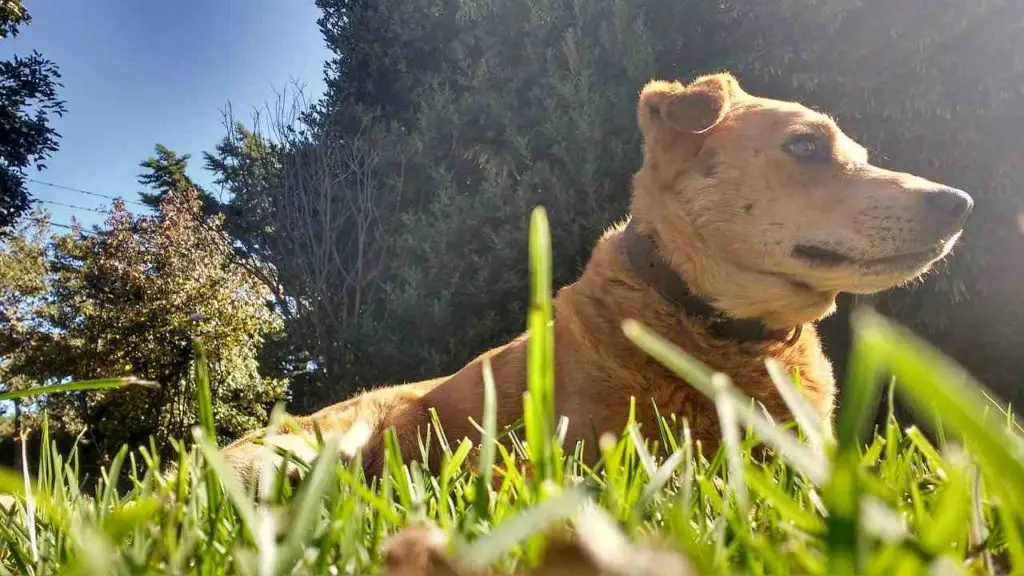 Dog-Friendly Restaurants in Santa Cruz
You must be very hungry by now! So don't delay, grab your seat belts and visit these restaurants to enjoy great food and a great vibe.
Here are the few dog-friendly restaurants in Santa Cruz which serve the best quality food for you and your dog. 
East Side Eatery
At 800 41st Avenue of Capitola Village, East Side Eatery is situated. It offers a gorgeous outdoor patio and serves amazing Pizza, salads, plates of pasta, burgers, and their award-winning chili and chowder, and more!
Britannia Arms
At 110 Monterey Avenue in Capitola Village, Britannia Arms is situated. You can surely enjoy sea views and mouth-watering food on the table. Book your table and enjoy your meal with your best furry friend.
Dreamy Dog-friendly Hotels in Santa Cruz
After exploring beaches in San Cruz you can plan a perfect holiday stay with your furry dog. After enjoying sea views, dog-friendly hotels in Santa Cruz welcome you to a night of safe and comfy sleep. Here are the few places you can visit and sleep well.
Chaminade Resort and Spa
This resort understands and welcomes dogs of every size, breed, and color like no other and ensures that your pet receives the best treatment. It is beautifully situated in the heart of Santa Cruz and offers the best night's stay. >>Book Your Stay<<
Hotel Paradox
If you want to enjoy an urban forest ascetic wooden designed room then come here. Its antique ambiance will make you feel like a home-away-home. This place is 5 minutes away from Lighthouse Field State Beach, Mitchell's Cove Beach, and West Cliff Drive. >>Book Now<<
Have you planned your vacation to Santa Cruz with your dog? If not, then plan it now; dog-friendly places in Santa Cruz are amazing to spend your weekend. You can explore beaches, mountains, parks, restaurants and spend some quality time in hotels. You will be pleased to visit here. Santa Cruz is dog-friendly! 
Read Next: