9 Best Scenic Dog-Friendly Hikes in Oahu, Hawaii
Oahu is very famous for hiking but most of the areas in Oahu don't allow dogs. So we've decided to find the best dog-friendly hikes in Oahu for you.
3 years back when we visited the Hawaiian islands with our dog we were suggested by locals to visit Oahu Island as it's best known for dog friendly-hiking trails. Oahu is an island in the Central Pacific and also a part of the Hawaiin island chain and has many dog-friendly hiking trails.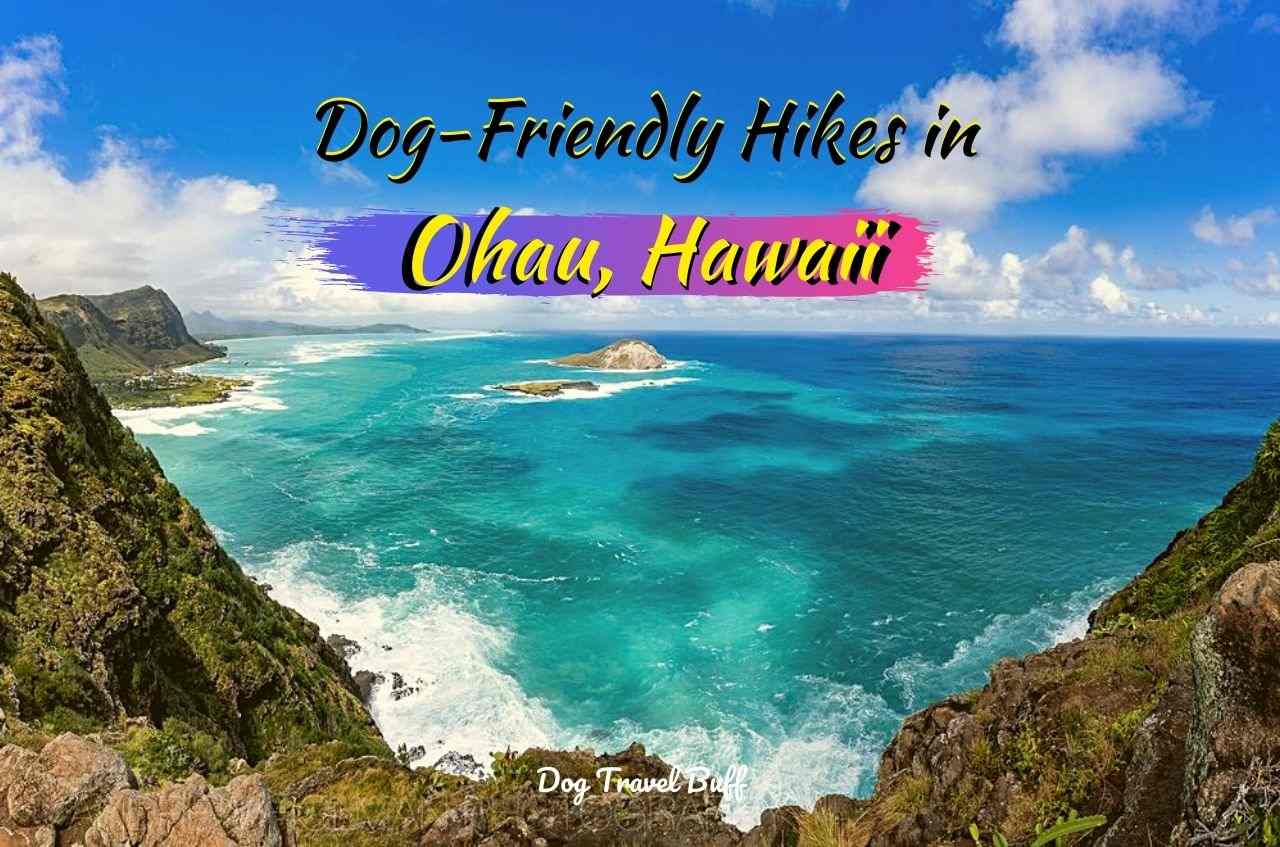 This post may contain affiliate links. If you buy something through one of those links, you won't pay any extra penny, but I'll get a small commission that encourages me to deliver more helpful content for you.
In this article, we will tell you the best dog-friendly hikes in Oahu, and also suggest you the best guidance for a beautiful trip to Oahu with your pet.
1. Koko Crater Arch
Koko Crater Arch is famous for its lava rocks and natural arches. Here in KoKo Crater Arch, you can roam around with your dog off-leash.
When you're looking for dog-friendly hikes in Oahu then Koko Crater Arch is a great option for you. This is a small hiking route that spreads around 1.25 miles towards southwest Oahu. This trail starts from the highway and goes across to Halona Blowhole. At this point, you can park your car.
From Halona, walk to Mile Marker 15 along the highway. Now walk into the ravine and follow the rock ledge on the left side. You will see a natural trail following the ridgeline. Here you will get a great view of Crater Arch.
Distance: 1.25 miles roundtrip
Elevation Gain: 200ft
Difficulty: Easy
Fee: Free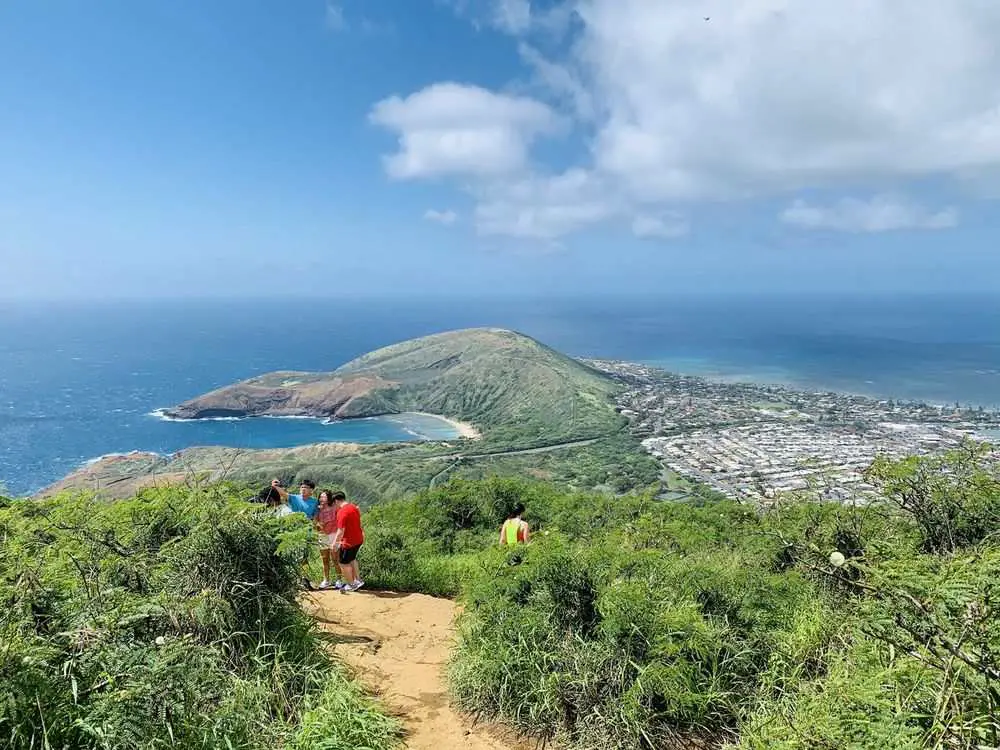 2. Manoa Falls
Experience this beautiful dog-friendly 2.74 km trail in Oahu this summer. Surrounded by lush green forest, this pet-friendly hike in Oahu offers a beautiful waterfall in the middle of the Koolau mountains. It takes approximately 1 hour to complete the whole hike in this region. As this area is famous for hiking and walking you might find a lot of people on this hiking trail with their pets. This small trail is famous for hiking with small dogs. You might find a lot of tourists who are also hiking with their dogs in this region. If you love hiking with your dog, check out the list of essential hiking gear for your dogs.
Distance: 2.74 roundtrip
Elevation Gain: 633ft
Difficulty: Easy
Fee: Free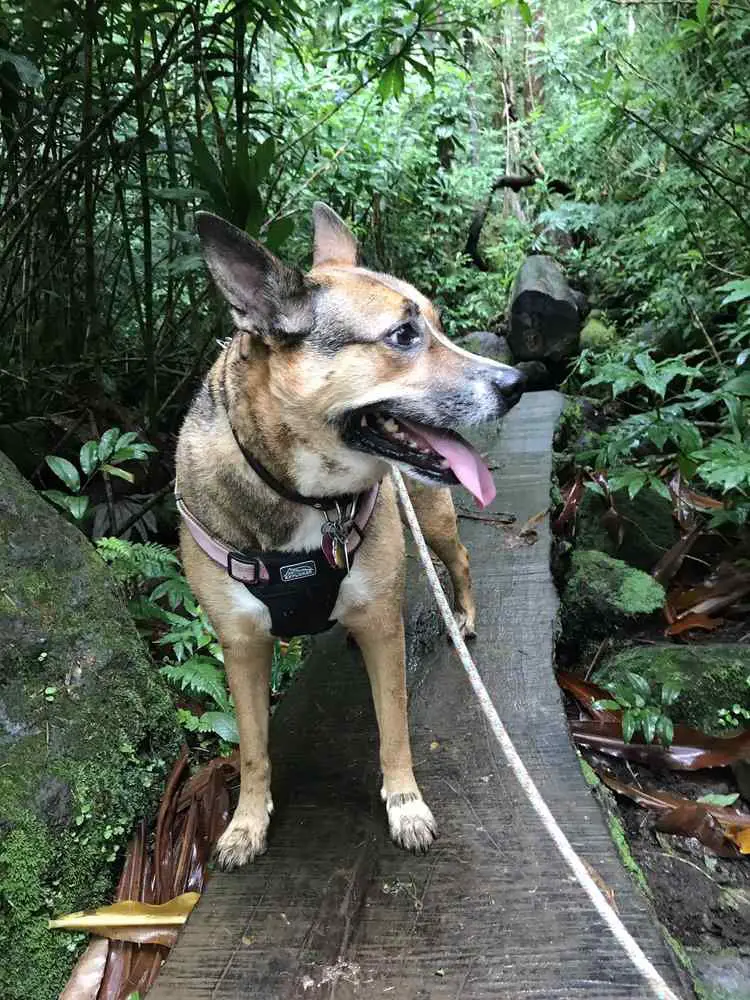 3. Kuliouou Ridge Trail
Kuliouou Ridge Trail is our favorite dog trail in Oahu because of its charming beauty. This is a small hiking trail that is great for dogs. This area spreads across 4.4 miles and offers soothing views of southeast Oahu. Although this is considered one of the best dog-friendly trails in Oahu but on this hiking trail you have to keep an eye on your dog as it is an off-leash area for dogs.
Distance: 4.4 miles
Elevation Gain: 1800ft
Difficulty: Easy
Fee: None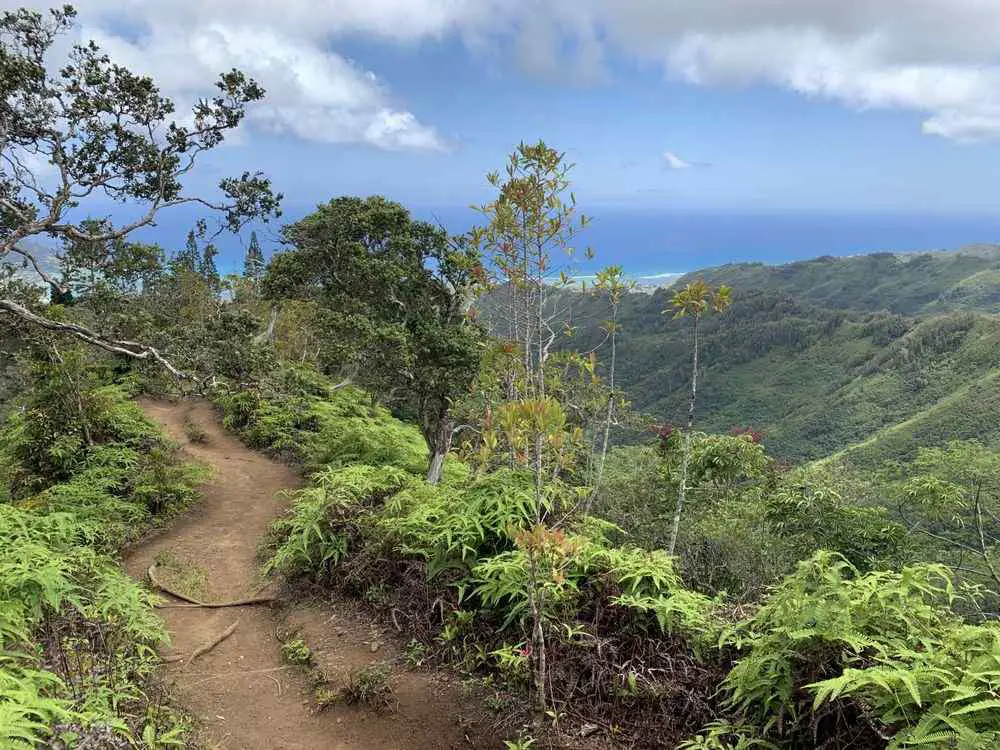 4. Manaa Ridge Trail
We found Manana Ridge Trail is an easy hiking trail for your pup. This is the path of a small trail spread around 12 km in Pearl City. You can go to this trail with your dog but your dog must be leashed. As this area has many twists and turns on sloppy areas. These have become our favorite dog-friendly hikes near Oahu. This hiking trail will take 3 hours to complete the journey.
Distance: 6.8 miles
Elevation Gain: 1420ft
Difficulty: Difficult
Fee: Free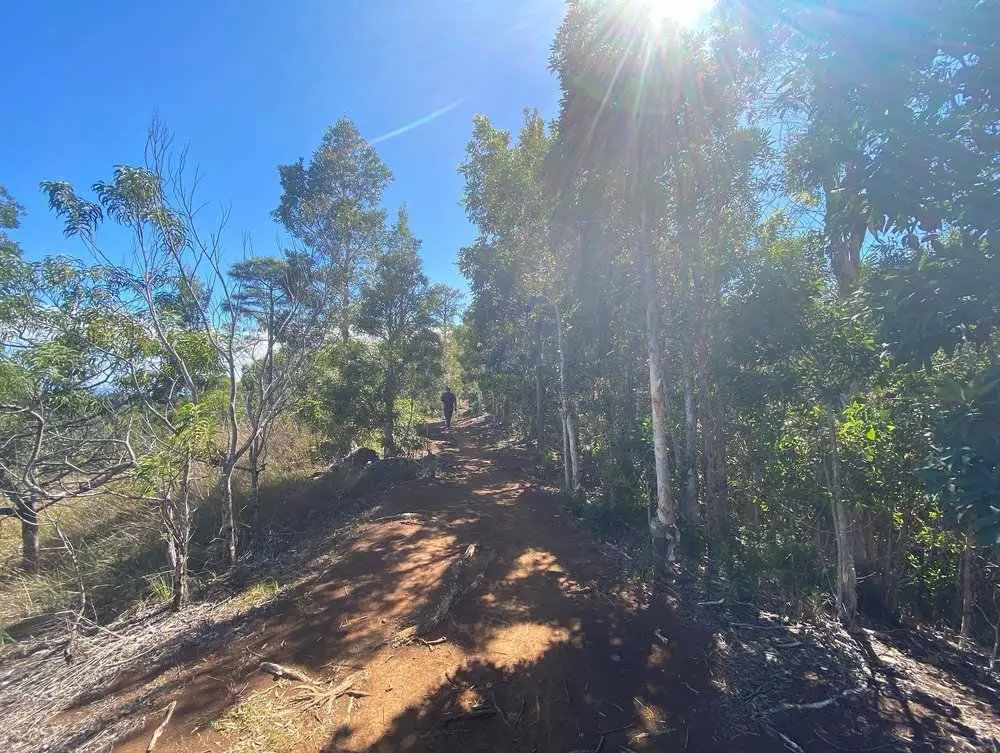 5. Kaiwa Ridge (Lanikai Pillbox) Hike
If you're in search of a hike that is good for your small dog in Oahu then we would suggest Kaiwa Ridge Hikes. It is one of the best dog-friendly places on Oahu. It only takes an hour to complete the whole hiking. You'll have the best experience if you're a beginner in hiking as this area is small you will find it less challenging. This area remains open throughout the year. So whenever you want you can go to this area hiking with your dogs regardless of the season.
Distance: 2.74 km
Elevation Gain: 191mtr
Difficulty: Intermediate
Fee: Free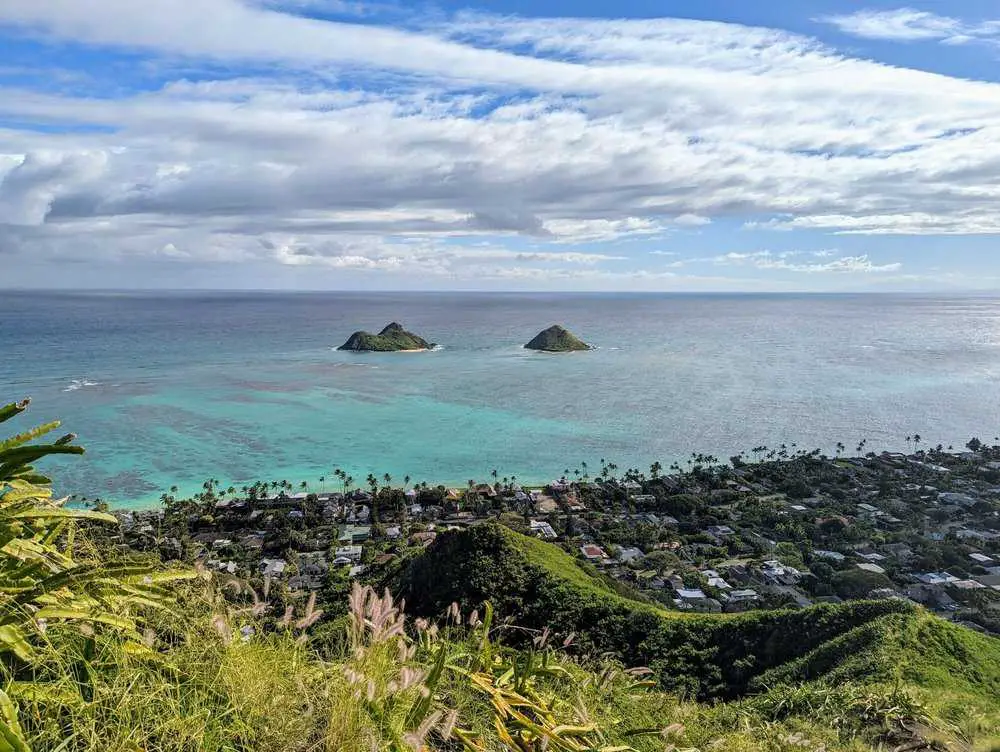 6. Makiki Valley Trail
Experience the best dog-friendly trails near Honolulu, Oahu. This trail spread across 5.15 km in a lush-green area. If you love to watch birds while hiking with your dogs then the Makiki Valley trail is a great option you have which is located near Oahu. It takes around 1 hour and 15 minutes to complete this loop trail. On this trail, you can take your dog with you but they must be on a leash.
Distance: 5.15 km
Elevation Gain: 316mtr
Difficulty: Challenging
Fee: Free
7. Makapu'u Lighthouse Lookout Trail
The panoramic view of Makapu'u Lighthouse is our all-time favorite trek in Oahu. Every time we visit Oahu we try to visit these hikes with our dog. The azure sky on the head and gentle breeze will make you feel this hiking trip outstanding.
It only spreads around 4.3 km approximately and is very easy to hike with dogs. But your furry pal must be on a leash. This whole trail is paved, there's no shade so try to carry water bottles in your backpacks and an umbrella for your dog.
Distance: 4.3 km
Elevation Gain:154mtr
Difficulty: Easy
Fee: Free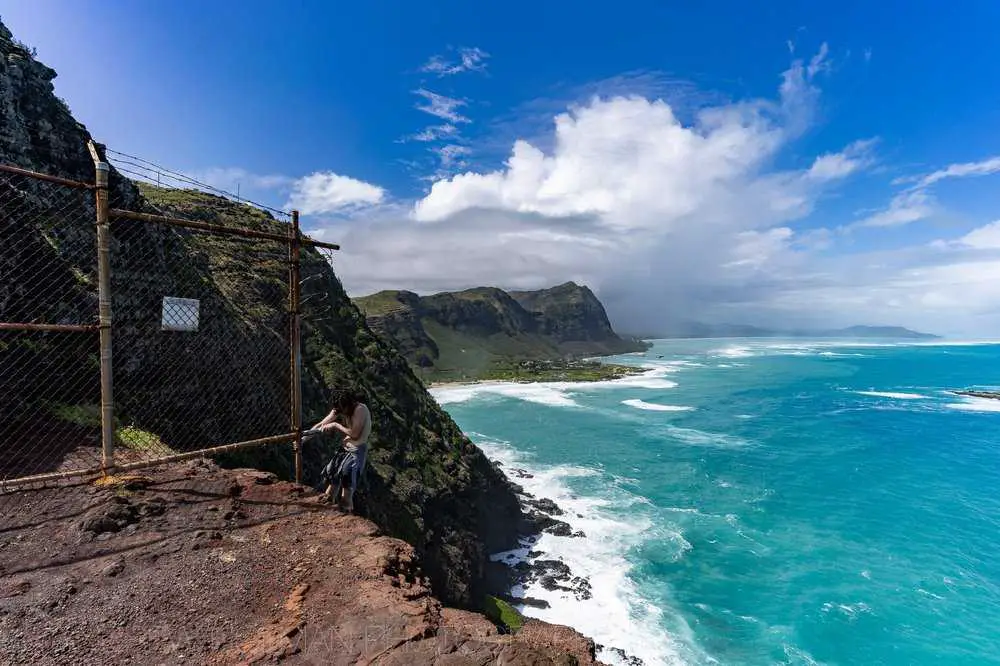 Read Also: 10 Dog Carrier Backpacks for Hands-Free Style
8. Maunawili Falls Trail
Maunawili is a nice hike through the jungle of Kailua, Maunawili Falls. This offers the great scenic beauty of waterfalls. Here you can have a great time with your four-leg pal. You can do some cliff jumping and other water sports. This is very famous for dog hiking in Oahu. You might see people roaming around here with their dogs in strollers.
Although this waterfall remains close till 2023 due to some issues we couldn't drop this from our list because of its beauty and fun activities.
Distance: 3.5 miles
Elevation Gain: 715 ft
Difficulty: Intermediate
Fee: Free
9. Hawaii Loa Ridge Trail
Want to go for the most challenging hiking in Oahu? Also, want to take your dog with you? Then go to Hawaii Loa Ridge. This 7.2 miles long hiking route will give you thrilling experiences with every step. Going alone on this trip might be a bad idea as this is a long path so take your dog with you. It might take 3 hours to reach the peak point of Hawaii Loa Ridge. In case you attempt it, don't forget to bring hiking boots for your dog as they can protect the paws of your pup.
Distance: 7.2 miles
Elevation Gain: 446 ft
Difficulty: Challenging
Fee: Free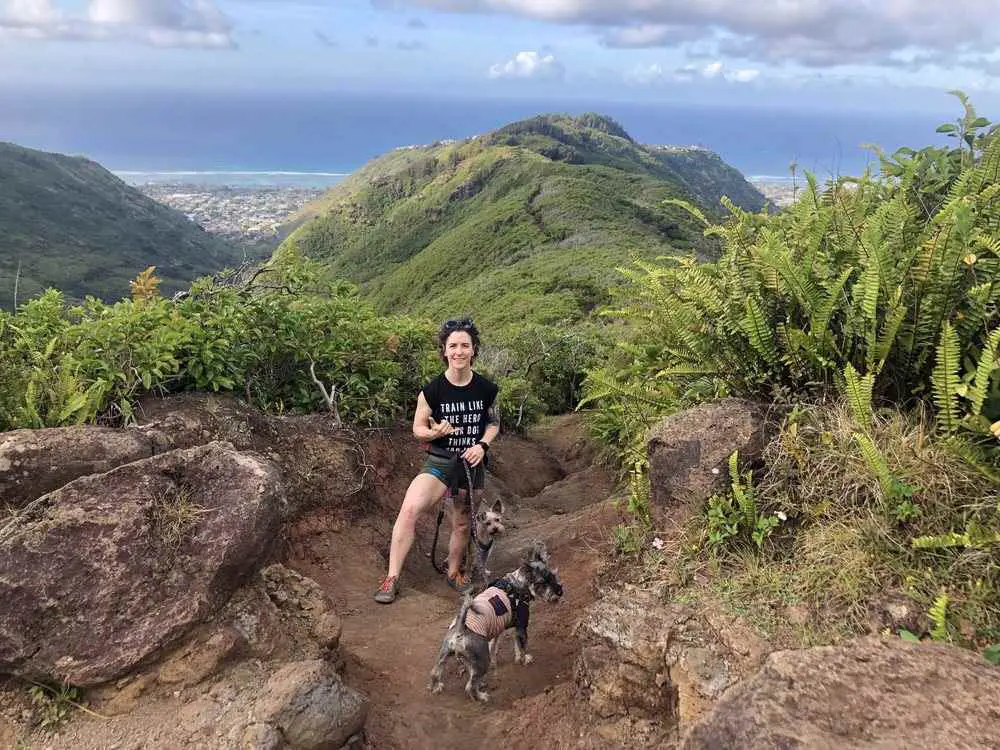 Dog-Friendly Hotels in Oahu
There are many dog-friendly hotels in Oahu but whenever we travel to Oahu we chose these below-mentioned hotels. These are not only great hotels to stay in but also allow a dog with you. Check these out.
Nestled in Kapiolani Park this sophisticated hotel offers a great view of a white sand beach. This dog-friendly hotel is far away from the hustle and bustle of city life. It is a great retreat for you and your four-legged friends. This hotel offers different suits which have big screen TV, WiFi, a personal bathtub and many more. And the best thing about this hotel is it's a budget-friendly hotel.
The Kahala Hotel & Resort is one of the luxurious hotels that allow dogs with you. Just 10 minutes away from Waikiki, this is a renowned hotel where you will see many celebrities come from different parts of the world. Although it's costly you will get the best hospitality in Oahu.
Oahu has many dog-friendly hiking spots where you can go around and spend your holidays to get rid of the chaos of life. Every time we visit these mentioned areas with our dogs we not only feel refreshed but also bring a lot of good memory too. Try to check these dog-friendly hikes around Oahu and rejuvenates your energy.
Read Next:
FAQs: Dog-Friendly Hikes in Oahu
1. What is there to do in Oahu with dogs?
A: In Oahu, you can go hiking, traveling, and swimming with your dogs.
2. Can dog hike Diamond Head?
A: No, You cannot take your dog with you to Diamon Head.
3. Is Hawaii a dog-friendly state?
A: Arguably no. As the States want a rabies-free nation. In most areas dogs are not allowed.