Guide To 9 Best Dog-Friendly Beaches In New Jersey
Hey, all dog lovers outside there! Are you guys looking for some dog-friendly beaches in New Jersey? Are you seeking a couple of dog-friendly beaches near New Jersey? Here is some good news for you! We have found the best places in New Jersey for you and your furry pal to have a fantastic time.
As pet parents, we know that without our pets, every trip or vacation becomes dull and boring. We love our pal very much, So Sara and I try to carry our pal with us on every trip we make!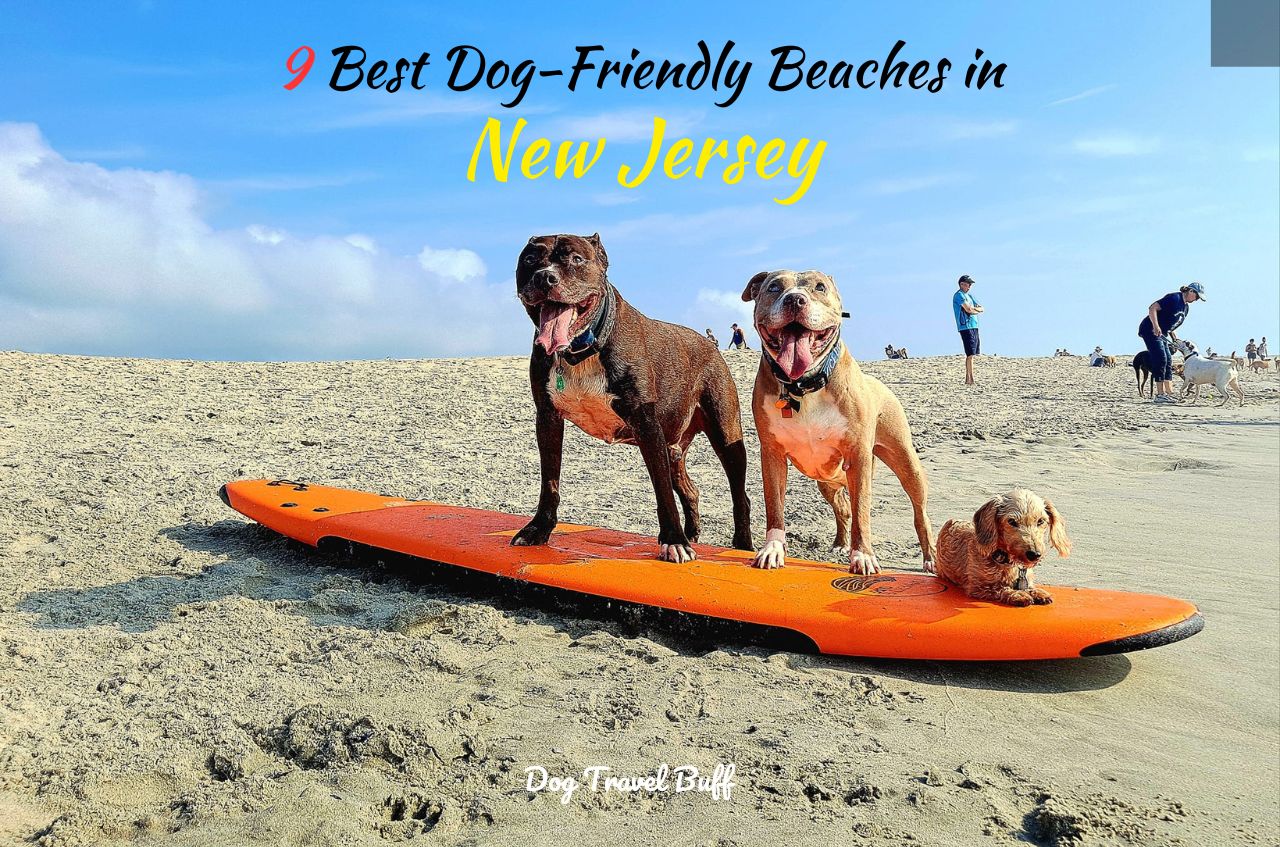 This post may contain affiliate links. If you buy something through one of those links, you won't pay any extra penny, but I'll get a small commission that encourages me to deliver more helpful content for you.   
In this article, we will introduce you to the most exquisite and dog-friendly beaches in New Jersey, allowing you to relish your leisure time with your beloved furry companion to the maximum. We want to emphasize that these dog-friendly beaches in New Jersey should be a priority on your itinerary if you are planning a visit to the state.
Before diving into the most beautiful dog-friendly beaches in New Jersey, we would like to tell you the best time to Visit these exciting beaches and some guidelines everyone should follow.
Table of Contents
Best time to visit beaches in New Jersey
The best time to visit New Jersey's sea beaches is between May to September. However, during summer also, you can see, but most of these beaches remain hot, and you may not find shades or shelters to keep yourself sunburn free.
New Jersey dog beach regulations:
Read these guidelines carefully before you start your journey to New Jersey to spend your weekend with your dog.
You can take your dog on most of the sea beaches in New Jersey, but on some beaches like Cape May Point State Park and Island Beach State Park, they do not allow pets all the time. You may take your dog with you at certain times of the day.
Not all beaches in New Jersey allow dogs without a leash. So before heading off to these sea beaches, check the leash law in advance.
One common thing everyone follows in New Jersey is that your dog must be vaccinated and behave well as you will encounter other beachgoers in these areas. Therefore, it's important to keep an eye on your dog to ensure it doesn't bark excessively.
Carry a poo bag with you for your dogs. It is advised to all dog owners who will spend time at these beaches to clean up their dog's waste and dispose of it in a trash can.
Best Dog-Friendly Beaches in New Jersey
1. Asbury Park Dog Beach
Location: 1101 Ocean Avenue, Asbury Park, NJ 07712.
Asbury Park Dog Beach is one of the most dog-friendly beaches in New Jersey. Located at 1101 Ocean Avenue, Asbury Park is known for its dog-friendly ambiance.
You can take your dog to this park between 15th September and 15th May. During this period, your dog can roam on the beach of Asbury Park without any restrictions.
If you visit Asbury Park between May 16th and September 14th, you will find the beach to be crowded. This is the busiest time for this park.
In Asbury Park, soft white sand and crystal-clear water are found on the beach. And the best thing about this park is its music beats. You will discover many stereo sounds from every corner of this beach, making this park the most attractive place to visit. So whenever you plan to visit New Jersey with your pal do not miss this dog-friendly beach in NJ.
Pet Rule:
Dogs are allowed in this park off-leash, but the owner should control the pet.
Dog owners must have to carry poo bags with them.
Your pet must be vaccinated, and you may also have to show the report to the authority.
Tip: Carry towels with you to protect yourself from sunburn. You may have to pay 10 dollars for your car parking.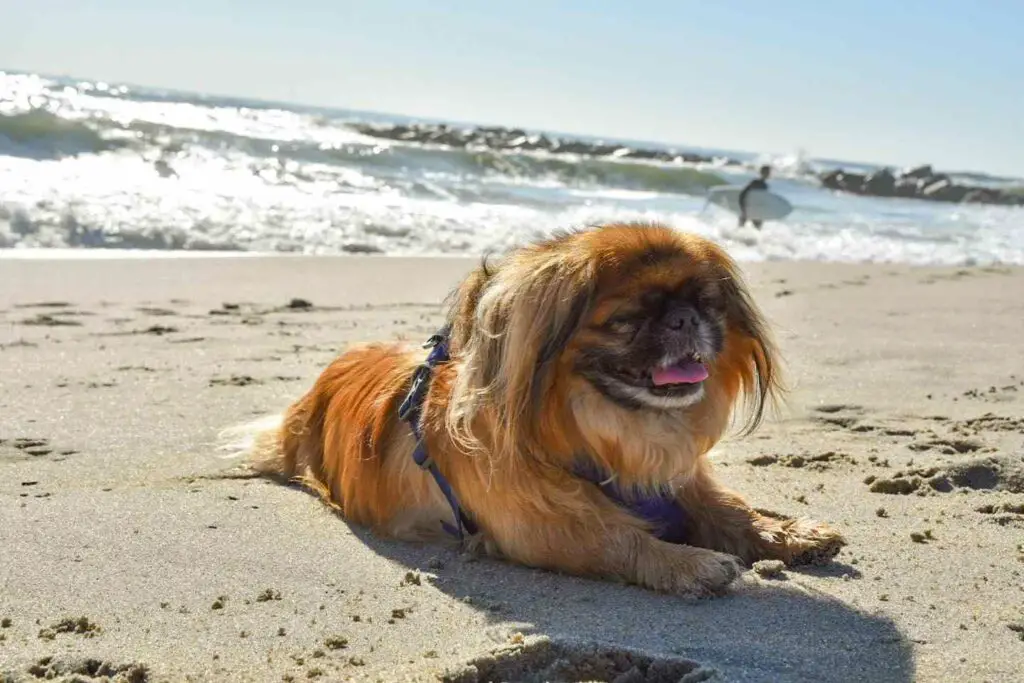 2. Fisherman's Cove Conservation Area
Location: 383 Third Avenue, Manasquan, NJ 08736
The Fisherman's Cove area is 55 acres long on the Manasquan Inlet in Ocean City. Pet owners visit this beach area to see its scenic beauty and wildlife. Pet owners often choose this place for spending their vacation in serenity. Local authorities protect the wildlife and its serene ambiance, so only leashed dogs are allowed on this beach.
The eastern part of Fisherman's Cove is dogs friendly. In this part, the waves are shallow and tides are mild, so your dog can enjoy playing in the water. You will find a lot of other pet owners in this area, so your dog might get the chance to interact with other dogs as well.
Pet Rule: your dog must be on leash.
Tip: In Fisherman's Cove, fishing is allowed, so bring your fishing gear and enjoy a perfect weekend with your pal while fishing as well.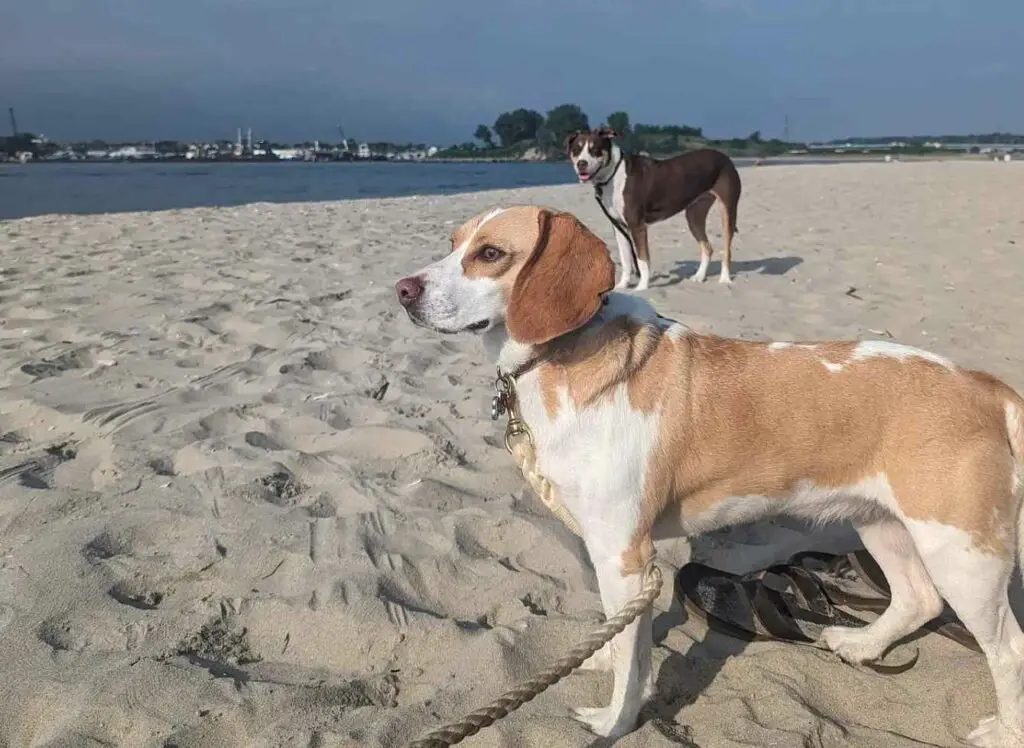 3. Longport Dog Beach
Location: Rt 152 And Ocean Dr. Bridge, Somers Point, NJ 08703
Longport Dog Beach is one of the most loved pet-friendly beaches in NJ. Thousands of dog lovers come to this wide beach, especially in October. This is the peak time of this beach.
If you want to experience Green Egg Harbor's soothing atmosphere, and picturesque beauty, then Long Port Beach is an ideal choice. The best time to visit this tranquil beach is between the 1st of October and the 30th of April.
Longport Dog Beach needs more space for parking, so when you plan to visit this beach, start early from your home. If you can reach by 9 am, you're lucky to get a spot for your car.
Pet Rule: If you are bringing your canine with you on this beach and wondering whether you should keep them on a leash, then here is the good news, your dog can go wild on this beach to the fullest.
Tips:
Reach early to get a parking slot.
Carry a poop bag with you for your furry pal.
Bring snacks with you.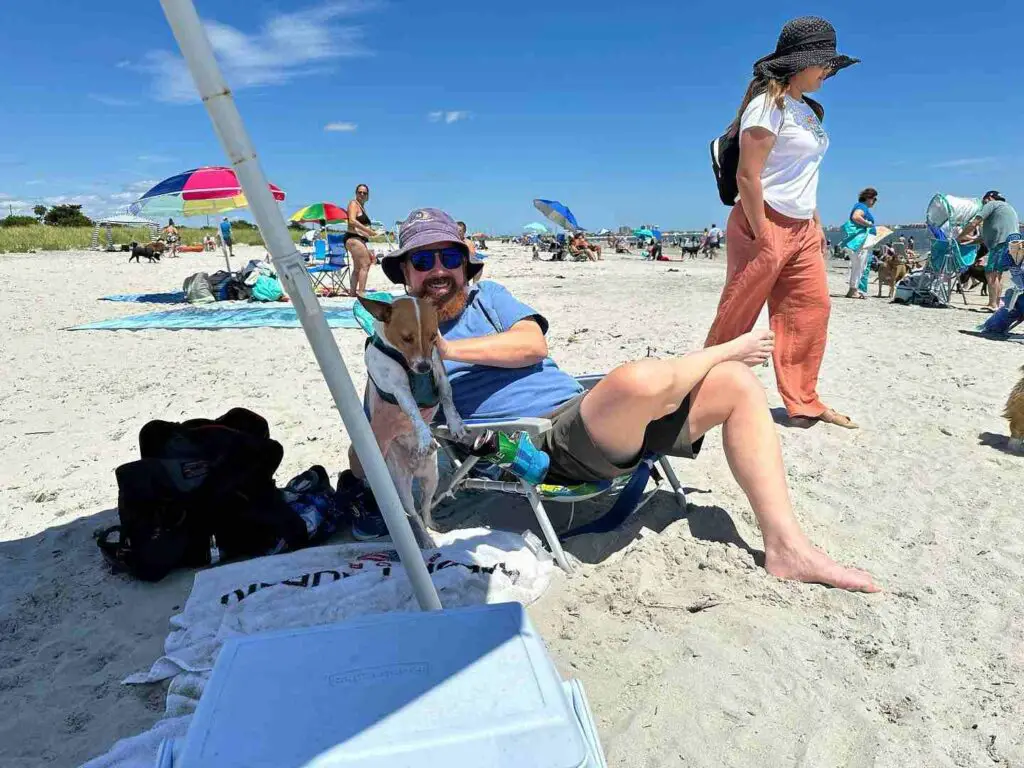 4. Gateway National Recreation Area
Location: 128 South Hartshorne Drive, Highlands, New Jersey
A portion of Northern New Jersey, stretching from Sandy Hook to New York's Staten Island, features a 27000 acres-long recreational area that has become one of the most favorite places for pet lovers.
Dog lovers come to this place to enjoy lush green spaces, sandy beaches, and scenic beauty. Many travelers come to this place for its nature trails.
Pet Rule: Pets are allowed any time of the year, but only some recreational areas allow dogs. In those areas, you have to keep your dog on a leash.
Tips:
The best time to visit this fantastic recreational area is between the 15th of September and the 15th of March.
From Memorial to Labor Day, the parking fee is 20 dollars.
5. Wildwood Dog Park & Beach
Location: Glenwood Avenue and The Beach, Wildwood
Wildwood Dog Park is regarded as one of the best pet-friendly beaches in New Jersey and even in the United States. The first thing you will notice here is a 25 feet red fire hydrant.
And just next to this, you will find a park where small puppies can play and do a lot of activities. The best thing about this dog park is it has two fenced areas for small and big dogs. Moreover, freshwater fountains and poop bags are available at the park.
Pet Rule: Your canine can roam around on the beach of Wildwood Park anytime without a leash, but dogs are not allowed on the beach between Memorial Day and Labor Day.
Tip: You will not find any lifeguards in this beach area, so keeping your dog on a leash is better.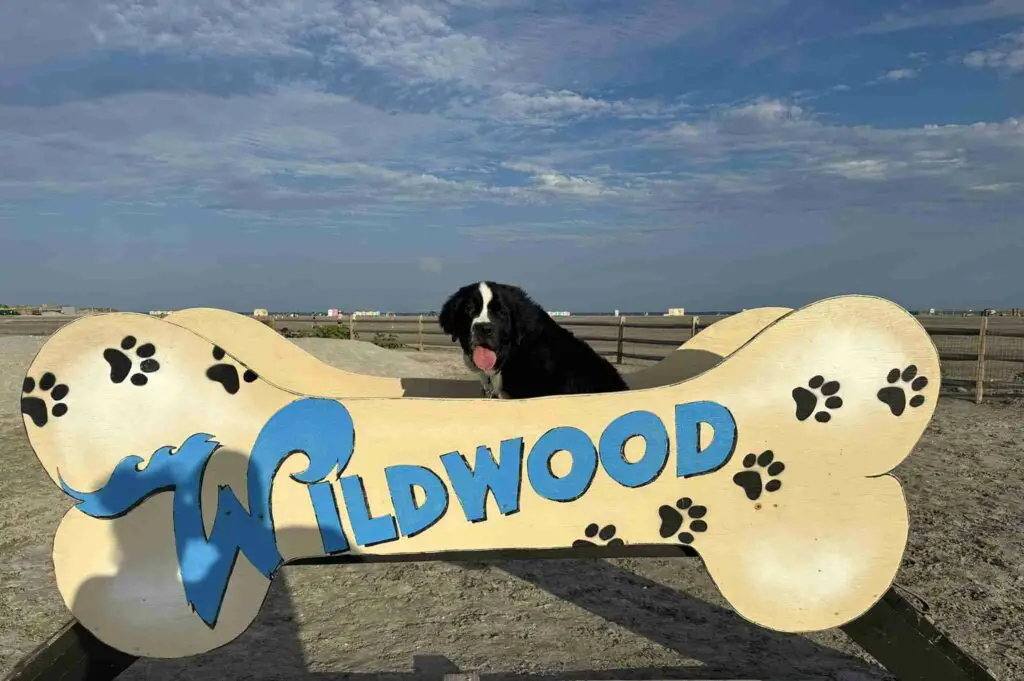 6. Stone Harbor Beach
Location: 9901 2nd Ave, Stone Harbor, NJ 08247
Stone Harbor Beach is commonly referred to as the southern half of Seven Mile Beach. This immaculate beach attracts thousands of visitors every summer. Spanning 7 miles in length, this beach provides calm and shallow waves for you and your dog to enjoy.
The scenic beauty is truly captivating and defies description. The crystal-clear water, azure sky, and views of the Atlantic Ocean are unparalleled. Additionally, make sure to explore the local market, bars, restaurants, and the Wetland Institute. These places will help you immerse yourself in the beauty and history of this area.
Dog Rules:
You can bring your dog to this pristine beach, but it must be on a leash.
You must avoid taking your dog to Stone Harbor Point. This area is prohibited for dogs.
Tips:
Carry towels, toys, and plenty of water with your pet if you visit this area.
You must purchase an 8-dollar tag for visiting the beach part if you see the beach from 10 am to 5 pm.
7. Brigantine North-End Beach
Location:  15th Street North, Brigantine, NJ 08203
Located on the north side of Brigantine, New Jersey, this beach is 2 miles long and is popular with all pet lovers for its serene atmosphere. This beautiful beach remains less crowded throughout the year. People come to this place for its tranquil ambiance and natural beauty.
This New Jersey dog beach is one of the most famous places for bird watchers as well. It is recorded that 300 different species of birds can be seen in this area. Apart from this activity, you can enjoy swimming, playing beach balls, paddleboarding, and fishing. So take advantage of this sea beach in New Jersey with your pup.
Pet Rule: Dogs are welcome around the year to this area if they are on a leash.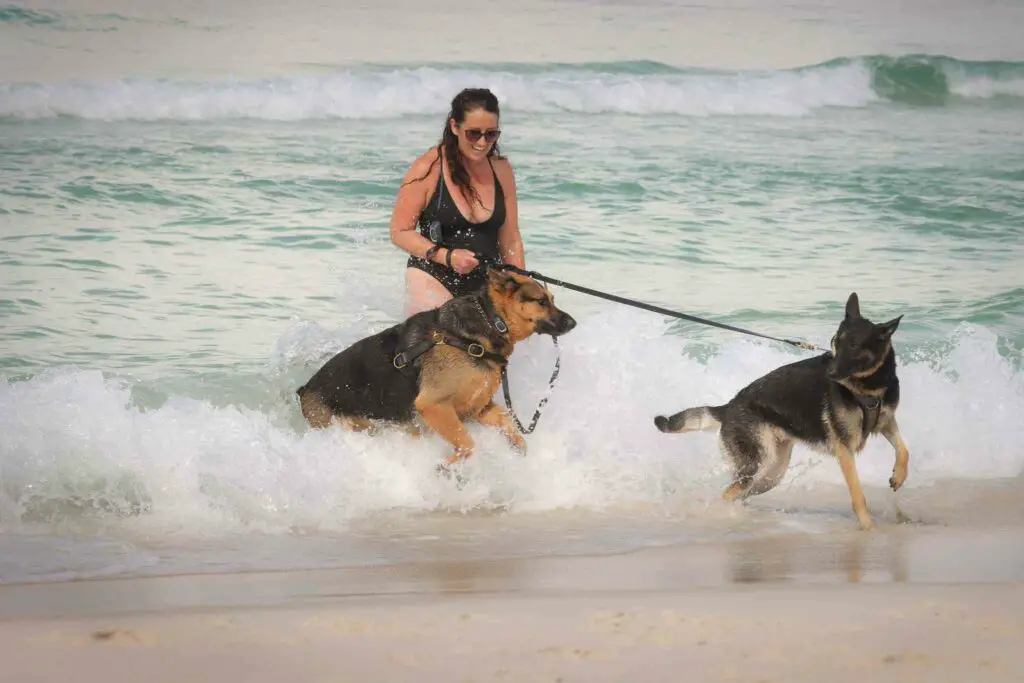 8. Barnegat Light Beach
Location: 208 Broadway, Barnegat Light, NJ 08006
Are you planning to visit a beach with your pal for weekend relaxation and want to dive into the water, release some anxiety, and want to play with your pup? Barnegat Light Beach is the right place for you. One of the most sought-after sea beaches in New Jersey is Barnegat Light Beach for its recreational activities. You can go swimming, paddleboarding, fishing, sunbathing, surfing, and more.
After doing all of this, if you get tired, get some snacks from local bars and restaurants and enjoy the scenic beauty of the lighthouse too. Or you can walk with your pup to Spizzle Creek Bird Trail, which will make you guys happier too.
Pet Rule: Your dog can go crazy and roam on the beach if it is on a leash. You can use up to 6 feet long leash to control your pet.
Tip: Visit this beautiful beach in spring(May-June) and fall(sep-oct). These two seasons are the best time to visit this beautiful beach.
9. Higbee Beach Wildlife Management Area
Location: County Road 641, Cape May, New Jersey
Highbee Beach has earned its place on our list of dog-friendly beaches in New Jersey due to its captivating beauty. If you're in New Jersey and seeking a beach to visit for stunning sunrises or sunsets, Higbee Beach Wildlife Management Area is an ideal choice. This beach with its white sands offers an exotic setting for a weekend getaway. After enjoying playtime with your companion, if you become tired, you can take a stroll with your furry friend in a nearby forest.
Higbee Beach Wildlife Management Area is considered the most frequented seaside destination by pet lovers. Therefore, be sure not to miss visiting this dog-friendly beach in New Jersey.
Pet Rule: Dogs must be on leash on the beach.
Tips:
Try to bring plenty of water bottles for you and your dog; you may not find any shop, so be prepared for that.
Carry at least two towels for you and your dog to sit on.
If you visit these beaches in summer, then don't forget to apply sunscreen on your and your dog's nose and ears
Carry a leash with you. Only some of the beaches in New Jersey allow dogs without a leash.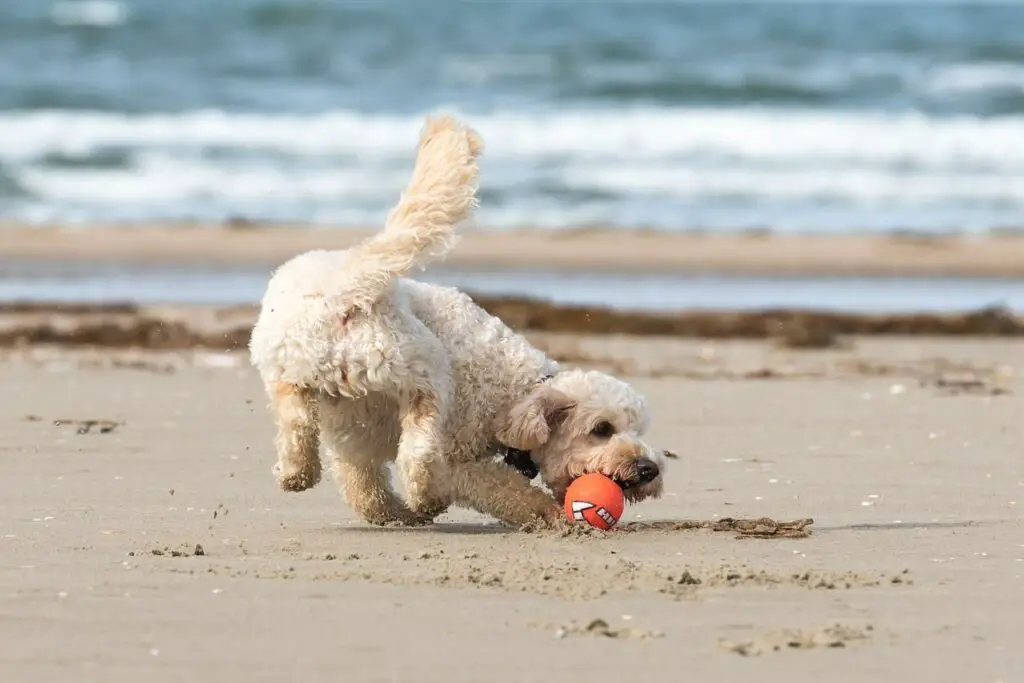 Conclusion
There are numerous dog-friendly beaches in New Jersey where your dog can have a blast and fully enjoy. However, prior to heading to any beach, it's important to familiarize yourself with leash laws, rules, regulations, top attractions, and the best times for visiting New Jersey's dog-friendly beaches. In this post, we've compiled some of the best dog beaches you should be aware of if you're planning a trip to New Jersey.
Read Next:
FAQs:
1. What are the leash regulations for dogs on NJ beaches?
A: A few beaches in New Jersey allow dogs without leashes, such as Asbury Park, Brigantine Dog Beach, Seaside Heights Dog Beach, and Longport Dog Beach. However, Sandy Hook dog beach and Island beach state park are some beaches in New Jersey that do not allow dogs without leashes.
2. Are there specific hours when dogs are allowed on the beaches?
A: Only a few beaches, such as Asbury Park and Longport Sea Beaches, have designated times for off-leash dogs.
3. What should I do if my dog becomes scared or anxious at the beach?
A: If you see your dog getting anxious suddenly, then you should remain calm, talk to your dog smoothly, and command him to stop. Else you can give some treat to divert its mind. However, there are some other techniques that you can follow to calm down your anxious dog.
4. Are there dog waste disposal facilities on dog-friendly beaches in NJ?
A: Yes, at most sea beaches in New Jersey, you will find disposal facilities, but make sure you carry poop bags with you.