10 Best Dog-Friendly Beaches In NYC
Your dog is your best friend, so they deserve all the love and fun the world offers. Like us, our best furry friend sometimes needs a break and a day or two to wander around in the wilderness alone.
If you love sea beaches and want to spend your weekends with your dog, then we've found some dog-friendly beaches in NYC where your pup can play with other dogs on the sand and swim in the saltwater.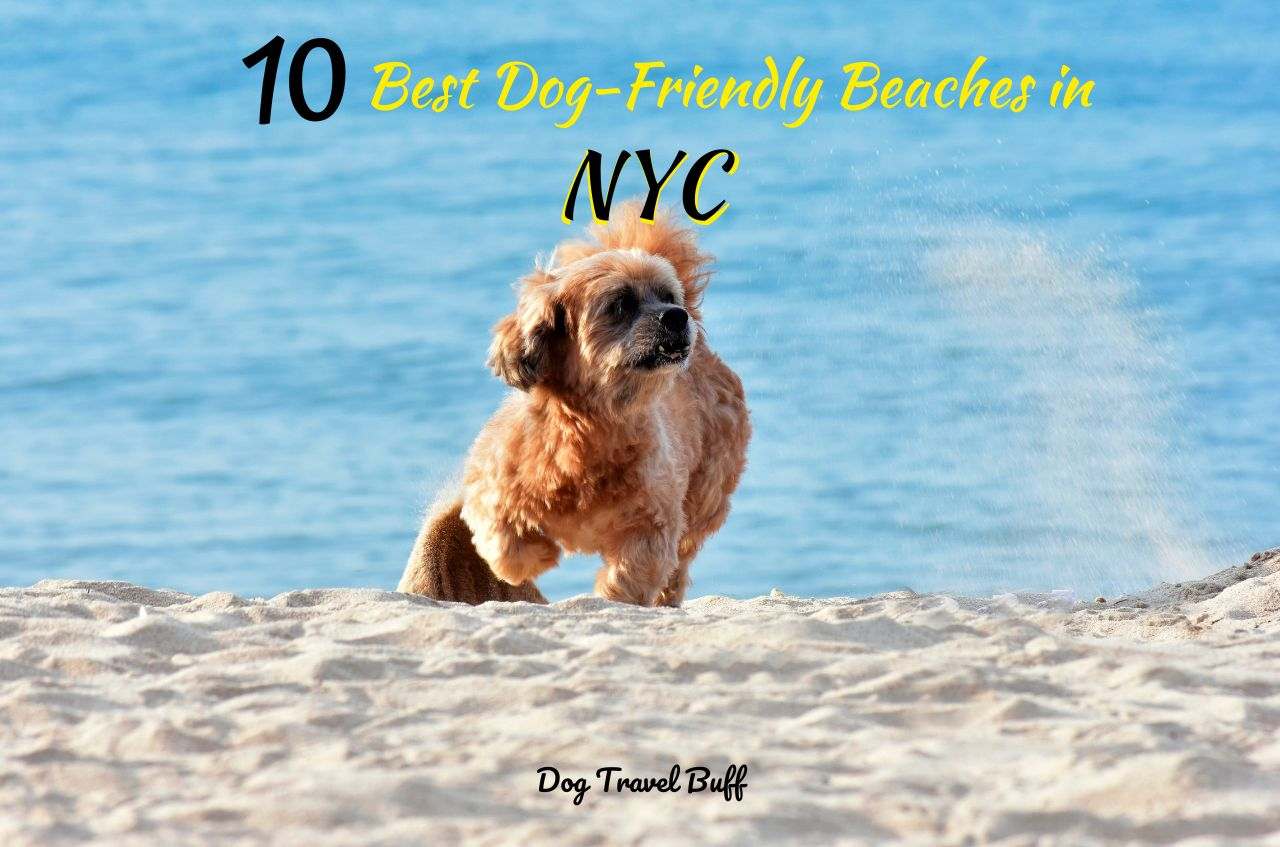 This post may contain affiliate links. If you buy something through one of those links, you won't pay any extra penny, but I'll get a small commission that encourages me to deliver more helpful content for you.   
If you want to explore New York City but are wondering if it is dog friendly, let us tell you that there are plenty of sea beaches in New York where your dog can meet new people or practice their frisbee skills. Prepare for a fun outdoor trip with your pet by bringing a beach blanket, sunscreen, lots of water, and doggie bags.
1. Prospect Park Dog Beach
Location: 95 Prospect Park West, Brooklyn, NY 11215, USA.
Are you looking for dog-friendly beaches in NYC where your furry pal can run freely and enjoy mother nature? Then look no further than Brooklyn's Prospect Park Beach. This is one of the best dog-friendly beaches in New York.
Your dog can run without a leash from 6 a.m. to 9 a.m. and from 9 p.m. to 1 a.m., and there is a lot of grass for them to play on. In Prospect Park dogs can play in the water, dig in the sand, and meet new friends, which makes this park unique. Dog Beach is north of the Long Meadow Ballfields and can be reached by car or subway.
When we went to NYC and were thinking about what beaches are dog friendly in NYC, we searched and talked with people who have been to these places. Everyone suggested the name Prospect Park Dog Beach. So this is a must-visit place with your dog if you're in NYC.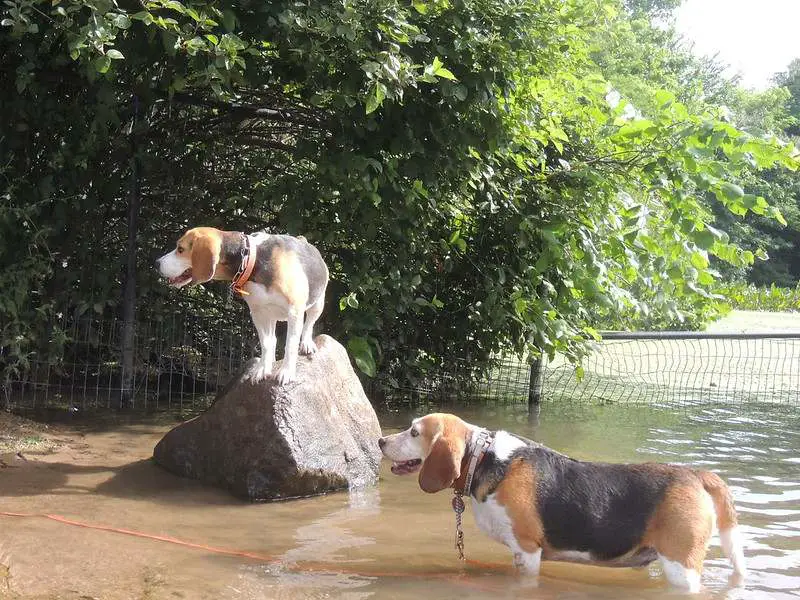 2. Rockaway Beach
Location:  12416 Rockaway Beach Blvd, Queens
Rockaway Beach is an easy trip from New York City. It has the only legal surfing beach in the city, a boardwalk, and a lot of places to eat. You cannot take your dog to Rockaway Beach in between Memorial Day and Labor Day.
Although you can come here during other times in the year with your dog when the crowd is less and the place remains serene. After a long day of letting your dog swim in the ocean and play in the sand, you can get tacos and drinks at the dog-friendly Rockaway Beach Surf Club.
All year, it's easy to get to Rockaway Beach by car, subway, or ferry. This beach is famous mainly for its fun and joyful ambiance. People come to this place from the neighborhood to get some relaxation. Rockaway Beach has become famous for its nature and dog-friendly hospitality. Recently, this beach has gained popularity among all NYC beaches that allow dogs.
But only leashed dogs are permitted.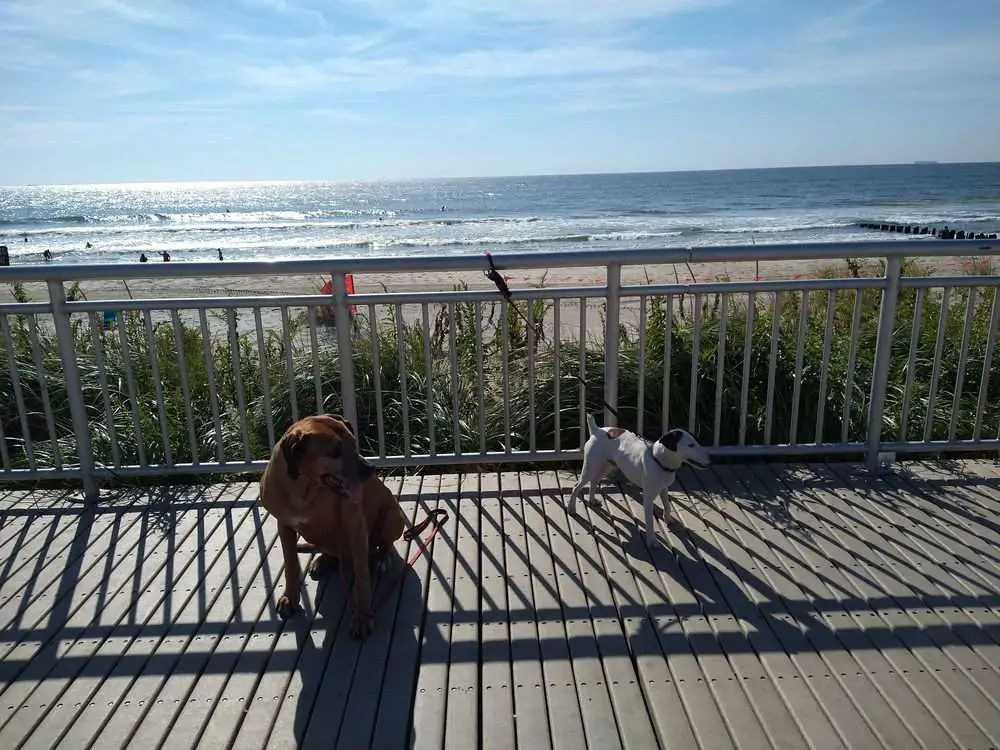 3. Shadmoor State Park
Location: Montauk, New York 11954, USA
Are you looking for a beach where you can let your dog go off-leash? Let us tell you that Shadmoor State Park is famous for its dog-friendly ambiance. This place is one of the best off-leash dog beaches in NYC. Shadmoor State Park in Montauk, New York, is an excellent place for you and your pet to get away.
This state park is about three hours by car from New York City. It has access to a beach, hiking trails, and lookout platforms. Dogs always need to be watched, but they can run on the beach and swim in the ocean on a leash no longer than six feet.
Grab your picnic blanket and basket and spend the day on the beach, watching birds, or just taking in the scenery. The best thing about this park is that it's big, and many things are available that can entertain your dog the entire day. These parks offer many dog-friendly activities. So, plan your next weekend with your furry pal at Shadmoor State Park.
4. Gardiner County Park
Location: Montauk Hwy, Bay Shore, NY 11706, USA
If you are new in New York and want to roam around the city with your furry pal, consider visiting Gardiner County Park beach once. Just get into the car and drive to Bay Shore, Long Island, to Gardiner County Park for two hours.
This public park is ideal for a peaceful space to enjoy nature with your pet because it has trails that wind through wetlands and woodlands. Dogs must always be on a leash, although the Great South Bay has many pathways, a dog water fountain, and a small beach to explore.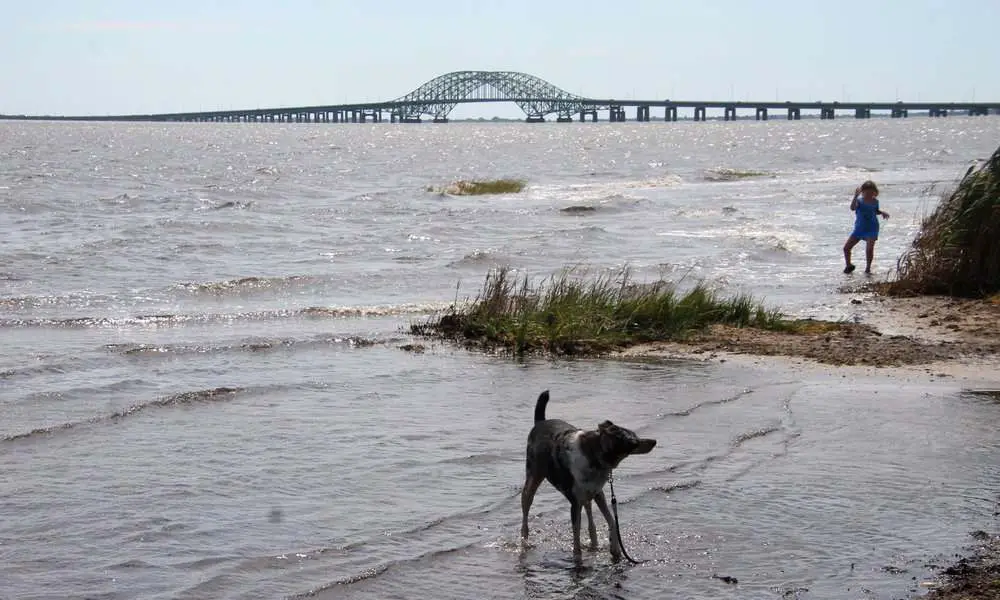 Related Post: 9 Best Dog-Friendly Beaches In New Jersey
5. Fisherman's Cove Conservation Area
Location: 383 Third Avenue, Manasquan, NJ 08736, USA
In Manasquan, New Jersey, the Fisherman's Cove Conservation Area is a great place to enjoy a day trip from NYC with your dog. The area's eastern part is called a "dog beach". Your four-legged friend can swim in the water and chill out on the sand there. To protect the beach environment, dogs must be on a leash, but that won't stop them from enjoying the sun.
Fisherman's Cove Conservation Area is about an hour and a half by car from New York City. It is near several restaurants, bars, parks, and beaches, Where you will find plenty of dog-friendly activities for your pal.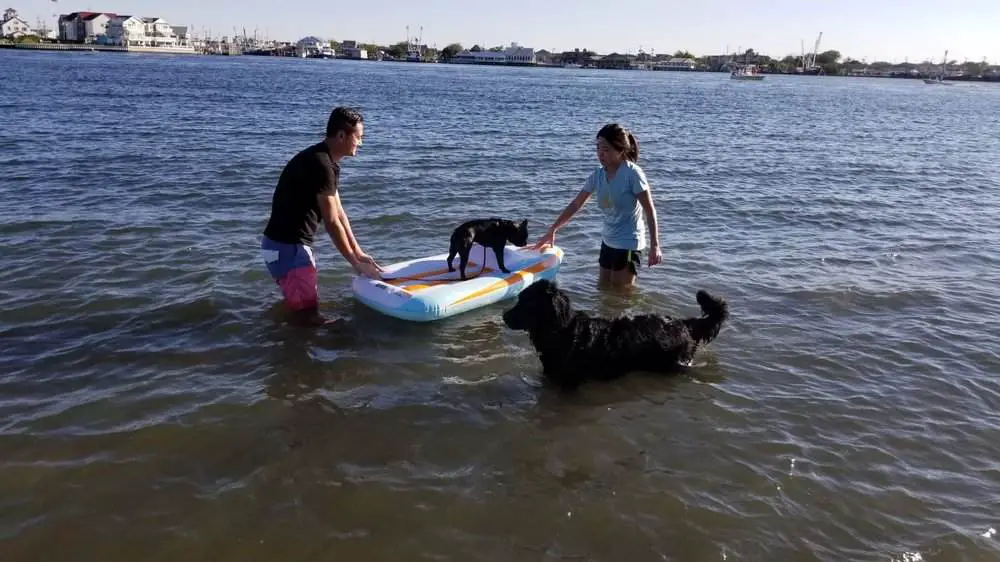 6. Beach at Coney Island
Location:  37 Boardwalk East in Brooklyn, New York.
On Coney Island Beach, you can look at the famous Cyclone and get a hot dog from the storefront of Nathan's Famous. Since dogs aren't allowed on the beach during the summer, you'll have to go between October and May to enjoy all three miles of sand.
All dogs must be on a leash and can't swim in the water, but they can walk on the boardwalk all year long. Take the subway from New York City for an hour and a half to see everything Coney Island offers.
Read Also: 20 Most Beautiful Dog Parks on The Upper East Side
7. Wildwood Beach And Dog Park
Location: 3000 Boardwalk, Wildwood, NJ 08260, United States
The trip to Wildwood Dog Park and Beach in New Jersey is worth the trip from New York City. It takes about two and a half hours to get there by car. Within the two fenced areas, one for big dogs and one for small dogs, your dog can run around without a leash.
The park is about two blocks long, and dogs can swim in the water or play in the sand all year long. If your dog wants to run free in the water and sand, this is the place to go.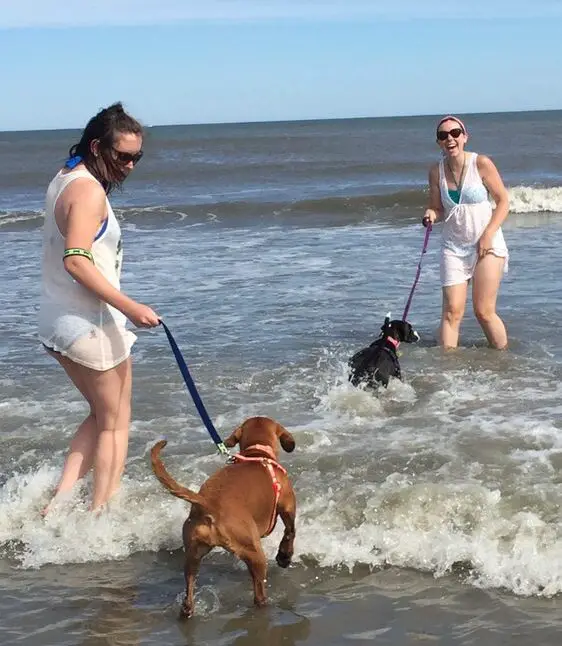 8. State Park of Hammonasset Beach
Location: 1288 Boston Post Rd, Madison, CT 06443, United States
Located in Madison, Hammonasset is well known for its pet-friendly beaches in NYC. If you want to get away from the hustle and bustle of daily life, a trip to a beach in New England that lets dogs are the best way to do it.
Hammonasset Beach State Park is on the Long Island Sound in Madison, Connecticut. It has two miles of beach fun. Dogs on leashes are welcome all year except on the beach, where they are only allowed between November and April. Get in your car and drive for two hours with your dog to get to this cute Connecticut dog beach.
9. Plumb Beach
Location: Belt Parkway, Brooklyn, NY.
Plumb Beach is a small Brooklyn beach right next to the Belt Parkway. It is the perfect place to spend a quiet day outside with your pet. This beach near Sheepshead Bay lets dogs on it all year long, but they must stay on a leash.
If you want to avoid the crowds at other beaches in the area, you can get here quickly from the city by car, subway, or bus. On this beach, you'll find a lot of dog-friendly activities that will keep you and your furry pal busy the entire day.
Here in this area, you will find many cafes and restaurants that serve local seafood and cuisine, so hop to Plumb Beach with your dog as early as possible.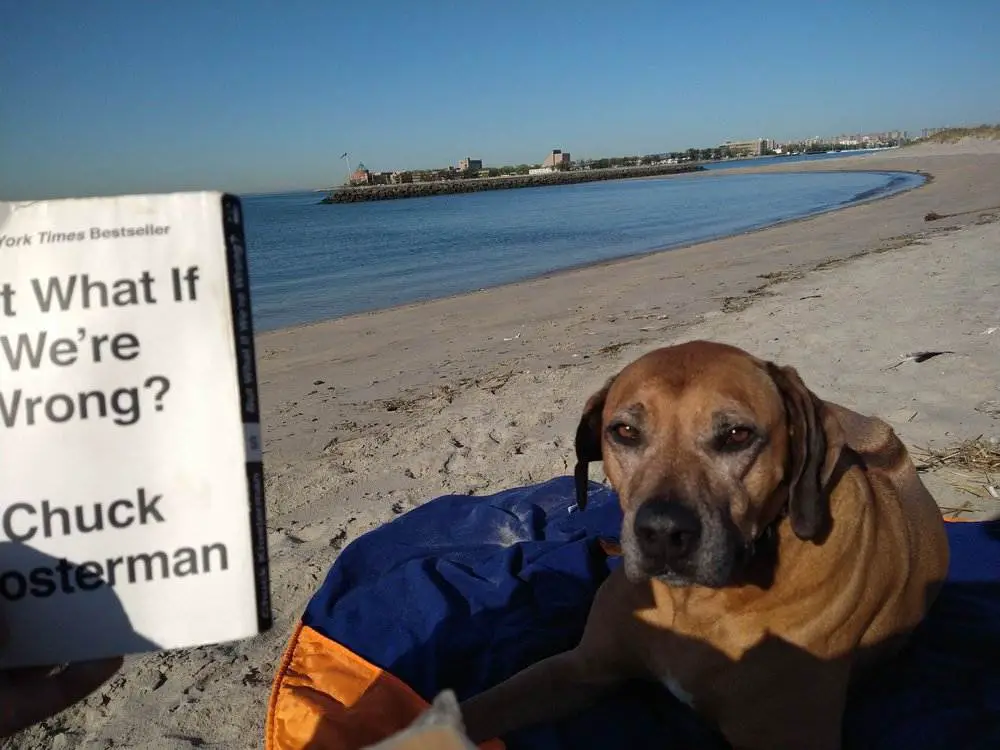 10. Asbury Park
Location: New Jersey 07712, USA
Asbury Park is a famous beach town in New Jersey in the summer, and it has a small beach where you can take your dog. During the summer, from 6 p.m. to 8:30 a.m. and any time during the off-season, dogs can play at the 8th Avenue Dog Beach without a leash. Dogs can also walk on the boardwalk but must be on a leash.
Plan a visit early in the summer so your dog can run around freely in the morning. From Penn Station in Manhattan, visitors can take New Jersey transit or get in a car and drive the less than two-hour trip.
Pet-Friendly Hotels in NYC
Apart from the dog-friendly beaches in NYC, you will find many hotels where you can rest after playing with your dog throughout the day. We recommend these two hotels to you.
The Hotel Chelsea has a fitness center, a bar, and city views. This property's amenities include a restaurant, a front desk open around-the-clock, room service, and complimentary WiFi. There are family rooms in the hotel. A great hotel with a fantastic location, pleasant staff, and a room that was enormous in comparison to New York City's often tiny lodgings.
Equinox Hotels were made for people who work as hard as they rest and play. Hudson Yards is the newest neighborhood in New York City. It has over 100 different shops, restaurants, public art, and cultural institutions. The hotel is 1.93 km from Times Square. It is immaculate and easy to live in. Here, you can also get great food from the area.
Read Other Dog-Friendly Beach Guide:
FAQ: Dog Beaches In NYC
1. Where can my dog go swimming in NYC?
A: You can take your dog for a swim in many places in New York. Among those are Water4 dogs, All Dogs In The City, Prospect Park Dog Beach, and Louis Valentino, Jr. Park and Pier.
2. Can my dog swim in the Hudson River?
A: No, your dog is not allowed to swim in the Hudson River, but it can play on the lawn, but it must be on a leash. Ensure your dog wears a valid rabies tag and an NYC license tag.
3. Can you bring a dog to Coney Island Beach?
A: You can go to this beach with your dog between 1st October and 1st May. But you can take your leashed dog on the Coney Island Boardwalk year-round.
4. Are dogs allowed at Manhattan Beach Botanical Garden?
A: As Manhattan Beach Botanical Garden remains crowded throughout the year, you have to keep your dog on a leash while visiting this botanical garden.