9 Best Dog Parks in Tampa to Spend a Lovely Afternoon with Your Furry Friend
Whether you're looking for a relaxing afternoon in the midst of nature, a perfect Instagram picturesque spot with your dog or a green space then welcome to Florida's Tampa. Dog parks in Tampa Bay are perfect for hiking, biking, sunbathing, playing, and roaming around.
The best dog-friendly parks in Tampa are green, spacious, and clean.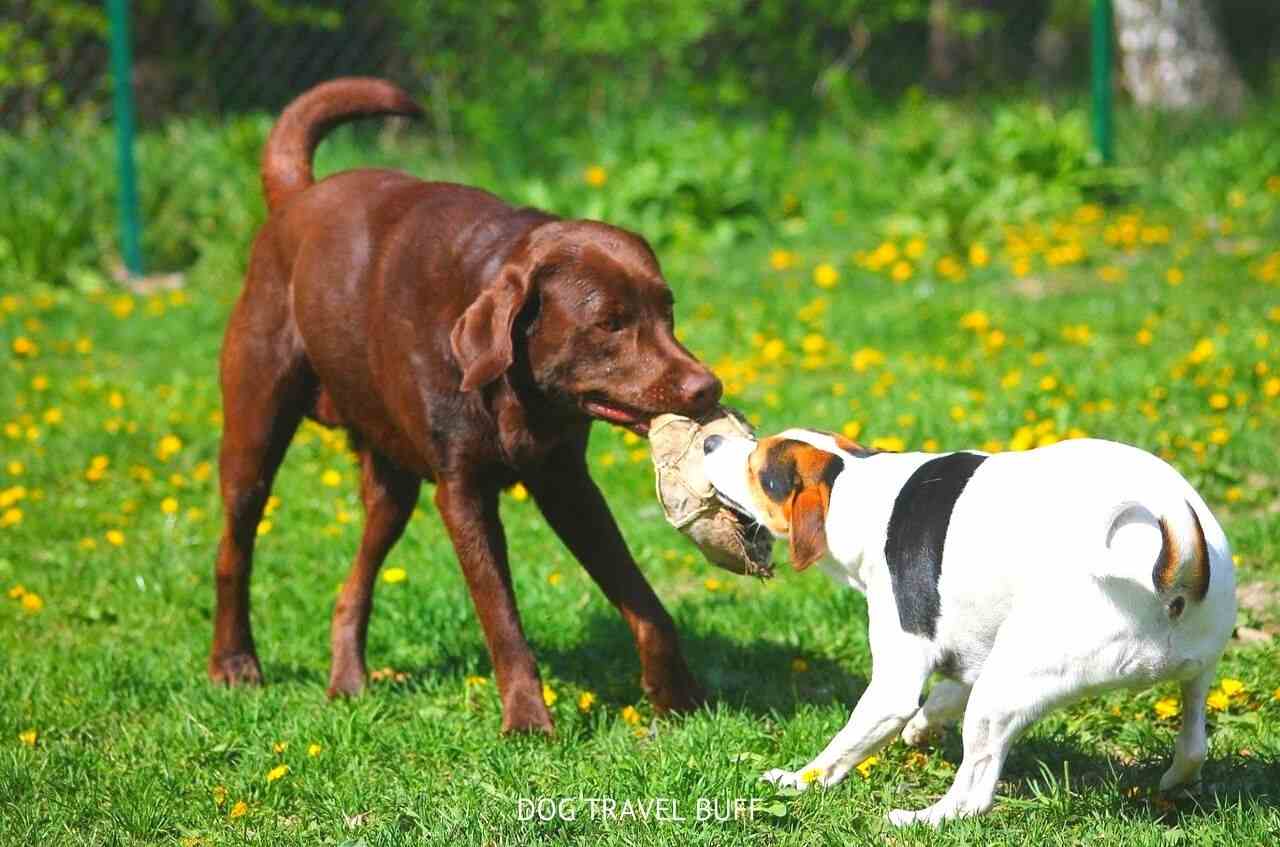 This post may contain affiliate links. If you buy something through one of those links, you won't pay any extra penny, but I'll get a small commission that encourages me to deliver more helpful content for you.
Surrounded by a beautiful stunning mix of turquoise blue water Tampa is a captivating vacation spot with your canine best friend. Your dog will find many playmates and will have a great time. Tampa has hotels, restaurants, and dog parks for both on-leash and off-leash dogs. 
This place stole my heart! Every weekend I used to visit here with my dog just to see him playing and other dogs running around. Such a peace! 
Dog parks in Tampa offer long nature trails, picnic spaces, grassy areas, and many other different amenities which pooches will surely love. But remember to check with the park policies before going in with your dog. Some parks charge entrance fees and some are free.
I'm sharing the best dog parks near Tampa Florida that are explicitly open to pets and dogs. These places are safe and are a good fit for you and your dog to spend some "friend time" without any city commotion and tension.
Choose any of the phenomenal dog parks in Tampa and get ready for a fab holiday.
Ready, set, fetch! 
List of The Best Dog Parks in Tampa
Where to take a dog to play in Tampa? These pet-friendly parks in Tampa are the best pet-friendly spots. I rounded up the top 9 dog parks in Tampa so you can choose the one that's right to your location and visit here and spend some quality time with your furry friend.
Let your four-legged buddy run, jump, and play!
1. Deputy Kotfila Memorial Dog Park
Location: 626 N Raymond St, Tampa, FL 33602
Hours: Monday- Sunday, 5 Am -11 Pm
The green scenery and fresh air welcome dogs of every size and breed to play, roam and socialize. This Tampa dog park is safe and all under the shades of Selmon Expressway.
Summer, winter, or rainy, you can bring your furry friend and let him run how much he wants without worrying about mud because this land is astroturfed. The artificial grass is softer and takes good care of your puppy's paws. You'll also find water fountains with built-in pet bowls throughout the park. 
Enjoy this latest dog park in Tampa today!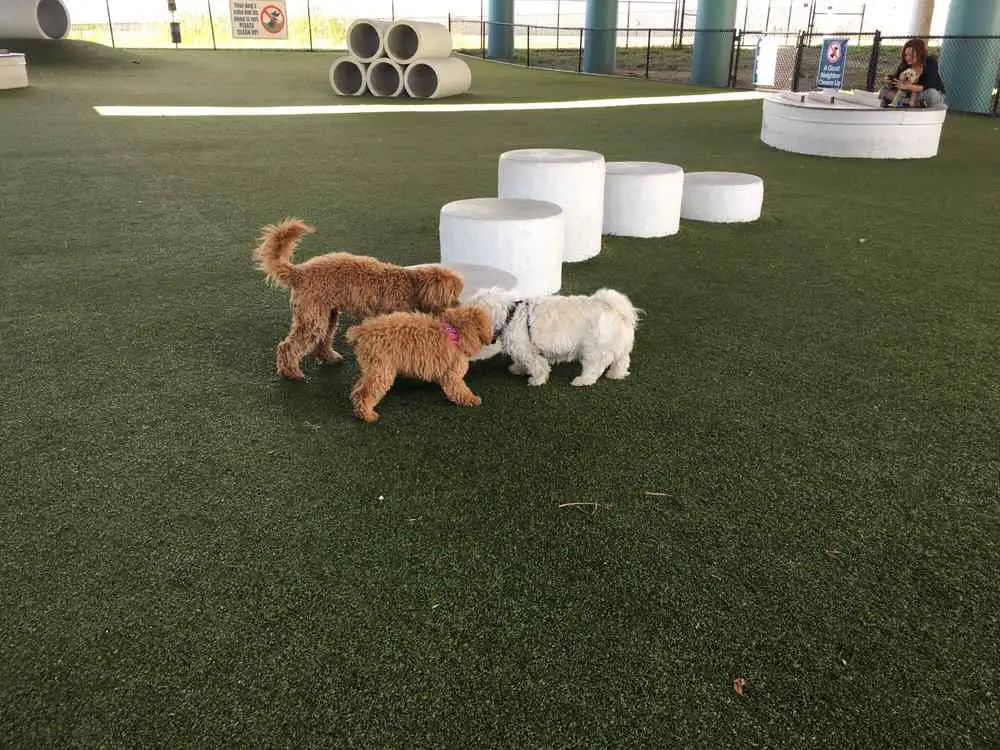 2. Curtis Hixon Dog Park
Location: 600 N Ashley Dr, Tampa, FL 33602
Hours: All time
Are you searching for off-leash dog parks in Tampa? Then I've found you one. Curtis Hixon Dog Park with a waterfront view just behind the famous Tampa Museum of Art is perfect for your pup.
This dog park in Tampa is fenced and has a lot of covered seating areas for you. You'll enjoy the beauty with fresh bay-front air which will soothe your anxious mind. This small park has artificial turf, agility equipment, and drinking fountains which your dog will love for sure. You can park your car at the William F. Poe Parking Garage and walk to this calm scenic place.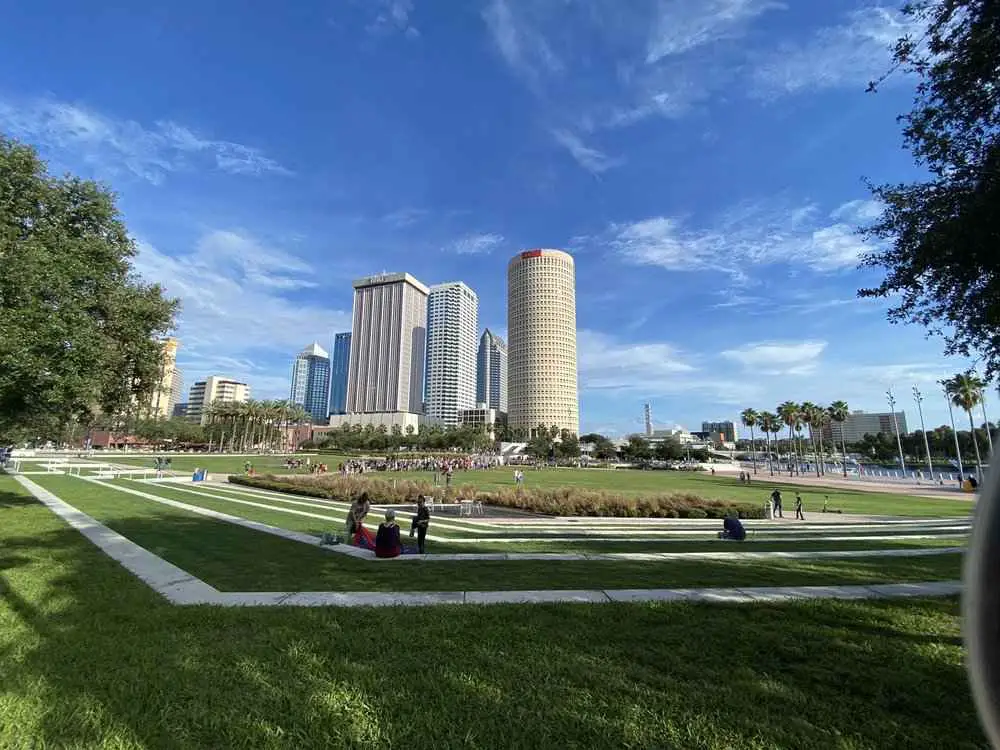 3. Palma Ceia Dog Park
Location: 2200 S Marti St, Tampa, FL 33629
Hours: All time
Palma Ceia Dog Park is a beautiful place where dogs can enjoy the sun, the wind, and the calm environment. The path is easy to navigate and has a diverse landscape of grasslands.
If walking under the long oak trees seems to be a far-fetched dream, thanks to Palma Ceia Dog Park which allows you to walk beneath the beautiful shades and enjoy the marvelous views. It offers a hydrating station facility and a lot of space for your dog to soak in the sun and live every moment of her life. 
Parking here is limited so come early in the morning.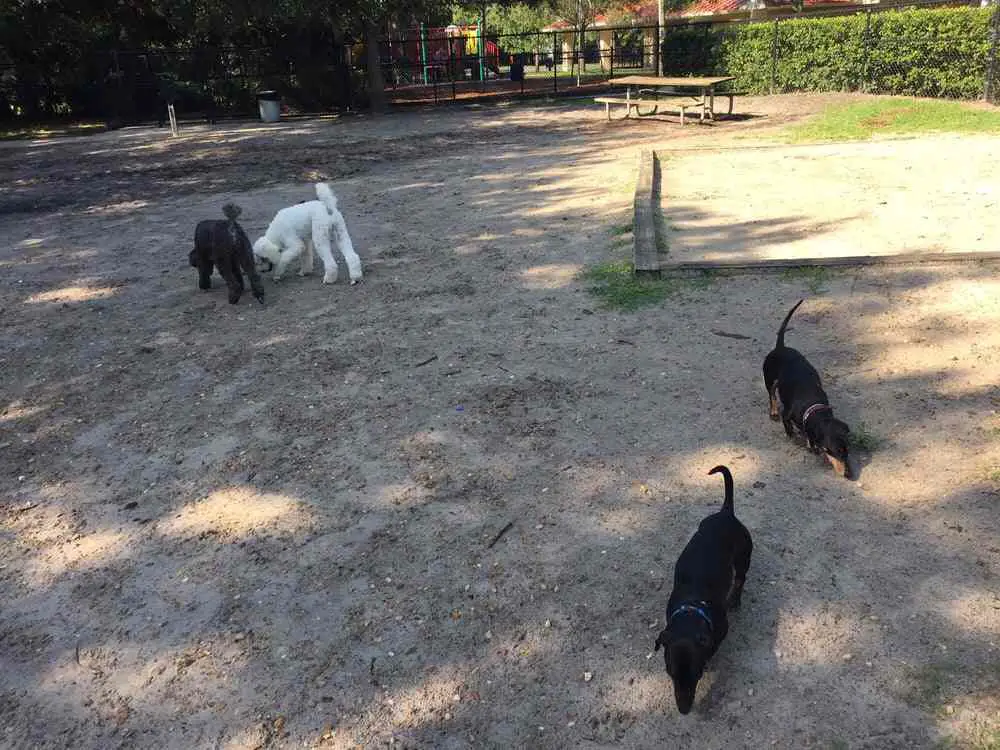 Read Next: 10 Best Small Dogs for Hiking and Walking
4. Fort De Soto Paw Playground and Beach
Location: 3500 Pinellas Bayway S, Tierra Verde
Hours: All time
The best dog parks in Tampa are where you can dip yourself in water and also soak yourself in the sun. It has both a beach and a playground which allows dogs to enjoy themselves to their fullest.
It is a fenced area and perfectly suited for small dogs and large dogs which have fire hydrants, water stations, shower rooms to clean up. This dog park in Tampa is my personal favorite because Rony, my dog, can actively run and enjoy the beach vibe. It is one of the most beautiful dog friendly beaches in Florida. You can let your pooch run around with other dogs. Just make sure you keep the place clean.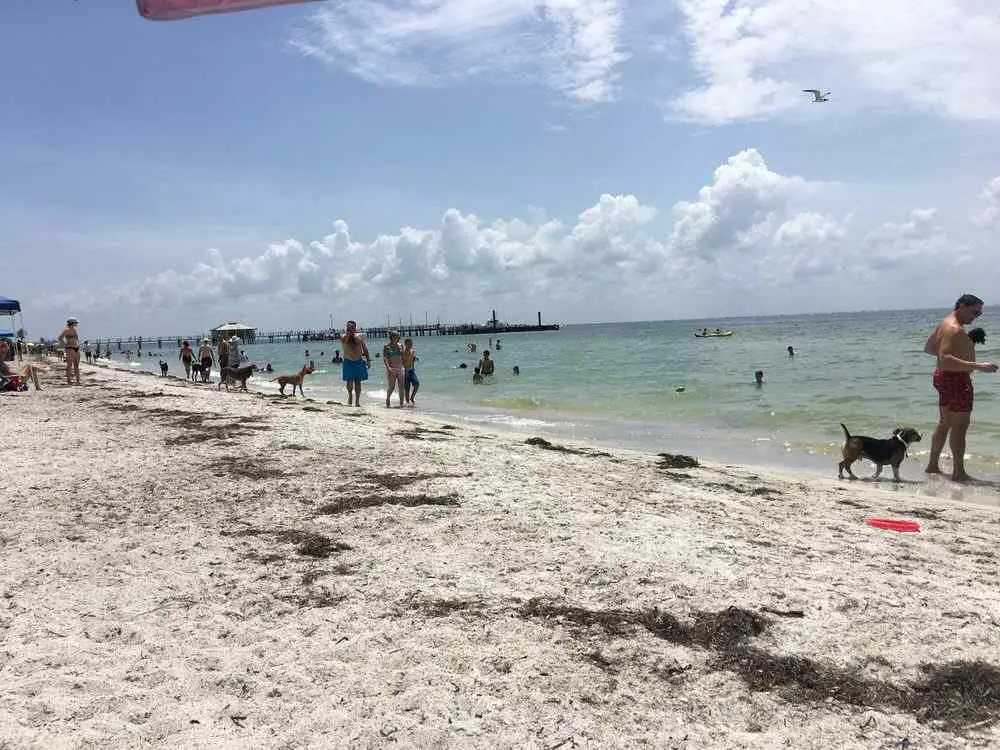 5. Davis Island Dog Park
Location: 864 Severn Ave, Tampa, FL 33606
Hours: Monday- Sunday, 7 Am -6 Pm
Let your pooch run, fetch and sniff in the open space which is surrounded by sea, beach, and sands. It is fenced on the three sides which makes it perfect for off-leash dogs to run around. Check out this article if you want to know how to go off-leash with your dog.
This dog park in Tampa has everything all around – the rock line shore, shallow water, beach, and perfect blue blend sky. You can carry a dog umbrella because the sun may be a little harsh for your dog. This beach offers two perfect views of the beach and the Tampa skyline in the distance. You can leisurely lay back and watch your dog running and enjoying.
6. Queenie's Dog Park
Location: 1710 N Highland Ave, Tampa, FL 33602
Hour: All time
Still wondering, are Tampa parks dog friendly? This popular destination welcomes dogs warm-heartedly for running and walking.
However, one of its most beloved attractions is its hilly terrain and evergreen trees all around. You can leisurely stroll around the park barefoot because 80 % of this place's flooring is covered by rubber and 20 % is astroturf. You can park your car next to Armature Work and walk to this beautiful lighted place.
Related Post: 10 Best Dog Strollers for Hiking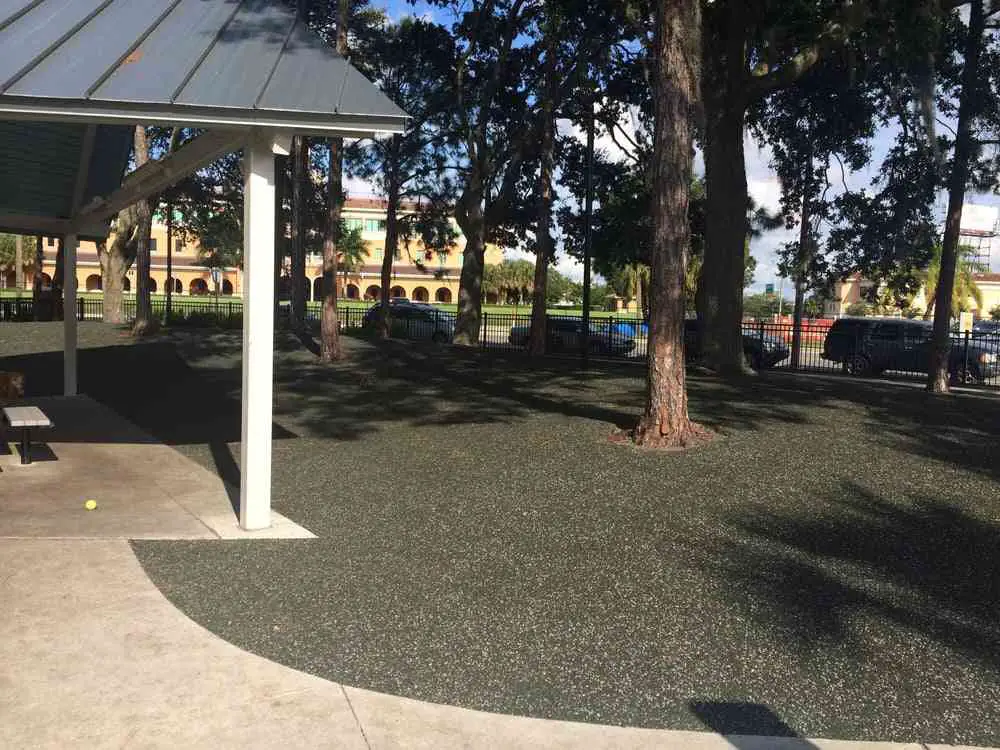 7. Logan Gate Dog Park
Location: 7374 Monterey Blvd, Tampa, Florida 33610
Hour: All time
The famous and ideal dog park in Tampa is Logan Gate Dog Park for your dog to roam and soak up the sun. At the park, you'll find plenty of shade and is perfect to plan a picnic and spend the afternoon out with your pup.
It is five acres of play area surrounded by real grass and greenery all around. It has two parks for small and large breeds. It also has a washroom and basketball court for playing and spending a memorable evening.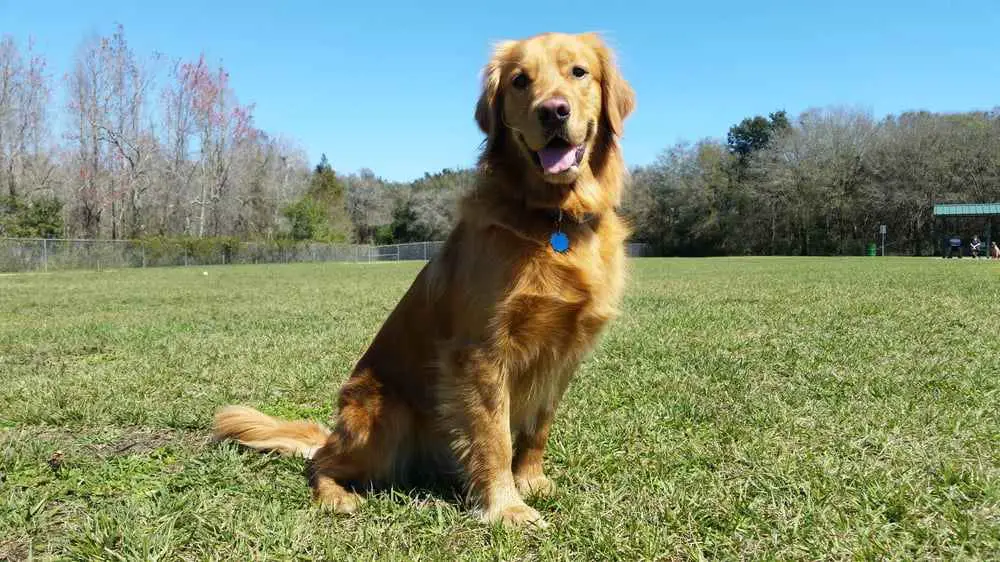 8. Gadsden Park
Location: 6901 S MacDill Ave, Tampa, FL 33611
Hour: 6.30 – 8.30 Pm
Gadsden is another famous dog park in Tampa that welcomes pups for a lovely walk along the lake.
If you are looking for dog walking in Tampa Bay come to this park. It has long trees which provide great shade and can be the perfect setting for an afternoon out with your furry best friend. If you want to avoid a crowd then come on the weekdays and bring the entire picnic essential and spend the whole day. Remember, it is one of the famous on-leash dog parks in the Tampa area.
Are you a new puppy owner? Check out this article to know how to train your puppy to walk on leash.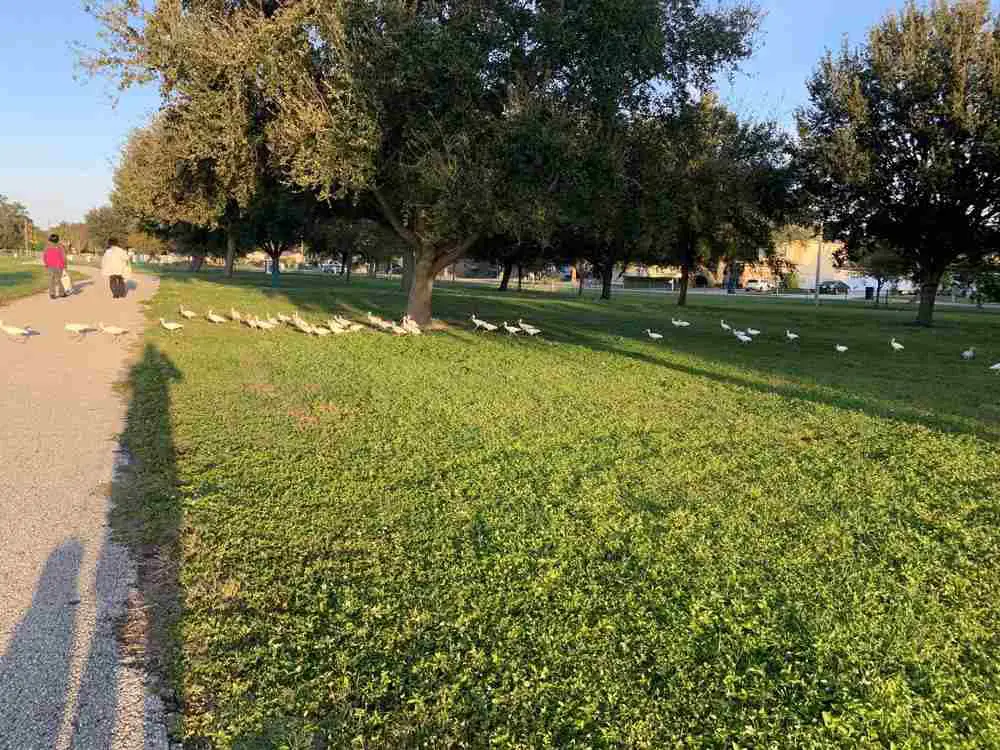 9. Ferg's Dog Park and Grill
Location: 1320 Central Ave., St. Petersburg
Hour: All time
Did you think that humans can't enjoy a dog park in Tampa? You should visit Ferg's Dog Park and Grill with your friends and dog. It is a fun place and barking dogs are not encouraged, so you should know how to calm an excited dog. Along the park there is a restaurant where you can have the best hot dogs and worry not; your dog can also munch with you because they serve dog foods too.
The above dog parks in Tampa are the best places to spend time with your dog and let him play and enjoy to his fullest. You know the benefits of traveling with a dog and how quickly you can develop an infinite loving bond with your pet. Tampa also has dog-friendly restaurants and hotels which are budget-friendly and welcoming.
Dog-Friendly Restaurants in Tampa:
There are hundreds of outdoor eating options in Tampa which won't allow you or your dog to sleep on an empty stomach.
Café Dufran:
The best dog-friendly restaurants in Tampa won its name for its unique style of cooking and serving. USA Today declared it as a great place for a casual business dinner and Metro Magazine described it as the best waterfront Café. It is near Marriott Waterside, Embassy Suites, and Westin Harbour Island.
Caddy's on the beach:
For great food, drinks, and cozy dining this dog-friendly place in Tampa is amazing. You can witness the perfect sunset of the West Coast of Florida with mouth-watering food on the table. Every night there is an entertainment performance in the café and you can enjoy the view and outside seating.
Dog-Friendly Hotels in Tampa
For a comfortable stay and good, tight sleep there are numerous pet-friendly hotels in Tampa.
Sheraton Tampa East – Brandon Hotel:
To gain all the lost energy a tight good night's sleep is so necessary and important. You can stay in this amazing dog-friendly hotel in Tampa and explore many different places and ride the Gwazi roller coaster. You'll be charged $25 per day as a pet fee.
Westin Tampa Bay:
If you're parents of two dogs, worry not because this property welcomes two dogs up to 45 lbs with just an extra of $50 per pet, per night. Your dog will receive the best treatment from them and will get a separate bed, bowl, and treats.
Still wondering, what parks are pet-friendly in Tampa? I know how you're not because I've shared my ultimate plan on how to spend time in Tampa Parks and rest at night. This incredibly beautiful outdoor and indoor dog park in Tampa is the best place to spend your weekends with your furry friend.
Read Next:
FAQ on The Best Dog Parks in Tampa
1. What parks in Tampa allow dogs?
A: Tampa Bay has the most scenic and clean dog-friendly parks where your small or large dog can run and have complete fun. The parks are as follows: North Shore Dog Park, Washington Street Park, Carrollwood Village Park, and Picnic Island Beach Dog Park.
2. What is the indoor dog park in Tampa?
A: The first fully AC'd indoor 5,000 sq ft. dog park is called Two Shepherds Taproom which is a must-visit park in Tampa. In summer, the outside temperature is so humid and hot that indoor parks are the best places to spend time in.
3. Do dogs get hurt at Dog Park?
A: Yes, it is possible that your dog might be hurt by a large dog inside the park. Injuries are common at dog parks. It may get a bite wound, scuffles, or sometimes serious incidents. Therefore, you should always be very attentive and in such cases immediately visit a veterinarian.