How To Make A Trip To Dog-Friendly Joshua Tree: Guide & Tips
Joshua Tree is not like any other place you see on Instagram or you ever visited. I was awestruck at the beauty – Ryan Mountains, the Mojave Desert, and the Colorado Desert all in the same place. 
The first time when I came to Joshua Tree, I did not know it is a dog-friendly destination in California. However, on my second visit to Joshua Tree National Park, Bunjee joined me.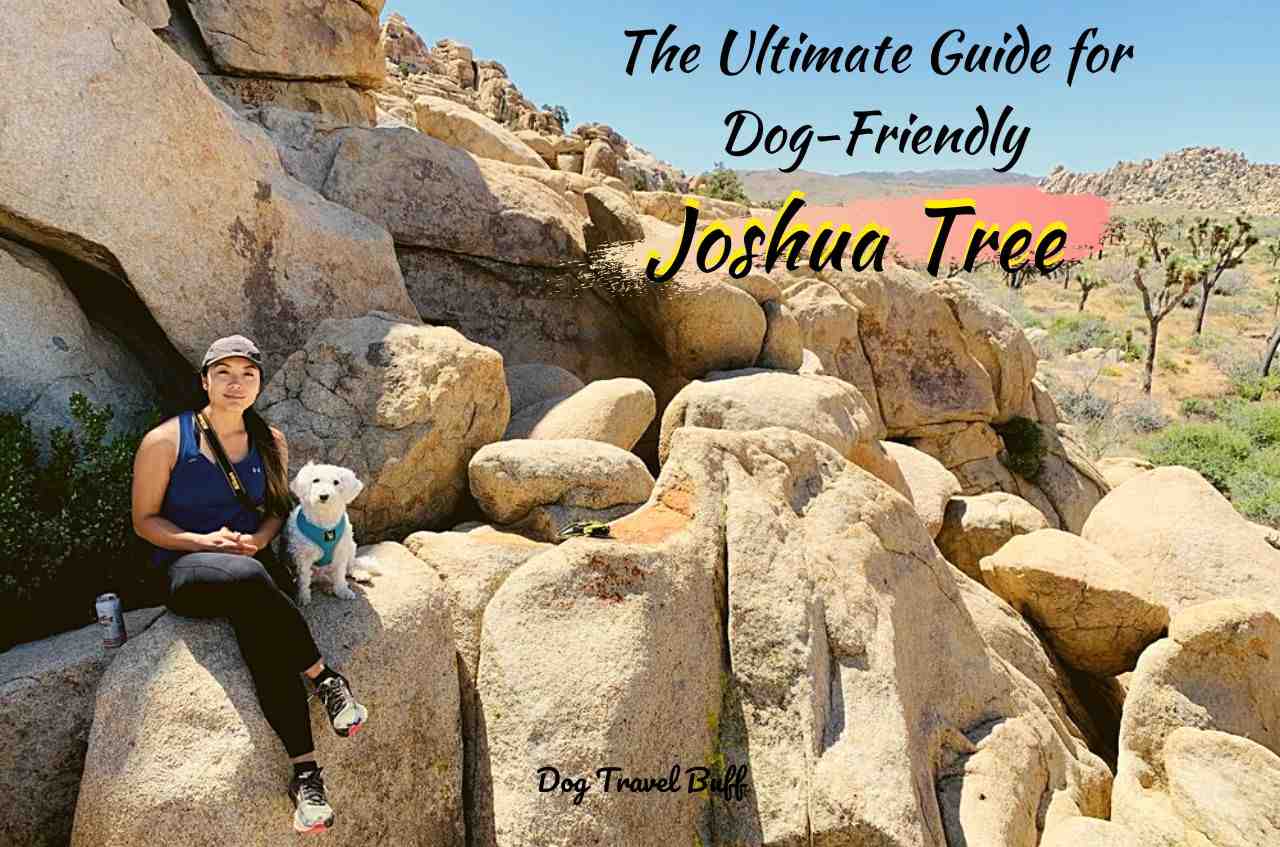 This post may contain affiliate links. If you buy something through one of those links, you won't pay any extra penny, but I'll get a small commission that encourages me to deliver more helpful content for you.  
You have been to dog-friendly beaches in Northern California. But have you ever witnessed dreamy landscape, spiky-leaved evergreens, and gorgeous wilderness?
Traveling with dogs in desert ecosystems, spotting panoramic views of giant rock formations, and enjoying the sunset in the calming environment, Joshua Tree National Park is always my favorite. 
It is so easy to travel solo or with friends however, Joshua Tree National Park is not very dog friendly as they are welcomed on a limited number of trails.
Therefore, this blog is a Joshua Tree dog-friendly guide exclusively informing you about the hiking trails, places to stay, eat, and other dog-friendly things to do in Joshua Tree. 
Dog-Friendly Joshua Tree
In Southern California, about 154 miles northeast of San Diego and 146 miles east of Los Angeles International Airport sits the arid landscape called Joshua Tree Park.
If you think that you would see swans swimming on the blue lake then let me warn you, Joshua Tree National Park is dry and home to fuzzy vegetation. 
Joshua Tree National Park is famous for its landscape and rock climbing, owning a large Quartz Monzonite granite structure. 
I went with Bunjee, so I can tell you that the whole park is not dog friendly and has limited access. It is pretty strict with its limitations. 
Again, I would warn you that you will find very less people accompanying dogs because dog-friendly hikes in Joshua Tree are rare.
Dogs are an important part of our lives and some parts of Joshua Tree National Park allow leashed pets within 100 feet of roads. 
I would recommend you not to rely upon pet trackers as the remote location of the park can be very dangerous for your dog. Always keep your dog on a leash.
Additionally, this place is also home to wild rabbits, coyotes, and cholla cactus. Therefore, if you follow the rules of the park, your dog can enjoy and be safe. 
Pet Regulations: Dog-friendly Joshua Tree
Dogs must be 6 feet (1.8 m) on a leash 
Dog owners must throw all personal wastes and dog wastes in the dustbin
Bring plenty of drinkable water because the weather is extremely hot
Pets are welcomed within 100 feet of the campground, roads and picnic area
Pet should not be tied to an object or left unattended. This is an illegal and inhuman thing to do
Violation of rules is subject to fine
Dog Not Welcomed: Joshua Tree with Dogs
If you think you can take your dog anywhere in Joshua Tree National Park, then I would like to burst your thoughts because dogs are not welcomed everywhere.
Trails that do not allow dogs have put up a signboard at the parking entrance stating "NO PETS ON TRAILS". However, do not get upset because the fantastic sandy sprawls are loaded with unseen natural wonders where you can take fantastic photos. 
Dogs are not allowed at Skull Rock, Cap Rock, Split Rock Discovery Trail, Cholla Cactus Garden, and Cap Rock. Moreover, these places are also not safe for your four-leg companion because their presence can be a threat to the environment. 
You can at least visit the parking lot and from there you can click a nice snap of you and your dog!
Dog Welcomed: Dog-friendly Joshua Tree
If you want to explore Joshua Tree, dogs are allowed in all the following regions along with the dog owners. Remember to keep your dog on a leash.
1. Oasis of Mara
Joshua Tree National Park has six oases with California fan palms. Oasis of Mara is one of them that sits in the north of Twenty Palms at Joshua National Park. 
Moreover, the Oasis of Mara is dog-friendly and easily accessible from Mara Visitor Center. The place is surrounded by fans, playas, desert saltbush, heavy soils, honey mosquitoes, burro bush and a spring in the center. 
The place introduces you to a historically significant place with local ecology that makes you sit and wonder about its beauty. 
In the past, people used fresh water and now it's just an immemorial spring left with memories. 
Lewis DeSoto has created a visual and audio art project narrating the tragic story of Carlota, a Native American woman. Try to attend this hearing.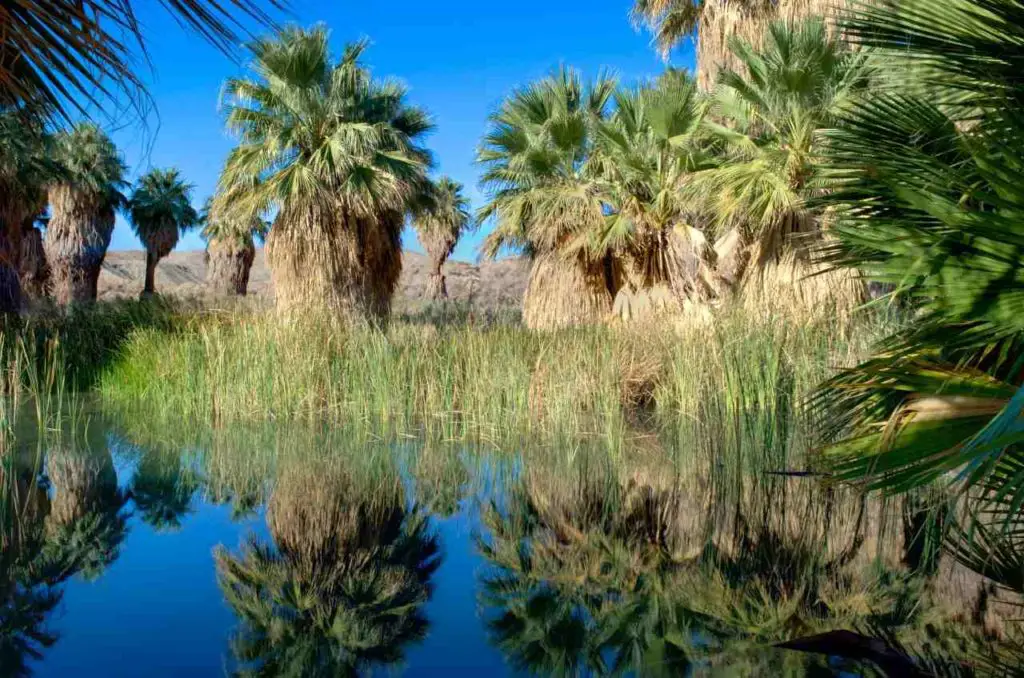 2. The Keys View Point Area
At an elevation of 1574 m above sea level, sits the most scenic place called The Keys View which is 25 minutes drive from the northwest entrance of the park. 
The Key View sits on the crest of the Little San Bernardino Mountains which is paved. The Keys View is the perfect place to sit down with your dog and watch the Salton Sea, Palm Springs, and Mount Signal far in Mexico. 
From the top, the panorama view of the arid desert basin, Coachella Valley, is something you can never forget.
I would suggest you spend the evening witnessing the immemorial sunset with your dog beside you. Additionally, I would recommend you bring a dog hiking vest and other dog hiking gear because the place is very dusty and windy. Check out our detailed review of best dog vest for hiking.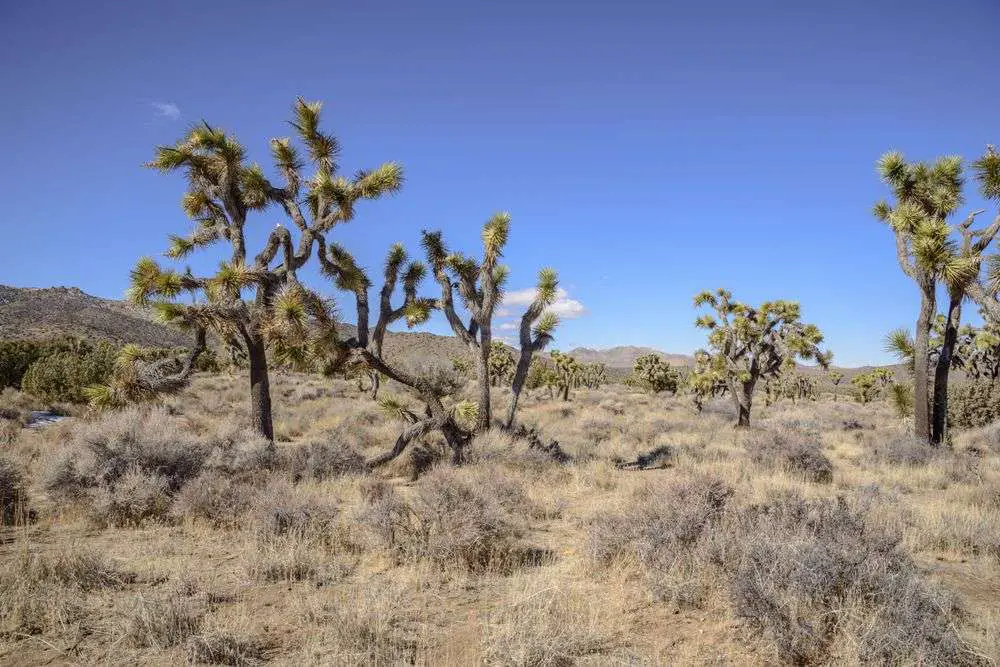 3. Any Paved Road where Vehicles Can Go
Yes, I think that's the good news! You can walk with your dog on a leash on paved roads where vehicles can go. 
Let me explain to you more, imagine you are driving and can come across the Boulevard and Joshua Tree that intrigue you to spend some time. 
You can park your car on the side of the road so that you are in no way disturbing other people driving. 
Now, you can take your dog out and enjoy the surroundings. But remember to keep your dog on a leash within 100 feet. 
These places are as follows – 
Park Boulevard
Park Boulevard is the remote, scenic and rugged loop drive in Joshua Tree that is dog friendly and you do not want to miss out! The place is so scenic and the roads are well-paved and connect the north and west entrances of Joshua Tree National Park. 
However, remember to drive carefully along Park Boulevard because there are a lot of wild animals around. While we were driving, a desert tortoise came in front of my car. Therefore, be careful because you do not want to kill natural animals with a speeding car. 
Any Unpaved Road where Vehicles Can Go
Unpaved roads offer the best travel stories and allow you to soak completely in the spectacular desert scenery. A miles and miles ride on the unpaved roads of Joshua tree with a dog on your side is the most memorable thing.
(i) Queen Valley Road (one way) 
Through the Mojave Desert region with strewn terrain, huge boulders, and Joshua Tress, runs the most dog-friendly Queen Valley Road.
(ii) Bighorn Pass Road
The Bighorn Pass Road connects Queen Valley Road and main Park Boulevard. The journey might be too sandy but one of the dog-friendly Joshua Tree places. 
(iii) Stirrup Tank Road
Stirrup Tank is one of the most famous rock climbing areas in Joshua Tree National Park because it can hold water. The trail is a 4.8 km out-and-back trail that welcomes dogs.
(iv) O'Dell Road
O'Dell Road has its fame for off-road driving and hiking. It is near Desert Hot Spring with a length of 6.1 km.
(v) Geology Road (2-wheel drive)
Geology Road is an 18-mile motor tour that offers the most fascinating landscape that makes the journey the best. 
(vi) Desert Queen Mine Road
Desert Queen Mine Road is a famous 1.6 miles hiking trail that welcomes dogs. People come here to see gold mines.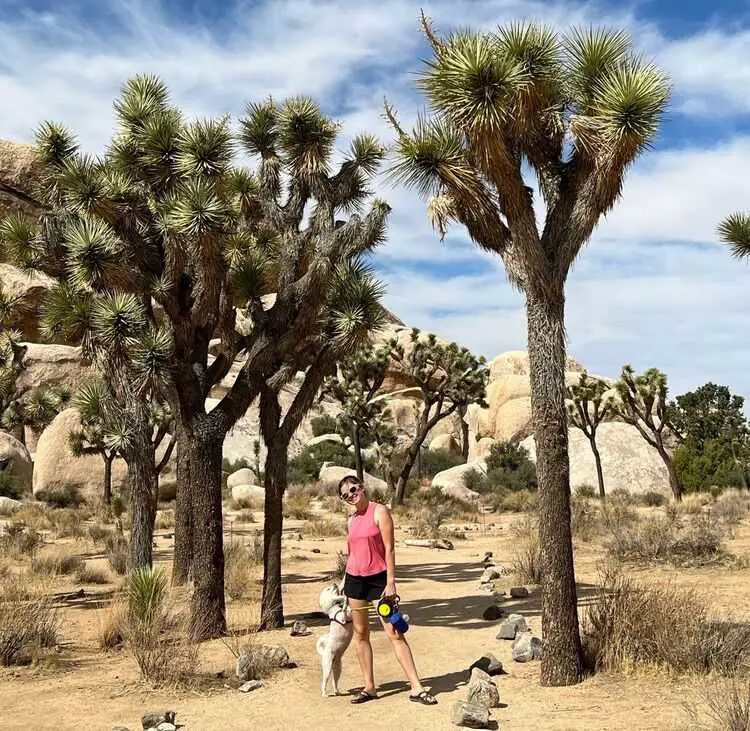 Time to Spend with Dog: Pet-Friendly Joshua Tree
Things to do in Joshua Tree National Park with dogs are limited hence proper one-day planning is good enough to hike, walk, and explore the entire pet-friendly Joshua Tree. Benji and I went to Joshua TreeNational Park at weekend and spend two nights there. 
For leisure travel, you can spend two days but in that case, do visit Yucca Valley or a trip to Palm Springs for its dog friendly hiking trails. From Joshua Tree National Park to Yucca Valley it is 11.5 miles whereas to Palm Springs it is 0.3 miles. 
Tips: Dog-friendly Joshua Tree
Tip 1: How to Enter Joshua Tree National Park? 
There are three entrances to Joshua Tree National Park – The North entrance station, The West entrance Station, and Cotton Visitor Center in the south. If you are with your dog do not take the chance to enter Joshua Tree from Cotton Visitor Center as it shares proximity with Cholla Cactus. 
The best way to enter dog-friendly Joshua Tree is to drive up 21miles to Oasis Visitor Center in 29 Palms. This region will give you access to North Entrance Station, moreover, the drive is scenic and less traffic. From here you can visit Oasis of Mara which is dog friendly. 
Tip 2: Witness the Best Sunset and Sunrise 
If you do not know then let me tell you that Joshua Tree offers the best blush pinkish and orange view of the sky during sunset and sunrise. Winter sunrise can be deadly because you would freeze out of the cold but sunsets are perfectly adorable.
I would recommend you to visit Keys View or near Cap Rock to witness an epic view of sunrise or sunset. Adventure-seeking people can move to Park Boulevard and sit there for hours to soak in the beauty. 
Tip 3: Driving on Unpaved Roads
Get your SUV, rangers, or sturdier car to drive on the unpaved roads of Joshua Tree National Park. Choose Bighorn Pass, Queen Valley Road, O'Dell Road, and Geology Tour Road because they are dog friendly. Moreover, let me warn you that the ride can be bumpy and the ride can be around 2 hours so do not expect smooth rides. 
Tip 4: Best Dog-friendly Photo Spot
As I said before that dog is not welcomed in most places, however, you can click cool snaps anywhere along the way. You can also click the picture at the parking lot at Cap Rock, Intersection Rock, Hemingway, Discovery Trail, Skull Rock, Split Rock, and along Park Blvd, but remember to keep him on a leash.
Dog-Friendly Restaurants in Joshua Tree
You will find dog-friendly restaurants near Joshua Tree that offer outdoor seating and great food. Moreover, for a good experience, you can drive to Palm Springs or Yucca Valley where you will find plenty of places to dine. 
However, there are few pet-friendly restaurants near Joshua Tree where you can pick up food for the night.
1. Sam's Indian Food and Pizza
Address: 1380 Twentynine Palms Highway #13, Joshua Tree, CA 92252, United States
Time: Monday – Saturday: 100.00 am – 9.00 pm, Sunday: 3.00 pm – 8 pm
If your taste buds lust for Indian food then no place is better than Sam's Indian Food and Pizza. You will get naan butter chicken, LRG curry Pizza (which is yummy), samosa chaat, aloo gobhi, paneer, and more. 
2. Joshua Tree Saloon
Address: 6183529 Palms Hwy, Joshua Tree, CA 92252
Time: Monday-Sunday: 9 am – 12 am
Joshua Tree Saloon offers the best jalapeno poppers, burgers, chips, and a solid basket of ribs. The outside patio is so relaxing that you can sit there for hours without any questions.
Dog-Friendly Hotels in Joshua Tree
A good night's sleep is only possible if you get a hygienic clean hotel. Remember, pet-friendly hotels in Joshua Tree are limited and can be expensive.
1. Tuscan Springs Hotel & Spa
Tuscan Springs Hotel & Spa sits 3.2 Km from Downtown Desert Hot Springs and you get the best room service as well as free Wi-Fi. 
2. Harmony Motel
Harmony Motel is the most budget-friendly hotel that sits 3 Km from Joshua Tree National Park. The place is spacious and designed with a rustic theme.
Pet-friendly Joshua Tree: What to Bring to Joshua Tree
Carry dog leash
Poop bag
Jackets, if you are coming in winters
Raincoat or umbrella for both of you
Pup's warm blanket
A lot of drinkable water
Dry fruits, non-perishable snacks and dog food
Instant noodles
Read Also: 10 Lightweight Dog Hiking Boots
Conclusion
Dog-friendly Joshua Tree is pretty easy to explore if you carry an offline map with you. Benji and I enjoyed roaming around and witnessing the giant rock formations and Joshua Tree. I hope you have got all the information to explore Joshua Tree NP.
Read Other Dog-Friendly Vacation Spots in California:
FAQs – Dog-Friendly Joshua Tree National Park
1. Are dogs allowed at Skull Rock?
A: No, dogs are not allowed at Skull Rocks. However, you can visit the parking area and click photos. 
2. Is Joshua Tree too hot for dogs?
A: Yes, it's a desert and Joshua Tree can be too hot for your dog.
3. Are dogs allowed anywhere in Joshua Tree?
A: No, dogs are not allowed anywhere in Joshua Tree. There is very limited access given to pets.