10 Best Dog Beaches in Tampa, FL
Spending summer on the beaches is on everyone's bucket list. We all look for the one long weekend where we can sit back and relax under the sun. But dog parents often face a problem spending time at the beach. There are several dog-friendly beaches in Florida. And I am sure you don't want to see a sad dog face while leaving for the beach.
Not all beaches are dog friendly. Don't worry. Tampa is a pet-friendly city in Florida. I have made an amazing list of the best dog beaches in Tampa, FL so that you can have a fun day at the beach along with your pet dog.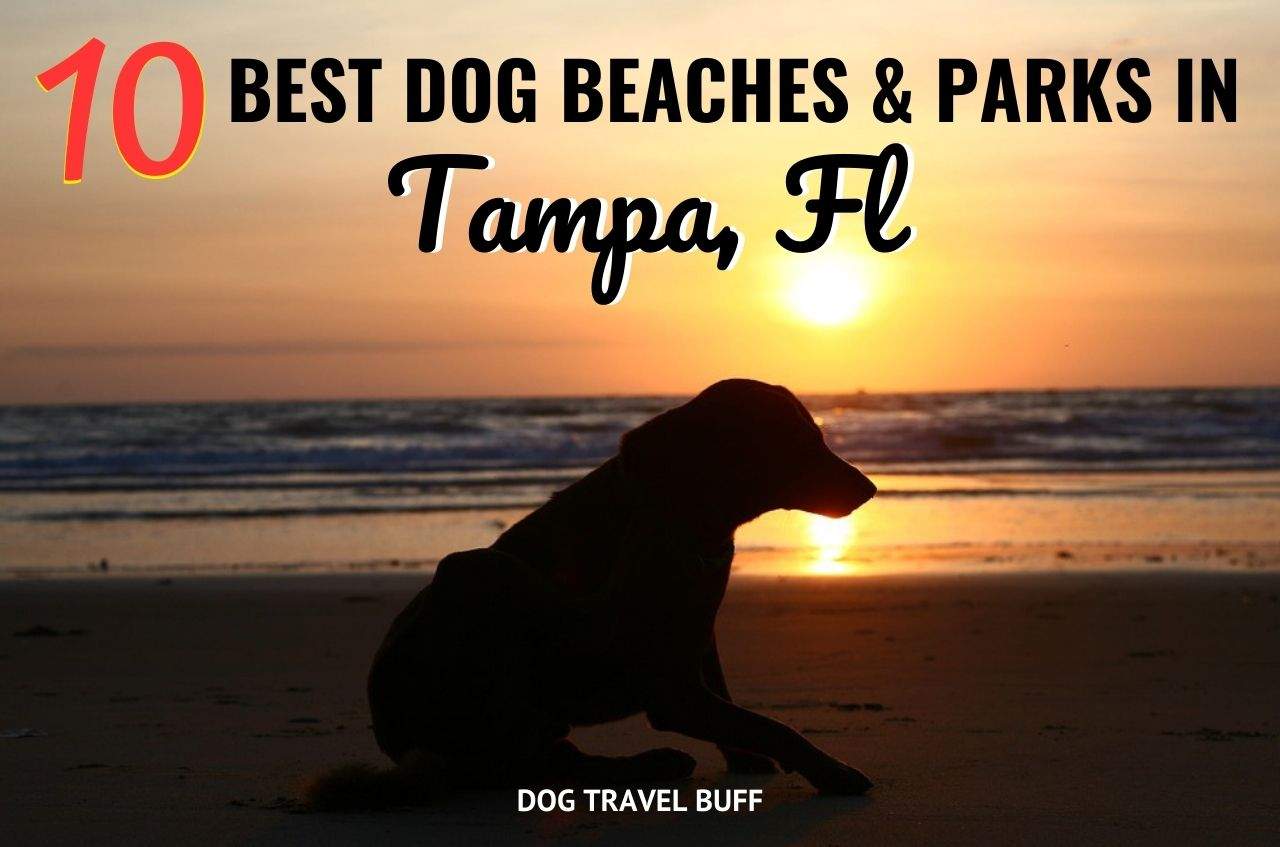 This post may contain affiliate links. If you buy something through one of those links, you won't pay any extra penny, but I'll get a small commission that encourages me to deliver more helpful content for you.
Read Also: 7 Surprising Benefits of Traveling with a Dog
Best Dog Beaches in Tampa, Florida
Get ready to spend an awesome time with your pet dog on these beaches for dogs in Tampa. Also, if you are planning to take your dog for a relaxing day at a park, we have mentioned  Tampa dog parks as well.
Now, what are you waiting for? Let's get to know the dog-friendly beaches in Tampa bay area.
Pass A Grille Dog Beach
If your heart wants crystal clear water and blue sky under which your dog can run freely, then Pass A Grille Dog Beach is the best bet for you. Located in the southernmost part of the beautiful city of St. Pete Beach, Pass A Grille is one of the top Tampa dog beaches. 
The unique feature of this beach is its location. Since it's a little bit away from the main town, you would not expect a large crowd on this beach. So if your dog is not that friendly among a lot of people, you certainly have no worries.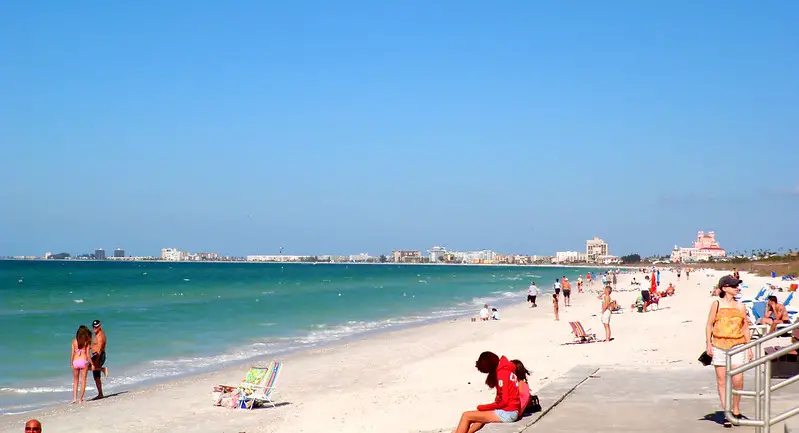 Take a frisbee with yourself to play along with your dog. Also, keep water handy for yourself.
This beach has a few rules:
You must be prepared to clean up the beach.
If your dog barks a lot, you may be removed from the beach.
Your pup must be four months old to be allowed to the beach.
Pass A Grille Dog beach is open 24 hours. Keep in mind that the hourly parking rates are $3. If you're on the lookout for on-leash dog beaches in the Tampa area, don't give a miss to Pass A Grille.
Read Also: How to Travel with Dog Internationally?
Davis Island Dog Beach
Dog parents love to bring their furry friend to Davis Island Dog beach and they have made this beach a popular dog-friendly beach in Tampa bay area. The beach has a calming atmosphere and it's great to visit all year round.
Davis Island dog beach is a full sand beach and the availability of fenced areas ensures protection for your dog.  Being a popular beach, you would find a considerable amount of crowds on this beach. Your pup will get a chance to play with other dogs as well.
Surely, it's going to be a fun day out for your little dog. They can also have a splash of water as the sea has very few waves. The beach remains open from 7 a.m to 6 p.m from Sunday to Saturday.
The water station keeps your dog super clean minimizing your efforts. If you're still unsure what beaches are pet-friendly in Tampa, keep Davis Island Dog beach on your list.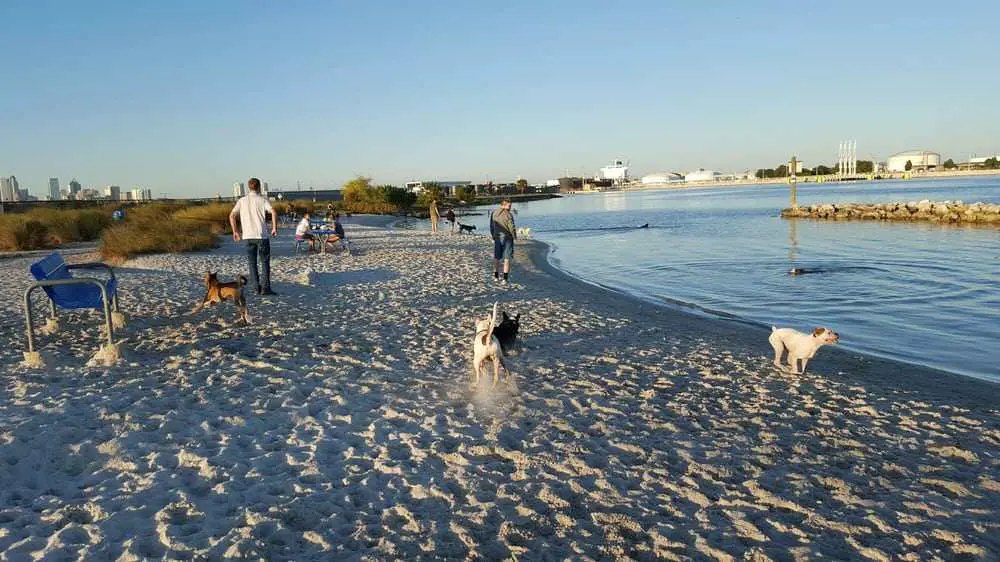 Forte De Soto Dog Beach
Looking for off-leash dog beaches near Tampa, then come to this serene beach called Fort De Soto. Your dogs will be super happy to run freely across the beach.
There are two separate areas for large and small dogs making it extremely convenient for all dog parents. You can also take a deep dive in the pristine water and have some fun with your pup.
As an owner, you must keep the leash handy and remember to leash your dog while entering and exiting. The water stations at the beach make it a popular pet-friendly beach in Tampa.
The timings of the beach are from 7 a.m to 8 p.m from Saturday to Sunday. Parking is 5$ for all visitors.  And make sure to cool yourself down with the drinking water available on the premises.
Tip: Florida sun can be unbearable for your pup. It is recommended to carry a dog umbrella to protect your best friend from the heat.
Honeymoon Island
If you are a nature lover, then you must visit Honeymoon Island. Your heart will be filled with the picturesque beauty of the beach and it is also one of the most beautiful beaches for dogs in Tampa.
The beach is spread across four miles with a lush green view to take away all your worries. This beach assures a calming experience for you and your little pet friend. The special section for the dogs on the beach has won the heart of all pet parents.
With less crowd, this beach is perfect for you and your pup to enjoy a relaxing day at the beach. Also, the sand is super smooth to ensure an easy walk for your dogs.
Don't forget to keep your dog on a leash. Although the place has an $8 fee you won't regret your time here at all.
So, if you're free this Saturday, take your dog to Honeymoon Island as the beach remains open all week from 8 a.m to 8 p.m.
The beach also offers fun activities like hiking, bicycling, fishing, and swimming. So don't put your adventurous cap on while visiting this beach.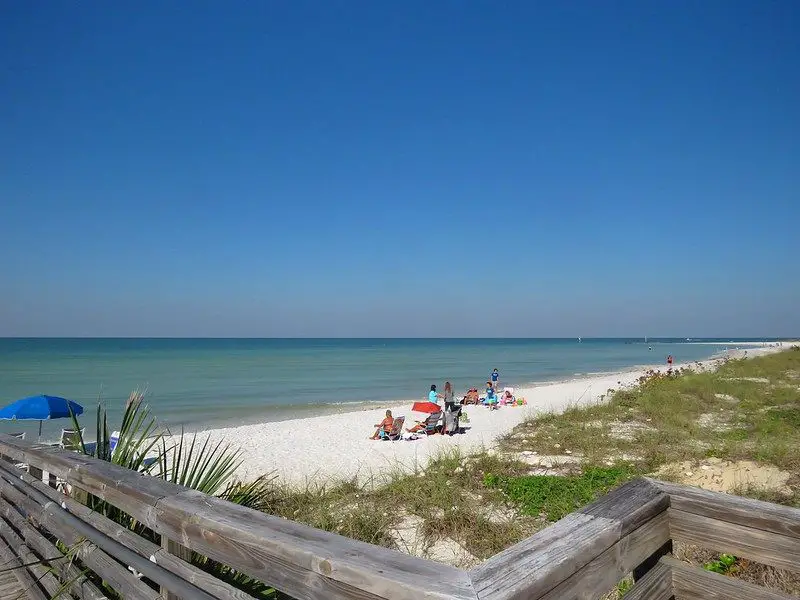 Read Also: 19 Best Dog-Friendly Beaches in Maine
Picnic Island Dog Beach
Does your pup love to play in the waters? Then, plan your weekend at the Picnic Island Dog Beach and have a spectacular time with your pet.
The beach has a vast area of 8 acres and it's just near the Port of Tampa. Let off the leash on your dog and let them have an exciting time at the beach. Also, the mangrove trees on the shore make this place totally picture-perfect. So if your dog is tired from all the running and the walking, sit under the shade and let it rest.
This beach is not only a dog-friendly place in Tampa but it's also a kid-friendly place. Your kids will love to play in the dedicated playground area. This beach certainly screams for a family picnic.
Just make sure to keep an eye on the dog as the place is not entirely fenced. You get water for your dog here as well.
Unwind yourself with your dog in this pleasing Tampa dog beach. If your dog is exhausted or doesn't want to walk anymore, just carry him/her in a dog carrier backpack. We have a popular article on Guide to Buy the Best Affordable Dog Carrier Backpacks.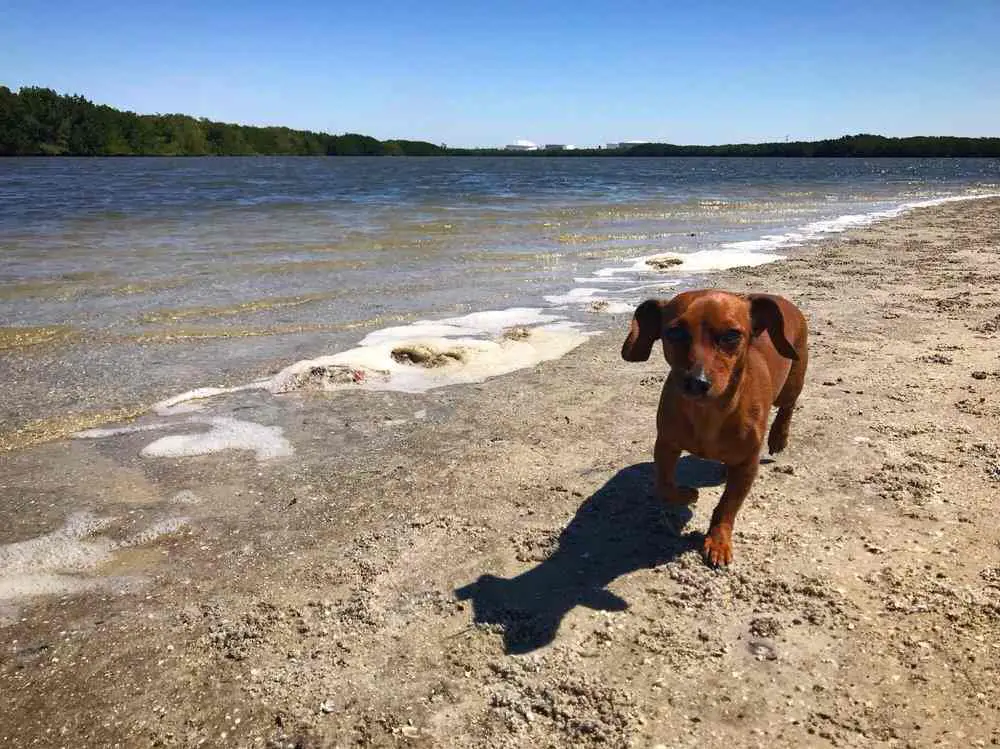 Read Also: 9 Most Beautiful Dog-Friendly Springs in Florida
Best Dog Parks in Tampa, Florida
If you have spent a day at the beach with your dog and now wondering what next to do, then Tampa has more in store for you. Have a gala time with your dog in any of these Tampa dog parks and cherish those memories forever.
Northwest Dog Park
If your furry friend is full of energy and enthusiasm, then Northwest Dog Park is the go-to park for your dog.
The park is beautifully designed and has different types of obstacles like tunnels and tire jumps to throw a challenge at your dog. Moreover, the park is peppered with tubs and buckets of water.
You can also chill under the shades and your pups will be clean with the astroturf facility of the park.
Large parking areas make this dog park totally worth visiting.
Rowlett Dog Park
The list of dog parks in Tampa would be incomplete without mentioning Rowlett Dog park. This is a pretty large park where you will find shades for your dog to take a rest.
Let them roam around in this beautiful park. The unique feature of this park is that it has an obstacle course. So your dog will not only be running but also be playing through this course.
And if you're a dog parent of a small one, this park has a place for you too. Take your puppy to the small dog area and keep them safe.
This dog park is hygienic and high on maintenance. Besides, the availability of restrooms for its visitors makes it a must-visit dog park in Tampa.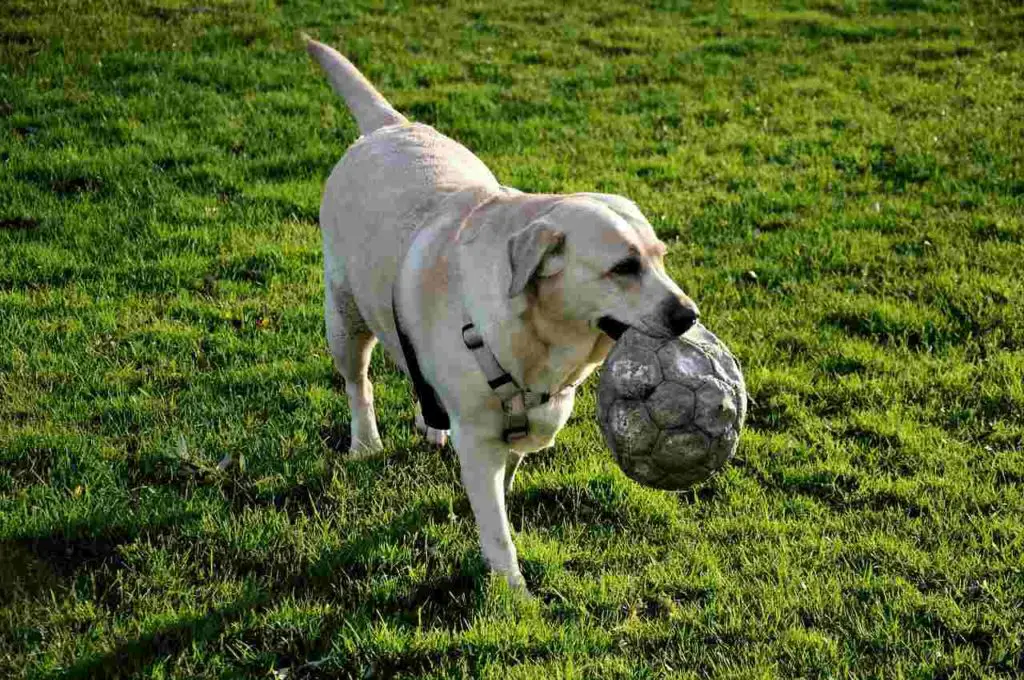 Logan Gate Dog Park
Is your dog tired of that leash? Then wipe away all the woes off your dog by taking him to the best off-leash dog park in Tampa. Logan gate Dog part has unlimited parking and has both places for small and large dogs.
Also, you can give your feet a bit of rest by sitting in the beautifully arranged seats for the dog owners. Apart from that, the park has pools for your kids too.
Logan Gate Dog park also offers picnic tables and water foundations. So pack some snacks along with yourself and have a small get-together with your family and pet in this park.
Al Lopez Dog Park
Al Lopez Dog park is another dog-friendly place in Tampa that is super clean and always maintained. Your pup will never be gasping for thirst as this dog park has water fountains.
Once again, this park comes with different areas for small and large dogs. The dogs are super friendly here so your pup is bound to have an amazing time here.
Walk on the long walking trails at the park and let your eyes soak the beauty of nature.
Dogs love this park because of its huge space. The park also provides bags to pick up your dog's poop which is certainly a very convenient feature of this park.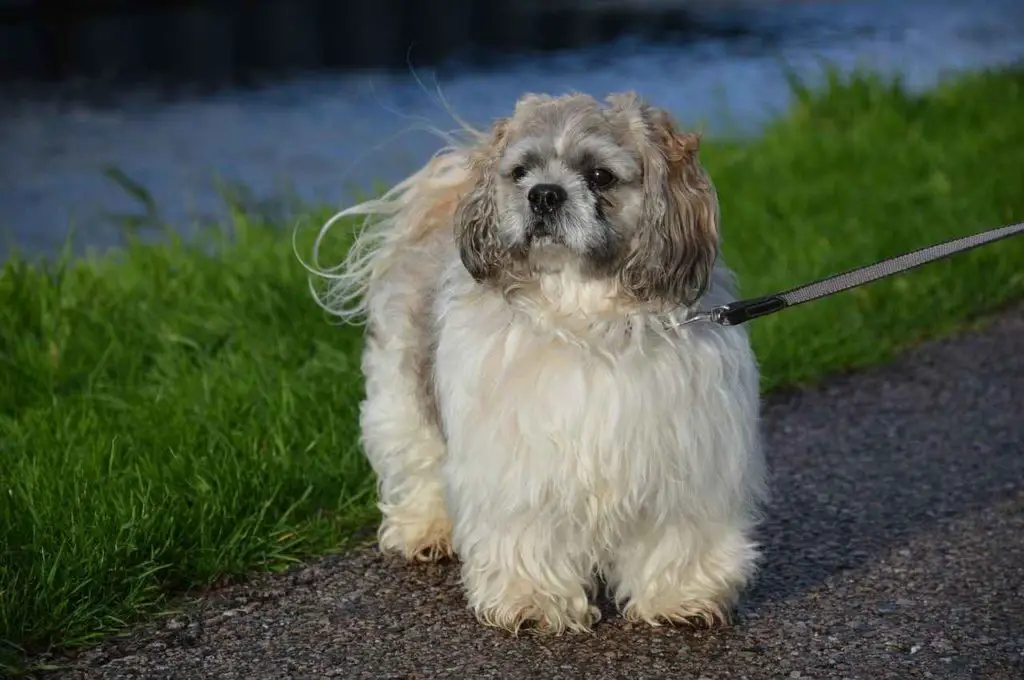 West Park Dog Park
The vast grassy area of West Park Dog park is a top favorite among dog owners. Also, owners love to relax under the shady areas and sit on the benches while their dogs run their hearts out in the park.
If you have two dogs of different sizes, you can keep them separately in the small and large areas. The park also features a canine agility course for your dog to play and take part in different activities.
You can also keep your dog hydrated here. Not only your dogs will make friends but you too will get an opportunity to interact with other friendly people.
Weekends can get a bit crowded, so plan your trip accordingly.
Dog-Friendly Hotels in Tampa
Aloft Tampa Downtown is a popular dog-friendly hotel in Tampa. This hotel is a superb combination of comfort and luxury and needless to say, it allows dogs as well. You will receive a warm welcome along with great amenities such as a bar, pool, billiards. Your dog too will enjoy every bit of his stay at this hotel. >>Book Your Stay<<
Westin Tampa Bay is your companion if you want to stay in the middle of the town. All the top attractions are easily accessible from this hotel with an incredible view. If you want to experience a premium stay with your dog, you must check out this hotel as it has a fitness center, activities like bicycles and boating, walk-in showers, and many such luxuries. >>Book Your Room Now<<
Dog Freindly Restaruants in Tampa
GrillSmith  Carrollwood offers a great outdoor sitting area. So you can bring along your dog here while you gorge on the sumptuous chicken Caprese, salmon, Thai shrimp, BBQ, and many more.
Fly Bar & Restaurant has a young vibe and the bar is of superior quality. You will have a great time with your dog as this place is completely pet-friendly. Make sure to keep your dog leashed.
Final Words
Now that you know what beaches are pet-friendly in Tampa, you will have no difficulty planning a trip down to Tampa with your pet friend. With so many beaches in Tampa, you might have a hard time picking the right one for your pup.
But our dedicated top 10 best dog beaches and dog parks in Tampa will ensure that you have the best time with your little friend and fuss-free one too.
No more wondering on what beaches in Tampa allow dogs. It's time to get going with your dog to visit this gorgeous beaches and fun-filled parks.
Read Next: