7 Best Dog-Friendly Hot Springs in California
California is known for having mountains, a scenic environment, plenty of National Park as well as hot springs that allow dogs. You can make a quick plan to visit those hot springs to spend a happy day with your pet.
Spending a day in a hot spring can boost your mind and body. I have made the choice easier for you to spend a calming day with your dog.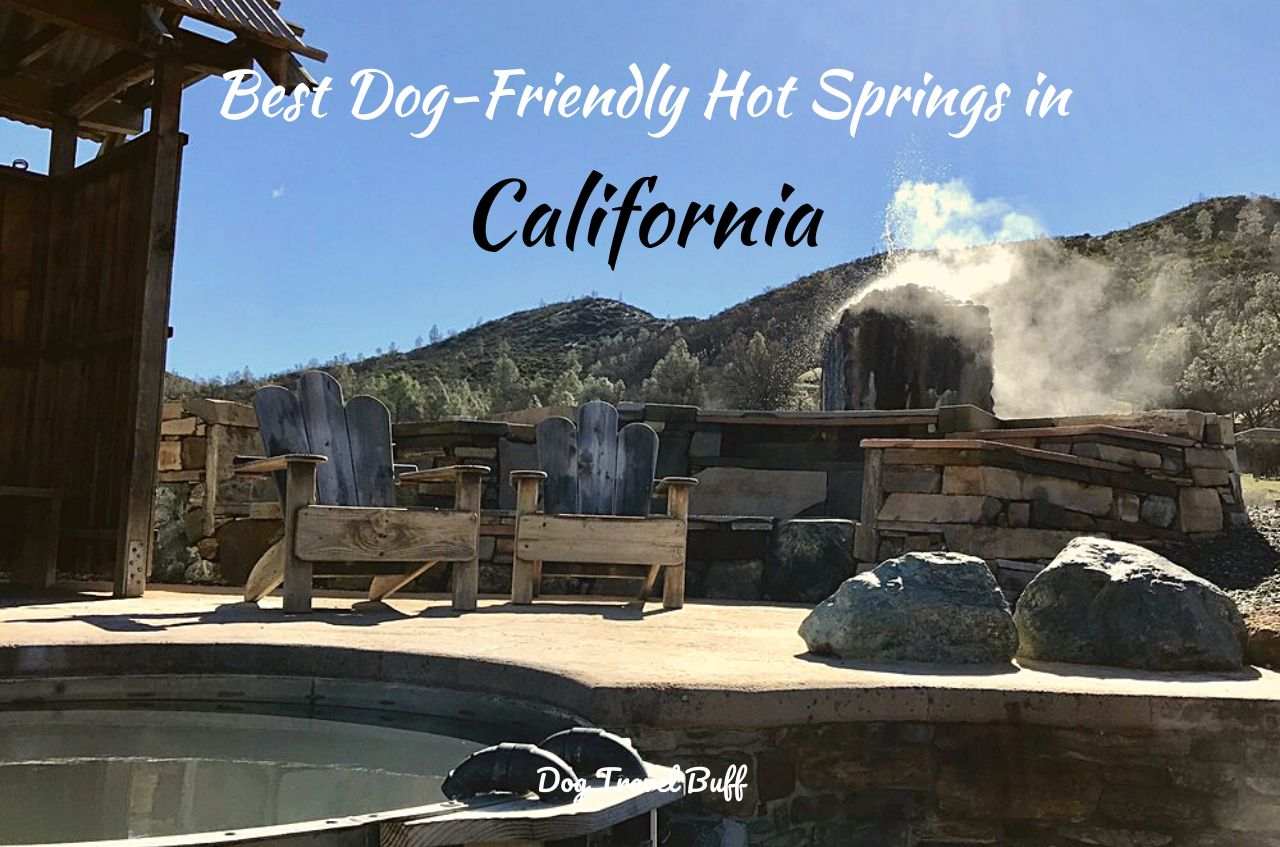 This post may contain affiliate links. If you buy something through one of those links, you won't pay any extra penny, but I'll get a small commission that encourages me to deliver more helpful content for you.
So, here is the guide to explore the dog-friendly hot springs in California that can bring the ultimate joy to you and your pet. 
7 Best Dog-Friendly Hot Springs in California
The dog-friendly springs around California have a picture square view with beautiful natural settings. For a secluded soaking experience and to enjoy and relax with your dog try to visit the places by 8 am. Some hot springs make you tie your dog whereas some allow them to be free. 
Here are a few suggestions to explore the hot springs in California with your lovely pup. 
1. Tecopa Hot Springs Resort in California
Address: 860 Tecopa Hot Springs Rd Tecopa, CA 92389
Fees: $25 they charge for the whole day
Tecopa Hot Springs Resort is a dog-friendly hot spring in Southern California, nestled in the Mojave Desert. On the eastern edge of Death Valley, this natural mudhole with mucky mud bottom is something you have never witnessed. Though, if you walk to the south, you will come across a pool with cooler water. 
The resort offers unique desert scenery from the rooms; it is believed that the Tecopa hot spring water has healing properties. At night the skies light up with white stars and in the morning you can witness unique fauna and flora, making you feel that you're in a relaxing phase. Above all, it is a great spot to spend the whole day with your pet. 
The rooms of the resorts are very quiet and clean. The bathrooms of the resort are well maintained and Spotless. Even the bath towels are very clean and thick. Breakfast charges are quite satisfactory and you can enjoy a holiday by walking and playing inside where there is not with your dog. The resort is far away from the city crowd.
Tips:
In the rainy season, things can get muddier. Muds often accumulate on your feet making it impossible to wash them. Be aware of mud mites. Some dogs like mud so much.
Get plenty of water and snakes
Do not try to dip in the water in the summer season when the temperature rises to 120 degrees. 
Watch the sunset here. You will be amazed to see the distant mountains, flat deserts and incredible colors of the sun.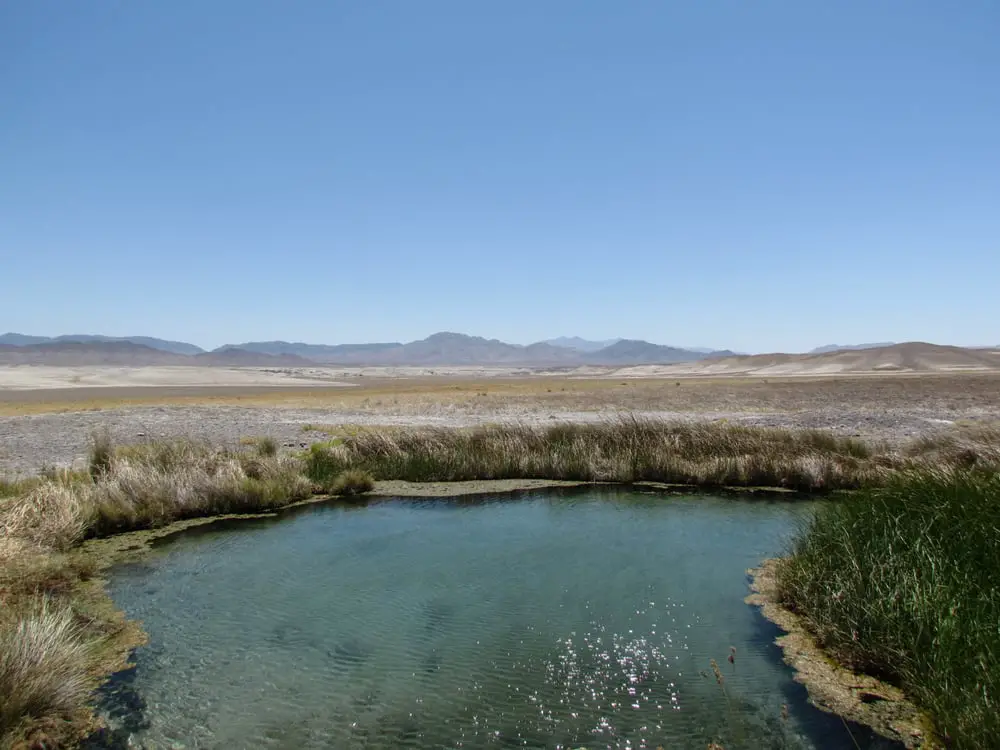 2. Benton Hot Springs
Address: 55137 Hwy 120 Benton, CA 93512
Fees: $50 for two people, $60 for three people, and $10 for each additional guest.
Benton hot springs are nested in one of the historical mining towns in Mono County making it perfect for a rustic and tranquil environment. I love this place; the bathing area is surrounded by cotton trees and if you want you can soak yourself in the antique redwood tile or stone pools. 
Benton hot springs is a commercial geothermal pool from where you can access 11 pools and a camping site in the Old House and Inn. The Benton Hot Springs is quite a popular dog-friendly spring in California as it offers spectacular views of mountains and a unique experience between the Oasis of the Desert. 
The hot tubs in the resort are beautiful, I would recommend you to choose hot tubs number 1, 2,3, and 11. The rooms are very comfy and the staff are very down to earth. It is not a luxurious resort so make a plan with your dog to go to Benton hot springs.
Tips:
Rooms are heated from the down floor; therefore, the temperature of the rooms can be low even at freezing temperatures. 
Try to avoid the hot summer season.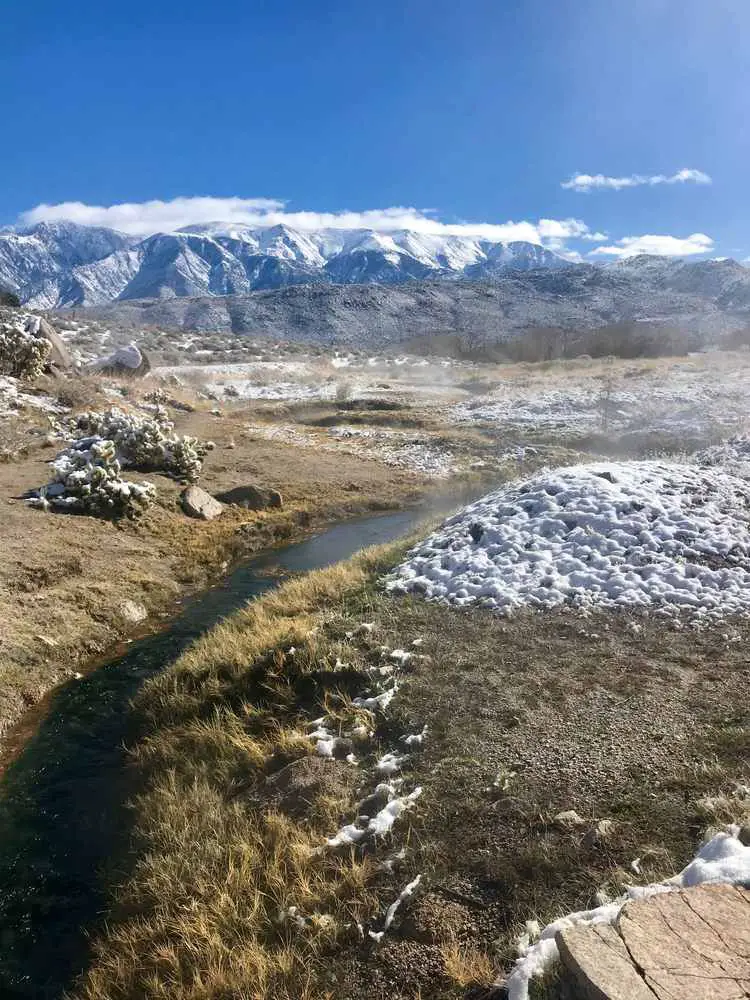 3. Surprise Valley Hot Springs in California
Address: 67254 CA-299, Cedarville, CA 96104, United States
Fees: $35 per day for dogs, deluxe rooms $152 includes tax for one night for two nights
Surprise Valley Hot spring is an ideal dog-friendly hot spring in California that sits at the border of Nevada's Hays Range and Warner Mountains. The interior designs of the hotel rooms and the bathrooms are very impressive with different types of colors and rocks. Five miles east of Cedarville lies Surprise Valley Hot spring with warm artesian spring water.
At the back of every patio of each villa nested these private soaking pools. Make sure you come to this place with your pet to graze in the night sky and relax in the calm air and witness the stars twinkling. Surprise Valley Hot Springs is a gift to everyone who dreams of a quiet environment and explorations of a new place. This unique hot spring and spa facilities a mineral bath with no chemicals.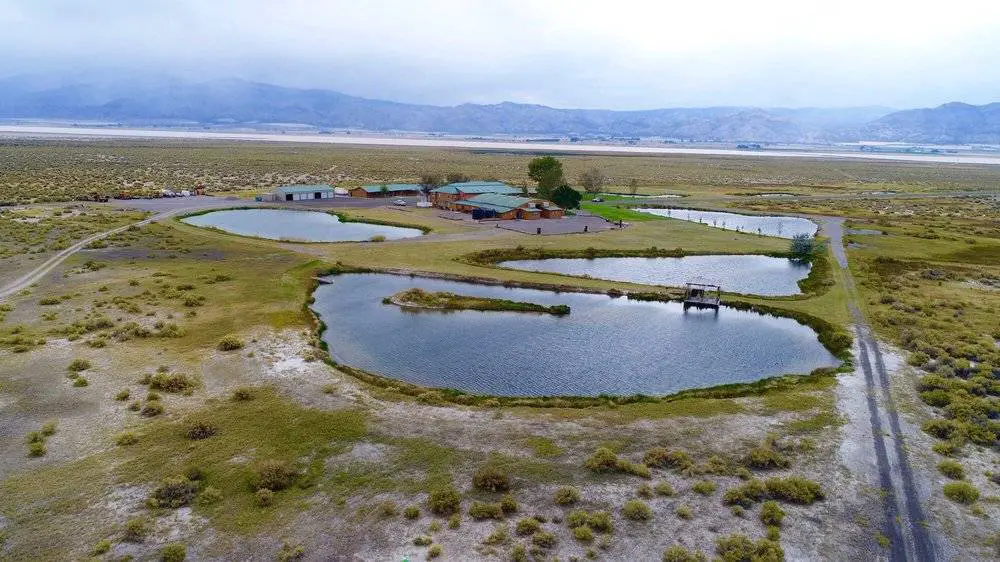 4. Mono Hot Spring
Address: 70000 Edison Lake Rd Mono Hot Springs, CA 93642
Fees: Adult $20, Children 11 or under $10
Recently, Sunset Magazine published a report stating Mono Hot Spring has "gorgeous scenery as there ever was in the West".
Between Yosemite and Kings Canyon on the Sierra Nevada lies the Mono Hot Spring just on the bank of South Fork and on the edge of the Ansel Adams Wilderness. The Mono Hot Spring is the best dog-friendly spring in California, consisting of three main pools and one small soaking pool around the meadow.
You can also indulge yourself in many adventurous activities in Mono Hot Spring-like boating, horseback riding, hiking, swimming and many more. Mostly, all the recreational activities connect you to nature and offer you the most spectacular scenic memory. I would recommend you to explore Range of Light, Doris Lake, Cunningham Lake, and Bear Creek. 
There you can enjoy a two-person cabinet with a mini gas stove and mini-fridge. Additionally, a lot of complimentary services and snacks will be provided by the authorities to make your day perfect and enjoyable.
6. Grover Hot Springs
Address: 3415 Hot Springs Rd Markleeville, CA 96120
Fees: For one session is $10 for adults, $5 for ages 0-16, and $35 per night. 
Grover Hot Springs is located on the eastern edge of the Sierra Nevada mountain range just four miles from Markleeville. Moreover, Grover Hot Springs is famous for green-colored mineral water with six different spring campgrounds and hiking trails. 
You would be amazed to know that mineral springs bubble up from the Earth, making Grover Hot Springs the best natural dog-friendly springs in California. Grover Hot Springs features six springs and two geothermal pools for soaking. You can also enjoy outside Markleville which has a few nice restaurants and bars.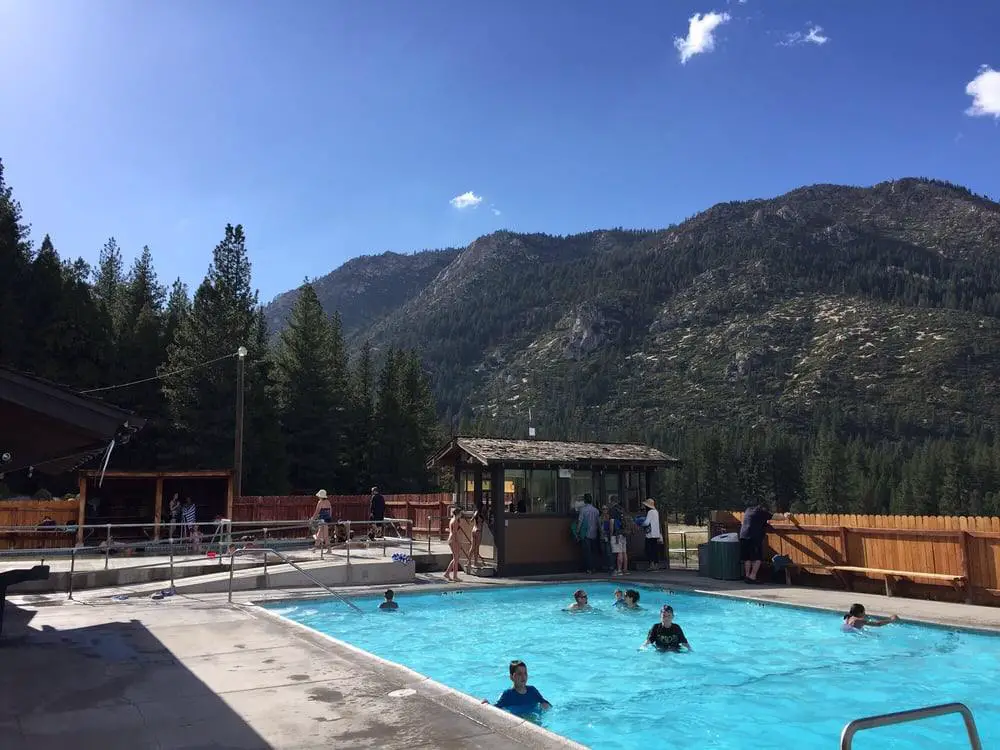 7. Aqua Soleil Hotel and Mineral Water Spa
Address: 14500 Palm Dr Desert Hot Springs, CA 92240
Fees: room rates from $88 per night
Aqua Soleil Hotel and Mineral Water Spa is located in Desert Hot Springs, truly relaxing, an ideal dog-friendly spring in California. The rooms offer beautiful mountain views and the bathrooms are neat and clean. You can enjoy the different levels of water by enjoying the bathtub with your dog.
Natural mineral hot springs are so relaxing and you can also opt for massage treatment in Aqua Soleil Hotel because they use all organic, pure, and natural products to enhance your experience. The rooms are filled with required amenities like TVs, Slippers, a mini-fridge and others. 
What to Bring to Dog-friendly Springs in California?
I have spent 6 years of my life with 2 dogs in California. I was so thrilled to visit the pet-friendly hot springs in California and indulge in dog-friendly activities. However, remember to consult your vet before visiting the hot springs because dogs cannot regulate their internal temperatures. 
Moreover, you cannot go to hot springs in California single-handedly. So, make sure you are well prepared for the temperature and dog essentials. Here are the essentials you need to bring if you are visiting the dog-friendly springs in California. 
Water
Depending on the day and the time when you are going to visit the hot springs, make sure you carry a lot of water along with you. You do not want to fall sick because of dehydration. Therefore, bring plenty of fresh water for yourself and your dog. 
Snacks
You should not miss carrying dry snacks to these dog-friendly springs in California. Swimming is a physical activity and it is very obvious for both of you to get a little carving during the visit to the hot springs. 
Bathing tubes
If you do not hamper your enjoyment in falls and want to relax for a long time then you will have to offer bathing tubes for your pet dog. Bathing tubes will help them to keep close to you. 
Water shoes
I hope you do not want to turn your feet dirty with muddy sands. Then I would recommend you do bring water shoes that will help you to navigate better in the water. Again, make sure your dog's leash is longer so that he can also enjoy it without hurting his neck. 
Check these dog hiking gears if you are planning to go for a short hike in any of these California hot springs with your pet.
Recommended Read: 10 Best Dog Boots for Hiking with Buying Guide
Conclusion
Well, I feel very happy to read all the names of the best dog-friendly hot springs in California. I hope you will come to any one of these places on your next trip to enjoy the whole day with your pet. 
Read Next: