20 Best Dog Friendly Places in San Francisco
San Francisco welcomes everyone with a warm and hearty atmosphere, whether it is you or your furball. In fact, after personally living here, I can state with assurance that San Francisco is one of the most dog-friendly cities in the United States. So, you will find plenty of places in the city to travel with your dog during your vacations or for a weekend getaway.
The city hosts numerous dog-friendly activities that you can indulge in to rekindle the bond with your furry pal. So, come check out some dog-friendly San Francisco places that you can visit to spend some quality time with your fluff ball this vacation.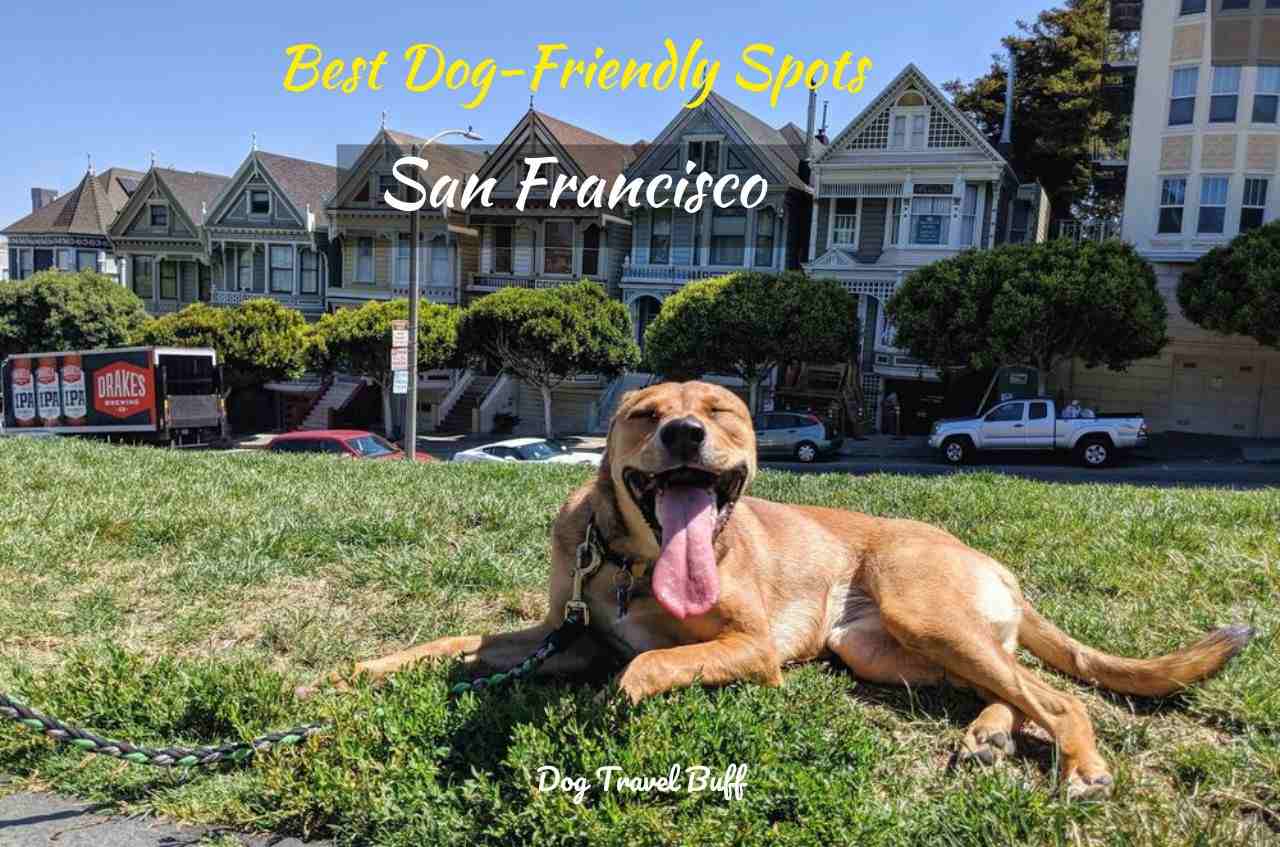 This post may contain affiliate links. If you buy something through one of those links, you won't pay any extra penny, but I'll get a small commission that encourages me to deliver more helpful content for you.   
Table of Contents
Dog-Friendly Places in San Francisco
When you visit San Francisco, you will see lots of other people with their dogs frolicking on the beaches, traveling with owners, and enjoying the beauty of the city. The city has some of the top spots, and below is a list of the best places to travel with your dog in San Francisco.
1. Fort Funston
Fort Funston is one of the top destinations for dog owners in San Francisco. The place offers plenty of things that you can do with your dog. When I went with my dog, we tried different kinds of hiking trails and 200-foot-high sandy bluffs.
The place has some of the most amazing parks in the city, making it one of the top dog-friendly places in San Francisco. You can even let your dog go off-leash, but they must have a recall.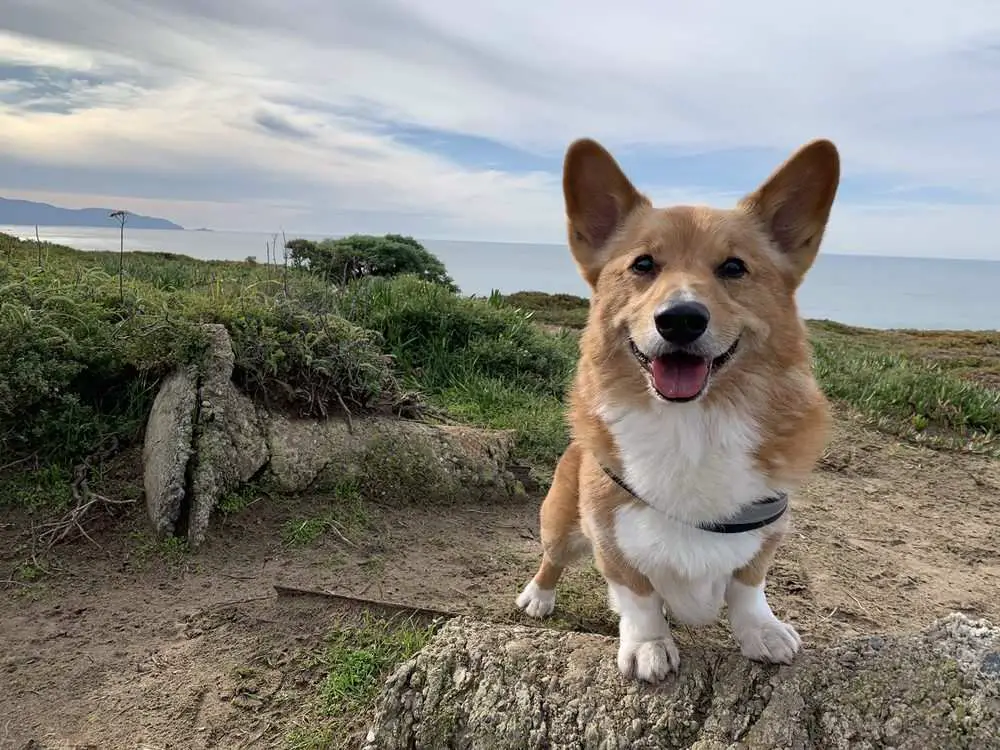 2. Mount Sutro Open Space Reserve
Bring your leashed dog to explore over five miles of scenic trails at Mount Sutro Open Space Reserve. You'll discover a thriving century-old forest and diverse birds and wildlife. It is an ideal place to enjoy nature with your furry friend under the blanket of nature.
The reserve is home to diverse wildlife, including various bird species making it a pleasant place to be at. Thus, it's the perfect place to take your furry friend for a long hiking trip while enjoying the beauty of nature.
3. Dolores Park
Situated at the western edge of the Mission District, this park offers an off-leash section that is well-liked by dog owners and their four-legged companions. In the park's main section, you can have a picnic with people. You will find plenty of things to do in San Francisco with a dog here.
Some of the greatest Mexican food and most popular restaurants can be found in the area. It is one of the most popular parks in the San Francisco city. Beautiful homes flank the expansive park, which provides a breathtaking northeastern viewpoint of the San Francisco cityscape.
4. Alamo Square Park
Alamo Square Park is a wonderful area to bring your dog pals for some fresh air and to enjoy breathtaking city views. You can indulge in plenty of activities as the park houses walking trails, a tennis court, and a picnic area. The park has an off-leash zone for dogs where they can enjoy the open space and play.
When I visited this park with my dog, my personal favorite was the famous "Painted Ladies" of Postcard Row. It is among the iconic sceneries of the city that is found in this park. All across the park, there are a lot of naturally occurring springs and seeps.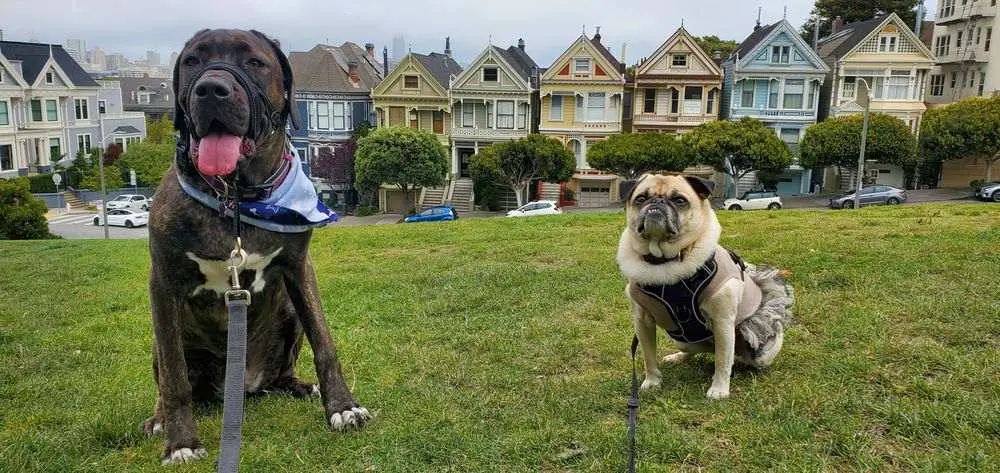 5. Sausalito
Sausalito is one of the best dog-friendly destinations in San Francisco. The place has an amazing variety of great restaurants that offer food all day. The area has some of the best dog-friendly hotels with great amenities and unique services.
What's more, there are several dog-friendly parks in the region that offer great views, off-leash zones, recreational areas, and perfect spots to spend time with your furry pals. My dog and I also indulged in amazing activities like ferry rides, hiking, and surf playing.
6. Lands End
Lands End is one of the best dog-friendly weekend getaways in San Francisco. It offers great views, winding trails along rocky cliffs, and a panoramic view of the ocean. You can let your dog go off-leash with voice control. The place offers some of the best hiking spots, with awe-inspiring stops along the way.
Ruins of Sutro Baths, shipwrecks, and gun emplacements all make for a great time with your dog. What's more, you can explore the hidden beach, relax, and enjoy the sand and ocean away from the crowd.
7. Albany Bulb
The Albany "bulb" is situated on the Albany shoreline at the bottom of Buchanan Street. From its beachfront, you can see San Francisco, Alcatraz, the Golden Gate, Angel Island, and the San Francisco Bay Bridges, all of which provide breathtaking vistas.
The Bulb is one of the top spots for dog-friendly vacations in San Francisco, and dog owners in the East Bay frequently visit to enjoy the area. Long and naturally meandering, the place offers a variety of fun activities. Its proximity to the Albany Waterfront also makes it a great destination for beach-loving dog owners.
8. Baker Beach
Baker Beach is one of the most beautiful pet-friendly beaches in San Francisco. It is a terrific place to take your dog for a glimpse of this iconic landmark. It is situated about one mile south of the Golden Gate Bridge. To the north of Lobos Creek, dogs are allowed off-leash. However, to the south of the creek, dogs must be leashed.
This is a great location for admiring the Pacific Ocean and Marin Headlands. Cozy and wind-protected, the picnic place is lovely, with barbecue pits and bathrooms close by. Please note that some visitors may choose to sunbathe or swim in the nude on the north edge of the beach, so exercise discretion when venturing to this area.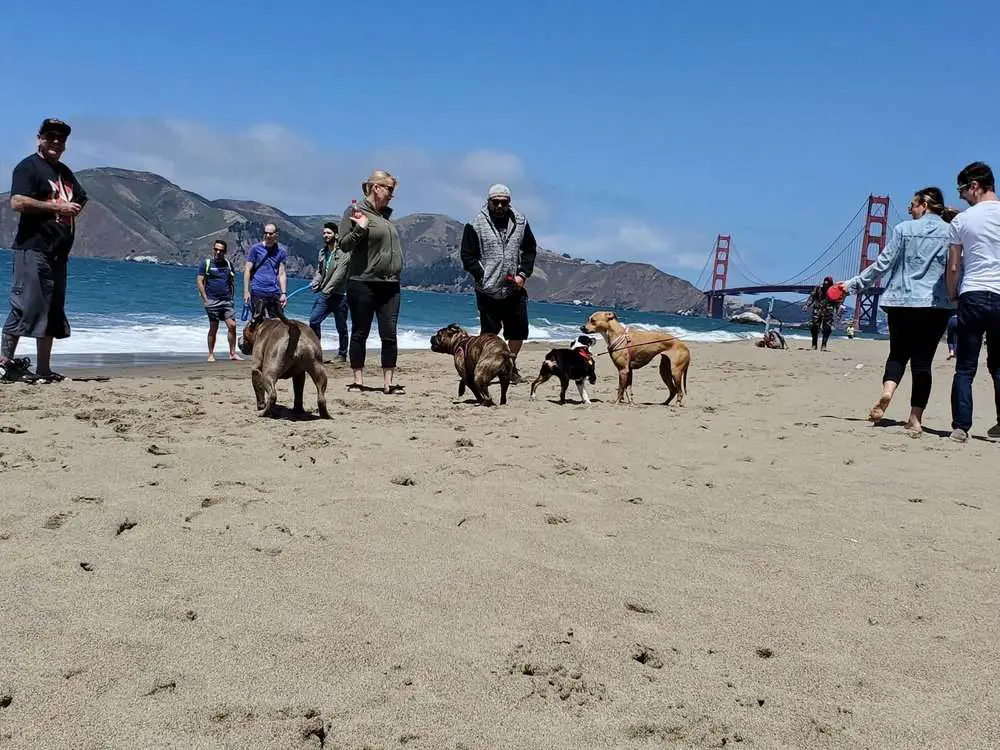 9. Crissy Field
Crissy Field is full of fun activities for you and your furry friend, with long stretches of grassy areas and iconic views of the cityscape. The calm waters of the beach make for a perfect swimming time. The place also has charcoal grills, so plan a picnic with your friends and take your furry pals right along.
At the designated off-leash beach at Crissy Field, your dogs can go off-leash if they are under voice control. Crissy Field has plenty of activities that you can enjoy with your furry friend.
My dog particularly enjoyed strolling down the pet-friendly promenade, catching a frisbee in the grassy field, and playing in the sand and waves. There is a dog washing and watering station available.
Dog-Friendly Restaurants in San Francisco
San Francisco has some of the best dog-friendly restaurants in the country. They offer amazing food for you and delicious treats for your pet pals. Check out some of these top restaurants below.
10. Rose's Café
This Italian restaurant is the perfect spot to have a delicious meal with your pooch. The restaurant has a range of mouth-watering options, including salmon pizza with crème fraiche and scrambled eggs, chopped salad with Gorgonzola vinaigrette, grilled salmon cozy, a fried egg sandwich on ciabatta, and Italian sodas, among others. They offer gourmet dog biscuits and water bowls so that your furry friend can enjoy their meal right along with you.
11. Pizzeria Delfina
If you are planning a dog-friendly weekend getaway in California, you can start with breakfast at Pizzeria Delfina. It has a dog-friendly sidewalk patio where you can enjoy the view of the streets while you devour their pizzas. The restaurant uses Naples and New York styles to make their pizzas extra savory. It is a family-owned place and quite popular in the Bay Area among dog owners.
12. Zazie
A lovely dog-friendly terrace at Cole Valley's Zazie is a perfect spot to enjoy a leisurely and sumptuous breakfast. One of their popular dishes is the pancakes that come with a miracle flavor every week, served with gingerbread and buttermilk. The restaurant also hosts a Monday night special for dog owners. All the fur balls get belly rubs and lots of pats on this special night.
13. Mission Rock Resort
Mission Bay's enormous duplex gastropub offers stunning coastal views and outdoor seating. It is a seafood restaurant that houses an oyster bar and decks to offer great views of the bay. The Sunday brunch is quite popular at this restaurant. The dog-friendly rooftop terrace is furnished with umbrella-shaded tables. It offers beautiful views of the bay, ships in drydock, and a sailboat marina.
14. Palm House
Palm House is situated under the second-oldest palm tree in the city. This is a place I often visit with my dog. It offers tropical foods and a vibrant atmosphere where you can enjoy quixotic drinks and bold flavors. The restaurant offers happy hours from Tuesday to Friday between 4 p.m. and 6 p.m. My dog also gets free treats during happy hours.
15. The Brixton
The Brixton at 2nd St. and Union St. offers a vibrant atmosphere for you and your dogs. With its expansive menu, it will satisfy your tastebuds, whether you are searching for a quick snack or a leisurely meal. Sandwiches, burgers, salads, and other delectable foods are available on the menu. It is a dog-friendly restaurant that has a heated patio, so you can enjoy the meal and the view.
Dog-Friendly Hotels in San Francisco
16. Marriott Hotel
Close to the airport shuttle, it is a pet-friendly hotel where you can stay with your dog pals at an affordable price. You can bring up to two pets under 20 pounds by paying a fee of $100 per stay. The hotel offers various amenities, including treats, toys, welcome bags, a signature bed and bowl, and more. The hotel's neighborhood has several pet-friendly spots as well.
17. Golden Gate Hotel
One dog up to 25 pounds is welcome at the Golden Gate Hotel for an extra $35 per night. At the front desk, bowls, snacks, and beds are available for four-legged visitors. Thus, my doggo gets excited whenever we visit Golden Gate Hotel. Also, within two blocks of the hotel, a park offers a great spot to enjoy some time with your pet pals. >>Book your stay<<
18. Kimpton Hotel Enso
At Kimpton Buchanan, there is no additional charge for two pets of any size. All accommodation categories are pet-friendly at this hotel. However, the seventh level does not have any pet-friendly rooms. Treats for your four-legged companion are offered at the reception desk. A grassy area where your pooch can enjoy some open space is located approximately a block away from the hotel. >>Book your stay<<
19. Argonaut Hotel
Two pets of any size are welcome at the Argonaut Hotel for an extra cost, depending on how long you wish to stay. There are treats available at the front desk, and the motel is close to a park. Numerous dog parks, the pier, and dog-friendly activities are all close to the hotel. Natural trails in nearby parks and recreational areas, such as the Fort Mason neighborhood and the San Francisco Maritime National Historical Park, are all nearby.
20. Kimpton Alton Hotel Fisherman's Wharf
Pets are welcome at the Kimpton Alton Hotel Fisherman's Wharf at no extra charge. They delivered water bowls directly to our room when we stayed there. They also offer courtesy bags whenever you wish to go for a walk with your dog. There is no size, weight, or number limit. The hotel has dedicated floors just for people like you with pets. The rooms have plush pet bed loaners and pet treats for your dogs.
Final Words
San Francisco has plenty of great spots, whether it's for a weekend getaway with your four-legged friends or a full-on vacation. The city offers dog-friendly parks, restaurants, beaches, shopping areas, and much more. So, plan your leisure time in these spots to have an amazing time with your doggy pals.
Read Next:
FAQs: Dog Friendly San Francisco
1. Are there any off-leash dog parks in San Francisco?
A: Yes, there are several off-leash dog parks in San Francisco, including Marine Green, Mission Dolores Park Dog Park, Golden Gate Park, Upper Douglas Dog Play Area, Alta Plaza Dog Play Areas, Walter Haas Dog Play Areas, Alamo Square Park, many more.
2. Can I take my dog to restaurants in San Francisco?
A: Yes, you can take your furry friend to the above-mentioned dog-friendly restaurant in San Francisco to enjoy a sumptuous meal. Some of these are Park Chalet, Pazzia, Pacific Catch, Philz Coffee, Nob Hill Café, Crepevine, Eats, Thorough Bread and Pastry, and Universal Café, among others.
3. What are the best dog-friendly neighborhoods in San Francisco?
A: San Francisco is home to dog-friendly areas, as most people here love to keep pets. The best dog-friendly neighborhoods in San Francisco include Bernal Heights, Parkside, Mission Bay, NoPa, Noe Valley, Inner Sunset, Nob Hill, and Heyes Valley.
4. Are there any dog-friendly stores in San Francisco?
A: Yes, several stores in San Francisco are dog-friendly, some of which are Love and Luxe, MALIN+GOETZ, Trailer Park Treasures, The Village at Corte Madera, Book Passage Bookstore, Mad Dogs & Englishmen Bike Shop, and Main County Mart, among several others.
5. Where can I find dog daycare in San Francisco?
A: There are plenty of dog daycares in San Francisco. Some of them are Barkley K-9 University, Rover, Expertise.com Concierge Service, EmBARKadero Social Club, Fog City Dogs, Dog Time Stay & Play, Bark Avenue Doggy Daycare, and Happy Hound Play & Daycare Inc.