Dog-Friendly Santa Barbara: A Guide to Enjoy Santa Barbara with Your Dog
What does your dream getaway look like? Is it full of pristine beaches, beautiful sunsets, great food options, and perfect natural scenery? Well, then think no more because Santa Barbara is your ideal destination.
Located in Santa Barbara County, it is a great place for a quick refreshment. And what's most exciting about Santa Barbara is that it has a ton of dog-friendly beaches and parks and you will never run out of fun things to do in Santa Barbara with your dogs. So, if you don't know where to take your little puppy for an amazing trip, then come to dog-friendly Santa Barbara and enjoy a great time.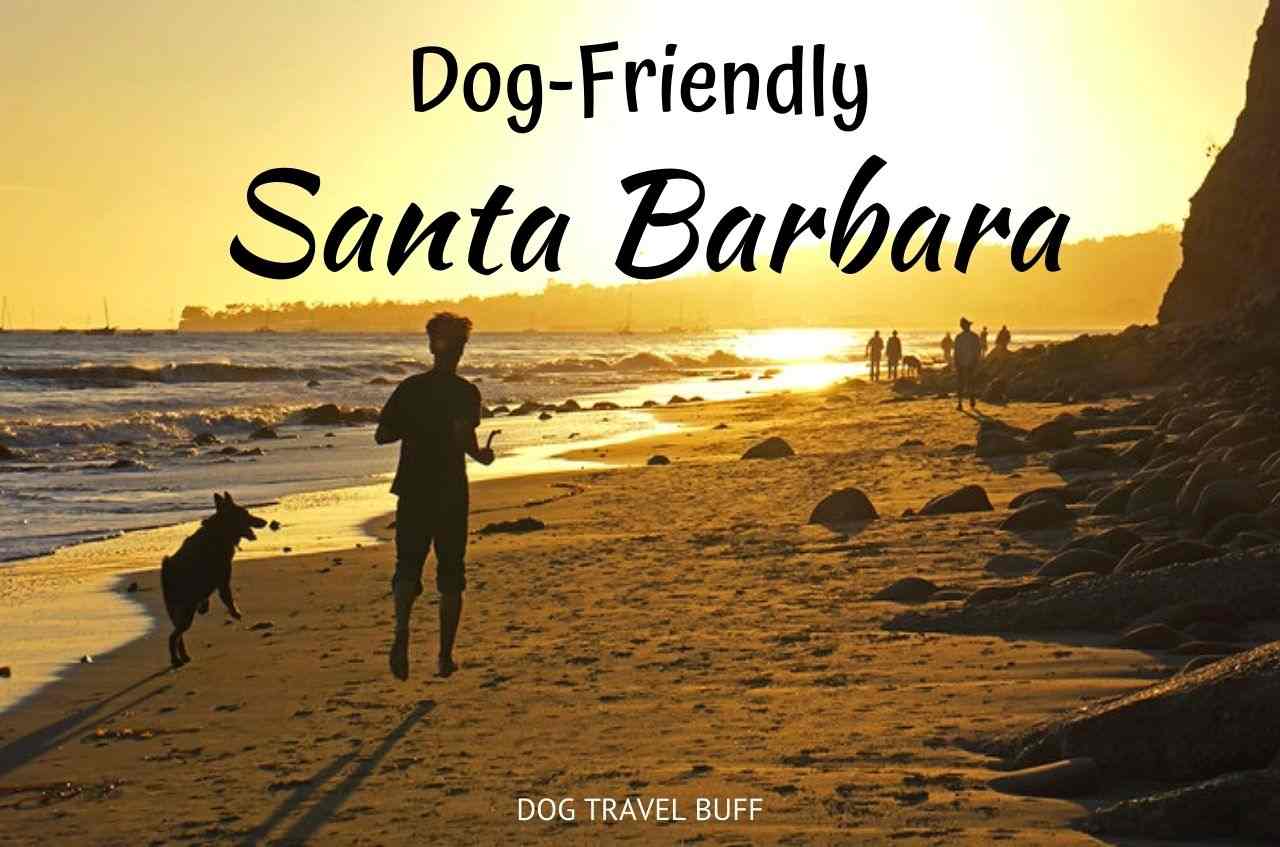 This post may contain affiliate links. If you buy something through one of those links, you won't pay any extra penny, but I'll get a small commission that encourages me to deliver more helpful content for you.
If you're a dog parent and having a hard time finding the right place to take your dog for a  minibreak amidst your busy schedule. Plan your next trip to dog-friendly Santa Barbara with your pet dog without worry and our guide for things to do in Santa Barbara with your dog will be your best travel planning buddy.
Dog-Friendly Things to do in Santa Barbara
When you're in Santa Barbara with your pet dog, you will never run out of ideas for dog-friendly activities in Santa Barbara. From sunny beach days to breathtaking views after a superb hike, and then to satiate your appetite with delicious food, dog-friendly Santa Barbara has many things to offer.
Let's check out some fun things to do in Santa Barbara with your dog.
Sight Seeing at Stearns Wharf
If you are in Santa Barbara, you must visit one of the iconic spots of the place. Stearns Wharf is situated at the State Street and if you want to experience the gorgeous views of the Pacific, then bring along your dog to this pet-friendly place in Santa Barbara.
This oldest wood wharf is filled with unique shops, great ice cream joints, sea-food restaurants, and boat rides. You and your little dog will enjoy a great walk along with the wharf soaking in the beauty of nature.
Stroll on Down Town Santa Barbara
Downtown is one of the most exciting, lively, and dog-friendly places in Santa Barbara. It has a pool of cafes that welcome dogs, unique shops, iconic buildings, and many more.
La Arcada at Down Town is famous for its stone fountains and boutique shops. If you have spent a whole day hiking or at the beach and have some free time in the evening, then walking around downtown, sipping a cup of coffee at the cute cafes will be a great stressbuster for you and your four-legged companion.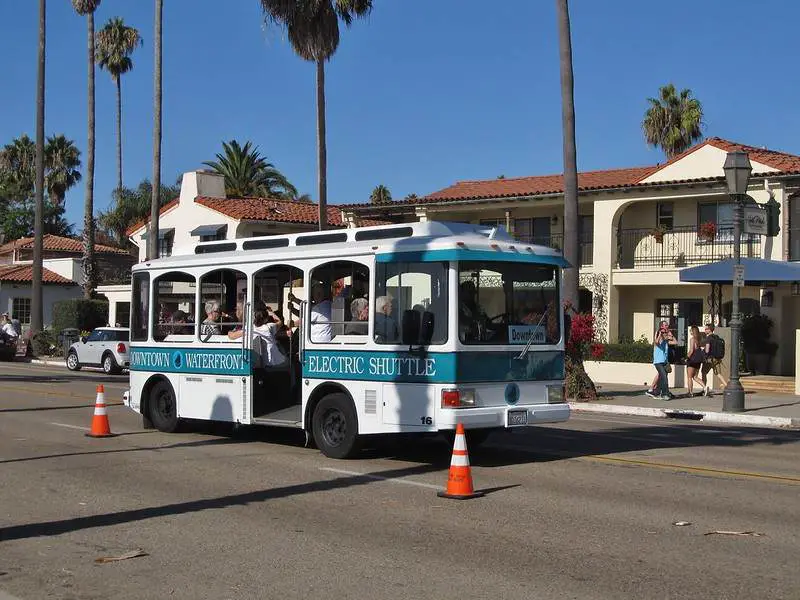 Nature Walk at Santa Barbara Botanic Garden
One of the off-beat options for things to do in Santa Barbara with your dog is to visit the beautiful Santa Barbara Botanic Garden. If you wish to breathe some fresh air and want your dog to run freely among the greenery, then the Botanic Garden is a must on your wishlist.
The calm, quaint place is great for your dog to bring along with you. Make sure to take awesome pictures of the wonderful flowers, the redwood grove, and plenty of diverse trees.
While visiting the botanic garden with your dog, make sure to carry a dog umbrella to protect him from heat or sudden rain. If your puppy feels a bit tired, you will find benches for him to take a rest or you can carry him in your dog carrier backpack. Also, keep some food and water for your puppy handy as the visit to a huge garden can take up a whole day.
When you're in Santa Barbara, spending time at the beach is an absolute must. Also, since Santa Barbara has a lot of beaches that are dog-friendly, you don't need to take any stress for your puppy. Let's cheek out Santa Barbra beaches that allow dogs.
Dog-Friendly Beaches in Santa Barbara
Your dog would love to play on a sandy beach on a sunny day while you chill out sipping your favorite beverage. So, are there any beaches that allow dogs in Santa Barbara?
Arroyo Burro Beach
If you're on the search for an off-leash dog beach in Santa Barbara, then look no further, because Arroyo Burro Beach or Hendry's beach is a great option. Sit down and relax on the shore or go whale watching. This beach also offers activities like surfing, surf fishing, bird watching, swimming, etc.
One great feature of this place is that it has picnic grounds where you can have a fun time with your family while your dog runs around the beautiful beach. You also get restaurants for snacks and food, making it a favorite for all dog parents. Get your dog a wash at the self-serve wash station.
Butterfly Beach
Dog-friendly Santa Barbara also has another quite popular beach, Butterfly beach that allows your dog on a leash. So, if you are a little anxious about keeping your dog off-leash on a beach, then take your dog to Butterfly Beach for a fun day out.
Go swimming, or surfing, or even just enjoy a good sunbath at the beach. Butterfly beach lets you experience some gorgeous sunsets, so make sure to hang out till the end of the day. Take your dog for a nice walk along the shoreline. The beach is also surrounded by local food joints, so no need to carry extra food for yourself as well.
The beach is only a 10-minute drive away from downtown, making it an easy option for every pet parent out there.
Summerland Beach
Planning for a cross-country road trip with dogs? Well, Summerland Beach is a wonderful getaway for a short trip with your pet. It is only a six-mile drive from Santa Barbara which offers you picture-perfect views of the beach and the best part is you can keep your dog off-leash.
Many dog owners come to this beach and if you're lucky your dog will also leave the beach making a new friend. Roam around the beach, or just sit back and soak in some good sun.
Don't forget to carry some food and water for your dog. Also, you need to clean up the beach on your own, so carry poop bags with yourself.
Santa Claus Beach
Santa Claus Beach is a favorite among visitors who love a quiet and calm place for their dogs. Hope on your car for a short drive with your dog and explore this quaint, clean beach at Carpinteria.
Amateur swimmers can have a great time because of its soft waves and relatively shallow water. You can opt for paddleboarding as well for a little bit of adventure. Keep your dogs on leash and spend some quality time at Santa Claus Beach.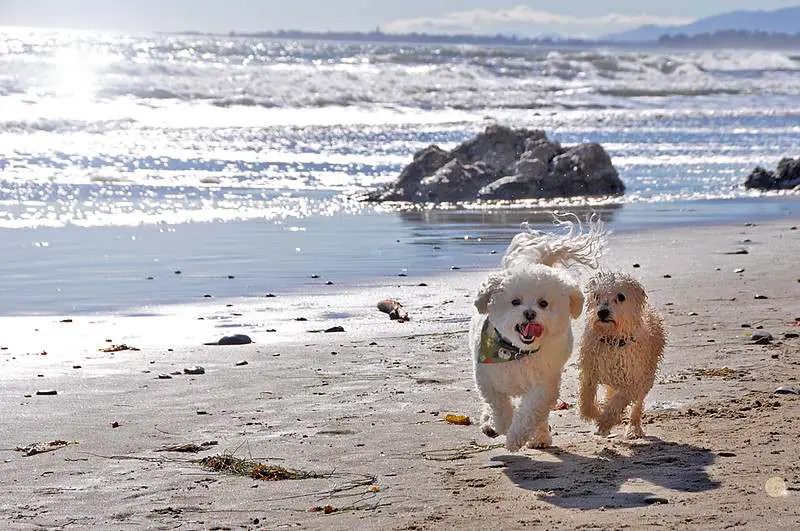 Dog Parks in Santa Barbara
One of the many things to do in Santa Barbara with your dog is to take them for a fun recreation at a dog park.
Douglas Family Preserve
Douglas Family Preserve is a popular off-leash dog park in Santa Barbara. The park has a vast area of open space with designated areas for your dog to be off-leash. Nature lovers would love the park for its diverse trees and plants.
Opt for activities like biking, hiking, or long walks with your dog. However, it does not have specific grounds for a picnic or even a restroom. Located near the Arroyo Burro Beach, Douglas Family Preserve is easily accessible if you are at the beach. Keep poop bags handy for your dog when you visit this off-leash dog park in Santa Barbara.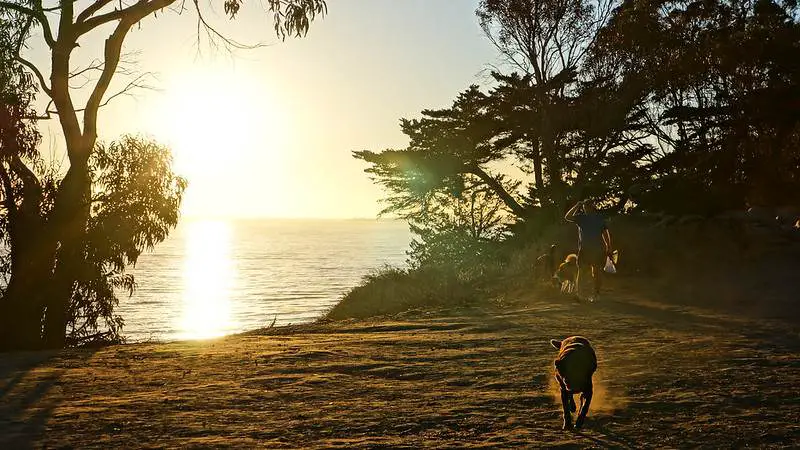 Read Next: 10 Best Dog-Friendly Day Trips in Southern California
Chase Palm Park
Chase Palm Park is famous for being a waterfront park packed with exciting activities. This is not only a great place to hang out with family and friends but also to bring along with your puppy.
You can enjoy the picturesque sights of the Pacific, or have meals at the picnic areas. From fountains to bike trails to areas for skateboarding, this park will not let you down. Children love the shipwrecked theme playground and the Great Meadow hosts amazing musical concerts too. Make sure to keep your dog on a leash and you're bound to have a fun-filled day at the park.
Dog-Friendly Hikes in Santa Barbara
Hikes are great ways to refresh yourself and get your dog some good exercise. Once again, Santa Barbara has a lot of dog-friendly hikes which is totally worth checking out.
Inspiration Point
Favorite among hikers, Inspiration Point offers stunning views of the whole city and is beautifully located at Santa Ynez Mountain. You will also get to see spots like Cathedral peak, Arlington peak, etc. The views of Mission Canyon are certainly a unique experience one can have.
The distance of the trail is 3.75 miles which is perfect if you are taking your small dog hiking. With the elevation change being 825 feet, even beginners can come here with their pups. You would need a total of 2 hours to cover the entire trail.
It does not require any parking fees. Just keep your dog on a leash. Weekends can be crowded as many dog parents and bikers come here for hiking.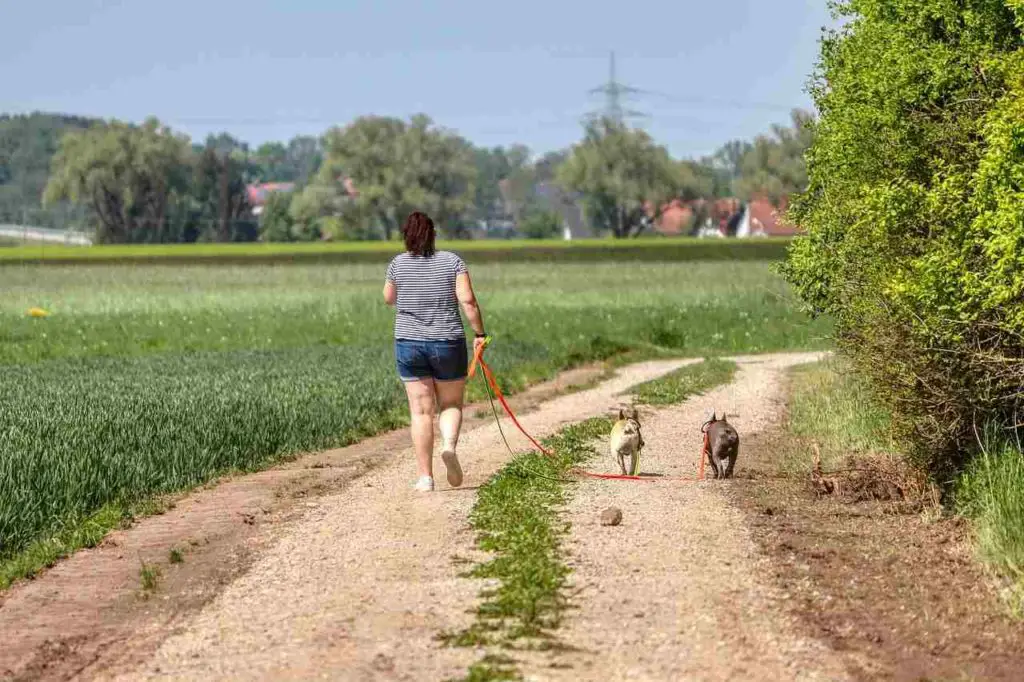 Cold Spring Trail Loop
Another dog-friendly hike in Santa Barbara is the Cold Spring Trail Loop. This trail is also beaming with super scenic views and the paths are quite comfortable for your dog to walk on.
The waterfalls on your way up will make your every step worthy. Your dog will find plenty of shades under the trees and there are many water streams floating around the loop. Keep your dog on a leash while hiking on this 2.7-mile trail.
Dog-Friendly Wineries in Santa Barbara
Your Santa Barbra trip would be incomplete without taking your dog to a winery and what's best other than Carr Vineyards and Winery. You get to take your dog to the wine tasting room while you enjoy the great wine. The patio areas also welcome your pet.
For a unique wine tasting experience, you must visit Grassini Family Vineyards. It is a boutique wine shop where you get exclusive, hand-picked wines. They have welcoming staff and your dog will be specially treated.
Dog-Friendly Hotels in Santa Barbara
Hotel Milo Santa Barbara offers not only splendid views but also amazing Spanish architecture. The beaches are nearby and you get all the modern facilities with the perks of having your own dog.
Hotel Californian is a perfect place if you're looking for a classy stay with your pet. The interior decoration of the hotel is eye-catching and the popular Funk Zone is located at a stone's throw.
Dog-Friendly Restaurants in Santa Barbara
Santa Barbara Fish House is a must-have option for all the sea-food lovers out there. Accompanied by gorgeous views of the ocean, it is an ideal restaurant for you and your dog.
Louis's California Bistro is a top dog-friendly restaurant in Santa Barbara. The menu includes fine wine, pizza, and salmon which you can enjoy while sitting outdoors with your dog.
Planning a short weekend getaway with your dog is not a difficult task anymore in dog-friendly Santa Barbara. You can certainly enjoy the benefits of traveling with dogs in Santa Barbara as it has ample pet-friendly places.
So, what are you waiting for? Pack your essentials, take your doggo and rejoice in the dog-friendly Santa Barbara.
Read Also: