9 Best Dog-Friendly Wineries in Paso Robles: Guide & Tips
If you're considering a trip to beautiful Paso Robles for wine tasting, you might be wondering if you should bring your pawed friend along. Are you thinking 'what wineries are dog friendly in Paso Robles' or 'if there are any pet-friendly vineyards in Paso Robles' then the good news is
that there are plenty of dog-friendly wineries in Paso Robles.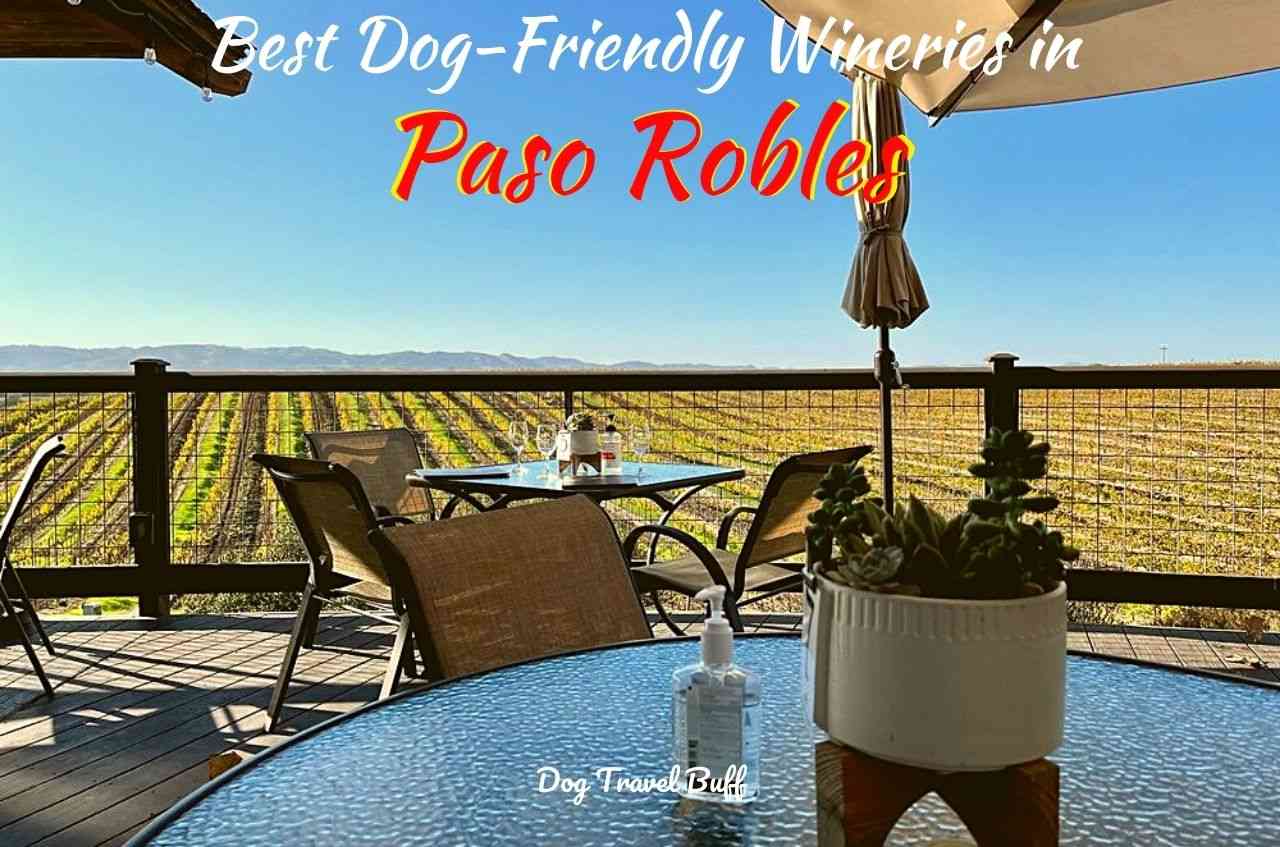 This post may contain affiliate links. If you buy something through one of those links, you won't pay any extra penny, but I'll get a small commission that encourages me to deliver more helpful content for you.
Pet parents, this blog post is for you. When you love wine and your pet's company, make Paso Robles Wine Country your next weekend getaway. Throughout the city, you will find wide-open spaces, panoramic vineyard views, delicious wine, pet-friendly hotels, farm-to-table restaurants, and dog parks. There are also wine tasting rooms where dogs are allowed. It will be fun to create memories with your pooch.
Here are a few of the best pet-friendly wineries in Paso Robles, pet-friendly restaurants and accommodations for you and your four-legged friend, as well as tips and other activities to enjoy with your four-legged pal.
How to Get to Paso Robles?
Steeped in charming, vibrant, and charismatic spirit, Paso Robles is an easily accessible getaway spot for wine enthusiasts in a quest for tasting the best wines in a  truly authentic California wine country. Situated along California's central coast, Paso Robles is a mere three-hour drive (under favorable traffic conditions) from San Francisco and Los Angeles.
Paso Robles is easily accessible from three airports — San Jose, San Luis Obispo, and San Francisco. In an easy-to-explore city like Paso, you'll feel the welcoming atmosphere immediately upon arrival.
What are Some of the Best Dog-Friendly Wineries in Paso Robles Valley?
With your pet pal by your side, you can enjoy tasty wine, relax on a cool patio or stroll through the vineyard and enjoy the breathtaking view from some of these dog-friendly wineries Paso Robles, California has to offer.
1. Eberle Winery
Customer-focused, Eberle is one of the best dog-friendly Paso Robles wineries and undoubtedly, an amazing wine tasting location if you are bringing your dog along. Live music and wine are being served on the deck, which overlooks acres of vineyards. There is a free tour of the wine caves and five complimentary wines available to visitors. The cave tour is fascinating and informative and you can even walk with your dog on a leash if it is well trained.
A deposit of $10 is required at the time of booking. Any wine purchased during your tasting will be deducted from this deposit. Sounds good, right?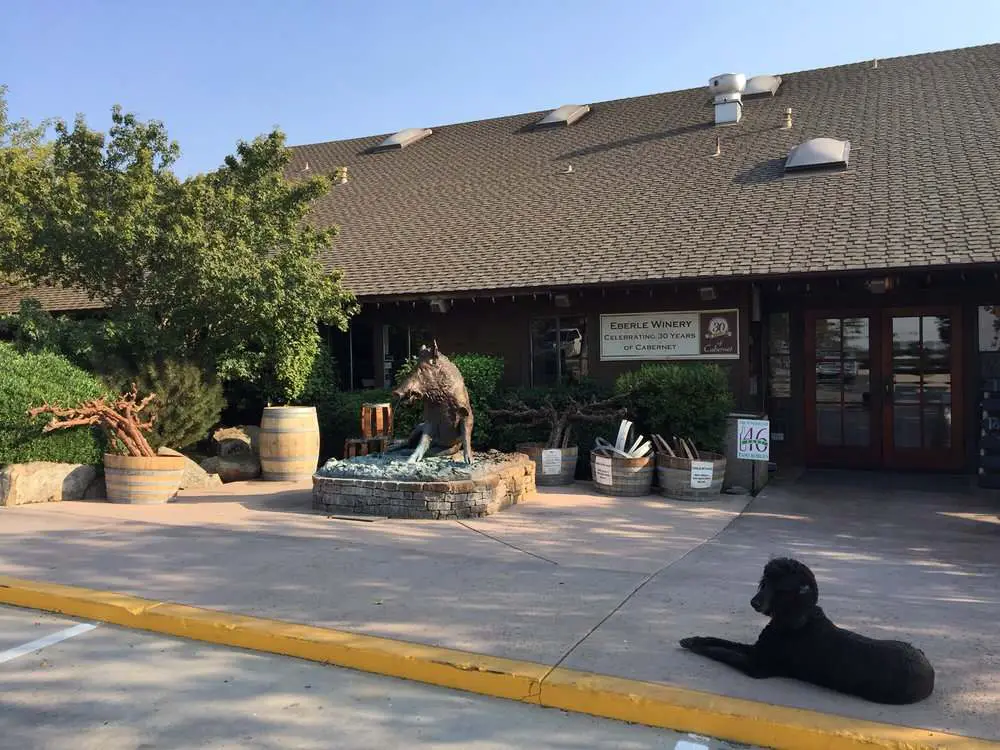 2. Niner Wine Estates
There is a lot more to Niner Wine Estates than just its wine; it also provides delicious food.
This is a place where you can enjoy leisurely wine tastings and the ambiance is great. Dog parents will enjoy the atmosphere here. The shaded patio will be a great place for your pet to relax.
There is also a gift shop indoors where local jams and Big Sur salt is available, as well as winery merchandise.
3. Calcareous Vineyard
This is yet another pet-friendly wineries in Paso Robles you can't afford to miss. Wine tastings are conducted outside under umbrellas on their lush green lawn. Go on a short walk down the dirt path before your wine tasting. From here you will have a great view of Paso Robles. You can sit back with a glass of wine and enjoy this picturesque view while your dog can enjoy the lawn.
You can also choose to have lunch at Calcareous. A wood-fired oven and a complete kitchen are on-site to add to your experience.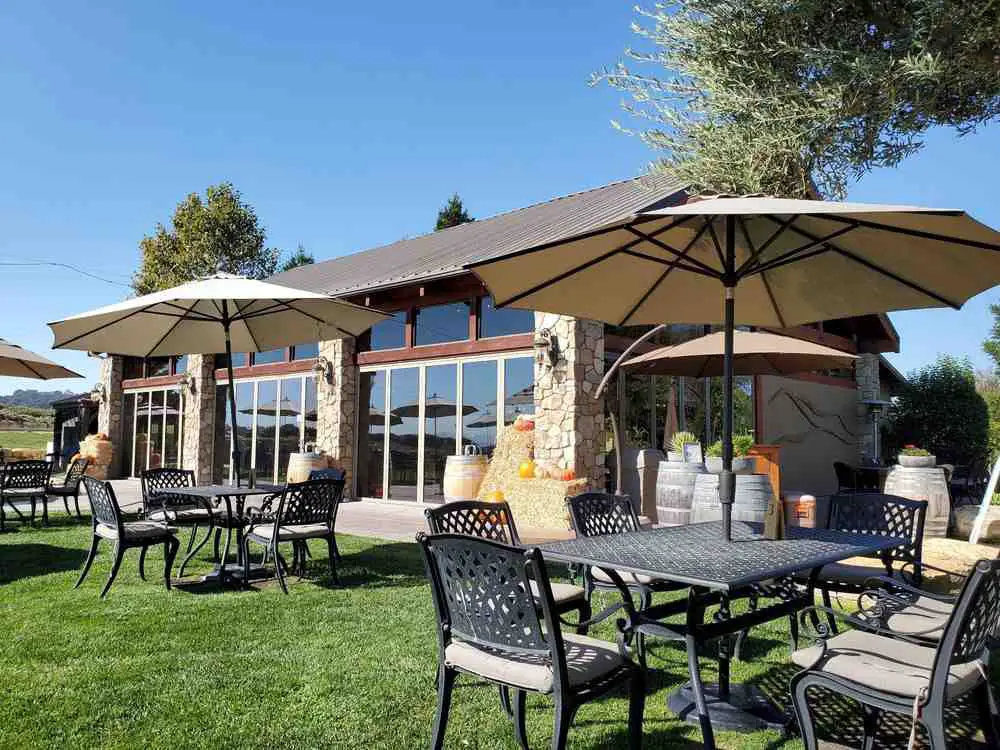 4. Justin Vineyards & Winery
The wines they produce have won numerous awards. Dogs are welcome at their tasting room and on their estate in Paso Robles. Booking in advance is a good idea since Justin is one of the more famous wineries in Paso Robles, and their reservation calendar fills up quickly.
5. Barr Estate Winery
In the rolling hills of the Geneseo District, Barr Estate is a family-owned and operated winery and tasting room. A member of the family will usually pour the wines, which makes this tasting experience unique and full of Paso Robles charm. While your pup snacks on special treats, sip wines from the estate and enjoy some delicious meals.
6. Tooth and Nail Winery
When talking about dog-friendly wineries in Paso Robles, how can one forget popular locations!
With a moat surrounding it and a Gothic decoration, it is a unique winery. There you will have live music playing, friendly staff on hand to assist, and a bowl of cold water provided for the dog.
Going for earlier tastings is highly recommended if you value quietness and attentiveness.
Check out their event calendar when you plan your trip; a huge number of events are held every weekend, including live music, comedy nights, happy hours, and brunches.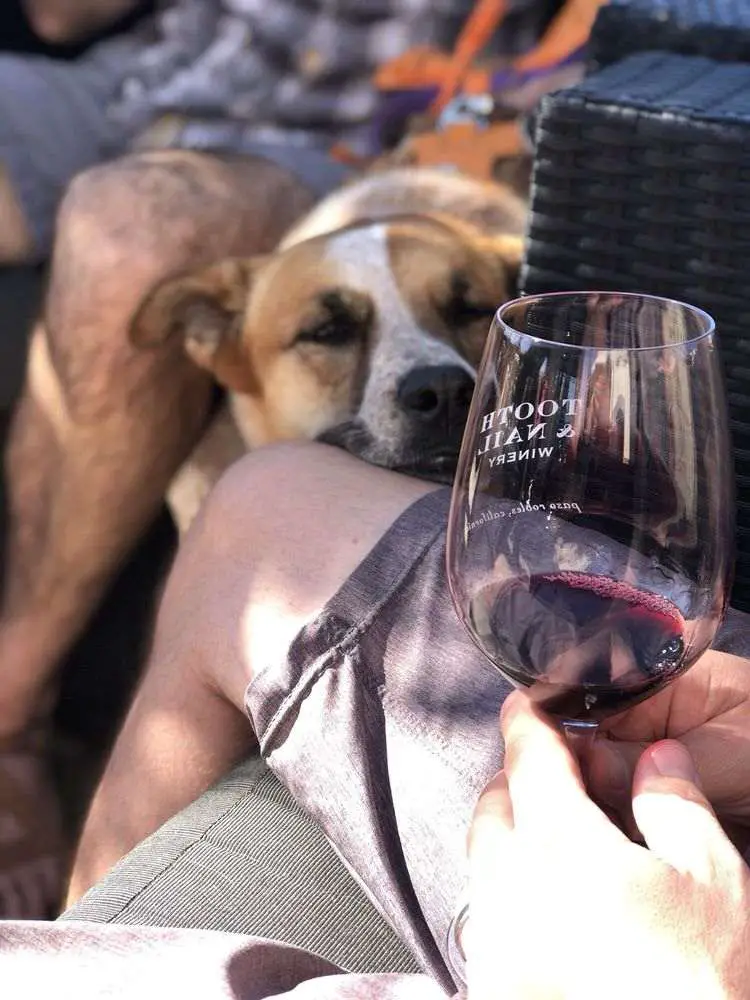 7. Still Waters Vineyards
This charming tasting room overlooks the breathtaking landscape of 60 planted acres of sustainable vineyards in the beautiful southeast region of Paso Robles. You can enjoy a casual picnic in the sun with your dog in the tasting room gardens or the koi ponds.
8. Booker Vineyards
Posh and sophisticated, Booker Vineyards is one of the most dog-friendly vineyards in Paso Robles. They have a stunning tasting room, with modern décor. If you're a dog parent, you can feel at ease. Their classic wine tasting usually occurs on their patio or lounge, which are both indoor and outdoor seating options. They will take good care of your dog. You can expect the staff to provide you with excellent service.
The Booker Vineyards in Paso Robles is not only dog-friendly, but they also have some pretty fantastic wine as well. The hillside offers breathtaking views of the vineyards.
9. Asuncion Ridge Vineyards
Located in Paso Robles, Asuncion Ridge specializes in small-lot wines that are handcrafted, highly exclusive, and come from some of the most renowned vineyards in the area. You can find their newly renovated tasting room on Peachy Canyon Road, 1 mile from downtown Paso.
In addition to the open-air experience, there is a large outdoor patio that is perfect for you and your pooch to witness wine country in all its glory.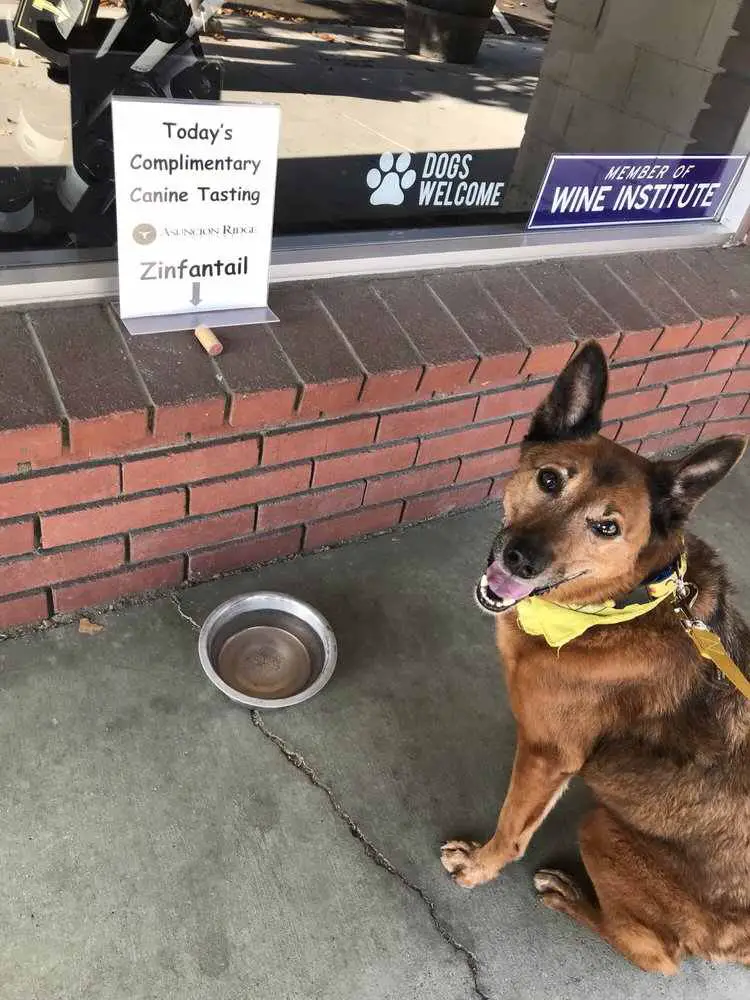 Are There Any Dog-Friendly Wine Tours in Paso Robles?
These companies will take you and your dog on a wine tasting tour of Paso Robles if you prefer not to drive and want someone else to plan it for you.
Uncorked Wine Tours
With Uncorked, you can customize your experience to include all pet-friendly establishments so you can have a memorable day out with your furry friend. They are voted one of the best 5 wine tours.
Breakaway Tours
Breakaway Tours will provide a pick-up facility and take you to 3-4 wine tastings. You can purchase an extra snack for your best friend if you decide to add on a picnic lunch.
SLO Safe Ride – SLO Safe Ride offers dog-friendly transportation for your Paso Robles wine tours. With a professional chauffeur, you'll enjoy a fully customized itinerary with 3-4 wineries stop.
Toast Tours- Toast Tours helps you plan a private and custom wine tour that is tailored to your group's interests. They even provide treats, water, and poo-poo bags.
The Wine Line – On winery tours with Wine Line, your dog will be allowed to accompany you. You will be picked up from your accommodations and driven to 4-5 wineries of your choice.
Are There Any Dog-Friendly Activities to Do When in Paso Robles?
There are plenty of activities you can do with your dog in Paso Robles when you are done visiting wineries. To make traveling easier for you and your dog, you may want to consider a dog stroller/ dog carrier backpack.
Related Post:
Vineyard Dog Park– Only a 15-minute drive from downtown, Vineyard Dog Park is located in Templeton. There are separate sections for small and large dogs in this woodchip dog park. It has an abundance of shade and a seating area.
Sherwood Dog Park- Dogs of all sizes can play in two separate areas of the 1,25-acre dog park, which is cross-fenced. It takes only 7 minutes to get to Sherwood from downtown Paso Robles.
Lake Nacimiento Shoreline Trail Get your pup pumped up and exercising on a moderately rated 5-mile hike. Lake Nacimiento is about 40 minutes from downtown Paso Robles. Leashed dogs are welcome.
Salinas Riverwalk Trail- Salinas Riverwalk Trail is mere 4 minutes from downtown Paso Robles. Here, dogs are allowed on leash.
Read Also:
Tips To Visit Paso Robles Wineries With Your Dog
It is a good idea to inform the wineries beforehand that a dog will be accompanying you. So, they can reserve a table for you that has extra legroom.
Make sure your dog is brushed before you visit a winery so that your dog doesn't shed inside the wineries.
Bring a chew toy to keep your dog occupied during your tasting.
Make sure you have little treats and snacks at hand if your pet needs to be fed frequently.
Bring water and a bowl. The majority of wineries will provide this, but being prepared is a good idea nonetheless.
During the summer months, if your pet drools a lot, pack a small drool towel.
Never keep your dog unattended and always clean after your dogs while visiting these Paso Robles wineries.
Are There Any Dog-Friendly Hotels in Paso Robles?
Dog owners are typically limited in their choice of accommodations when traveling with their pets. Fortunately, Paso Robles has developed a reputation for being very pet-friendly. There are numerous accommodations to choose from.
The Paso Robles Inn is within walking distance of over 20 wine tasting rooms, shops, and restaurants in Downtown Paso Robles. Their rooms accommodate dogs to a very high standard.
This is where you and your pooch can enjoy a luxurious stay. The hotel has pet-friendly rooms with direct access to the courtyard which makes it easy for morning or late night potty breaks for your dog. You can take your dog to the restaurant as well. The restaurant has an entire menu geared towards dogs.
For budget-friendly charges, this hotel offers everything you need for affordable and comfortable accommodation. The hotel provides free breakfast for guests and there are no pet fees. Up to three dogs can be accommodated at no charge.
Are There Any Dog-Friendly Restaurants in Paso Robles Valley?
If you're looking for a delicious meal, head down to downtown Paso Robles. There are a lot of restaurants that are now dog-friendly that were previously inaccessible
Fish Gaucho- With tall, arresting cacti guarding the entrance, this is probably the most popular restaurant in Paso Robles. They offer great food to their customers, and they take excellent care of their pets.
Thomas Hill Organics Bistro And Wine Bar- There are many reasons why this charming Paso restaurant is one of the best on the central coast, not only for the fantastic food, but also for the beautiful patio, and it is easy to see why. While you savor a delicious meal on the shaded patio surrounded by lots of greenery, your pup can relax.
La Cosecha- The outdoor seating at this dog-friendly Paso Robles restaurant is generous, and they serve great pizzas. They use fresh ingredients found on the central coast of Paso Roble. The dishes are mostly inspired by Spanish and South American cuisine.
Final Words
You can have an incredible time in wine country with your pawed friend, especially if you can experience it with them. I hope this blog post about dog-friendly wineries in Paso Robles helps you to make an informed decision and inspires you to list Paso Robles on your list of dog-friendly destinations.
Read Next: 7 Best Pet-Friendly Wineries in Napa Valley