11 Best Dog-Friendly Hikes In Oregon
If you love to take your dog with you on trekking or hiking, then you must visit Oregon. Oregon has some of the best hiking trails in the Pacific Northwest region of the Western United States. Its waterfalls, scenic beauty, and mind-boggling surroundings will leave you amused.
Tourists should take a detour on the route to the walk because the trailhead is just a few miles up the road from the more well-known Multnomah Falls.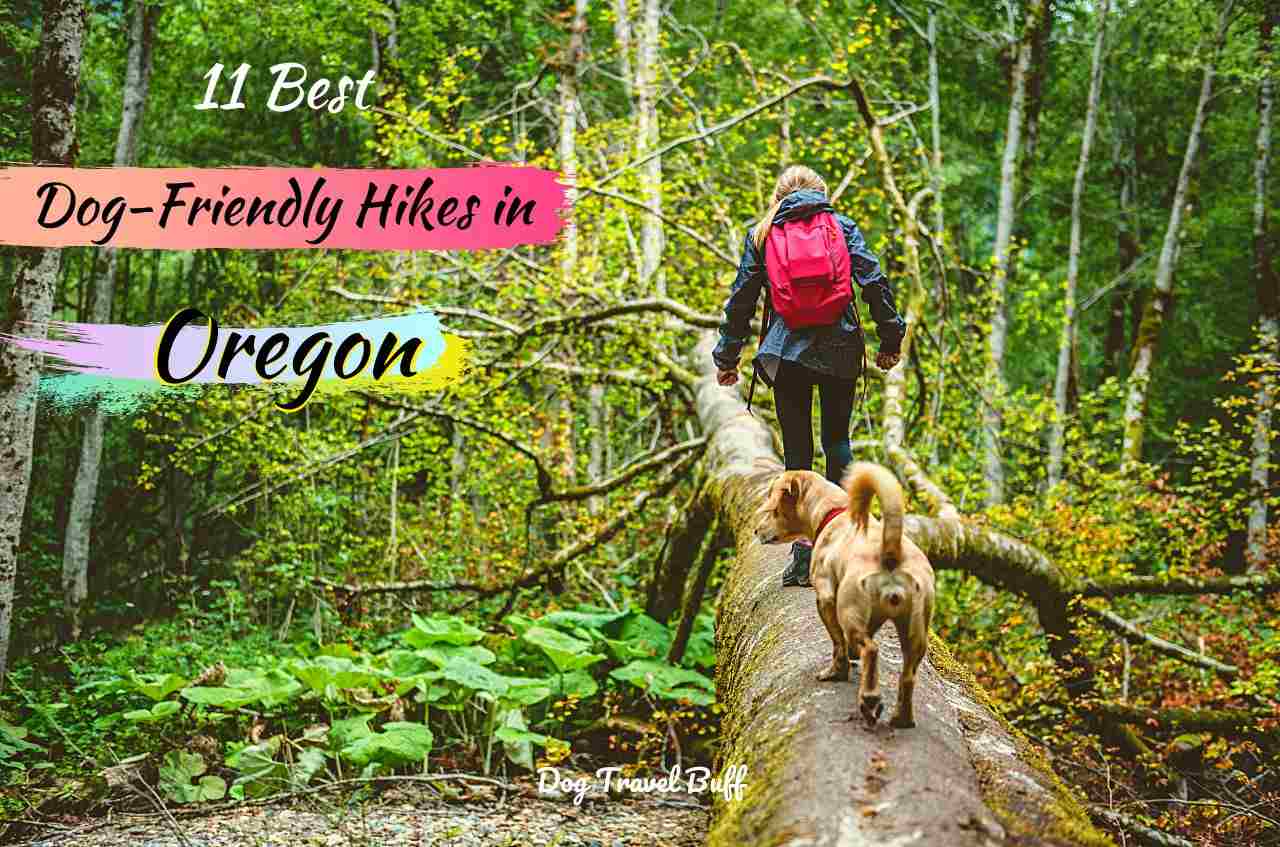 This post may contain affiliate links. If you buy something through one of those links, you won't pay any extra penny, but I'll get a small commission that encourages me to deliver more helpful content for you.   
In this article, we have talked about the best dog-friendly hikes in Oregon. Read the entire article to discover Oregon's top dog trails with hand-curated trail maps, driving instructions, and insightful reviews and images from other hikers, campers, and nature enthusiasts like you.
1. Castle Canyon Trail
Located close to Rhododendron, Oregon, this route stretches for a total of 2.4 kilometers. It takes an average of 1 hour and 18 minutes to complete the trail, which is typically considered pretty challenging. Although this is a popular hiking trail, people visit this place throughout the year, but you can still find peace when it's less busy.
The best time to visit Castle Canyon Trail is from April to October. During this time, people do not visit this place too much. There is good news if you want to take your dog with you in this venture. Castle Canyon Trail is famous for its pet-friendly weather. Although you can take your dog with you, your dog must be on a leash.
Distance: 2.4 km
Elevation Gain: 251 m
Difficulty: Challenging
Fee: No fee or permit is required for this hike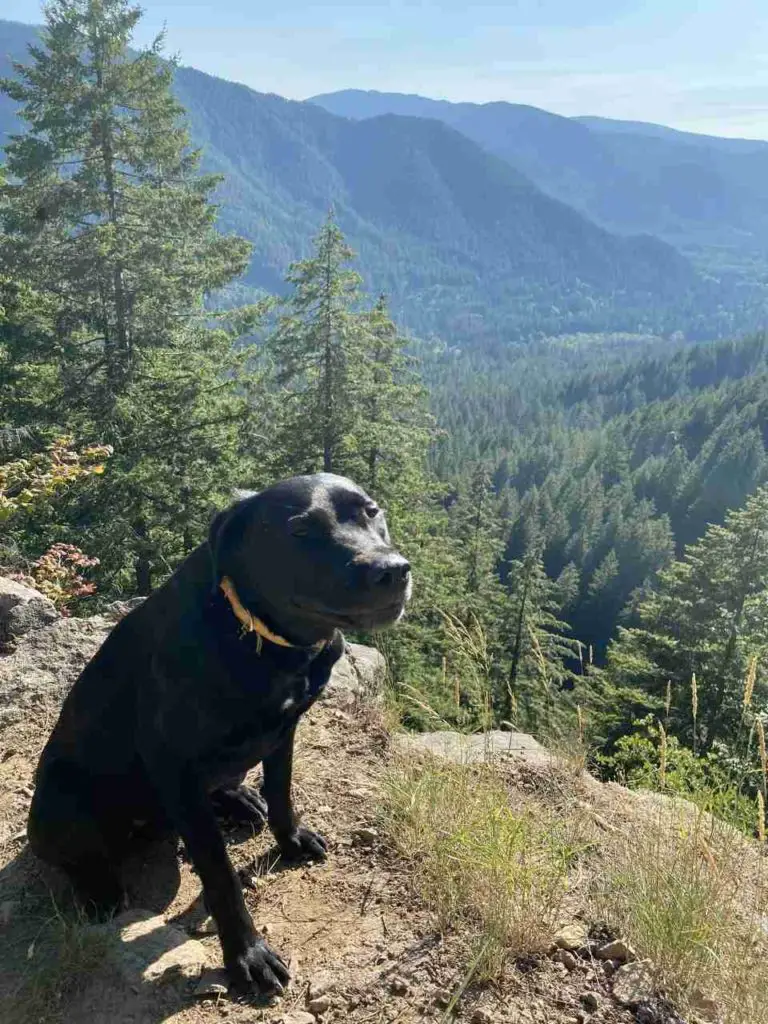 2. Ramona Falls Trail
Situated near the Rhododendron, Ramona Falls Trail in Oregon is a lovely, easy trip for you and your canine companion. This is widely regarded as one of the top pet-friendly hikes in the state. Most of the trail's first mile is on flat ground.
The total area of this trail is around 11.4 kilometers. It takes an average of 3 hours to complete the trail. Ramona Falls is considered a challenging trail route. You'll probably find many people while exploring because this location is famous for horseback riding, hiking, and snowshoeing. As Ramona Falls Trail remains crowded all the time, keeping your dog on a leash is suggested.
The ideal time to visit Ramon Falls Trail is From May to October.
Distance: 11.4 km
Elevation Gain: 325 m
Difficulty: Challenging
Fee: $5.00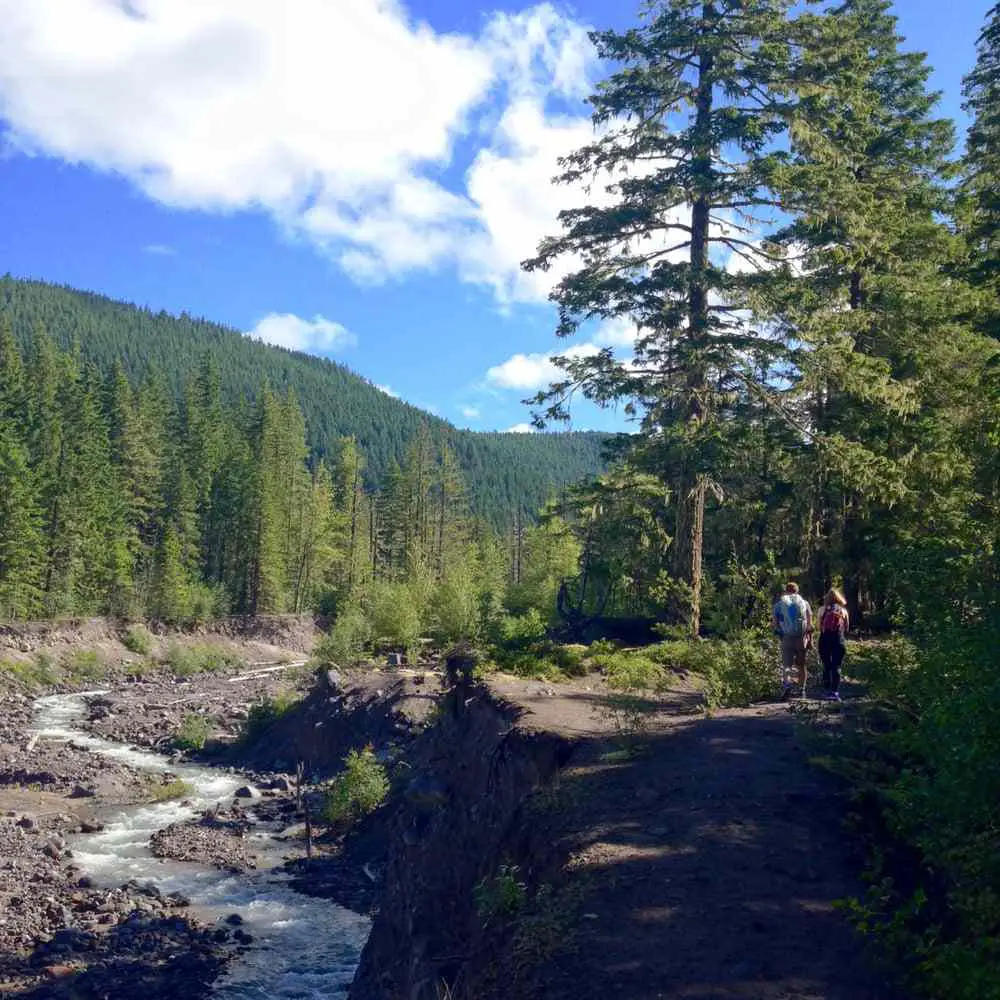 3. Umbrella Falls Trail
Umbrella Falls trail is an 8.0 km long loop trail. It is a fantastic moderate trail for hikers who love to hike with dogs. Easy to complete, yet it's pretty challenging. You will find two waterfalls midway.
The Best part about this Umbrella Falls Trail is you will get a glimpse of stunning Hood Meathat dow vistas throughout the trip. Due to the hike's elevation increase of more than 800 feet, it is classified as moderate. However, it is a suitable trail for most children and small dogs in good physical condition.
If you love to take a sun bath, then It's a great idea to take a lunch break and cool off in the crystal-clear pool below the footbridge close to Umbrella Falls.
Distance: 8.0 km
Elevation Gain: 203 m
Difficulty: Moderate trail
Fee: Self-issued wilderness permit
4. Astoria Riverwalk
On the south side of the Columbia River's mouth, the Astoria Riverwalk is a short, dog-friendly trail. If you are lucky enough, you may see many marine creatures, including sea lions, cormorants, and, less frequently, humpback whales.
These beauties make Astoria Riverwalk one of the best dog-friendly places in Oregon. The route is 7.9 km long in each direction. Still, local Carol Zahorsky suggests taking the 2-mile round trip walk from the north end of 9th Street (at the Bowline Hotel) to the Bridgewater Bistro at Cannery Pier, just next to the opulent Astoria-Megler Bridge.
Distance: 7.9 km
Elevation Gain: 15 m
Difficulty: Easy route
Fee: 2 dollars/ day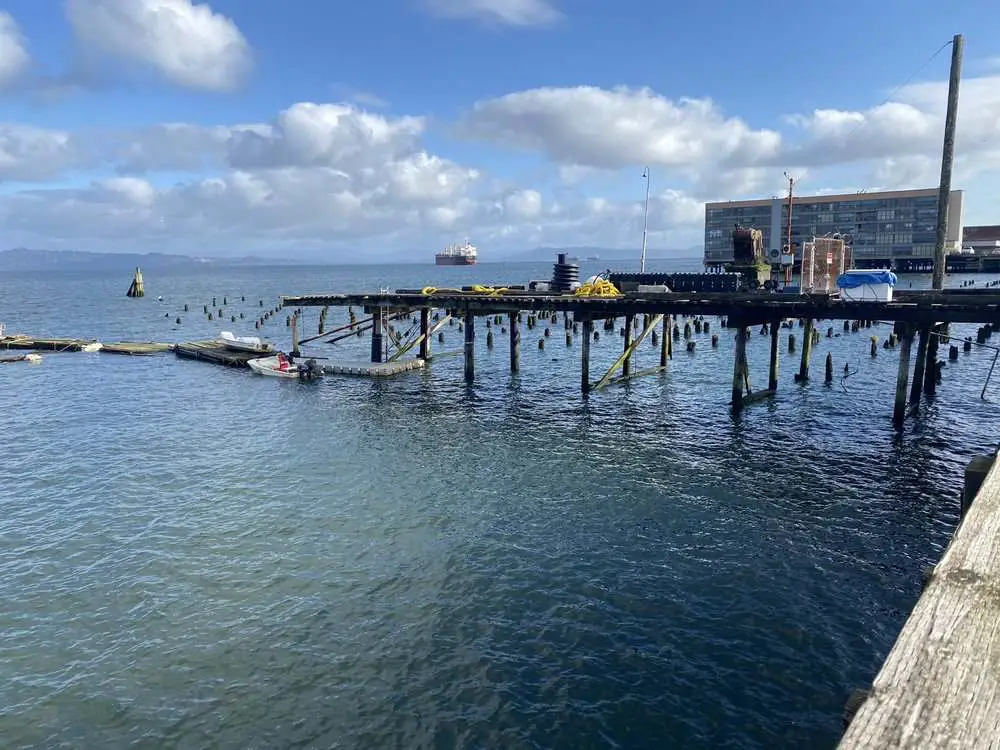 5. Benham Falls Trail
Benham falls trail is one of Oregon's most visited dog-friendly trails. Through this trail route, you can reach the most incredible waterfall on the Deschutes River. Benham falls trail is situated in the Deschutes National Forest. Benham Falls, nevertheless, is not an ordinary waterfall. Its scenic beauty and weather will leave you speechless.
The exciting fact about the Benham fall trail is despite it being situated on the bank of Deschutes River, the whole trail path is exceptionally well maintained, and most hikers and their dogs find it very easy. If you're a beginner and carrying a small dog, this trial will be a good start for you.
Distance: 2.4 km
Elevation Gain: 13 m
Difficulty: Easy route
Fee: $ 5-day use fee
6. Drift Creek Falls Trail
The Drift Creek Falls Trail, close to Lincoln City, features a waterfall, Oregon's largest suspension bridge at 240 feet, and a stroll through a verdant Coast Range forest.
The trail is broad and well-kept. It is also pretty simple, with just over 500 feet of elevation gain. Hikers should be aware that the elevation increase is reversed. The entire first portion of the trip is downhill, but to go back to the trailhead, hikers must ascend.
This climb might get famous because of the stunning views, so going on a weekday is best.
Distance: 5.1 km
Elevation Gain: 165 m
Difficulty: Easy route
Fee: $5 Northwest Forest Pass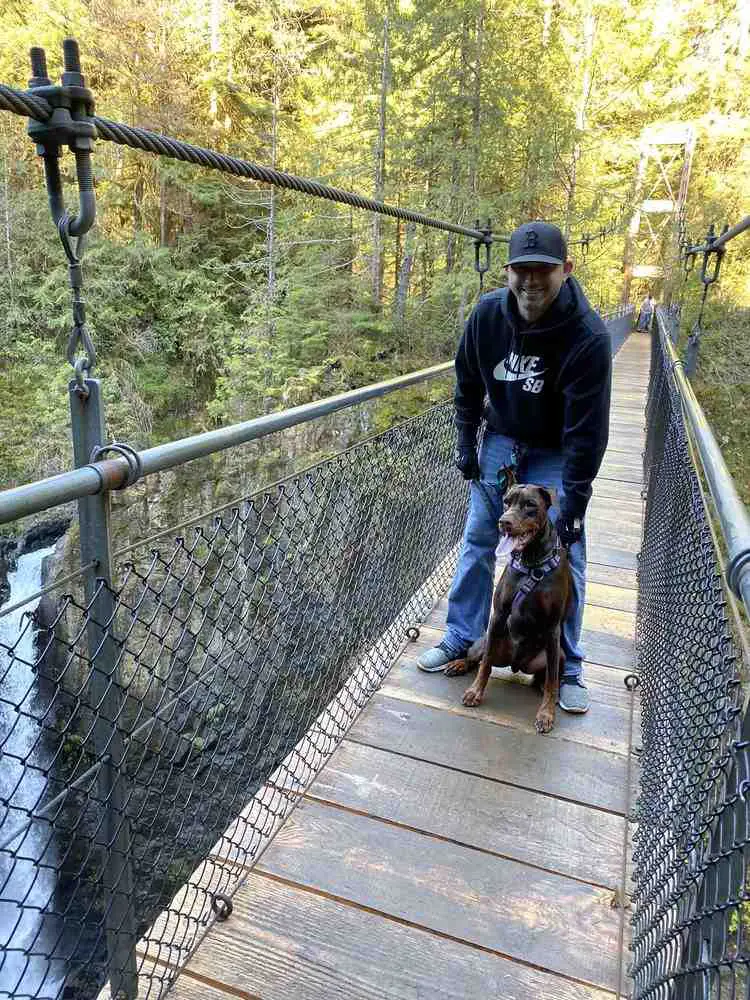 7. No Name Lake and Bend Glacier Trail
No Name Lake is an exciting place to be if you love traveling with your dog. This 8.9 km long trail is situated near Bend in Oregon. Generally, this is not for beginners at all. Its route is quite challenging. If you are active enough, it will take around 3 hours to complete the entire trail pathway.
Do not expect solitude on this trail path, as it is trendy among pet lovers. You will find a lot of people roaming around here in this area. The best time to visit No Name Lake and Bend Glacier Trail is between June and October. 
You can take your pup on this trail without any worry, but you must keep your dog on a leash. Another thing you should not forget is that you must carry a poop bag with you.
Distance: 8.9 km
Elevation Gain: 433 m
Difficulty: Challenging route
Fee: $5/vehicle/day
8. Alsea Falls and Green Peak Falls Trail
The Alsea and Green Peak Falls is a short drive from Eugene and a year-round, accessible trail. This walk has several stunning waterfalls, just like many other hikes on our list of the top dog-friendly hikes in Oregon. If you love lush green nature and a fresh atmosphere, then Alesea Falls will be an excellent choice for you.
The Alsea Falls, the first waterfall on the trek, is 20 feet tall, while the spectacular Green Peak Falls is 60 feet. A little circle trail travels through both second-growth and old-growth trees. In addition, hikers frequently witness salmon jumping up the falls.
Distance: 3.9 km
Elevation Gain: 90 m
Difficulty: Easy route
Fee: 3 Dollar/day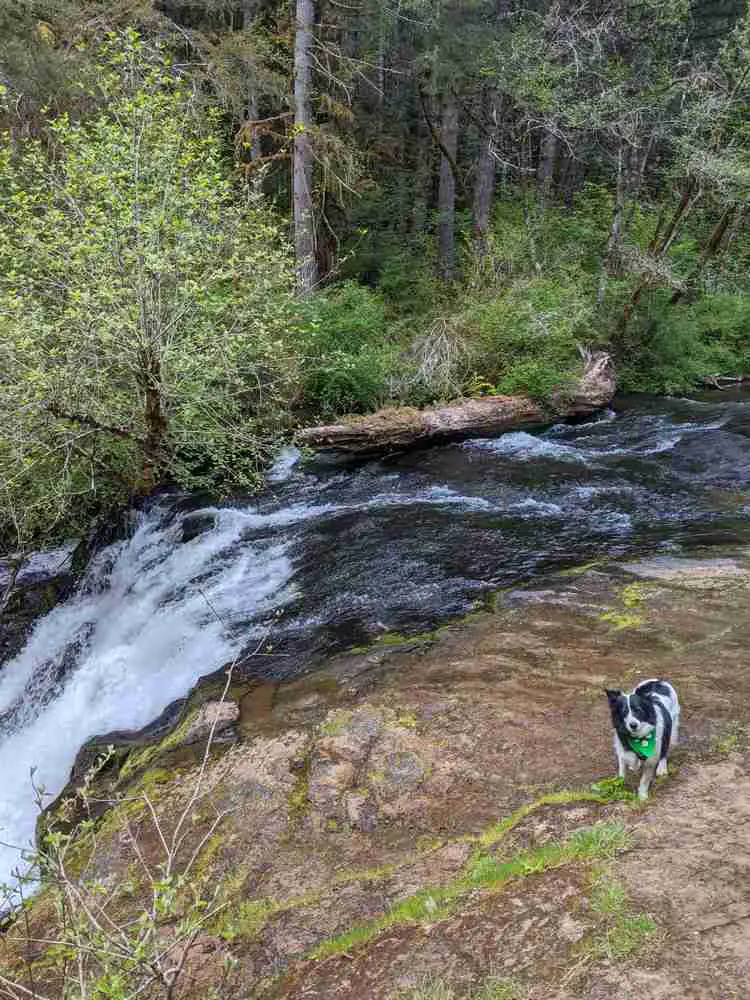 9. Marys Peak Trail
Marys Peak is a remote mountain region encircled by lowland areas. The 4,000-foot mountain is a well-known landmark in the central Willamette Valley. This trail, among several others on and around the mountain, leads hikers to the summit. Marys Peak Trail is a great place to be with your furry pal.
You can view the Pacific Ocean and many of the beautiful waterfall peaks to the east from the peak's summit on a clear sunny day. Although the trail is well-maintained, hikers and their dogs should be ready for a challenging climb with an elevation rise of more than 1,400 feet. Fragile rocks and edgy surfaces may be challenging for your dog. It is suggested to carry your dog's hiking boots for safety.
Distance: 8.4 km
Elevation Gain: 429 m
Difficulty: Moderately challenging route
Fee: $5/vehicle/day
10. The McKenzie River Trail
The McKenzie River Trail is located on the Blue River in Oregon. It takes an average of 8 hours to accomplish this course, which is generally regarded as complex. Although this is a well-known trail for backpacking, camping, and hiking, you can still find some peace from March to September.
In McKenzie River Trail, your dog can roam around off-leash. So do not let your pet leave at home. Take with you while you're making a plan to the Mckenzie River Trail. But, make sure you should not leave any waste on the riverside.
Distance: 38.8 km
Elevation Gain: 243 m
Difficulty: Challenging route
Fee: None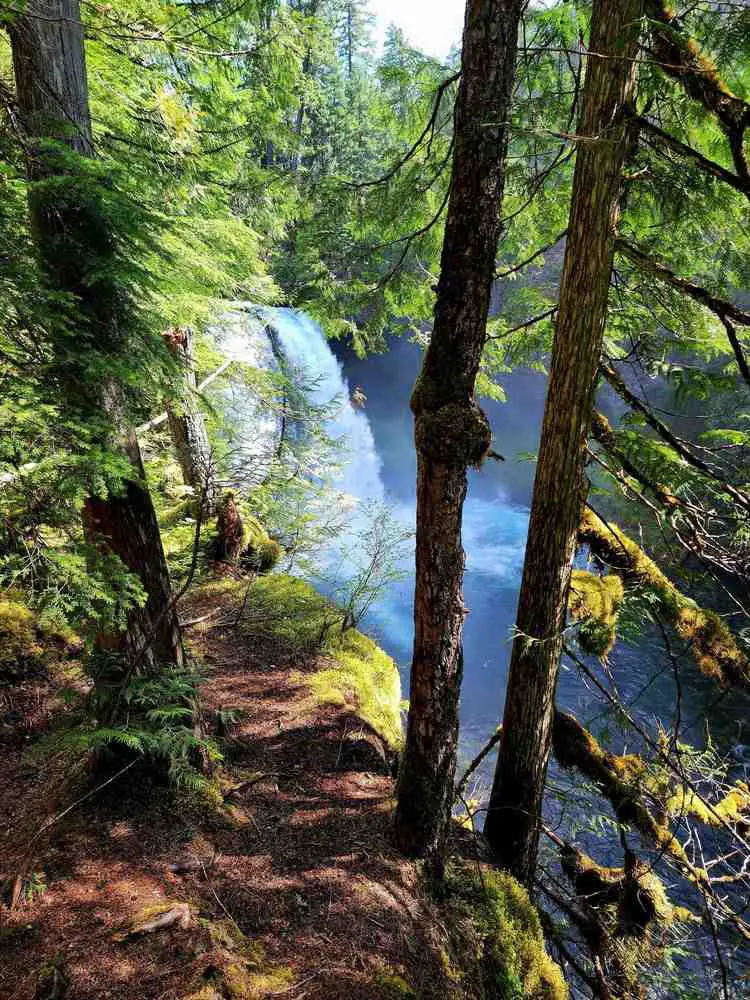 11. Devils Lake/South Sister Trailhead
A non-wilderness trail winds through the woodland to Quinn Meadow Horse Camp, passing some intriguing lava formations along the way. Equestrians have access to facilities. If you have ever thought of camping with your pet, Devils Lake can be a great place to be in.
Devils Lake is close to a parking area. At the trailhead, there is a little walk-in campground. Here you will get to see ten campsites where you can be in. This campground is free to use, but parking requires a recreation pass, so ensure you get them in advance.
Distance: 38.8 km
Elevation Gain: 243 m
Difficulty: Challenging route
Fee: None
Guidelines for Taking Dogs Hiking
If you trek frequently, you must know that having a dog by your side makes hiking more enjoyable and exciting. However, hiking with your pet demands more planning and proper dog hiking gear. Adhering to the guidelines below ensures you are ready for dog-friendly hikes on your Oregon journey.
Extra Water: Each dog should have 8 ounces of water for every hour of trekking. A portable bowl is the simplest way to provide water for dogs on a path. Never allow your dog to drink water from still puddles because they pose a severe risk of contamination.
Pick Up the Poo: Always bring poop bags with you, and never leave your dog's waste in the wild. For the sake of the environment, you and your dog should leave no traces. This act of yours will help to maintain the dog-friendliness of the paths.
Bring Tweezers: They're a valuable tool for handling road mishaps. A pair of tweezers is the best instrument to use if your dog has a tick or has something lodged in its paw. Better bring a complete pet first aid kit.
Protect the Paws: On any hike, be aware of the temperature of the ground and the type of terrain. Surface temperature is not a big thing for big dogs, but if you're traveling with small dogs, you must keep an extra eye on your dog's paw. They may get burns due to surface heat. To avoid incidents like these, get a pair of dog hiking boots for your pal.
Pet Stroller: While hiking with your old furry pal, your pet may get exhausted by excessive activity. Make sure you take a pet stroller with you. Pet strollers for dogs are the best tool to carry with you during hiking.
Read Next:
11 Best Dog Vest for Hiking: Dog Harness Reviews
FAQ: Dog-Friendly Hikes in Oregon
1. Are Oregon State Parks dog friendly?
A: Yes, you can take your dog to the State Parks of Oregon. However, it would help if you keep your dog on a leash. In State Park, you can take your dog, but as the area remains full of tourists, you must keep an eye on your dog.
2. Can I walk my dog 10 miles?
A: If you go to a veterinarian and ask about this, he would probably say that there is no specific schedule for how long your dog should walk. It depends upon your pet's ability, age and stamina; some dogs can be energetic after a long walk, and some become exhausted. But it is recommended not to take your small dog on a 10-mile walk.
3. What type of dog is best for hiking?
A: You know that your animal must be energetic to climb a hard rock. Hiking is about strength and agility, so you must go with a spontaneous pet. Dogs like Siberian Husky, German Shorthair Pointer, and Australian Cattle dogs are the best companion to go on a hiking trip.