5 Best Dog-Friendly Beaches In Maryland: What To Do And See
Most dogs love swimming, spending relaxing time on the beaches and splashing in the water is a great way to have fun with your dog. Also teaching dogs to swim is a great way to create a long term cherishable bond. Trekking, running on the wet sands, and the beach air makes my dog, Polo the happiest. 
Staying in Maryland for years I know the best Maryland dog beaches that will make you to plan instantly for your next dog trip. However, if you want your dog to experience more fun, then walk to dog-friendly parks that are equally beautiful and peaceful.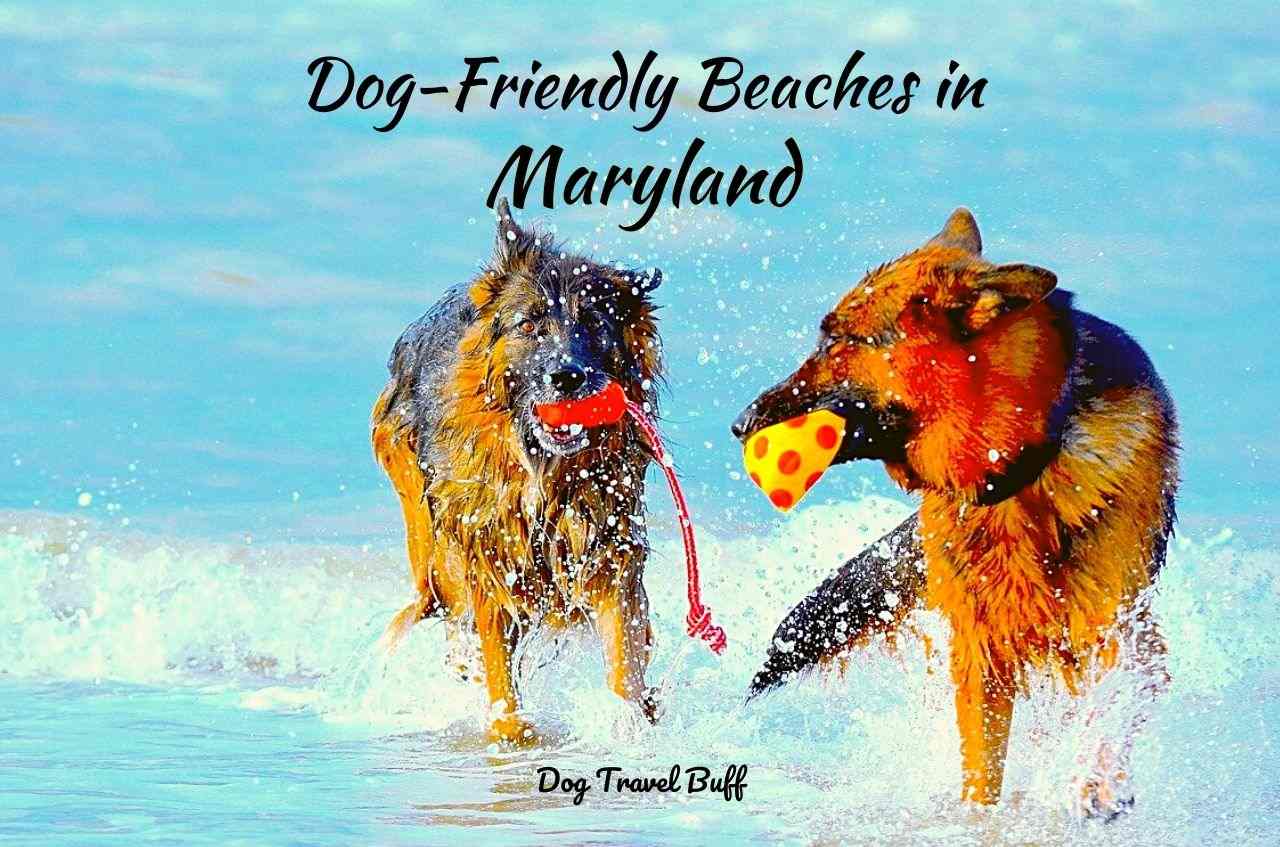 This post may contain affiliate links. If you buy something through one of those links, you won't pay any extra penny, but I'll get a small commission that encourages me to deliver more helpful content for you.
Therefore, if you are wondering what beaches are dog friendly in Maryland, then I do not think you want to miss these coastal gems in Maryland. So, let's start exploring. 
Dog-Friendly Beaches in Maryland
The charming city with old buildings and cobblestone streets, Maryland has the most romantic dog-friendly waterfront gateways. Dog-friendly beaches in Maryland will make you happy from the hustle and bustle of life –and for good reason. 
The windswept beaches, views of the Atlantic Ocean, peaceful parks, and nature trails are gorgeous. So, here are the 6 most pet-friendly beaches in Maryland. 
1. Downs Memorial Park Dog Beach
Address: 8311 John Downs Loop, Pasadena, MD, US, 21122
Hours: Holiday on Tuesdays, 7 AM to Dusk
Parking: $6
Rules: Allow off-leash dogs on the beach and with leash in the park 
Downs Memorial Park Dog Beach is undoubtedly the best place for a fun water experience. Along the Chesapeake Bay, in the city of Pasadena sits this beautiful 3.5 miles park and beach. Downs Memorial Park Dog Beach is an off-leash dog beach in Maryland. It is small but you can witness different shades of blues, enjoy the fresh air and can leave your dog to swim and play. 
Along with the Downs Memorial beach, there is a dog-friendly park over five miles away offering gorgeous views of nature. Walking along the wooden trail of narrow streets with your dog and your loved ones is a perfect evening plan. The park offers mesmerizing views of the bay and a place to sit and relax with your doggo. The park features family outings, lounging, and hiking. 
I took my Labrador, Polo, here for his first water experience and he completely loved it. We were splashing water and relaxing in the water enjoying the environment. I visited in the morning hours and enjoyed sitting on the bench and enjoying my time with Polo. His happy panting made my day!
Tips:
Down Memorial beach is a small beach so bring beach blankets, and swim shoes for yourself.
Keep your dog in the shallow portion of the beach
Bring waste bags, and drinking water because the supply of essentials things are limited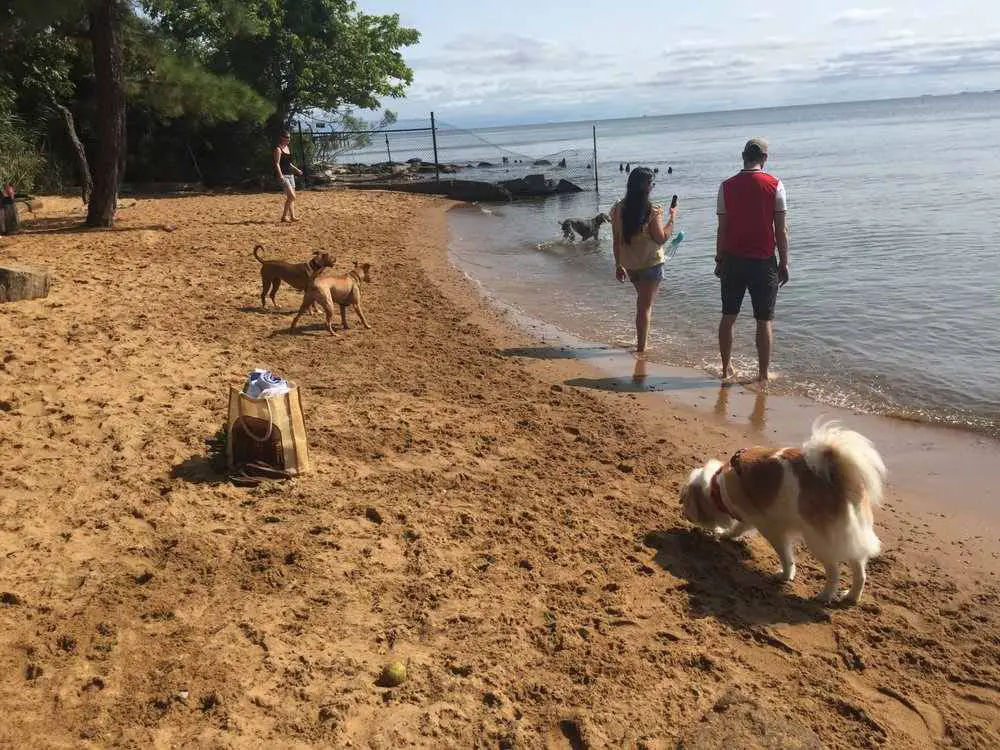 2. Assateague National Seashore
Address: 7206 National Seashore Ln, Berlin, MD, US, 18032
Hours: 24 hours a day
Parking: $3
Rules: Dogs must be on a six-foot leash
Assateague National Seashore is one of the best dog-friendly beaches in Maryland. Along the east coast of the United State, bisected by the Maryland-Virginia state line this fantastic oasis forms a barrier between the Atlantic Ocean and the Delmarva Peninsula. It is one of the most desirable places for dog lovers. Visiting Assateague National Seashore is a must if you are in Ocean City. 
The island, Assateague offers a multitude of wildlife species and you can witness a herd of wild horses with ponies roaming about the premises. The island stretches for 37 miles but once you cross the Verrazano Bridge, turn right and walk till you reach the over-sand vehicle zone. At this point, you are free to walk your dog without harming the ponies. 
My girlfriend, Polo and I visited the Assateague National Seashore in 2019. I was fascinated by the peaceful surroundings and interestingly Assateague State Park is also dog-friendly. The beach is so long that we not only enjoyed the evening walk but also enjoyed a beautiful sunset. There are tons of shells and neat rocks.
Tips:
Pets are not allowed in Assateague Lighthouse and the Chincoteague National Wildlife Refuge 
Pets are not allowed on the lifeguarded beaches, Virginia state boundary and Chincoteague Island
Dogs should be on six-foot leash always
Never try to pet the horses, they can be 'wild'
3. Matapeake Park Dog Beach
Address: 1112 Romancoke Road, Stevensville MD, 21666
Hours: Time may differ on Monday,7 am- 7 pm
Parking: Free, pay for parking
Rules: Dogs can run off-leash
Located on Kent Island, a 20-minute drive over the Chesapeake Bay Bridge, Matapeake Park Dog Beach is the best dog beach in Maryland. The tranquillity of the beach and leash-free swim zone makes this place one of the most demanded among dog owners. The calming waterfront property is surrounded by a cove and wider compared to Downs Dog Beach. 
The dog beach starts at the fence that borders the rear of the clubhouse. You can park your car at the Matapeake Clubhouse and Public Beach. The view of the sunset and the Bay Bridge is so amazing from the Matapeake Park Dog Beach. Enjoy this secluded beach with your dog at any time of the day.
I went to Matapeake Park Dog Beach with an RV and enjoyed the wonderful views on the way and the bay. Polo loved walking on the little beach, rolling on the sand, and enjoying the cool breeze. I would suggest you come to this Chesapeake Bay's western shore.
Tips:
Pets are not welcomed at the clubhouse, public beach and its lawn
Bring sustainable dog bags to clean up the pet's potty. 
From Matapeake Beach and Clubhouse parking lot, the dog beach is a 5-minute walk
For drinking water, non-glass containers are not allowed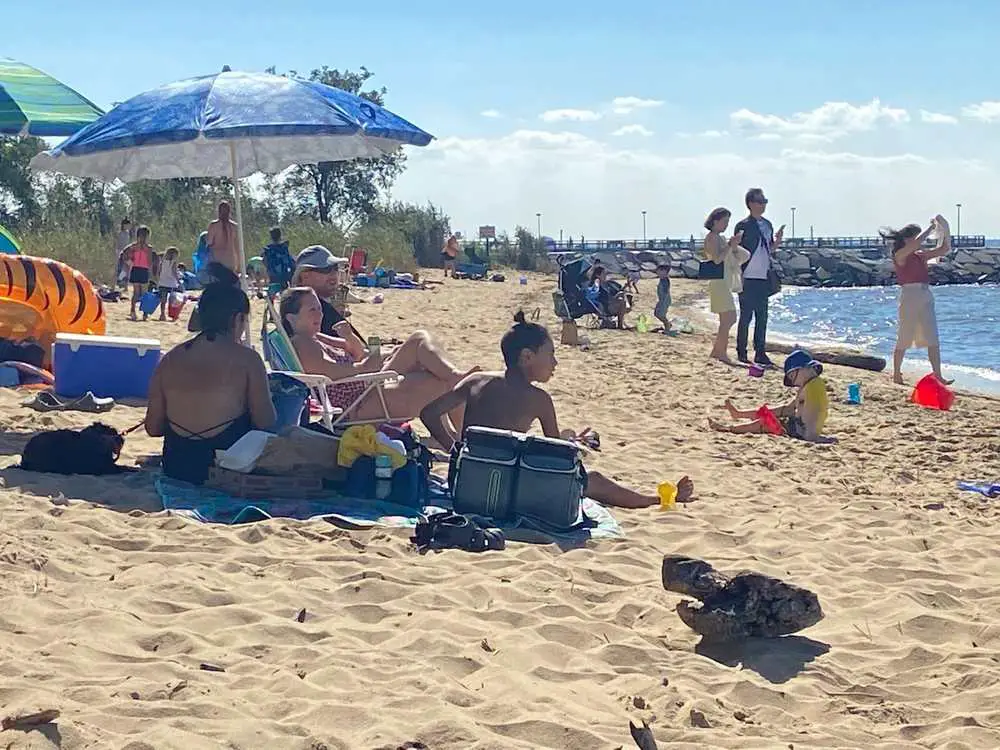 4. Elk Neck State Park
Address: 4395 Turkey Point Rd, North East, MD 21901
Hours: After sunset visitors need to vacate the place, 9 am- sunset
Parking: $3
Rules: Dogs are allowed in April and after October
The peninsula park separating the Chesapeake Bay at the north and mouth of Elk River offers a diversified topography for dog activities and fun. Elk Neck State Park is a dog-friendly park in Maryland. You can walk through pleasant woodlands to the cliffs witnessing a long white Turkey Point Lighthouse. 
The park is around 2000 acres, and dogs are welcomed in the North East Beach Area. Dogs are not allowed in the lighthouse so if you are here with your dog then reach "Raptor Fields" to spot eagles and hawks. The surrounding is so beautiful, naturally gorgeous through the pristine woods that you might feel like you are in heaven. 
I explored the Choptank loop with Polo and was amazed by its beauty. You can climb up the lighthouse to witness a stunning 270-degree view of this quiet place. I was so amazed by the location that I visited here for the second time with my friends for swing and picnicking. 
Tips:
Humans can only get down in the water in summer and once buoys are marked
Hike the White Banks Trail to witness the best views of cliff drops and the bay. Check out these dog hiking gears if you are planning to hike with your dogs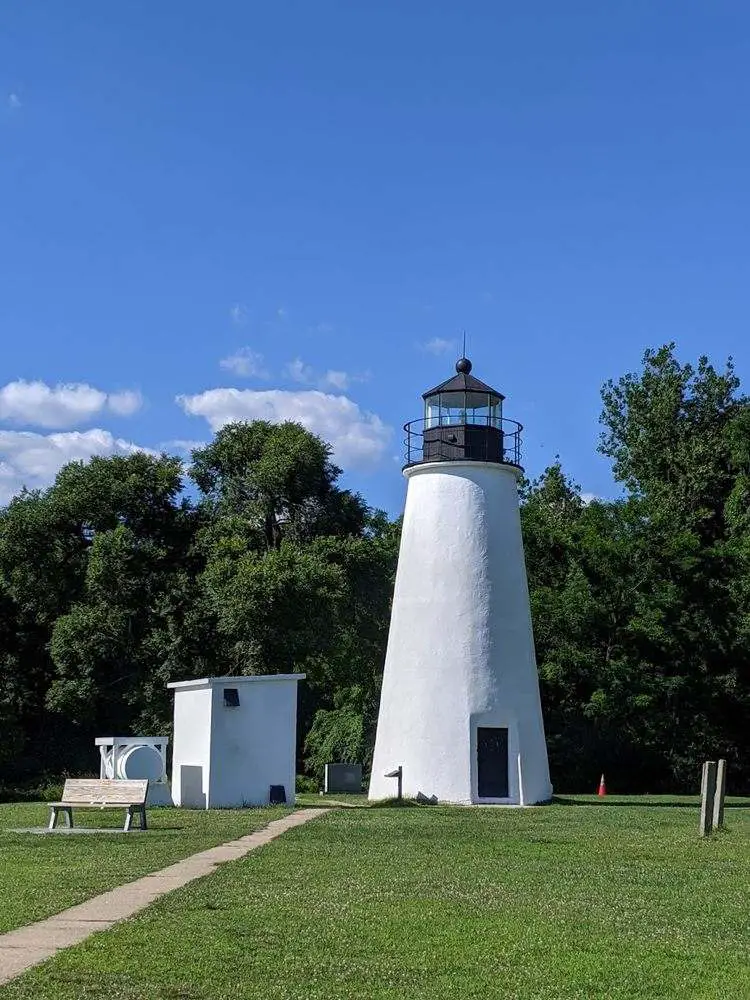 5. Terrapin Nature Park
Address: 191 Log Canoe Cir, Stevensville, MD, US, 21666
Hours: 8 AM to Dusk
Parking: Free
Rules: Dogs are allowed on a leash
In Queen Anne's County, sits a 276-acre bayfront park, Terrapin Nature Park that preserves an environmentally sensitive beach. Terrapin Nature Park is one of the famous Maryland beaches that allow dogs. You can enjoy wildflower meadows and lush grassy areas. From here you will get an amazing view of Chesapeake Bay. The beach is very small on the bay but a great place to hang out. 
The beachfront is smaller, the best part is the water is much cleaner and does not leave a brown residue once you get out of the water. Do not forget to bring your camera to click photos of deciduous woodlands, tidal marshes, and prairie meadows and among all, dogs running around the sandy seashore. 
I first went to Cross Island Trail in Kent Island and then founded this hidden secluded Maryland dog beach, Terrapin Nature Park. I would suggest visiting Blackwater Distilling, one of the best pet-friendly patios with shaded tables to rest after a busy day. Terrapin Nature Park is on the east of Chesapeake Bay Bridge between a small office park and Bay shores. 
Tips:
Swimming deep into the water is prohibited
Not many shades in the park 
Location can be a little tricky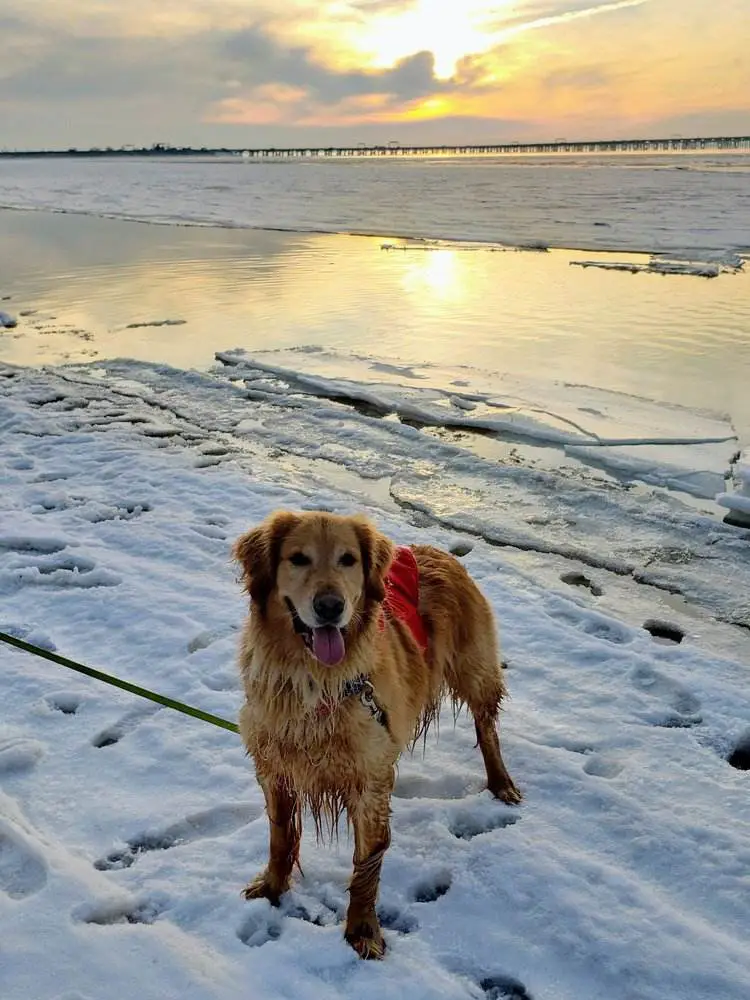 Read Other Dog-Friendly Beaches:
Dog-Friendly Activities in Maryland
Visit Historic London Town and Garden
Historic London Town and Garden is 23 acres themed ornamental garden where leashed dogs are welcomed. The garden is open from Wednesday to Sunday from 10 am to 4.30 pm and on Sunday from noon till 4.30 pm. 
Go on a Baltimore Ghost walk
Baltimore Ghost tour walk is all about exploring the birthplace of the famous horror stories of sailors, enslaved shipbuilding crews, desperate people, and immigrants. However, dogs are not allowed on the haunted pub tour; only leashed and behaved dogs are allowed for tour walks. 
Explore the Sugarloaf Mountain vineyard
Leashed dogs are welcomed in Dickerson Sugarloaf mountain vineyard. You can take special permission beforehand to organize a pet-friendly picnic. However, outside food is not allowed. 
Take part in adventures activities
Ayers Creek Adventures in Berlin is my special favorite, they provide exclusive adventure activities like kayaking, canoeing, rental guide tours and many more. Dogs are welcomed in Ayers Creek and it gives a fair chance to your dog to play in the mud. 
Apart from these activities, you can take your dog to Maryland State parks like Severn Run, Morgan Run, Rocky Gap, Woodmont, Sassafras, and many more. My special favorite pet-friendly Maryland State Park is Youghiogheny River and South Mountain. 
Dog-Friendly Hotels in Maryland
In Solomons Island within 2 km of Calvert Marine Museum sits Quality Inn Beacon Marina, a beautiful waterfall hotel. The rooms are equipped with refrigerators, hairdryers, cable television, and microwave. There is also an on-site Angler's Seafood Restaurant that offers breakfast, lunch and dinner. 
In Columbia, Sonesta ES Suites Baltimoreisthe most pet-friendly hotel in Maryland. The hotel is 4.8 km away from Centennial Park and Lake featured with tennis court and seasonal outdoor pool. The property is so beautifully decorated that you and your four-legged pal will definitely enjoy it. 
Final Words
Is Maryland dog friendly? Well, not all beaches in Maryland are dog friendly because to protect habitats, wildlife, and privacy of other visitors. However, you do not have to worry because here I have provided you with the most beautiful dog-friendly beaches in Maryland. 
Maryland boasts plenty of pet-friendly stores and restaurants where you can dine finely and end your memorable day with your four-legged best friend. So, yeah, Maryland has it all for your pet! 
Read Other Posts on Dog-Friendly Beaches:
FAQ – Dog-Friendly Beaches in Maryland 
1. Are dogs allowed at Chesapeake Beach?
A: Chesapeake Beach allows leashed dogs. Come during the sunset to the North Beach Broadwalk to enjoy the gorgeous views of the Atlantic Ocean. 
2. Where can I take my dog to swim in Maryland?
A: Downs Park Dog beach is the best Maryland dog beach with a lot of shady areas and nature trails to enjoy swimming and running. 
3. Are dogs allowed on the beach in Ocean City Maryland?
A: Dogs are not permitted during the summer season in Ocean City Maryland but Assateague National Seashore Park allows pets. 
4. Are dogs allowed at Maryland state parks?       
A: Maryland state parks like Chapel Point, Severn Run, Rocky Gap, Greenwell, and Gunpowder Falls allow dogs.