11 Best Dog-Friendly Hikes in Tucson, Arizona
Tucson is a breathtaking beauty for trails and trekking. Located in Pima County, Arizona, Tucson is the second-largest city in Arizona and the home of famous Arizona University. People come from different cities of the country for adventures; most bring their pets with them and give positive feedback about this beautiful city.
If you have a plan to visit Tucson with your furry pal then you must know the top places in Tucson city that are popular for their dog-friendly behavior and scenic beauty. Find the below list and keep these dog-friendly hikes in Tucson in your itinerary.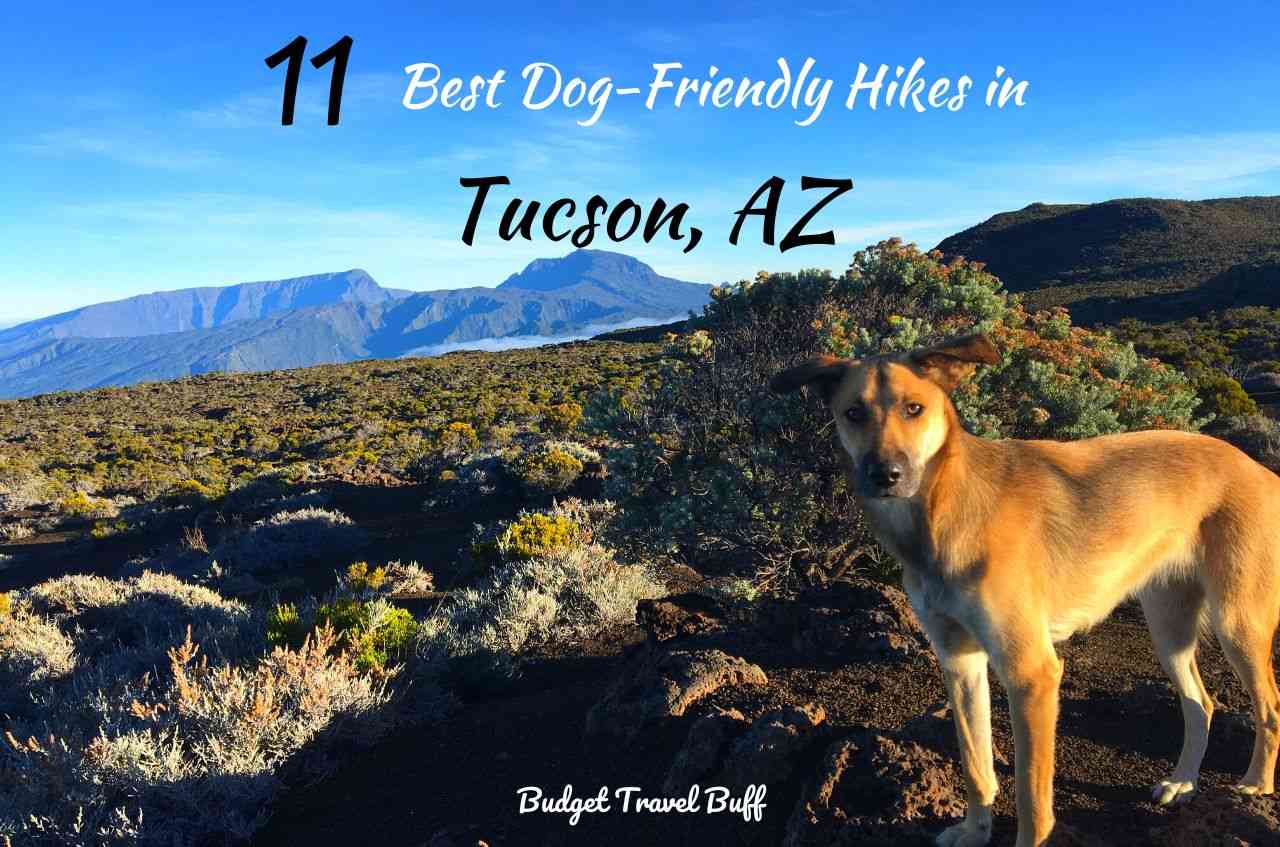 This post may contain affiliate links. If you buy something through one of those links, you won't pay any extra penny, but I'll get a small commission that encourages me to deliver more helpful content for you.
1. Catalina Canyon Loop
Catalina Canyon Loop trail is considered one of the easiest dog-friendly hiking trails in Tucson. There are a lot of hiking trails you will find in Tucson but Catalina Canyon Loop is the best one. This area is surrounded by national parks, beautiful deserts, dog-friendly walks, and mountain ranges.
The trailhead is a 2.3-mile-long loop. These trails begin at the trailhead and the exit part is also at the side of the trailhead. It takes approximately 60 minutes to complete the trail. You will get a lot of sub-trails too to explore.
This is also famous for its horseback riding, mountain biking, and rivers. When you visit this place make sure to carry an umbrella for you guys because on this hiking trail you will not get any shade for rest.
The best time to visit this dog-friendly trail in Tucson is September to May. to enter this hiking trail you have to pay around 3 dollars and for a parking slot, you will be charged $7.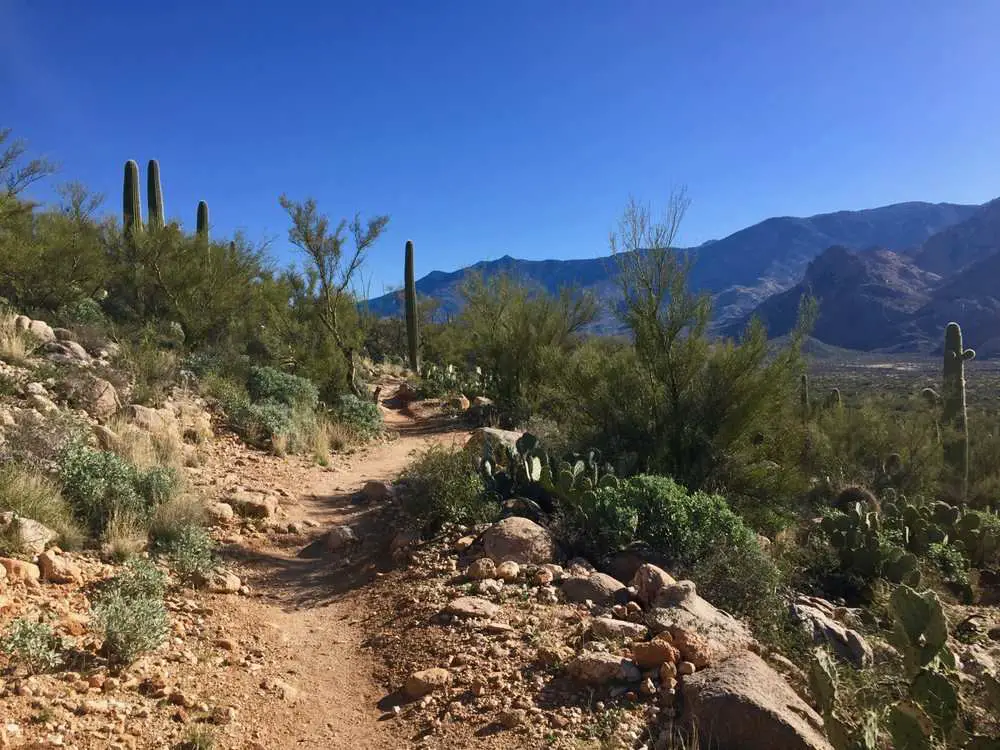 2. Soldier Trail
Soldier Trail is an 8.3 km long trail in Tucson which is considered one of the toughest hiking trails in Tucson. It will take 3 hours and 33 minutes to complete the whole trail. On these hiking trails, you can go with your furry pal. The best thing about Soldier Trail is that it is dog-friendly and you do not need to keep your dog on a leash. Your dog can roam around freely.
The trail gained a 591-meter elevation which is pretty challenging to those who are beginner-level hikers. In Soldier Trail, you will ride horseback and trail running.
It is said that this dog friendly-trail near Tucson is pretty challenging in the beginning part and the end part but the picturesque scenery will compensate for your pain. Wildflowers, waterfalls, and natural beauty will make this trial a great one to visit.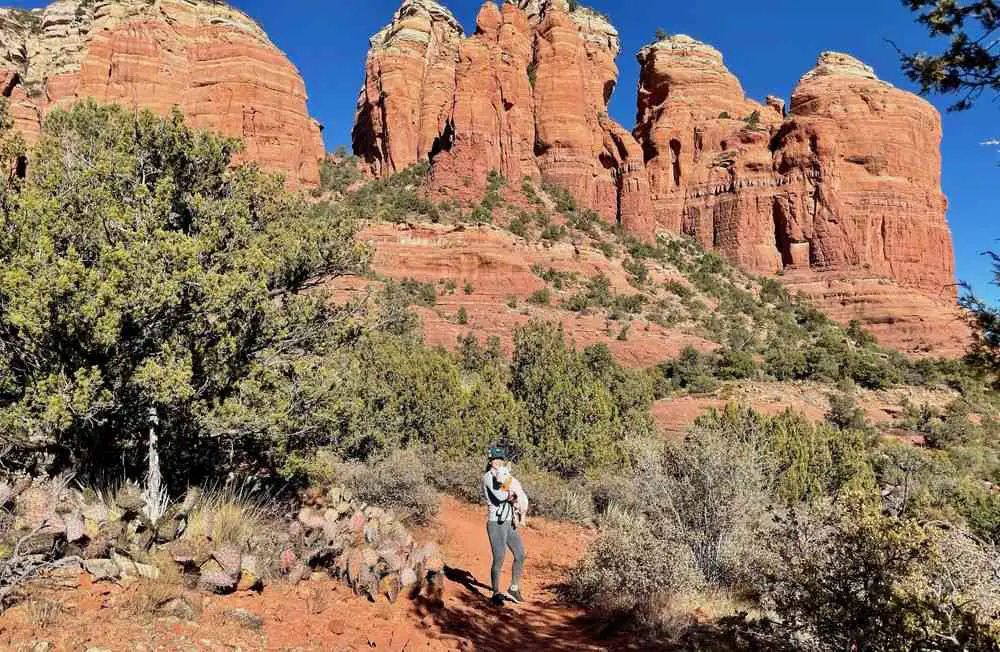 3. Chiva Falls Trail
As the name suggests this hiking trail got its name after Chiva falls. This natural beauty is also known as Chivo falls to locals. On this hiking trail, the most eye-catchy thing is its 75 feet high waterfall. In these trails, you will see beautiful mountain ranges like Lemmon and Rincon mountain ranges.
You will also get a couple of 4-wheelers challenging trails. Chiva trail also offers you pristine desert landscapes. You can complete this 13. 8 km trek within 3 hours and 29 minutes.
Chiva Falls Trail is a dog-friendly place to visit but in some areas, you may have to keep your dog on a leash.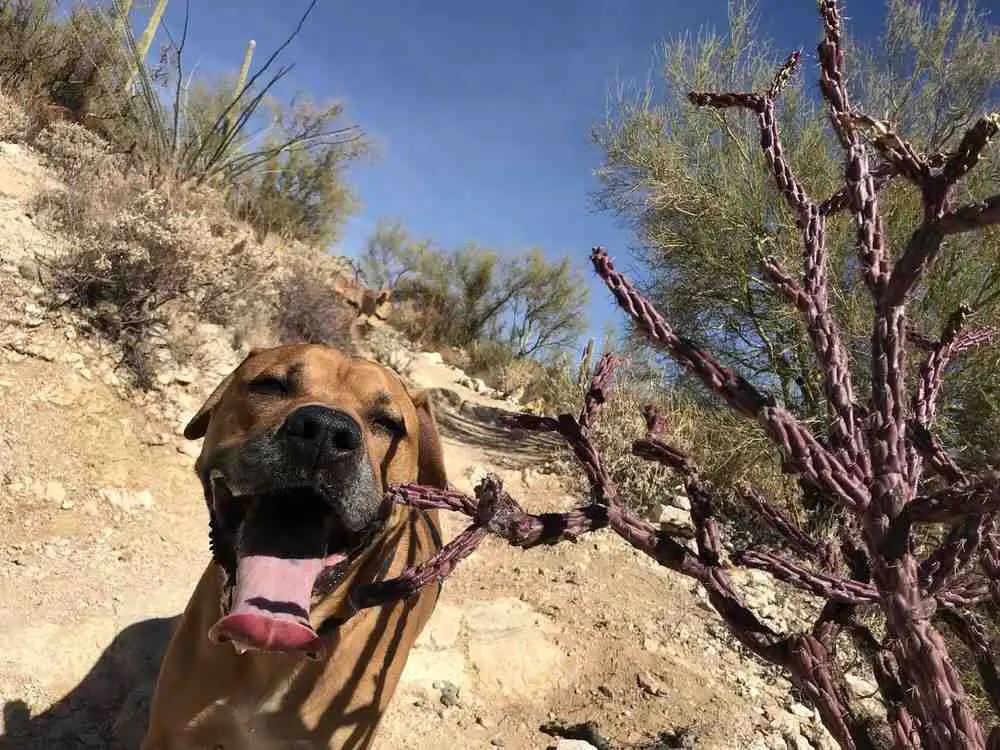 4. Mosaic SlingShot Trail Loop
Slingshot Trail and mosaic trail loop is a 4.8 km long loop trail. This trail is pretty challenging if you're a beginner-hiker. It takes 1 hour and 10 minutes to complete the loop trail. Talking about the elevation this loop trail has gained 83 meters elevation from the sea level. You can go for trail running and hiking in this trail loop.
If you want to go hiking with your family members then we would suggest Mosaic SlingShot Trail. This is a pretty moderate hiking trail that can be covered by beginner hikers also.
One thing we have to mention here is please watch your footsteps because on this hiking trail you might face some wild animals and snakes. It is better to put on hiking shoes if you're traveling to this area and keep hiking gear for your dogs also.
5. Feliz Paseos Park
One of the smallest hiking trails in Tucson which can be covered in just 28 minutes. The total length of this mini trail is 2.8 km. This trail is for normal walking. A place where you can visit with your children and four-legged friends. It's more like a park. You might find some local people exploring the location too. The elevation of this trail is 21 meters.
This is a great place if you're traveling with a small dog. Make sure when you travel with your pal to carry a poo bag for your dog also. This area remains crowded all the time so keep the area clean. You may have to keep your dog on a leash as you might find local people exploring this area too.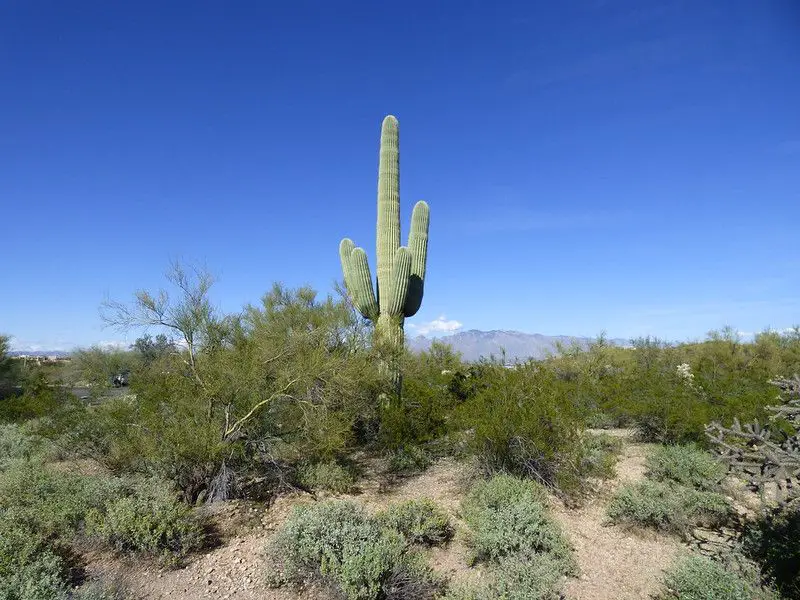 6. Greasewood Park
Greasewood Park hiking is nothing but a desert walk. But, this area is very popular among neighborhood people. The elevation gain of this trail is 65 meters. In this hiking trail, you will get to see the beautiful yet rugged form of nature.
If you're looking for a pet-friendly hiking trail in Tucson and want to explore the area with your dog then this trail is a great one for you. It only takes 1 hour and 3 minutes to complete the trail. So, if you're left with a minimum amount of time then you can visit these trails with your dog.
This area is full of rocks that might hurt the paws of your dog. So it's better to prepare your dog with dog hiking boots. You can reach this hiking trail from an adjacent road between Ironwood hill and the speedway.
7. Bear Creek Trail
If you're looking for a dog-friendly hiking area in Tucson then you must visit Bear Creek Trail. The total length of this trail is 4.7 km which is easy to complete by your children too. To complete the full trail you need around 1 hour 20 minutes. The total elevation gain of the trail is 140 meters.
This trail is one of the best hiking trails to enjoy the scenic view with your dog. You may have to keep your dog on a leash. Don't forget to carry all essential gear for your dogs, such as a leash, waist straps, and other things as well.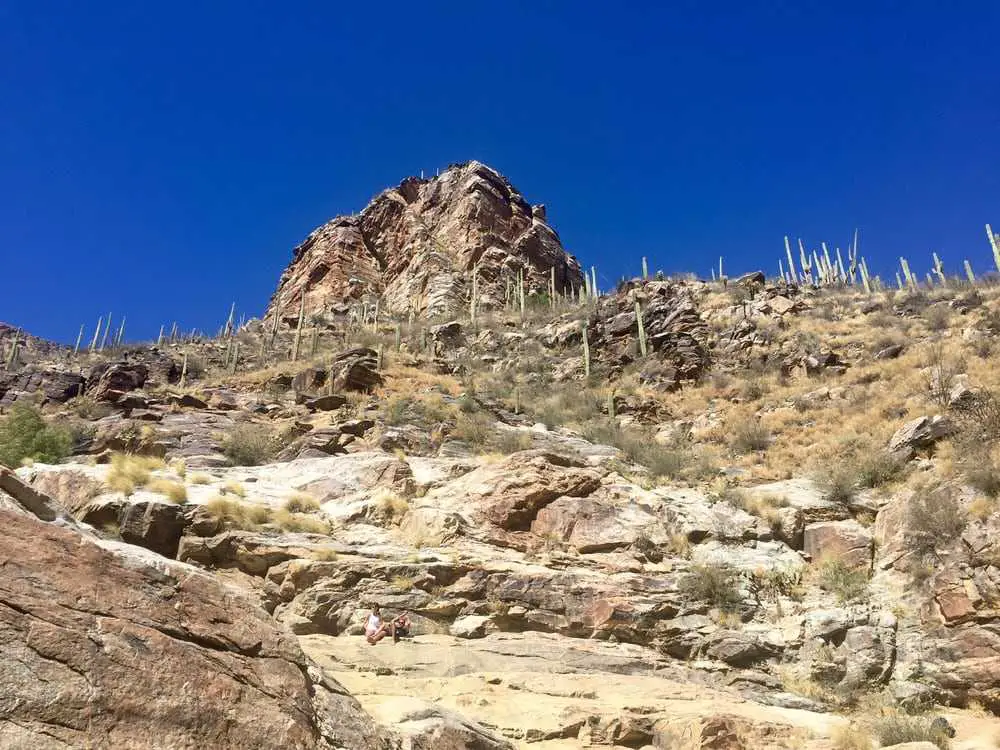 8. Aspen Draw, and Marshall Gulch Trail
Do not miss the Aspen Draw hiking trail if you're planning to visit Tucson. Aspen Draw is a 6.8 km long trail situated near Mount Lemmon Arizona. This Trail is open year-round so you can visit any time. But the best time to visit this trail is from September to January.
9. Nirvana Trail
Nirvana trail is popularly known as cactus heaven and is famous for its natural beauty. In this trail, you will find different types of cactus. Most people visit this place for photoshoots. This is not a long trail path but a loop trail so you will not have that difficulty climbing this trail.
Nirvana trail is a 24.5 km long trail and it has gained an elevation of 254 meters. You can visit this trail with your dogs. This is a popular dog-friendly hiking trail so you do not have to keep your dog on a leash all the time.
10. Pinal Pioneer Parkway
Pinal Pioneer Parkway Trail is a point-to-point trail where you can go with your dog easily. This trail is moderately easy to climb. The elevation is only 122 meters but you need some time to cover the whole trail because the expansion of this trail is around 67.4 km. It will take around 17 hours and 8 minutes to complete the whole trail path.
There is no specific time to visit this trail. You can hike this trail anytime. This is considered one of the best places to visit near Tucson, Arizona.
This is a quite long trail so your pal may get tired or fall sick. That is why it is suggested to carry a dog stroller with you.
11. Pima East Loop
Are you looking for a place in Phoenix, Arizona where you can go hiking with your dog? Then you must visit Pima East Loop. This is one of the best hiking trails in Phoenix which has breathtaking views. Here you can take your dog with you but make sure your dog must be wearing hiking boots. This area is rugged and full of stones and rocks so you must take care of your dog's leg.
This trail is only 3.7 km long and has gained 89 meters of elevation. It will take around 58 minutes to complete the whole trail. The best time to visit this trail is October to April.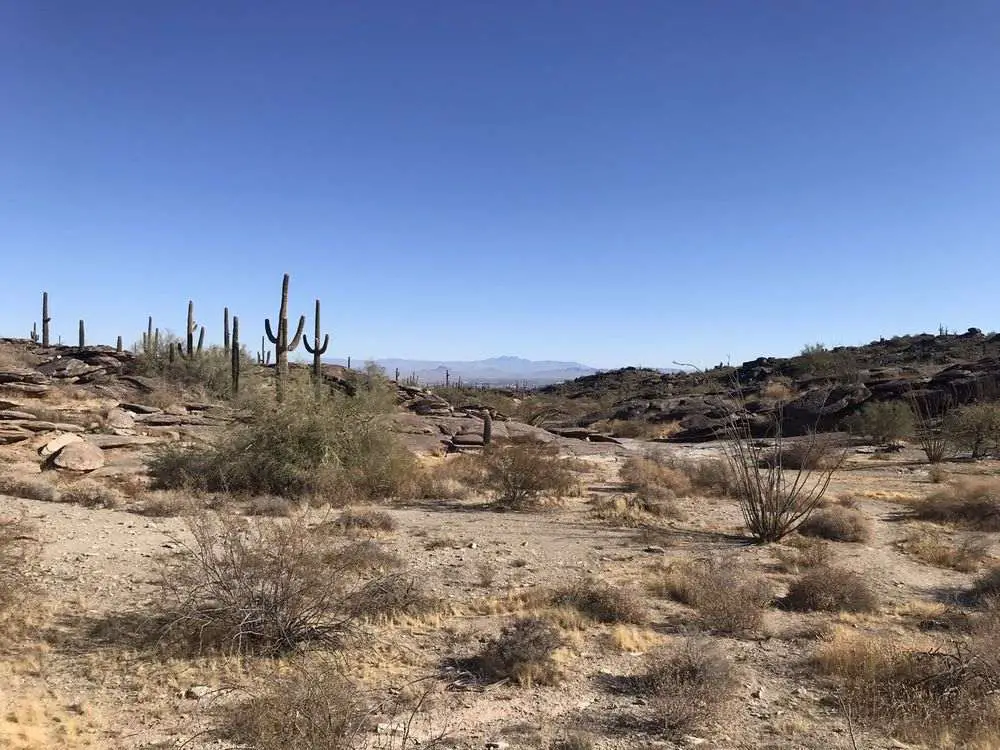 Read Next:
FAQ: Best Dog-Friendly Hikes in Tucson
1. Can dogs hike on Mt. Lemmon?
A: There are a few trails where you can take your dog with you such as Butterfly, Green Mountain Aspen Loop, etc.
2. Are dogs allowed in Sabino Canyon?
A: No. You cannot take your dog with you in the Sabino Canyon area. This area is prohibited for dogs.