12 Dog-Friendly Lake Tahoe Activities, Hotels & Restaurants
It is not always that you need to elaborate on the facts for your family and friends. But since it is just about you and me during this journey, let us ponder on honest statements.
Your pet is precious to you, and it should be treasured more than any of your treasured pieces. Happiness matters more than anything else in this world. If you are planning to take your pet on a trip, then let us discuss finding a dog-friendly abode.
This post may contain affiliate links. If you buy something through one of those links, you won't pay any extra penny, but I'll get a small commission that encourages me to deliver more helpful content for you.
If you're looking for a dog-friendly day trip in northern California, your pet is surely going to love Lake Tahoe. A quick itinerary for you is right here. Come take a look! Lake Tahoe has a few pet-friendly beaches in Northern California.
Dog-friendly Lake Tahoe is a prime location for dog travelers. It is indeed true that your pet will be super happy to be tagged along when you come to Lake Tahoe. There are many dog-friendly things to do in Lake Tahoe.
This pet-friendly area that mainly covers the South Lake Tahoe area would guide you in an excellent manner and explain the various options to eat and have fun with your pet when you come here.
Dog-Friendly Things to do in Lake Tahoe
Visit Kiva:
Kiva Bayline welcomes leashed pets at the amazing dog-friendly beach of Kiva, which is situated in the southern half of Lake Tahoe. Towards the eastern region of Tallac Point, pet dogs are permitted to be on a leash (it is an ordinance by El Dorado).
Here, pets are not allowed to loiter in the wetlands that are preserved. These wetlands are situated on the west side of the Tallac area. This is also where many people perform tours, as it is the concluding region of the famous Sky Trail.
The protection of wildlife is done in a fragile manner, and thus the whole ecosystem is kept under protection.
Take your pet to Bijou Dog Park:
This is a famous dog park that is located in the vicinity of Bijou Community Park. It is advertised as having a large number of off-leash areas for both small and large-sized pet dogs. The territory is approximately 37,000 square feet and people who visit there with their dogs get to do a lot of fun activities.
Bijou Dog Park is an amazing place where dogs can socialize and you might make new friends with other dog parents. The place has lush green areas along with a lot of shady areas. There are benches to relax on and relish when your pet is busy at play.
Sanitation kiosks for your pet along with fresh drinking water ports are readily available here.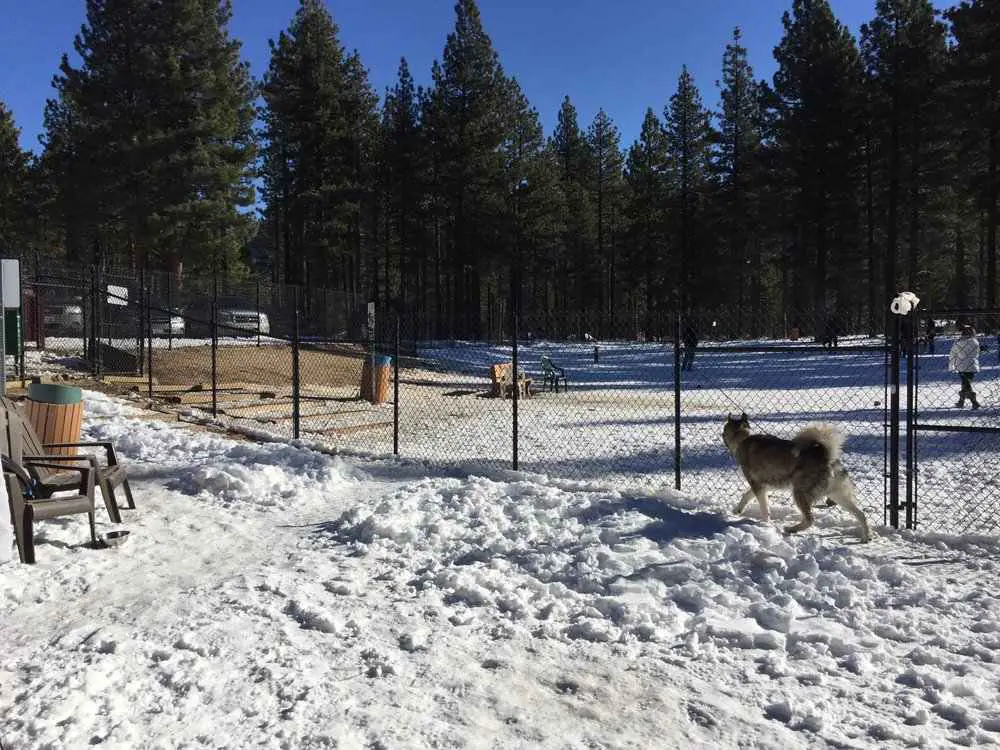 Venetian Gondola Ride:
No, gondola rides do not happen in Venice only. In the Lake Tahoe region, the "Venetian Gondola Ride" is a special attraction as it is a pet-oriented experience managed by Airbnb, which is hosted by an organization called Drew.
This is the only gondola cruise facility present in Lake Tahoe that is quite similar to that of Venice. Leashed pets are allowed to ride the boats with a prior registration only that is approved on request.
The whole experience lasts for a span of one hour and can be on board for up to six guests. Age is not a bar. The experience sensitizes the dogs and their masters to how luxurious a boat ride happens to be. Wooden gondolas are considered to be beautiful as the decor is royal.
The trip is a slow one and relaxes the travelers. The rates vary in the range of 80-90 per head.
Have a short trip to the Emerald Bay State Park:
Emerald Bay State Park is known to only allow pet dogs at its campground on a leash measuring up to 6 feet only. 
The lake area is beautiful for its natural scenery, as there are many islands lined up in its pristine waters. There are high mountains that surround the area with linings of ebony and rosewood trees.
The Emerald Park is open from sunrise till sunset every day of all hours.
Dog-Friendly Beaches in Lake Tahoe
Nevada Beach:
This dog-friendly Tahoe beach is very popular among pet owners. People often travel to its southernmost points as the Tahoe Beach Club is also located there. The signage is very clear here and most of the dog prints are painted here and there, even on the asphalt that directs the travelers towards the beachline, where dogs are allowed without any hindrance. It is one of the best dog-friendly beaches in Lake Tahoe.
The beach has clear sand where there are benches around as well for you to sit and relax with such a beautiful view in front of you.
North Beach in Lake Tahoe (adjacent to the Zephyr Cove Resort):
The beach near Zephyr Cove is dog-friendly, but only the northern part of the dockyard is present in the Zephyr Cove Marina.
It is a dog-friendly, wide sandy beach. Travelers take their pets for walks or make them hop over the rock boulders that are formed naturally here due to silt deposits.
But it is a non-rocky beach if compared to the other beaches that are located near Lake Tahoe. One can sit back and just breathe some fresh oxygen or take their pets for an errand or a drive, which would also be fun.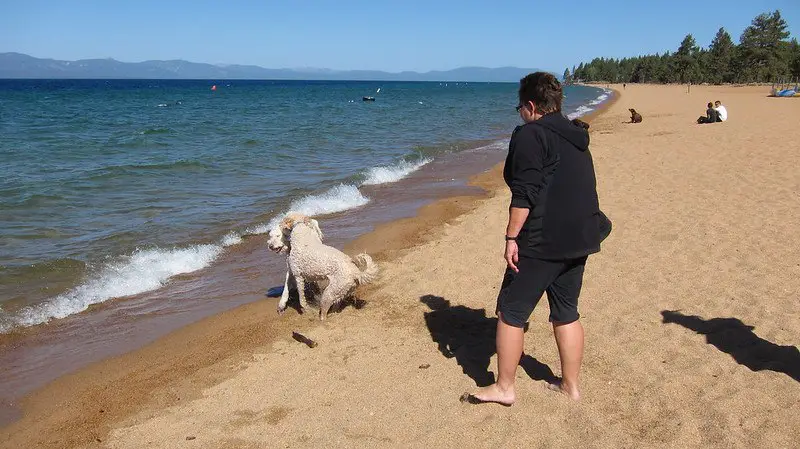 Regan Beach:
Pet dogs are permitted to loiter off-leash at Regan Beach, but they must also be under strict vigilance and trained beforehand so that they can be controlled by means of voice.
Your furry friend is only permitted to take a dip in the section of the water park near the beach entrance. It is located towards the eastern hemisphere of the beachline. There are avenues to perform dog-friendly activities in Lake Tahoe if you are on this beach.
This beach has traveler-friendly facilities that have been happening for ages. The place is also close to beautiful scenic views of the lake and its adjacent forest land.
Travelers can enter as per usual if the weather permits. Tide timing remains a constant factor for visitors.
Coon Street Dog Beach
This amazing beach is located on the eastern frontline of King's Beach. The location is a hidden dog-friendly beach but has gained huge popularity nationwide.
It is near the Coon Street on Highway 28. Most pet dogs are permitted towards the rocky region of the beach line. The southern side has a place to launch boats.
Although this location is highly recommendable, there are several other articles and reviews that say it is really too rocky and might prove a risk to your little pup.
Coon Beach is good for dogs who want to pursue sports training. But a senior pet would face problems while taking a stroll. The beach costs around $10 for travelers who wish to park their vehicles somewhere near the beach line.
Dog-Friendly Hikes in Lake Tahoe
Barker North to West Shore (Vista Point)
This 3.5-mile hiking trail connects Barker North and West Shore. It is located around four miles from South Tahoe City.
This is a dog-friendly trail and is preferred by equestrians and young hikers. It is part of the Pacific Crest Trail as well. But since the statutory guidelines are regulated by PCT, mountain bikes are not permitted in this area.
Travelers would enjoy the view of a shallow stream that is bordered by aspens and aster trees. Flowers like tiger lilies and wildflowers brush the area in bright hues. This is one of the most popular dog-friendly hikes in Lake Tahoe.
Dogs can be kept off-leash but under the guidance and strict command. It is highly recommended to bring dog hiking boots because that will enable your pet's feet to be protected from the rough terrain of the place. Bare feet walking can cause wounds.
 The stools can be packed up and taken out, leaving behind paw prints and nothing else. The signboard stating "Respect wildlife" is placed here and there as a kind reminder to visitors. The Beachline needs to be protected from the leaching of dog remnants as an indirect deposition of it might be a threat to marine organisms who live on the beach site.
Big Meadow East to South Shore
This trail comprises a journey that is nearly 8.8 miles long lengthwise. This trail is located on the northern side of the 89th Highway, which is nearly five miles south of the 50th US Highway.
There is TRT signage along the Grass Lake Trail. There are several small grasslands that need to be crossed where many wildflowers and shrubs grow.
There are great viewpoints from where the mountains look like giant King Kong. One can have lunch anywhere while sitting back and relaxing. Dog carrier backpacks can help you carry your pet if it sulks.
Dog-friendly Lake Tahoe hike is gaining popularity, mostly for this scenic trail. The dogs can be left free to move on their own and hop over the rocky land. If you haven't visited this place, do add it to the wish list.
Dog-friendly South Lake Tahoe area is a place that will surely make the hiking trip one of your best memories.
Blackwood Canyon
It is located in the western half of Highway 89. The place is nearly three miles south of the main Tahoe city, situated in Placer County.
There are activities that all hikers can pursue that come here, like taking a stroll with their four-legged friend across the pebbled shoreline during the summer days. During winter, one can also visit here for skiing, snow play, and sledding. Lake Tahoe dog rules are applicable when you are here for a trek.
A snow park is also present here that opens its gates on a seasonal basis. Vehicles can be parked in the parking lots, and there are options for sanitation facilities as well.
Dog trekkers can get updates about off-leash regulations before visiting here. Snowshoes for both you and your pet are available for rent.
The Reservoir of Boca
The trail starts from Stampede Dam Road to Truckee in the land of California. There are facilities to perform boating comprising several types. Other activities that can be done are skiing, swimming, diving, and jet skiing.
There are small inlets present near the shoreline that also allows gatherings on a small scale. Family picnic spots are present here and there. Most of the travelers come around this place in their personal vehicles and pet dogs.
There is an option of miles of bare wilderness. Hiking along with bike rides is also possible as dogs can be carried in the dog pockets that bikes have. One can take it as rent for a meager amount.
To keep the beach beautiful there are a set of rules that needs to be followed. Pets can be allowed off the leash but require intervention via voice commands for always.
Every traveler must respect the wildlife and protect the natural beauty of this place. There are posted signs erected mentioning the same here and there.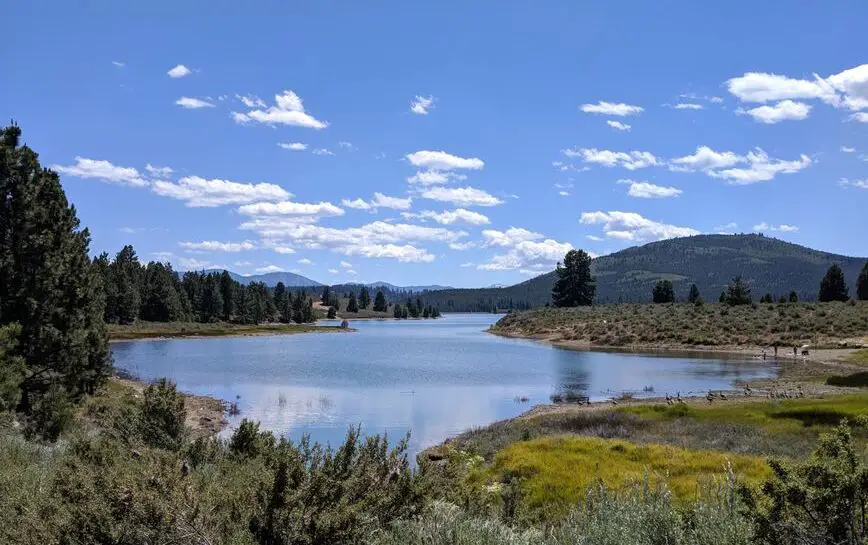 Dog-Friendly Hotels in Lake Tahoe
Hotel Azure Tahoe warmly welcomes two pet dogs. Size is not a constraint. Pets are permitted at an additional cost of $25 plus pet tax. The rate is fixed per night per person. The hotel is very much nearer to the Tahoe Valley.
The rooms that are available are standard single queen bedrooms, which allow up to two people along with their pets (not more than 2). Standard Double Queen bedrooms are also available, which have 2 queen beds and allow a pack of 4 people.
The lodge is located near Emerald Bay Road. It warmly welcomes pets of all sizes and charges an additional cost of $35 per pet animal. Both cats and dogs are permitted. Double and single bedrooms are available and can be booked on prior notice.
The pets should be well trained beforehand, and they may be left without paying extra attention in the bedrooms when the guests go for their luncheon or breakfast.
There is a special facility where the guests can leave their pets near the front desk as well. There is provision for a pet relief arena along with sanitation and waste disposal portals inside the property.
Dog-Friendly Restaurants in Lake Tahoe
Sprouts Cafe
It is located at 3123 Harrison Avenue near South Lake Tahoe. This cafe specializes in organic and fresh food that is served in a friendly, casual ambiance that also has a dog-friendly seating arrangement for the outdoors.
The menu features salads, soups, sandwiches, vegetable bowls, fish burritos, etc. It is open from 8 AM to 9 PM regularly. This pet cafe has fetched a rating of 5 stars from three canine food critics on websites like BringFido.
McP's Taphouse
It is located at 4125 Lake Tahoe Boulevard. The pet cafe has already received 7 reviews from some great personalities for its hospitality and food galore.
The menu offers a range of continental platters like burgers, pizzas, and burritos. The drink menu serves some good cocktails that are refreshing and provide a good rush of energy.
The seating has both indoor and outdoor arrangements and welcomes cats and dogs all year round.
The food quality is excellent and loved by children. Customer service is on point and has satisfied many visitors for almost a decade now.
Final Words
There are many pet-friendly locations all around Lake Tahoe. The hotels that are present here are also created in a way that pets do not feel discriminated against.
Lake Tahoe has some pet-friendly beaches here, and visitors can also go on hiking trails as they are quite popular in this region. There are various benefits to hiking with dogs.
The place is neat, well-maintained, and harmless for traveling with your pets. Dog-friendly Lake Tahoe is an abode for people who wish to take their pets on a gala trip.
So what are you waiting for? Visit the Lake Tahoe region soon with your pet and make it a memory forever. Do not forget to click some great snaps.
Read Other Posts on Dog-Friendly Travel in California
FAQs: Dog-Friendly Lake Tahoe
1. Where are dogs not allowed in Lake Tahoe?
A: It is really unfortunate that dogs are not allowed along the beach area of Baldwin. Pets are restricted to keeping their paws on the golden sand beach. This beach is adjacent to Kiva Beach on the western shore of Lake Tahoe arena.
2. Is North Beach pet Friendly?
A: Yes, the north beach in the Lake Tahoe region is pet-friendly. The location is rocky and not a sandy one. The dog-friendly North Lake Tahoe region is visited by many travelers during the spring and fall break.
3. What are some dog-friendly winter activities near South Lake Tahoe?
A: A few dog-friendly winter activities might include snowball games, skiing, and sledding near South Lake Tahoe. Pet-friendly ski resorts in Lake Tahoe can be booked too. You can travel to Lake Tahoe with your dog from the months of November to February to enjoy these activities.