20 Dog-Friendly Activities in San Diego with Hotels & Restaurants
Dogs are undoubtedly the best companions ever. They are loyal, friendly, and joyous, which definitely makes them the best buddies ever. However, since certain places are not suitable for dogs, one should definitely plan their trips accordingly. Therefore, if you are planning on visiting some of the best dog-friendly places in San Diego, you have landed at the best place possible.
A very common question that usually arises regarding dogs in San Diego is, "how many dogs can you have in San Diego?" If you have the same query, here is something to help you. In case you live in a residential zone, you can have only six dogs. Thus, if you are intrigued about some things that you can enjoy with your pups, you are at the right place.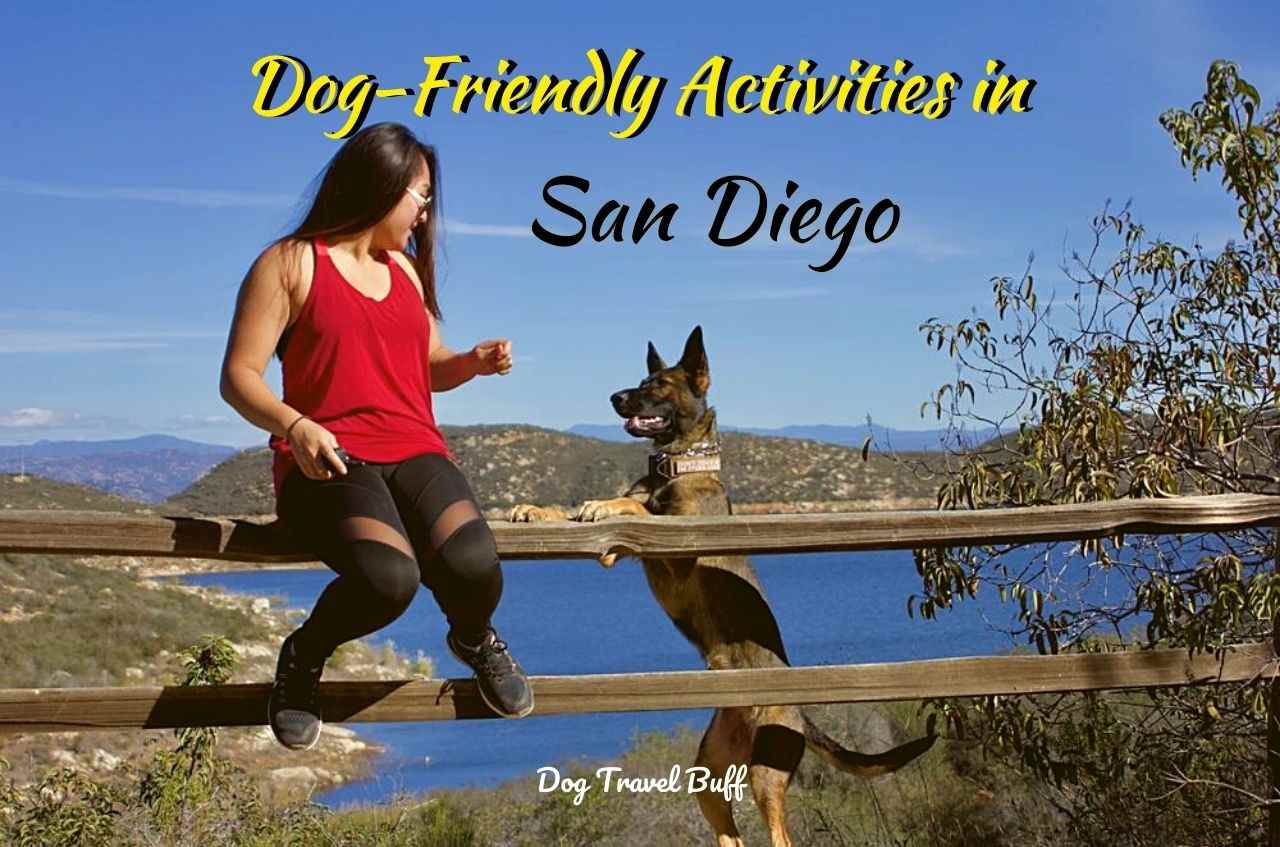 This post may contain affiliate links. If you buy something through one of those links, you won't pay any extra penny, but I'll get a small commission that encourages me to deliver more helpful content for you.
This article will polish your knowledge about the things suited for you and your dog to do once you visit San Diego. You will also come across several dog-friendly activities in San Diego that you can enjoy. Also, you can list the famous attractions, things to do, dog-friendly accommodation, and much more in this particular article. Therefore, to discover more, all you need to do is go ahead and give it a quick read.
Dog-Friendly Things to do in San Diego
The outdoor lifestyle and pet-friendly atmosphere make San Diego the best locale for your furry four-legged friend to engage in some quality time. So the area is pretty welcoming to pets, that dog owners don't really need to leave their pet friend at home if they are to spend a few days on vacation. Below are listed some of the best dog-friendly things to do in San Diego.
1. Play fetch with your pup at Fiesta Island
Fiesta Island is undoubtedly one of the best places to take your pup because it is one of the most famous dog-friendly places in San Diego, and it allows dogs to run off-leash on most of the island. There is even a dog-friendly beach there with bay waters and sandy dunes. The place also has a dog park where your furry friend can run off-leash.
2. Pay a visit to the Old Town San Diego
San Diego is also dog-friendly when it comes to the historical areas in town. Among such pet-friendly attractions in San Diego, the Old Town is one that is considered to be the birthplace of California. You can admire the restored adobe buildings and walk through the Historic Plaza. The market outside also has some outdoor stalls to browse your dog.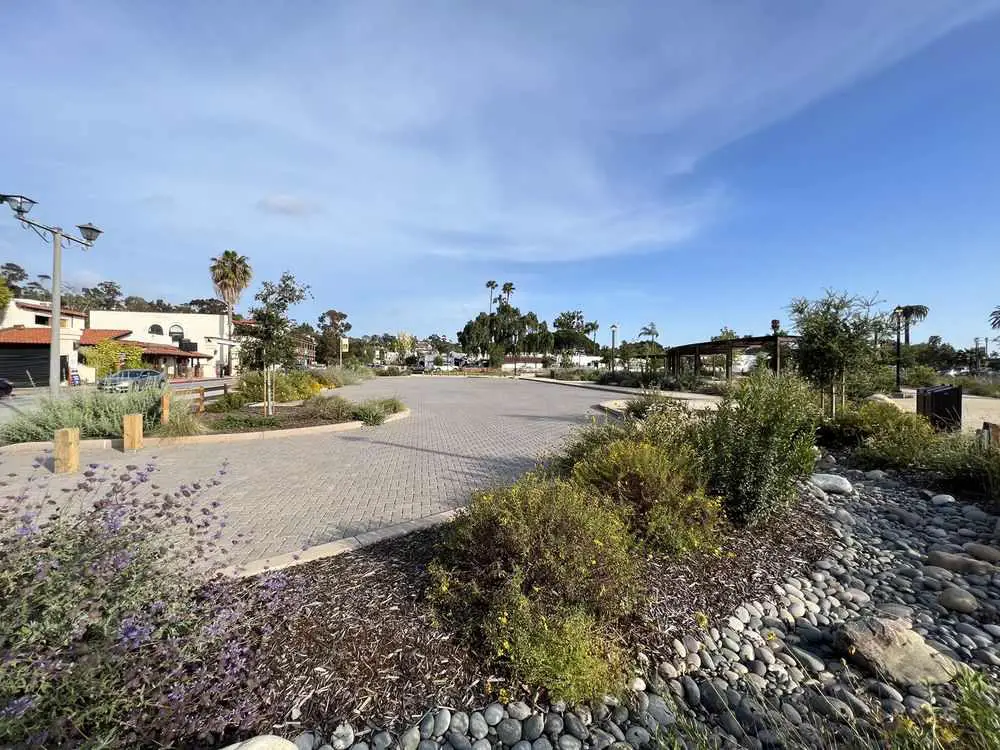 3. Enjoy a Baseball Game at Petco Park
If you are looking for some dog-friendly places in San Diego, Petco Park is the one. You can enjoy a baseball game match in one of five Barkyard viewing areas on the left-center field. Pet amenities available here include a designated entrance and pet relief area, a pet drinking fountain, and special artificial turfs to protect your dogs.
4. Plan a Picnic at Kate Sessions Memorial Park
Although the Kate Sessions Memorial Park is not an official dog park, one can find tons of dogs and their owners socializing throughout the day here. The dogs are supposed to be leashed, but many are not. But since the park is patrolled from time to time, unleash them carefully. You can circle the park quite a few times for exercise. The place boasts spectacular views of downtown over Mission Bay and even out to the Pacific Ocean.
5. Try Visiting a Pet Boutique
After a long hectic day out in San Diego, at a pet boutique, pampering your dog is the least you can do for them. Some pet boutiques come with self-wash stations, which are particularly useful for the dogs that come from outside. You can try places like the Original Paw Pleasers located in North Park.
Dog-Friendly Beaches in San Diego
The best pet-friendly beaches in San Diego are listed as follows. Here your dog can roam freely under voice control.
1. Coronado Beach
The fact that makes this only off-leash beach on the Coronado Island shoreline unique is that there are no time restrictions. It is undoubtedly one of the best dog-friendly beaches in San Diego. It is a quiet spot to sunbathe, and one would love the views from Point Loma to the south of Del.
2. The Original Dog Beach
This is the most famous canine hotspot in San Diego. The dogs are allowed to roam freely off-leash at any time during the day. However, the owners should take care to pick up their pets. After spending the whole day on the beach, one might want to head over to the Dog Beach Dog Wash to give your pup a fresh bath.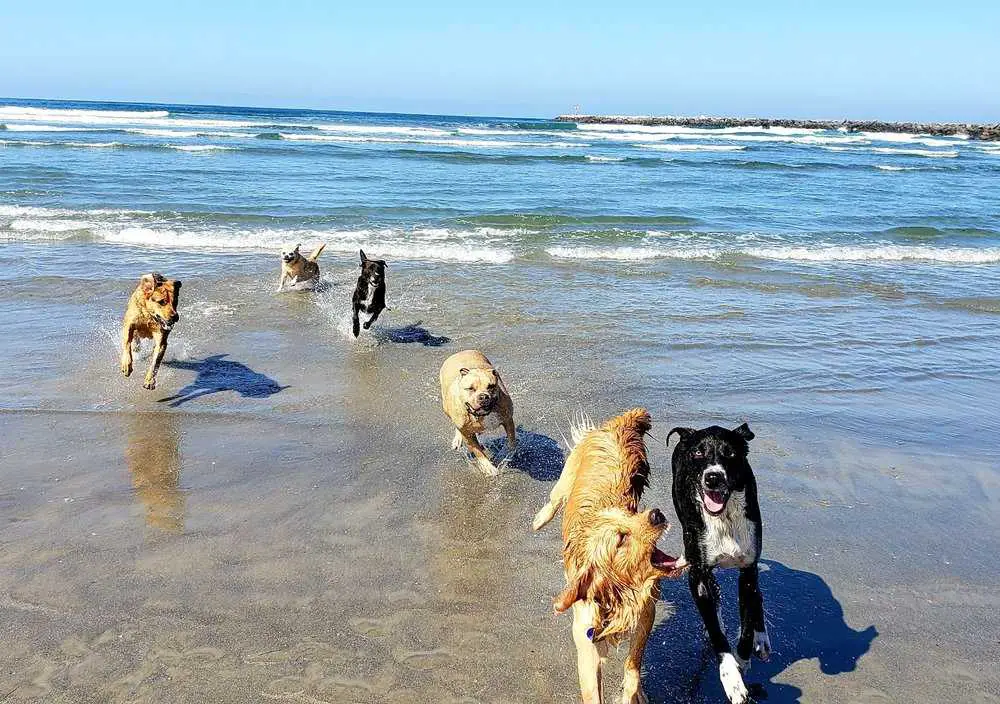 3. Fiesta Island Park
You would find designated off-leash dog beach areas covering most of the beach. Your pup is typically allowed everywhere outside of the fenced areas. This place also features fantastic sand dunes, hiking trails, and enough space for your dog to run around. They are allowed to run into the waveless, calm bay waters too.
4. Ocean Beach Dog Beach
Established in 1972, the Ocean Beach Dog Beach is the first official leash-free beach in the US. The place is wide and sandy, which allows the pups pretty much a place to play and swim. There are no hourly restrictions here.
5. Del Mar North Beach
It is the only beach in Del Mar City for your dog to roam freely year-round (specific time rules apply). Most dogs usually play ball and swim in the ocean section present below the San Dieguito River mouth near the net volleyball poles. This place runs about a half-mile from 29th Street to Solana Beach.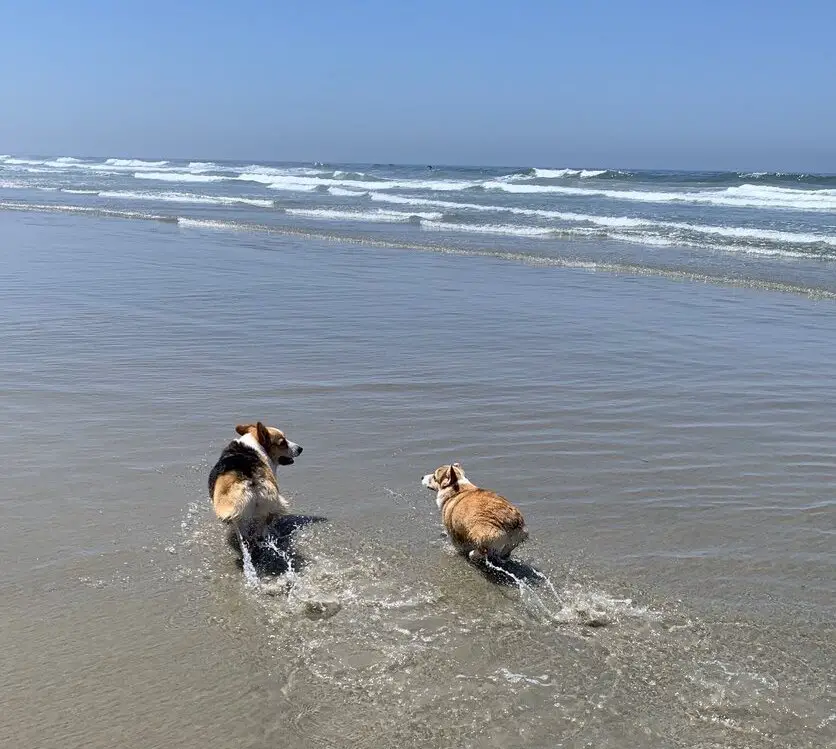 Dog-Friendly Hikes in San Diego
Dog owners certainly enjoy their active lifestyle in San Diego. Dog hikes are the best way to get some exercise and fresh air along with your pups. Dachshund, Yorkie, Miniature Pinscher, Pomeranian, and Beagle are some of the best small dogs for hiking. Thus, if you are planning a hike with any of these species, it is going to be an adventure for sure!
Below are listed some of the dog-friendly hikes in San Diego for you to take your dog on a hike.
1. Mount Woodson-Poway
This is the home of the wildly popular Potato Chip Rock. The Mount Woodson hike is an amazing place to set off on a half-day journey with your pup. You can start your trek in either Ramona or Poway. You can even enjoy a serene view of Lake Poway on your hike to the top of Mount Woodson.
There you can relish a sweeping view of North County. If you feel that this 8.7-mile moderate hike can be a bit strenuous for your dog, prefer carrying dog carrier backpacks. If your pup gets exhausted, you can simply carry him/her in your backpack.
2. Piedras Pintadas-Lake Hodges
Lake Hodges is usually preferred by the hikers due to its magnificent scenery. Piedras Pintadas trail is also a true historical gem. The path is bursting with natural beauty and wildlife. This is an easy hike of just 3.8 miles.
3. Batiquitos Lagoon-Carlsbad
Leashed pups are welcome on the lovely stretch of coastal wetlands in Carlsbad. The hike is comparatively short, but it is filled with the natural beauty of flora, fauna, and several tidal pools.
4. Elfin Forest-Escondido
This place is considered to be a great reserve that flaunts 800 acres of preserved natural beauty. The long hike of 10 miles can be exhausting, but it is perfect for nature lovers and their pups. The winding path surrounding the peaceful lake and the quiet nature of the place make it the best for hiking.
5. Cowles Mountain- East San Diego
This is one of the most popular dog-friendly hikes in San Diego. It leads to the highest point in San Diego at around 1600 ft. If you desire to avoid crowds, try visiting it during dawn or dusk. The top view features the panoramic view of San Diego's inland. Ensure the fact that you carry plenty of water for your furry friend. Also, carry dog umbrellas in case you face unexpected showers.
Dog Parks in San Diego
If you are out on a cross-country road trip with your dogs, stopping by a dog park is probably the best thing to do. The list below mentions some of the popular parks in San Diego, CA, where you can take your pup:
1. Morley Field Dog Park
This is located at the west end of the Morley Field Sports Complex. The large grassy area allows dogs of all sizes to run and play here. You will even find bag dispensers throughout the park, and the small trees provide shade too. One can also enjoy a leashed walk on the nearby Florida Canyon Nature Trails.
2. Grape Street Dog Park
This dog-friendly place is the largest dog park in Balboa Park. It features five acres of open fields surrounded by groves of mature Eucalyptus trees. The other amenities that you can enjoy in the Grape Street Dog Park include restrooms and two dog water fountains.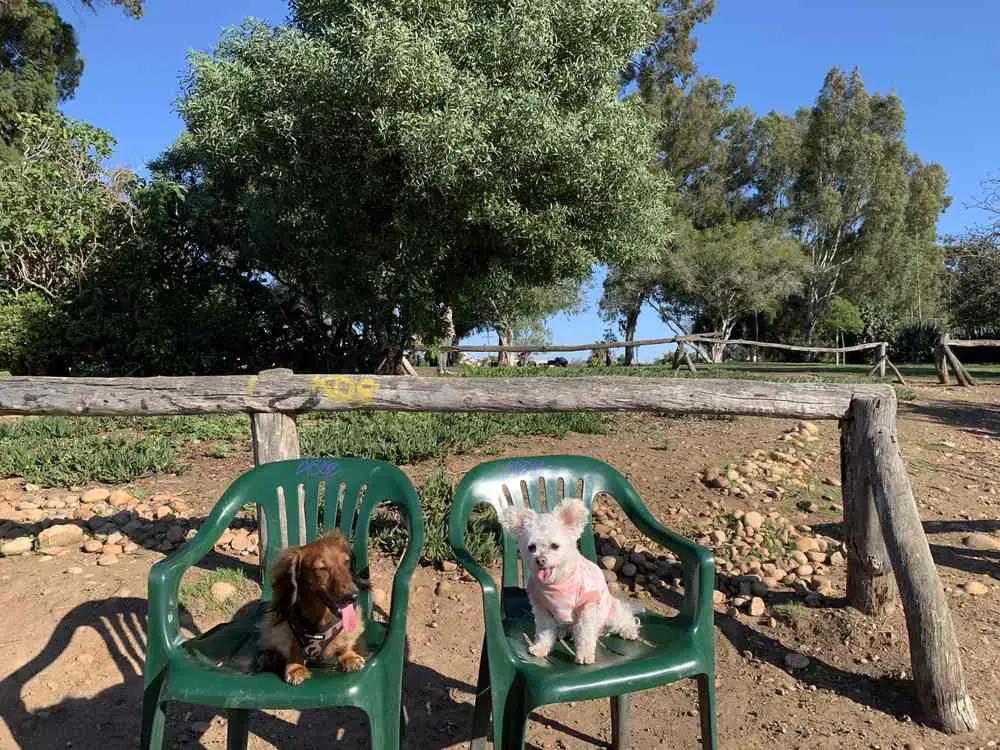 3. Kate Sessions Dog Park
This is a dog-friendly hidden gem in San Diego and undoubtedly a wonderful place to take your leashed pup for a stroll. The park is divided into two different portions: a grassy slope area and a section of natural habitat ideal for hiking. The grassy slope area features barbeques, drinking fountains, picnic tables, restrooms, and a 0.75-mile paved walking path.
4. Capehart Dog Park
The Capehart Dog Park is located at the corner of Felspar and Soledad Mountain Road. This park offers two fenced pens on turfed areas, amongst which one is for large dogs and the other for small dogs. The areas feature water for dogs, picnic tables, a drinking fountain, a parking area, and benches.
5. Balboa Park
The Balboa Park is one of the largest urban parks in the country. With over 1000 acres, the park has plenty of open spaces, gardens, and walking paths, with the San Diego Zoo, theatres, and museums. There are two off-leash areas for the dogs to explore at Balboa Dr at El Prado on the south side of Cabrillo Bridge, along with Morley Field, located northwest of the tennis courts. If your dog is not in an off-leash area, make sure it is leashed.
Dog-Friendly Hotels in San Diego
If you are in search of some of the best pet-friendly accommodations in San Diego, take a look at the list below:
The Porto Vista Hotel is located in Downtown San Diego's Little Italy. It offers a bar with panoramic views of San Diego Harbor and San Diego International Airport. The facilities include parking, free wifi, restaurants, and more.
The Riverleaf Inn features an outdoor pool and a hot tub. The guests can enjoy cable TV with free movie channels. The facilities include free parking, vending machine, a 24-hour front desk, and more.
Dog-Friendly Restaurants in San Diego
1. The Regal Beagle
This dog-friendly restaurant serves great local brews with a constantly rotating selection of various craft beers. Dogs are even welcome to join their owners at the front outdoor tables.
2. Lazy Dog Restaurant and Bar
This is a dog-themed eatery with cozy surroundings, dog-friendly outdoor seatings, and with an eclectic menu of various hearty American eats. You will even get a bowl of water for your dog, and it also has a dog menu for your little pup.
Final Words
Apart from the human-animal bond, unconditional love, and companionship, dog owners enjoy a lot more in San Diego. There are multiple other benefits of traveling with dogs and, of course, petting them. Some of such health advantages include decreased anxiety and stress, lower blood pressure, and improved social interaction.
This article has compiled some of the best things to do if you are a dog owner in San Diego. Thus, pick your adventure and spend a lovely day with your pup!
Other Dog-Friendly Travel Destinations in California
FAQs – Dog-Friendly San Diego