How Stressful is Flying for Dogs? Root Cause & Tips to Reduce
It is a known fact by everyone who is a pet dad/mom that the experience of a flight can be stress-giving for his/her dog. Travelers might face issues related to vertigo and a turbulent flight might also cause trauma in a few. So, just imagine how the pets might feel. They get the rush of similar stress when they are flying along with you. Dogs on a plane require care.
Flying with a pet animal is totally a different kind of experience and it is important to keep your four-legged friend in a comfort zone whether you are flying within the nation or is planning to travel internationally with your pet.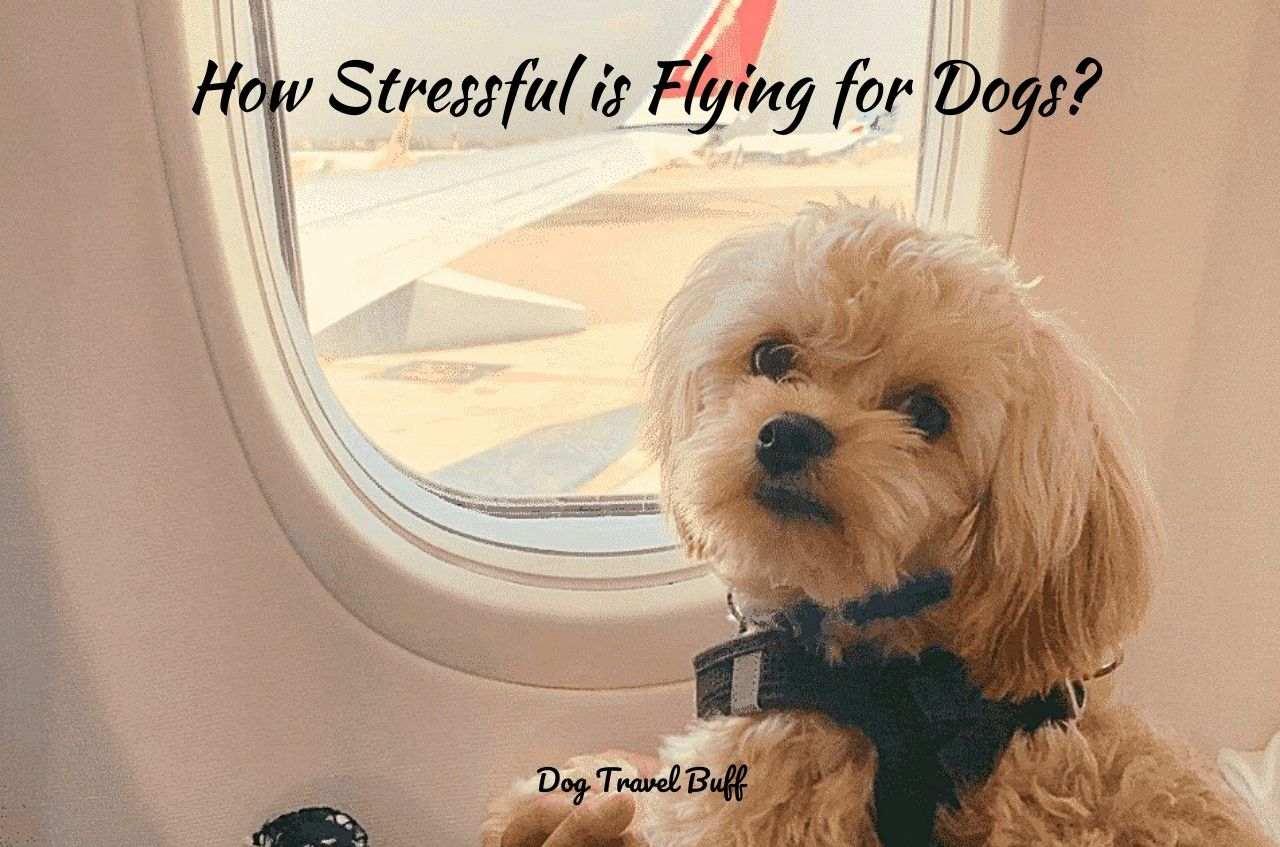 This post may contain affiliate links. If you buy something through one of those links, you won't pay any extra penny, but I'll get a small commission that encourages me to deliver more helpful content for you.
You might have questions related to how stressful is flying for dogs. This piece of the guide will help you to understand and take care of your pet in a better way when you're on your way to travel safely and soundly.
Find out the easiest methods to find pet-friendly flights
There are several ways to choose pet-friendly flights. Certain things that one can take into consideration are:
There are many airlines that might restrict the total number of dogs that are permitted on any flight. Make sure you do reservations for yourself and your pet as well.
Always choose non-stop flights and strictly avoid connecting airplanes. It depends on the feasibility though.
Do not fly when the business is kicking up or it is a year-end.
Seasonal holidays make tourists pour and they might frighten your pet. So, avoid times like the Easter holidays or the Christmas week.
Choosing an early morning or flights after midnight might be amiable in regards to temperature. So, your pet won't find it difficult to adjust.
Root causes that might stress your pet on the flight
Lack of training
Trained pet dogs might spend long periods in their coop without causing any hassle to their masters. For example, Police Working Dogs or dogs that are used by Militants.
They do perfectly fine while traveling by air. Lack of training would cause havoc to pets when they are on board for the first time. It depends on the plan that is made and how stressful flying is for dogs is related to it.
Dogs who stay in the confinement of a family might face incredible stress and handling them in an anxious state might be disturbing.
Lack of knowledge of the dog owner
It is the owner's responsibility to prepare the pet dog before planning a trip. Accustoming the dog to a crate that is certified by the airplane is possibly a secure option.
Sedation can be helpful for the process of transit. Proper research and consultation by the dog owner with a dog professional are a must before boarding a flight.
Situational considerations
There are a hundred things that need to be considered before boarding a flight with your puppy. A strange person and a situation might trigger the dog and it might feel threatened.
Being confined to a certified crate for long hours might also make the dog anxious. It can bring changes in its original habits if you travel with your dog on a 10 hour flight. An old traumatic fear might also stress the pet.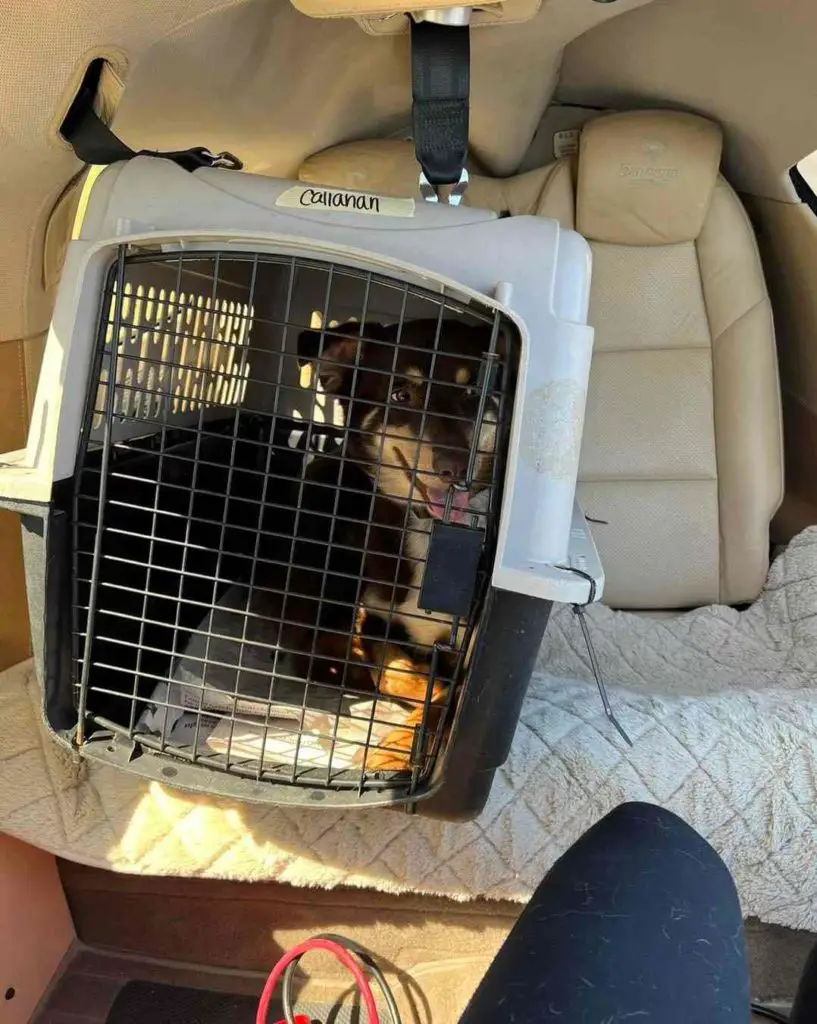 Signs of distress in dogs while traveling in the air
Since the four-legged friend of yours cannot express verbally the stress that it goes through while traveling by flight but you truly do not know how it exactly feels while flying.
But it is fortunate for us to understand how our dog friends feel during the flight hours as they show some peculiar and unique body language. There might be a few of you who do not have much idea on this but then research and prior knowledge can bring you help.
Let us sniff below:
If the pet dog is in a distressed state then it might show a timid self of itself. The body won't be relaxed.
The eyelids would be mostly shut and teary. The jawline will be shivering and not relaxed as it generally stays. The tail will be limp and not upright. This shows that the dog is lacking its self-confidence.
A dog that wags its tail is a happy one, other than that it is mostly anxious. Dogs during the course of anxiety might not be able to sleep and keep wailing like a cry baby. Their position of lying might also seem vulnerable.
Does Flying Hurt a Dog's Ears? The ears can mostly be seen flattened and a crouching posture along with a stiff body shows that there is a psychological fear that it is undergoing. It might also lick its lips with no food being served.
Dog Stress reduction techniques that one can follow
It can be a stressful situation for your pet dog but there are several ways that if kept in mind can reduce the stress caused by flying. Airplane travel with a puppy can be easy if you follow-
Driving your pet dog to the airport
Make it a point to drive your pet dog to the airport, you can make it sit on the front seat and share a space together in motion. This will enable better adjustments later on when the flight takes off and similar motion occurs. Calm your pet if it shows excitement. Your dog can even bite you if it gets overexcited.
Choose a cabin while flying
When you choose a flight, choose wisely. A cabin would cause much less stress to your pet as there will be available pouches and carriers to fit your pet right under your seat. At present days many airlines allow pets in the cabin.
Choose the airways which have the provision for a round pet trip. Research the list of top airlines before booking your flight. Avoidance must be done during the holiday seasons as flights might charge you high and have no empty cabins to accommodate your pet.
This would minimize the risk to your pet dog and normalize things for it.
Choose non-stop flights only
Choosing a non-stop flight would be less hassle than a break journey. It would enable you to fly safely to your destination without a halt in between.
This will be definitely safe for your pet animal as it would help it to adapt to the ambiance without any need of changing it over and over again.
A Non-stop flight might be a bit expensive but I am sure it will save your time and energy. It will prevent your dog from facing too many traumas at the same time.
Check the season before you plan to travel
It is mandatory to check the time of the year when you are planning to fly with your pet. Do not fly along with your pets during the late winter or summer months.
It might be that the temperature in the cargo would be not a reliable one. Cargo temperatures depend on the seasonal time of the year. Also, make sure that the door of the carrier is in proper condition and tidy so that your pet can be comfortable in the pet carrier. Or else, it might make your pet nervous, frightened, and sick later on.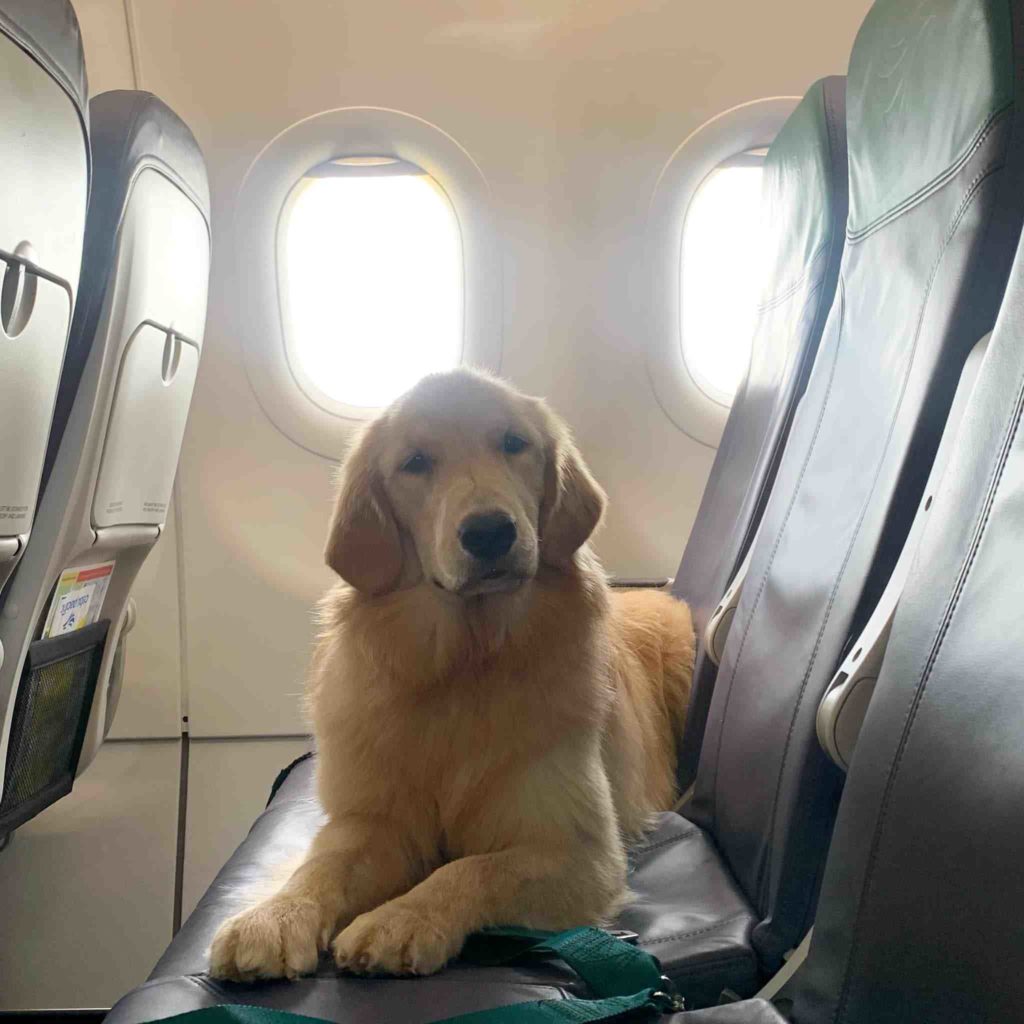 Read Also: How to Take a Long Car Ride with Puppy
Dos and Don'ts when your dog is stressed during a flight
It does not fetch any extra attention when you see travelers moving across airports with their pet dogs. It is more than normal now. It is directly related to the increasing pet-friendly population who carry their pet dogs in a pet carrier or just on their lap.
It was discovered that among the 68% of pet owners in the USA, almost 37% of them carry dogs on flights. The percentile has increased at a steep 19%.
There are a few things to follow if you wish to fly with your pet.
Plan beforehand
There are certain rules and regulations that are varied in different airlines. Get familiar before booking the tickets. Some flights have restrictions on specific dog breeds only. Dogs on an airplane are permissible with a good plan.
US Airlines like American Airlines, Alaska Airlines, and United Airlines allow pet dogs, and there are special care units for them as well. These airway services will definitely take care of your pet in a better way and special attendants can be also availed to ease their stress if required.
Get a health certificate
Make sure to carry a health certificate of your pet before you fly. They must also be dewormed and properly vaccinated before the trip. This will save them from acquired diseases (e.g: heartworm disease) and pests.
Carry extra cash for emergencies
The biggest and most economic airlines would cost around $140 for a cabin pet. In case of emergency situations, where the pet might wheeze or feel sick one needs to be ready to pay extra pennies in order to avail the medical care.
Do not feed a heavy meal before taking a flight
Flying on an empty stomach or with light food is recommended. Or they might just throw up in between and make the flight dirty. Other passengers might get bothered due to this. I always follow this rule whenever I fly with my dog.
Keep the potty time in your mind
In pet-friendly airports like Denver, International travelers can avail of dog washrooms. There is also a provision for a relief arena for dogs. Take your pets to the washroom before you get inside the plane.
Get a checklist ready as it keeps you mindful during traveling so that you do not miss these important aspects. If there is any gastro pressure your dog might act weird after flying.
Cargo or a carrier- A comparative study
The dog's size would matter in order to understand whether it will be allowed to be carried inside the flight or put inside the cargo.
The rules and regulations might vary among different airways but if your dog is not small to be carried inside a carrier then in that case only a cargo option is valid. The cargo holder would contain other pieces of luggage and freight as well.
Most airlines popularize this concept as "shipping your pet animal". Airlines quote that they try their level best to give comfort to the pet animals but it might not always be pleasant for your pet.
Large animals being carried in the cargo might be posed with life threats and they may fall horribly sick after traveling alone. So, it is better to travel with your pets if they are smaller in size and can travel along with you only and can be kept under the seat. So make your mind before you plan a trip with your pet. I would recommend flying with small pet dogs only and not the very large ones.
The destination must be considered in a case of an international trips
If the plan is to travel internationally you must ponder local pet importation laws. There are destinations that might have long and complicated periods of quarantine post-Covid.
Flying with an anxious dog is nobody's favorite thing. Look and follow the terminal map before leaving and landing at the airport. Take your dog trainer along if you are changing the house forever.
Tips to help reducing dog stress during air travel
It is very much true that dogs who undergo training are stressed less than the rest. It won't be stressful if you know how to keep a dog calm during a flight.
Begin by making your pet prepare for a flight journey. Consult with your veterinarian before making the travel plan. He/She would guide you best regarding drinks, food, and medicines that the pet can have.
The American Veterinary Medical Association is unsure regarding sedation before flights. Dog sedative for flying is helpful. Sedating or the use of a tranquilizer before the trip might be useful at times depending on the temperament of your pet. A prior consultation might be effective.
Final Words
It is important to keep dogs calm when they fly. One must keep in mind the points that are related to the pet's psychology and well-being before carrying their pet along.
It is safe to fly with your dog if you are planning to carry it in a carrier. Sometimes long hauls and too many airport transfers can traumatize your pet so choose your flight wisely. Do not be perplexed regarding how to prepare your big dog for a flight in a cabin, it is not so tough.
Have a safe and sound trip with your dog and I'm sure this piece of the guide will fetch you enough information to have a hassle and worry-free journey.
Read Other Posts on Dog Travel Tips:
FAQs: How Stressful is Flying for Dogs
1. How to keep a dog calm during a flight?
A: If you are planning to carry your pet dog along, place a small blanket or any other apparel items with a scent familiar to you near them so that they feel that you are around and it is the easiest way to keep them calm.
2. How long can a dog fly on a plane?
A: Although it varies from dog to dog, but most dogs can travel on a plane (with or without food) for a period of 6-7 hours without facing any difficulty. You may ask if it is stressful for dogs to fly. The answer is No.
3. Is it safe for your puppy to fly on a plane?
A: Yes, it is safe for your puppy to travel on a plane. But long duration in the cargo might pose threat, otherwise, it is okay. You just need to take precautions and follow the rules.
4. What do I need to fly with my dog?
A: A proper dog carrier with soft ventilation or a kennel can be carried along with dogs. Leashed dogs are permitted so do not forget to carry a leash.