How To Travel With Dog Under Airplane Seat? Pet Policy, Cost & Tips
I am moving to Florida. I do not know how to take Benji with me. 
I cannot leave her behind.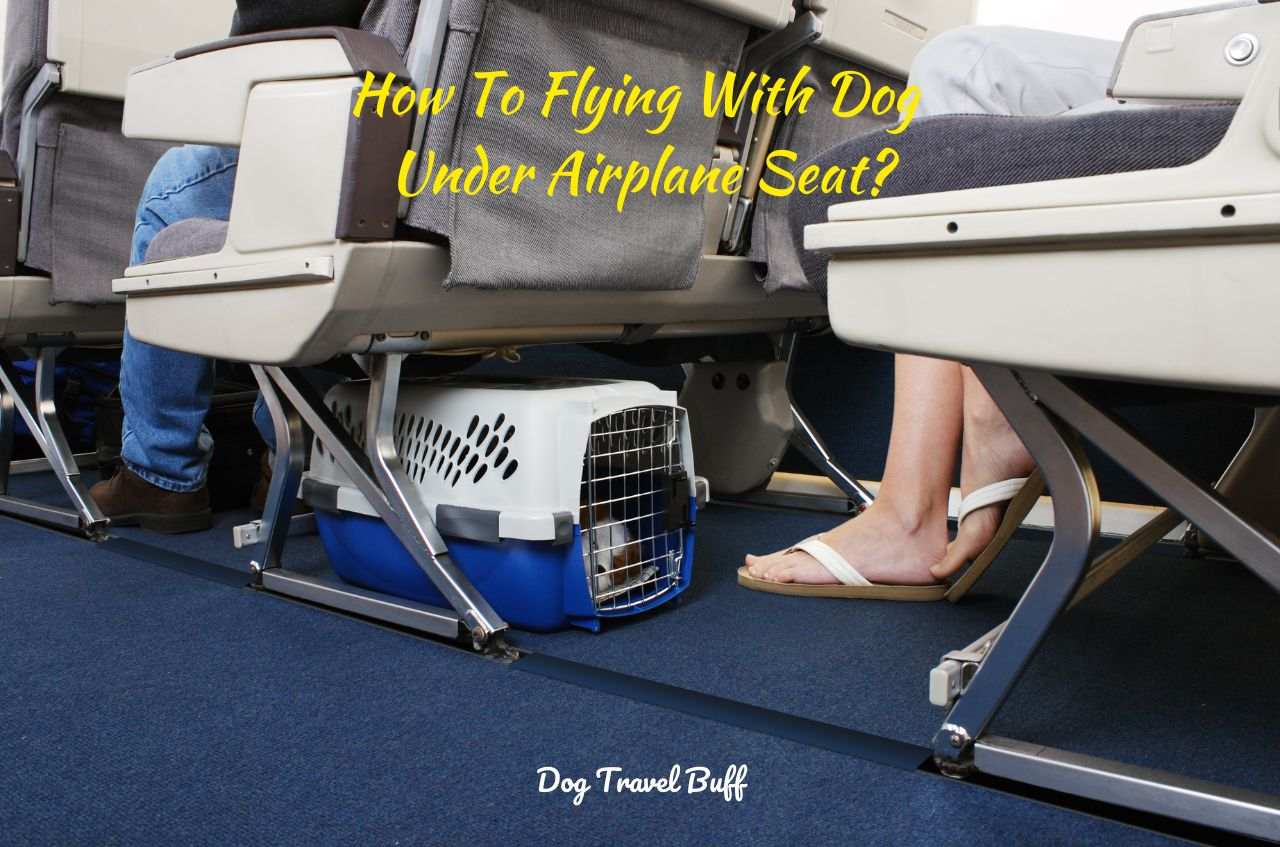 This post may contain affiliate links. If you buy something through one of those links, you won't pay any extra penny, but I'll get a small commission that encourages me to deliver more helpful content for you.   
If you're a pet parent and planning to fly, I am sure you're feeling something like this, like I did a year ago. 
Air travel with a small dog at a feasible price is possible. There are many airline companies that fly dogs. Also, sometimes you can buy a seat for him too.
There are many ways. However, every airline company has different sets of rules and regulations to which you have to adhere to. 
Airport authorities set up all these rules and regulations in order to protect other passengers and the dog's traveling experience. No one wants a nightmare!
This article is a complete guide on how to travel with a dog under airplane seats and in cargo. 
I know how interesting and thrilling it can be to experience new sites and sounds with your four-legged best friend by your side. 
Prepare to fly high with your four-legged best friend.
Prepare Your Dog for Air Travel: Dog under Airplane Seat
Step 1: Eligibility criteria to fly in-cabin
The first information you seek to find is what size of dog to fit under a flight seat before planning for anything special. 
Remember, every airline company has a different set of rules and criteria for dog airplane travel. 
However, normally a dog and carrier together should not be more than 20 pounds. Also, it's your duty to make sure that the dog fits comfortably under the space.
For example, U.S. airlines do not allow puppies less than 8 weeks to fly in-cabin or short-nosed dogs like pugs. 
All these policies are to protect the puppies because of the altitude their respiration might get affected. 
Tip: Carrier should be around 18*11*11 inches – 19*13*9 inches. Check with the airlines
Step 2: Visit the veterinarian in advance
Once you know what size of dog to fit under a flight seat, make an appointment with your vet. You have to make sure the dog is ready to fly high. 
For flying, you need your vet's permission; vaccination records, and heath certificates. 
However, U.S. airline companies mostly do not ask for a health certificate if he is flying in-cabin. Though, cargo flying dogs need a health certificate. 
This health certificate determines your dog's age and its validity to fly. Therefore, remember to seek vet permission before flying.
Step 3: Time to book tickets
You cannot fly with multiple dogs at the same time. You have to book your dog's space for flying. All these steps need to be done in advance. 
Know that you have to pay the fee at the same time you're booking your tickets. Some flights might ask you for a "pet reservation". 
Moreover, the fee varies among flight service providers. Usually, it ranges between $100 and $125 each way. 
Step 4: For international destinations, check the country's rules
Flying with dog overseas rules, need to be respected because these are laid down to preserve a delicate ecosystem. 
Australia and a few other countries have strict rules about flying with animals. You should know the destination rules and regulations beforehand. 
Sometimes you have to do the paperwork in advance for a smooth flying experience. 
Step 5: Get a dog carrier
Soft-sided carrier bags are the best to fit your small dog because they can easily fit under the seat. 
There are many types of dog carrier backpacks. However, remember that your dog should not feel uncomfortable and he should have space to stretch his legs.
Step 6: Comfort your dog with his new carrier
You take time to adapt to new things; similarly, dogs should be comfortable with their travel home.
It is your responsibility to make the dog comfortable with the new carrier. Keep the carrier on the floor, let him see it, smell it, or even crawl inside. 
Treat him, motivate his behavior, and also go for some "demo walks" with the carrier. Practice before actually taking your dog flying. 
Step 7: Know airport facilities
The dog will get relief facilities in airports. However, it differs from airport to airport. But remember, it's pretty difficult for dogs on a 10-hour flight journey. 
Few airports have pet areas inside and others have them outside. For example, Washington Dulles has two pet relief areas inside the security boundary.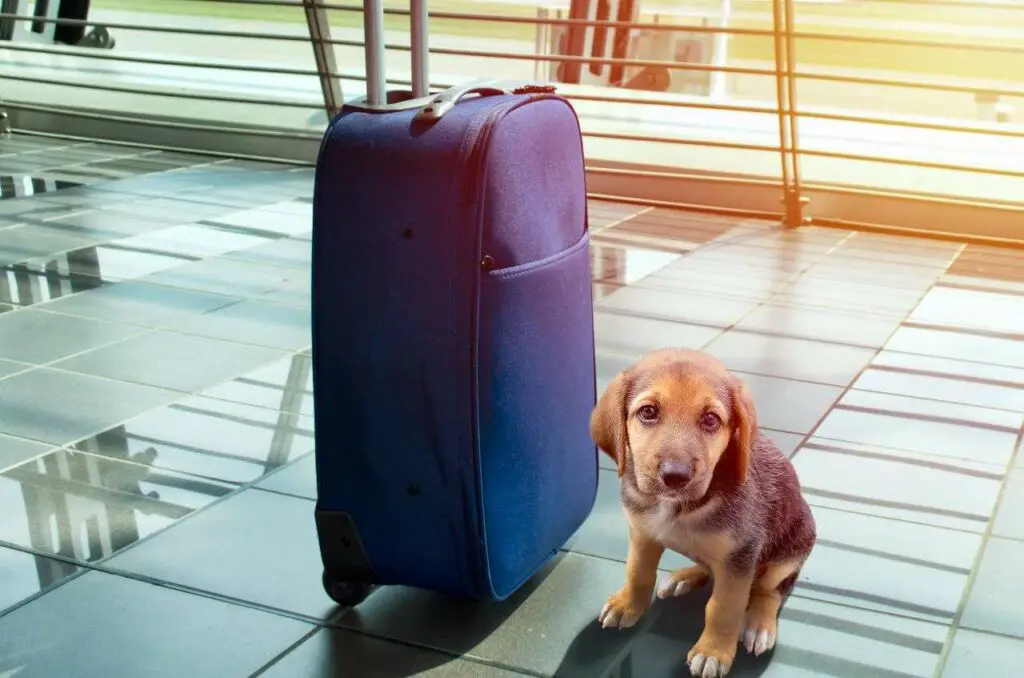 Step 8: Documents and things you need
His vaccination and health records
His two meals
A collar and leash
His favorite toy
His poop bag
Step 9: You're in an airport
As per airline rules, you have to bring him out from his carrier while going through the security check. Remember, this can be a little overwhelming. 
So, if you're traveling with another person, the whole process can be easy to some level. You can take care of stuff scanning, and another person can take care of the dog. 
But, here I am assuming that you're traveling alone, so mostly, you have to keep him in his carrier and go for your own security check. 
In simple terms, your dog has to stay alone most of the time while you're busy loading things for security.
Step 10: Calm him when he is on the flight
My Benji is calm and never shouted or got nervous while traveling. It depends on the dog. 
The best thing is to let him relax and sleep while flying. 
Pet Policy in Cabin
Do you know how stressful flying for dogs can be? Every flight has different sets of rules and policies
The lengthy check-in process, too many people, confusing pet policies, multiple stages of security checking, boarding a plane and a busy airport are all new to your pooch.
It is a normal human emotion among dog parents to take care of their pooch by holding them close rather than sending them to the cargo area to travel alone.
However, if you're taking Air Canada, WestJet, Southwest, United, and American Airlines then you can keep your dog underneath. 
Additionally, other restrictions are added. So, know the pet policies of traveling in-cabin.
1. A healthy dog flies high with you
Do you know flying with pets in a cabin is possible only if you have a pet passport? I know your next question will be, what is a pet passport? 
It is nothing, but flight tickets, veterinarian authority, rabies and health certificate. Without all these basic reports and certificates you cannot fly high with him.
2. Bringing a big dog on a plane – No
The majority of airlines allow a dog in the carrier who weighs not more than 18 lbs – 20 lbs. The reason is dog carriers should fit under the passenger airplane seat. 
I would suggest that you can once go through The International Air Transport Association (IATA) guidelines before flying with dogs.
Moreover, you should take care that your small pooch is comfortable in the carrier – he can stand up, move around, and importantly have his own space. 
For example, Japan Air welcomes dogs under airplane seats weighing 22 lbs, on the other hand, TUI allows dogs weighing 13 lbs. 
3. Dog breeds that fit under an airplane seat
Yes, not only weight but airlines have imposed limitations on dog breeds too. Normally, pit bull-related breeds, brachycephalic, or mixed breeds are not allowed.
These restrictions are imposed to protect them because they are not susceptible to certain ailments. 
These are the breeds that are not welcomed by American Airlines –
Affenpinscher
Boston Terrier
Bulldog
American Staffordshire Terrier
Cane Corso
Chow Chow
Brussels Griffon
English Toy Spaniel
Shih Tzu
Tibetan Spaniel
Staffordshire Bull Terrier
Shar Pei
Pug
Pit Bull
Pekingese
Mastiff
Dogue De Bordeaux
Presa Canario
Mastiff (all breeds)
Lhasa Apso
Japanese Chin
English Toy Spaniel
4. Is your dog obedient?
Just imagine your dog is shouting and barking at everyone on the flight. What do you think the air hostess will do? 
Your dog should be well-mannered and behaved. Importantly, he should know his boundaries and follow your commands.
Your dog cannot growl or bark at another passenger. If he does then some airlines might charge an extra fee or move him to cargo or simply decline to transport him.
Therefore, to make sure your four-legged puppy is flying with you, make his positive reinforcement training well.   
5. Small Dogs on an airplane – not on your lap
Dogs are permitted in the cabin when flying but not on your lap.  The movies which you saw are scripted. Here are the airlines that do not allow pup on the owner's lap.
Air Canada
American Airlines
Southwest
United WestJet
He should be either in the pet carrier or in the kennel stored under the seat in front of you all the time.
However, if you plan to travel in movie style, remember that your pet may be banned from flying. 
Also, I have some good news. 
To some extent, you can make your Hollywood-style flying into reality with Alaska, Allegiant, Delta, Hawaiian, Frontier, Jetblue, Lufthansa, and Vueling airline companies. 
Moreover, it's crucial to remember that these airline companies have restrictions and you need to follow each of them or end up getting banned.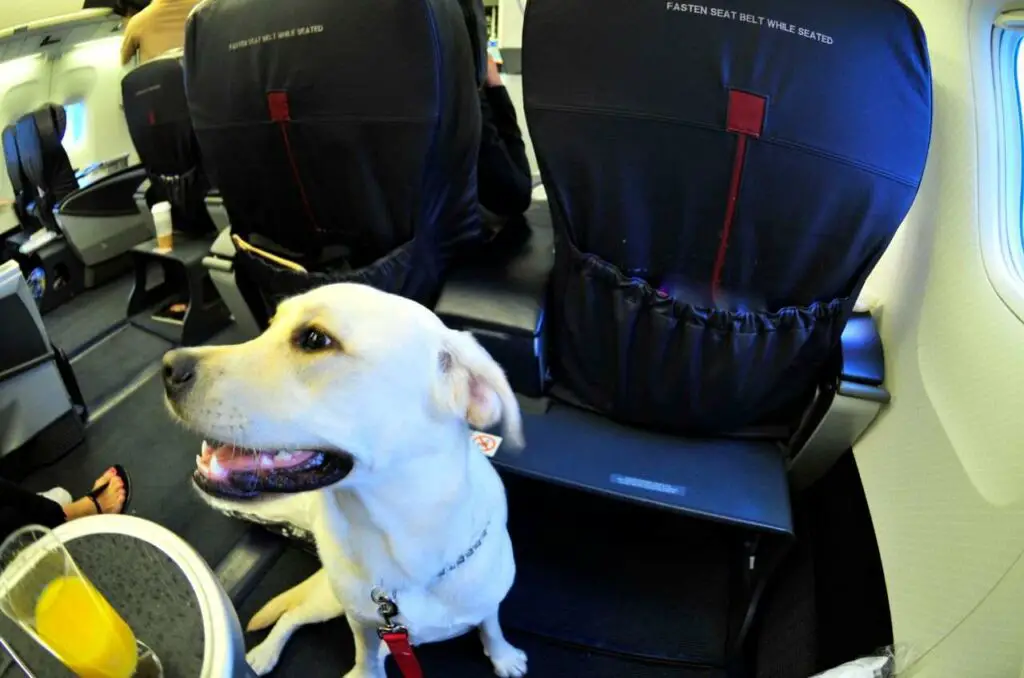 Dog under Airplane Seat – Cabin vs Cargo
Being a dog parent, I know how peaceful this can be if you can carry a dog with you when traveling. 
Although you cannot take him out from his kennel or carrier but still he is with you, you can see him, and observe him. That's enough peace of mind. 
When you decide to travel with your dog in-cabin you have two options – place him under seat space in a carrier or kennel or buy an extra seat. This is called carry-on luggage, and you pay less for this. 
What adds to their stress is when he is traveling in cargo. If you're bringing a big dog on a plane, you have to choose the cargo service of the airplane company. 
The airplane company will fly your dog on the same flight but as a shipping cargo like air freight. The Temperature of the compartment is similar to the passenger cabin. 
You have to do your homework well, and fetch all the information from your airline company as it varies from brand to brand.
As per Hawaiian Airlines, your dog and kennel's combined weight should not exceed 70 lbs flying in cargo. 
However, it varies by airline. Your task is to call them to solve your queries. 
Dog Travel Cost in Cabin
For in-cabin traveling – American Airlines, United Airlines, and Delta Airlines charge above $100 each way whereas, Frontier charges approx. $99 and Southwest Airline charges approx. $95. 
Tips: 
Pay all the charges at the airport and not while booking your flight tickets
As in-cabin pet count as a carry-on, you can get free service if you have an elite status or airline-branded credit card 
Dog Travel Cost In-Cargo
Often, traveling charges in cargo are not disclosed on airplane websites, you have to personally call their service center and seek information.
If you have a layover for more than an hour, you have to pay an extra fee for that. Additionally, here you have to provide a vet consent certificate and a quality kennel.
Tip: Attach an identification microchip to your pet collar to track his location
Fly with Large Dog in Cabin
I am sorry to disappoint you, but flying with big dogs in the cabin is not allowed on most airlines. The only way to travel is in a crate – like you can get him a kennel, or a carrier.
Before buying the kennel, remember that your dog should have enough space to walk around or turn around. Also, check the airline's size requirements policies.
If you are taking your dog on international travel then make sure you carry an international health certificate and follow the destination's pet policies. 
Here I am suggesting a few kennel tips for in-cargo flying
Provide all the information
Provide some extra water and food
The kennel floor should have an absorbent material
Write "LIVE ANIMAL" on the top and "ARROW" showing which side of the kennel is up and down
Fly with Dogs: Do's and Don'ts'
Try to book nonstop flight tickets. However, if you're on a layover, try to negotiate with the airline company to minimize the time as much as they can.
Avoid booking tickets on holidays. Book flights early morning and late evening
Do not sedate your pet while flying
Freeze the water that you have planned for the dog. Freezing water prevents spilling
Attach a present photo of your pet with its name on top
Full-stomach traveling is never a good idea
Always arrive early at the airport with your dog. The whole process is time-consuming.
All the documents should be fresh and recent ones
Carry your dog in your arms during human screening
The dog should be on-leash
Security Checkpoint: 
While security checking, you have to pass the luggage X-ray screening device at the airport without your dog.
Put all your stuff like shoes, toiletries, and laptops on the tray for X-ray. Then go for human screening. 
During this time, you have to carry him in your arms. Remember, he should be with you during the human screening process. 
In the airport, keep him leashed so that he cannot escape. As per The Federal Aviation Administration, your pet should remain secured in the carriers throughout the flight. 
Conclusion
I hope now you know how to travel with the dog under an airplane seat and in cargo. 
However, the main thing is to book your travel early and know the airline's criteria beforehand.
With some advance planning and attention to detail, you can fly with your dog with ease. 
Read Next: How to Get Your Dog Accustomed to a Travel Carrier
FAQ – Dog under Airplane Seat
1. Can a 20-pound dog fit under an airline seat?
A: Yes, if your dog and his carrier are in total weigh 20 pounds and fit under the airline seat, he is free to travel. 
2. Can I buy a plane ticket for my large dog?
A: Yes, you can carry your large dog and get a ticket for him as a piece of excess baggage in cargo. 
3. What airlines allow 30 lb dogs in-cabin?
A: Airlines like Delta, French Bee, American Airlines, Air France, Air Canada and Alaska Air allows 30 lb dog in-cabin.
4. What size dog carrier fits under an airplane seat?
A: Dogs that weigh not more than 20 pounds can fit under airplane seats.
5. How safe is it for a dog to fly on an airplane?
A: Travelling can be as "smooth as silk" if you follow all the guidelines laid down by the airplane company with whom you're flying.