10 Affordable Best Dog Carrier Backpacks: An Expert View
You took a day off from your office and want to enjoy doing outdoor activities like hiking, walking, beachcombing, exploring new places, and a lot more, but with whom? Your furry four-legged best friend, Bailey, often gets tired and overwhelmed. 
Is your Bailey, a smaller breed pup, going out with you for hiking or walking and cannot keep pace with you?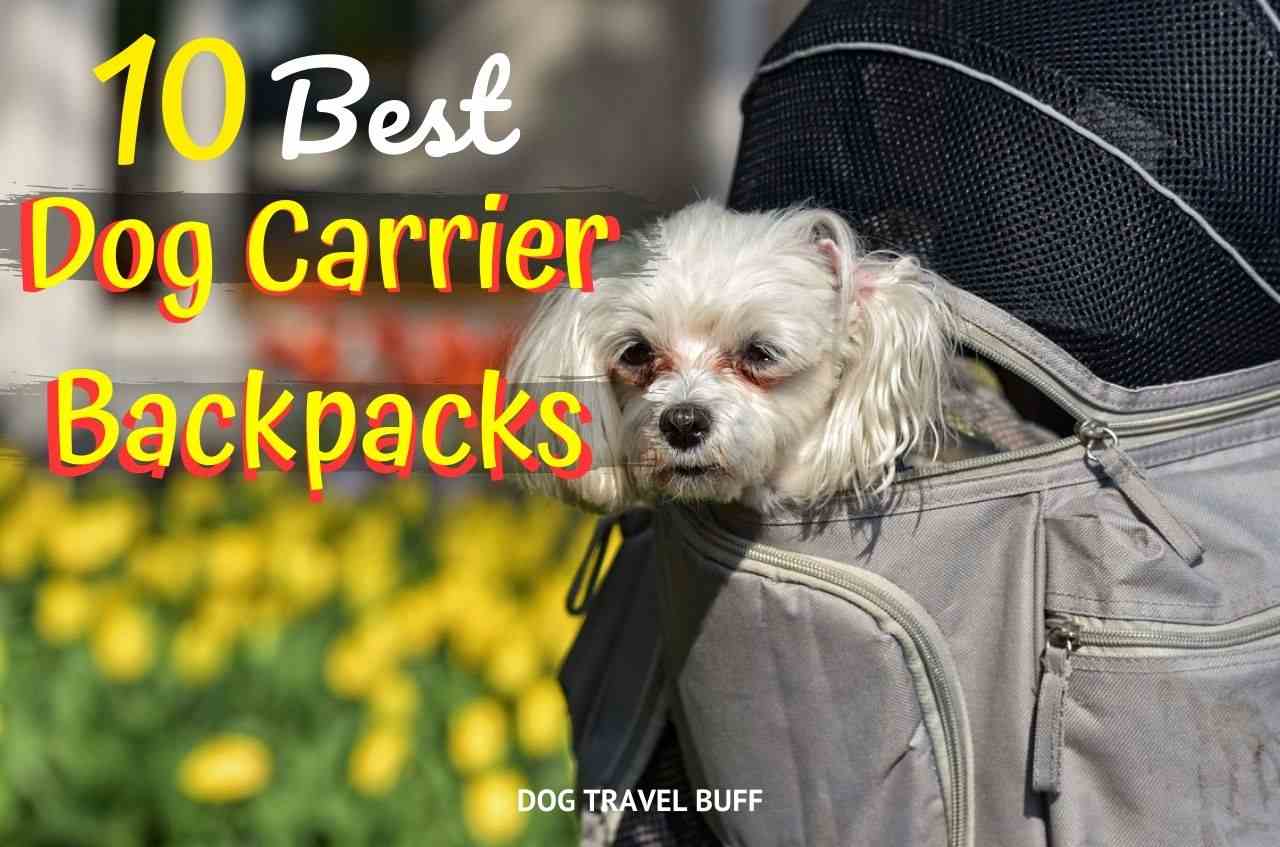 This post may contain affiliate links. If you buy something through one of those links, you won't pay any extra penny, but I'll get a small commission that encourages me to deliver more helpful content for you.
What can you do, though, if you, Bailey, slow down after a few kilometers of a walk? 
You need to interact and spend time with your dog pouch to develop a great bond and be forever your best friend. 
Did you know? There is an incredible solution to it. You can buy the best dog carrier backpacks as per your budget.
Are our dog carrier backpacks safe for our pup? What is the best dog backpack carrier? Do dog backpacks hurt dogs? Many questions are troubling you right now. 
So, in this blog, I want to explain everything about large or small dog backpack carriers, dog backpacks for biking, animal carrier backpacks and provide you with true dog carrier backpack reviews so that you can buy them wisely and without any hesitation. 
What is a Dog Carrier Backpack?
There are several benefits of traveling with a dog. However, your dog might become weak after a long walk. Just as you carry your books in your backpack to school, dog carrier backpacks are something that allows you to keep your dog inside a backpack safely. It is very simple and secure and these backpacks are handy and are magnificently designed. Biking, hiking, and walking – your pup will always be there.  
Best dog carrier backpacks are convenient for traveling as they are light weighted and it respects one's privacy. The dog backpack carrier is also known as dog pouch carrier. They are comfortable and cozy for your pup. You can take your beloved in a dog travel backpack and have a blast outside. 
Road trip, Air trip, or Water trip – carry your pup with you in any of these best dog backpack carriers! 
Why You Need the Best Dog Carrier Backpack? 
When it comes to traveling with your dog internationally or domestically, a good dog backpack carrier is always necessary. Continuous walking can lead to exhaustion, weariness, and tiredness in dogs and they can later develop some health problems. So, when you are deciding to go for a hike with your pup, taking a dog backpack is essential. 
I can still remember when my buddy was totally exhausted while hiking a dog-friendly trail in San Diego. I kept him in my backpack and completed the hike successfully.
Dog backpacks are cozy, warm, and pleasant. Here are some of the best dog carrier backpacks which are the best choices and guarantees that your dog will be happy and comfortable. They also provide the best opportunity if you want to take your pup on public transportations such as in a plane, bus, or train.
Your pup will surely love it! 
How to Choose the Best Dog Carrier Backpacks?
No matter what your budget is, high, medium, or low, you will try to give the best product for your four-legged friend. Your pup is your life, your best friend, and I know you will get him the best dog carrier backpacks. So before buying it online, always measure your dog's height, weight, size, comfort level, and color. 
Always remember to buy two sizes larger than your actual dog's size, because this will help him to stretch, twirl, and feel comfortable. Make sure your pup's back, neck, collar, and tail sit in the right place. Imagine yourself; do you want yourself packed in a tight bag where you could not move your head? No, Right?
Even your dog needs space to move. So, buy a large dog backpack carrier and make him feel good. 
What to Look for to Purchase the Best Dog Backpack Carrier for Hiking?
Wondering this question, right? Yes, I will simplify your challenges and provide you with simple tips to remember while shopping for the best dog carrier backpacks. Buy a backpack, which is lightweight and comfortable material because you have to carry your dog on your back and good quality will ease your journey too. Remember these tips below before buying the best dog hiking backpack carriers. 
Size & Weight: Measure your dog's weight and height before buying a good dog backpack carrier. Take a measuring tape and measure him from shoulder height to ground to get his exact size. Proper knowledge of your dog's height and weight is the key tip before buying the best dog carrier for hiking. 
Comfort:  What's the first thing that comes to your mind when you're buying a product? Is this comfortable? Similarly, buy a backpack that has a padded shoulder, large straps for proper support, waist belt, and soft cushion bottom for your dog's comfort. Always buy a large dog carrier backpack. 
Safety: Your dog is not a baby's toy; it has life and importantly he is your best friend and its safety should be your main concern. So, always buy the best dog carrier backpacks from renowned brands to ensure good quality. Look for bags that have safety buckles, harness, and extra space to stretch their legs.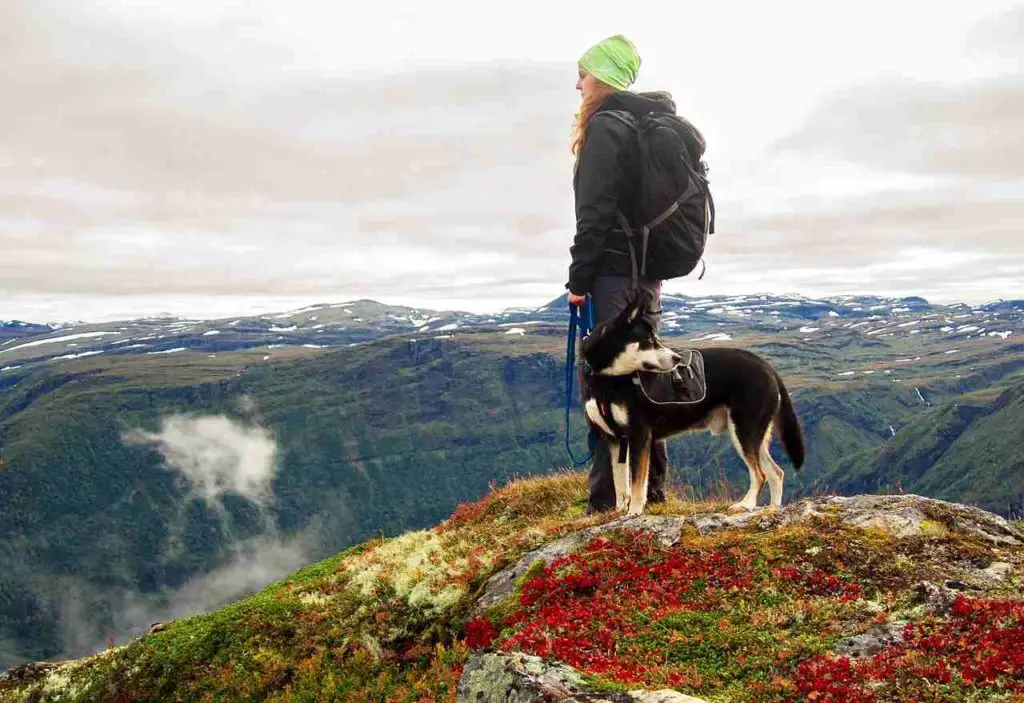 Ventilation: The best dog carrying backpacks need to have proper and open ventilation so that your pup gets fresh air. Just as a small enclosed area baffles your minds, it is similar to dogs, so it is important to have proper ventilation which is covered with thin plastic nets so that the dog gets fresh air.
Material: Just as we humans want something which is comfortable; the same goes with your furry friend. Finding the best dog carrier backpacks is quite difficult as one needs to be careful whether the material of the backpack is snug and cozy so that your dog enjoys sitting there restfully and in a relaxed manner.  
Since demand for the best dog carrier backpacks has increased over time, dogs backpackers are now designed differently to meet our all needs. Except for backpacks there are closed carriers, heads out carriers, legs free carriers, handy carry bags, hard-sided dog carriers, and tons of options. 
Choose any dog carrying backpacks with storage as per your needs! 
List of 10 the Best Dog Carrier Backpacks To Buy This Year:
I have listed the top 10 dog carrier backpacks for every big-city person, nature – enthusiasts, pet lovers, weather, climate, and place. You'll discover the best pet carrier backpacks which will ease your task of searching. No matter if you have dog, cat, or any other pet; these backpacks are super cozy.
If you buy one of these backpacks, I can guarantee your pup will be delighted and enjoy his ride on your back. I promise to provide you with all the details and there will be no escapades. Here is the list of products that are affordable and worth your money. These products are available on Amazon.com. 
Carry him with you! 
1. K9 SPORT SACK Dog Backpack
Whether you are planning for a hike or road tour, an airline journey, a long walk along the bay, or exploring the city – your furry friend can be your constant companion. No matter what breed or size he is. US brand, K9 Sport Sack is the best dog carrying backpack, and it has earned 4.4 stars out of 5 on Amazon.com. 
This product is easy to carry and lightweight has waterproof fabric and mesh foamtek shoulder straps which allow the middle space to cozy. The K9 Sport Sack comes into four sizes: X-small, small, medium, and large. It can support from 30 pounds to 80 pounds. This bag is designed keeping in mind the dog's comfort. 
Features: 
Ventilation is carefully designed so that airflow interacts and keeps your pouch comfortable. 
It has padded shoulder straps and back so that you don't hurt your own back and shoulder.  K9 Sport Sack cares about you and your pup!  
Beautiful bright colors and different sizes are available to accommodate small to large breeds. It comes in 5 styles – Trainer, Air, Urban, Air Plus, and Rover. 
Detachable sun and rain hood for complete protection and suitable for any climate. 
Cons:
Limited pockets in a large size K9 Sport Sack.
Zippers may sometimes get jammed and weak. 
2. APPOLLO WALKER PET BACKPACK CARRIER
The best backpack carriers for dogs with high-quality materials in combination with an unbeatable design specially designed for hiking, and outdoor activities. It measures approximately 11.4″ x 12.6″ x 16.8″ (L x W x H) and is a perfect fit for small and medium-size dogs. It's grey and has earned 4.6 stars out of 5 on Amazon.com. 
The numerous, collapsible design and rigid hard construction to maintain its shape and structure details make the dog carrier backpacks an absolute necessity for pet owners. Appollo walker pet backpack carrier product guarantees maximum comfort and stretching facility to your dog because it's so spacious.
Features:
Good ventilation allows a flow of air in two ways as it can be accessed from two sides and has chain openings. On the top dog can rest his head out and has clear visibility of the outer world.
Reinforced zippers, escape-proof leash and claw-proof mesh is a distinctive feature of this carrier. 
Thick soft padded layers on shoulder straps and back make it easy to carry for long trips, hiking, and riding. The carrier has chest buckles and waist buckles which give more support.
3. PAWABOO PET CARRIER BACKPACK
It is the best cat backpack carrier or might be a dog with less than 15 LBS. This dog carrier front backpack is a well-built puppy carrier backpack and the product comes in four different sizes, so measure your dog before buying it. This is a perfect backpack for dog owners to explore the whole day as it is lightweight and you can carry it both back and front. There are two color options available and it has earned 4.1 stars out of 5 on Amazon.com. 
A wider strap on the shoulder and waist provides more support to you. The hook and loop closure allow your dog to stretch with ease. Lastly, its good fabric and material is so breathable and has a layer of cotton and sponge which makes it cozy and your pup can stay for hours.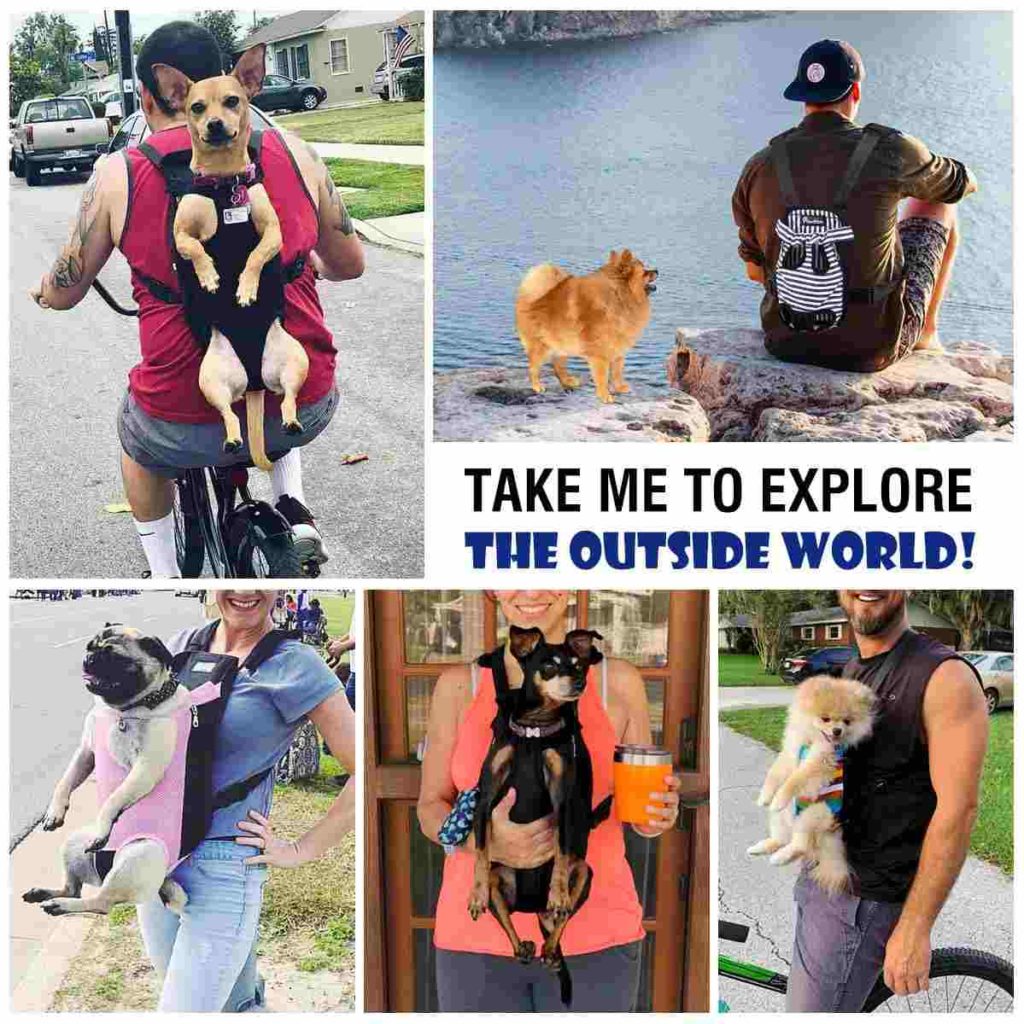 Features:
The best backpack carrier for small dogs – convenient for both dogs and their owner. 
It is designed in such a way that a dog can keep its tail and legs out and free.
You need a small amount of money to buy it and enjoy the day with the pup.
It's very open therefore the pup gets adequate ventilation. 
Cons: Absence of sponge or cotton pad on the shoulder and waist straps.
4. MOGOKO Comfortable Dog Backpack
Another best dog carrier backpacks are suitably made to suit not more than 15 LBS weight dogs. This popular dog bag is designed in such a way that the dog's head is free and visible. The peephole through which it keeps its head out and can easily breathe. The bag is made up of high-quality durable nylon and is extremely lightweight. It has earned 4.2 stars out of 5 on Amazon.com.
This is one of the best dog backpack carriers for hiking also guarantees a top-level of reassurance and comfort. In addition, it certifies that the backpack sits flawlessly, no matter what your pup sitting position is. This bag offers cushion padding below and side which is washable and provides double comfort to the pet. 
Features:
It is lightweight and made up of breathable material like polyester fiber and ideal for your pup's comfort.
A durable dog backpack carrier on a budget. 
Cons: The bottom of the backpacks feels so unstable.
5. PETTOM DOG CARRIER BACKPACK
Are you ready for a run? With the Pettom dog carrier backpack, you can run miles with your dog. It is so lightweight and a perfect comfy home while traveling outdoors. This dog carrier backpack is super attractive and has cute curtains on four sides of the mesh. To protect your four-legged small best friend from the harsh rays of the sun, buy it now. It has earned 4.8 stars out of 5 on Amazon.com.
This cute simple yet fashionable dog backpack is suitable to carry a dog whose weight is not more than 17.06 LBS. It has a fleece mat below which gives a firm shape and is also comforting for the dog inside. It has extra thick padding layers with many pockets, making it desirable for dog owners. Grab it now!
 Features:
Backpack which can also be turned into a trolley case. 
The best dog carrier backpacks are comfy smooth opulent and offer a good outlet of air from the sides.
Shoulder straps with chest and waist buckles for extra support.
Cons: Straps of the backpack might be a little better. 
6. PETAMI DELUXE PET CARRIER BACKPACK
The PetAmi Deluxe pet carrier backpack has 12 color options available for dog owners. You can choose a color according to your pet's vibe. The bag measures approximately 12.5″ x 10.2″ x 16.3″ (L x W x H) and can hold pets up to 18 LBS. This bag is very spacious, comfy and designed for safety. It has earned 4.6 stars out of 5 on Amazon.com.
Features:
Well ventilation and two-side access make it easy for dogs to breathe and look out and get a good view of the outside.
It has a safety buckle that keeps your pup safe inside. 
It has 3 separate pockets where you can keep different essentials for dogs, like a water container, bowl container, and a poop bag. 
Cons:
You cannot escape your back pain. It is heavy.
Only desirable for a small evening walk, never take it for long walks or hiking.
7. PET GEAR I-GO2 BACKPACK
The best dog backpack carrier 25 lbs which measures 16 L x 13.5 W x 22 H-inches; multi-use bag, it can be carried by its carrier, travel keeping it inside the car, use it like a roller bag and lot more. This is such a versatile bag that is made up of breathable mesh which provides fresh air to your pup. It has earned 4.4 stars out of 5 on Amazon.com.
Pet gear I-GO2 dog backpack is the best dog carrier backpack which comes in 6 different colors and a beautiful breathable mesh for ventilation. 
Features:
The sides are expandable which provides 3 inches of space.
The bottom inner mat can be removed and cleaned.
Pet harnesses can be tied inside more safely.
Cons:
Shoulder belts are not thickly padded; therefore, they can be painful to carry.
The handle is short and inconvenient to walk straight. 
8. COVONO Expandable Pet Carrier Backpack
Covono expandable pet carrier backpack measures 13.0″L x 25.3″Wx 14.8″H and is suitable for pets up to 18 LBS. This backpack can be easily carried and have a waist and chest buckle. It has earned 4.8 stars out of 5 on Amazon.com. This is an amazing dog carrier for airline travel too!
 Features:
With the rear expandable design, the space inside the backpack can be doubled. It not only increases air circulation, and also allows your pet to move around without any restraint.
It has 1 large transparent acrylic window, 3 breathable mesh windows, and 9 venting holes.
Open the top mesh windows to let your pet stick his head out, the safety rope inside can prevent your dog from running away
9. IDEE Dog Backpack Carrier
Idee dog backpack carrier measures 13''L*11''W*15.75'' and can carry up to 7.72LBS dogs or cats. It is such a beautiful dog carrier backpack with windows available at such an affordable price. The best dog carrier bags for dog owners who have very small dogs. There are five colors available – female dog owners would definitely be happy. Customers have rated it 4.6 out of 5 stars on Amazon.com.
Features:
Its firm structure makes it more durable and pet's favorite. 
The pet carrying backpack has front and top entrances, making it easy for your pet to stick their head out.
10. YTONET DOG BACKPACK
Eco-friendly polyester Ytonet dog backpack which measures 11.5" x 10" x 16.5" and can support up to 8 LBS. Customers have given it 4.5 stars out of 5 and buy it for its safe design. It has two entrances and a head out facility which is highly desirable among pet lovers. You want your pup to be free and liberating. And this product is perfect for that.
Features:
Pockets on both sides provide room for storing leash, water, snacks, toys, and other essential supplies. 
The shoulder straps of the pet carrier backpack are adjustable and equipped with extra thick padding, and the foldable cushion on the bottom of the back, which help to relieve the burden of your shoulder and back.
Cons: Keep extra care while zipping your bag. 
These are the 10 best dog-carrying backpacks with storage that you can bring home for your next hiking trip. These products are genuinely good and trustworthy.
Read More: