Dog-Friendly Carmel-by-the-Sea: Best Things to do in Carmel with Your Pet
As a dog lover, you will always want your dog to accompany you on your pleasant family trips. But then you might be a little worried about places where your pet also will be accepted and his stay will also be pleasant.
Dog-friendly Carmel by the Sea is a quaint small coastal town on the Monterey Peninsula, adjacent to the Pacific Ocean, famed for its European charm, pristine dog-friendly Carmel beach, natural beauty, and cute as heck downtown, plenty of dog-friendly boutiques and restaurants, and, best of all, zero fireworks on July 4th. There are a lot of Dog-friendly things to do in Carmel to keep your pet engaged.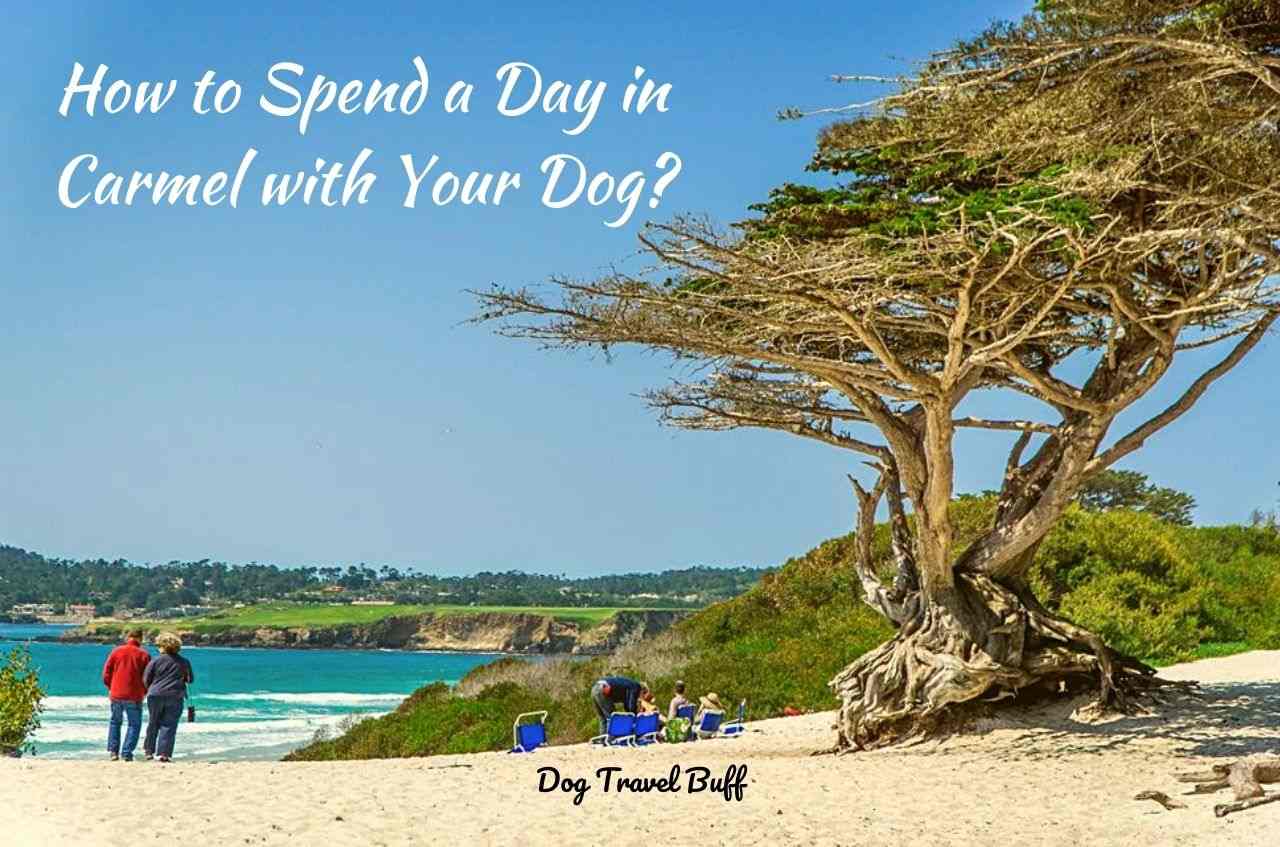 This post may contain affiliate links. If you buy something through one of those links, you won't pay any extra penny, but I'll get a small commission that encourages me to deliver more helpful content for you.
Dog-Friendly Beaches in Carmel-by-the-Sea
Carmel Beach
There are several beaches in Northern California that allow dogs. Dog-friendly Carmel Beach is at the very end of Ocean Avenue, is the most popular and dog-friendly seaside in Carmel, where pet owners can enjoy frolicking in the sand even in the dead of winter, making this Northern California beach town a wonderful winter getaway location.
Carmel enjoys foggy mornings and warmer afternoons due to its location on the coast, so dress in layers and don't forget the sunscreen when going to the beach. The beach is really popular and fills up quickly, so get there early to secure a position in the sand.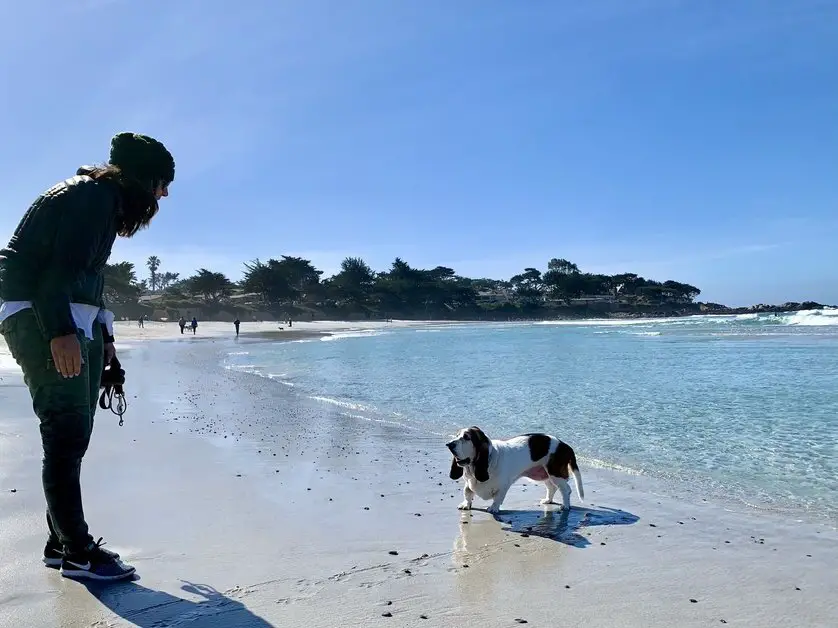 Garrapata Beach
Garrapata Beach, a remote dog-friendly beach in Carmel on the route to Big Sur, is the beach to visit if you want to avoid the throng at Carmel beach. It's a fairly straight journey along Highway 1 until you reach the shore, where you'll find a well-marked trail leading to stairways leading up to the beach. There is a lot of kelp on this white sand beach.
The water and weather are both frigid, windy, and chilly. You should wear suitable attire! On the route and at this pet-friendly Carmel beach, dogs on leashes are welcome. If you visit early in the morning, you will have the beach almost entirely to yourself, allowing you to enjoy the salty air and serenity.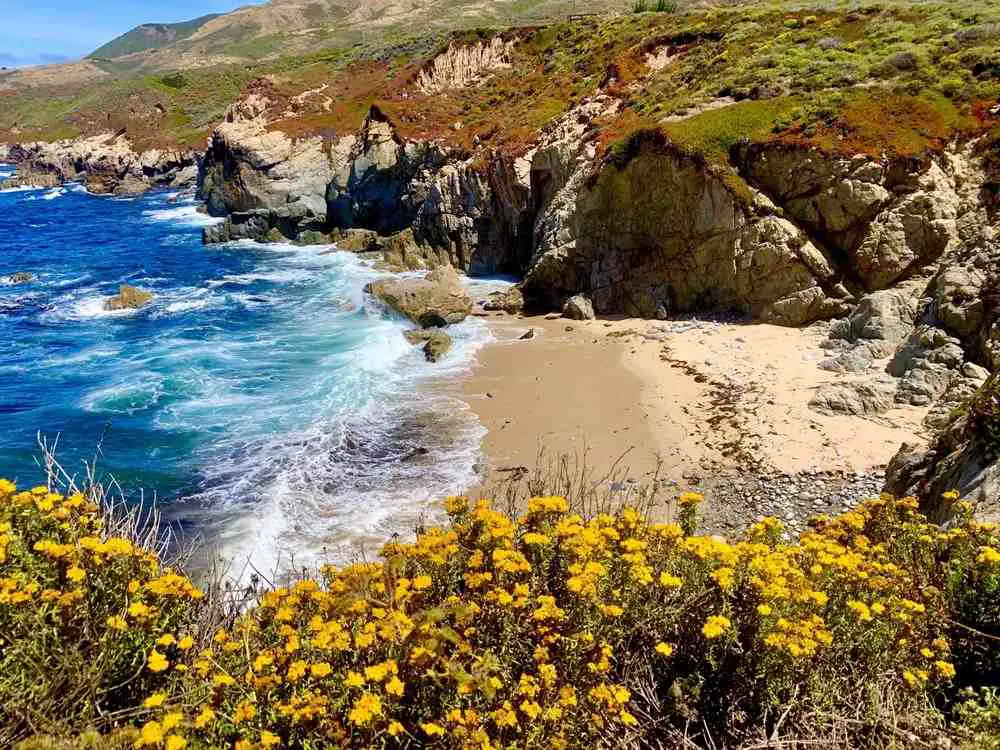 Hikes in Carmel that are dog-friendly
If you're looking for dog-friendly activities in Carmel, hiking is highly recommended at Mission Trail Nature Preserve. This is a dog-friendly hiking trail in Carmel that meanders through miles of greenery, taking the eyes wherever they choose to go. We only hiked a mile or two of the five-mile trail, but it's one of those easy, beginner-level dog-friendly hikes that everyone can enjoy at their own pace! The trailhead is about a 20-minute walk or a 7 minute drive from downtown Carmel.
Walking around Downtown Carmel
Downtown Carmel is also quite a dog friendly, with dogs permitted in almost all establishments (excluding those selling food or edibles). There are quite a few pet-friendly lodges in Carmel. As a result, you can easily explore most of downtown Carmel with your dog! There are certain dog rules in Carmel to avoid mess or chaos in this dog-friendly California city.
While traveling or walking with your dog it is always advised to walk with your dog on a leash. Every bend we took was lovely and delightful, with flowers or secret paths/tiny green Shangri-la-style gardens stashed away! Not to add the adorably charming store signage, unexpected red doors, adorable boutiques, and art galleries dotted throughout!
Simply enjoy meandering through downtown and taking in the lovely sights of blooming flowers, little businesses, and charming signs. Carmel is such a small town, with residential neighborhoods next to the business center/heart of the city, that you can walk about and see everything in a day, making it a perfect Bay Area day trip from San Francisco.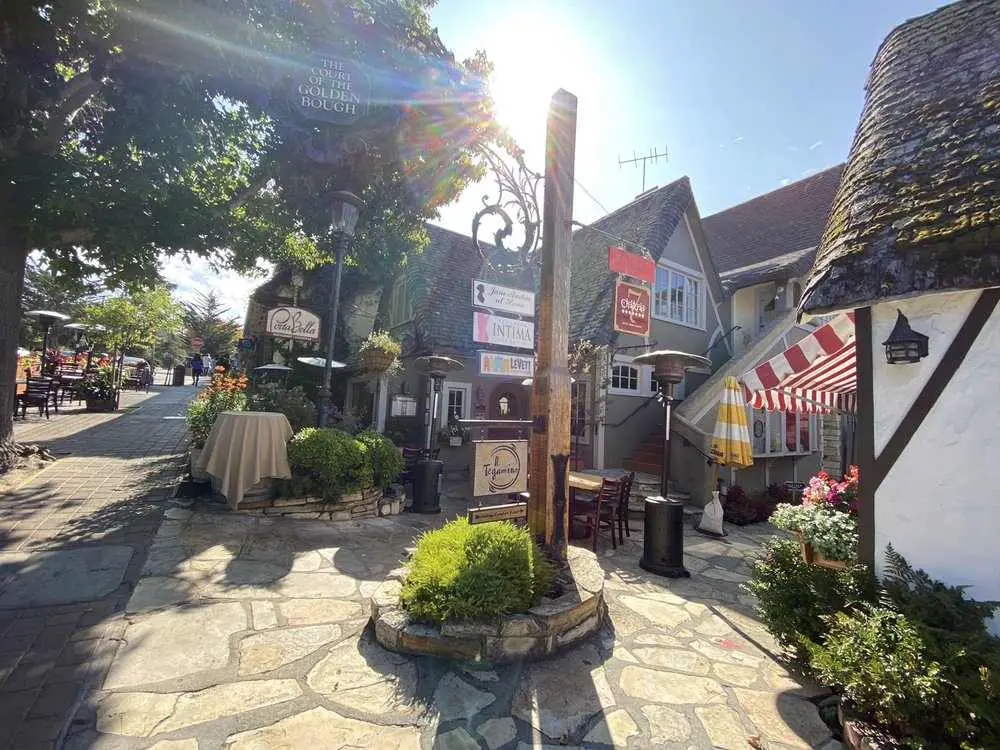 Read: 7 Best Things to do in Morro Bay with Dogs
Dog-Friendly Hotels in Carmel
The lovely boutique hotel Carmel Mission Inn was certainly the most memorable of all the pet-friendly Carmel hotels we've stayed at. It's no wonder that the Inn is Carmel's top dog-friendly hotel, with everything designed with your canine companion in mind.
Surrounded by popular Carmel attractions such as Cannery Row, Fisherman's Wharf and the Monterey Bay Aquarium, this hotel offers relaxing activities and sophisticated dining options with your pet.
>>BookYour Stay<<
A beautiful little inn minutes from downtown that welcomes dogs and offers complimentary breakfast, is another pet-friendly Carmel hotel. They do have certain size restrictions, so please inquire before making a reservation!
They had lovingly set out a canine treat on our bed both times we arrived in spacious, well-kept rooms (bigger ones may accommodate up to three people) with a fireplace! We had a great experience both times we stayed there and would strongly recommend it to pet parents searching for affordable dog-friendly hotels in Carmel.
>>Book Your Stay<<
Green Lantern Inn, another mid-budget pet-friendly hotel, accepts up to two pets per room (for an additional fee of $35 per pet) and is just 5 blocks from the famed Carmel beach. The inn not only has a gorgeous lobby where a complimentary hot breakfast is provided, but it also features similarly charming cottages with roomy interiors.
This inn is possibly the most cost-effective alternative in Carmel, making it a good choice for guests looking for something more than the basic Motel 6. Parking is also included, however, because the parking area is small, arrive early for check-in.
Dog-Friendly Restaurants in Carmel
Carmel was designed with dog owners in mind, and there are plenty of dog-friendly eateries to pick from. Almost every restaurant here is dog-friendly, with outdoor sitting spaces or lovely patios. Not only that, but many companies (especially those that do not sell food) welcome dogs and keep a dish of water outside for thirsty canines.
The following are some of the dog-friendly restaurants:
Carmel Bistro Giovanni
A small Italian bistro with a lovely patio and a nice server. The meal had a Mediterranean flavor, with fresh local flavors that were light on the palate and used seasonal, local catch, as did most eateries in the area. This dog-friendly establishment is highly recommended.
Basil Restaurant
Another popular hangout for locals and guests, particularly dog owners, thanks to its heated terrace. Reservations are strongly advised. If you have plenty of time on your hands, this is a fantastic dog-friendly Carmel restaurant to visit just for the food!
Terry's Lounge
This is another dog-friendly restaurant where dogs can relax on the patio (covered in warm blankets) while you dine. You may also book an indoor seat because they offer a dedicated dog-friendly section for pet owners indoors.
Casanova
A charming pet-friendly Carmel restaurant located near Ocean Avenue. The Mediterranean/French cuisine, as well as the small patio, is just wonderful, where one can relax and eat dinner while being surrounded by dogs!
Mundaka
A prominent Mediterranean restaurant with outdoor seats with mouthwatering Tapas and great Sangria.
Village Corner: A dog-friendly Carmel restaurant with a heated fire pit to keep you warm on chilly Carmel mornings, and one of the few eateries open on July 4th.
Stationaery (restaurant and coffee shop) is located in a charming tiny lane with plenty of outdoor seating. They serve delectable Californian-Asian cuisine. Remember to try their Dungeness crab sandwich!
Wrapping Up
If you are planning to visit Carmel with your dog, you are always welcome. It is possibly Northern California's most dog-friendly coastal town. With secret lanes, attractive courtyards, and downtown Carmel-by-the-Sea are ideal for exploring over the weekend with your dog. Carmel is a popular destination for Bay Area residents all year, so even in the off-season, it's difficult to avoid the throng. The best approach to avoid the crowds is to visit during the week when everything is quiet.
Carmel is also the perfect winter retreat in California, thanks to its moderate climate, and is the gateway to Big Sur, one of the most magnificent parts of the Pacific Coast Highway. If you are looking for dog-friendly road excursions in California, the breathtaking 17-mile drive, also passes through Carmel and is one of the many reasons to visit Monterey County.
Read Next: