Death Valley with Dogs – Detail Guide with Dog-Friendly Activities, and Hiking Trails
Have you ever had to cancel vacation plans because you couldn't leave your dog home alone? Most pet parents will reply in the affirmative. At times, your anxiety about your dog's well-being back at home may have caused anxiety and robbed you of a great trip experience.
Yet the real question is, how long will pet parents be deprived of their vacations. Not anymore if you're planning to visit Death Valley with dogs; start packing stuff, book your tickets, and reserve rooms because this blog answers all your 'dog-friendly Death Valley' questions.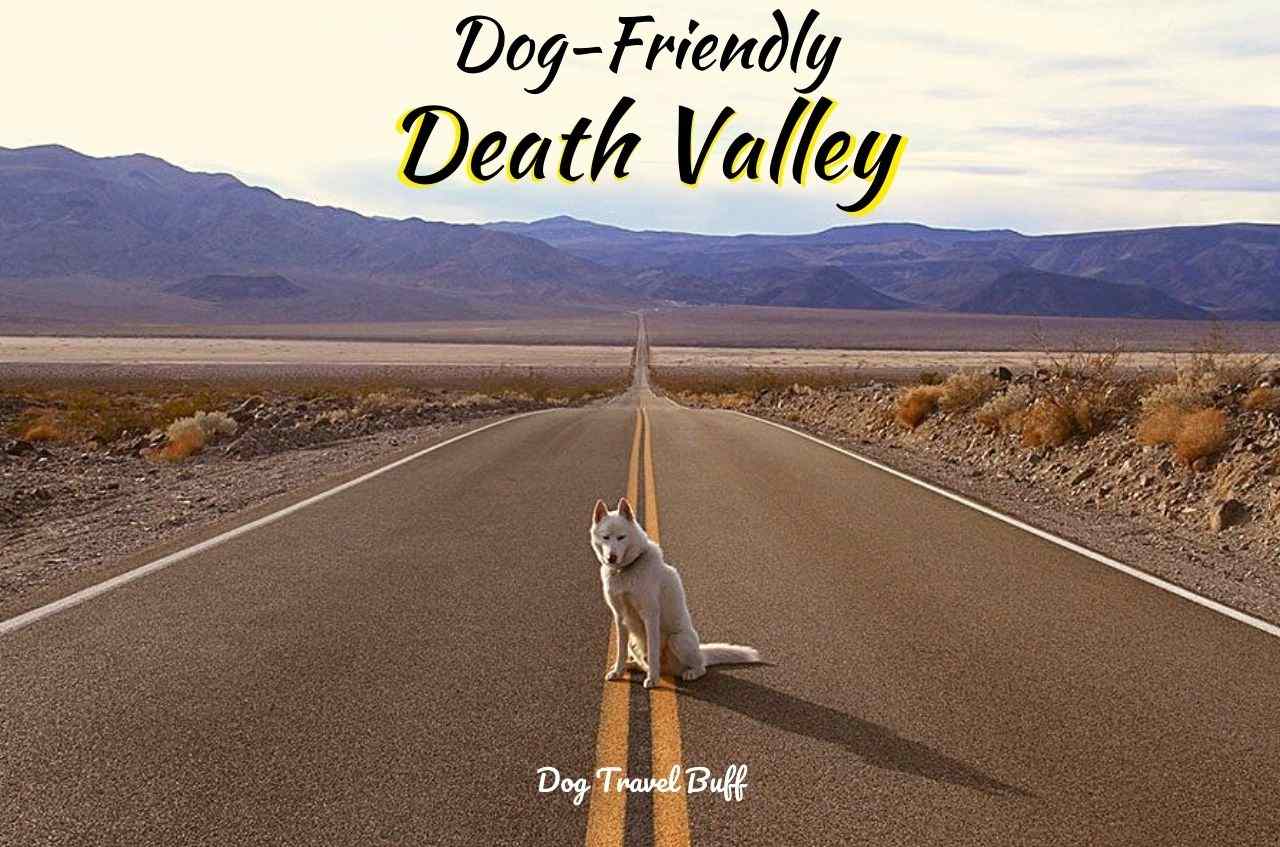 This post may contain affiliate links. If you buy something through one of those links, you won't pay any extra penny, but I'll get a small commission that encourages me to deliver more helpful content for you.
Are dogs allowed in Death Valley National Park?
If you are looking for dog-friendly destinations in destinations in California where you can spend some quality time with your furry friend, Death Valley won't disappoint you. As with most national parks, Death Valley National Park allows dogs, but several rules and restrictions apply for the safety of the park's resources, wildlife, other visitors, and even your pet. In developed areas such as campgrounds and picnic areas, your pet may be taken on the road.
Taking your dog for a leisurely walk along one of Death Valley's scenic backcountry roads can be a rewarding alternative to hiking trails, and often provides people with a similar view to that available on trails. When a vehicle comes along, be sure to move your pet to the roadside in a safe manner.
Read Also: How to plan a cross-country road trip with your pet?
Best Time  to Visit Death Valley with Your Dog
When visiting Death Valley National Park with your dog, it is important to consider the perfect time of year. There are no seasonal restrictions for Death Valley National Park except for extreme summers. However, most tourists prefer to visit from mid-October through mid-May.
The temperature can rise above 120 degrees Fahrenheit during the summer months.
Personally, I don't think that would be something I would want my dog to undergo, let alone I myself have to endure.
Spring is the most popular time of the year to visit because of the warm days and wildflowers that grow in the valley. Anything after mid-May, I strongly do not advise bringing your dogs.
So, is Death Valley dog friendly? Yes!
Can I bring my dog to Death Valley? Why not!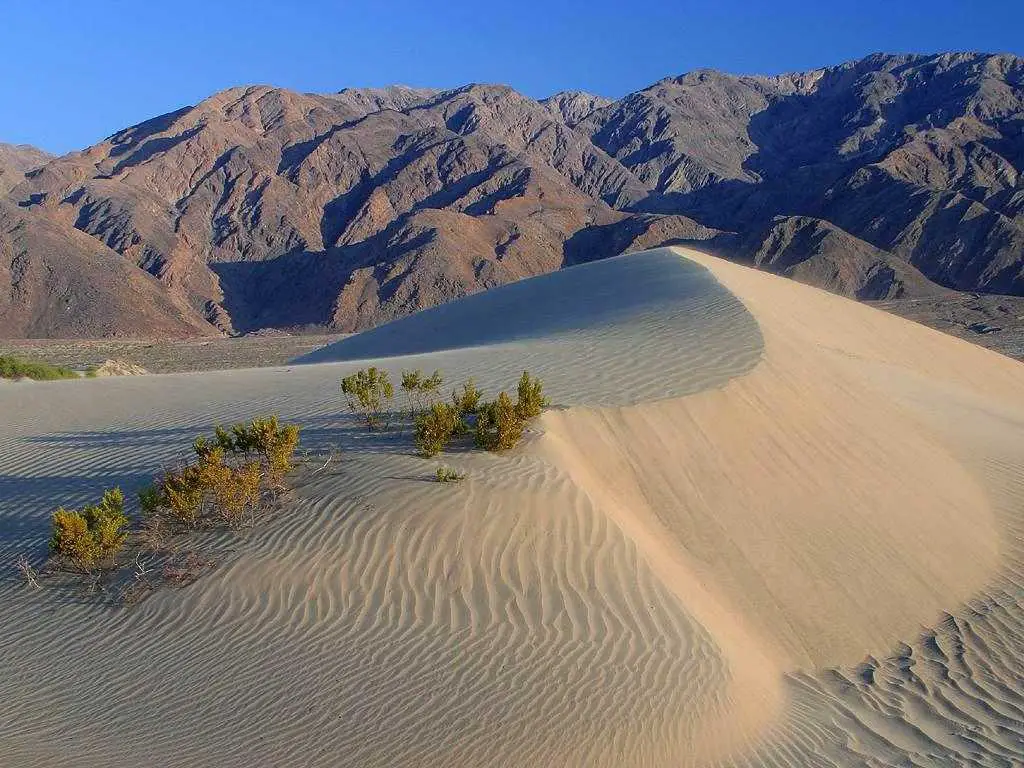 How to Get to Death Valley?
California's Death Valley sits on the Nevada border, in central California. Several major cities are located nearby Death Valley, including Las Vegas, Los Angeles, San Francisco, and Yosemite. The closest commercial airport to Death Valley is McCarran International Airport in Las Vegas.
Driving Time from:
San Francisco: 7.5 hr
Yosemite National Park: 6 to 6 hr
Las Vegas: 2 to 2.5 hr
Los Angeles: 4 to 4.5 hr
Note: When traveling from Yosemite, keep an eye out for road closures, especially during winters.
Los Angeles International Airport in LA is the next closest large airport. Death Valley Junction is the area you will pass through before entering the national park from the east, as you drive from Las Vegas.
You can also enter the park from the west via CA-190 out of Olancha, 2.5 hours away by car from Los Angeles via scenic U.S. Route 395. Alternatively, you can enter the park via Nevada Highway 374 from the small town of Beatty, located two hours northwest of Las Vegas.
Read Also:
Dog-Friendly Things to do in Death Valley
Dog Friendly Drives at Death Valley
You can take your dogs on some remarkable dog-friendly scenic drives like Artist Drive, Titus Canyon Road, 20 Mule Team Canyon, etc. are places you should definitely consider going for a drive if you are not a fan of the heat or hiking.
Walks near developed areas
Furnace Creek Airport Road: This is a 1.6 km paved road that borders the golf course and leads to the airport.
Bicycle Path to Harmony Borax Works: 1.5 km; this is the only trail in the park that is open to pets.
Stovepipe Wells Airport Road: This unpaved road leads from Stovepipe Wells Campground to the airport and provides access to Cottonwood Canyon Road. This place boasts a wide variety of plants and all the colors that mother nature gave us, while also being a great place for exercise.
Death Valley Camping with Dog
You are allowed to camp in Death Valley with your dogs. The temperatures at night drop even in the spring, and the heat can be a little unbearable during the day. The temperature is typically cooler at night but unbearably hot during the day. Although camping in the spring can be challenging with its unpredictable temperatures, if you don't mind them you might be able to enjoy it.
Various Seasons for Camping:
Summer: May through September
Winter/Spring: October through April
Camping Ground: Furnace Creek
Reservations Oct 15 to April 15
No reservations in the summer
Open all year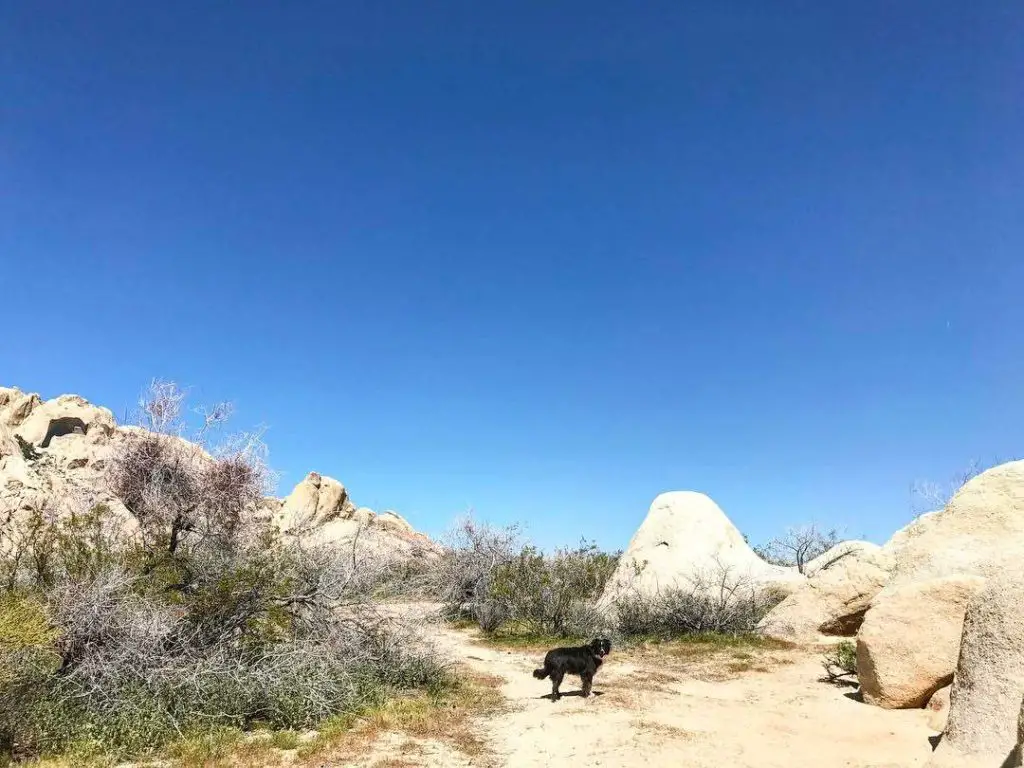 Camping Limits: Campers are only permitted to camp in the campground for 14 days per calendar year. In the rest of Death Valley National Park, camping is permitted for a maximum of 30 days per year.
Throughout the park, all vegetation is protected. Firewood can be purchased from Furnace Creek and Stovepipe Wells General Stores. Alternatively, you can bring your own supply of firewoods.
Rules for pets: Pets must not be left unattended at any point in time.  Pets are allowed only on leashes no longer than 6 feet long, and a maximum of four pets are allowed per campsite. Cleaning supplies and pet waste are the owner's responsibility.
Generator hours: 7 a.m. to 7 p.m.
Check-out Time:  12 pm.
Dog-Friendly Hikes at Death Valley and Other Places Travel with Your Dog
Father Crowley Vista Point
It is a short walk to Crowley Vista Point from one of the Death Valley entrances, making it a great spot for you to let your dog run around and play. Vista Point is within walking distance of your car. If you drive by, you can park your car and get a beautiful view while walking your dog.
Artist Palette
A 9-mile loop on Artist Drive will lead you to Artist Palette. You can take your dog on a short hike uphill to see Artist Palette. Because there are no trees here and it gets hot in the sun later in the day, I suggest doing this earlier in the day.
Read Also:
Dante's View
You are greeted with spectacular views of Death Valley as soon as you step out of your car. It was so much better than I could have imagined it to be. Dog owners will enjoy visiting Dante's View, it is easily accessible and dog-friendly.
Ubehebe Crater
If you're interested in seeing the crater, it is a dog-friendly location in Death Valley. The crater is a little far out of the way, but if you're interested, you can visit it there. A number of options are available for walking around the crater, but dogs aren't allowed on that trail. The Ubehebe Crater is still accessible without walking the trail, so you can still enjoy the beautiful view.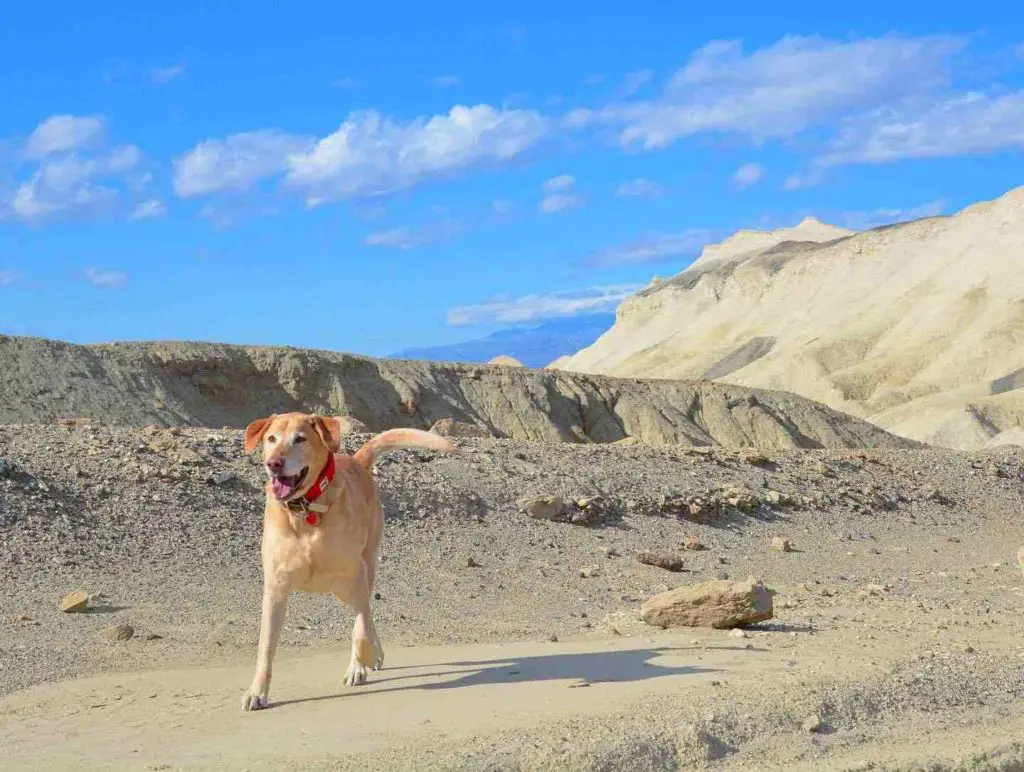 Read Also: The Ultimate Guide for Dog-Friendly Carmel-by-the-Sea
Death Valley Dog Rules
Keep your dog on a leash (no longer than 6 feet) at all times. If you are a new pet owner, check out this article on how to train your dog to walk on a leash.
You can take your pets along the roads.
You can take your pets to campgrounds, picnic areas, and other developed areas.
Dogs must not be left in the car during the day. Learn how to keep your dog calm in the car.
Dogs are permitted to walk on paved and dirt roads only.
Even if carried, your dog cannot be taken on trails, in the Wilderness, inside most buildings, and out of developed areas.
Pet-Friendly Lodging in Death Valley
In Death Valley or right outside it, you can find a few options for dog-friendly accommodations.
Panamint Springs Resort
Death Valley National Park includes two dog-friendly lodging options, including Panamint Springs Resort. It offers affordable accommodations. You can opt for their cabin-style rooms or book your stay at their campground and RV site. The resort also offers an on-site restaurant.
Stovepipe Wells Village Hotel
In Death Valley, Stovepipe Wells is the second hotel that offers pet-friendly accommodations. Located in Mesquite Sand Dunes, the hotel offers cozy accommodations. A rustic saloon and restaurant are part of the hotel's Old Western theme. A heated outdoor pool, a general store, RV parking, and a campsite round out the amenities.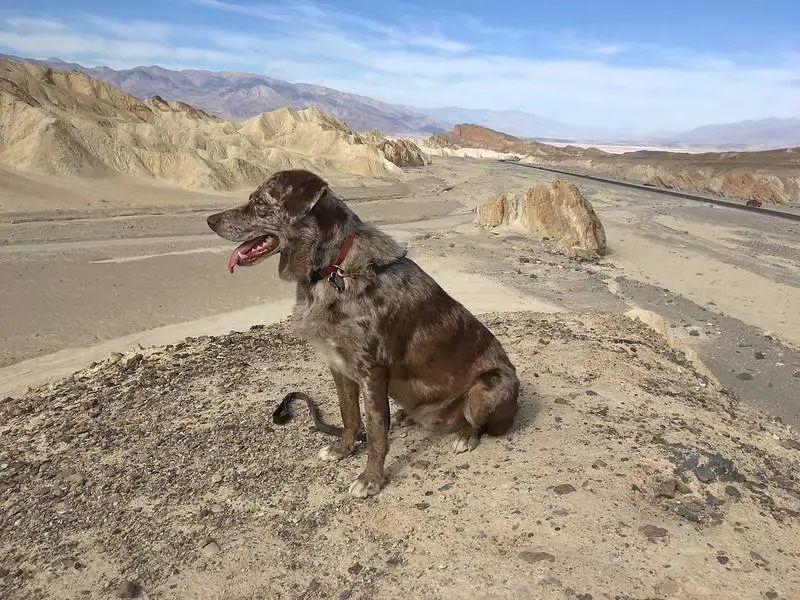 Dog-Friendly Hotels Near Death Valley
Motel 6 Beatty, NV
The accommodations were clean, a great value for the price, and in a great location. It is within walking distance or a short drive to the popular Beatty restaurants and sites.
Amargosa Opera House
Staying in Death Valley Junction is another option, particularly if coming from Las Vegas. Death Valley Junction is home to the Amargosa Opera House, a café, opera house, and hotel that welcomes dogs. Compared to Beatty, NV, Amargosa is a little closer to the national park's entrance and other tourist hotspots.
Stagecoach Hotel & Casino
Stagecoach Hotel offers everything you need, including a 24-hour casino. It's a great value for the price. Among their amenities are a swimming pool and spa, as well as a Restaurant. Located on Highway 95, which runs through the town of Beatty, NV, the Stagecoach Hotel & Casino is also on this road.
Packing for Death Valley: Things to Take with Your Dog
When you are visiting Death Valley, it is important to ensure your dog stays hydrated. For yourself and your dog, carry a cooler of ice and water.
You should bring AirTags for your dog's collar. The Airtags link up to the phones and if your dogs were to run off or go missing you could track them. Airtags are excellent for traveling with your dog, as they provide you with a sense of security and comfort.
Pet parents can use paw wax to protect their pets' paws from sand, rough terrain, hot pavement, and other extreme conditions.
What Should You Visit Death Valley National Park with Your Dog?
No more canceling trips/vacations or worrying about your pet back home. You can go on an exciting and fun road trip with your dog
It won't even be that expensive, unlike other vacations. You can save if you board your dog over the weekend
You and your pet will have a blast, too, since it will be a great time for both of you. You can take your dog to several dog-friendly drives and places of interest. Win-Win for both.
The location is quite accessible. Using a variety of workarounds, you can reach all the top locations in Death Valley. 
Things to Keep in Mind before Visiting Death Valley with Dogs
There is a shortage of pet-friendly lodging options
At Badwater Basin, dogs are not permitted on the salt flats
Summer months are not suitable for your dogs.
If someone has to stay with the dog, you may have to do some solo hiking.
Don't forget to bring a dog umbrella, a dog stroller and walk with your dog on a leash at all times.
To conclude, pet-friendly Death Valley offers plenty of activities you and your dog can do together. From hammock camping with your dog, going hiking to site seeing the amazing place, you and your pet are sure to have a great time here.
Read Other Posts on Dog-Friendly Travel in California: