9 Best Dog-Friendly Springs in Florida
Florida, the sunshine state has many things to offer. It's not only about the warm weather, the sunny days, the beaches but there are plenty of beautiful natural springs in Florida, that one must visit.
But if you have a pet dog, you must be wondering, how to explore pet-friendly springs in Florida? Well, no more worry as there are many options for dog-friendly springs in Florida. You can take your dog to many dog-friendly Florida springs and can have a wonderful time together with your furry friend.
This post may contain affiliate links. If you buy something through one of those links, you won't pay any extra penny, but I'll get a small commission that encourages me to deliver more helpful content for you.
So, let's jump in right away and find out the top dog-friendly springs in Florida.
9 Best Dog-Friendly Natural Springs in Florida
Spending a day at a Florida spring with your dog will be a worthwhile experience. Here is your guide to dog-friendly springs near Florida.
1. Fanning Springs State Park
Fanning Springs State Park is the paw-perfect location whether you are looking for a place to go for a leisurely walk or a challenging trek. The park, which is in north-central Florida, provides stunning vistas of the Suwannee River. Your paw-friend won't have a chance to get bored as the place offers plenty of adventurous activities for them.
What's more, dogs are allowed all year long, so you can pack your bags whenever you want to spend some outdoor time with your pup. However, they cannot get into the water to have some splash, but you can make it up with other fun activities. You can go on an exploration trip with your furball to the wildlife and habitats on the 246-mile Suwannee River banks.
Address: 18020 Northwest, US-19, Fanning Springs, FL 32693, United States
Fee: $6 per vehicle
Timing: 8 am till sunset/ all year round
Tip: You can get firewood from the shops in the park for $10.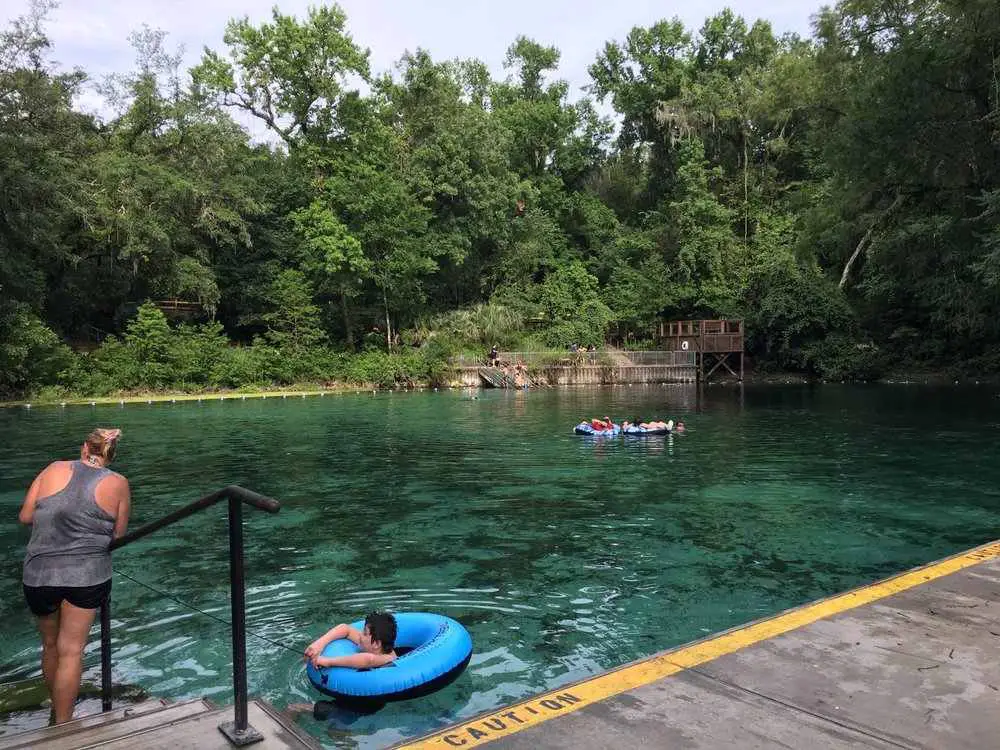 2. Blue Springs
Another natural dog-friendly spring in Florida is Blue Springs situated in the St. Johns River. Famous for being dog-friendly springs with manatees near Florida, this is one option to explore if you want to spend a day with your pet in a dog-friendly spring in Florida.
The spring offers tons of activities such as paddling, tubing, scuba diving, snorkeling, boat tours and the 72-degree temperature of the water is ideal to indulge in all such adventurous things. Moreover, the spring has camping facilities, so even if you're on the hunt for dog-friendly springs in Florida for camping, Blue Springs must be on your wishlist.
Another interesting facet of the park is that you can enjoy watching more than a hundred manatees in the spring water of the park. The park has the largest number of manatees during the colder months. You can also catch glimpses of eagles, ospreys, and other animals.
Address: 2100 W. French Ave. Orange City FL 32763
Fees: $6 per vehicle
Timings: 8 a.m to sunset
Tip: Blue springs receive a huge amount of footfall during weekends and weekdays, so to make the most of your day, visit the park early.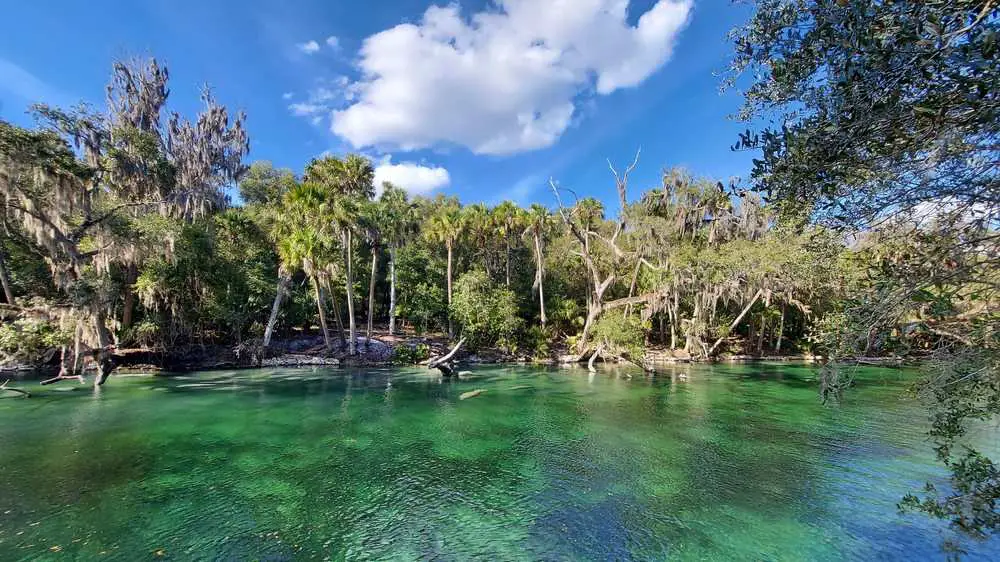 3. Silver Springs State Park
Want to experience one of America's largest dog-friendly springs in Florida? Silver Springs State Park is popular for being the most loved dog-friendly spring around Florida. Surrounded by greenery and great ancient architecture, you can have an awesome outing with your dog in this park.
The park offers glass-bottom boat tours to its visitors to enjoy the marine life inhabiting underwaters. Also, if you want to know more about the park's history, the Silver River Museum inside the park is a great place to visit. Spend your day picnicking, horseback riding, bicycling, or hiking.
You can also opt for a Canoe Kayak Launch with an additional fee of $4.
Address: 1425 N.E. 58th Ave.Ocala FL 34470
Fees: $8 per vehicle
Timings: 8 a.m to sunset
Tip: The park only allows well-behaved pets and you must carry waste bags to clean after your dog when you are traveling with a dog.
4. O'Leno State Park
O'Leno State Park is another dog-friendly spring near Florida. Situated on the bank of the Santa Fe River, this is one of the oldest State Parks of Florida. If you want a relaxing day to enjoy scenic views of nature, O'Leno State Park should be your go-to option. There are trails inside the park where visitors can go biking or hiking.
Besides, if you want to explore something new, you can opt for fishing along the banks of the river. You can extend your stay by spending a night as you will find here one of the best dog-friendly campgrounds in Florida. Make sure to capture great photos of the picturesque beauty of the park while having fun in this dog-friendly place in Florida.
Address: 410 S.E. O'Leno Park Road High Springs FL 32643
Fees: $5 per vehicle
Timings: 8 a.m till sunset
Tip: The park only allows well-behaved and quiet dogs. Moreover, you have to keep your dogs on a 6-foot leash.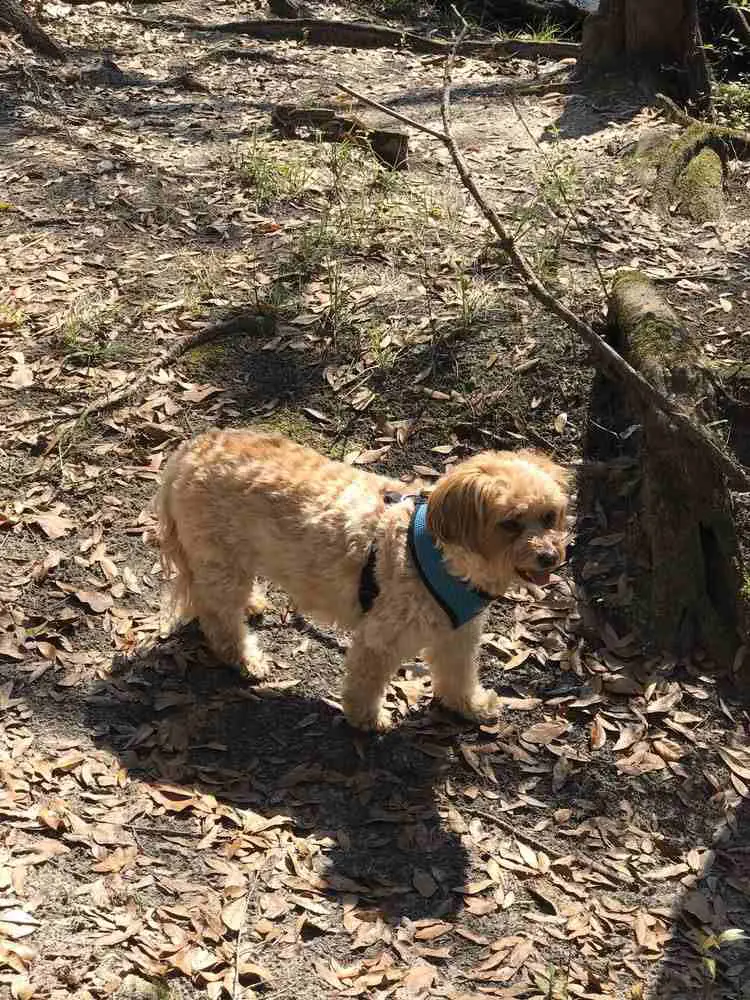 5. Rainbow Springs State Park
There is no dearth of dog-friendly springs in Florida and Rainbow Springs State Park is another such option where you can spend a great day with your doggo. The lush green of the park makes for a worthwhile walk and you can relax in the cool springs. You will also find a number of hammocks all around the park. Check out our ultimate guide for hammock camping with dog.
What makes Rainbow Springs State Park the best spring in Florida for dogs is that visitors get to swim in the blue waters of the springs. If you're hanging out with your friends at this park, make sure to do some adventures like snorkeling, wildlife viewing, and camping. This spring features an astounding landscape of Florida and has the fourth-highest flow of spring.
Address: 19158 S.W. 81st Place Road Dunnellon FL 34432
Timings: 8 a.m to Sunset
Fees: $2 for the Headsprings
Tip: You must keep your dog on a 6-foot leash and dogs are not permitted in areas like rivers, headsprings, and swim areas.
6. Wekiwa Springs State Park
If you're in the search for dog-friendly springs in Orlando, then you can plan a visit at Wekiwa Springs State Park. Just a few minutes away from downtown Orlando and you will land up in a beautiful park with the Wekiwa river passing by. Whether you just want to rejuvenate or indulge in wildlife watching, Wekiwa Springs is a must-visit pet-friendly spring in Florida.
It is an extremely popular spring in Florida as you will see many people flocking during the weekends to enjoy the blue waters, paddling on the river, or just hiking through the long trails. Keep your dog on leash while taking a walk inside the park.
Address: 1800 Wekiwa Cir. Apopka FL 32712
Timings: 8 a.m to sunset
Fees: $6 per vehicle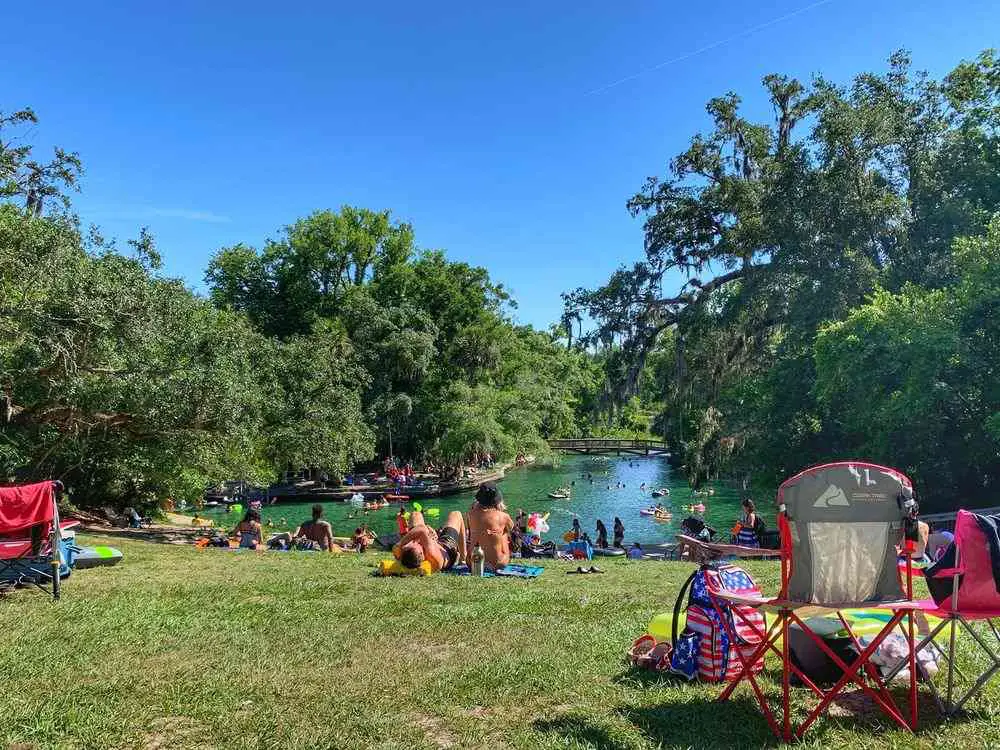 7. Eureka Springs Conservation Park
Eureka Springs Conservation Park is a beautiful dog-friendly spring in Tampa which has a unique collection of tropical plants. The founder of the park established a fish farm springs and Eureka Springs became the first botanical park of that area.
If you're a nature lover, you will love the wonderful sights of the orchid room and rose garden. Also, make sure to breathe in the fresh air of the springs while strolling around the trails and boardwalks between the cypresses and maples. Dogs are welcomed at this park but must be kept on leash.
Address: 6400 Eureka Springs Rd Tampa, FL 33610
Timings: 8 a.m to 6 p.m
Fees: $2 per vehicle
8. Madison Blue Spring State Park
Famous for being the no.1 swimming hole in the USA, Madison Blue Spring State Park is another superb option to explore. The 150-foot spring is certainly a crowd puller and interestingly the spring ends up in the limestone basin.
Not just swimming, the park offers other amenities such as scuba diving, fishing, paddling, etc. Also, if you're looking for dog-friendly Florida springs to visit with your family, keep Madison Blue Spring State Park as one of your options. When you're bringing your dog, make sure to keep it attended to all the time.
Address: 8300 N.E. State Road 6 Lee FL 32059
Timings: 8 a.m to sunset
Fees: $4-$5 per vehicle
Read Also: 7 Effective Tips to Walk with Your Dog Off-Leash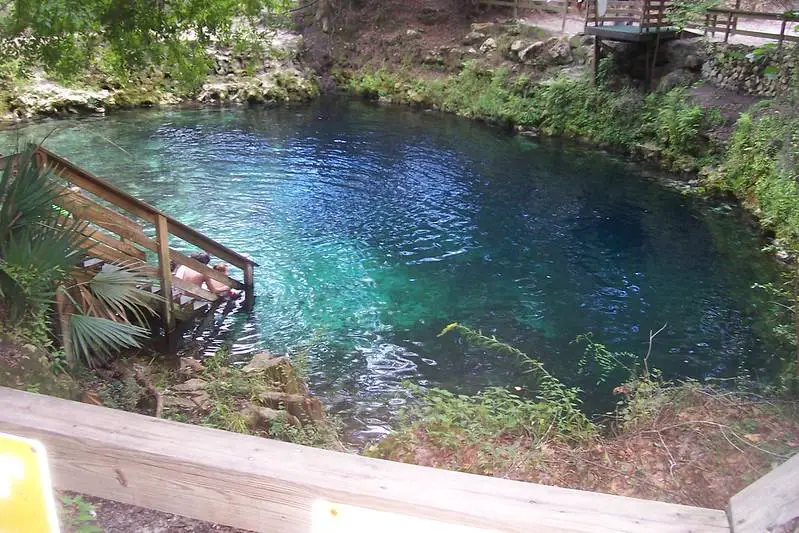 9. Ichetucknee Springs State Park
Ichetucknee Springs State Park is another popular natural dog-friendly spring that is known for its crystal waters where you can disconnect yourself from all the hustle-bustle of daily life and reconnect with nature. People love indulging themselves in tubing but the vast park is an abode of many wildlife animals which are worth observing.
There are 8 springs with fresh water flowing from them and they all merge in the stunning river of Ichetucknee. Don't forget to get on a kayak or a canoe ride to get the best views of the entire park.
If you want to do something offbeat, make sure to take a deep dive in the Snorkel Blue Hole to experience the marine life underneath and swim side by side with fish and turtles. Bring your doggo on leash and you're sure to have a special day with him.
Address: 12087 S.W. U.S. Highway 27 Fort White FL 32038
Timings: 8 a.m to sunset
Fees: $6 per vehicle
Tips for Dog-Friendly Springs in Florida
Traveling with a dog will not be a hassle if you know some useful tips.
Always read the rules and policies of the springs before you visit them. The official website of the springs provides all necessary information regarding taking your dog to the spring.
Make sure to carry waste bags for your dog as not all spring parks provide bags.
Keep the leash of your dog with you. Not all parks allow off leash dogs, so keeping your dog on leash is wise.
Always keep an eye on your dog. Your dogs must be under your attention while taking a stroll in the park.
Final Words
With so many great options of dog-friendly springs in Florida, you will surely spend an awesome day with your doggo. It's a fun way to unwind yourself and get some time with your pet dog in one of these Florida springs.
Read Next:
FAQ – Dog-Friendly Florida Springs
1. What is the best time to visit dog-friendly Florida springs?
Ans– The best time to visit these dog-friendly springs is during summer. However, you can visit during cooler months as well.
2. Are there alligators in the springs in Florida?
Ans– Yes, alligators are regular visitors in some of these Florida springs, but there are marked lines to alert you.
3. What is the cleanest natural spring in Florida?
Ans– Madison Blue Springs, Ichetucknee Springs, Weeki Wachee are some of the cleanest natural springs of Florida where you can take your dogs.