5 Best Dog-Friendly Hikes in Palm Springs
Everyone who enjoys the outdoors with their pet will love dog-friendly hikes in Palm Springs and the pet-friendly locations there. Outdoor activities like Palm Springs Hikes with dogs will be fun to enjoy with your furry travel companion. When you have a dog that's your best hiking companion, you won't want to miss the opportunity to take him to the trails in Greater Palm Springs.
In fact, you have options for off-leash dog hikes in Palm Springs as well. Don't forget your water and your favorite treats – it's time to go on a dog-friendly hike to explore this beautiful oasis.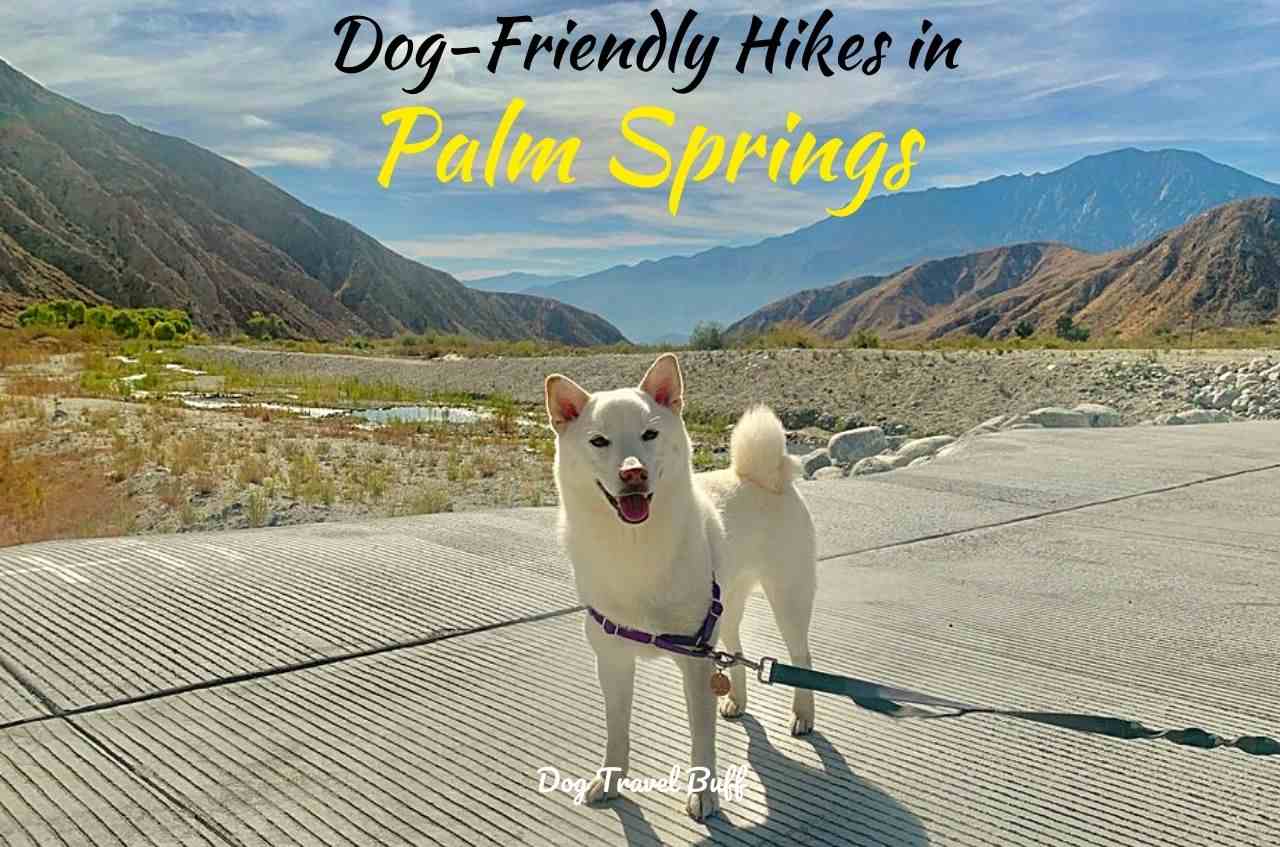 This post may contain affiliate links. If you buy something through one of those links, you won't pay any extra penny, but I'll get a small commission that encourages me to deliver more helpful content for you.
List of The Best Dog-Friendly Hikes in Palm Springs
We've listed some of the best pet-friendly hikes in Palm Springs that nobody should miss out on. So, check out these dog-friendly Palm Springs hiking trails.
1. Whitewater Canyon Loop Trail
With breathtaking views of this Southern California oasis, an excellent location for hiking, with scenic trails and little traffic, is the Whitewater Canyon Loop Trail. During this 3.5-mile trail, you can admire the San Jacinto Mountains and desert canyons.
Besides keeping the area lush, the Whitewater River also allows you to cool off with a quick splash (water effects may vary). Enjoy some of the best views of the surrounding mountainsides by taking your dog up the 600-foot climb.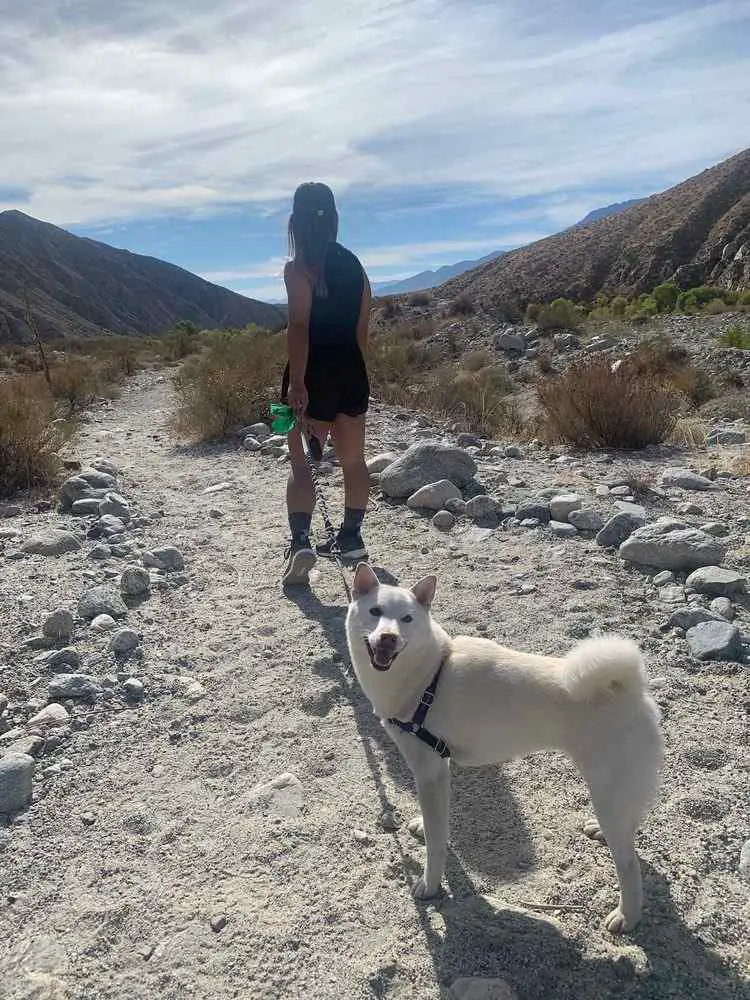 2. Homestead Trail
If you're looking for an active walk with your dog, don't miss the Homestead Trail. In Palm Desert, it is also known as The Cross Hike. Homestead Trail, a dog-friendly hike in Greater Palm Springs, is located in the 27-acre Cap Homme/Ralph Adams Park. While the inclines challenge dogs and their companions, the panoramic views of the area at the top make the effort worthwhile. It is highly recommended to come here with proper hiking accessories for your dog.
As the Coachella Valley lights up under the starry skies, the trail is especially popular for nighttime hikes. There is plenty of space for dogs to sniff and explore (on leash) at the base of the mountain, even if you do not hike up.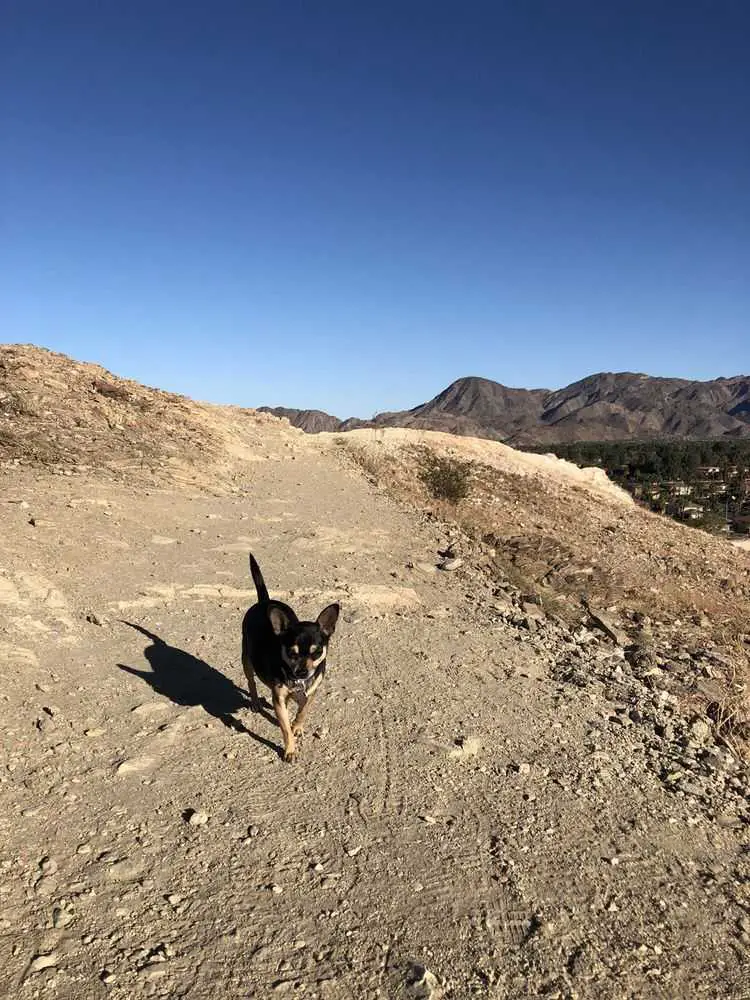 3. Bear Creek Nature Trail
There are 4.8 miles of paved Bear Creek Nature Trail on the Southern Santa Rosa Mountains. The trail is moderately difficult and stretches along the base of the mountains. While it meanders through a protected nature preserve, the trail is filled with pink bougainvillea blossoms and wispy mesquite trees. Travelers and their dogs can rest against shade structures or drink at drinking fountains along the trail, which highlights native plants and wildlife.
The trailhead is conveniently located near the intersection of Calle Tecate and Avenida Madero, where street parking is readily available. You can enjoy some of the best views on the trail during sunrise and sunset, and the trail is open to the public from dawn to 10 p.m.
4. Mission Creek Stonehouse Trail
Dog walkers can enjoy over 17 miles of trails at Mission Creek Preserve, which offers breathtaking desert scenery and dog-friendly trails. The Coachella Valley's natural side is on display at Mission Creek Preserve, which is far removed from the bustle of modern life.
Enjoy a leisurely walk along the sandy trails, observe local wildlife like rabbits and roadrunners, and take photos next to historic stone buildings throughout the preserve. Mission Creek's namesake stream flows throughout the year. Depending on conditions, however, the results can vary.
Read Also: 10 Tips to Train Your Dog to Walk on a Leash
5. La Quinta Cove Oasis
The Cove Oasis trail network is situated at the top of La Quinta Cove and provides some of the most gorgeous views in the area. The Cove Oasis can be reached by two flat trails that take you three minutes to walk from the parking lot. If you're traveling with your four-legged friend, this is one of the easiest options for a little adventure through the desert.
While you can hike with your dog on a leash on Bear Creek Nature Trail, they cannot go beyond this landmark. La Quinta Cove Oasis requires leashes for dogs at all times.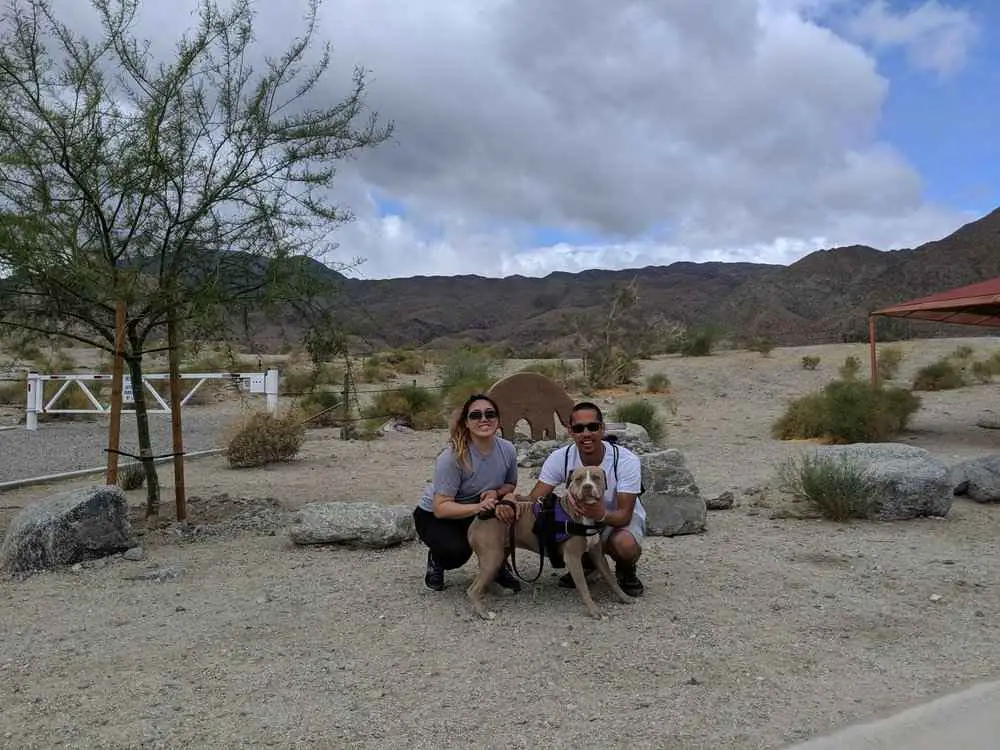 Read Also:
Dog-Friendly Hotels in Palm Springs
The Greater Palm Springs area is one of the best dog-friendly destinations in the country, with many hotels, resorts, and boutique inns welcoming pets. In addition to the pet-friendly policy, many of these hotels also have extra perks for pets.
Some pet service packages offer everything from fresh-baked treats and doggy beds to in-room dog massages. After all, dogs deserve a bit of vacation relaxation, too. Consider staying at one of these pet-friendly hotels in Greater Palm Springs when you need a getaway with your dog.
Near the intersection of Palm Canyon and Tahquitz Canyon, this new and upscale boutique hotel is located in the heart of downtown. Modern and loft-like in design, the hotel's rooms and suites are large and well-maintained.
With a seven-story structure, the hotel has some pretty nice views of the surrounding mountains and Coachella Valley from the upper floors. The rooftop swimming pool and spa are also worth checking out.
At the Rowan, pets of any size are welcome but must fit in the elevator, according to the hotel's humorous rule. Dogs are advised to be created in your bedroom when you're away, and excessive barking should be avoided. The hotel does not charge a pet fee.
Address: 100 West Tahquitz Canyon Way, Palm Springs, California
A short distance away from downtown Palm Springs is the Hotel ZOSO on Indian Canyon Drive. The downtown sightseeing, shopping, dining, and activities are just a short walk away. Besides its main restaurant, The Kitchen offers food service by the pool, as well as room service.
Guests are allowed to bring pets to the hotel, but dogs are not allowed near the pool. Based on the weight of the animal, there is a sliding pet fee. Large dogs can cost up to $100 a day with fees, and small dogs can be as low as $25.
Address: 150 South Indian Canyon Drive, Palm Springs, California
Several budget hotels in Palm Springs provide pet-friendly accommodations, including The Vagabond, near the northern end of Palm Canyon Drive. It is within several blocks of several good restaurants, but the downtown area is quite far away (or a brief drive).
There are many outdoor spaces at the hotel, including an expansive grassy area. It is not allowed to leave dogs unattended in rooms, and there is no charge or size restriction for dogs. The hotel offers amenities like free parking, free high-speed Wi-Fi, free breakfast etc, adding value to your stay.
Address: 1699 South Palm Canyon Drive, Palm Springs, California
Located downtown in the heart of Palm Springs, the Hilton provides an excellent base for exploring the city. The nearest shopping and dining streets are Indian Canyon Drive and Palm Canyon Drive; the Palm Springs International Airport is ten minutes away. Right across the street from the airport is a large dog park.
At the hotel dogs are welcome, but a non-refundable pet deposit of $75 must be made. Weights up to 75 pounds are allowed. Two animals are allowed per room, but they cannot be left unattended. A casual café with a large outdoor terrace is located next to a poolside café.
Address: 400 East Tahquitz Canyon Way, Palm Springs, California
Dog-Friendly Restaurants in Palm Springs
There are some restaurants that allow customers to bring their dogs to dine with them.
Sherman's Deli & Bakery
With locations in Palm Springs and Palm Desert, Sherman's Deli & Bakery is a diner-style restaurant with East Coast flair. You and your pet will be welcomed into the spacious patio of the restaurant with a basket of treat-filled milk bones. There are no words to describe how delicious the food is. If you're strolling around the downtown shopping area, this is a great place to grab a bite to eat.
El Mirasol
There was good food and margaritas, and the patio is cozy and beautiful. It is partially covered, and dogs are welcome on the patio. A few blocks from the downtown shopping area but easily accessible on foot, the restaurant is located several blocks from the congested downtown shopping area.
Lulu California Bistro
Colorful mid-century modern decor is a trademark of Lulu California Bistro. Several of the staff are dog lovers, so it's very dog-friendly. You can even take your pet with you on a walk through the restaurant to reach an outdoor table.
Read Also:
What can you do with dogs in Palm Springs?
While vacationing in Palm Springs, you may be wondering what to do with your dogs. Here are some fun and unique dog-friendly places in Palm Springs to enjoy with your dogs
Coffee at Koffi
Palm Springs has many dog-friendly coffee shops, but the one at Koffi (1700 S Camino Real) is especially charming. Great atmosphere, free WiFi, great food, and superb coffee make this spot so pleasant to hang out in. Based on your preferences and the time of day, you can choose from several pet-friendly patio locations.
Enjoy Picnic and View the Coachella Valley
Enjoy a picnic on the Pines to Palms Highway as you take a short drive south. From the top of this road, you can see the entire Coachella Valley below as it winds its way to a scenic overlook.
There is a view of the Salton Sea from here. Grab a picnic basket and lunch, and enjoy the afternoon.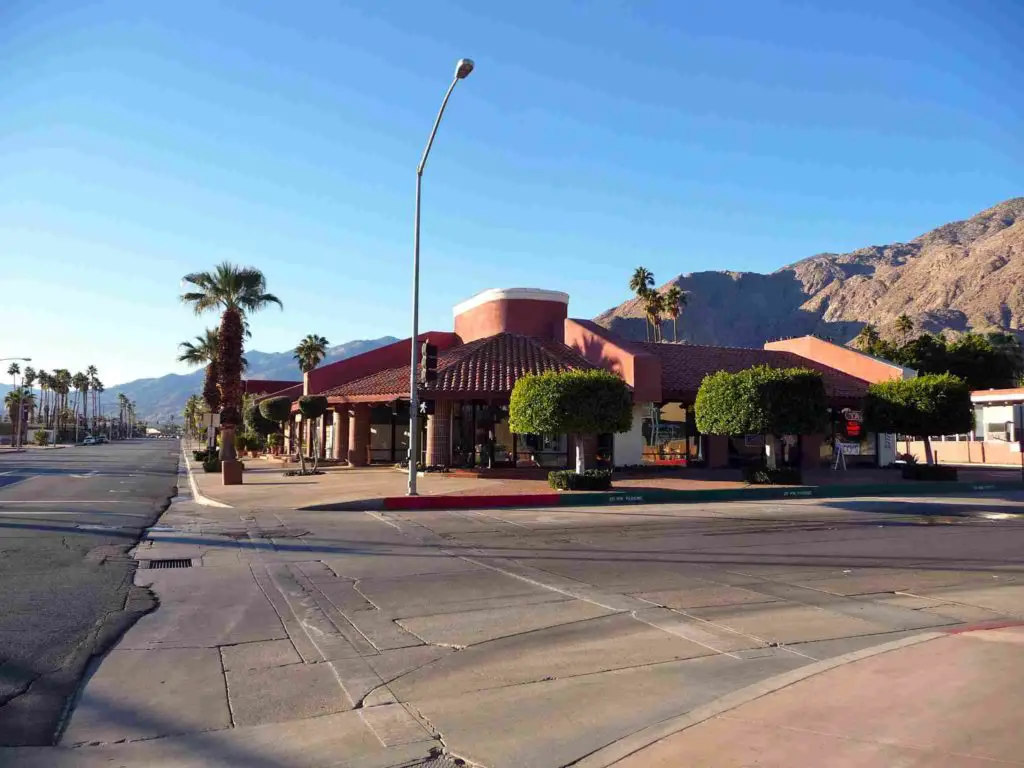 Dog Walking at Pacific Crest Trail
The famous Georgian Trail is a good place to walk, whether you are an avid hiker or not.
After walking the trail, you will arrive at the Pacific Crest Trail trailhead. It takes hikers four to six months to complete this 2,600-mile trail.
Drive at Joshua Tree National Park
For good reason, Joshua Tree National Park is a popular attraction in the area. There's nothing quite like the stunning scenery found in Joshua Tree, spread across almost 800,000 acres where the Mojave and Colorado Deserts meet. You don't want to miss spending a day in Joshua Tree with your dog!
Conclusion
To conclude, the benefits of hiking with dogs are far beyond your imagination. Wonderful experience in the dog trails in Palm Springs, off leash hiking with your dog (at some places), spending quality time, exploring nearby places and enjoying food. A win-win for both. Furthermore, as a pet parent, you will not have to worry about how your pet is doing back home.
Read Other Dog-Friendly Hikes:
FAQs – Dog-Friendly Hikes in Palm Springs
1. What should I carry apart from the leash?
2. Is it expensive to enjoy the best hikes with dogs in Palm Springs?
A: Not at all. You just need to find food and accommodation as per your budget. This blog includes everything from luxurious to budget-friendly accommodation.
3. Are dogs allowed in Palm Canyon Palm Springs?
A: Yes! Dog-friendly hiking in Palm Springs exists. There are plenty of dog-friendly trails near Palm Springs.