8 Best Dog-Friendly Hikes in Santa Cruz, Ca
Trails and hikes in Santa Cruz are perfect and the best way to enjoy yourself with your dog and stay healthy. Dog-friendly hikes in Santa Cruz offer great relaxation, enough exercise, and hospitality to enjoy the Santa Cruz environment. I love dogs and enjoy seeing them jumping up, running, or getting excited for outdoor adventure.  
Santa Cruz is a welcoming and scenic destination that sits on the northern edge of Monterey Bay and south of San Jose and San Francisco. Santa Cruz hikes with dogs are well known among the outdoor enthusiastic pet owners and it offers the most beautiful charming and welcoming hiking trails. I love traveling with dogs! They offer additional adventure in my journey.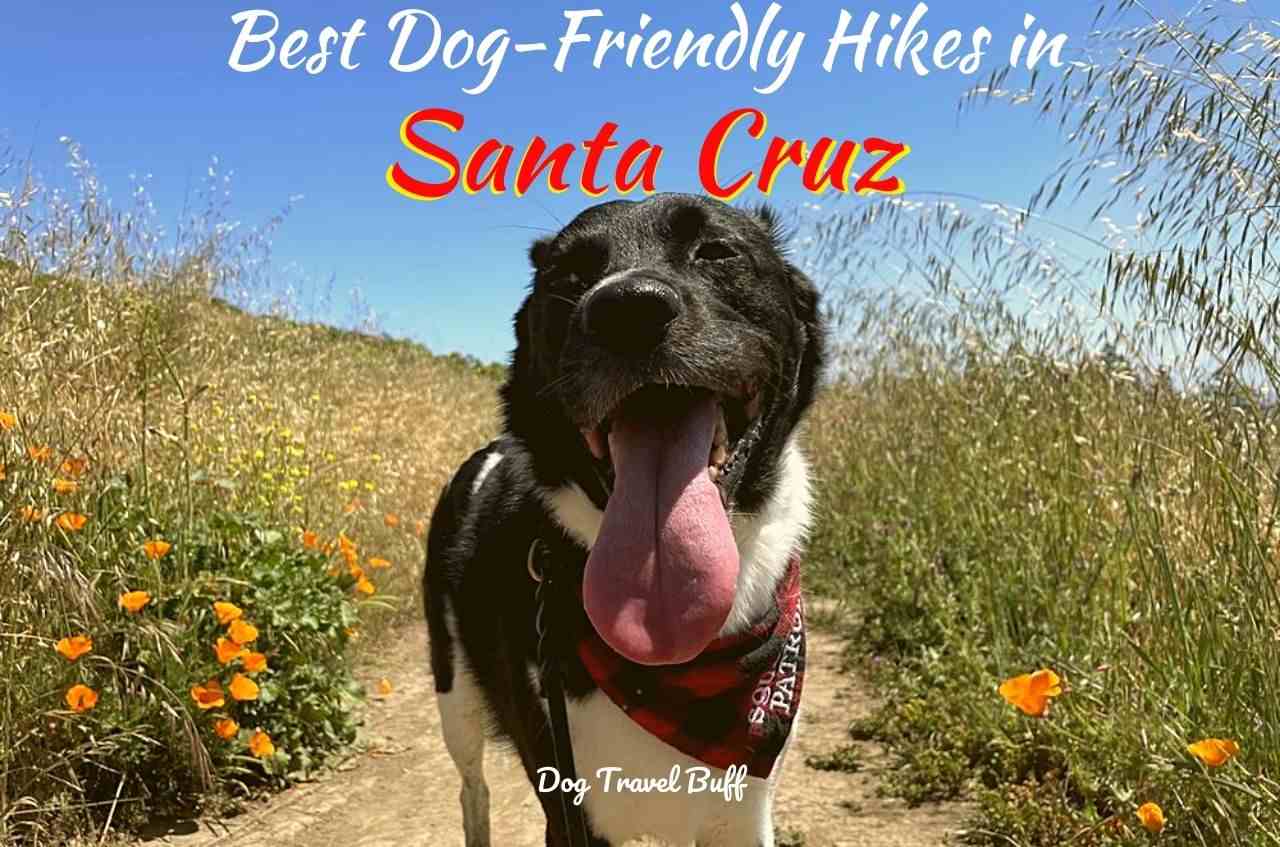 This post may contain affiliate links. If you buy something through one of those links, you won't pay any extra penny, but I'll get a small commission that encourages me to deliver more helpful content for you.
Here, I will guide you to find jaw-dropping Santa Cruz dog-friendly hikes which are perfect to experience happiness and perform a lot of activities. So, let's check the dog-friendly hikes in Santa Cruz. 
Dog-Friendly Hiking in Santa Cruz – Fall in Love with These Fantastic Trails
I treat my dog less like a pet and more like family and I know you are like one of me. You want to bring your lovable pup to witness every beautiful scene you've ever witnessed and its all-natural feeling. His cute little face, his habits of wagging tails, and his enthusiastic soul makes you fall in love with him even more. Dog parents who are looking for dog-friendly day trip ideas in northern California would definitely love to visit Santa Cruz and explore its hiking trails.
So, let's consider these delightful pet-friendly hikes in Santa Cruz which offer you and your dog to explore and meet new friends. 
1. Pipeline Trail, Henry Cowell Redwood State Park    
Distance: 2.9 miles
Elevation Gain: 420 feet 
Difficulty: Moderate 
Leash Required: Yes
Over 4,650 acres of forested land in the Santa Cruz Mountains Henry Cowell Redwood State Park sits towering the sky-scraping old redwoods trees. Walk beyond the redwood grove to explore the diverse habitat, river, sandhills, tree-lined trails, and grasslands. Along the Pipeline Trail, you will encounter the beautiful flowing Lorenzo River and Roaring Camp Railroads along the way. 
To access Pipeline Trail, one of the best dog-friendly Santa Cruz hikes use the entrance from Highway 9. The other hiking trails are the Meadow Trail, Graham Hill Trail, and Powder Mill Fire Road. The stunning forest vegetation offers beautiful long hikes to enjoy. If your dog loves outdoor activities, you should know what are the essential hiking gear for dogs.
Tips:
No dogs are allowed on the Redwood Grove Loop Trail
No dogs are allowed in the Fall Creek Unit
The entry fee is $10 per vehicle
For camping on the site, it will cost a $35 fee per night. 
2. Aptos Creek Trail, The Forest of Nisene Marks
Distance: 14.9 miles
Elevation Gain: 2234 feet 
Difficulty: Moderate
Leash Required: Yes
Over 10,000 acres, the second-largest redwood, and oak growing place; The Forest of Nisene Marks is one of the most popular dog-friendly hikes in Santa Cruz.It is a few miles away from the Pacific Ocean offering panoramic views of Monterey Bay. The rugged trail is a paradise for hikers and you can also witness Maple Falls, and Five Finger Falls on the Aptos Creek Trail.
The dog-friendly trails near Santa Cruz are – Aptos Rancho Trail (moderate), Terrace Trail (moderate), Three-mile trail loop (easy), Vienna woods trail (moderate), Monte Toyon vista loop (moderate), Eight Verse trail loop(easy), Sand Point Overlook via Hin's Mill Road (hard). 
Tip: On-leash dogs are allowed on the Aptos Creek Fire Road and south of the steel bridge on single-track trails.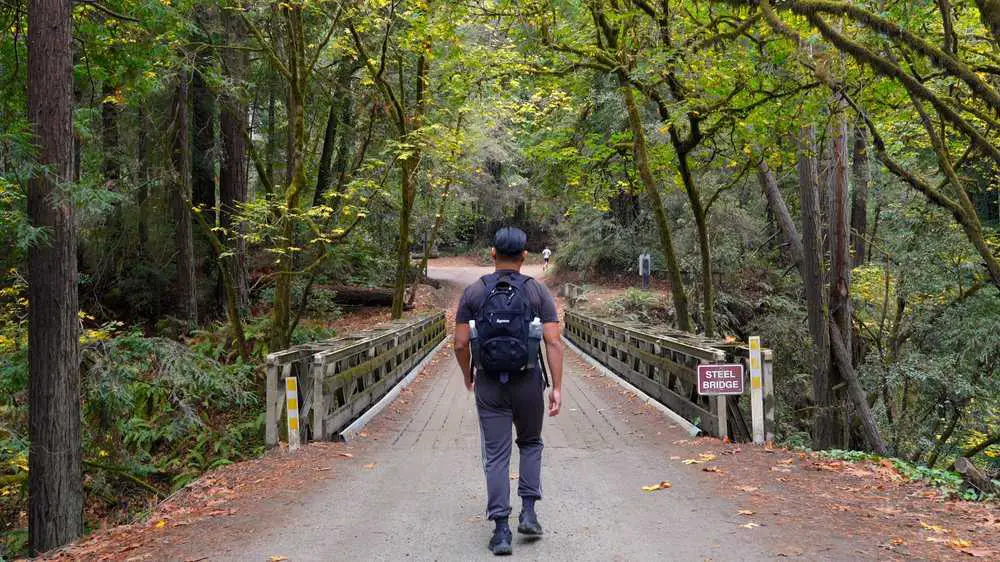 3. Enchanted Trail, DeLaveage Park
Distance: 5.1 miles
Elevation Gain: 4,400 feet
Difficulty: Moderate
Leash Required: Yes
If you are searching for a dog walking in Santa Cruz then Enchanted Trail in DeLaveage Park should bein your list. This trail turns into Sand Pit Trail at the lower trail junction where your dog can stay unleashed. Remember, to follow the signboard and obey the leash law. The hiking trail is best in the summer and spring seasons when the air is cool. 
For off-leash dog hikes in Santa Cruz follow the trail which is surfaced with lush green grasses, chirping birds, and waist-high chain-link fencing. The area comprises small and big dogs separately; the beautiful slops and flat terrain make it one of the best hiking trails in Santa Cruz. 
Tips: 
No water fountains installed therefore carry your water bottles 
Mountain cats are found a lot in the trail, so be careful
Also Read: 7 Tips to Hike with Your Dog Off-Leash(+7 Ways to Train Them)
4. West Glenwood Open Space Preserve, Scotts Valley
Distance: above 7 miles
Elevation Gain: 364feet
Difficulty: Easy
Leash Required: Yes
Over 170 –acre property in Scotts Valley, the Glenwood Open Space Preserve sits with a stunning parcel of land and natural beauty. It is one of the best dog trails in Santa Cruz which is full of riparian woodland, evergreen forest, oak, redwood, and marshland. The trail is one way, I would recommend following the blue trail to the green trail to the magenta loop. 
The west Glenwood Open Space Preserve has five loops and it is a popular dog-friendly winter hike in Santa Cruz. The sky looks clear, big, and beautiful with white clouds floating and you can hear beautiful birds singing while hiking with your pup. You will see many wildflowers such as owl clover, and lupine blooming. 
Tips:
There is a lot of sun exposure on this trail. 
Dogs are not allowed on the east Glenwood open space preserve
The trail is home to endangered species like the Ohlone tiger beetle and Opler's longhorn moth, be careful.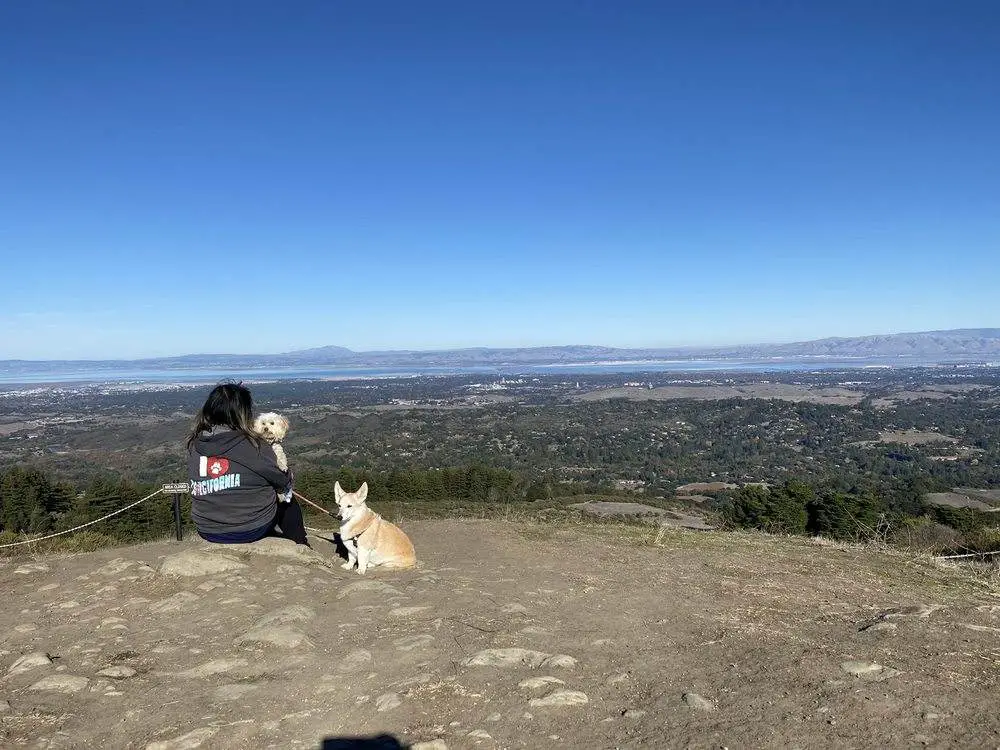 5. Pogonip Open Space: 
Distance: 4 miles 
Elevation Gain: 226 feet-882 feet
Trail Type: Loop
Leash Required: Yes
Pogonip Open Space is home to 17 trails and is one of the best hikes with dogs in Santa Cruz.It is considered one of the beautiful greenbelt properties in California. You will get the best view of Monterey Bay, and ancient redwoods. It is a 640-acre urban park with a lot of things to do and is lost in the maze of its beauty. I would recommend visiting The Spring trail. 
From The Spring Trail, you can witness the gorgeous Santa Cruz valley and UC Santa Cruz campus. You can also choose the Rincon Trail, which is another easy dog-friendly hike around Santa Cruz. I would recommend hiking to Koi Pond, historic lime kilns, and a rock garden and enjoying the sunset views. 
Tip: Dogs are not allowed in Pogonip Creek Nature Loop, Lookout Trail, Harvey West Trail, and Sycamore Grove.
6. Byrne-Milliron Forest, Corralitos Area
Distance: 2.8 miles 
Elevation Gain: 925 feet 
Difficulty: Moderate 
Leash Required: Yes
On 402 acres in the outskirts of the bucolic Corralitos area lies this gorgeous hiking trail from which you can watch – the Pajaro Valley, Monterey Bay, and 250-foot tall "Great White" redwood which is 1,000 years old. Start your hike from Byrne Trail and you can hike to A.J.'s Point or go to Byrne Milliron Park where your dog can run off-leash. 
The forest is a lovely place to hike and explore with your four-legged best friend as the whole trail is beautifully decorated with a lot of off-beat spots and unique views. We all know the benefits of traveling or hiking with a dog and this place is perfect to sneak out from busy life and spend some time with your furry friend.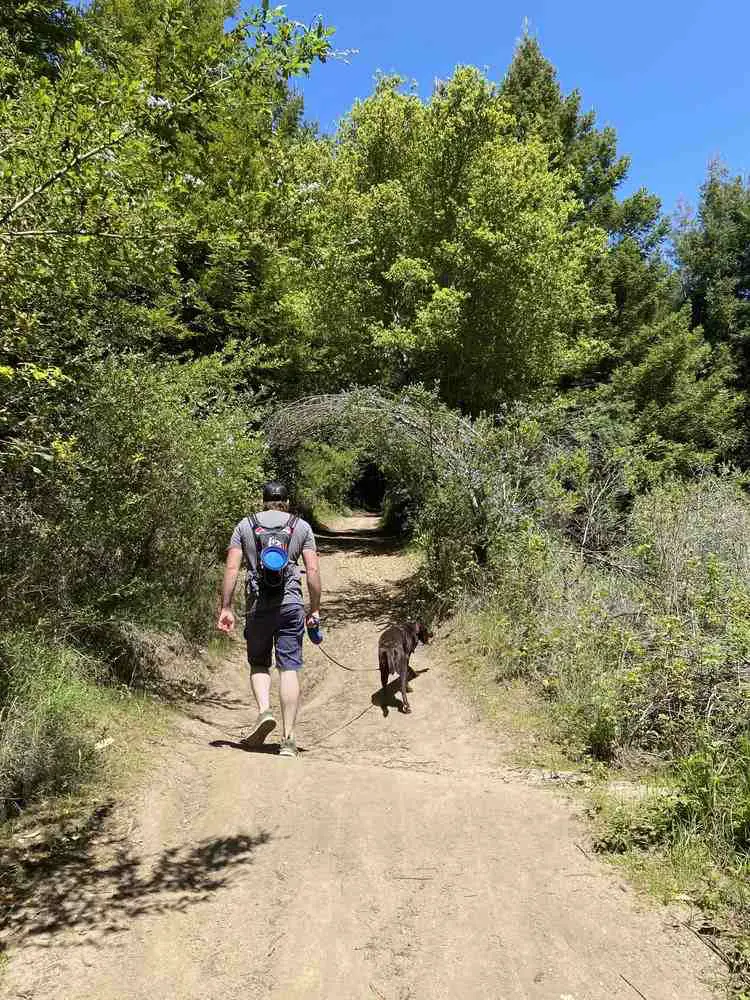 7. Pinto Lake County Park, Watsonville
Distance: 2.7 miles 
Elevation Gain: 0 feet 
Difficulty: Easy
Leash Required: Yes
183-acre Park located in Watsonville with a beautiful lake with a disc golf course, fishing pier, playgrounds, a dog park, and hiking trails. It is a great space for your dog and you to relax and add the Art Hike Challenge at Pinto Lake. This exclusive dog-friendly place in Santa Cruz is perfect for small dogs for hiking. 
Tip:
Wildlife like deer, foxes, coyotes, and mountain lions are there at the higher elevation, so be careful. 
Bring a lot of water and a dog stroller because hiking may be tiring a lot for your pup. 
8. Lodato Trail, Scotts Valley
Distance: 1.3 miles 
Elevation Gain: 748 feet
Difficulty: Moderate
Leash Required: Yes
Lodato Trail is one of the hidden parks in Scotts Valley. Lodato Park is a business park including Santa Cruz Sentinel and Central California Alliance for Health. The hiking trail takes you and your pup through the view of the Pacific Ocean at the top and redwoods. The trail offers a beautiful, quirky, unique hilly hiking feeling which makes your hiking experience enriching. On-leash dogs are welcomed and parking is free.
Tip:
Poison oak is present along the trail. 
Do not use Google map to reach LodatoPark. It may mislead.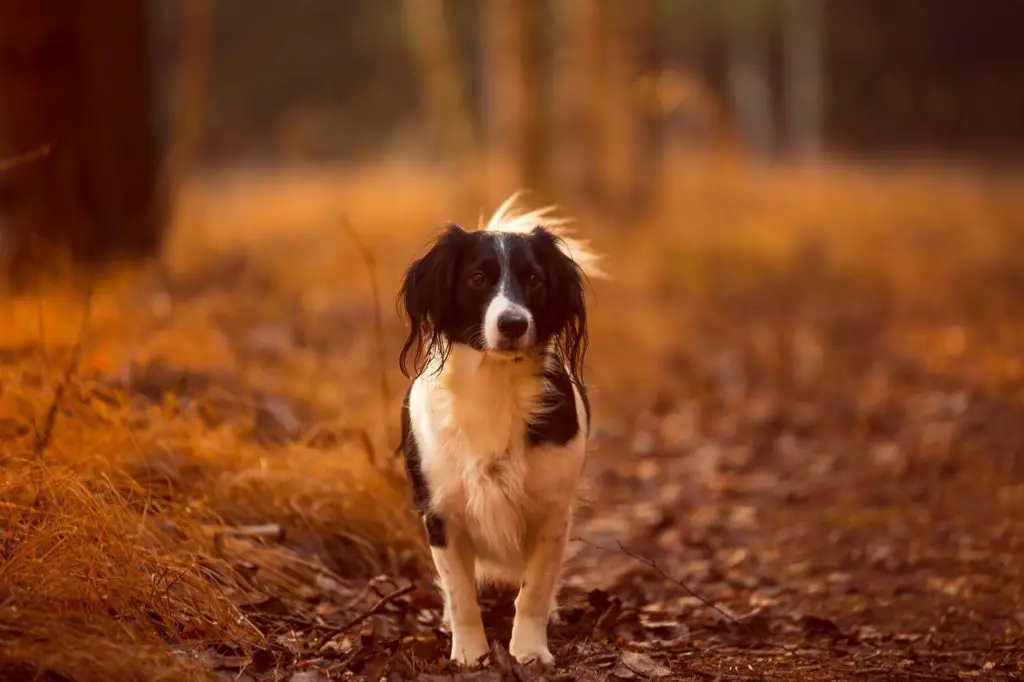 Dog-Friendly Hotels in Santa Cruz
You will find plenty of fun, hippy, and fantastic pet-friendly hotels in Santa Cruz. The beautiful hiking trails must have made you and your dog tired and you just need a great place to lay back. 
All you need now is to choose a welcoming place that offers not only exclusive amenities but beautiful views of nature. There are a lot of places but I would recommend these two –
Hotel Solares:
With an excellent location of only a 10-minute walk from Santa Cruz Boardwalk Beach, Hotel Solares is one of my favorites. It is a super dog-friendly and family-friendly hotel that welcomes two dogs of any size and any breed with additional fees. 
On arrival, they offer welcoming food to you and your dogs. The rooms are beautifully decorated and spacious with balconies, private bathrooms, and toiletries. >>Book Your Stay Now<<
Hotel Paradox, Autograph Collection:
Bay Front Inn is one of the best budget-friendly and dog-friendly hotels in Santa Cruz which is less than a 10-minute drive from the Santa Cruz Beach Boardwalk and a few miles from Natural Bridges State Beach. Dog-friendly rooms are on the first floor with dog beds. 
Complimentary breakfast and Dog treats are offered; dogs can be kept off-leash. The rooms have hardwood flooring, with free Wi-Fi and television. 
Final Words:
I hope this post has helped you to track down the hidden dog-friendly hikes in Santa Cruz which are perfect for weekend trips. If it's your first time remember to train your dog to walk on a leash because every trail doesn't welcome off-leash dogs. You can also carry your dog in a backpack to keep him safe and comfortable. Santa Cruz hikes with dogs can be nerve-wracking at times but will give you a memory to cherish and an opportunity to be in love. 
FAQ: Dog-Friendly Hikes in Santa Cruz
1. What is there to do in Santa Cruz with your dogs?
A: Explore the dog-friendly hiking trails in the Santa Cruz Mountains like Berry Creek Falls and Gray Whale Cove Trail. You can explore dog-friendly beaches in Santa Cruz like Greyhound Rock Beach, Lighthouse Field State Beach. You can walk along with the Downtown Santa Cruz, or visit dog-friendly wineries in Santa Cruz like Bargetto Winery, and Wargin Wines. You can also visit Capitola, another great place which is called "The Venetians". 
2. Are dogs allowed on the Santa Cruz Boardwalk?
A: No, dogs are not allowed on the Santa Cruz Boardwalk or the adjoining main beaches. So, if you are planning to hike with your dog off-leash then Santa Cruz Boardwalk isn't your place. Never leave your pet in the vehicle unattended; the Santa Cruz County Animal Shelter will charge you with a crime and take your dog away from you. You can bring your pet to Santa Cruz Boardwalk only in a kennel. 
Read Next: