14 Best Dog-Friendly Day Trips in Northern California
Vacation is must needed phase of life to recharge our body and mind to live a healthy and lively life. Moreover, a change of pace, helps us to unwind relax, and have fun in-between hectic schedules. I am sure you love to spend time in "water" with your dog seeing him running on the beach and playing with the incoming waves.
So, buckle up for the vacation, this blog is a detailed guide on dog-friendly day trips in Northern California. All the stop distances and places along North California are mentioned for you to plan the most magical vacation trip with your dog.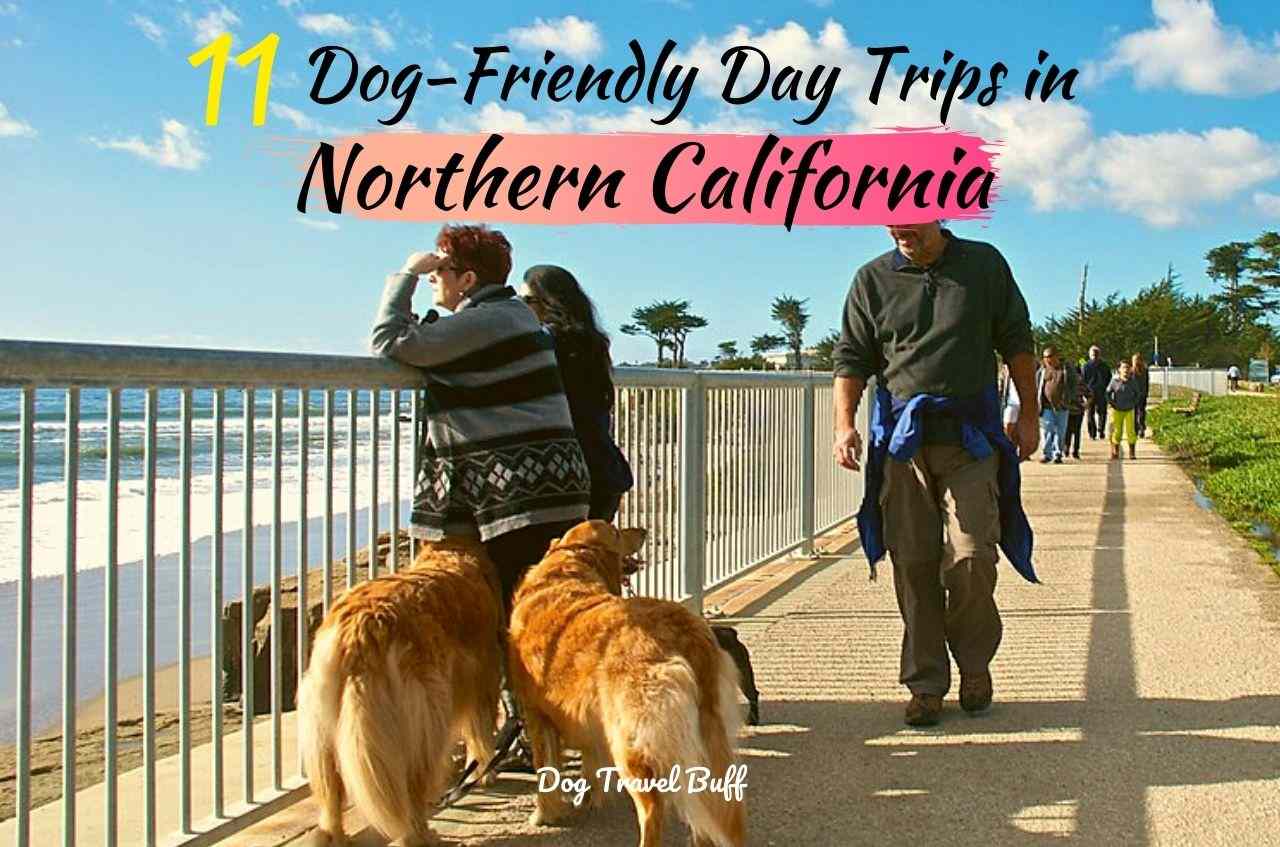 This post may contain affiliate links. If you buy something through one of those links, you won't pay any extra penny, but I'll get a small commission that encourages me to deliver more helpful content for you.
Dog-Friendly Vacations in Northern California
1. Crissy Field
Location: San Francisco
Dog Rule: Off-leash on the Crissy Field beach and on-a-leash on other areas. (15th May-1st July, off leash)
Fog or shine, Crissy Field is a beautiful dog-friendly beach in Northern California that stretches from the South tower of Golden Gate Bridge and Fort Point National Historic Site to Marina's St. Francis Yacht Cub. The 130-acre iconic spot offers a view of Marin Headlands, Alcatraz Island, Angel Island, and an epic eye soothing view of San Fransisco Bay. 
You can walk or stroll with your pup along the tidal marsh, or glamorous golden sand adding peace and fun to your pet-friendly day trips in Northern California. Do not forget to bring your pup's favorite stick and make him run and wag his tail. Moreover, Crissy Field is famous for acrobatic kite surfing and soothing beach air. 
Tips:
Visit Warming Huts, at the end of Crissy Field to treat your dog and yourself with organic food
Keep your dog on a leash on the trail and other areas of Crissy Field for the safety of runners, and walkers
Read Also: 9 Dog-friendly Hikes in the Bay Area for You to Explore
2. Mitchell's Cove Beach
Location: Santa Cruz
Dog Beach Rule: 
Off-leash time is from sunrise to sunset
Make sure your dog has voice control
Mitchell's Cove is a pretty beach between Woodrow Avenue and Almar Avenue along West Cliff Drive allowing the dog to wag their tail free along California's coastline. A walk towards the Boardwalk along the Pacific Ocean on the left offers the best views of landscape structures and hundreds of different size birds chirping. 
Mitchell's Cove in Santa Cruz is the best dog-friendly day trip in northern California that welcomes dogs to be free in the sand and chase the waves as much as they can. It has ranked well among the dog-friendly beach in Northern California. The beach has huge natural barriers backed by sheer cliffs and large rocks. The epic big waves have made Mitchell's Cove a paradise for experienced surfers. 
Tips:
During high tide, the beach goes under the water 
Bring enough fresh water for drinking because Mitchell's Cove does not have fountains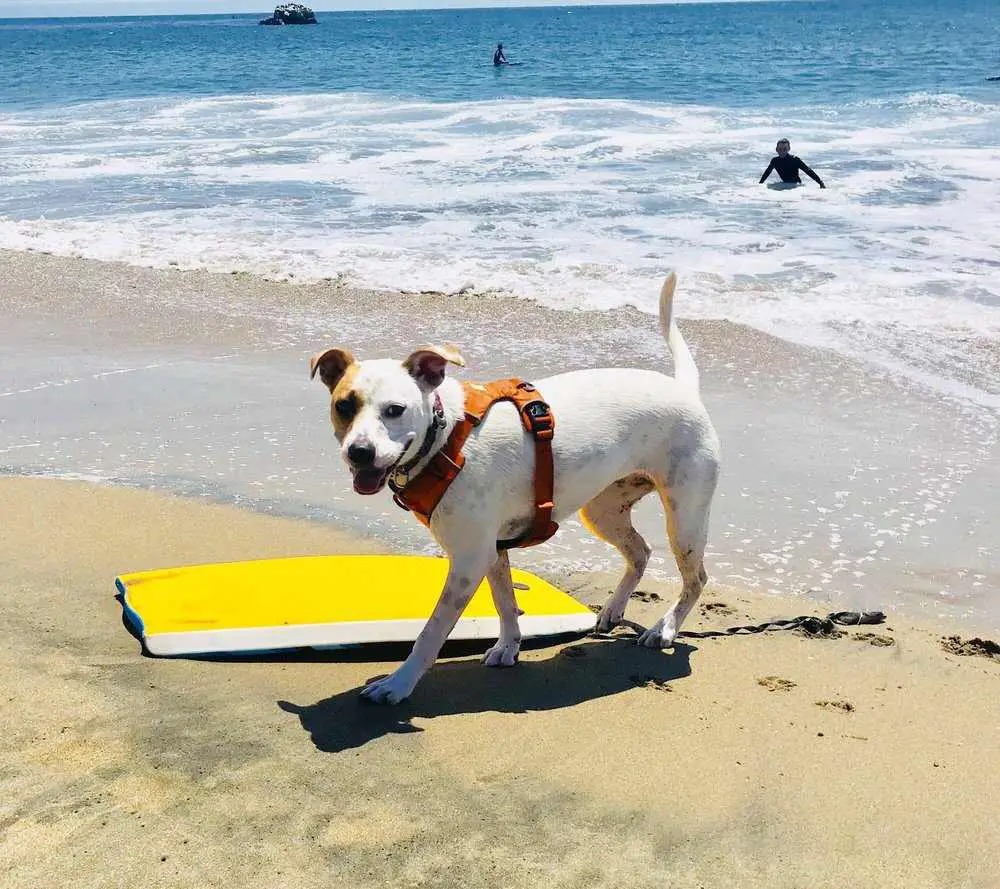 3. Hall Wines
Location: Napa Valley
Dog Rule: Well-behaved and leashed dogs are welcomed
While scrolling Instagram I am sure you have seen the famous "hallmark giant bunny foo-foo" sculpture. It is in the famous St. Helena winery, a beautiful setting that can add fun to your dog-friendly vacation in Northern California. Winemaking in St. Helena is the perfect blend of innovation, contemporary designs, and unbeatable taste of merlots, sauvignon blanc and cabernet sauvignon. 
Dogs are most welcomed at St. Helena winery, but not welcomed inside the building, walking tours, and tastings. However, in perfect Californian weather, the outside patio with your dog on the Great Lawn offers the best view of the rural vineyard and lovely pool. 
4. California Coastal Redwoods in North
Location: San Francisco to Redwood road in Humboldt County
Dog Rule: The dog must be on leash
From Lake Tahoe to Santa Cruz, dog-friendly road trips in Northern California lists are never-ending because California itself is the most scenic and gorgeous place in the United States. However, the road trip from San Francisco to Redwood National Park needs extra limelight because of its unbelievably scenic routes. 
The meandering road, waterfalls, views of Del Norte counties, Gualala, Mendocino, and Point Reyes, rugged coastline of the Pacific Ocean, off-beaten path spots, roadside attractions and serene environment makes the road trips unforgettable. 
Tips:
5. Miwok Trail/Jenkinson Lake Loop Trail
Location: Sly Park
Dog Rule: Leashed dog allowed on Jenkinson Lake Loop Trail and campground. Dogs must be on 10-foot max leash all the time
At the elevation of 3500 feet sits an 8 miles loop trail circling Jenkinson Lake which is famous among hikers and dog lovers to camp. Jenkinson Lake is surrounded by flowers, long oak trees, a creek and meadows making it perfect for hiking and enjoying nature. 
The meadow is my favorite spot to stop with Ouja and witness the farm and mountain ranges. The west side of the lake is the campground where leashed dogs are most welcomed. Jenkinson Lake Loop trail is about 30 minutes from Placerville. 
Tip: Pack a lot of water, and food
6. Eolian Dunes Preserve
Location: Monterey County
Dog Rule: The dog must be on leash
Eolian Dunes Preserve is a gorgeous hiking trail that is surrounded by dunes offering the remarkable scenery of the bay. The coastline, walking along the sandy footing, and the sight of the wonderland make this place the best hiking spot in Northern California for a pet. 
Eolian Dunes Preserve sits on 28 acres of land offering lovely surroundings and with three trails running along the way of the same length for you to explore. You can get the picnic basket for a lovely lunch date with your pup. 
Tips:
Drinking water is not available 
Restrooms are not available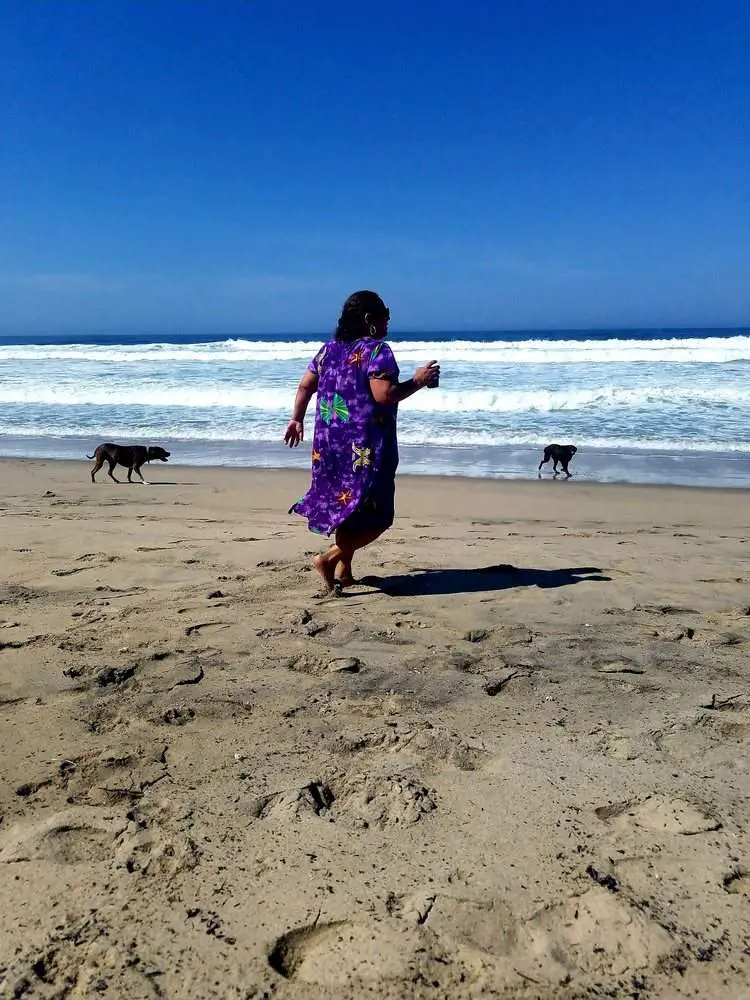 7. Point Cabrillo Lighthouse
Location: Mendocino
Dog rule: Dogs must be under control and leashed
Point Cabrillo Lighthouse is a spectacular historic light station built in 1909 extending out into the Pacific that welcomes dogs to explore. The mesmerizing buffs offer spectacular views of forests and diverse wonderlands. 
Once you reach the park, you can either take the dirt path to explore the grassland and coastal prairie or, visit the museum. From Point Cabrillo Lighthouse you can take your dog to Frolic Cove, Fog Signal building, gift shops, Mendocino coast, Fort Bragg, and other historic buildings. 
Tips:
1/2 mile walk from the parking area 
Marine Science Exhibit are open from 11 am to 4 pm all year round
Pet-Friendly Weekend Getaways in Northern California
Northern California is not just for families and couples but welcomes pets with love and respect. There are plenty of options to choose from winery, beaches, falls, and hiking trails, to dog-friendly hotels and restaurants. Therefore, sit down and enjoy the places I take you for dog-friendly day trips in Northern California.  
8. Marin
Marin County is a spectacular spot north of the Golden Gate Bridge, gifted with gorgeous stretch of beaches, hiking trails, restaurants, comfortable stays and more. 
Marin County is the most dog-friendly place to visit in northern California, easily accessible from San Francisco. You can reach it within 40-45 minutes by ferry. 
Hit the beach
Marin has a variety of beaches, boating, swimming, kayaking, wave-watching, sunbathing, and relaxing. Kehoe Beach, the least accessible beach, is my personal favorite. The tranquil spot never fails to amaze you with its huge collection of exotic wildlife and peace surrounding it. Remember, dogs must be on a leash. 
Bolinas Beach is not like a sandy beach, it sits between the Pacific Ocean and Bolinas Lagoon. This beach is famous for surfers, therefore, you can see a lot of people wearing black body suits, so do not mix them up with dolphins. 
The quiet Muir beach is well known among locals for its breathtaking scenery, coastlines, and crashing waves. The world-class beach, Tomales Bay is Benji's favorite space as he can sniff into the sand and play a lot.  
A special walk from Santa Maria Beach to Limantour Beach with a dog is such a great activity to do. You can also visit Dillon Beach a quiet oasis that believes in keeping dogs free. However, the parking is $10, the beach is all worth the money.
Head off on a hike
Indian Tree Open Space Preserve in Novato is a secluded spot to visit and enjoy nature. During the hike, you will go through a mixed forest of redwood, redwood grove, madrone, California bay on the left and gorgeous views. You will also discover new wildflowers in the woods, black oaks, huckleberry, Manzanita and more. 
For waterfall-lovers come to Cataract Falls, 3 miles out-and-back hike and the most beautiful hiking trail for dogs. In Mill Valley, you can hike to Bayfront Park to witness the "great view of Tam, and birds".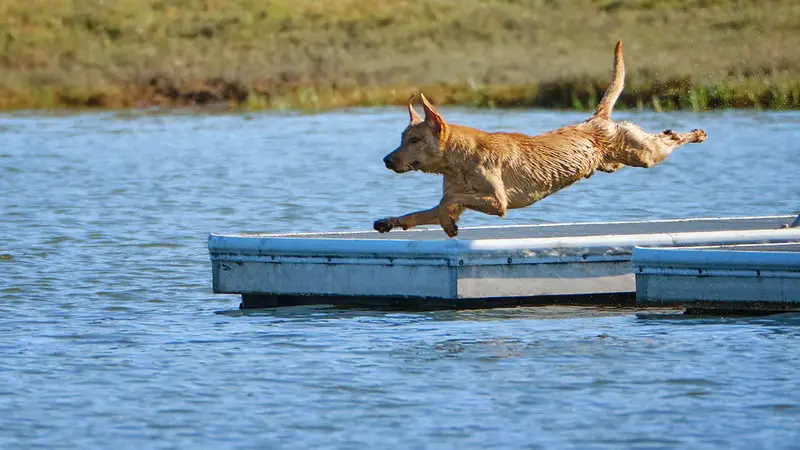 Related Post: 9 Most Scenic Dog-Friendly Hikes in Marin County, CA
9. Santa Cruz
Quintessential beach town, Santa Cruz is an ideal location to hike, explore warm beaches, and have great food in casual restaurants. 
Santa Cruz is the best place to travel with your dog in California, as it takes only 90 minutes from San Francisco. If you are a beach person, check out any of these dog beaches in Santa Cruz.
Things to do in Santa Cruz
Surprise your dog and add some exercises by planning a kayaking trip to Monterey Bay. Monterey Bay is the most exquisite point, hence, renting a kayak and getting the opportunity to experience marine life like sea otters, sea lions, seals, and dolphins, so close is an enriching experience. 
Walking along Santa Cruz Harbor and witnessing lavish yachts, boats, and ships will remind you of the set of Netflix movies. In the distance, Harbor Beach is loaded with gorgeous views of Walton Lighthouse, sailing boats and peaceful scenery. 
Walking around Pacific Avenue, restaurants, bakeries, boutique shops, and cafes
is the best way to spend an evening in Santa Cruz. Poking your head into the different locally owned stores and watching people is such a soothing thing to do. You can go to Gabriella Café and Crepe Place for a good dog and parent food. 
Head off on a hike:
Pogonip is a beautiful 11.5 miles of a hiking trail that sits beside UCSC connecting
Henry Cowell Redwoods State Park and the UCSC campus. Unwind yourself in nature and spend some quality time with your dog witnessing the beautiful sunset in the evening. 
You can also explore and hike on Graham Hill Trail, Powder Mill Road, and Pipeline Road and witness Redwoods and long trees.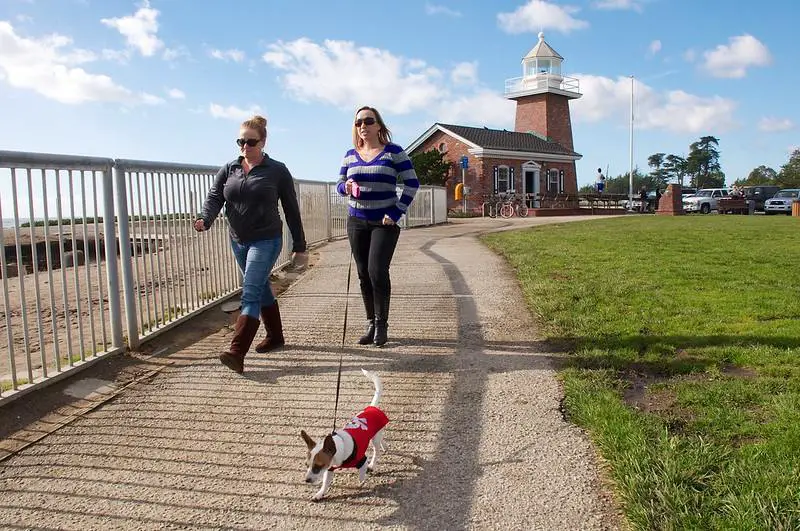 Related Post: 8 Best Pet-Friendly Hiking Trails in Santa Cruz
10. Explore Capitola
Capitola is the most dog-friendly small town that sits 4 miles from downtown Santa Cruz. Capitola is famous for its pink, blue, yellow, orange, and colorful houses, golden sunshine, pleasant weather, and incredible views of sandy beaches. 
Tan at the beach
Visit Its Beach, to enjoy cliffs, seawater, great waves, and stunning views of Lighthouse Point. Additionally, to click pictures of migrated orange butterflies visit Lighthouse Field State Beach in winter. 
Recommended Read: 9 Best Dog-Friendly Campgrounds in California
11. San Francisco
I broke down my San Francisco bucket list by visiting the best beaches, hikes, outdoor activities, and tasting San Francisco's special food all with my dog beside me.
Things to do in Santa Francisco
Visit a lush green lawn, Mission Dolores Park for a dog-friendly day trip in San Francisco. This park once was a Jewish cemetery and is now a vibrant place for off-leash dogs to play and run. 
Explore a vibrant landscape surrounded by oak woodlands and flowerbeds at Golden Gate Park. The park encompasses over 1017 acres, out of which land between King Drive, Lincoln Way, and 7th Avenue, dogs are welcomed. Between Stanyan and Grove Streets, King Drive, Middle Drive, and 34th and 38th Avenues, off-leash dogs are allowed. 
Murphys is a charming town and paradise for wine lovers and explorers. Come to Twisted Oak where you can taste the best flavor of Tempranillo, Viognier, Grenache, and Mouvedre. Additionally, you should visit Ironstone Vineyards for a memorable wine cave experience. 
Hike a little and enjoy the air
Experience the beachfront scene with your dog at Fort Funston, a beautiful gorgeous cliff sides breakers crashing, ice plant clinging and more.
Furthermore, Diablo Foothills Regional Park is a moderate trail to experience great views and fresh wind. However, do not forget to carry fresh water and sunscreen with you. 
12. Lake Tahoe
Located in the Sierra Nevada Mountains, Lake Tahoe is a great place to make memories with the dog. Moreover, Lake Tahoe is 3.5 hours away from San Francisco making it ideal for more dog-friendly day trips in northern California.
Go to The Brockway Bakery, and treat yourself to the best pastries made by the Wainscoat family. Walk with your pet along Kings Beach to enjoy the early morning air.
Do not forget to bring your Frisbee and come to East Shore, Carnelian Bay, Pebble beach, Coon Street Beach, Skylandia Park, and Waterman's Landing to splash some good water. There are plenty of dog-friendly beaches in Lake Tahoe as well as beautiful ski resorts and beach lines on both the South and North shores.
Furthermore, the beautiful Fallen Leaf Lake is must-visit destination just across Kiva Beach. The deep blue alpine lake and its surrounding area are so soothing, quiet and peaceful that it is nothing more than a pretty impressive memory. 
Visiting Bijou Community Park, a fully fenced off-leash community in Bijou is another favorite spot for every Fido!
William Kent Campground, Kaspian Campground, and Camp shelly at Lake Tahoe are my favorite places where you can camp with your dog close to nature.
Related Post: 12 Top Things to do in Lake Tahoe with Your Dog
13. Half Moon Bay
For a dreamy coastal vacation, Half Moon Bay is a mesmerizing destination for a dog or a parent that is only 35 minutes drive from San Francisco. 
I would recommend you to first come to Sam's Chowder House to kick start your day full of proteins and a stunning plate full of delicious seafood. 
Once you are full, drive to Bluff Top Coastal Park and enjoy the light brown sandy beach and sweeping views of the Pacific coast.
My favorite beaches in Half Moon are Pillar Point Harbor Beach, Redondo Beach, Bluff Top trail, Mavericks Beach, and Miramar Beach. 
Coastal Trail is a lovely easy dog-friendly trail that ends at Pillar Point Harbour offering adventure and fun to the hiking experience at Half Moon Bay. 
If you are in search of a more rewarding and strenuous hike, Montara Mountain can be the one. Remember, to keep your dog on a leash.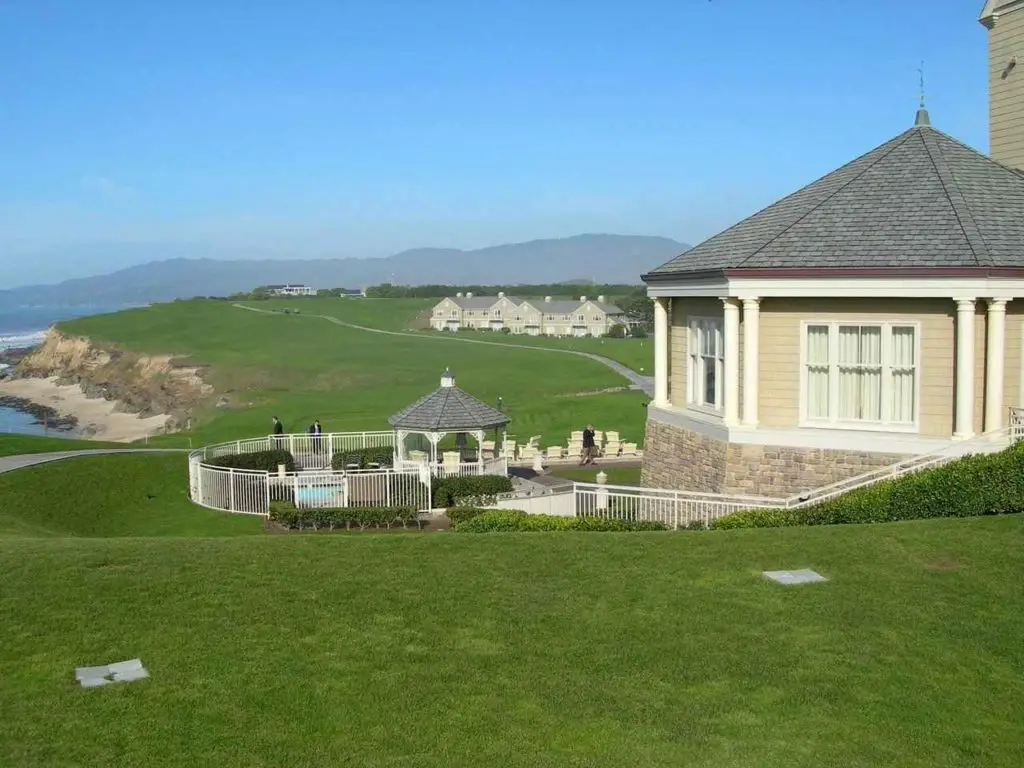 Related Post: 7 Best Dog-Friendly Beaches in Half Moon Bay
14. Carmel
Location: Near Carmel River, San Francisco.
The road is scenic from where you will drive inside the Carmel beach. The beach line is packed with dirt-free places for jogging, dog walking, and sightseeing. Carmel is one of the most loved dog-friendly vacations in Northern California.
The area offers some beautiful views from Carmel Point. There are areas to explore like Pebble Beach Golf links, and Lobos State Reserve. The beach line is aligned with Cypress trees and the beach is clean and made of white sand.
The canine visitors can romp along and surf across the clear water. Sea lovers can collect shells and indulge in making sandcastles with their beau or family.
The place is beautiful and rocky cliffs adorn the area. During sunset and high tide, the cliffs get dashed with waves, it is a view to live for.
Pet Rule: Dogs can be left off the leash but please be responsible to clean up the beach area after leaving.
Tip: Trained dogs would be permissible in restaurants and hotels. For young pet owners, a few tourists who access the five-star properties bring their trainers along.
Related Post: Dog-Friendly Carmel-by-the-Sea: Best Things to do in Carmel with Your Pet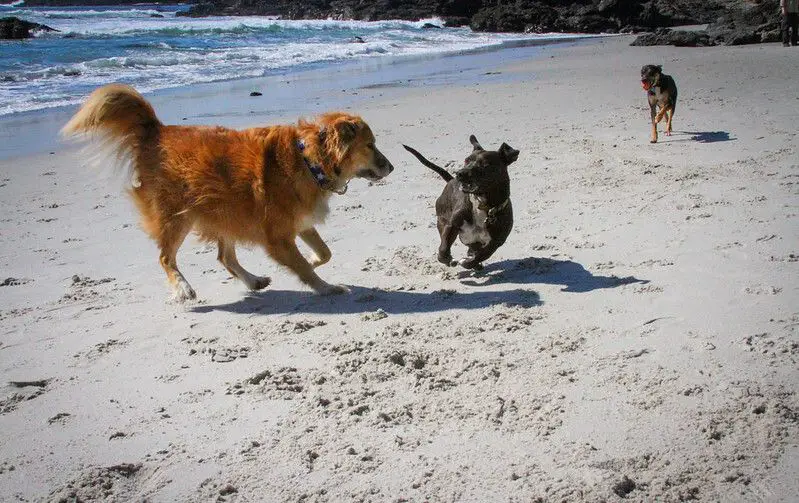 Conclusion
I hope I gave you a vivid idea about the dog-friendly day trips in Northern California. For your next visit, you can add adventure filled with natural beauty, and peace that enthralls all your senses. 
Read Next:
FAQs: Dog-Friendly Day Trips in Northern California
1. Where can I take my dog to the Bay Area?
Answer: Bring your dog to Dr Aurelia Reinhardt Regional Park, Oakland to enjoy the fresh air and forest vibe, and run as much as he wants without being leashed down. Moreover, the redwood trees offer tons of shade for you and your dog to relax and enjoy the cool air. 
2. Are dogs allowed on SF Trolley?
Answer: No, dogs are not allowed on SF Trolley.
3. Where can I walk my dog in Half Moon Bay?
Answer: You can take your dog to Seal Cove Cypress Tree Tunnel or for a Half Moon Bay Coastal Trail. There are options like Purisima Creek Trail or Blufftop Coastal Park.
4. Are dogs allowed on Venice beach Half Moon Bay?
Answer: Dogs are allowed on Venice Beach in Half Moon Bay but on a leash.
5. Are dogs allowed in Walmart in California?
Answer: Walmart warmly welcomes service animals as per the definition of the ADA in their stores. But they do not allow pets inside the store.