8 Best Dog-Friendly Day Trips From Los Angeles
If you are someone who loves to gamble, party till the wee hours of the morning, or even enjoy sightseeing in beautiful parts of a new country, Las Vegas is an opportunity of a lifetime. There is so much to see and do that makes it a perfect trip for a weekend or even a whole week! This city is a thriving and vibrant place for all those who enjoy culture and diversity. It's also safe and welcoming for all tourists and makes sure that they have 'golden fun'!
Now for dog owners sometimes choosing a city to travel to is difficult. There are chances that the spot might not be welcoming for your furry friend. However, the city of all desires is not one of them. You are sure to find the best dog-friendly day trips from Los Angeles easily. This city loves your pets and makes sure that they aren't left behind on your infamous travels!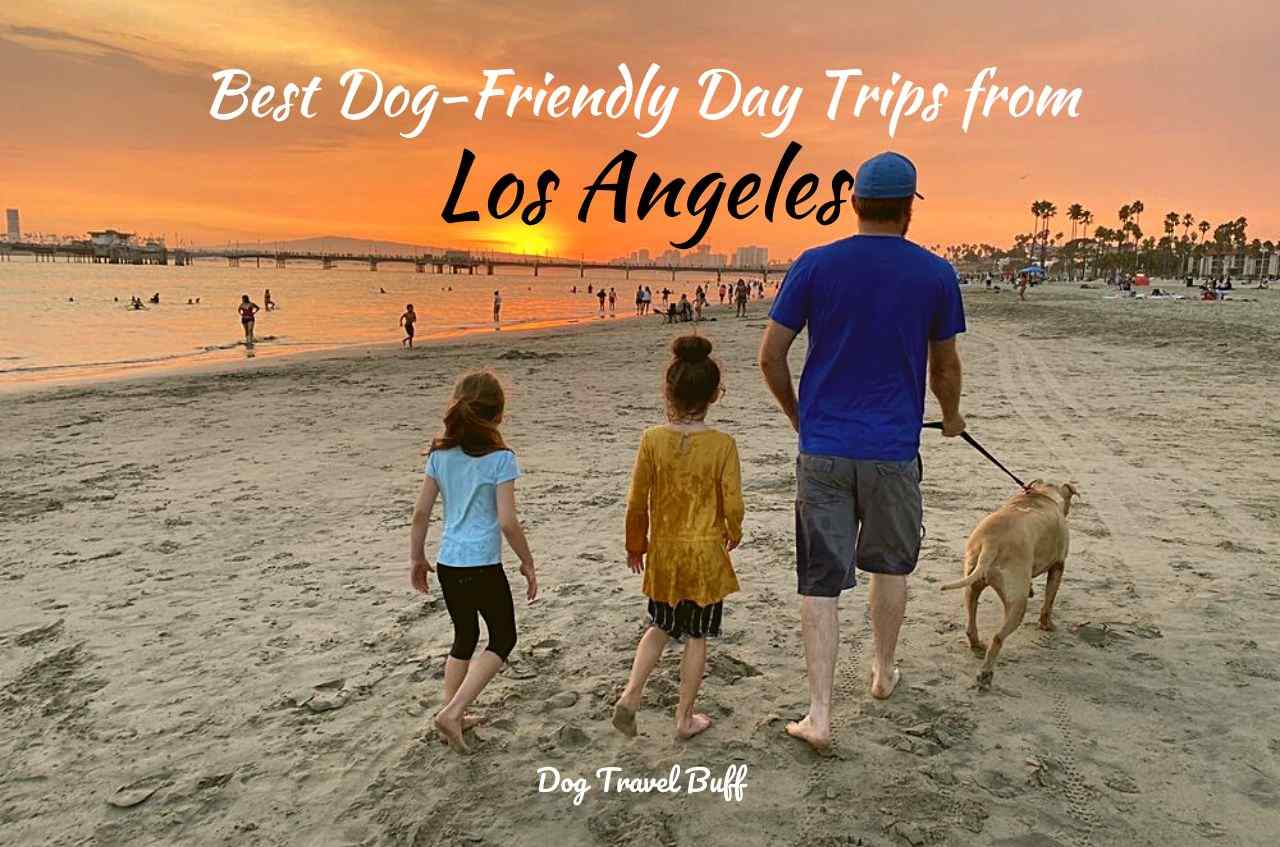 This post may contain affiliate links. If you buy something through one of those links, you won't pay any extra penny, but I'll get a small commission that encourages me to deliver more helpful content for you.
We have made the search for these dog-friendly day trips in LA much easier. Take a look at some of our favorite paw-friendly spots and get your suitcase packing!
Best Dog-friendly Day Trips from Los Angeles
1. Silver Lake Reservoir
Located near 1854 To 2246 Silver Lake Blvd, Los Angeles the Silver Lake Reservoir is a perfect place if you are looking for dog-friendly hiking trails near Los Angeles. This is one of my all-time favorite running and hiking spots in LA. My furry friend loves the loop which is about 2.5 miles wide. Taking your dog to this reservoir area will make him get the much-needed workout. Make sure that you accompany your buddy.
Another amazing fact about this place is the beautiful picnics that can get organized inside the reservoir. There is a part inside it for you and your dog to sit and spend some quality time. Believe me, your buddy will find many buddies of his own in this reservoir. This place is one of the most famous ones in town where people come with their pets. There are 2 dog parks inside this reservoir- one meant for small dogs and the other for big dogs. Make sure you comply with this rule while taking your dog out to avoid any kind of emergency.
Among other LA dog parks, this one is cleaner and greener. I spent a lot of time here playing catch, reading books, and even catching up on office work while my dog made new friends!
Tip: It is best to visit during the daytime because the park closes before dark.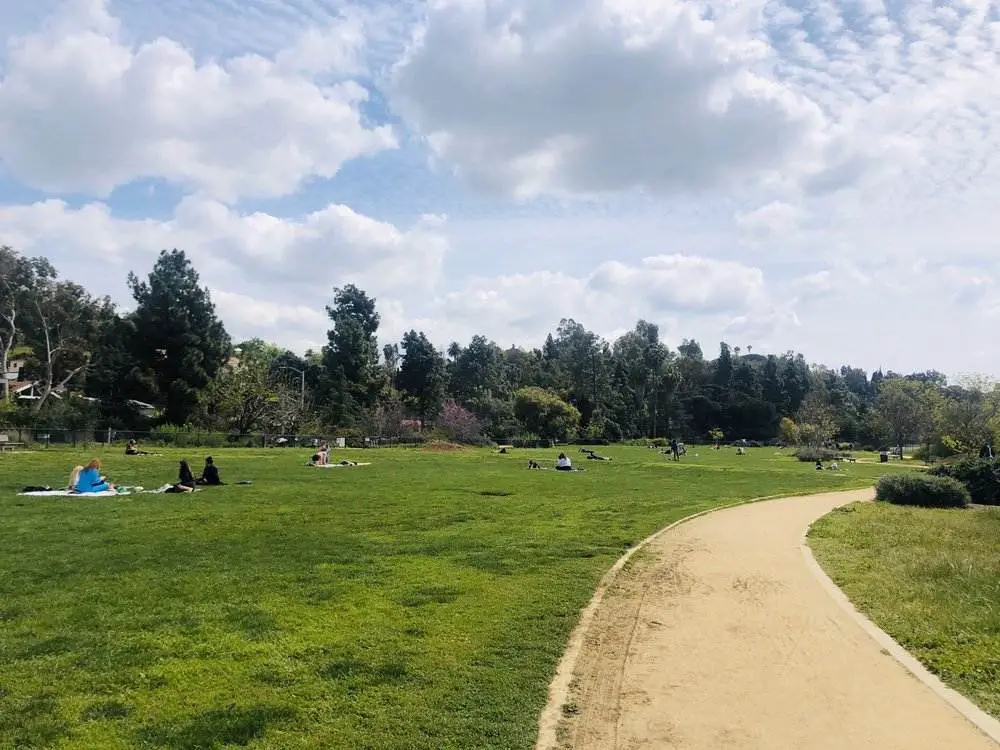 2. Vista Hermosa Natural Park
If you are looking for dog-friendly day trips in Southern California with a magnificent view and space, Vista Hermosa Natural Park is it! It is situated near 100 N Toluca St Los Angeles and is a famous spot for dog lovers. According to Stephenie, who visited this place with her Poodle, it is a 'little pocket of serenity in the middle of LA'.
Well, if you are a lover of peace, visiting Vista Hermosa Natural Park will surely lift you and your pet's day. Since this natural park is situated right outside Downtown, the scenic view is truly magical. If you arrive at sunset you can enjoy the view sitting right with your dog in the car itself! No need for working and crowds!
Usually, it is not crowded during weekdays so if you are in LA with your furry friend it's best to pop in for a great afternoon at the park. There are amazing animal sculptures inside the park which your dog will surely enjoy. Don't we love a park that has tons of space for you to have your own time and for the dog to roam about? This park will fulfill all your wishes. You can bring some snacks for yourself and your pet and enjoy it together!
Tip: It is best to travel with zip lock bags for your dog since there are no dog-friendly toilets.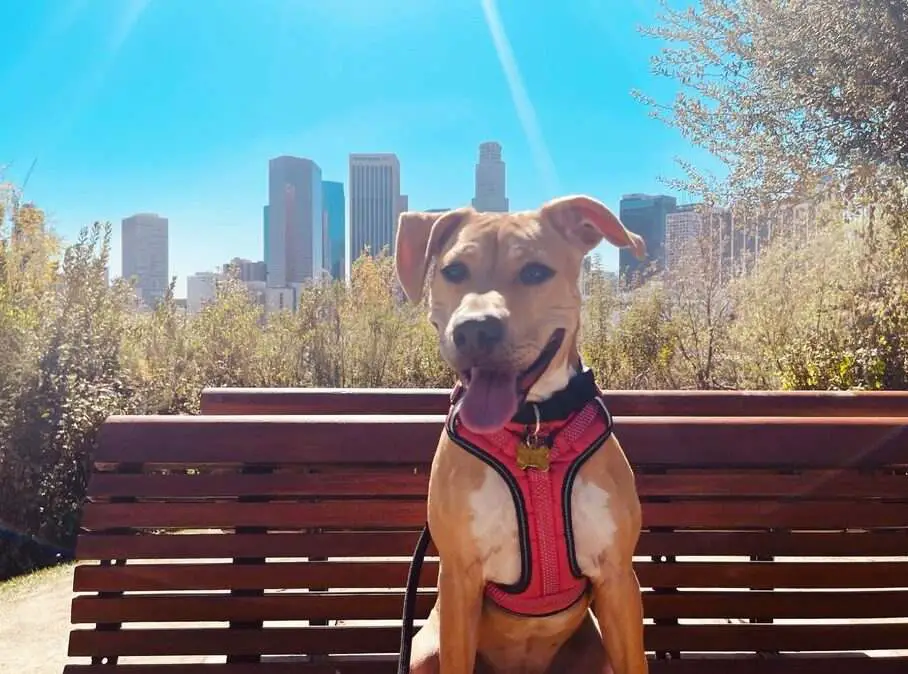 3. Lake Hollywood Park
How can we miss Lake Hollywood from the list of the best day trips from Los Angeles with dogs? It is situated near 3160 Canyon Lake Dr Los Angeles and is a great place to visit in California with dogs. If you are traveling with small kids and pets, camping here will be a great fun trip.
It has the amenities of street parking, dog-friendly toilets, bike parking, etc. So all you need to do is come and have fun, rest assured your time will be spent in the most beautiful spot in LA!
If you see more 'dog-friendly spots' it is a bit unlikely that this name will up considering it is such a hidden gem. I am so glad I was able to visit and discover the beauty of this place with a cute poodle. You will also be able to see the amazing views of the Hollywood sign. What more? Well, you can train your dog to walk off leash and on leash, do yoga, make new friends, and take amazing scenic pictures for the Gram!
Tip: Do not try to bring grilling types of equipment for any picnic. It is restricted in this place.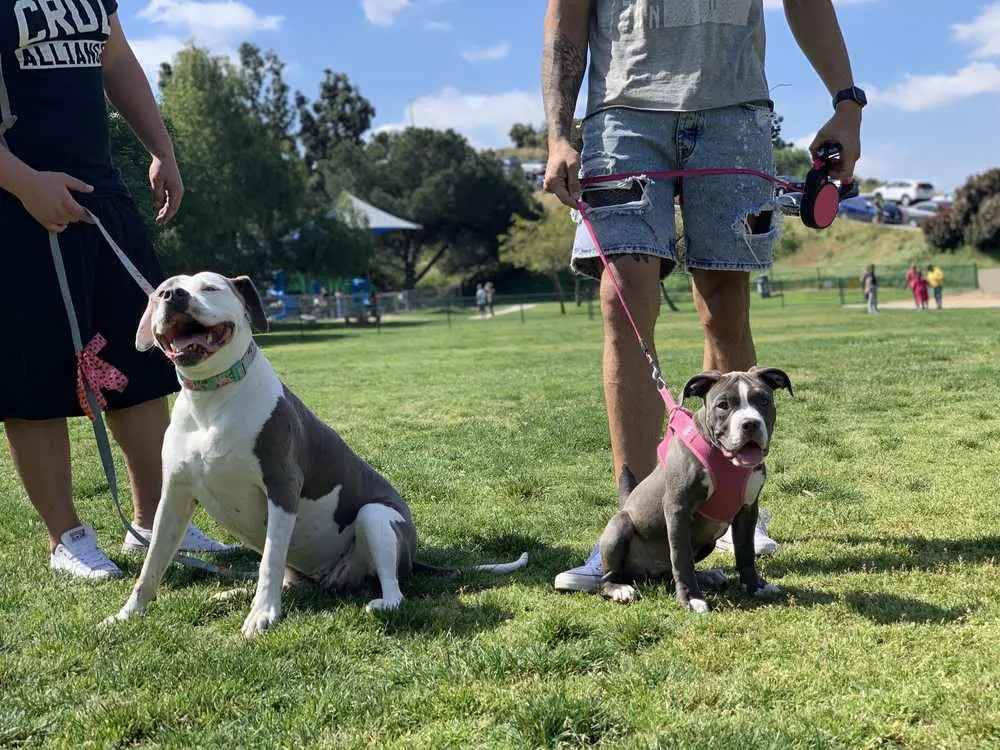 4. Palos Verdes Estates Shoreline Preserve
Located near Palos Verdes Dr W Palos Verdes Estates CA 90274 it is one of the most beautiful trails in LA for you to enjoy with dogs. There are plenty of parking spots with affordable parking fees. The walking trail is right along the shoreline and the view is breathtakingly stunning.
There are many people to love to spend their weekends right across this trail (since there are several famous eating and resting joints). So in case you are considering dog-friendly weekend trips from Los Angeles, this is a good pick!
Now, there is something you need to be careful about- the foxes. There are a lot of stray foxes on the way and you might bump into some of them. So it's better if you keep your dog on a leash during the trail. Try to reach the top of the cliff with your dog and click a Palos Verdes selfie!
Tip: Do not start the trail after sunset because your dog might go astray.
5. The Old Zoo
You will find this amazing cool spot at 4730 Crystal Springs Dr Griffith Park, Los Angeles. This is an abandoned spot which is quite uncommon in a busy city like LA. This zoo has not been in any function for a long time now but yet tourists find it incredibly amusing to visit.
After you make your way from the crowded parking lot, you will find yourself on a short hike before entering the zoo. Now, this hike is a beautiful one. When your furry baby is with you, it will become an exciting one. Your dog will love the walk and the thrill of the spot. If you are planning an offbeat LA day trip with dogs, this is it.
You can enjoy a picnic in this zoo with your friends and family (and especially your dog). After a quiet meal, try hiking off the Mineral Wells Trails, believe me, you won't regret it!
Fees: $7 parking fee for 1.5 hours
Tip: Always come back before sunset. For a tourist, it is difficult to find their way back to the Zoo in the darkness.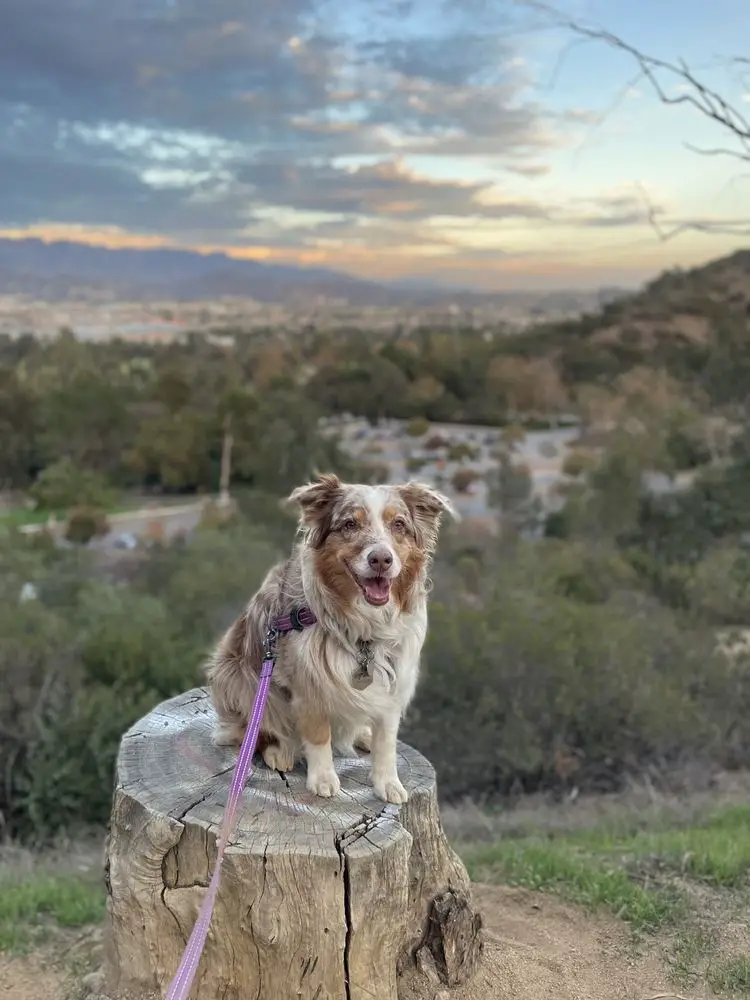 6. Rosie's Dog Beach
Do you want to enjoy a beach day with your pet? Rosie's Dog Beach is the ultimate fun day idea for you and your little one who is looking for a dog-friendly place in California. Located near 4800 E Ocean Blvd Long Beach this is one of the few off-leash dog beaches in LA that you can explore.
California has a beautiful shoreline and if the beach is off-leash, it becomes more exciting for your dog and you. He will be free to run about and make new friends while you enjoy the beautiful sunset sipping wine!
There are ample parking options on the beach (with reasonable parking fees) and even options for dog-friendly toilets. However, it is much better if you carry litter boxes with you since the toilets are always full.
Do not worry about eating out here. While you are on this dog-friendly day trip from Los Angeles, food will never be a problem. There are many vendors right outside the beach serving hot and spicy Californian food.
Tip: Dogs are not allowed without a leash on all perimeters. It is best to ask for help desk for instructions.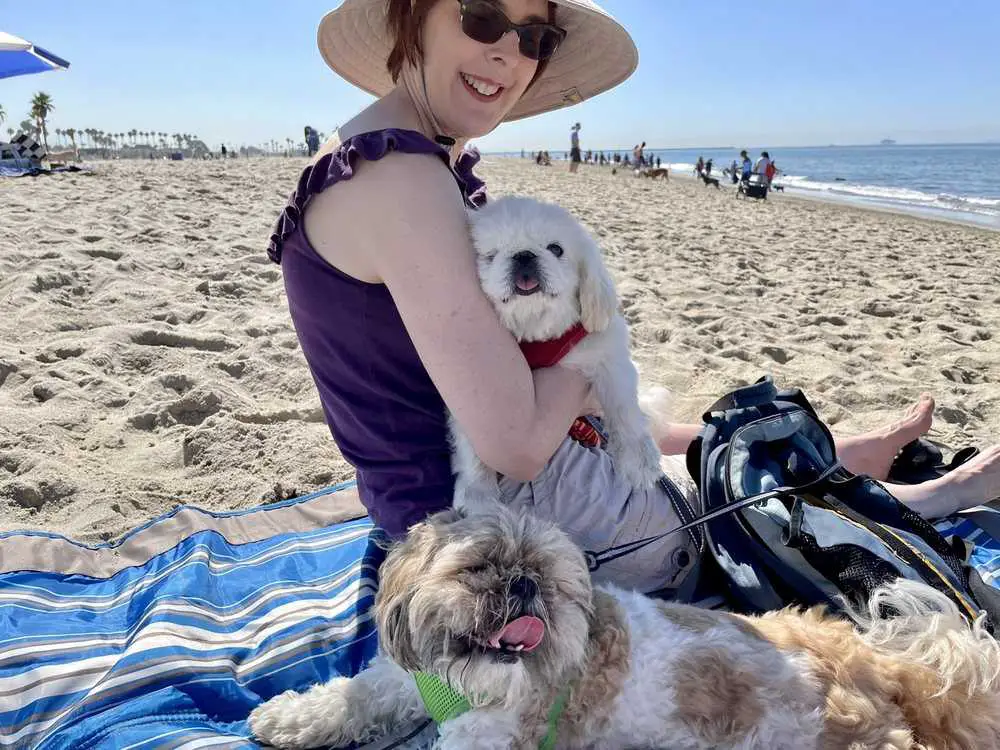 7. Abalone Cove Shoreline Park
Looking for beachy dog-friendly day trips from Los Angeles? Abalone Cove Shoreline Park has your park. It is filled with shore stones and has the aura of a perfect sunset.
Every year tons of tourists (especially pet owners) flock to this area to have a quiet time with their pets. You can enjoy the perks of this wonderful location with your dog by driving to 5970 Palos Verdes Dr S Rancho Palos Verdes.
There are a few caves too which you can explore but it is recommended to keep your dog on a leash to avoid unnatural accidents. There is space for both bike and car parking so feel free to drive to this location during your week off.
You will also love this space if you are a hiker. It is a beautiful location to hike with dogs, usually in cloudy weather. The scenery becomes more and more beautiful and when you reach the top, it will be a worthwhile hiking experience. There are printable maps available at the counter however if you are with a pet it is recommended to hike back by 4 pm.
Tip: There are usually a lot of rocks in the area so you must keep your pet safe while hiking. Also at the parking machine, you cannot pay in cash or Gpay. Only credit cards are accepted.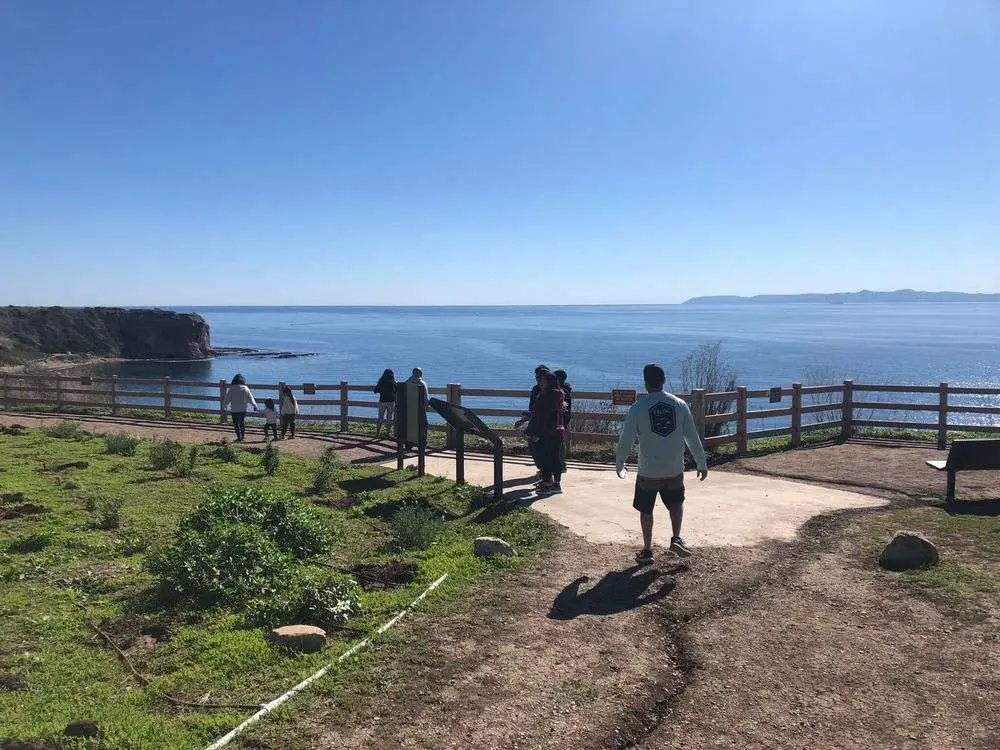 8. Switzer Falls- USDA Forest Service
Situated near 34-14 Angeles Crest Hwy, the Switzer Falls-USDA Forest Service is a very easy and enjoyable hike to enjoy with your dog on your dog-friendly day trips from Los Angeles. It has easy to moderate levels of difficulty hiking and is quite similar to Trail Canyon Falls. Usually, it takes about 2 hours to complete the hike, which is perfect when a furry friend is with you!
You will find a bottom picnic area that usually remains open until 5 pm. So if you are tired and need a little rest, this area is the perfect spot for you. Bathrooms are also available but you will have to walk to the parking lots to access them.
Usually, the instructions say that dogs have to be on a leash; however, if you are sure your buddy is a good boy, feel free to let him off the hook; the authorities are lenient and live towards dogs.
Fees: $5 parking fee for each hour.
Tip: This spot gets pretty cold some months of the year so it is best to check the weather first before planning a hike there.
Tips For Dog-Friendly Day Trips from Los Angeles
Weather Protection
You must plan a trip with your dog only when the weather is right. California experiences a really cold climate, for a few months of the year, so it is best to avoid those seasons. Your pet will have a more comfortable and fun time.
Dehydration Should Be Avoided
Indeed, dogs won't be able to tell you when they are feeling sick, so you have to keep a good check on what they eat and how much they drink. It is easier to forget to hydrate your dog on a trip. But it is essential to remember this key point. Dehydration in dogs leads to sudden sickness that will ruin the whole trip.
Microchipping Your Dog
It is best to microchip your dog while on a hiking trip from Los Angeles. There is a chance that your dog might get lost so it is best to be safe than sorry!
If you like to do outdoor activities with your dog, read the below posts.
We hope that this guide will help you to have the best vacation possible in Los Angeles with your dog. What are you waiting for? Put your furry buddy in the car and get going!
Read Next: