6 Best Dog Beaches in Santa Barbara with Pet-Friendly Hotels and Restaurants
Summer is around the corner and the dream of lying down on the white sand and getting tanned is a dream to many. The dream of sinking your feet into the sand, running along the coast, and enjoying the sound of crashing waves is mesmerizing.
Beaches at Santa Barbara are the perfect gateway to sit back, relax, and enjoy. Hence, to the popular question, is Santa Barbara dog friendly?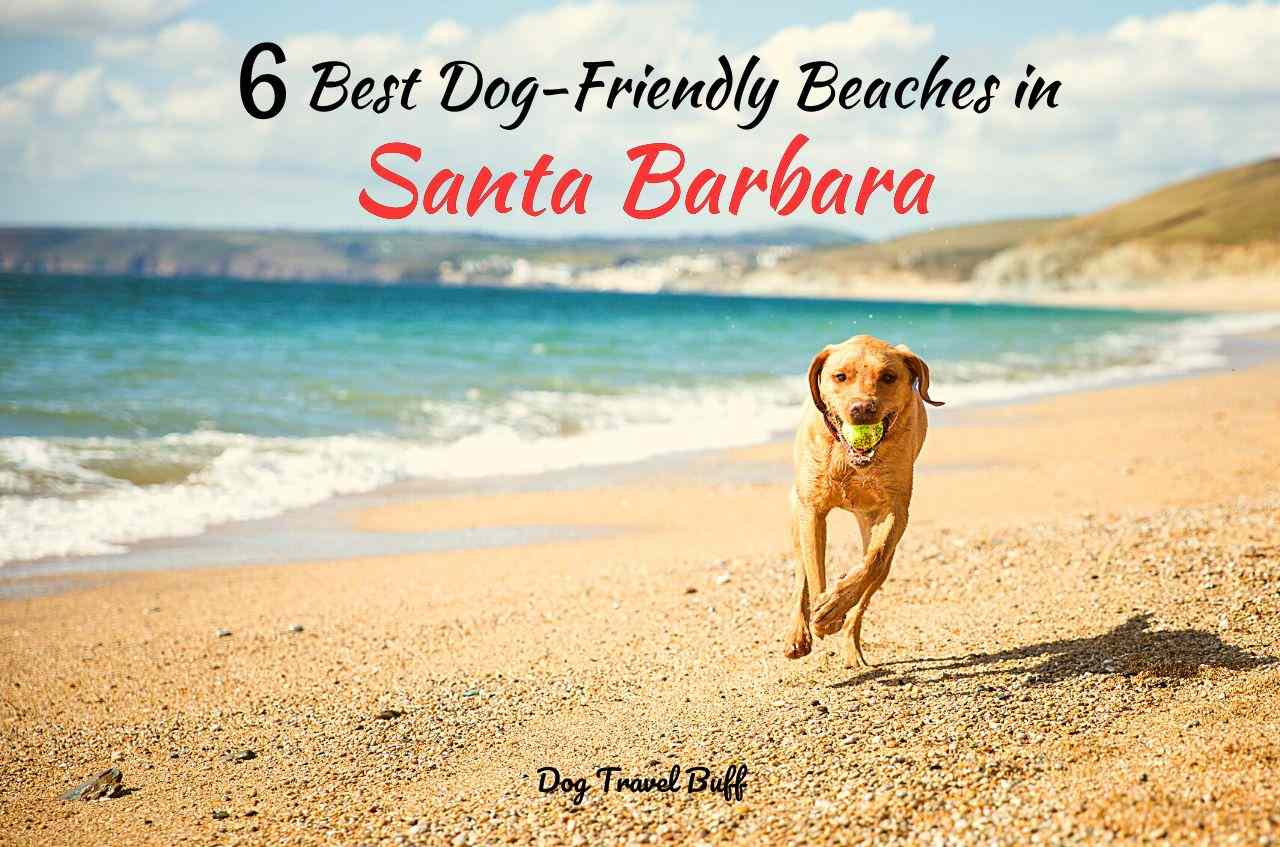 This post may contain affiliate links. If you buy something through one of those links, you won't pay any extra penny, but I'll get a small commission that encourages me to deliver more helpful content for you.  
My answer is yes, there are many famous and secluded pet-friendly beaches in Santa Barbara where the beach vibe meets mountains and there is no end to fun experiences.
This blog on dog beaches in Santa Barbara is a guide to help you to get out of your busy schedule and explore with your furry best friend. Let's begin!
1. Arroyo Burro Beach Park
Arroyo Burro Beach Park is a 14-acre white sand beach that sits next to Hope Ranch, west of the city center on Cliff Drive. The scenic beach is a popular dog-friendly beach in Santa Barbara where your four-legged friend can splash water or walk on the bluffs of Douglas Family Preserve. Locals call Arroyo Burro Beach Park Hendry's Beach. 
The land is famous for strolling on a sandy beach, watching whales swimming, windsurfing and sitting peacefully and enjoying the sunset. The gorgeous beach is secluded and surrounded by a curving coastline and tall bluffs, which makes it a perfect place to spend and call it off a day. End the adventurous day by having fresh and delicious food at Boathouse Restaurant.
Tips:
Dogs must be on a leash at Arroyo Beach Park but roam off leash at Douglas Family Preserve. Additionally, east of the creek dogs can run off-leash on the beach.
Be aware of currents and tides. If you are interested in swimming let the lifeguards know before.
Presence of self-serve warm bath dog wash station
Dogs are allowed at the south of the creek to roam freely but ensure that he is under voice control
Paragliding takes off from Elings Park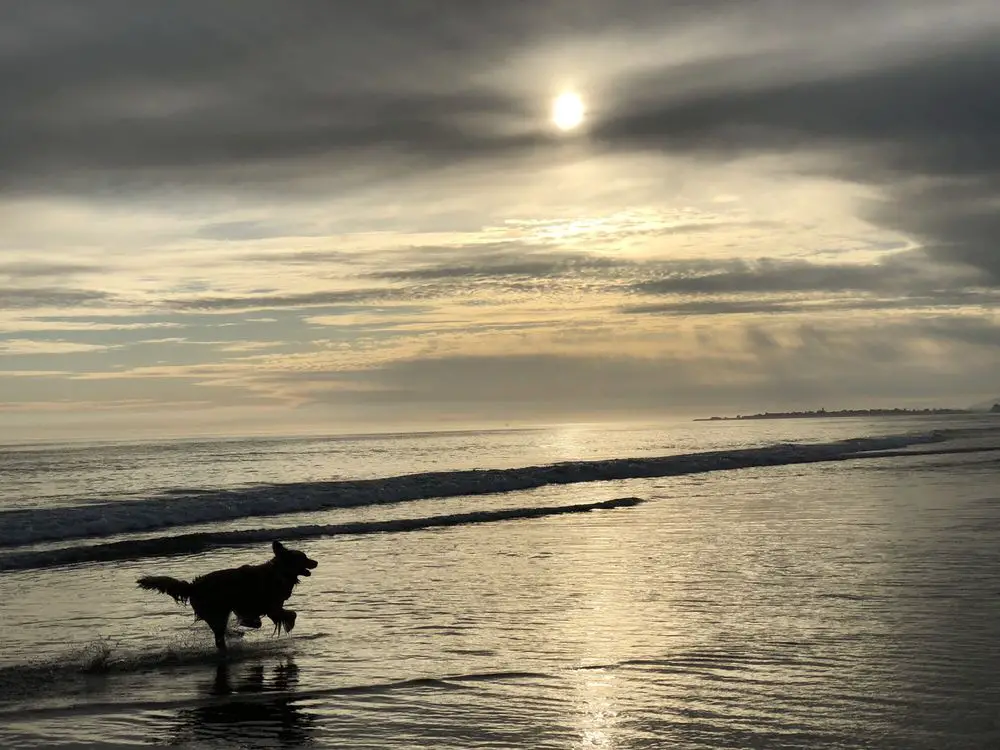 2. Butterfly Beach
Butterfly beach is a pristine white sand beach lined by tall palm trees and hemmed by the sea wall with a stone balustrade. Butterfly Beach resides south of East Beach and adjacent to Montecito village. This particular dog beach in Santa Barbara offers gorgeous views of the Channel Islands, sweeping views of Shoreline Park and Stearns Wharf from where you can spot dolphins hopping off the coastline. 
The beach got its name from the Monarch butterflies that once inhabited the beach. Butterfly Beach is ideal for truly witnessing spectacular sunsets with your pup at your side or swimming. For good food, walk five minutes from the beach to reach Coast Village Road where you will find plenty of drink and food options. 
Tips:
Dogs must be on-leash at Butterfly Beach. Off-leash dogs are allowed at Shoreline Park
Crowded beach hence book your parking spot as early as possible
No lifeguards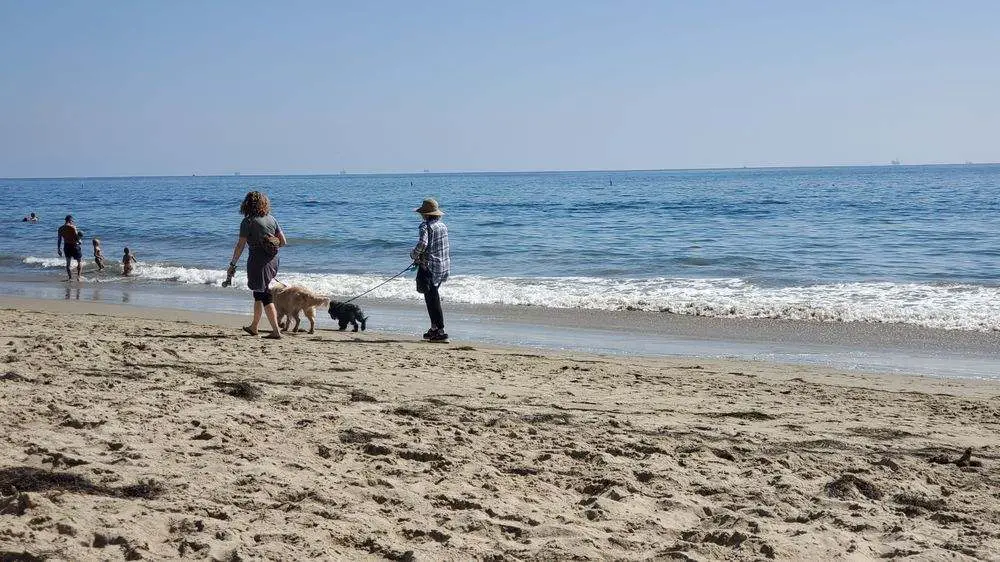 3. 1000 Steps Beach
Santa Barbara is one of the best dog-friendly destinations in California. It has plenty of beaches that allow dogs. 1000 Steps Beach is tucked in the East Mesa bluffs area below the homes just west of Shoreline Park Beach.
You need to hike the dilapidated concrete around 200 steps stairs to reach the stunning breathtakingly beautiful beach. The beach is particularly famous for laid-back vibes to enjoy tide pool exploration at low tide.
1000 Steps is one of the best Santa Barbara beaches that allow dogs. It is best for a sunset walk, far from all city chaos offering a smooth yet rocky and sandy experience. Dogs are allowed off-leash starting from the beach staircase at Shoreline Park, 1000 Steps Beach, and Mesa Lane Beach to the mouth of Hendry's Beach. 
Tips:
1000 Steps Beach resides at the end of Santa Cruz Boulevard
Park your car in the street space, no designated parking lot
Remember to click the picture at the backdrop of sandstone cliffs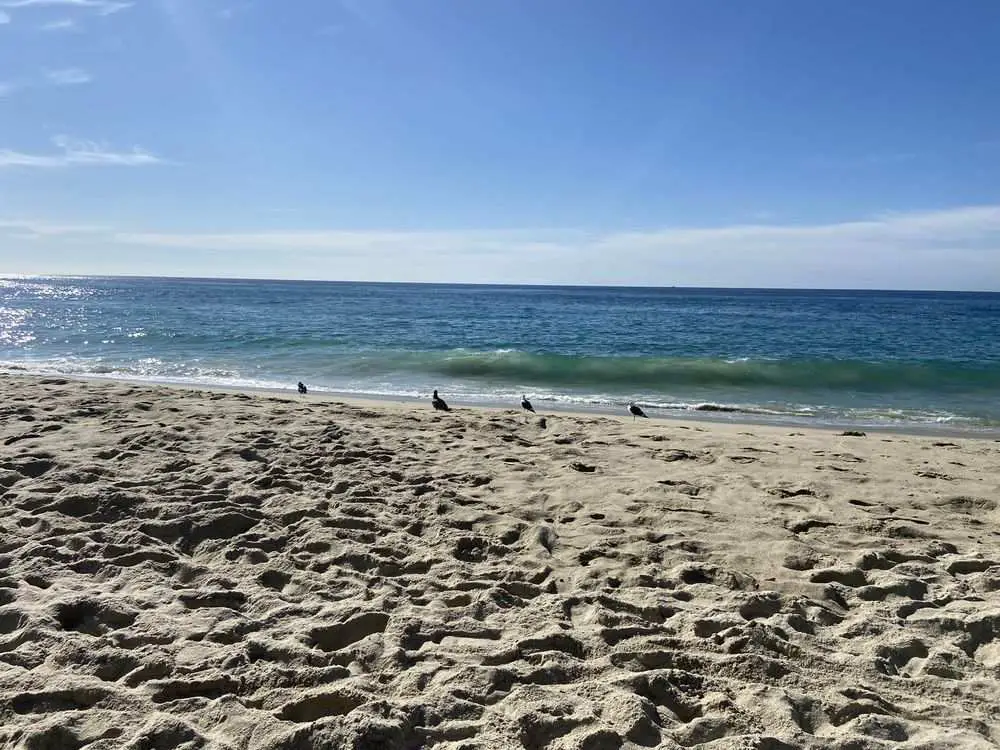 4. Goleta Beach County Park
Goleta Beach County Park is around 1.2 miles long and sits north of Santa Barbara near Municipal Airport in Goleta. Goleta Beach County Park is a dog-friendly beach near Santa Barbara that's famous for its 1500 feet long fishing pier from where the view of mountains and boasts at the bay looks mesmerizing.
The park also offers children to play as it has a designated playground and volleyball courts with grassy as well as sandy paths. You can also indulge yourself in kayaking and paddle boarding. Right after the bluff with your dog at Goleta Beach, visit Beachside Bar Café and end your day.
Tips:
On-leash dogs are allowed
Goleta Beach is a crowded beach in Santa Barbara
Hike Campus Point Beach and beaches in Isla Vista
You may get a tar smell, do not worry as this place is famous for oil deposit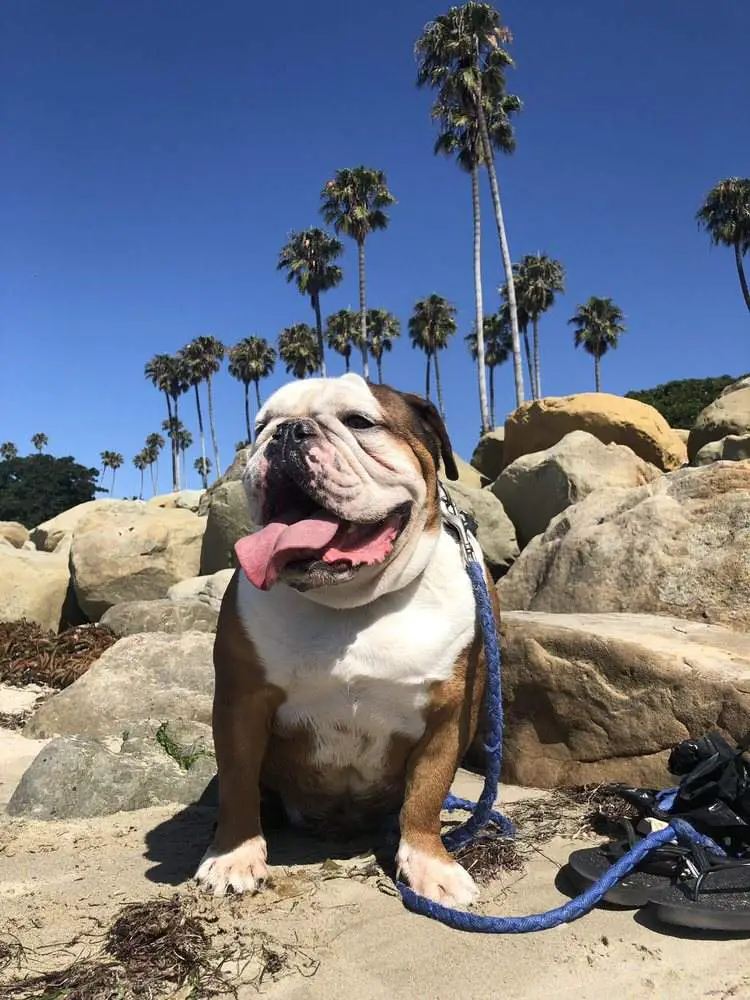 5. Santa Claus Beach
Santa Claus sits just off of Highway 101 which is famous for Christmas celebrations and evolved business of fruit, olives, dates, and nuts. This local beach in Carpinteria, Santa Claus has the clearest water and is famous for sunbathing, surfing, boogie boarding, and walking.
The mystical feel in the air and the view of the clear blue sky meeting the soft sand beaches at the horizon is so charming and elegant. On the other side, there are rocky borders that add rugged rustic charm to the air making it one of the best dog beaches in Santa Barbara.
Tips:
The dog must be on-leash
Parking limited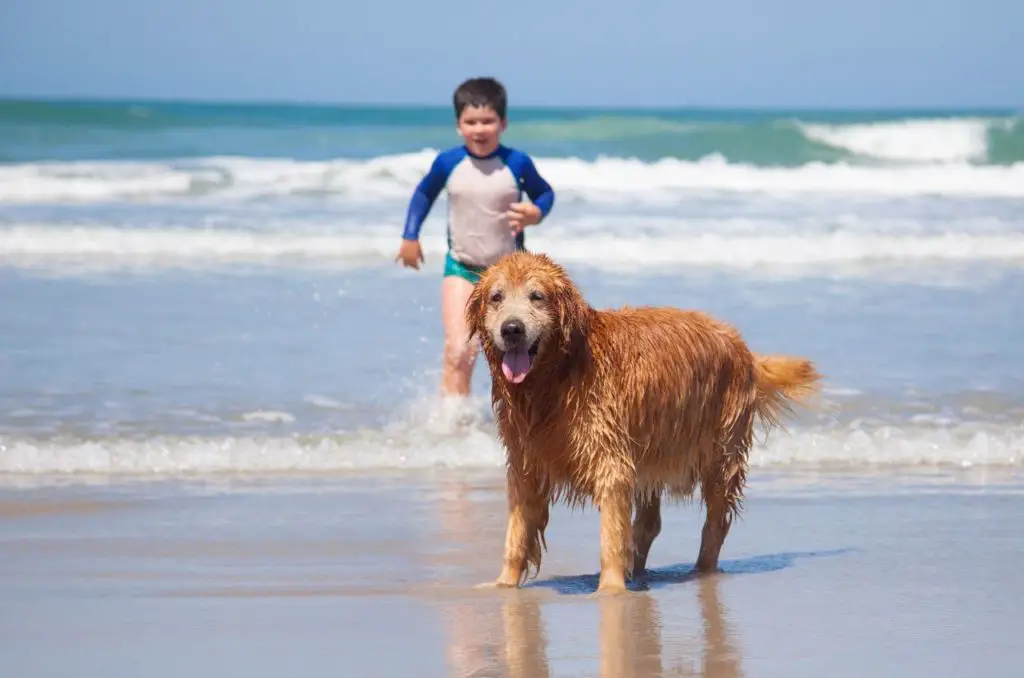 6. Summerland Beach
Just below Lookout Park and six miles from downtown Santa Barbara sits the not-so-crowded lovely Summerland Beach. The beach offers incredible views of nature and sea life. Moreover, for the best memories of off-leash dog beach in Santa Barbara, consider visiting the pretty stretch of coastline of Summerland Beach.
There is also an adjoining green park that is again another hidden gem of Santa Barbara. Therefore, the park and the beach in Summerland are great places to relax, stroll and dip your feet in the water and enjoy the time. 
Tip: Too sunny, hence, get your own umbrella 
Read Also: Best Dog Umbrellas to Protect Your Furry Friend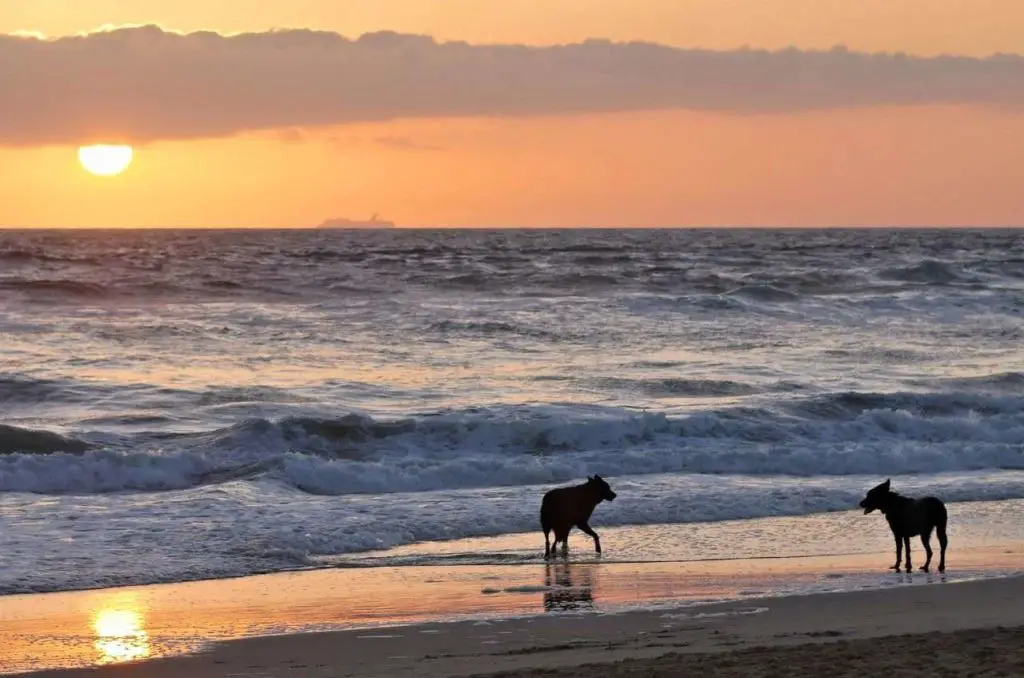 Dog-Friendly Restaurants in Santa Barbara
There are a lot of scrumptious dog-friendly restaurants in Santa Barbara that offer casual settings for outdoor servings. These hotels do not allow you to tie your pup in the shades but rather welcome you to take swings and enjoy the view. Here are a few options you can explore. 
Breakwater
Address: 107 Harbor Way, Santa Barbara, CA 93109, United States
Breakwater is a favorite spot among pet-friendly owners as it serves the best American-style cooking in a great outdoor setting. Breakwater has a very spacious patio from where you can get a perfect Harbour view with complementing high-quality, fresh well-prepared food.
Starting from Belgium waffles, sandwiches, and a variety of steaks and seafood options are available. You should try their most popular signature dish called New England clam chowder and "catch of the day". Dogs are welcome so enjoy the meal with your fido. 
Arigato Sushi
Address: 1225 State St, Santa Barbara, CA 93101, United States
Taste the famous Japanese cuisine at Arigato Sushi, the famous pet-friendly restaurant in Santa Barbara. The casual setting, ambiance and staff are so dog–friendly that throughout the time you feel so welcomed and special. 
The extensive menu features carpaccio, varieties of miso soup, sashimi, nigiri, grilled chicken, soft shell crab, gyoza and a lot more. Moreover, you should try their Dracula, Palm Springs and swinging rolls. However, the restaurant is open from 5.30 pm to 10 m. 
Dog-Friendly Hotels in Santa Barbara
With the gorgeous natural setting and prime hotspot, these unspoiled dog-friendly hotels in Santa Barbara are a great place to take a vacation with your four-legged best friends. These sheltered hotels are the best options and you can choose any of them.
Motel 6 is a pet-friendly hotel in Santa Barbara that sits 1.6 km away from the Stearn Wharf and a few miles from Santa Barbara Zoo. Pets can stay free of cost with their owners without any weight limit or restriction imposed. 
The hotel rooms are retro themed which makes them very bright. It has an outdoor pool, guest room, mini fridge, LCD TV and ocean view from the sun deck. Motel 6 is one of the budget-friendly hotels for you and your furry pal. 
Ritz-Carlton offers a taste of unbridled luxury that sits 5 minutes walk from the beach and adjacent to the Sandpiper golf course. The hotel offers a pristine view of Santa Barbara's northern shore, garden, and Mountain View that guarantees you escape from the hustle and bustle of a chaotic life. 
Dogs are welcomed and Bacara ensures that every dog gets a water bowl and pet food on time. Additionally, Ritz-Carlton has a fitness center, tennis courts, and spa center. There is also a restaurant where you can have food with your pooch.
Conclusion 
I absolutely love these above-mentioned dog beaches in Santa Barbara and these are the best hotspot for a weekend getaway with your furry friend. The classic Santa Barbara along the coast is mesmerizing and spending every minute is very cherishing. Not only beaches but also Santa Barbara has plenty of dog-friendly things. You can check this dog-friendly Santa Barbara guide and enjoy a fantastic trip with your furry friend.
Read Other Dog-Friendly Beaches in California:
FAQ – Dog Beaches in Santa Barbara
1. Are dogs allowed on Butterfly Beach Santa Barbara?
A: Yes, on-leash dogs are permitted at Butterfly beach. 
2. Are dogs allowed in Santa Barbara Zoo?
A: No, dogs are not allowed in the Santa Barbara Zoo.