10 Best Dog-Friendly Day Trips in Southern California
Planning for a dog-friendly day trip in Southern California? I have got a list that is full of adventure and fun! Moreover, seize the moment and enjoy!
Dogs love beaches, mountains, sea air, and pink skies. Luckily, southern California has it all. So, let's start the drive!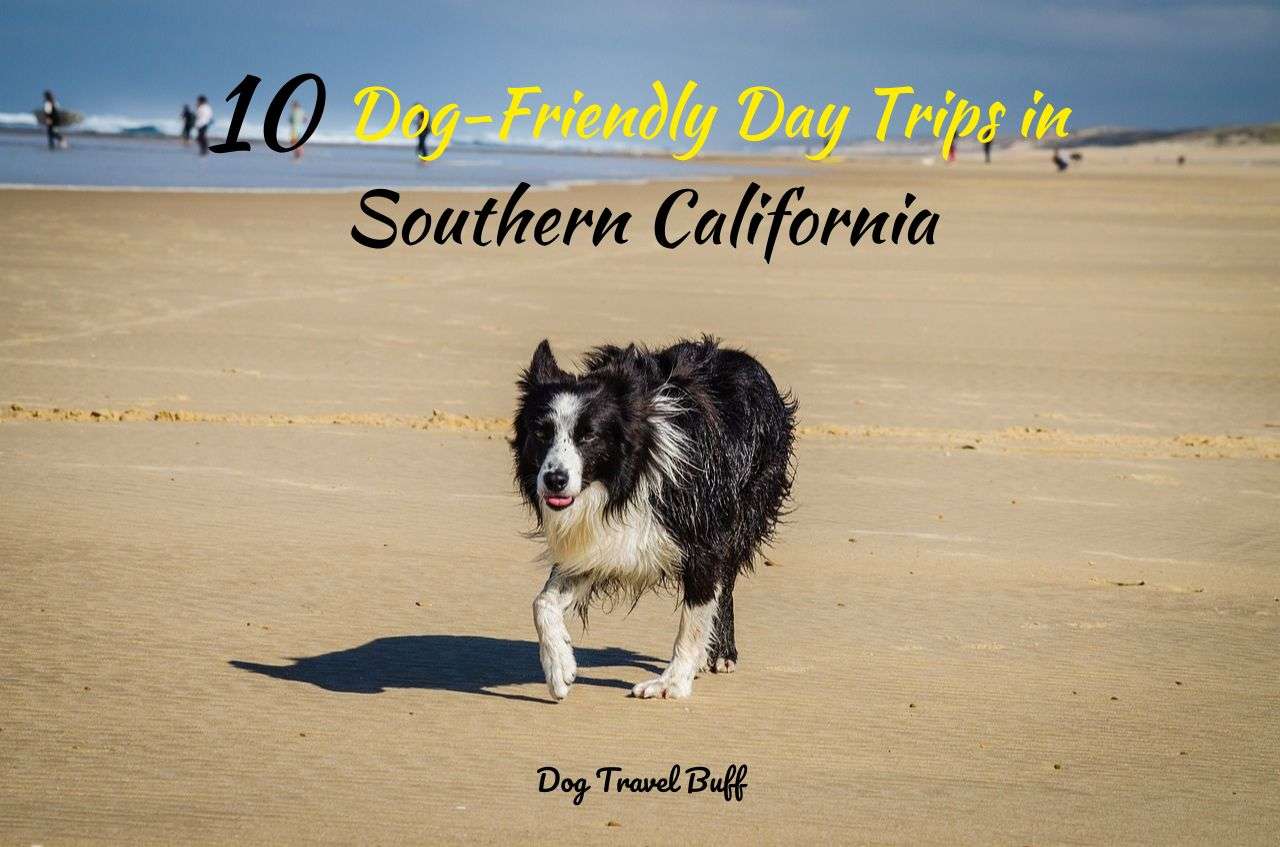 This post may contain affiliate links. If you buy something through one of those links, you won't pay any extra penny, but I'll get a small commission that encourages me to deliver more helpful content for you.   
Dog-Friendly Day Trips in Southern California
The memorable dog-friendly vacations in southern California start from Los Angeles. It has a bustling cityscape with stunning mountains and lovely beaches. 
Thanks to warm weather, green space, and welcoming behavior – Los Angeles is a mecca for dogs and dogs' parents. 
I need to mention cafes and bars too! This August when Benji and I were searching for a different setting for outdoor dining, I came across so many! 
I was amazed to visit Woodland Hills café named "Gasolina Café" by Chef Sandra Cordero. Her hand-made pan con tomate and Jamon-wrapped dates were amazing.
You can also check out – Padalers Fork in Los Angeles, Tallula's and The Viceroy in Santa Monica, and Sawtelle in Hermanito. 
Definitely, I would suggest you keep a separate day on your itinerary for Los Angeles's cafes and restaurants.
How can you not take your dog to Rosie's Dog Beach? It is an off-leash surfing beach and one of Benji's favorite places in Los Angeles.
Also, you can go on tour to the Hollywood Walk of Fame, Hollywood cemetery, Lake Hollywood Park like Home Depot, Ovation Hollywood, and Griffith Park and so on. 
If you love adventure activities, enjoy camping in any of these dog-friendly campgrounds like Malibu Creek Campground, Crystal Lake Recreation Area, and Manker Flats Campground.
However, before the trip remember to follow the laws as mentioned –
If your dog is five years old, remember to license him – this is mandatory.
Regardless of his/her age, dogs must be spayed and vaccinated
Keep your dog on a leash in your yard or dog park, or designated off-leash area not more than 2.5 meters
Do not tie your dog for more than 3 hours at a time on-a-stretch
If the dog poops on a beach, park, or anywhere on the road, remember to scoop it up. Hence, always carry a dog poop bag
So, let's dive into the details of dog-friendly day trips in Southern California from Los Angeles. Places you cannot miss!
Table of Contents
Dog-Friendly Things to do in Southern California
So, putting together my list of dog-friendly things to do in Southern California, particularly in Los Angeles, is full of fun and adventure.
I want to offer you a more specific section of things to do that ensure flexibility, a bit of shade, a good hangover, wet hours, and a mild workout. It's time to hit the trail.
You can start your dog-friendly road trips in southern California-Los Angeles, and San Diego. 
Dog-friendly Hikes in Los Angeles
Runyon Canyon
Dog rule:
Your dog must be on a leash in the parking area. 
The is an off-leash area for a dog too
If your dog was the leading hero in your life, where would you take her for worthy mutts? A hike? So, let me tell you about a gorgeous dog-friendly hike in Los Angeles.
Just imagine walking under the towering palms, while walking your sight caught by the shimmering sight of Santa Monica Bay, hulking San Gabriels, and the blue skyline. 
I would take him to Tinseltown's Runyon Canyon, a 3.3-mile loop climb 800 feet through 160 –Acre Park. 
The trail offers you an unexpected peace, quiet, and an enriching feeling of motivation that I would definitely want you to experience.  However, the majority of the road is a single track filled with dirt and paved fire roads. From here you can walk to Trebek Open Space to witness the surreal vistas.
Tip: Bring plenty of drinking water as the trail is mostly under the sun with less shade.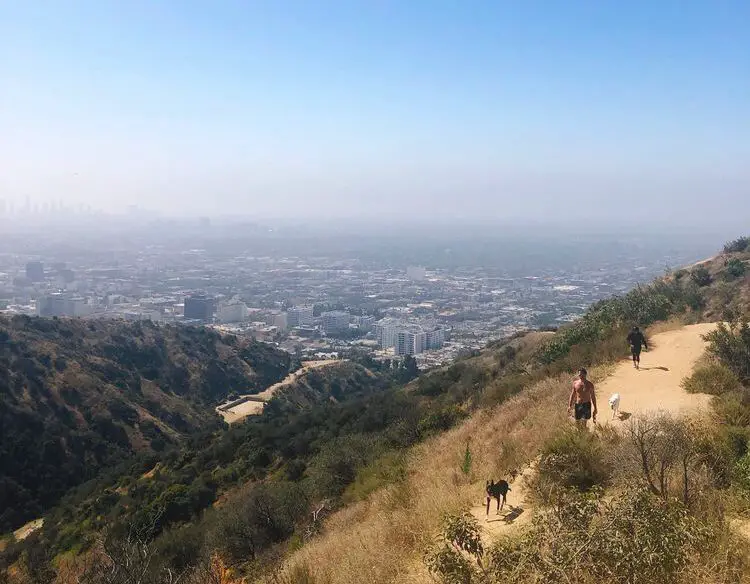 Upper Canyonback Trail
Dog rule: You can hike without a leash
I never knew till I was introduced to a beautiful dog-friendly hiking trail near San Vicente Mountain and Westridge, Canyonback Ridge. 
The hike along Upper Canyonback Ridge with a 200 m elevation gain offers the most panoramic views of Los Angeles city with mountains in the background. 
The view of the abandoned Nike missile defense site from here gives you chills reminding you of the golden history of 1948.
Also, along the way you can witness wildflowers and chaparral plants. However, remember that your off-leash dog should be under good voice control. 
Such an aerobic challenge is also good to detour your puzzled mind from the hectic city job. Sometimes, a little extra leg burning doesn't do any harm!
Tips:
Parking is limited
Come on clearer days for impressive views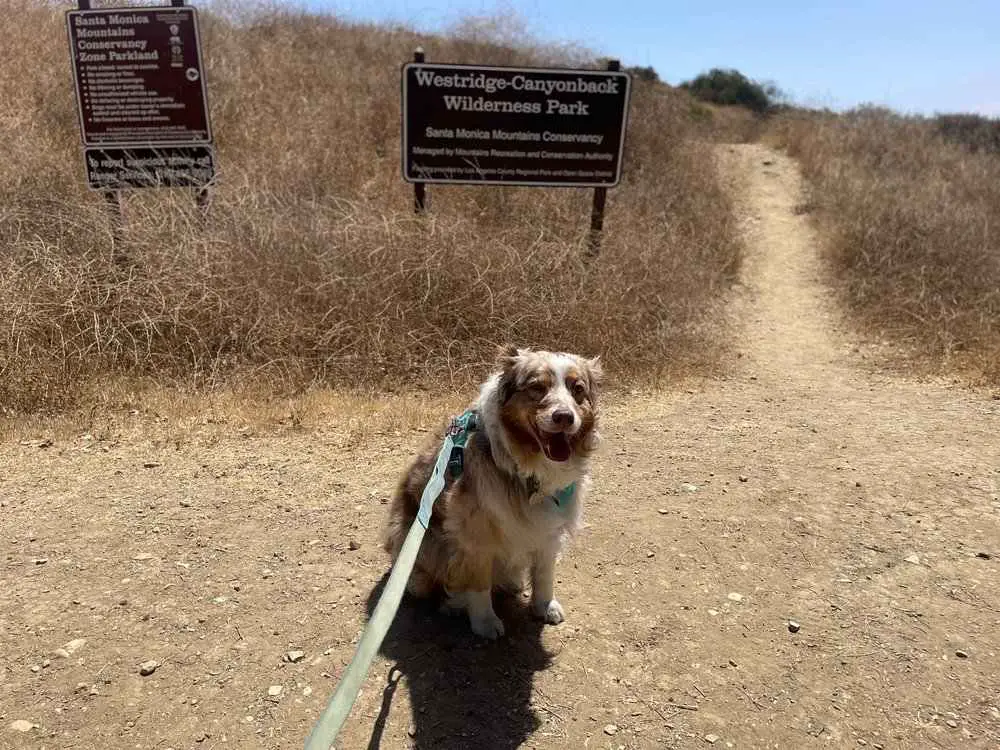 Long Beach
Have you wondered to find any dog-friendly beach in southern California? At Ocean Blvd. between Roycroft Ave. and Grenade Ave sits Long Beach, an off-leash destination for dog's ultra-fun!
Just imagine you paddle boarding or having lunch at pet-friendly places and sailing a Duffy boat through the canals or riding in Venetian Gondola. 
How is it? Long Beach's only off-leash destination is Rosie's Dog Beach which welcomes dogs with open arms. 
Also, they celebrate an event called Corgi Beach Day annually to have more fun and run! This four-acre beach is one of the best dog-friendly beaches in Orange County.
Paradise!
I would recommend you bring your pooch to George's Greek café at happy hours for tasting the mouth-watering saganaki.
Long Beach also features Downtown Dog Park, K-9 Corner Dog Park, Recreation Dog Park, Uptown Dog Park, El Dorado Park, and Recreation Park.
Tip: The beach is open from 6 am to 8 pm every day.
Malibu
Dog rule: Dog must be on a leash
Malibu is the most desirable pet-friendly weekend getaway destination in southern Californiafilled with multi-million dollar views and activities to soak into.
Tourists from Europe to Asia come here to spend their time in this gorgeous furry world! Near the Ventura County line sits Leo Carrillo State Beach.
This beach has some interesting rock formations, miles of sand, and sea caves. Because of its size, it is also known as North Beach on the west coast.
For more dog beaches in Malibu, you may come to – Little Dume Beach, Staircase Beach or Sycamore Coastal Beach. 
Apart from beaches, you can visit Malibu wine country hidden in the canyons of the Santa Monica Mountains. The best part is that here you won't find a crowd.  
The view of the Malibu vineyard from Cielo Farm winery is just inexplicably beautiful! I never imagined discovering such a welcoming dog-friendly place to visit in South California.
From here you can visit Edward Albert Escondido Canyon Trail to witness one of the most majestic waterfalls called Escondido Falls and click pictures by creek falls.
Still, if you want to add more adrenaline rush, hike to the famous Solstice Canyon Loop with a 204-mile elevation gain. On the way, you'll see ruins from 100 years ago.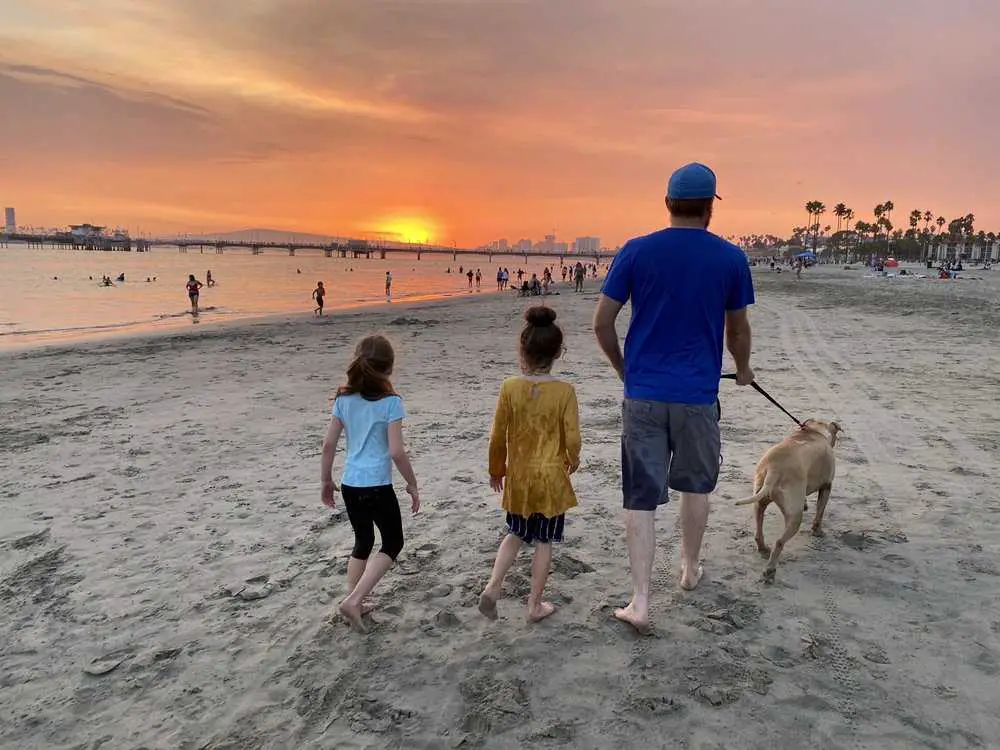 Ojai
Ojai is an off-beaten village town with a lot of wineries, farms, ranches, hiking trails, and quaint shops to replenish your weekend experience.
If you're searching for a dog-friendly Southern California day trip, I would suggest coming to Ojai. Do you know it has an energy vortex in the air?
You can bring your dog to Angelenos to experience the most "pink moment" during the sunset. Or, spend the day strolling downtown Ojai at the Avenue shops.
During my visit, in the afternoon I took Benji to Libbey Park in the center of the town to enjoy the shade and spend some time alone. 
In the evening, we headed to the most historical book store, Bart's Book of 1964. You'll be amazed to see their book collection. However, dogs are not allowed inside.
Hence, if you want to skip it, then you might come to Shelf Road Trail to experience the gorgeous sun setting and the blossoming orange trees along the way.
Also, if you're here between Wednesday to Sunday, come to Tipple & Ramble for tasting a fancy wine. You can come to the Ojai Vineyard Tasting Room too.
You have a lot of options! For shopping come to Fig Curated Living, deKor, or a mom-and-pop shop. I loved to see how beautifully, Ojai has embraced local business. 
For dinner, bring your dog to The Nest or Ojai Rotie. 
Santa Barbara
No family is complete without bringing a pet along with you! Santa Barbara knew it well. For relaxing and dog-friendly day trips from Los Angeles, Santa Barbara is ideal.
Just imagine, you're walking along the wide swaths of waterfront roads along the swaying palm trees. Yes, that's Santa Barbara.
Bring your dog along E Cabrillo Boulevard to enjoy the pristine grass and view. Do not forget to click a photo at the front of the Chromatic Gate.
If you ever dreamt of walking through rainbows, come to East Beach. Now, if you want to dip in the sea go to Arroyo Burro Beach which is also called Hendry's Beach.
You can keep him off-leash. Also, Benji loves Thousand Steps Beach. Walking through the curving coastline with your dog to run free is the best thing!
Then the second spot which you cannot quit is Stearns Wharf. During my trip, I went to Great Pacific Ice Cream Co. 
I enjoyed the incredible view of the wooden construction with the best chocolate ice cream in my hand. This wharf was made in 1872. Just imagine!
After this, I would recommend you to take the inexpensive Red Tile Self-Guided Walking Tour to explore the historic places and Jeff Shelton's Architecture.
I feel that no tour is complete without exploring by foot. So, ditch your car and let's explore downtown Santa Barbara with your dog. 
Go to the Public Market, walk along Victoria's Court, and enjoy the live music there. You can also come to Wabi Sabi for good Japanese food. 
Still, if you're craving more, walk to Santa Barbara Botanic Garden, chill out at Butterfly beach, and have a ravishing dinner at Third Window Brewing. 
Recommended Read: 6 Best Dog Beaches in Santa Barbara
Santa Ynez Valley
Santa Ynez Valley is a part of Santa Barbara County. The valley is famous among tourists because it is a great place for your wine-tasting fix. 
I would recommend coming to Los Alamos and Santa Ynez town because these two are the most dog-friendly place in South California. 
Trust me, the yummy wines and fulfilling food in Babcock Winery and Bob's Well Bread bakery is something you can never imagine. It's delicious.
I would suggest taking Sidecar Tours and visiting Dovocote Estate Winery, Roblar Winery, Vincent Vineyards and Winery, Carr Winery, Industrial Eats, and Nella Kitchen and Bar.
Oh, yes, bring your pooch! They are most welcome!
Joshua Trees
Dog rule: Most national parks ask you to keep your pet on a leash no longer than six feet all the time
A unique landscape, Joshua Trees is the place to offer a pleasant surprise to your four-legged friend who has never seen desert life. 
Remember, in Joshua tree, you'll find miles and miles of dirt roads and a varied type of terrain. So, get ready to walk on the unpaved roads.
There are a ton of big landmarks like Maroon Bell and Glacier Point. I would ask you to take the Geological Tour Road and Bighorn Pass Road. 
Simply, stargazing at the Joshua trees is enough to amaze you! The Cholla Cactus Garden is also a special trail to explore. 
The spectacular scenery of the desert landscape makes Joshua tree a must-visit destination in South California. 
Tip: Pack plenty of drinking water. Under the temperature, it is very important to keep yourself hydrated
Related Post: The Ultimate Travel Guide of Dog-Friendly Joshua Tree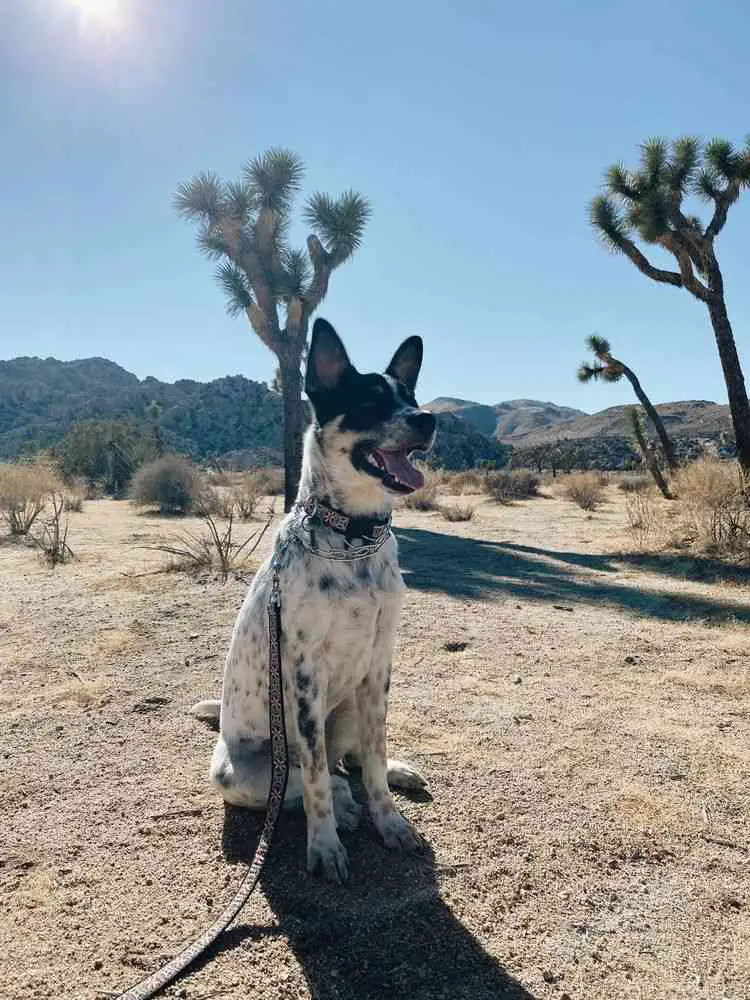 Dog-Friendly Vacation in California
Oceanside
With plenty of hiking trails and beaches, Oceanside is famous among dog parents to plan a weekend trip in South California. 
I love to take Benji on the 9 miles of smooth San Luis River Trail. Also, Guajome Park is another good place to walk a leased dog and enjoy the fresh air. 
Buccaneer Beach is a small beach in Oceanside located approximately one mile north of the city's southern border with a lot of positive energy in the air.
I love this place. You can also bring your pooch to Fiesta Island and have all the beach fun and Vitamin D ready from nature! Another beautiful beach!
However, on the coastal stretches on the O'side of the beach and pier side dogs are not welcomed but along The Stand – a boardwalk type of pathway you can spend time on. 
I am sure he will love Oceanside Harbor and strolling around the small neighborhood that looks so scenic and clean.
The fantastic downtown with world-class weather, Oceanside is the best place to travel with your dog in southern California.
Every Thursday from 9 am to 1 pm, Oceanside organizes a Farmers Market for locals and guests to enjoy fresh food at affordable prices. Yes, your furry companion is most welcome.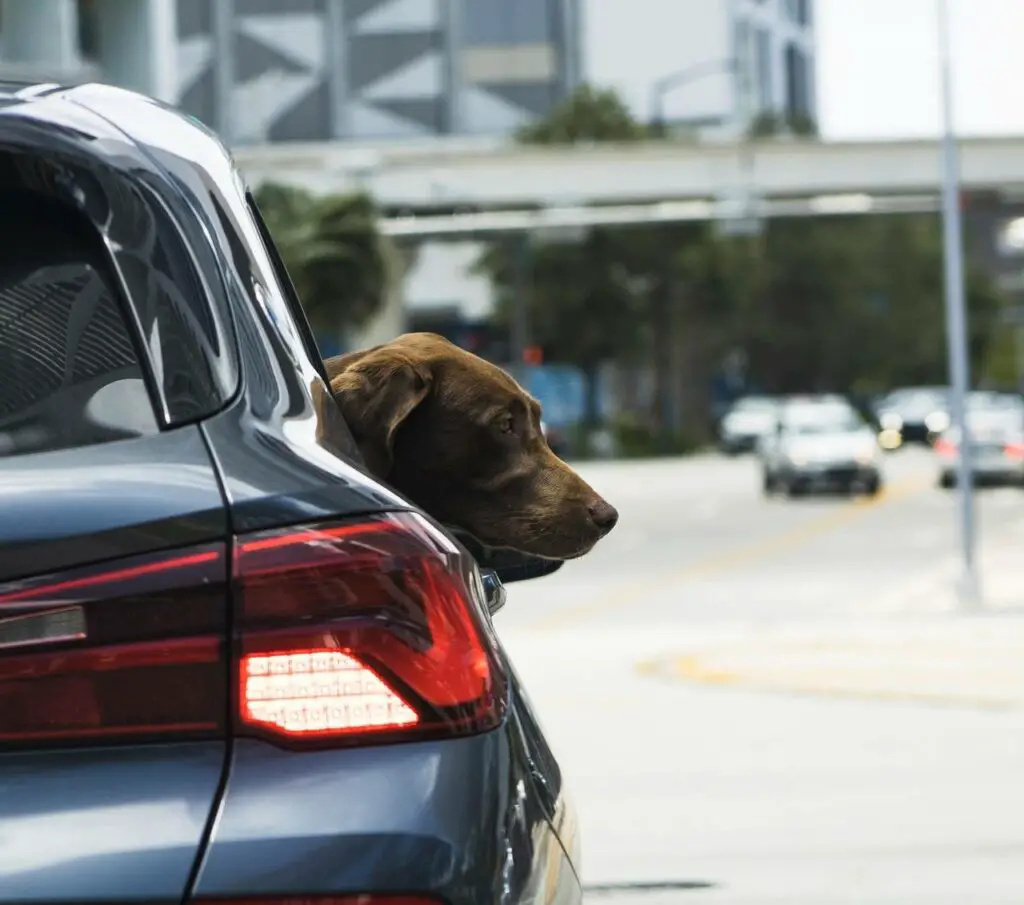 Catalina Island
Last weekend, I planned for Santa Catalina Island, oh yes, you might hear it as Catalina Island. It is an hour's ferry ride from the port of Dana Point or Long Beach. 
I loved it. The Catalina Express is the ferry that takes you to the Island. However, it has few restrictions if you're carrying a dog but that all adjustable.
It is said the island is famous for four things – views, sandy beaches, Mt. Orizaba, an outdoor adventure. And, it's true.
The island is so pedestrian friendly. After reaching and having food I went to the "Garden to the Sky" hike finishing at Hermit Gulch. The feeling was so different. 
You can go to the Botanic Garden. The view of the canyon and the cool ocean breeze is so perfect for kick-starting your week's plans.
I would recommend coming to Pic Nic Fry after the hike to enjoy more than 20 varied types of food. 
Tips:
One passenger is allowed to carry one dog.
Dogs are not allowed in the main shopping area including the boardwalk and food area
Dogs are not allowed at – Avalon public beaches, lower Sumner, lower Catalina, Cabrillo Mole, and Green Pleasure Pier
Conclusion
Now, are you getting restless from where to start? I would say calm down and open your Google map. Put the destination and check the distance and let's plan. South California is very dog friendly!
You'll find a lot of people on the way. I'm sure your pup will find his friend too. However, remember, every place has specific dog rules therefore know them and abide by the rules before exploring. 
Read Next: 9 Best Dog-Friendly Camping in California
FAQ – Dog-Friendly Day Trips in Southern California
1. What is the most dog-friendly town in Southern California?
A: Ojai is the most dog-friendly town in Southern California. The quiet nature and unique ecology draw pet parents to spend weekends in the most peaceful manner. Also, Ojai has some award-winning spa centers, which you should visit for relaxation. 
2. What Southern California beaches are dog-friendly?
A: North Beach in Malibu is the most dog-friendly Southern California beach that offers scenic coastline and safety. You can swim, surf, or go fishing too. However, you've to keep your dogs on a leash.